New Age Islam News Bureau
14 Jun 2018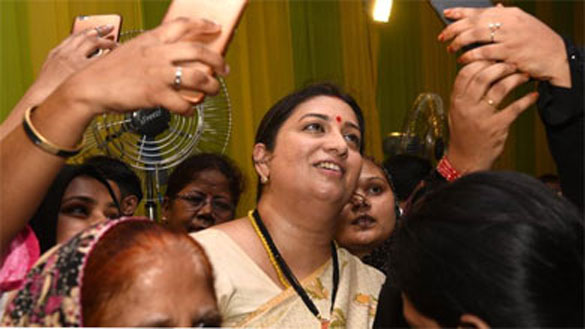 Women click selfie with union textiles minister Smriti Irani at an Iftar party hosted by union minority affairs minister Mukhtar Abbas Naqvi at his residence in New Delhi on Wednesday.(Arvind Yadav/HT Photo)
-----
• Iranian Human Rights Lawyer Nasrin Sotoudeh Arrested
• BJP Leaders Converge At Naqvi's Iftar Party For Muslim Women
• Noura Al-Otaibi, Driven By A Passion To Empower Women, Identifies Ways To Succeed In Life
• Peace without Borders Announces First Saudi Peace Ambassador, Dr. Sumaya Al-Nasser
• BJP MLA's Advice To Women: Produce Sanskari Kids Or Remain Infertile
• Pakistan Student, Khadija Siddiqui, 23, Stabbed 23 Times Fights to See Her Attacker Jailed
• US Arrests Israeli National, Waheba Issa Dais, Who Coached ISIS Attackers Online
Compiled by New Age Islam News Bureau
URL: https://www.newageislam.com/islam-women-feminism/iranian-human-rights-lawyer-nasrin/d/115544
-----
Iranian Human Rights Lawyer Nasrin Sotoudeh Arrested
AP in Tehran
Wed 13 Jun 2018
Nasrin Sotoudeh previously served three years in prison from 2010 to 2013 after being convicted on security-related charges. Photograph: Mihan News Agency/HO/Camera Press
A prominent Iranian human rights lawyer, who had defended women protesting against having to wear the Islamic headscarf, has been detained and told she will serve five years in prison, according to her family.
Nasrin Sotoudeh was taken from her home in Tehran on Wednesday, according to her husband, Reza Khandan, who said she managed to call him after she was detained. He said she was told she would be serving a five-year sentence at Evin prison, Tehran, after being convicted in absentia. "I have no idea what the sentence was related to," said Khandan.
There was no immediate comment from authorities.
Khandan said that their 18-year-old daughter was at home at the time of the arrest. "My daughter is preparing for university entrance exams that will be held in two weeks," he said. "I don't know how she will manage it in such conditions."
Sotoudeh is an outspoken critic of the country's judiciary, which is dominated by hardliners. She had recently objected to its decision to limit the number of lawyers allowed to defend clients in security-related cases, calling the move a "farewell" to the right of defence.
The judiciary had released a list of only 20 lawyers, out of 60,000 licensed attorneys, who would be allowed to defend such cases. After widespread objections, the judiciary said it would expand the list.
Sotoudeh, mother to two children, has also worked as a lawyer for women detained for refusing to cover their hair in public. She has represented prominent opposition activists, and previously served a three-year prison term, from 2010 to 2013, after being convicted on security-related charges.
She was awarded the prestigious Sakharov Prize for Freedom of Thought by the EU in 2012.
Source: https://www.theguardian.com/world/2018/jun/13/nasrin-sotoudeh-arrested-iran-human-rights-lawyer-islamic-headscarf
------
BJP Leaders Converge at Naqvi's Iftar Party For Muslim Women
Jun 13, 2018
Jatin Gandhi
HindustanTimes, New Delhi
Minorities affairs minister Mukhtar Abbas Naqvi hosted an iftar for Muslim women at his official residence in New Delhi on Wednesday.
Naqvi's iftar — the only one by a minister in the BJP-led government — was attended by a host of his cabinet colleagues including home minister Rajnath Singh and law minister Ravi Shankar Prasad.
Union ministers Prakash Javadekar, Smriti Irani, Harshvardhan and MJ Akbar were among those who trooped in shortly after the conclusion of the council of ministers meeting chaired by Prime Minister Modi.
Asked for his comment on the event hosted by Gandhi, Naqvi said while the Congress was trying to use iftar "for political engineering, this is an occasion that shows the government is working for the people."
Naqvi's office also used the occasion to distribute books on initiatives taken by the ministry in the last four years. Naqvi said nearly 400 Muslim women from Delhi and Uttar Pradesh had been invited.
"Muslim women's empowerment is our government's stated goal. This is a major step in that direction," the BJP leader said.
A number of women present at the event were those who had been divorced by their husbands through Talaq-e-biddat or instant triple talaq that the central government intends to make a punishable offence under the law, even after the Supreme Court struck down the practice as void last year.
Speaking to reporters, Prasad said the proposed law was brought in by the government "for the dignity of Indian women". He later said in a tweet, "It was so assuring to see large number of Muslim women demanding justice from unconstitutional practice of triple Talaq who repeatedly asked me to get the law regarding this passed soon (sic)."
"We have come here to raise the issue of loss of livelihood among a number of Muslim families due to closure of slaughterhouses," Shaista Amber, president of the All India Women Personal Law Board, said.
Source: https://www.hindustantimes.com/india-news/bjp-leaders-converge-at-naqvi-s-iftar-party-for-muslim-women/story-8HyPUv4OhrewMrt7mFT50N.html
-----
Noura Al-Otaibi, Driven By a Passion To Empower Women, Identifies Ways To Succeed In Life
HANAN ALNUFAIE
June 14, 2018
RIYADH: Amid the fast-paced reforms underway in the Kingdom, a Saudi woman has decided to contribute to the change in her own way. She decided to turn the pain she experienced from her failure in business into an inspirational story for other female entrepreneurs.
Noura Al-Otaibi wants to leave a long-lasting impact on her society and to join in the government's efforts to help empower women.
Her story began when she first quit her job in the public sector to start her own business. Her life was turned upside down from being used to her monthly salary to knowing nothing for certain. The journey of not knowing what to do in the world of business, which path to choose, how to manage and market, how to finish paperwork, and how to pay the office rent, lasted for two and a half years.
She went through a trial-and-error process. It was much harder than her expectations. However, she never regretted this phase and is grateful for the pain and obstacles she went through. "It was a beneficial experience that taught me lessons I could never learn in any college."
Al-Otaibi then decided to do different courses and enrolled in training programs, a move that helped her to give a proper direction to her new career.
The first course, which she attended, served to be an eye-opener. It made her realize the important role a woman could play in other women's lives. Only 23 trainees took part in that course.
Driven by a deep belief in female empowerment, Al-Otaibi wants to achieve this goal by replacing the idea of competition with collaboration and making it a win-win situation for all.
She started implementing her ideas by conducting meetings and gatherings with her course mates to share knowledge. Al-Otaibi then linked female entrepreneurs to decision-makers to find solutions to existing issues.
After witnessing the success of the idea, Al-Otaibi decided to officially establish Rawd Business Community to empower women, encourage female entrepreneurs to find what suits them, provide them with practical content, and enhance cooperation between female entrepreneurs.
"It is not just an online group. It is an actual community where everyone is ready to cooperate with one another. We grew from 20 female entrepreneurs to 450 from all over the Kingdom. Many of them come from outside Riyadh just to attend our monthly meetings," said Al-Otaibi.
She provides many essential services to female entrepreneurs, such as law or consultancy to tell them how to finish paperwork, legislation and rules, effective planning, etc.
The group is divided into different groups and sub-groups based on the level of experience and sectors. The group provides all its members with marketing service for about three hours daily.
Al-Otaibi said: "I want to serve womenfolk. I believe that as women we don't have to work in isolation. Cooperation is the key. That is why I am planning to have a mixed-gender community in which we can benefit from each other and support each other in business. No one can succeed alone."
Manal Alshakrah, CEO of Manalook Centre for Training and a group member, said: "In the center, we offered many free-of-charge courses to support female entrepreneurs in Rawd Community. We also offer the group members 20 percent discount on all the courses and workshops in the center."
She said she benefited a lot from her participation in the group: "I like the healthy environment that pushes for support, cooperation and development. We don't consider each other competitors. Instead, we treat one another as colleagues."
Ahlam Cluntun, founder of the Standout Center for Pediatric Physiotherapy, said: "I benefited from the quick answers to my questions without having to contact the organization. Ms. Noura also visited us in the group to brainstorm with us on how to enhance the services of the group."
Souce: http://www.arabnews.com/node/1321276/saudi-arabia
------
Peace without Borders Announces First Saudi Peace Ambassador, Dr. Sumaya Al-Nasser
RUBA OBAID
June 14, 2018
JEDDAH: The global organization Peace Without Borders has chosen Dr. Sumaya Al-Nasser to be the first Saudi ambassador for peace. She is a distinguished Saudi life coach and businesswoman with long experience in coaching since 2003.
Al-Nasser is Saudi Arabia's first internationally certified female life and career coach. She has a doctorate in theology, and started to explore and deepen her study of awareness sciences at an early age.
The organization, represented by its chairman Mohamed Al-Arab, contacted Al-Nasser to give her the news. "At first, I was very hesitant and took a long time to make a decision; however, my understanding of the high values of the organization was the main reason why I decided to go through this experience," Al-Nasser told Arab News.
"I think it is a responsibility rather than an honor," she added. "It means I have a lot of responsibilities to take in order to deliver and promote the idea of peace and acceptance to everyone I can reach in my community," she said.
Peace Without Borders promotes the values of peace, supports sustainable development, monitors violations of human rights of expression and freedom and works on achieving the Millennium Development Goals set by the UN member states.
Al-Nasser was chosen to be the peace ambassador because of her thoughts and principles of peace, freedom, coexistence, and respect, which she presents through her books, programs, courses and the content she shares through social media.
Based in Los Angeles, she launched her project Sumaya369, and delivers courses in Arabic to thousands of clients worldwide. She helps her audience to improve inner peace and self-relationships though one-on-one sessions, classes and group seminars, as well as online coaching sessions. She also uses social media for the same purpose and has wide popularity.
Al-Nasser is the author of three books and many articles in which she encourages readers to have a positive and "aware" way of life and provides them with the right methods to reach that goal. Earlier this year, Al-Nasser launched the first Arabic guided meditation CD, "The Back Door."
It features 14 tracks that teach meditation practices, with music written by Jordanian film composer and pianist Ghiya Rushida.
Al-Nasser said: "Peace isn't just the absence of war and violence, it is the ability to manage conflict positively.
"For this, Peace Without Borders has been doing incredible work around the world, and I'm happy to be a part of the organization and to contribute toward my homeland."
Source:.arabnews.com/node/1321261/saudi-arabia
-----
BJP MLA's Advice to Women: Produce Sanskari Kids Or Remain Infertile
By: Express Web Desk | New Delhi | June 14, 2018
Taking a swipe at the Congress party led by Rahul Gandhi, BJP MLA Pannalal Shakya advised women to remain infertile than give birth to kids who are not "sanskari" (cultured).
Speaking at an event in Madhya Pradesh on Wednesday, Shakya was quoted by news agency ANI as saying: "Congress came up with the slogan of 'Gharibi Hatao' but instead wiped out the poor. There are women who give birth to such leaders. Women should rather remain infertile than produce kids who are not 'sanskari' and who deform society."
This was, however, not the first time that the BJP lawmaker is making headlines for his remarks. Asking the boys to refrain from embracing the "western culture of making girlfriends," Pannalal said, "Why do girls make boyfriends? If they stop doing this, the atrocities against them will stop."
Earlier, Shakya had questioned cricketer Virat Kohli's patriotism for marrying actor Anushka Sharma outside the country. "…Ram, Krishna, Yudhishtir married in India. All of you have been married in India or will be married in India… He (Kohli) earned fame and money in India but chose to marry outside… it's not patriotism. Virat earned money in India… But he didn't find any place to marry in the country. Is Hindustan untouchable?" he asked while inaugurating a 'Skill India Centre' last year.
The BJP leader also said that dancers from Italy become millionaires in India. "If you think minutely, then you will know that the dancers of Italy become millionaires here and you are taking country's money there. Then what will you give to the country?" he had said, adding that Kohli did not deserve to be a role model for youth because he married in Italy.
Source: https://indianexpress.com/article/india/bjp-leader-pannalal-shakyas-new-advice-to-women-produce-sanskari-kids-or-remain-infertile-5216776/
-----
Pakistan Student, Khadija Siddiqui, 23, Stabbed 23 Times Fights to See Her Attacker Jailed
AFP
June 14, 2018
LAHORE, Pakistan: A Pakistani law student has emerged as a women's rights crusader after she was stabbed 23 times in a busy street only to see her alleged attacker walk free, igniting outrage across the deeply patriarchal country.
Khadija Siddiqui, 23, survived the frenzied attack in broad daylight outside her sister's school on a busy thoroughfare in the teeming eastern city of Lahore, Pakistan's cultural capital, in May 2016.
Her sister was also injured as she tried to defend her, and the brazen attack only ended when her driver managed to pull the assailant off and rush Siddiqui to hospital, where she was admitted to intensive care with her neck slashed, her arms wounded, and a deep injury to her back.
Siddiqui named her attacker as Shah Hussain, a classmate whom she had rejected romantically. He was convicted and sentenced to seven years in prison in July 2017.
But Hussain, the son of a prominent Lahori lawyer, appealed the decision — and in a shock judgment released on June 4, the Lahore High Court acquitted him on all charges.
The decision was greeted with an uproar in Pakistan, where hundreds of women are murdered and attacked by men each year, with many struggling to get justice in a sluggish court system that advocates say is often slanted against them.
"I was shocked," Siddiqui, who spent three weeks in hospital after the attack and whose back still pains her, told AFP. "But unfortunately it was true."
Siddiqui's long struggle to put her attacker behind bars had already drawn attention from women's rights campaigners, but when Hussain walked free it unleashed a wave of anger.
"I am heart broken, speechless, shattered after hearing what our judiciary system did to you @khadeeeej751 — But do not give up , keep fighting, and we shall overcome this together," tweeted actress Urwa Hocane.
Hamza Ali Abbasi, another TV personality and activist, commented: "We must all unite & be Khadija's voice & leave no stone unturned to get her justice against this barbarian! #WeAreWithKhadija."
The hashtag was trending in Pakistan within hours of the acquittal.
The reaction intensified when the court's judgment was released, with critics accusing it of "victim-blaming" after it poked holes in Siddiqui's credibility.
The judgment questioned why she did not name Hussain as her attacker immediately, despite testimony saying she had fallen unconscious; and noted that at one point prior to the assault she had written a letter proposing marriage to him.
The outcry was so great that Pakistan's Supreme Court has now taken up the case and will hold hearings later in the summer, it announced Wednesday.
Hashmi, Hussain's father, has told AFP that his child is innocent. "My son is a brilliant student," he said. "How can he be a criminal?"
Siddiqui's case highlights how Pakistan's judicial system fails women, says Hina Jilani, a leading lawyer and human rights activist.
The young law student is lucky in that she received high-profile support and it came to the Supreme Court's attention, Jilani says — but that is rare.
"There is a prejudice against women," she argues.
Pakistan is deeply conservative, and violence against women remained "pervasive and intractable" in 2017, according a yearly report by the country's Human Rights Commission.
It documented thousands of reported violent incidents including rapes, assaults, sexual harassment, acid attacks, murders, and even four examples of "stove burning" — understood to be when a woman is taken into a kitchen, covered in kerosene and set alight; then the perpetrators claim she was burned by the stove.
The real figures, the commission said, are likely to be much higher.
Many cases of violence against women are not reported to authorities. In rural areas such cases often bypass the formal justice system and are dealt with by village "jirgas" or councils, often in a manner that is punitive for women.
But even for those cases which do enter the court system, the conviction rate is "below one percent," says Rabeea Hadi, an activist with the Aurat Foundation, a women's rights watchdog.
In cases of domestic violence and sexual abuse, it is "almost zero," adds Anbreen Ajaib, the executive director of another women's rights group, Bedari.
Siddiqui says women, including herself, are often pressured to drop their cases, and can face blackmail and harassment.
But she is determined to see hers through, and says the attention it has received has prompted many women to contact her to say they, too, are encouraged to stand up for themselves.
"I have been told by the prosecutors... that I'm probably the first woman who is fighting so hard to get justice," she told AFP, sounding calm and confident.
"It has proved that if women fight, they can turn things around, so they should never give up... they should not tolerate injustice, violence and blackmail."
Source: http://www.arabnews.com/node/1321341/world
-----
US Arrests Israeli National, Waheba Issa Dais, Who Coached ISIS Attackers Online
AFP, WashingtonThursday, 14 June 2018
US officials said Wednesday that a native Israeli woman living in Wisconsin coached potential ISIS attackers on how to cook up ricin and kept a library of books on making bombs, poisons and suicide vests.
The Justice Department charged Waheba Issa Dais with attempting to provide material support to ISISafter arresting the 45-year-old divorcee in Cudahy, Wisconsin on Wednesday.
She was said to be the first person in six months to be arrested on charges of supporting a violent extremist group.
Dais, a legal US resident since 1992, used a number of social media accounts, including accounts hijacked from others, to promote ISIS and facilitate recruitment, according to an indictment.
She maintained "a virtual library of instructions on how to make bombs, biological weapons, poisons and suicide vests" to assist ISIS supporters in plotting attacks.
She encouraged one person, apparently a law enforcement informant, on how to make the poison ricin and "suggested the individual introduce the ricin to a government post of water reservoirs," it said.
She also allegedly suggested targets for bomb attacks including street festivals and other summer celebrations.
Source: https://english.alarabiya.net/en/News/world/2018/06/14/US-arrests-Israeli-national-who-coached-ISIS-attackers-online-.html
-----
URL: https://www.newageislam.com/islam-women-feminism/iranian-human-rights-lawyer-nasrin/d/115544
New Age Islam, Islam Online, Islamic Website, African Muslim News, Arab World News, South Asia News, Indian Muslim News, World Muslim News, Women in Islam, Islamic Feminism, Arab Women, Women In Arab, Islamophobia in America, Muslim Women in West, Islam Women and Feminism