New Age Islam News Bureau
20 September 2022
• Abu Dhabi Start-up Accelerator Beckons Women Entrepreneurs
• Yemeni Women Celebrate Country's Shift towards Gender Equality
• Houthis Kidnapped, Jailed 1,700 Women Over 7 Years, UN Hears
• Swiss Court Sentences 'Islamic State' Knifewoman to Nine Years
Compiled by New Age Islam News Bureau
URL: https://newageislam.com/islam-women-feminism/iranian-moral-police-hijab-mahsa/d/127989
--------
Iranian Girl Killed by Moral Police for Improper Hijab, Mahsa Amini's Medical Scans Show Skull Fractures Caused By 'Severe Trauma': Report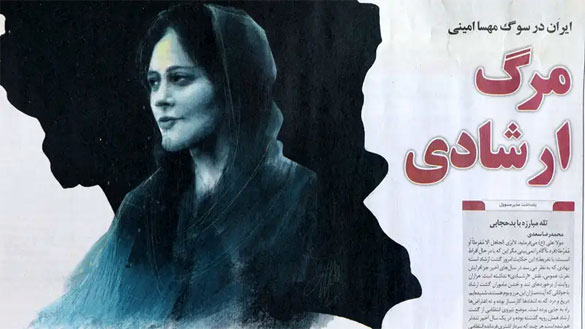 Mahsa Amini, a 22-year-old Iranian woman who died in police custody in Iran
-----
19 September, 2022
A London-based news outlet said on Monday it had obtained the skull CT scan of Mahsa Amini, a 22-year-old Iranian woman who died in police custody in Iran last week, adding that it showed bone fracture, haemorrhage, and cerebral edema.
Satellite news channel Iran International said it obtained the medical documents through a hacktivist group. They "vividly show a skull fracture on the right side of her head caused by a severe trauma to the skull, which corroborate earlier accounts by her family and doctors about her being hit several times on the head," the report said.
"Images of her chest show bilateral diffuse alveolar haemorrhage and damage due to aspiration pneumonia, secretion retention and superimposed infection. Doctors say the results are compatible with acute respiratory distress syndrome due to brain trauma," it added.
Amini fell into a coma shortly after being detained in Tehran by the morality police over her hijab on September 13 and was pronounced dead on Friday, prompting uproar on social media and protests in the streets.
Tehran's police said Amini "suddenly had a heart problem" while in detention, and state-run outlets ran stories claiming she suffered from multiple health conditions prior to her arrest.
But Amini's parents have said that their daughter did not have any health problems prior to being detained. Activists say she was beaten while in detention, causing serious injuries that led to her death.
Hijab, which was made mandatory for women in Iran shortly after the country's 1979 revolution, is considered a red line for Iran's theocratic rulers. Women who break the strict dress code risk being harassed and arrested by Iran's morality police.
Based on the dress code, women are required to fully cover their hair in public and wear long, loose-fitting clothes.
Source: Al Arabiya
https://english.alarabiya.net/News/middle-east/2022/09/19/Mahsa-Amini-s-medical-scans-show-skull-fractures-caused-by-severe-trauma-Report
--------
Abu Dhabi Start-up Accelerator Beckons Women Entrepreneurs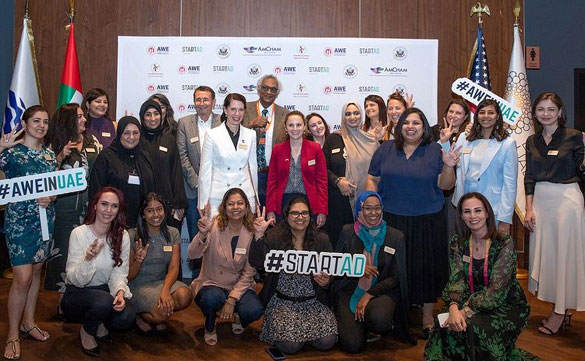 Since 2020, startAD has supported 44 UAE women entrepreneurs and innovation leaders through this programme, giving them the tools and confidence they need to launch and scale successful businesses.
Image Credit: Supplied
-----
September 20, 2022
Abu Dhabi: Abu Dhabi's startup accelerator, StartAD, has invited applications for the third editions of the Academy of Women Entrepreneurs (AWE) programme, titled AWE UAE 3.0 – Women in Business.
In partnership with the US Mission to the UAE, AWE is a US Department of State initiative that gives enterprising women in more than 80 countries around the world the knowledge, networks, and access they need to launch and scale successful businesses.
The deadline for submitting the applications is November 29. The programme will enable women-owned SMEs in the UAE to identify and analyse new channels, markets and customers. It will also strengthen the operational business pillars that these businesses may not have the resources or experience to build, focusing on business resilience, adaptability, and identifying growth opportunities.
From December 13, the programme will consist of workshops, mentoring and one-on-one coaching by experienced business strategists, innovation experts and mentors. It will culminate on International Women's Day on March 8, 2023, where finalists will showcase their achievements and businesses to the program partners and key stakeholders from the UAE innovation ecosystem.
"The US Mission to the UAE is proud to partner with startAD to drive the third edition of the Academy of Women Entrepreneurs (AWE) in the UAE. Since 2020, startAD has supported 44 UAE women entrepreneurs and innovation leaders through this programme, giving them the tools and confidence they need to launch and scale successful businesses. By helping them cope with specific challenges they face in running their businesses, AWE is helping women more fully participate in and contribute to the local and global economy. We look forward to welcoming a new cohort of AWE UAE participants, and continuing to work with UAE organisations, such as startAD, to promote women's economic empowerment," said Robin Solomon, counsellor for public affairs at the US Embassy in the UAE.
"The SME sector represents more than 94 per cent of the number of companies operating in the country, with 48 per cent of those SMEs owned by women. In recognition of the tremendous contributions that women entrepreneurs provide to the economy, AWE UAE equips women-owned businesses with the skills, tools, and network to focus on their business resilience enabling them to thrive and grow. To this end, we are pleased once again to partner with the US Mission to the UAE on a program that will help participants to re-energise and reset their mindset to a new paradigm. AWE UAE will provide access to experts to gain new insights on local and global markets as well as networking opportunities that will allow them to connect with potential partners, new customer channels, and potential investors. The graduates will leave this programme with an action plan that helps them reinvent their business through guided learning and execution," added Hana Barakat, senior associate director of startAD.
The first two editions of AWE UAE incubated 21 businesses, resulting in partnerships and internships in sectors ranging from retail and construction to healthcare services. Two participating businesses secured commercial agreements with large Abu Dhabi-based corporations, and others expanded their operations in markets such as Saudi Arabia and Qatar.
Applicants should be female Emiratis or long-term residents, aged between 20 to 55 years old, who are owners of a VAT-registered small business or an SME leader who influences strategic decision-making. AWE UAE is open to all industries and sectors. Businesses that demonstrate two years of operating revenues are encouraged to apply.
Source: Gulf News
https://gulfnews.com/uae/abu-dhabi-startup-accelerator-beckons-women-entrepreneurs-1.90689307
--------
Yemeni women celebrate country's shift towards gender equality
Abdallah Ali
Sep 13, 2022
Yemeni women have voiced their pride over the appointment of the first female judge to the country's Supreme Judicial Council and demanded more action to narrow the gender gap.
Only a third of women in Yemen are literate, making up less than 2 per cent of the political process and a mere 6 per cent of the labour force, the lowest in the world, according to the 2020 Global Gender Gap Index.
The head of the Presidential Council in Yemen, Dr Rashad Al Alimi, issued a decision on August 4, appointing Sabah Al Alwani to the senior judicial post in a country where men have always monopolised decision-making positions.
Yemen is in its eighth year of war since the Houthis took over the capital Sanaa in 2014, and the fighting has left hundreds of thousands of dead and millions more displaced in what the United Nations calls the world's worst humanitarian crisis.
"It's one step on the path to empowering Yemeni women," Ms Al Alwani tells The National.
"I was pleased with the decision. This is the first time that women are represented in such a high position in the country's history."
"Appointing me or any other woman to any leadership or decision-making position constitutes a major step in the right direction," she added.
Yemen was ranked bottom of the World Economic Forum's Gender Gap Index for 13 consecutive years. But despite the continuing war that the United Nations estimates has killed more than 230,000 people since 2014, Yemeni women have achieved remarkable feats in narrowing this gap.
"The timing of my appointment, months after the formation of the Presidential Council, demonstrates the council's readiness to promote women's participation in senior positions," says Ms Al Alwani.
Decades of discrimination
The appointment was the second in a set of reforms made in favour of Yemeni women this year.
In February, in the southern city of Taez, women successfully fought against authorities to overturn the need to submit their male guardian's approval to be issued with a passport. The victory saw an end to decades-long male guardianship over women that has prevented them from receiving medical care or pursuing education abroad.
Through a series of vigils and activists' meetings with officials, the unconstitutional restraint on women's rights to travel, driven by deep-rooted tribal norms, was overturned.
"This was thanks to the insistence of the women who were denied passports, as well as the cooperation of some politicians and the support of activists abroad," says Alhan Al Shaibani, one of the campaign leaders.
She was part of the campaign delegation that met Yemen's Prime Minister, Maeen Abdulmalik Saeed, in Aden in February, after which Mr Saeed ordered his government to review the procedures and requirements obstructing women obtaining a passport.
Aden has been the seat of the internationally recognised government since Houthi rebels seized Sanaa.
Ms Al Shaibani believes the success of that campaign is an important indicator that Yemen's society has begun to understand that women must be given equal rights.
"Some women were deprived of scholarships due to the lack of a passport," she says. "The campaign was the beginning of a breakthrough for women to demand their legal rights and work towards gender equality."
But Yasser Al Maliky, a Yemeni human rights lawyer who supports women's rights, says the equality gap remains far too wide. "The war has delayed many political gains, which I believe are the first path to empowerment in other fields," the lawyer says. "The culture of society is still hostile to women and this stems from a distorted cultural, religious and legal legacy towards them."
"The day I see women with a third of the government seats and a third of high decision-making positions, and when I see male leaders who are proud of their wives and daughters, I will say that society's perspective towards women has begun to change and opportunities for empowerment are coming."
'More is needed'
For Rasha Jarhum, a member of the National Consultation and Reconciliation Commission and head of the Peace Track Initiative, the limited achievements made by women in Yemen depend largely on political will.
"The appointment of Judge Al Alwani will enhance women's access to justice in general," she says. "But women still face many challenges, including violence, discriminatory laws and institutions, and a society that perceives them as inferior."
Yemeni women are among those hit hardest by a conflict that has led to what the UN has called the world's worst humanitarian crisis.
Beyond suffering from malnutrition and a lack of access to health care, Yemeni women are disproportionately affected by rape and other forms of sexual violence that tend to increase during war.
"There are some leaders who seriously seek to support and empower women, and others who underestimate the importance of it," says Ms Jarhum. "Usually, any man who publicly supports women's rights is attacked and intimidated."
But Ahmed Ghaleb, 45, a government employee in the education sector of Houthi-controlled Ibb governorate in the south-west, has not allowed any backlash to put him off his support for women gaining access to decision-making positions.
"It's one of their legitimate rights and not a favour," he says.
Yemeni women have proven their presence in various fields throughout the years of war and played a major role in defending human rights. But a more public role meant they were more likely to become an easy target for rebels.
UN investigators have recently uncovered a pattern of abuse, rape and arbitrary detention against women activists in Houthi-held areas of Yemen, as the rebels impose their extreme ideology on the population.
In a 2021 annual report, a panel of UN experts condemned a "Houthi policy of sexual violence and repression against politically active and professional women" in the capital Sanaa and other parts of Yemen's rebel-held north.
Yet Mr Ghalib remains optimistic. "Yemeni society's view of women today is completely different from what it was before," he says. "It used to be an unforgivable crime for women to work but now society is more aware."
After her appointment to a senior government position that will surely add to the legitimacy of women in executive roles, Ms Al Awani says there is much hope at home and abroad to demand gender equality, "but we still need much more empowerment".
Source: The National News
https://www.thenationalnews.com/gulf-news/2022/09/13/yemeni-women-celebrate-countrys-shift-towards-gender-equality/
--------
Houthis kidnapped, jailed 1,700 women over 7 years, UN hears
September 20, 2022
GENEVA: The Houthi militia kidnapped 1,700 women in Yemen, mainly from the capital Sanaa, between 2015 and 2022, the Human Rights Association has claimed.
Speaking to the United Nations' Human Rights Council on the sidelines of its 51st regular session in Geneva, the rights group accused the Iran-backed militia of torturing female inmates in Houthi prisons.
The association urged the council and international organizations to exert pressure on the militia to release the detained women and stop the violence committed against them.
In its speech, the group cited the case of the Yemeni model Entisar Al-Hammadi, who was arrested at a Sanaa security checkpoint in 2021 and subjected to "horrific torture" to extract a forced confession from her.
She was later sentenced to five years in jail in what the association described as "an illegal trial."
The rights group also urged the international community to pressure Houthis to end the siege on Taiz, imposed since 2015, and stop crimes against civilians in the city.
Taiz was where the militia has committed the highest number of violations to the UN-brokered truce, which reached 3,000 in highly populated areas across Yemen, according to the latest figures released by the association.
On Monday, Yemen accused Houthis of committing 127 breaches to the truce across different provinces in one week.
The Houthis were accused of targeting civilian homes, with their use of tanks, artillery and drones have killed non-combatants including women and children, and destroyed thousands of homes.
Earlier, the association revealed that Houthi crimes have killed and injured 14,000 children since the war began in 2014.
Source: Arab News
https://www.arabnews.com/node/2165916/middle-east
--------
Swiss Court Sentences 'Islamic State' Knifewoman to Nine Years
Sep 19, 2022
A Swiss woman was given a nine-year jail term on Monday for slashing two people in the name of the Islamic State group but her sentence was suspended so she can undergo psychiatric treatment.
The court found the woman, who cannot be named for legal reasons, guilty of attempted murder and of terrorism-linked charges.
She had "no respect for human life", court president Fiorenza Bergomi said as she read out the verdict.
She had "acted in cold blood, had planned her actions and decided what weapon to use, and where to buy it", Bergomi continued.
The 29-year-old woman's mental state was at the heart of the trial at Switzerland's Federal Criminal Court in Bellinzona, in the southern Italian-speaking Ticino region where the attack occurred.
The attack, which did not result in fatalities, took place on November 24, 2020 in the plush Manor department store in Lugano, near Bellinzona.
The woman had suddenly lunged at two random women shopping at the store, attempting to slit their throats.
According to the Office of the Attorney General's indictment, the accused "acted wilfully and with particular ruthlessness", shouted "Allahu Akbar" (God is greatest) several times and "I will avenge the Prophet Mohammed", and declared "I am here for IS", the Islamic State jihadist group.
No remorse
One of the two victims suffered a serious neck injury, while the second sustained wounds on one hand and managed, with others, to control the assailant until the police arrived.
During the trial, the court heard that the woman has been in contact with psychologists and psychiatrists since childhood, with two experts testifying that she suffers from a range of psychological disorders.
Her lawyers argue the accused's psychological disorders mean the attack could not be considered a "terrorist act" because the woman lived in a fantasy world.
When questioned during the trial, the woman showed no remorse, telling the court: "If I could go back, I would do it better."
On Monday, she was found guilty of "repeated murder attempts" and of violating the Swiss laws against association with Al-Qaeda, IS and related Islamist groups.
She was also found guilty of repeated unlawful prostitution between 2017 and 2020.
The accused was ordered to pay the woman who suffered the most serious injuries, and who was a civil party in the case, 41,000 Swiss francs ($42,000) to cover her legal costs and as compensation for the "moral wrong".
'Lone wolves'
The court president pointed to studies indicating that terror suspects could suffer from stress and psychiatric problems.
"We must not forget that there are... people with psychiatric problems who do not belong to terrorist organisations, but who are considered lone wolves," she said.
Monday's verdict was in line with the prosecution's request, but her sentence was shorter than the 14-year-term it had asked for.
The prosecutors, who had also suggested her sentence be suspended and that she be committed to a closed treatment facility for as long as she was deemed a threat, said Monday that they "took note" of the verdict, but did not indicate whether they would appeal.
The daughter of a Swiss father and a Serbian mother, her adolescence was marked by anorexia and she did not attend secondary school.
Aged 19, she married a man of Afghan origin and converted to Islam. The pair divorced last year.
After falling in love over social media in 2017 with a jihadist in Syria, she attempted to travel to meet him, but was stopped by Turkish authorities at the Syrian border and sent back to Switzerland where she was admitted to a psychiatric clinic, police said.
Source: WIO News
https://www.wionews.com/world/swiss-court-sentences-is-knifewoman-to-nine-years-517782
--------
URL: https://newageislam.com/islam-women-feminism/iranian-moral-police-hijab-mahsa/d/127989
New Age Islam, Islam Online, Islamic Website, African Muslim News, Arab World News, South Asia News, Indian Muslim News, World Muslim News, Women in Islam, Islamic Feminism, Arab Women, Women In Arab, Islamophobia in America, Muslim Women in West, Islam Women and Feminism