New Age Islam News Bureau
1 Jun 2019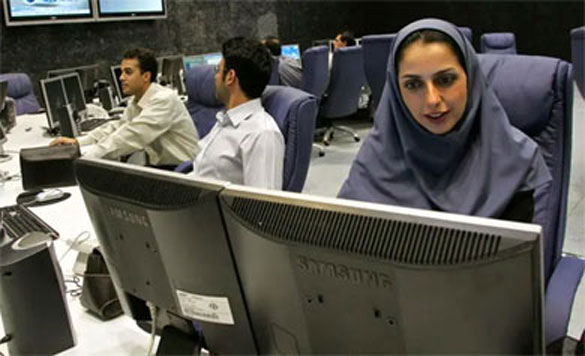 "It is not necessarily a must to appoint a woman to be the host of a program," IRNA quoted Alamolhoda as saying. (File photo: AP)
------
• Iranian Press Review: Women Riding Bikes And Men Preparing For War
• New Call of Duty Game Inspired By Kurdish Female Fighters
• SC Relief for 23-Year-Old Chhattisgarh Woman Who Married A Muslim
Compiled by New Age Islam News Bureau
URL: https://www.newageislam.com/islam-women-feminism/iranian-cleric-says-men-replace/d/118772
--------
Iranian Cleric Says Men Should Replace Female Television Presenters
31 May 2019
Iranian state broadcasters should replace female presenters with men, Iran's ayatollah Ahmad Alamolhoda said, according to the Islamic Republic News Agency (IRNA).
Alamolhoda is the representative of Supreme Leader Ali Khamenei in the country's Khorasan Razavi province. He is widely believed to be a conservative hardliner and has been in the headlines for making such statements in the past.
"In some state broadcasting programs, it is possible to use men instead of women presenters. It is not necessarily a must to appoint a woman to be the host of a program," IRNA quoted Alamolhoda as saying.
The Iranian state TV once quoted him as saying: "Enemies of the leader [Ali Khamenei], according to the Quran, belong to the party of Satan ... Our war in the world is a war against the opponents of the rule of the Supreme Leader."
https://english.alarabiya.net/en/News/middle-east/2019/05/31/Iranian-cleric-says-men-should-replace-female-television-presenters.html
--------
Iranian Press Review: Women Riding Bikes And Men Preparing For War
30 May 2019
Rouhani asks for additional powers 'in times of war'
Iranian President Hassan Rouhani has not missed an opportunity in recent days to reiterate his calls for changes to Iran's political structure to increase presidential powers amid what he describes as an "economic war" waged by the United States against Iran.
On Saturday, Rouhani told reporters that Iran's president enjoyed sufficient powers to lead the country in normal circumstances, but that "the situation is different in times of war", Iran daily reported.
Rouhani compared Iran's current situation under US sanctions to what Iranians experienced during the eight-year war with Iraq in the 1980s. Throughout that war, the founder of the Islamic Republic, Ayatollah Ruhollah Khomeini, handed extra powers to then-President Ayatollah Ali Khamenei to lead the country during armed conflict.
Rouhani said he had spoken with Khamenei, now Iran's supreme leader, to tell him the country "now faces a war" and needs a commander.
While Rouhani claimed Khamenei has ordered him to command this war, the president's demands for more power have been strongly rejected by hardliners in Iran.
Ayatollah Ahmad Alamolhoda, a conservative cleric, reminded Rouhani in an Instagram post of the fate of Abolhassan Banisadr, the Islamic Republic's first president.
Banisadr had also asked for broader presidential powers, but was impeached after 16 months in power and escaped to Paris.
Iran searches for its stolen treasures
Iran has been struggling for decades to recover stolen artefacts from Western museums and collections, Shahrvand daily detailed on 23 May, in an interview with the director of museums and historical properties at Iran's cultural heritage organisation.
Since the early 1940s, Mohammadreza Kargar told Shahrvand, Iran has had official programmes to bring back its ancient relics.
However, Kargar said the Iranian programmes only have information about objects listed in museum catalogues or in books - leaving numerous items held in museum storage unaccounted for.
In October, an ancient limestone relief depicting an Achaemenid soldier was returned to Iran after a New York court ruling - a rare victory for Iranian efforts to reclaim antiquities from abroad.
The relief in question was found and taken by Western archaeologists in the late nineteenth or early twentieth century - back then Iran was a battleground for British and French archaeologists.
In recent years, lack of regulations over illegal excavations and ineffective laws prohibiting trade of antiquities have led smugglers to expand their activities in Iran.
Inflation rate reaches 34 percent
The Statistical Center of Iran has revealed that the rate of inflation for the last 12 months has reached 34.2 percent.
This marks a sharp rise since May 2018 - the country's inflation rate was 18 percent - when the United States unilaterally left the international nuclear deal with Iran and reimposed sanctions on the banking system, oil exports, and money transfer to and from the country.
Meanwhile, officials at the International Monetary Fund (IMF) have predicted that inflation will reach up to 40 percent in Iran and the country's economy will shrink by 6 percent in 2019 because of the American sanctions.
Poverty levels have also increased in the country. A report by the Hamdely daily, based on data from the Iranian parliament's research centre, estimates that 40 percent of Iranian families live below the poverty line.
Debate rages on over women cyclists
Women's right to ride bicycles in public has been pushed to the forefront of public debate in Iran after a representative of Khamenei in the city of Isfahan asked the judiciary system to act against female cyclists.
The request was rejected, with a spokesperson for the Iranian justice system saying: "No legal ban does exist against women's cycling."
On Sunday, Iranian legislator Mohammad Kazemi took to parliament to criticise hardliners and religious figures, who have been proposing preemptive measures to prevent women from biking.
"It is not acceptable to put obstacles in the way of women cyclists," he stressed in his speech, reported by Iranian parliamentary news agency ICANA.
On 22 May, the front page of Etemad daily was covered by a photograph of Iranian female cyclists, along with the headline "Free to Cycle".
Iranians have also taken to social media to denounce the hardliner push for a ban.
Iranian reformist politician Azar Mansouri posted a video on Twitter of women riding bicycles in the historical heart of Isfahan, asking "which halal [religiously allowed precept] of God becomes haram [forbidden]" if women ride bicycles.
https://www.middleeasteye.net/news/iranian-press-review-women-riding-bikes-and-men-preparing-war
--------
New Call of Duty Game Inspired By Kurdish Female Fighters
Jun 01, 2019
ERBIL (Kurdistan 24) – One of the main characters in the new Call of Duty: Modern Warfare to be released on October 25, 2019, is inspired by female Kurdish commanders in Syria.
The highly-anticipated game gives players point-of-view control through a fictional character named Farah Karim, "a Middle Eastern woman and battle-scarred warrior who has been fighting for survival since childhood," reports the LA Times.
Karim was inspired by the Women's Protection Units (YPJ), which fight under the umbrella of the US-backed, Kurdish-led Syrian Defense Forces (SDF). So far, no footage has been released of the new female protagonist.
Taylor Kurosaki, who headed the story creation for Call of Duty: Infinite Warfare, told the Hollywood Reporter that his team made an effort to learn a great deal about female Kurdish fighters.
"We did a lot of research specifically into a group of militia fighters called the YPJ who operate in Syria and Iraq. These are mostly all-female fighting forces who have decided that picking up a weapon and fighting for what they believe in is the best way for them to move forward."
"These women are so incredibly resilient and brave to go out on a battlefield where the enemy is targeting them specifically," he added, "because for the enemy to be killed by one of these women in battle is the most dishonorable way to be killed."
"It just felt like that is a more complete definition of 'modern warfare.'"
The game is set in the fictional Middle Eastern country of Urzikstan. As the story unfolds, Karim's hometown is attacked by the Russian army with drones and nerve gas, and Karim takes down a Russian soldier with a screwdriver and later becomes a fierce warrior.
In real life, the YPJ has mainly fought against the Islamic State and other Islamist rebel groups, not the Russian military.
Kurdish female fighters of the YPJ played a key role in the fight against the Islamic State after the extremist group attacked and besieged the Syrian Kurdish city of Kobani in September 2014. Their brutal rule in the city was ended in January 2015.
Moreover, YPJ fighters also took significant part in the defense of the region of Afrin last year when it was occupied by Turkey and Turkish-backed militias in March 2018.
According to Infinity Ward, the company that originally created the Call of Duty franchise, the goal of the new game is to "create an all-new experience that takes players on a powerful journey that reflects the battlefield today."
The game is heavily inspired by some of the events in Iraq, Syria, the so-called Arab Spring, and further back to the Soviet invasion of Afghanistan.
It's not the first game development process that has been heavily inspired by Kurdish female fighters.
Initially, one entitled Insurgency Sandstorm released for PC in 2018 had a plan to feature a single-player campaign in which players assume the role of a Kurdish Yezidi (Ezidi) female fighter who had previously been enslaved by Islamic State fighters in Iraq.
The lead game designer, however, later announced that the single player and cooperative storyline had been canceled for release but will be considered again at a later date.
As a result, the multi-player game still features female fighters, but not as part of a greater storyline in which Kurds play a primary part.
https://www.kurdistan24.net/en/news/7e74c047-82a5-4692-93b1-a186f36a0a8c
--------
SC Relief for 23-Year-Old Chhattisgarh Woman Who Married A Muslim
Jun 01, 2019
The Supreme Court has put on hold a Chhattisgarh High Court order directing a 23-year-old woman to undergo a psychiatric test because she married a Muslim man against the wishes of her family.
A vacation bench led by Justice MR Shah earlier this week stayed the high court's May 15 order, directing it to give a fresh hearing to the petitioner Anjali. The top court said the HC had not heard Anjali personally before directing her to subject herself to a psychiatric evaluation. The HC order was passed on a petition filed by Anjali's father.
The bench set aside the "ex-parte order" [issued without hearing the other side] after it was told by Anjali's lawyer, Gaurav Agrawal , that the woman had filed an application seeking to be heard but the high court chose to ignore it. Agrawal argued the HC order violated Anjali's fundamental right to life and liberty as she was an adult and free to decide her life partner as held by the apex court, including the 2018 Hadiya case from Kerala in which the top court had at one point of time ordered a probe by the National Investigation Agency into the intercommunal marriage between a Hindu girl with a Muslim boy.
https://www.hindustantimes.com/india-news/sc-relief-for-woman-who-married-a-muslim/story-r9nlJ9cdJHzLb1YBvL9ObJ.html
--------
URL: https://www.newageislam.com/islam-women-feminism/iranian-cleric-says-men-replace/d/118772
New Age Islam, Islam Online, Islamic Website, African Muslim News, Arab World News, South Asia News, Indian Muslim News, World Muslim News, Women in Islam, Islamic Feminism, Arab Women, Women In Arab, Islamophobia in America, Muslim Women in West, Islam Women and Feminism