New Age Islam News Bureau
16 Jun 2016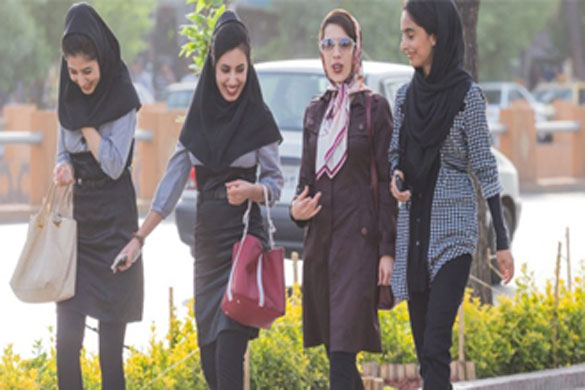 Photo: SHIRAZ, IRAN - APRIL 25, 2015: unidentified women walking in Shiraz, Iran (Credit: NICOLA MESSANA PHOTOS / Shutterstock.com)
--------
• New York Subway Commuters Defend Muslim Women
• London's Muslim Mayor Hosts EU 'Remain' Rally With Hijab-Clad Women Forced to Stand at the Back
• The Day after Orlando, Muslim Women Share Their Lives and Faith with Library Crowd
Compiled by New Age Islam News Bureau
URL: https://newageislam.com/islam,-women-and-feminism/new-age-islam-news-bureau/iranian-cleric--immoral-women-are-causing-climate-change/d/107662
--
Iranian Cleric: Immoral Women Are Causing Climate Change
Jun, 16,16
An Iranian cleric said in a recent speech that immoral women who don't comply with strict Islamic dress codes are causing a local river to dry up.
"My office has received photos of women next to the dry Zayandeh-rud River pictured as if they are in Europe," Seyyed Youssef Tabatabi-nejad told followers in a recent speech, according to ISNA NEws Agency.
"It is these sorts of acts that cause the river to dry up even further," he said.
Tabatabi-nejad has gained a reputation for disparaging womens' rights and even condoning violence against women who don't follow the country's strict dress codes, according to The Independent.
Apparently, the cleric also believes immodest women pose an ecological threat.
"I tell the Communications Ministry to clamp down on the instigators of the networks encouraging immodesty. If you don't do so, then you will have failed to carry out your duty," he said. "The Communications Ministry can discover and suffocate these individuals."
"If we see a sin it's useless that we only bicker about it. The police force can use the [paramilitary] Hezbollahi forces in carrying out their operations to root out vice," he said.
Tabatabi-nejad isn't the only Muslim to warn of ecological disaster. A group of influential Muslims is called for a jihad on global warming last year. They asked Islamic governments to reduce their use of fossil fuels and sign onto a United Nations climate agreement.
"Excessive pollution from fossil fuels threatens to destroy the gifts bestowed on us by God, whom we know as Allah – gifts such as a functioning climate, healthy air to breathe, regular seasons, and living oceans," wrote Islamic leaders from 20 countries after attending a summit in Istanbul, Turkey.
"We are driven to conclude from these warnings that there are serious flaws in the way we have used natural resources – the sources of life on Earth. An urgent and radical reappraisal is called for," the Muslims wrote to Islamic government officials, delegates and activists.
dailycaller.com/2016/06/15/iranian-cleric-immoral-women-are-causing-climate-change/
--
New York Subway Commuters Defend Muslim Women
Jun, 16,16
NEW YORK (FOX 5 NEWS) - Amaira Hasan, 25, says she is not just proud to be Muslim but also a New Yorker. She was overwhelmed to see how New Yorkers of all backgrounds came to the defence of two Muslim women on the subway this week.
We have seen it on social media and even on television these last couple of days: people speaking out against the Muslim community in the wake of the Orlando terror attack.
On Monday morning, Hasan experienced it for herself on the F train. She says that a white man got on the train in Jackson Heights and began berating two women wearing hijabs. He called them foreign terrorists and that they don't belong here, according to Hasan.
But later she took to social media to explain what had happened and her post went viral. It read in part: "The entire train erupted in anger. A black man, a Romanian, a gay man, a bunch of Asians, and a score of others came to their defense demanding that this man leave these women alone and get off this train."
She said that other people started chiming in saying "this is New York City and this is the most diverse place in the world and there is no place for this kind of rhetoric here." The man was obviously shutdown and ended up getting off the train.
Hasan says this hit home for her, since she is Muslim. SHE says in light of all the bad happening around us, there is still so much good and so much love.
Wednesday morning, she took to her Facebook page this time to thank all those who had a word of kindness and wrote: "To those that don't believe New Yorkers would stick up for their own, or shut down hate or bigotry, sorry, but, you don't know my New York."
Hasan says she actually stood up to say something to the man but everyone else had already jumped in.
fox5ny.com/news/160164983-story
--
London's Muslim Mayor Hosts EU 'Remain' Rally With Hijab-Clad Women Forced To Stand At The Back
Jun,16,16
In an effort to bolster the ailing Remain campaign, newly elected London Mayor Sadiq Khan has gone on a road trip across the country to try and boost support for remaining in the European Union (EU).
A photograph from one of Mr. Khan's speeches in Manchester posted on the Guido Fawkes blog reveals that in at least one of his speeches, meant to galvanise Labour voters in the north of England, women were excluded from the front row and relegated to the periphery of the event.
Mr. Khan is said to be attempting to distance himself from the government's official campaign that has been dubbed "project fear", and is expected to tell Labour voters in the party's northern heartlands that voting to remain in the EU is the "positive, proud and patriotic thing to do," the Evening Standard reports.
The London mayor said: "I am backing Remain because it's by far the best option for protecting working people's jobs, wages and rights…the world won't end if we leave Europe — but it won't be in Londoners' interests or the interests of working people."
It is not the first time that a Labour event has seen the segregation of women. The party has often been accused of pandering to hard-line Muslims, with a number of incidents being revealed last year.
The Mayor has also been in hot water before when it comes to questions over his links to Islamist groups and those who practice a more traditional form of Islam that often sees women segregated at events from men. Adding further fuel to the accusations that Mr. Khan is attempting to enforce a more traditional role of women in public life is his new ban on sexualised advertising on London's public transport.
According to Mr. Khan, the ban on sexualised advertisements was to prevent exposure to images of scantly clad models making women feel "ashamed" of their own bodies. Though the move plays into the desires of feminists who want to see a more prudish take on women in public life, it also plays to the views of Islamists and Islamic traditionalists who desire women to cover up for reasons of "modesty".
The speeches in the north of England see Mr. Khan team up with not only Labour leader Jeremy Corbyn, whose engagement in the campaign has been lackluster so far, but also Prime Minister David Cameron who merely weeks before the London mayoral election referred to Mr. Khan as an extremist. Mr. Cameron and Mr. Khan appeared at a rally together at the end of last month in London to extol the virtues of the EU and the benefits of staying in the political bloc.
The north of England tour is scheduled to see Mr. Khan make speeches in Manchester, Oldham, Leeds and possibly Bradford. After the tour he will return through the Midlands to London on Sunday ahead of a BBC debate with former London mayor and pro-Brexit campaigner Boris Johnson at Wembley Arena on Tuesday evening.
breitbart.com/london/2016/06/16/women-sent-back-khan-remain-speech/
--
The day after Orlando, muslim women share their lives and faith with library crowd
Jun,16,16
GUILDERLAND — Fazana Saleem-Ismail displayed for the crowd that packed the library here Monday night a book her daughter had made when she was in second grade, describing, in the painstaking hand of a child learning to write, the celebration of Ramadan.
When the 7-year-old came home from school that day, "She was sad. Nobody had clapped for her" the way they had for her classmates who had shared their traditions of Christmas and Hanukah.
Three years later, at age 10, Saleem-Ismail's daughter told her why she had been so sad that day. One of her classmates had asked her, "Are your parents bad? Do they do bad things?"
"If a 7-year-old boy is asking that, he's learning that at home," said Saleem-Ismail.
Now, Saleem-Ismail revealed near the end of the two-hour session, her daughter and the boy are friends. "He knows who I am," her daughter said.
She is a flesh-and-blood person to him, not an evil stereotype.
"Even our prophet…when he was maligned," said Saleem-Ismail, "he always treated people with kindness. My message to my children is always: Be an example."
Saleem-Ismail, her brown hair uncovered, sat on Monday evening between two friends, Muslim women each wearing a headscarf or hijab. They spoke of their religion and answered questions from a curious and supportive audience.
A research scientist who hosts free birthday parties for homeless children, Saleem-Ismail grew up on Staten Island, describing herself on college applications as a Muslim girl who worked at a Jewish community center and went to Catholic school. Her Muslim parents were immigrants from Sri Lanka.
Rhetoric from political candidates — Donald Trump has called for not allowing Muslims into the country — angered Saleem-Ismail and made her eager to speak out.
She said of statements made by presidential candidates, "It gave the average person license to say negative things about Muslims….If the person who could be our next president is saying that….," Saleem-Ismail said, her voice trailing off.
She also said, "It's important my children grow up in a world they don't have to fear."
Safiyyah Stewart, an 18-year-old student at Hudson Valley Community College, was born into Islam, the daughter of American parents who converted to Islam before they married. She grew up in Schenectady, attending a Muslim school until her high school years.
Amina el-Sheikh, trained as a nurse and now a manager, embraced Islam at the age of 18 after researching it for two years. A mother of five children — a son and four daughters — she said, "During Ramadan, we like to share…This is giving back to the community," she said of taking part in Monday's panel.
The session, scheduled months ago, came the day after the nation learned a man named Omar Mateen had opened fire in a gay nightclub in Orlando, Florida, killing 50 and wounding more than that. The 29-year-old American had called 9-1-1 from the club and professed allegiance to the leader of the Islamic State although the extremist group did not claim responsibility for the attack.
Saleem-Ismail opened Monday's session at the library by reading a solemn statement about her horror that the massacre was made by someone who was supposed to be a Muslim.
"Omar Mateen does not represent us," she said.
Saleem-Ismail quoted from the Qur'an: "Whoever kills a human being, it is as if he killed all of mankind."
She then led the group in observing a moment of silence for those who had been killed.
Lessons
The silence ended with lessons on the ancient religion as the three women took on the role of teachers. A map showed that 1.6 billion Muslims — 22 percent of the world's population — live not just in the Middle East but in large concentration in northern and central Africa and in places around the globe.
The six to eight million American Muslims arrived in four distinct waves. The very first landed in Virginia on a slave ship in 1619, according to el-Sheikh.
"The word 'Islam' means 'peace through submission to God,'" said Stewart, noting that "Allah" is the Arabic word for God and the Qur'an is the word of God.
"We believe in all the holy books from the Qur'an to the Bible," said Stewart. "God does know everything, deep in your heart. You may not know it yet."
The "five pillars" of the Islamic faith were listed: shahada, the declaration of faith; salat, prayer five times a day; zakat, charity; sawm, fasting during Ramadan; and hajj, a once-in-a-lifetime pilgrimage to Mecca.
Stewart went on, "We pray five times a day." During Ramadan, Muslims fast from sun-up to sundown and each is to take a pilgrimage to Meccain his or her lifetime."
Ramadan, Saleem-Ismail explained, is "the holy month when God was revealed to our prophet, peace be upon him."
She also said, "If you're unable to fast, you're supposed to feed a poor person." This comment was greeted with an appreciative murmur from the crowd. "It's a month when we focus on spirituality," said Saleem-Ismail. "This is the month where the devil is chained and the gates of heaven are wide open."
Correcting misconceptions
Saleem-Ismail highlighted some of the misconceptions about Muslims to set the record straight.
"We worship the same god as Christians," she said. "We believe in all the prophets…Jesus as well." Jesus is mentioned in the Qur'an 93 times, she said, and an entire chapter is devoted to his mother, Mary. "There's more about Mary in the Qur'an than in the Bible," she said. "We greatly respect the prophets but don't pray to them."
Saleem-Ismail faulted the media for widespread misunderstanding of the term "jihad."
"'Jihad' means to strive with all one's might," she said. "'Jihad is not going to war with other people…The highest form of jihad is spiritual."
Saleem-Ismail also said it is widely misunderstood that Islam oppresses women. "Religion and culture get mixed up," she said. Muslim women have always been allowed to own property and vote, she said, while those are more newly-won rights in the United States.
She pointed out that a Muslim woman, Benazir Bhutto, was the first woman elected to lead a majority Islamic nation — Pakistan; she was assassinated in 2007. And she noted that a Muslim girl, Malala Yousefzai, is the youngest person to win the Nobel Peace Prize. Malala, from Pakistan, an advocate for girls' education, was shot and recovered from the attack.
Perhaps the biggest misconception, Saleem-Ismail said, is: "Islam is a violent religion."
"Islam has gotten a bad rap because of individuals who perpetrate violence and say it is in the name of Islam…The name 'Islam' is from the root of the Arabic word 'silm,' meaning peace."
She went on, "Fundamentalist groups are attracting individuals without a lot of knowledge and pulling them into the fold; it's scary."
El-Sheikh founded a Muslim Girl Scout troop, which raised funds to help after the 2013 Boston Marathon bombing, said Saleem-Ismail.
"You hear a lot of negative things in the media," she said, urging Muslims to become journalists so good deeds are highlighted. Saleem-Ismail said her own charity, giving parties for homeless children, serves very few Muslims. Of helping others, she said, "It's the right thing to do. We live on this planet together."
She quoted the Qur'an, saying, had God willed, He could have made one community. Rather, He made diverse communities so they would compete with others in good works.
"God wanted us to be different," said Saleem-Ismail. "We're your sisters in humanity."
Questions
"No question is silly," Saleem-Ismail urged the crowd. "No question is stupid."
And so the questions tumbled out, ranging from matters philosophical to personal.
El-Sheikh, a nurse, confided that she had been kicked out of a patient's room because of her headscarf. It hurt her feelings but, when she was asked back in, she provided good care.
Stewart finds her college colleagues are more open-minded than peers in public high school had been. "I was bullied because of my hijab," she said. "Once I grew into myself, I was attracting less negative attention."
Muslim prayers are said in Arabic, and Saleem-Ismail revealed she could pronounce the words without knowing their meaning. "I grew up Jewish," responded a man in the audience. "I can read Hebrew but don't know what I'm reading," he said as laughter rippled over the hall.
A woman who called the hijab "the elephant in the room" asked more about it. "I personally wear a headscarf," said el-Sheikh, "because my religion says, guard your modesty." Around women or non-marriageable men, like a father or brother, the headscarf can be removed, she said.
When she lived in Saudi for eight months, el-Sheikh covered herself from head to toe in a burka with only her eyes exposed; even those, she covered with glasses. "These blue eyes were hot to trot," she quipped.
She dressed this way for her own protection so she wouldn't be grabbed "like meat" in the market.
"I eventually hope to come to it," Saleem-Ismail said of wearing a hijab. "My mother doesn't wear the hijab…The misconception is the hijab is oppression." Rather, Saleem-Ismail said, "It empowers women by focusing on their inner beauty and guarding against unwelcome sexual advances."
A Catholic woman asked who was the equivalent of the Pope for Muslims and was told, no one. "Each mosque is headed by an imam," said Saleem-Ismail.
Near the end of the two-hour session, Jack Haefeli used a cane to help himself stand up. He said, with the Muslims he'd come to know over the years, "I've discovered they're just like me. They've got families, jobs, concerns."
Applause washed over him as he sat down.
"How do you protect your children from the haters?" another man in the crowd asked the panelists.
"You know they have struggles," said el-Sheikh. She said it was hard on her oldest daughter wearing a headscarf to school. "But she does push through; it comes from her heart." She said of children, "They're going to have negativity whether Muslim or not…Your actions are much more than any words," said el-Sheikh.
"Both of my parents would say, you can educate these people…but you can't force them to believe it," said Stewart, no longer a child herself.
Asked about halal, el-Sheikh said, "It's meat killed under the name of God; the jugular vein is slaughtered. It's a quick kill….I eat anything that doesn't contain pork or alcohol. Strict halal is not easy to obey in a non-Muslim country, and I really do like fast food,"she said as the audience laughed.
Asked about the five-times-a-day praying, Stewart said, "We recite Arabic in our prayers; it unifies us all. We all pray with the same words from the same book."
Saleem-Ismail displayed on app on her cell phone, programmed with a call to prayers. She said prayers are said before sunrise, around noon, in the late afternoon, at sunset, and at night. "The purpose is for us to always be God conscious," she said.
Two Muslim men in the audience, both of whom happened to be scientists, described in some detail how accommodating bosses and co-workers had been in finding time and space for their prayers.
"For every one person hating you," said one of the scientists, Abdul Jabbar, "thousands of Americans want to embrace you. I'm proud of being an American, a Muslim American."
The crowd gave the panelists a standing ovation.
altamontenterprise.com/06152016/day-after-orlando-muslim-women-share-their-lives-and-faith-library-crowd
URL: https://newageislam.com/islam,-women-and-feminism/new-age-islam-news-bureau/iranian-cleric--immoral-women-are-causing-climate-change/d/107662
New Age Islam, Islam Online, Islamic Website, African Muslim News, Arab World News, South Asia News, Indian Muslim News, World Muslim News, Womens in Islam, Islamic Feminism, Arab Women, Womens In Arab, Islamphobia in America, Muslim Women in West, Islam Women and Feminism