New Age Islam News Bureau
18 June 2022
• Bollywood Actress Mandana Karimi Bashed For Dancing Inappropriately In Burqa
• Muslim Women Can Wear Hijab in Lagos Public Schools, Supreme Court Rules
• Al Jazeera Publishes Image of Bullet That Killed Palestinian Journalist Shireen Abu Akleh
• Difference between Hijab, Abaya, Burqa and Niqab, Coverings Worn By Muslim Women
• Women Filmmakers from Pakistan Honoured In 2022 Women's Empowerment and Religious Freedom Film Competition Held in Washington DC
• African Wonder Women Organisation To Empower Widows
Compiled by New Age Islam News Bureau
URL: https://newageislam.com/islam-women-feminism/iranian-bahai-woman-samin-tehran-faith/d/127271
--------
Iranian Bahai Woman, Samin Ehsani, Detained In Tehran for Following Banned Faith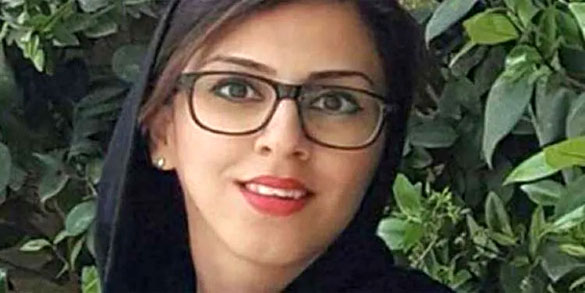 Samin Ehsani, a follower of the Baha'i faith and child rights activist
-----
June 17, 2022
Samin Ehsani, a follower of the Baha'i faith and child rights activist was arrested on Wednesday and transferred to Evin Prison to serve her sentence.
On July 2, 2011, Ms. Ehsani was sentenced by Branch 28 of the Revolutionary Court of Tehran to five years in prison on charges of "propaganda against the regime, acting against national security, and being a follower of the Baha'i faith."
This sentence was later confirmed by the Tehran Court of Appeals.
Samin Ehsani went to the Evin Court on August 17, 2011, to resolve some issues regarding her passport and was arrested there.
Following her arrest, security forces searched her home and confiscated all of her personal belongings, including computers and religious items related to her faith.
The Baha'i citizen spent the first 11 days of her detention in solitary confinement in Ward 2A of Evin Prison and then in solitary confinement.
After a month of detention, she was temporarily released from prison on bail of 185 million Tomans until the end of the trial.
Samin Ehsani had previously provided educational support and held classes for Afghan children deprived education in Iran. Her activities in this regard were used in court to issue the verdict against her.
Iranian Bahais are systematically persecuted by the Iranian regime.
Recently a court in Iran has sentenced 26 followers of the Baha'i faith to prison terms ranging from two to five years, as well as other measures, on charges of "conspiracy to disrupt internal and external security."
The verdict issued by the Revolutionary Court of the southern city of Shiraz is related to a series of arrests of Baha'is in Shiraz between July 2016 and December 2016.
Bahai persecution in Iran
Unofficial sources say that there are more than 300,000 people following the Bahai Faith in Iran. However, the Constitution of the Islamic Republic of Iran only recognizes Islam, Christianity, Judaism, and Zoroastrianism and does not recognize Bahaism.
Since the 1979 Islamic Revolution in Iran, Iranian Bahais have been systematically persecuted as a matter of government policy. During the first decade of this persecution, more than 200 of Iran's Bahais were killed or executed. Hundreds more were tortured or imprisoned, and tens of thousands lost jobs, access to education, and other rights – all solely because of their religious belief.
The persecution of Iran's Bahais is still ongoing with dozens of Bahais languishing in prisons throughout Iran.
Source: Iran HRM
https://iran-hrm.com/2022/06/17/iranian-bahai-woman-detained-in-tehran-for-following-banned-faith/
--------
Bollywood Actress Mandana Karimi Bashed For Dancing Inappropriately In Burqa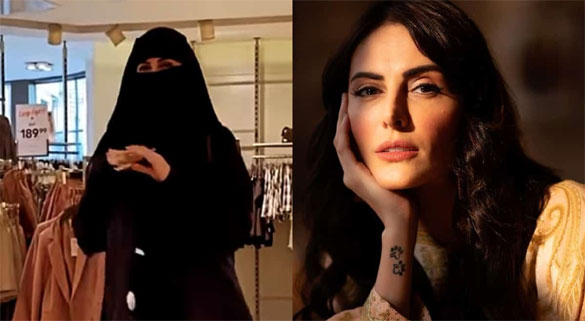 Mandana Karimi (Instagram)
------
Bushra Khan
18th June 2022
Mumbai: Bigg Boss 9 fame and Bollywood actress Mandana Karimi, who has often been wrapped in controversies, is now being slammed by netizens for yet another reason.
Recently, the Lock Upp contestant took to Instagram to share a video of her clad in Burqa and Niqab. However, what upset the netizens was her inappropriate dance (twerking) while wearing the religious dress commonly worn by Muslim women.
Mandana Karimi is in Istanbul shooting for a special project from where she shared behind-the-scenes of her character. She captioned the video, "I wish shooting with a hijab was as easy as this BTS NO HATES just bunch of people making a film"
Within a few minutes, the video managed to hurt the religious sentiments of the netizens which led to the outrageous trolling.
One user commented, "Please don't make fun of hijab" while another said, "Shame! Do not disrespect hijab like this. At least, think once before doing such actions!"
"You should be ashamed of yourself... Being a Muslim you are making fun of hijab shame on you I think you know that how disrespectful act you did," a user commented.
Many users also commented "Unfollowing".
On the professional front, Mandana Karimi was last seen in the Netflix special Thar. She was also seen in Ekta Kapoor's Lock Upp where she had gotten into a controversy with Karan Kundrra. Mandana Karimi started her acting career with Bhaag Johnny in 2015.
Source: Siasat Daily
https://www.siasat.com/mandana-karimi-bashed-for-dancing-inappropriately-in-burqa-2351381/
--------
Muslim Women Can Wear Hijab in Lagos Public Schools, Supreme Court Rules
June 17, 2022
The Supreme Court has set aside, the restriction the Lagos state government placed on the use of hijab by female Muslim students in its public primary and secondary schools.
In a split decision of a seven-man panel of Justices, of five to two, the Apex court affirmed the earlier decision of the Lagos Division of Court of Appeal, which nullified a High Court judgement that banned female students from wearing Hijab with their school uniforms.
The court, in its lead majority verdict prepared by Justice Kudirat Kekere-Ekun but read by Justice Tijani Abubakar, dismissed as lacking in merit, an appeal Lagos state government lodged against the Court of Appeal decision.
The Supreme Court said it found no reason to reinstate the October 17, 2014 judgement by Justice Grace Onyeabo of the High Court of Lagos State, which upheld the ban on Hijab.
Source: Blue Print
https://www.blueprint.ng/muslim-women-can-wear-hijab-in-public-schools-supreme-court-rules/
--------
Al Jazeera Publishes Image of Bullet That Killed Palestinian Journalist Shireen Abu Akleh
Qais Abu Samra
17.06.2022
RAMALLAH, Palestine
Al Jazeera network has published a photo of a bullet it said killed its correspondent in Palestine, Shireen Abu Akleh, while covering an Israeli raid in the occupied West Bank.
An investigation conducted by the media network and published on its website stated that "the green-tipped bullet was designed to pierce armour and is used in an M4 rifle."
It pointed out that "the bullet was analysed using 3D models and, according to experts, it was 5.56mm calibre – the same used by Israeli forces."
Citing experts, Al Jazeera said the bullet was "designed and manufactured in the United States."
In its investigation, Al Jazeera re-simulated the incident using 3D technology to learn more about the type of bullet used, its calibre, and the type of guns that fired this type of round.
Abu Akleh, a Palestinian journalist with American citizenship, was killed on May 11 in Jenin while covering an Israeli raid.
Palestinian officials and her employer, Al Jazeera, said she was killed by Israeli forces.
The Israeli army has flatly rejected the findings of the Al Jazeera investigation, claiming that there was no way to tell who killed Abu Akleh with one senior Israeli army official describing the report as "unsubstantiated."
"They put the blame on Israel on the first day. The allegations were unsubstantiated back then and they are (still) unsubstantiated today," the Israeli army official, who spoke on the condition of anonymity, told Anadolu Agency.
Source: Anadolu Agency
https://www.aa.com.tr/en/middle-east/al-jazeera-publishes-image-of-bullet-that-killed-journalist-abu-akleh/2616521
--------
Difference between Hijab, Abaya, Burqa and Niqab, Coverings Worn By Muslim Women
June 18, 2022
The whole country and the entire social media is busy in the debate of Hijab at this time. In addition to the hijab, Muslim women also wear an Abaya, Burqa or Niqab. Often all these costumes are assumed to be one while they are separate. What is the difference between all these, let us know.
Burqa - This is a special dress worn by Muslim women. indian women usually do not wear burqa. It is commonly worn in Central-Asian countries and Afghanistan. In burqa, women are covered with sarapa (from head to toe). There is something like a curtain or mesh in front of the eyes so that they can see outside. The Taliban made the burqa mandatory for women in their previous regime, while this time it is emphasizing the hijab.
Hijab - Indian women are often seen in Hijab. In this, the head and chest part is covered by special cloth and the face remains open. Men also wear hijab in many places. The cloth surrounding the hijab is chador in which a little more face is covered than the hijab.
Abaya - The meaning of Aba is a simple-loose cloak-like garment. It is widely worn in North Africa and Arabian countries. indian women also wear abaya very often. Many women wear a hijab over an abaya, while many wear a niqab over it.
The niqab is the garment worn over the abaya. Nothing is visible in it except the eyes. There have been many debates on the Niqab. In some countries it is considered extremely fanatical. Nicolas Sarkozy, who was the President of France, has even said that the niqab or burqa is not welcome in France.
Source: India Herald
https://www.indiaherald.com/Spirituality/Read/994510433/Different-kinds-of-coverings-worn-by-Muslim-women
--------
Women Filmmakers from Pakistan Honoured In 2022 Women's Empowerment and Religious Freedom Film Competition Held in Washington DC
June 15, 2022
She Stood Against Religious Extremism by Zeenat Bibi (Peshawar, Pakistan) was awarded the grand prize in the 2022 Women's Empowerment and Religious Freedom Film Competition. Peace Promoters by Khalida Niaz (Peshawar, Pakistan) took 1st runner-up, and Without Fear by Eleni Spiru (U.S.), was awarded 2nd runner-up.
The grand prize winner receives a $3,000 cash prize, 1st runner-up $1,500, and 2nd runner-up $500.
She Stood Against Religious Extremism tells the true story of a young woman in a war-torn region of Pakistan who starts an initiative to counter religious extremism and sectarian violence by holding dialogue sessions with youth from different beliefs and religions.
In Peace Promoters, a young woman in Peshawar, Pakistan counters religious-based violence by building relationships among different faith influencers.
Without Fear captures the story of a Pakistani American woman and her struggles to escape oppression and fight for religious freedom.
The media projects submitted to the film competition came from thirty women who took part in Empower Women Media's Pakistan Media Training Fellowship. For six months, these talented Pakistani women learned about Freedom of Religion or Belief and received expert training on how to produce contextualized digital media to reach their communities and world class leaders.
"We were amazed to witness the tenacity and creativity of the Pakistani women filmmakers," said Shirin Taber, Director of Empower Women Media. "They took risks to share their women's empowerment and religious freedom stories. Their films have the potential to change lives and shift the culture at large. We need more women media advocates like them!"
In addition to the top three films, Hidden Identities: The Forgotten Women of Ceylon by Soraya Deen (Sri Lanka and U.S.) won the Global Religious Women's Empowerment and Religious Freedom Award.
Two films won Inclusion Awards: A Thousand Reasons to Smile by Anita Inayat (Lahore, Pakistan) and A Helping Hand Across Faiths and Countries by Jamaima Afridi (Khyber Pakhtunkwa, Pakistan).
Two films also won Diversity Awards: A Story of a Cyclist from Skardu by Saira Zahid (Gilgit-Baltistan, Pakistan) and Gurdwara Siri Singh Saba, Quetta by Rani Wahidi (Quetta, Pakistan).
She Means Change, a social media campaign created by Ayesha Shaikh (Sukkur, Sindh, Pakistan) won the Inclusion and Diversity Social Media Award.
Empower Women Media invited nine highly respected judges to review the short films, including Katrina Lantos Swett, president of the Lantos Foundation; Dr. Brian Grim of the Religious Freedom & Business Foundation, Ed Brown, Secretary General of Stefanus Alliance International, and other leading voices for religious freedom.
"Empower Women Media's Religious Freedom Film Competition allows for a small glimpse into the phenomenal and tireless work that women are accomplishing in South Asia to ensure equality in regard to religious freedom and the practice of religious beliefs without persecution," said judge, Dr. Karen Leslie Hernandez, Programme Officer in Partnerships and Interreligious Education, Religions for Peace International. "Behind and in front of the camera, this competition supports, ensures and empowers a vital platform for these important voices to be heard and it gives the viewer a rich and wonderful learning experience as well."
Annie McKinney, Director of Communications and Operations for IRF Secretariat, said after judging the films: "What you all are doing is incredible and inspiring, and being a young woman in IRF myself, just to put it simply, thank you."
The winning films will screen before civil society and faith leaders at the IRF Film Festival and Roundtable in Islamabad, Pakistan on June 19th. Selected films will also be showcased at the IRF Summit in Washington, DC, June 28-30.
This is the fifth annual Religious Freedom Film Competition sponsored by Empower Women Media in association with the Religious Freedom & Business Foundation.
For more information about the short films, female media producers, and the June 19th IRF Film Festival and Roundtable, contact the Empower Women Media Director, Shirin Taber, at shirin@visualstory.org or www.empowerwomen.media. To watch the films, visit Empower Women Media YouTube channel.
Source: Religion News
https://religionnews.com/2022/06/15/women-filmmakers-from-pakistan-honored-in-2022-womens-empowerment-and-religious-freedom-film-competition/
--------
African Wonder Women organisation to empower widows
18 June 2022
Focused on serving African widows, the 'unserved community', the African Wonder Women Organisation (AWWOrg), bringing hope to a vast majority of women and their children is set to hold its maiden anniversary seminar.
Themed, 'Journeying Through Hard Times With Hope', the seminar will hold virtually on June 26th. Keynote speakers for the event are: Abike Dabiri-Erewa, Chairman, Nigerians In Diaspora Commission (NIDC) to speak on 'Leadership As Providers Of Real Solutions To Inspire Hope For Better Living'; Toyin F. Sanni, the Executive Vice Chair, Emerging Africa Group, speaking on 'Hope – A Psychological Strength For Emerging Into The Unknown', and Modupe Afolabi, Executive administrator, Redeemed Christian Church of God, taking a topic on 'Faith – A Message Of Hope'.
Founder and convener, Princess Folaji Fasanya-Omoyeni said, "AWWOrg is on a mission to empower 2000 widows by 2025, to give widows hope and the lifeline to believe again.
"We are empowering someone to regain confidence, to trust in themselves and to have belief in a brighter tomorrow. We are also letting 'forgotten women' know that, they are not alone and that against all odds, it is okay to dream. We are helping African widows and women find their voices again as we continue to share this message of hope via such projects as, 'Every Emotion Is Valid', our emotional well-being platform.
"After losing my beloved husband to COVID-19 in the early stages of the 2020 COVID-19 pandemic and with no reference points for this kind of loss, I experienced unspeakable trauma and grief. Furthermore, this loss exposed the real effects of bereavement, stigma, stereotype, negative traditions and biases associated with widowhood in the Nigerian culture and in Africa. AWWOrg was birthed in my place of deep pain and trauma."
Continuing Fasanya-Omoyeni stressed that her vision is to be an agile, trusted, innovative global initiative of influence committed to changing socio-cultural practices of injustice, discrimination and exploitation associated with widowhood in African communities in the United Kingdom, Africa and globally.
"We are focused on easing the trauma of widowhood and promoting the rights of African Widows. Fostering applicable, practical solutions to challenging issues for the benefit and improvement of widows' lives and giving widows the platform to connect digitally and to form positive relationships while uplifting each other."
She added that the organisation is poised to uncovering and unveiling injustices associated with widowhood and implementing creative solutions while providing a platform where African widows can share experiences and speak out about issues affecting them.
Other speakers are: Dr. Funmi Adewara, Founder/CEO Mobihealth International, to speak on The Future Of Technology In The Management Of Mental Health; Akello Oliech, Counsellor and Mental Health Advocate, to talk about Peer-2-Peer Support, Its Benefits And Challenges; Dilys Sillah, Minister and Founder 'Speak With Dilys, to speak on My Personal Journey Of Hope; Lidia Nyambura, Life Coach, Mentor. Inspirational Speaker and International Development Specialist. To speak on My Personal Journey Of Hope; Adetoun Alli-Adams, Psychotherapist to talk about Understanding 'Hope' As A Stimulant For A Healthy Brain And Healing; and Dr. T. AyodeleAjayi. Consultant Psychiatrist NHS and Convener, Tripartite Care Hub. To speak on Topic: The Role Of Psychotherapy As A Custody Of Hope In Emotional Healing And Recovery.
Source: Guardian Nigeria
https://guardian.ng/guardian-woman/african-wonder-women-organisation-to-empower-widows/
--------
URL: https://newageislam.com/islam-women-feminism/iranian-bahai-woman-samin-tehran-faith/d/127271
New Age Islam Islam Online, Islamic Website, African Muslim News, Arab World News, South Asia News, Indian Muslim News, World Muslim News, Women in Islam, Islamic Feminism, Arab Women, Women In Arab, Islamophobia in America, Muslim Women in West, Islam Women and Feminism