New Age Islam News Bureau
27 Sept 2013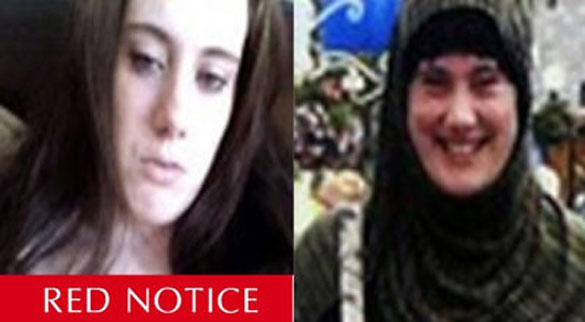 These images of Samantha Lewthwaite were issued by Interpol (Picture: Interpol)
-----------
• Muslim Educational Society: Muslim girls turn down U-18 marriage proposal
• Miss World Organisers Vow to Foil Radical Islamist Protests at Bali Final
• Fawzia Koofi Launches Bid To Be President Afghanistan
• Interpol Issues Worldwide Arrest Warrant for "The White Widow"
• Stop communalising ban on child marriage: Samastha Kerala Jam-Iyyathul Ulama
• NUST Pakistan Dress Code: Grooming By Taking Away Personal Choices
• U.S. Creating Prospects for Muslim Women
Compiled by New Age Islam News Bureau
URL: https://newageislam.com/islam-women-feminism/iran-lawmakers-pass-bill-allowing/d/13721
-----------
Iran Lawmakers Pass Bill Allowing Men to Marry Adopted Daughters
September 27, 2013
Human rights activists say approved bill, making girls vulnerable to the ruling from age 13, 'legalises paedophilia'
Parliamentarians in Iran have passed a bill to protect the rights of children which includes a clause that allows a man to marry his adopted daughter and while she is as young as 13 years.
Activists have expressed alarm that the bill, approved by parliament on Sunday, opens the door for the caretaker of a family to marry his or her adopted child if a court rules it is in the interests of the individual child.
Iran's Guardian Council, a body of clerics and jurists which vets all parliamentary bills before the constitution and the Islamic law, has yet to issue its verdict on the controversial legislation.
To the dismay of rights campaigners, girls in the Islamic republic can marry as young as 13 provided they have the permission of their father. Boys can marry after the age of 15.
In Iran, a girl under the age of 13 can still marry, but needs the permission of a judge. At present, however, marrying stepchildren is forbidden under any circumstances.
As many as 42,000 children aged between 10 and 14 were married in 2010, according to the Iranian news website Tabnak. At least 75 children under the age of 10 were wed in Tehran alone.
Shadi Sadr, a human rights lawyer with the London-based group Justice for Iran, told the Guardian she feared the council would feel safe to put its stamp of approval on the bill while Iran's moderate president, Hassan Rouhani, draws the attention of the press during his UN visit to New York.
"This bill is legalising paedophilia," she warned. "It's not part of the Iranian culture to marry your adopted child. Obviously incest exists in Iran more or less as it happens in other countries across the world, but this bill is legalising paedophilia and is endangering our children and normalising this crime in our culture."
She added: "You should not be able to marry your adopted children, full stop. If a father marries his adopted daughter who is a minor and has sex, that's rape."
According to Sadr, officials in Iran have tried to play down the sexual part of such marriages, saying it is in the bill to solve the issue of Hijab [head scarf] complications when a child is adopted.
An adopted daughter is expected to wear the hijab in front of her father, and a mother should wear it in front of her adopted son if he is old enough, Sadr said.
"With this bill, you can be a paedophile and get your bait in the pretext of adopting children," Sadr said. Some experts believe the new bill is contradictory to Islamic beliefs and would not pass the Guardian Council.
An initial draft of the bill, which had completely banned marriage with adopted children, was not approved by the council and it is feared that MPs introduced the condition for marriage to satisfy the jurists and clergymen. This is why Sadr fears it can pass the council this time.
The bill has prompted backlash in Iran with the reformist newspaper, Shargh, publishing an article warning about its consequences. "How can someone be looking after you and at the same time be your husband?" the article asked.
Shiva Dolatabadi, head of Iran's society for protecting children's rights, has also warned that the bill implies that the parliament is legalising incest. "You cannot open a way in which the role of a father or a mother can be mixed with that of an spouse," she said, according to Shargh. "Children can't be safe in such a family."
Execution of juvenile offenders in Iran has also been in spotlight in recent years amid confusion between the age of majority – when minors cease to be legally considered children – and the minimum age of criminal responsibility, which is 15 for boys and nine for girls under Iranian law.
http://www.theguardian.com/world/2013/sep/26/iran-lawmakers-men-wed-adopted-daughters
-----------
Muslim Educational Society: Muslim girls turn down U-18 marriage proposal
TNN Sep 26, 2013
MALAPPURAM: A survey conducted by the Malappuram district committee of Muslim Educational Society (MES) among Muslim girl students in colleges under the society reveals that more than 99% of the students are opposing under-18 marriages.
After the findings of the survey, the state committee of MES has decided to oppose the move of a section of Muslim scholars to approach the Supreme Court demanding to legalize under-18 marriages.
Among 4,040 Muslim girls from different colleges and higher secondary schools in the district, 4,003 have opposed the move while only 37 supported lowering the age of marriage.
The survey was conducted among the students of MES medical college, MES dental college, MES engineering college, MES college of architecture, MES college of business and MES higher secondary schools in the district.
The survey was conducted as per the decision of the state committee of MES in the backdrop of the controversy over under-18 marriages.
Questionnaires were distributed among the college and school students and later teachers collected the feedback from them. One student even wanted the minimum age for marriage to be fixed at 23.
MES district president N Abdul Jabbar said the survey result did not come as a surprise. It was on expected lines. And this will strengthen the arguments of MES which has already taken a strong stand against child marriages among Muslims in the state.
"As the survey was conducted only among Muslim students, the opinion can be considered as a reflection of the stand of the new generation on the issue," he said.
The state committee will formally inform other state Muslim organisations about its decision on the issue in the coming days, he said.
Eight Muslim organizations had on September 20 launched a joint platform, the Muslim Vyakthi Niyama Samrakshana Samiti, to protect the personal law, including underage marriage. It also decided to approach the Supreme Court with a plea to allow under-18 marriages.
http://articles.timesofindia.indiatimes.com/2013-09-26/kozhikode/42425240_1_mes-survey-marriages
----------
Miss World Organisers Vow to Foil Radical Islamist Protests at Bali Final
September 27, 2013
Security concerns are growing on the Hindu-majority holiday island of Bali, where the Miss World final is due to take place Saturday, despite hardline protests from Muslim groups and warnings that extremists could attack the pageant they deem un-Islamic.
Indonesia is officially secular, but protests by Islamic radicals in the world's most populous Muslim-majority country have pushed the authorities to move the event to Bali, instead of near the capital, Jakarta.
But things haven't calmed down, and the radicals are determined to stage another series of protests on Saturday and break through toughened security at the beauty pageant.
"We are going to protest against it, because it is unacceptable," AFP quoted the head of the East Java branch of the Islamic Defenders Front, Haidar Al-Hamid, as saying.
Up to 90 percent of Indonesia's population of 240 million people identify themselves as Muslim, with the vast majority practicing a moderate form of Islam. Thousands have joined protests across the Indonesian archipelago, from Jakarta to cities on Sumatra Island and Borneo, slamming Miss World as "pornography" and a "whore contest," burning effigies of the organizers.
Even after a pledge by the British-based organizers to cancel the main highlight of the contest, the bikini show, and replace the bikinis with Balinese sarongs, the protesters weren't satisfied, urging the authorities to change the event's venue. The organizers initially planned to hold the final and qualifying rounds in and around the capital, Jakarta, where radicals have a lot of influence.
Earlier this month, hundreds of Islamic Defenders Front members made an attempt to cross to Bali from East Java. Female police officers, backed by hundreds of elite police troops, stopped the group from getting onto a ferry, however.
The US, UK and Australian embassies have also warned that radicals could attack the pageant, recalling the deadly Jihadist bombings in Bali that killed over 200 people from 21 nations in 2002.
"Extremist groups may be planning to disrupt the Miss World pageant... potentially through violent means," the US embassy in Jakarta said.
Last year, US singer Lady Gaga had to cancel her concert in Jakarta after a series of similar protests. Calling her "devil's messenger" who wears only a "bra and panties," the Islamic Defenders Front threatened to stop Gaga from getting off the plane and burn down the venue where the "Poker Face" diva was due to have performed.
Saturday's final in Nusa Dua, southern Bali, will see the beauty queens sashaying in Indonesian-designed dresses before a winner is crowned. A total of 129 contestants will show off their talents in the finale of the three-week event, which will be broadcast to over 180 countries.
Organizers of Saturday's final are counting on up to 700 security officers, reinforced by traditional Balinese security personnel, known as "pecalang," to ensure the safety of participants and guests.
http://rt.com/news/miss-world-muslim-protests-372/
-----------
Fawzia Koofi Launches Bid To Be President Afghanistan
By Kiko Itasaka, Producer, NBC News
September 27, 2013
KABUL, Afghanistan -- A political pioneer and outspoken lawmaker took her first steps toward running for president of Afghanistan Thursday, promising to take the country out of its "days of darkness."
At a gaudy banquet hall in Kabul, Fawzia Koofi launched her new political party, Movement for Change in Afghanistan, in front of several hundred supporters.
In a speech that struck an optimistic tone, the 38-year-old mother-of-two appealed to the youth of Afghanistan -- the most likely group to consider voting for her.
"I don't know who will be the next president, I don't know, no one knows," she said. "But we must come out of the days of darkness, and bring about change."
It got an enthusiastic response from her audience. "She has support all around the country, and she will get votes from everyone," said Shugufa Wassiqzada, 20. "Not only women but people from all over will vote for her!"
Koofi also has the support of some prominent politicians, including Ahmad Zia Massoud, the former Vice President of Afghanistan and brother of assassinated anti-Taliban fighter Ahmad Shah Massoud.
He congratulated her at the rally, publicly endorsing her potential candidacy. She will officially put her name forward for president if she gets enough endorsements from fellow lawmakers.
But while she enjoys some support in Kabul -- and in Badakhshan, her remote and impoverished home province -- she still needs to win backing in in other parts of the country.
Wadeer Safi, a political scientist at Kabul University, said: "I'm sorry to say a woman cannot be president in Afghanistan, because of mentality, because of culture, because of tradition." However, he added that her campaign was a "good start for future generations."
Indeed, it is the next generation that Koofi hopes to reach. Fully aware that traditionalists would never consider supporting her, she wants to win the youth vote.
She has a small, young -- and for now, entirely male -- team of campaign workers who will focus on social networking, targeting cellphone and Internet users.
Koofi has already blazed a trail as as Afghanistan's first female Second Deputy Speaker of Parliament - an achievement all the more remarkable for a woman who was the only female in her family to go to school.
Both as a female politician and a possible presidential candidate, Koofi is taking a great risk in a country where the Taliban regularly attacks senior lawmakers and is steadfastly opposed to women's rights.
She recounted how the Taliban threatened to kill her countless times, and how she survived a sustained gun attack on her car. She accepts being in harm's way as inevitable and confesses to losing sleep now and then.
"You get so much involved in life that you almost forget the risks," Koofi said. "I have chosen this life, and I have chosen to take the risks as well."
While she accepts her fate, she worries for her two teenage daughters and often writes letters to them when embarking on trips in case she does not return.
Some of these letters are included in her autobiography, "The Favored Daughter." In one, she writes, "All of us as human beings will die one day. Maybe today is the day I will die. But if I do, please know it was for a purpose." In another message to her girls, she says: "Perhaps someday your children's children will grow up free in a proud, successful, Islamic republic that has taken its rightful place in the developed world."
Koofi is realistic about her presidential chances, but she speaks with admiration of other politicians who have broken the mold.
Speaking about President Barack Obama's book, "The Audacity of Hope," Koofi said: "I think President Obama's election in the United States is a role model for all the world. One day everybody might come to their hopes and dream. Their dreams might come true."
With a grin, she added: "Today the United States, maybe tomorrow Afghanistan."
http://worldnews.nbcnews.com/_news/2013/09/26/20704359-afghanistans-answer-to-hillary-clinton-fawzia-koofi-launches-bid-to-be-president?lite
-----------
Interpol Issues Worldwide Arrest Warrant For "The White Widow"
September 27, 2013
The attack by jihadists on a mall in Kenya has stunned the world. The official death toll stands at 67, but reports suggest that the casualty list could reach hundreds. With such losses and amid allegations that the organiser was a western woman by the name of Samantha Lewthwaite, who has been dubbed the "White Widow," we look at the past, as well as the background of this convert to jihad.
Bainbridge, Northern Ireland, is known as the birth place of the famous hymn writer Joseph M. Scriven, who penned, "What a Friend We Have in Jesus" and the polar explorer, Francis Crozier. His monument stands surrounded with polar bears, in the centre of the comfortable market town. It is also famous for being the ancestral home of Jane Austin. What the town is known for will change forever after the sickening scenes in Kenya and it centres around the daughter of a British solider and a local woman.
Samatha Lewthwaite's father was a serving British solider, in the prestigious regiment, 9th/12th Royal Lancers and her mother was a local woman, Elizabeth Christine (née Allen) Lewthwaite, who came from a Roman Catholic background, this relationship defied convention in Northern Ireland at the time. Both met while he was serving, in what is known as, the Northern Ireland Troubles. Samantha was born at a time when the violence that engulfed Northern Ireland was still raging – 1983. The family would eventually move to England and around 1994 her mother and father would split. This is rumoured to have had a deep impact on the young Samantha.
As a consequence of the trauma Lewthwaite is said to have suffered at the family brake up, she is believed to have "sought solace from Muslim neighbours who she believed had a stronger family network." she is thought to have first become interested in the teachings of Islam while being taught Religious instruction at school. By the time she had reached 17 she had converted to Islam. She would also enrolled to study at the School of Oriental and African Studies in Russell Square, London.
It was while studying there that she met her future husband, and suicide bomber, Germaine Maurice Lindsay. The initial contact, between the pair, took place over social network sites; they later went to a Stop the War march at London's Hyde Park as a date. They would eventually marry in Aylesbury in 2002, although it was not conducted with state approval, so it had no legal status. They took the Islamic names Asmantara and Jamal. Lewthwaite's conversion ostracised her further from her family who are said "never came to terms with their daughter's conversion" and did not attend their daughter's wedding.
Within three years of her marriage to Lindsey he was to take part in the suicide attacks on London, what is generally called 7/7. He boarded the King's Cross Underground and as part of a coordinated attack, detonated an IED which he had in a backpack. His bomb killed 26 commuters as they made their way to work on the busy train; he also died in the blast.
Six days after the bombing Lewthwaite reported Lindsay missing, claiming she had no knowledge of his whereabouts or of his subsequent plans. She was eight months into a pregnancy with her second child during these events and used the helpline setup for those bereaved in the attacks to report his disappearance.
The police placed her in protective custody due to the nature of her husband's crime and the tension it had caused in the community. At the inquest it was revealed that Lewthwaite had been an associate of organiser of the attacks, Mohammad Sidique Khan.
Just two months after the attacks took place, Lewthwaite sold her story to local tabloids, portraying herself as a victim. She would also state during the interview that her husband was a new convert to Islam, and that he had been "tricked into his actions by extremists", something which others disputed. She received thirty thousand British pounds for the interview.
In 2009 she is said to have married once more, this time to Habib Saleh Ghani, who had connections to the Middle East and Africa. Lewthwaite gave birth to a third child and is believed to have left the United Kingdom for Africa.
She next appears in February 2012, when police in the Kenyan capital, Nairobi, issue a warrant for the arrest of a caucasian female, by the name Natalie Faye Webb. This is a fake identity and a forged South African passport has been used by the same individual who, Scotland Yard says, is Samantha Lewthwaite. The woman is wanted for planning attacks and structuring terrorist cells in Kenya.
Lewthwaite is believed to travel with all three of her children. Both this and her connections to Al-Shabaab led her father to make his only public statement about his daughter's activities. Stating He was shocked and upset at what his daughter was alleged to be involved in and saying he and the rest of the family had had no contact with her.
By March 2012, the CIA had joined the hunt for Lewthwaite as she just evaded capture at an apartment in Mombasa. It is thought that she and others were targeting Mombasa's exclusive Serena Beach Hotel and Sarova Whitesands Beach Resort. In the apartment were found some smashed computers and AK47 ammunition, all with fingerprints identified as Lewthwaits. Kenyan police would give a statement on the findings that would give her a lasting name, which would add to her infamy, the "White Widow."
The White Widow would later be said to have organised and took part in a grenade attack during the Euro 2013 soccer tournament against English tourists who were watching the game between England and Italy, in Mombasa.
The Westgate Mall was a target, no doubt, because of the many westerns who shopped there and also the number of Israeli owned business sited there. Israeli Special Forces were reported to have acted in an advisory role, on the ground, as the crisis unfolded. A western woman is reported, by witness, as carrying an assault rifle and giving commands in Arabic; this woman is believed to be Samantha Lewthwaite.
Samantha Lewthwaits' aging grandmother had to be hospitalised due to the shock once she was made aware of her granddaughter's alleged role in the massacre.
Interpol has issued a worldwide arrest warrant for Samantha Lewthwaite and her various aliases.
The fact the jihadist theatre is moving and fluid must be of great concern. The fact that an Irish mother of three who converted to Islam is one of the main suspects in such a horrific attack is almost beyond comprehension. Some are suggesting that Samantha Lewthwaite was killed in the attacks, but this is unconfirmed.
http://guardianlv.com/2013/09/interpol-issues-worldwide-arrest-warrant-for-the-white-widow/
-----------
Stop communalising ban on child marriage: Samastha Kerala Jam-Iyyathul Ulama
27th September 2013
At a meeting convened by the Samastha Kerala Jam-Iyyathul Ulama in Kerala, several Muslim organisations including the Indian Union Muslim League (IUML) have joined hands to oppose the law banning child marriage on the ground that it is against the provisions of the Muslim personal law. They have also decided to move the Supreme Court with a plea to exempt the Muslim community from the provisions of the Prohibition of Child Marriage Act (PCMA), 2006, with regard to girls' marriageable age. A coalition partner of the ruling United Democratic Alliance in Kerala, the IUML had unsuccessfully tried the strategy recently through the social welfare department, by issuing a circular aimed at legalising marriages of under-age Muslim girls.
The call for lowering the marriageable age for Muslim girls could not have sprung from "innocent" conservatism but is part of a well-thought out plan for communal polarisation. This is a dangerous game that seeks to push girls of one community into a hell-like life, divide society on communal lines for electoral gains and create two kinds of citizens, laws and rights in the country. Several high courts have held that PCMA has overriding effect over the provisions of the Muslim personal law, where a girl's marriage is allowed once she attains puberty.
Fortunately, several other Muslim outfits have come out against the clergy's call. Arguing that there is no evidence that child marriage is "fundamental" to the practice of Islam, the absence of which would "violate" the Muslims' right to practise their religion, they have asked the community organisations to stay away from committing acts that amounted to promoting child marriages. It is time Muslim politicians and clerics realised the mischief of asking for a different law for Muslims in a country ruled by laws with universal application.
http://newindianexpress.com/editorials/Stop-communalising-ban-on-child-marriage/2013/09/27/article1805282.ece
----------
NUST Pakistan Dress Code: Grooming By Taking Away Personal Choices
September 27, 2013
ISLAMABAD: The latest enforcement of a dress code which resulted in girls getting fined for not dressing up 'modestly' stirred a storm at one of the top-ranking institutes of the country.
News of girls being fined at the National University of Sciences and Technology (Nust) for not wearing Dupatta sparked a controversy and debate between liberal and conservative elements on social and print media. The rector for his part justified the move as a 'security measure'.
The university, stretched over the whole H-12 sector in the capital, has an infrastructure developed to international standards and like any other security concerned varsity, entering cars are thoroughly checked at the main gate beyond which, tall brick buildings and broad roads with speed signs gives it all the necessary looks of a modern campus but students — recently speaking of the conservative rules and old fashioned trends the institute is trying to instil in them— unveils what is going on at the heart of the institute.
Admissions on merit — evident by the fact that only 2000 applicants were enrolled out of the total 64,000 this year— means the institute produces top quality graduates in the country, but the recent issues raised by students studying there puts a question mark on the varsity's grooming of students beyond books and lectures.
Speaking to The Express Tribune, a student of engineering requesting anonymity said her dream of studying there has turned into a nightmare, from which she will only awake after graduation — a moment she impatiently awaits. Regarding the ongoing controversy over social media, the student with an A' levels background said whatever her peers are saying is true "Let's face it; there is no smoke without fire. The conservative environment has led to a drastic change in the way I dress and I to it only to be accepted at the college," she said while adding that she never wears a Dupatta otherwise which is mandatory at Nust.
Male and female students are asked to maintain a safe distance at the campus and out of the three cafeterias; one is out of bounds for girls after 5:00pm. The hostels are also shut down at 7:30pm instead of the routine 9:00pm and students have to spend the night outside if they fail to reach the hostel by that time.
According to another student, judging the character of a girl by her dress is unfair. "At Nust, forget that you will live a liberal life. For the management here, if I wear jeans I'm a bad girl and if I'm in Shalwar Kameez I'm considered good." The administration's mindset represents that of our society at large she said, adding that her family makes fun of her by asking her to wear a Burqa at college to score better.
As the slips of students fined for wearing jeans went viral on social media the jokes about the university started a deep-rooted debate about the military-administered university.
While the conservatives praised the varsity, terming it one of its kind by highlighting its academic side, others spoke about the suffocation felt by students who deal with the stress on a daily basis.
A students meeting was called in by the university's rector, Engineer Muhammad Asghar on Thursday evening as the issue gained momentum.
Speaking to the gathering of 500 girls, including students charged for wearing inappropriate clothing, Asghar reassured his support for the students and said he wanted to interact with the students to clear misunderstandings. He informed the meeting that the harsh steps were taken to ensure the security of the students and mentioned the presence of terrorists at the universities of Punjab and Sindh hostels adding that a malicious campaign to tarnish the university's image is going on.
Speaking to The Express Tribune, Dr Ashfaq Hasan Khan of the Nust Business School said that the dress code was only applicable to the business school and has been there since its inception in 1999, adding that it is mentioned during orientation as well as printed in the prospectus of the university.
He said boys have to wear ties and dress pants, while girls have to wear shalwar kameez while we train them for a future in the corporate sector, where they have to look a certain way. "They cannot go in the field with their beards and jeans," he said.
Whether jeans pose a threat to security or whether the varsity has an alumnus making it bigger in the industry than Steve Jobs — who happened to have a beard, are some of the questions poking fun at the university's decision that takes away personal choices from the students on Twitter.
http://tribune.com.pk/story/609969/dress-code-controversy-grooming-by-taking-away-personal-choices/
-----------
U.S. Creating Prospects for Muslim Women
September 27, 2013
The Columbus Dispatch
Mounir Lynch, a junior at Columbus Alternative High School, said that, as a Muslim, issues surrounding women's rights in the Islamic world are important to him.
While he's seen how women hold significant professional and political positions in his mother's native Morocco, he knows that such opportunities aren't available everywhere. So he was particularly interested to hear Shirin Tahir-Kheli talk at his school yesterday about ways in which the U.S. government is trying to make a difference.
Tahir-Kheli, a Pakistani-American and Ohio Wesleyan University graduate, has served a number of federal roles, including senior adviser for women's empowerment to former U.S. Secretary of State Condoleezza Rice.
She told about 60 students gathered in the school library yesterday that her work in the State Department involved helping to increase educational, economic and justice opportunities for women throughout the world.
While officials work with civic groups and governments to get more girls in schools, a key component is to also try to change the mindset of boys and men. In some countries, Tahir-Kheli said, largely uneducated mullahs who run mosques often say religion calls for women to be held down.
"These are complicated sociological, social, cultural issues," she said. "I'm a Muslim woman. I'v e never read anything in the Quran that says I must be kept ignorant. In fact, it says just the opposite: Women and men must go and acquire knowledge."
She spoke of how
microgrants help women earn money that improves families, villages and countries. One woman in Bangladesh, she recalled, rode a motorcycle from town to town with a cache of mobile phones. For a fee, she allowed people without telephone access to use them, in effect connecting villages with the entire world.
In the area of justice, Tahir-Kheli said, U.S. and African judges are collaborating to discuss legal practice, law enforcement and other issues.
"The legal systems may be different, but the things that happen to women and about women are not that different, and ways in which you can help women or hurt women are not that different," she said. "So this kind of cross-cultural, cross-national kind of an exercise, it not only opens minds, but it has practical effects on the ground. ... I might not see it in my lifetime, but hopefully you will see it in yours."
Teacher Sarah La Asmar said Tahir-Kheli's visit was organized by the Columbus Council on World Affairs, which fostered a similar visit for students last year with a United Arab Emirates diplomat.
"Columbus is a little big town, and so I think that it's really important for the kids to see the diversity that is out there," she said.
jviviano@dispatch.com
http://www.dispatch.com/content/stories/faith_and_values/2013/09/27/u-s--creating-prospects-for-muslim-women.html
-----------
URL: https://newageislam.com/islam-women-feminism/iran-lawmakers-pass-bill-allowing/d/13721