New Age Islam News Bureau
10 Jan 2020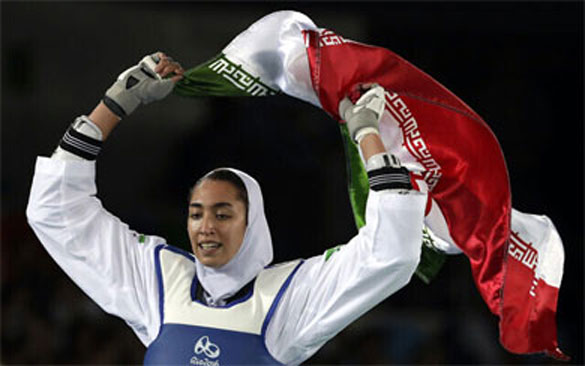 File: Kimia Alizadeh of Iran celebrates after winning the bronze medal in a women's Taekwondo 57-kg competition at the 2016 Summer Olympics in Rio de Janeiro, Brazil, Thursday, Aug. 18, 2016. (AP Photo/Andrew Medichini)
-----
• Iran in 'Shock' Over Missing Female Olympic Medallist
• British Muslim Women Forum Raises £700 in Charity Brunch
• Egypt Confirms Participation in Arab Women Sports Tournament
• Muslim Tiktok-Er Talks About Hijabi' Representation, Or Lack Thereof, On TV
• Travel Blogger Rosie Gabrielle Embraces Islam after Visit to Pakistan
• Salem: Widow Sells Her Hair for Rs 150 to Feed 3 Kids
• Women Empowerment Top Priority for Canadian Minister with Roots In Vizag
• Afghan Woman Tortured Terribly By Her Husband May Lose Both Legs
• Emirati Women to Check Meat Quality at Abattoirs
• Indian Woman in Dubai Records 1,000 Songs In 1,000 Days
Compiled By New Age Islam News Bureau
URL: https://www.newageislam.com/islam-women-feminism/iran-hock-missing-female-olympic/d/120759
------
Iran in 'shock' over missing female Olympic medallist
09/01/2020
Concern mounted Thursday in Iran over the fate of the Islamic republic's only woman to have won an Olympic medal, who is believed to want to settle in The Netherlands.
Kimia Alizadeh clinched a taekwondo bronze medal at the Rio Olympics in 2016, drawing praise from her compatriots including the country's President Hassan Rouhani and even conservatives in the Islamic republic.
In keeping with Iran's strict Muslim custom, Alizadeh, then 18, competed wearing a head scarf over her taekwondo uniform and protective gear.
There were high hopes she would compete at the Tokyo Olympics later this year and bring home another medal, but it appears this is not to be.
The semi-official ISNA news agency on Thursday carried a report saying: "Shock for Iran's Taekwondo. Kimia Alizadeh has emigrated to The Netherlands."
According to ISNA, the coach of the women's national team said that Alizadeh is suffering from an injury.
It said Alizadeh did not show up for trials ahead of the Tokyo Games.
Isna and several other media believe that Alizadeh, who is reportedly training in The Netherlands, is hoping to compete in Tokyo but not under the Iranian flag.
A poor quality picture posted on the internet, and showing a woman who is believed to be Alizadeh without a headscarf and mixing with a group of young men and women, has sparked tens of thousands of comments.
And the hashtag #Kimia_Alizadeh was one of the most-shared Thursday on Twitter in Farsi.
Tansin news agency, which is close to ultra-conservative groups, questioned why the taekwondo federation and Alizadeh's family "have not yet reacted to confirm or deny the stunning development" of her defection.
Iranian MP Abdolkarim Hosseinzadeh, meanwhile, demanded answers, accusing those he described as the "incompetent officials" of allowing Iran's "human capital to flee" the country.
He drew a comparison between Alizadeh and Iranian chess prodigy Alireza Firouzja who won the grandmaster title at age 14, two years after winning the Iranian chess championship, and who now lives in France.
If Alizadeh fails to represent Iran at the Tokyo Olympics it would be a huge blow for the Islamic republic.
Along with judo, taekwondo is one of Iran's sporting strengths.
Last year, the International Judo Federation suspended Iran from international competition over its refusal to allow its fighters to face judokas from Israel which the Islamic republic does not recognise.
https://www.france24.com/en/20200109-iran-in-shock-over-missing-female-olympic-medallist
------
British Muslim Women Forum raises £700 in charity brunch
By Vivien Mason
A brunch took place at Cafe Regal on Sunday, which was the main sponsor, in support of the Lord Mayor of Bradford's Appeal - Child Bereavement UK - and the Behbud organisation.
Behbud is based in Rawalpindi, in Pakistan, and works to empower women through vocational training to become financially independent. It also provides healthcare for the destitute.
A total of £700 was raised at the brunch which will be shared between the two organisations.
The wife of the Pakistan Consul General Asma Ibrar attended the event for the first time and was impressed by the efforts of the forum in supporting charities.
The BMWF also celebrated the re-election of Bradford South and Bradford West MPs Judith Cummins and Naz Shah who support the work of the local women and the community.
https://www.thetelegraphandargus.co.uk/news/18149682.british-muslim-women-forum-raises-700-charity-brunch/
------
Egypt confirms participation in Arab Women Sports Tournament
January 09, 2020
Sharjah: Female athletes representing four renowned clubs in Egypt will be competing in the upcoming edition of the Arab Women Sports Tournament (AWST) 2020 — the largest women's sporting event in the Arab world, February 2 — 12, in Sharjah.
This is Egypt's fifth participation in the event since the tournament's inception in 2012. The country will be competing in four AWST competition disciplines, namely, basketball, volleyball, fencing and karate.
Egypt plays a leading role in the Arab world in supporting and promoting women's sports, and is one of the region's first countries to establish sports clubs for females. The representation of Egyptian sportswomen in AWST has always been outstanding, who have won 28 medals competing in AWST's previous editions. In the 2018 edition, six Egyptian clubs participated taking home 13 medals.
Nada Askar Al Naqbi, Deputy Head of AWST's Supreme Organising Committee, Head of its Executive Committee, and Director General of SWS, said: "Egypt has always been superb in sports. It has a long history of brilliance and innovation in all sports, including women's sports. The country's dedication to enhancing the capabilities of women in sports is reflected in the nation's unrivalled representation at AWST who play with utmost professionalism to defend their titles, inspiring their peers from other countries. We look forward to Egypt bringing a high level of excellence and sporting spirit to AWST 2020."
The fifth edition of AWST 2020 will see the participation of 16 Arab countries who will compete across nine sports: shooting, basketball, volleyball, table tennis, athletics, show jumping, fencing, archery and karate.
https://gulfnews.com/sport/uae-sport/egypt-confirms-participation-in-arab-women-sports-tournament-1.68905806
------
Muslim TikTok-er talks about hijabis' representation, or lack thereof, on TV
2020-01-09
By Razan Mneimneh
With a short and simple one-minute video, a TikTok-er who goes by the name Aabida on Twitter summarized the same argument Muslims have been reiterating for a while now, "Where's our accurate representation in series/films?"
The young Muslim woman, and from the comfort of her own bathroom, recorded herself sharing a brilliant idea: A series in which the main character would be a black Muslim woman who wears the hijab. "But that's not the crazy part," Aabida explains further, "the crazy part would be that the show itself would not revolve around the fact that she is a black Muslim woman who wears hijab."
Although we've come a long way from being exclusively portrayed as terrorists and oppressed women, Muslims still aren't getting fair and accurate representation. Even when Western media do cast hijabis and Arab/Muslim actors, the plot is almost always either fetishized, misrepresented, or at odds with their religion and culture.
The supposedly positive and inclusive representation almost never is what Muslims really want it to be: just a story they as Muslims happen to be part of, rather than one exclusively centered around their identity (or lack thereof).
"Are you still with me? Cause this part is important," Aabida continues in the now-viral video. "In the entirety of the whole show, not once would the main character fall for a white guy and take her hijab off for him," she intrigues the viewers. "I know what you're thinking, why wouldn't she fall for the white guy right? I know, but that's just how it needs to be done."
The TikTok user sheds light on how the complex and multifaceted identity Muslims have, especially those living in the West, are rarely ever explored or even mentioned on TV. Muslims are either fighting terrorist wars or sinfully falling in love with someone they're not supposed to fall for, and we rarely (if ever) get to see them as normal human beings going about their everyday life.
And the fact that the video now has 35,000 retweets and 135,000 likes proves that she's not the only one noticing a trend here.
While working on Muslim characters, creators seem to choose from an exclusive set of samples: The hijabi who hates her religion and rebels against her family, the gangster Arab man who is selectively religious, the queer character who is rescued by the "White Savior" — the list doesn't go on for long.
Yes, many people from Muslim backgrounds - especially women and members of the LGBTIQ+ community - struggle with their faith and their experiences are definitely worth shedding light on. However, the issue lies in the way these experiences are depicted and in the prejudiced-focus on such scenario cases. These characters are envisioned in an extremely narrow lens and the complexities that come into play are often diluted, not to mention the increased focus on their sexual lives in a way that promotes fetishization rather than empathy and acceptance.
If Western writers seriously want to improve their scripts, they should simply listen to what real Muslims have to say
Though the change is gradual and relatively slow, it's important to highlight the increasing number of actors and shows that have decided to make a change.
In an interview with The Hollywood Reporter, actor and rapper Riz Ahmed spoke out against the limited roles for actors of color, saying he'd rather go broke than play stereotypical characters. The British actor of Pakistani descent, known for starring in Rogue One: A Star Wars Story and HBO's The Night Of, once explained how he faced typecasting when he first went into acting.
Ramy Youssef, Egyptian-American co-creator of the Hulu comedy Ramy, plays a New Jersey-based character that's loosely based on his own life. The show follows him as he "grapples with his Muslim faith while navigating sex, dating and relationships." When co-writing the script, Youssef made it clear that Ramy is the specific story of one Egyptian family in New Jersey and not something that would "blanket a group of a billion people."
"I really wanted to lead with our problems [as Muslims], and I wanted to lead with the things that people would connect to on a human level," the actor explained at the Golden Globes' backstage interviews. "I turned [things that I struggled with] into something that hopefully could just make people feel a little less lonely."
https://stepfeed.com/muslim-tiktok-er-talks-about-hijabis-representation-or-lack-thereof-on-tv-3187
------
Travel blogger Rosie Gabrielle embraces Islam after visit to Pakistan
Travel blogger Rosie Gabrielle, who visited Pakistan in December and went to many areas of the country, announced she had converted to Islam on Thursday.
The solo traveler, who has toured various Muslim countries around the world on a bike, shared her experiences that brought her close to Islam.
"This last year was one of the hardest in my life, and all life's challenges have led me to this point here and now. From a young child, I've always had a unique connection with creation and special relationship to God. My path was far from easy and I carried a lot of anger in my heart from a lifetime of pain, always begging God, why me? Until ultimately coming to the conclusion that all is meant to be, and even my suffering is a gift," she wrote in the caption of her photo in which she can be seen holding a copy of the Holy Quran.
Gabrielle said she renounced her religion four years ago as she "never resonated with what I was brought up with". The traveler said she went down a path of self-discovery after which her curiosity and connection only grew stronger.
"Now no longer dictated by fear, I was able to fully explore this righteous path," she wrote.
Describing her strong urge to be free, Gabrielle stated, "As time passed, the more I experienced, the more I witnessed the true nature and calling for my life. I wanted to be free. Free of the pain and shackles that was hell. Liberation from the anger, hurt and misalignment. I wanted peace in my heart, forgiveness and the most profound connection with all. And thus started my journey".
Gabrielle credited her trip to Pakistan for showing her the way to Islam.
https://www.pakistantoday.com.pk/2020/01/09/travel-blogger-rosie-gabrielle-embraces-islam-after-visit-to-pakistan/
------
Salem: Widow sells her hair for Rs 150 to feed 3 kids
Jan 10, 2020
SALEM: A 31-year-old woman, neck deep in debt left behind by her husband who committed suicide seven months ago, sold her hair to feed her children.
On Friday last, Prema, widow of Selvam had run out of the last penny she had. With three children, aged five, three and two years, by her side in hunger, Prema approached every person she knew seeking money. But none of her neighbours or relatives would part with cash on a Friday, an auspicious day.
That's when a man passed through her street in Ponnamapet offering to buy hair to make wigs. Without a moment's thought, Prema rushed inside her hut, chopped off her hair and sold it for Rs 150 with which she bought food for Rs 100. Then she went to a shop and asked for a bottle of insecticide. The shopkeeper sensed something amiss and refused to sell her.
"She then attempted to consume poisonous arali seeds (nerium oleander). Fortunately, her sister stopped her from consuming it,'' said G Bala, a graphic designer who posted Prema's plight on social media and eventually helped her crowd fund financial support.
Prema and her late husband Selvam were working as daily wagers in a brick kiln. Selvam wanted to set up a small business of his own and borrowed money to the tune of Rs 2.5 lakh. But he was cheated by people and eventually the family slipped into deep penury forcing him to commit suicide. Shattered by husband's death, hounded by those who lent money and saddened by suffering of children, she decided to end life.
A week later, now Prema is a new woman. Thanks to Bala's post, several good Samaritans offered help and she managed to collect Rs 1.45 lakh. On Thursday, the Salem district administration also sanctioned her monthly widow pension. Bala's friend Prabhu who runs a brick kiln has also given her a job.
So regained confidence so much so that she asked Bala to remove his Facebook post seeking help for her. "I am so overwhelmed by the support of people. I will never even think of committing suicide again. I want to give a good education to my children and take them out of this penury,'' says Prema.
What changed her was not just the help that poured in but Bala's advise too, as they were not just textbook motivational speech but his own life experience strikingly similar to that of Prema. When he was a child Bala's family too was in penury and his mother once attempted suicide. "One day we never had any money left for food. My mother sold all the old newspapers and with Rs 4 she got, bought rice and cooked it for us. Soon after she tried to commit suicide, but relatives saved her,'' recalled Bala.
"I told Prema that if my mother had died that day she wouldn't be here now to go around in her son's car,'' Bala said.
https://timesofindia.indiatimes.com/city/salem/woman-sells-off-hair-for-rs-150-to-feed-her-three-children/articleshow/73179771.cms
------
Afghan woman tortured terribly by her husband may lose both legs
Thursday, 09 Jan 2020
By Nizam Rezahi
A 17-year-old woman admitted at a local hospital in Faryab province may lose her both legs which are severely damaged due to terrible prolonged tortures by her husband and her father-in-law, doctors said.
Laal Bibi, a resident of the northern Faryab province, was admitted to a hospital on Wednesday. She said she had been tortured by the hot skewer, boiling water, and other means for the last six months.
My husband and father-in-law bet me, punched me, and kicked me regularly. Worst of all, they hit me with a skewer, and pulled out my nails in the past couple of weeks," said Laal Bibi.
I was completely unaware of the situation until they showed me my daughter, who had internal bleeding, and had gone through worst possible physical and psychological conditions," said Fateh Khan, father of the victim.
Maryam, the mother of the victim, said, "she was not to blame, they hit her every day, and we took her to the hospital to save her life."
Doctors said the victim is likely to get both her legs severed through a surgical operation after enduring months of beatings at the hands of her in-laws.
According to Maria Noori, chief of women's decorticate in Faryab province, Laal Bibi's veins have been severely damaged due to physical injuries and bruises on her body.
"We have arrested her father-in-law, but could not arrest her husband because the area was under the control of the Taliban." Abdul Karim Yorash, the spokesman of Faryab police, said.
The Afghanistan Independent Human Rights Commission's (AIHRC) described the event as "shocking and horrifying by all means."
According to the data provided by the AIHRC, the acts of violence against women's rate have been increased by eight percent (8%) this year with 762 cases registered at AIHRC in the first 7 months of the solar year 1998.
https://www.khaama.com/afghan-woman-tortured-terribly-by-her-husband-may-lose-both-legs-98765432/
------
Emirati women to check meat quality at abattoirs
January 9, 2020
Scores of female Emirati graduates have enrolled on a training course to work in Abu Dhabi abattoirs proving that Emirati women are versatile in performing all specialised and professional tasks.
The Municipality of Abu Dhabi City said it had decided to train a number of female Emirati graduates from the UAE University (College of Veterinary Medicine), in specialised technical tasks in the field of meat examination in the municipality's slaughterhouses.
According to the municipality, Emirati women joining this field confirms the Emirati daughters' ability to perform any specialised and professional duty.
The municipality said it was looking forward to attract as many citizens as possible in many specialised professional and technical fields. "We have enrolled a number of female veterinary doctors and graduates from UAE University College of Veterinary Medicine on a training course, with the aim of integrating them into the job market. We have begun training them with technical skills in examining meat at slaughterhouses, veterinary examination procedures for animals before slaughter, and technical examination after animal slaughtering," said the municipality.
"Like all other government entities, the Abu Dhabi Municipality aims to attract competent UAE nationals in all specialised technical fields, with the aim of promoting the Emiratisation policy and to support those qualified nationals seeking for jobs."
ismail@khaleejtimes.com
https://www.khaleejtimes.com/uae/abu-dhabi/emirati-women-to-check-meat-quality-at-abattoirs
------
Indian woman in Dubai records 1,000 songs in 1,000 days
January 10, 2020
Dubai: An Indian woman in Dubai has completed her record bid to sing 1,000 songs in 1,000 days, with all songs written, composed, sung and recorded entirely by her.
Swapna Abraham, 48, has been recognised by the Golden Book of World Records for four awards, including the "quotidian feat of composing, producing and publishing a song 'live' incessantly for 1,000 days from April 8, 2017 to January 2, 2020."
She is also going to apply to the Guinness World Records for "the most number of songs in a digital album."
In reality, she has sung more than 1,000 songs a day as she also sung an additional song for children over the 1,000 consecutive days - plus a third, fourth, or fifth song on many of the days. Once she even managed to complete 22 songs in one day.
'Felt unfulfilled'
Abraham, who works for a management consulting firm in Dubai, said she wanted to end her decades-long music career by, ironically, singing 1,000 songs in 1,000 days.
"After doing music professionally for 24 years and publishing 22 albums, I still felt I was very unfulfilled as a musician, as an artist. I couldn't understand what it was. So I made a decision to give up music for good and almost immediately after that I told myself I want to do one more very difficult thing and then I will give it up. And that's when I decided I would do a song a day for 1,000 days," Abraham added.
With that mission now accomplished, has she decided to give up music?
"No – but I'm definitely going to take a break."
Early mornings
The 1,000-day feat wasn't easy. For almost the first year, Abraham would sleep by 8pm so she could rise by 3.30am to record her songs between 4am and 6am at a venue before heading to work. Later on, she started finishing her songs at home after returning from work.
Running late, getting stuck
She once recorded her song outside an airport manager's office while running late for a flight. On another occasion, she started working on her song while stuck in a lift. "That song wasn't about getting stuck in a lift," Abraham joked.
All her songs are original, meaning she had to create 1,000 themes or stories (more counting the additional songs) and the endless lyrics.
No demeaning songs
"When I would drive home from work, I would think what to write about. Most of my songs are about life, relationships, values and the state of the world. They are affirming songs that speak to people. My music has to have a message. I don't do demeaning songs or use derogatory language. And I don't sing songs just for songs."
Over the 1,000-day spell, both her son and daughter completed college. He daughter got married and Abraham became a grandmother to a boy and a girl.
Abrupt change
After singing daily for so long, Abraham said "part of my system hasn't come to terms" with the abrupt silence of melody. Looking back, she is "quite happy by how it all turned out."
Star singer
At the concluding ceremony of her successful attempt, held at the iconic Burj Al Arab hotel in Dubai, followers from US, Australia and India joined to hear her last live song. One fan even registered her name as a star – a celestial star. "One person from the US did an online registry for a star under my name and gave me a certificate with the coordinates for the star. It was all so overwhelming."
Uploads of her songs can be seen on www.1000songsin1000days.com/tour
https://gulfnews.com/uae/indian-woman-in-dubai-records-1000-songs-in-1000-days-1.68885219
------
URL: https://www.newageislam.com/islam-women-feminism/iran-hock-missing-female-olympic/d/120759
New Age Islam, Islam Online, Islamic Website, African Muslim News, Arab World News, South Asia News, Indian Muslim News, World Muslim News, Women in Islam, Islamic Feminism, Arab Women, Women In Arab, Islamophobia in America, Muslim Women in West, Islam Women and Feminism