New Age Islam News Bureau
23 October 2020
• Anti-Triple Talaq Crusader Shayara Bano Gets Minister of State Status in Uttarakhand
• IUML Women's Wing Worried, Urges PM to Drop Plan to Raise the Legal Age for Marriage of Women
• Malaysian Muslim Women Urged To Wear Face Masks under Veils
• Police Violently Manhandled Two Turkish-French Women at Traffic Stop
Compiled by New Age Islam News Bureau
URL: https://www.newageislam.com/islam-women-feminism/iran-denies-humanitarian-measures-mother/d/123239
--------
Iran Denies Humanitarian Measures to Mother, Daughter Jailed for Protesting Compulsory Hijabs
By Michael Lipin, Ramin Haghjoo
October 23, 2020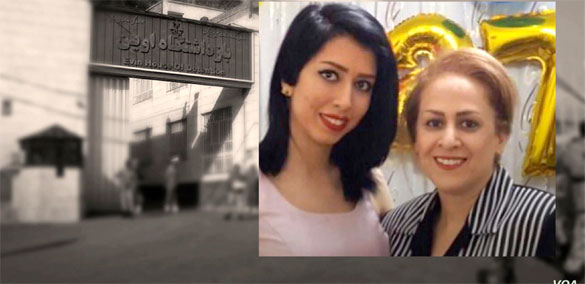 Undated image of jailed Iranian women's rights activists Saba Kord Afshari, left, and her mother, Raheleh Ahmadi, whose treatment at Tehran's Evin prison has become harsher, according to a source who spoke to VOA Persian on Oct. 16, 2020. (VOA Persian)
-----
WASHINGTON - Iran has made the imprisonment of a mother and her daughter who campaigned against its compulsory public veiling of women harsher – denying the daughter medical care and refusing to grant her mother a furlough for no apparent reason, according to an informed source.
The source spoke to VOA Persian in an Oct. 16 interview from Iran, describing several recent examples of authorities at Tehran's Evin prison engaging in harsh treatment of 22-year-old activist Saba Kord Afshari and her mother, Raheleh Ahmadi. VOA is unable to independently verify the source's account due to being barred from reporting inside Iran.
The source said that while Iranian authorities allowed Kord Afshari to be hospitalized for serious ailments three times in recent months, they prevented her from getting the treatment that she needed before she was returned to Evin.
London-based rights group Amnesty International has said Iranian authorities forced Kord Afshari to wait a year after her June 2019 arrest before allowing her to make her first hospital visit on June 29 for preexisting gastrointestinal problems that have been exacerbated in prison.
Amnesty said the doctor failed to conduct a comprehensive examination of Kord Afshari and referred her for future colonoscopy, endoscopy and ultrasound procedures.
But VOA's source said Kord Afshari was told that she cannot have those procedures because of her late hospital arrival and her lack of money to make payments. As a result, Kord Afshari's health problems have worsened since she was transferred to Evin in August 2019, the source added.
Dublin-based rights group Front Line Defenders has said the regulations of Iran's Organization of Prisons stipulate that medical expenses of prisoners should be paid by the government. The group also said that when authorities granted Kord Afshari a Sept. 19 hospital visit, they misled her family by saying she was in a different hospital to ensure that relatives would not meet her and pay for her treatment.
Saba Kord Afshari's sister Sogand reported on Twitter that Saba had been hospitalized again in late September for an ankle injury but was sent back to Evin without an MRI examination and with only a cast on her leg. Sogand said when Saba was not granted a follow-up appointment at the hospital two weeks later, she opened the cast herself and saw that her foot was swollen and bruised.
VOA's source said Kord Afshari's lawyer Hosein Taj also has escalated his fight to restore the activist's November 2019 acquittal by an appellate court for the charge of "inciting and facilitating corruption and prostitution" through promoting "unveiling."
A lower court initially convicted Kord Afshari in August 2019 of that charge and two others — "gathering and conspiring against national security" and spreading anti-government propaganda — for removing her hijab in public as part of a women's right's campaign against Islamist-ruled Iran's compulsory public veiling laws for women.
The lower court sentenced Kord Afshari to 15 years in prison for "corruption and prostitution," 7.5 years for "gathering and conspiring" and 1.5 years for spreading propaganda. The appellate court later acquitted her of the corruption and prostitution charge, meaning she would only have to serve the longest remaining sentence, 7.5 years.
But Taj said in a May tweet that he discovered Iran's judiciary had inexplicably restored his client's corruption and prostitution conviction, meaning that she would have to serve 15 years in prison rather than 7.5 years.
VOA's source said Taj petitioned Iran's Supreme Court in late September to restore Kord Afshari's acquittal and was awaiting a response.
Mother denied furlough
Raheleh Ahmadi, Saba Kord Afshari's mother, was arrested in July 2019 and detained for several days for advocating on behalf of her daughter. Ahmadi later was sentenced to two years and seven months in prison for national security offenses and began serving her sentence at Evin on Feb. 20.
In March, Iran said it granted temporary releases or furloughs to tens of thousands of prisoners serving five years in prison or less, in part to curb the spread of the coronavirus in its overcrowded and unsanitary jails.
According to VOA's source, Ahmadi has not been granted a furlough since her imprisonment, despite qualifying for one by serving a less-than-five-year sentence. Family members of Ahmadi and her jailed daughter repeatedly have asked Evin's prosecutor to grant furloughs to the two women, but the appeals have been rejected, the source added.
"When a mother is kept in prison with her sick child, and sees that her child cannot eat due to a gastrointestinal illness, she is in torment," the source said. "The authorities just want to inflict psychological torture on political prisoners and their family members."
There has been no comment from Iranian officials in state media about the cases of the two women since May, when reports confirmed that Kord Afshari's acquittal had been canceled.
Kord Afshari previously was arrested in August 2018 for joining anti-government street protests and later sentenced to one year in prison for allegedly disrupting public order. Authorities released her in February 2019 as part of a general pardon marking the 40th anniversary of Iran's 1979 Islamic Revolution, before re-arresting her in June that year.
https://www.voanews.com/middle-east/voa-news-iran/source-iran-denies-humanitarian-measures-mother-daughter-jailed
--------
Anti-Triple Talaq Crusader Shayara Bano Gets Minister of State Status in Uttarakhand
OCTOBER 21, 2020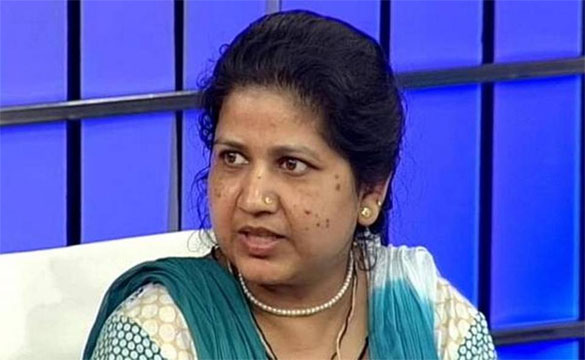 Shayara Bano. File | Photo Credit: Special Arrangement
----
The other two women appointed to the post are Jyoti Shah and Pushpa Paswan.
Anti-triple talaq crusader Shayara Bano, who recently joined the BJP, has been given minister of state status by the Uttarakhand government.
The move comes just ten days after Bano, who was the first Muslim woman to question the constitutionality of the practice of triple Talaq in the Supreme Court, joined the BJP here in the presence of its Pradesh president Bansidhar Bhagat and a host of other leaders.
Chief Minister Trivendra Singh Rawat's media coordinator Darshan Singh Rawat said, "Bano is among three women, who were appointed vice presidents of the State Women's Commission besides being accorded MoS status on Tuesday."
The other two women appointed to the post are Jyoti Shah from Ranikhet in Almora district and Pushpa Paswan from Chamoli district.
The three posts in the commission had long been vacant.
"It is the chief minister's gift to the women of the state during Navratri," he said. Bano was the first to challenge the constitutionality of the practice of triple talaq in the apex court in 2014, four months after being divorced by her husband through speed post. She is a resident of Udham Singh Nagar district in Uttarakhand.
https://www.thehindu.com/news/national/other-states/anti-triple-talaq-crusader-shayara-bano-gets-minister-rank-in-uttarakhand/article32906809.ece
--------
IUML Women's Wing Worried, Urges PM to Drop Plan to Raise the Legal Age for Marriage of Women
23rd October 2020
By Amiya Meethal
KOZHIKODE: The Central government's plan to raise the legal age for marriage of women from 18 to 21 has not gone down well with the Indian Union Muslim League's women's wing which said such a decision would cause social issues leading to "live-in relationship" and "illegitimate children". Peeved at the move, the Indian Union Women League (IUWL) has sent a petition to Prime Minister Narendra Modi, seeking to scrap it.
The Central government had set up a 10-member task force headed by Jaya Jaitly to look into raising the age for marriage of women. "The IUWL has sent a petition to the prime minister demanding that such a move should be dropped," said the body's general secretary P K Noorbeena Rasheed, a former state women's commission member.
Noorbeena said many developing countries had brought down the women's marriage age from 21 to 18 considering their biological and social needs. "We've the Prohibition of Child Marriage Act 2006 with strong penal provisions including rigorous imprisonment. What is the point in raising the marriage age of women instead of implementing the existing law more effectively?" she asked.
"I've heard that the Centre found that around 30 per cent of women are getting married before they turn 18. Does raising the age bar in any way prevent such child marriages?" asked Noorbeena, who added that the IUWL did not discuss the issue with the Muslim League. The party sources confirmed that the women's wing's stance was independent. Kerala reported 266 complaints of child marriage between January 2019 and July 2020.
https://www.newindianexpress.com/states/kerala/2020/oct/23/indian-union-muslim-leaguewomens-wing-worried-urges-pm-modi-to-drop-plan-2213849.html
--------
Malaysian Muslim Women Urged To Wear Face Masks under Veils
22 Oct 2020
BY R. LOHESWAR
KUALA LUMPUR, Oct 22 — Health Director-General Tan Sri Dr Noor Hisham Abdullah stressed today that Muslim women who wear niqab, or veils covering their face called "purdah" in Malay, are still required to wear face masks to curb Covid-19.
He said there are several criterias for wearing a face mask which are recommended by the World Health Organisation (WHO), those wearing a niqab are not exempted from these regulations.
"We are all required to wear a face mask when in public since August 1. There are two types of masks, the medical and non-medical mask," he said in his daily press briefing, when asked if the regulations still apply to women wearing such veils.
"The three-ply mask is used by medical officers and the sickly with chronic diseases. This is the recommended mask to wear for them.
"However, for those who are not infected or sick you can wear the non-medical masks in public but they must be in accordance with the criteria set by WHO which states that a mask must have at least three layers," he added.
Dr Noor Hisham said the face masks must be worn inside the niqab.
Dr Noor Hisham said the face masks must be worn inside the niqab.
He also said that WHO also allows the use of the fabric or cloth mask, explaining that fabric face coverings and masks are easy to find or make, and can be washed and reused.
Masks can be made from common materials, such as sheets made of tightly woven cotton. Instructions are easy to find online. Cloth masks should include multiple layers of fabric.
"However, they must have three layers and not one," he added.
Niqab, which only shows the eyes, are worn by some Muslim women who subscribe to the more conservative view that a woman's face is considered as "aurat", or "intimate body parts" that must be covered.
The niqab is usually worn in Arab countries, but have now spread to some minority of Muslim women even in Malaysia.
The veil came under public spotlight after popular television host and entrepreneur Neelofa was reported last week confirming she now wears niqab, after starting to wear hijab or "tudung" a few years ago and starting her successful hijab business Naelofar.
https://www.malaymail.com/news/malaysia/2020/10/22/dr-noor-hisham-muslim-women-with-purdah-or-niqab-not-exempt-from-wearing-fa/1915351
--------
Police Violently Manhandled Two Turkish-French Women at Traffic Stop
Alaattin Dogru
23.10.2020
PARIS
Two Turkish-French women were violently manhandled by the police last week in France's Grand Est region.
Video and photos of the incident sparked outrage on social media, with some people accusing the French police of discrimination.
One of the women, 22-year-old Hatice Beyazit, told Anadolu Agency that she and her cousin Sevim Kocaturk had gone out for dinner on Oct. 17 when the police pulled them over for a routine traffic stop.
But things went awry after the officer referred to an old incident involving Sevim's brother. She replied, saying: "I'm driving the car, not my brother."
The police officer angrily responded, saying: "Shut up!" Hatice recalled.
Later, Hatice's aunt and uncle arrived to calm the situation, but they were also subjected to discrimination.
"A police officer started to approach me, so I stretched out my arm asking him to respect the social distancing rule of 1.5 meters [to safeguard against the coronavirus], since he had no mask," Hatice said.
"The moment I said that, he grabbed my arm," she said.
The police also fired tear gas against Sevim, who was trying to come to her aid, Hatice said.
Hatice's aunt was also struck by the police while she was trying to record the violence on her phone.
Noting that she has not seen such incidents in their region before, Hatice said: "While talking about the rules, one of the police said to Sevim, 'This is not your country. You cannot know the rules.'"
They went to the hospital the same night on the advice of their lawyer and also filed a complaint against the police.
A police investigation into the incident continues, officials told Anadolu Agency.
Hatice, a graduate of business school, said she chairs an association called "Children's Aid in Hospital" which helps hospitalized children as well as the elderly.
Noting that she could not find enough support, she said she always worked for the benefit of French society.
An Uber driver named Zohir who recorded the incident said he heard the police officer saying "You are not a citizen of this country. You cannot know the rules of this country. You do not speak French."
https://www.aa.com.tr/en/europe/france-police-rough-up-2-turkish-women-at-traffic-stop/2015967
--------
URL: https://www.newageislam.com/islam-women-feminism/iran-denies-humanitarian-measures-mother/d/123239
New Age Islam, Islam Online, Islamic Website, African Muslim News, Arab World News, South Asia News, Indian Muslim News, World Muslim News, Women in Islam, Islamic Feminism, Arab Women, Women In Arab, Islamophobia in America, Muslim Women in West, Islam Women and Feminism