New Age Islam News Bureau
12 March 2018
• Turkey's Top Religious Body Head to Appoint More Women Clerics
• Saudi Female Lawyers Win New Legal Powers
• Iran: Compulsory Veiling Forms a Pillar of Mullahs' Rule
• First-Ever Hindu Dalit Woman Senator Sworn In Pakistan
• 'Angry' Women Take To the Streets in Beirut to Protest Mistreatment
• Muslim Women Don't Need Saving From Their Religion
• Pakistani Woman Arrested On Charge Of Blasphemy
• Indian Muslim Women to Protect Shariah Laws
• 300 Women Donate Blood in Ajman Beauty Salon Drive
• Saudi Women Granted Immediate Custody of Their Children after Divorce
• Flour Power: Saudi Women Bakers Take Instagram by Storm
• Muslim Women Encouraged To Volunteer In Community
Compiled by New Age Islam News Bureau
URL: https://www.newageislam.com/islam-women-feminism/iran-36000-marriages-15000-widows/d/114565
--------
Iran: 36,000 marriages and 15,000 widows under 15
11 March 2018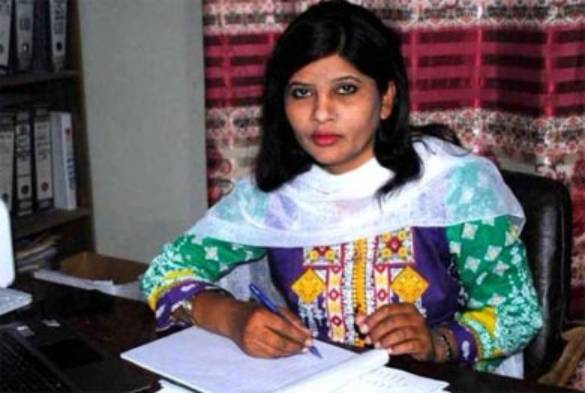 First-ever Hindu Dalit woman Senator, Krishna Kumari Kolhi, sworn in Pakistan
-----
A member of Tehran's City Council revealed that the number of young women under 15 years of age who have been widowed is 15,000.
At the same time, a woman official announced that there were 36,422 marriages of girls under 15 years of age in just one year.
Shahrbanou Imami, member of Tehran's City Council and former member of the mullahs' parliament, told an IWD gathering at Tehran's Melli University that there were 15,000 young widows under 15 years of age in Iran. She said, "Today, our laws have regressed." (The state-run ILNA news agency – March 8, 2018)
In an interview with the state television, Zahra Ayatollahi, head of the Social-Cultural Council of Women and Family at the Supreme Cultural Revolutionary Council, said, "Based on the statistics of the National Statistics Center, last year (March 2016-March 2017) there were 36,422 marriages of girls under 15 years of age." (The state-run ISNA news agency – March 10, 2018)
http://www.women.ncr-iran.org/iran-women-news/4873-iran-36-000-marriages-and-15-000-widows-under-15
--------
Turkey's top religious body head to appoint more women clerics
March 12 2018
The head of Turkey's religious affairs said on March 11 they will select and appoint female deputy muftis in all provinces across Turkey.
Speaking during a news briefing in the capital Ankara, Directorate of Religious Affairs (Diyanet) head Ali Erbaş said they are taking steps to include more women in the directorate.
"We will select and appoint female deputy muftis in all our provinces as soon as possible," he said.
He added that they will also appoint female supervisors in all provinces of Turkey.
Erbaş said that they will hold a consultation meeting called "Islam and Woman" with women theologians.
He added that for the first time in the history of Diyanet, a female deputy president is currently holding office and there are also six to seven female heads of departments.
Prof. Huriye Martı was appointed as the first-ever female deputy president of the institution last year.
http://www.hurriyetdailynews.com/turkeys-top-religious-body-head-to-appoint-more-women-clerics-128592
--------
Saudi female lawyers win new legal powers
AISHA FAREED
12 March 2018
JEDDAH: From Monday, women can obtain a notarization permit that allows them to assume some of the functions of public notaries.
The Justice Ministry is finalizing formal procedures to receive women's applications to procure a notarization permit upon completion of the pre-requisites.
"Women will now have the same legal tasks previously granted to their male colleagues, including the issuance of a power of attorney," lawyer Majed Garoub told Arab News.
"Women and men are equal under Saudi law. Granting women various licenses is a matter of equality."
This decision "will lead to greater appreciation of women's role and status in judicial and legal work, considering that the license was, historically, for men only," Garoub said.
Female lawyers wishing to be licensed will undergo the same procedures as their male counterparts.
"There will be the application period, followed by an educational course, then an examination interspersed with a personal interview, which will end with granting the license to the lawyers who pass the course and test," Garoub said.
This decision "should be seen as part of a comprehensive vision for women in the legal and judicial sector, which includes the public prosecution, the Justice Ministry, courts, regulatory bodies, the traffic department and the Board of Grievances to ensure greater inclusion of female lawyers in Saudi society."
Meanwhile, the ministry announced an increase in the number of licensed male notaries to 1,161 upon the launch of the electronic notary service.
The service entitles the issuance of power-of-attorney documents, as well as authentication and annulment of business contracts, through private sector bureaus day and night throughout the week.
The ministry indicated its intention to launch a training program for 857 notarization permit applicants who do not belong to the legal profession and are currently unemployed.
The number of premises operating in the electronic system for notaries has reached 738, the ministry said, adding that beneficiaries can access the nearest notary via https://mwathiq.sa.
http://www.arabnews.com/node/1264161/saudi-arabia
--------
Iran: Compulsory veiling forms a pillar of mullahs' rule
11 March 2018
The International Women's Day was honored in an inverse manner by Friday prayer leaders across Iran who reiterated the regime's reliance on imposing the compulsory veil on women to preserve their rule.
Kazem Sedighi, the Friday prayer leader of Tehran, pointed out, "Hijab (the compulsory veil) is a sign of cultural independence and religious originality… The people of Iran will never succumb to imposition of mal-veiling and unveiling." (The state-run Mehr news agency – March 9, 2018)
Ahmad Alam-ol Hoda, the Friday prayer leader of Mashhad, reiterated, "The issue of Hijab is not some ordinary thing like other obligations. Not wearing the Hijab is not an ordinary vice. Hijab is a central issue and a source of identity. Not wearing the veil is a fight against our social identity. This is why the enemy tries to promote not wearing the veil so that it could realize its war on our society. It might seem childish when an abnormal, indecent girl takes off her veil and puts it on a stick at an intersection or in a square, but in fact she has been recruited according to a plan. She is a soldier of the enemy's soft war on our identity." (The state-run Fararu website – March 9, 2018)
Mohammad Ali Jazayeri, Friday prayer leader of Ahwaz, said, "Today, if we back down on the issue of Hijab, tomorrow they would raise the issue of wine (alcoholic beverages) and other things."
http://www.women.ncr-iran.org/iran-women-news/4874-iran-compulsory-veiling-forms-a-pillar-of-mullahs-rule
--------
First-ever Hindu Dalit woman Senator sworn in Pakistan
March 12, 2018
Krishna Kumari Kolhi, Pakistan's first-ever Hindu Dalit woman Senator, was among 51 legislators who were sworn in today as the members of the upper house.
Kolhi, 39, who belongs to a remote village in Nagarparkar district of Thar in Sindh province, is a member of Bilawal Bhutto Zardari-led Pakistan Peoples Party (PPP).
Presiding Officer Sardar Yaqoob Khan Nasar administered the oath to the Senators elected on March 3 by the federal and provincial assemblies.
Former finance minister Ishaq Dar, an accused in the Panama Papers scandal, was not present to take the oath as he is in London due to poor health.
Kohli was elected Senator on a minority seat from Sindh.
She reached the parliament house with her family in traditional Thari dress, a trademark of Tharparker district of Sindh province.
She told the media that she would work to improve the healthcare and water shortage issues along with efforts to resolve problems faced by the women of Tharparkar.
Her election represents a major milestone for women and minority rights in Pakistan. Earlier, PPP had elected first Hindu woman named Ratna Bhagwandas Chawla as a senator.
Born to a poor peasant, Jugno Kolhi, in February 1979, Kolhi and her family members spent nearly three years in a private jail owned by the landlord of Kunri of Umerkot district.
She was a grade 3 student at the time when held captive.
She was married to Lalchand at the age of 16, when she was studying in 9th grade. However, she pursued her studies and in 2013 she did masters in sociology from the Sindh University. She had joined the PPP as a social activist along with her brother, who was later elected as Chairman of Union Council Berano.
http://www.business-standard.com/article/pti-stories/first-ever-hindu-dalit-woman-senator-sworn-in-pakistan-118031200486_1.html
--------
'Angry' women take to the streets in Beirut to protest mistreatment
NAJIA HOUSSARI
12 March 2018
BEIRUT: Thousands of Lebanese, Syrian, Palestinian, and Ethiopian women protested in Beirut on Sunday against their mistreatment in the country.
The participants gathered under the slogan "we have many causes but our anger is one" to coincide with the recent International Women's Day.
Organizers said 4,000 women took part in the protest — double the number of last year.
They called for the imminent reform of existing laws and regulations that they say discriminate against them.
One of the organizers Hayat Morshed told Arab News: "The call for participation was done through Facebook to observe the International Women's Day."
The women also renewed calls for a "women's quota" in parliament.
The Lebanese Parliament had refrained from allocating a set number of seats for women in the new electoral law, while "encouraging" the parties to nominate women among their candidates.
The protests started from the Justice Palace in Beirut and went through neighboring streets escorted by the police.
The women represented a diverse set of groups with varying demands, including custody rights for children in divorces and demands to end domestic violence. Many brought their children with them.
Some of the protesters were veiled and others called for their husbands to be freed from prisons.
They held many slogans such as "it's a shame to hit your beloved", "Nobody wins with violence", "Life for her and life sentence for him", and "the patriarchal dominance era is over."
Housemaids, mainly Ethiopian, held slogans saying "your sponsorship system kills workers every day".
Syrian refugees came from their camps in Bekaa and made reference to women trapped beneath regime bombing in Eastern Ghouta.
The activist from the "Future movement", Nawal Modallaly, told Arab News: "the protest wasn't a women-only event, but there were young men and less young men who support women's causes, which is a good progress in favor of women."
http://www.arabnews.com/node/1264156/middle-east
--------
Muslim women don't need saving from their religion
By Maha Elgenaidi
March 6, 2018
In an average week, I deliver presentations to hundreds of people on various topics related to Islam and Muslims. Oftentimes, such presentations yield real changes in public perception of Muslims, but almost as often, I'm confronted with antiquated, negative stereotypes.
I recently spoke to a group of 80 college-educated, mostly liberal women in Silicon Valley, certainly one of the most progressive regions of the United States. I was astonished to find that, despite revelations of widespread sexual harassment of women in Hollywood, the tech industry and other professions in the United States that have spawned the #MeToo movement, what concerned these women most was "saving" American Muslim women — from Islam.
Given that most American Muslims are immigrants or first-generation Americans, the attitudes displayed bore a disquieting resemblance to the xenophobic and anti-immigrant attitudes that are poisoning our body politic today.
In Silicon Valley, I gave a brief introduction on the diversity of Muslim women in the United States and around the world in more than 50 Muslim-majority countries, and how the status of women in education, employment and society is determined less by religion and more by location. But the barrage of questions that followed my talk reflected polling that shows most Americans still believe it's Islam that poses the greatest danger to women's rights — despite the revelation of deeply rooted attitudes of male privilege right here in the U.S.
In response to these questions, I sought to demonstrate that issues concerning the status of women are not unique to Muslims but are at least equally problematic in the U.S. generally. For example:
On the question of Islam and child marriages, I pointed out that while this problem continues to exist in regions of some Muslim-majority countries, it also exists right here in the United States, where it's still legal in many states to marry underage with parental or judicial consent, resulting in thousands of legal child marriages. According to an advocacy group called Unchained At Last that is working to outlaw marriage before the age of 18, more than 200,000 minors were married in the U.S. in the last 15 years.
The group found that this was mainly a phenomenon with rural, poor families, not middle-class or wealthy ones — not unlike in Muslim-majority countries.
On the question of Islam and women's political rights, I pointed out the number of Muslim women in political positions, including 13 heads of state — past and present — in 12 countries. Contrast that with the U.S., where we have yet to elect a female president. And 20 percent of Congress and yet 50 percent of the population are women. That's comparable to the elective bodies of Muslim-majority countries.
On the education of Muslim women, I pointed out the number of Muslim-majority countries where women are studying at universities in greater numbers than men —including Albania, Algeria, Bahrain, Brunei, Iran, Jordan, Lebanon, Tunisia, Mauritius, Malaysia, Turkey, Kuwait, Qatar and Oman. And a 2009 Gallup poll shows that Muslim women are the second-most educated group of women in the U.S., next to Jewish women.
On Shariah, or Muslim religious law, as a force holding women back, I pointed out that many of these educated Muslim women in the United States — including me — practice Shariah daily, and that Shariah, like Halakha for Jews, addresses rituals, values and principles on topics such as visiting the sick, caring for parents and visiting a neighbor. It should not be conflated with the oppressive laws that one might find in some Muslim-majority nations.
On hijab or modest dress, and the idea that the headscarf is oppressive to women, I pointed out that aside from Iran and Saudi Arabia, where hijab is still legally required (although those laws are being relaxed), women in the rest of the 50-plus Muslim-majority nations have the choice to wear or not to wear hijab, and that women like me who dress modestly do so out of self-respect and pride in their identity.
In keeping with the aims of the #MeToo movement, it is high time that we have a national conversation about the oppression of having to look a certain way (like an air-brushed model) to be pleasing and acceptable to men and society.
My responses clearly threw some of the Silicon Valley women into cognitive dissonance, manifested by the consistent refrain, "No, no, we want you to talk about your problems, not ours," and the sincere and well-intentioned but patronizing question, "How can we help you?"
I would respond with equal sincerity by giving three pieces of advice:
Start by questioning your biases and stereotypes concerning Muslims, and pay attention to the shared problems that all women — including American women — face in today's world. When we consider that 1 in every 3 to 4 women in the United States is a victim of domestic violence and that women continue to be sexualized in all spheres of life in this country, it becomes clear that the human rights of women are violated on all continents.
Divest yourself of the idea of "American exceptionalism," the idea — now quite openly promoted by political forces that for the most part are diametrically opposed to women's interests — that American freedom and democracy establish a moral superiority. Certainly we should treasure (and be vigilant to preserve) our freedom, democracy and prosperity. But we can't overlook our serious internal problems of racism, sexism, inequality and the questionable foreign policies that contradict our ideals and principles and have all too often wrought havoc and the deaths of many thousands of innocent people. There are many women (and men) in our own country who need "saving" as much as the most oppressed of Muslim women.
Recognize that Muslims, including Muslim women, in this country make vital contributions in many areas. Muslims in America strongly uphold the fundamental American values of family, religion and hard work that much of America seems to be losing sight of. Muslims are your doctors, dentists, professors and attorneys. They are business leaders and entrepreneurs, like the founders of Chobani Yogurt and Edible Arrangements. They defend this nation as members of the military. They are entertainers and musicians, and they are your cabdrivers and your restaurant owners. They are Americans, and part of the American mainstream.
Since the very first Muslims landed on this continent as enslaved Africans, Muslims, like other immigrants, have been part of the history of America. And today they refuse to be limited by misconceived ideas about them. Those who spread such ideas, and those who unthinkingly subscribe to them, are in fact harming America.
Those who want to "save" Muslim women, or those of other minority groups, should recognize the contributions that those minorities make and turn their attention and energy to working side-by-side with them to help our country live up to the ideals that we all profess.
https://www.religionnews.com/2018/03/06/muslim-women-dont-need-saving-from-their-religion/
--------
Pakistani Woman Arrested On Charge Of Blasphemy
March 12, 2018
SIALKOT: The Daska City police on Sunday arrested a 42-year-old woman suspected of committing blasphemy and shifted her to the Sialkot District Jail after registering a case against her.
However, the locals said the woman was mentally deranged and she recently got back home after spending two months in a Lahore hospital.
According to the first information report lodged under sections 298 and 298-A PPC, one Rehman Mehmood Anwar alleged that the woman had publicly committed blasphemy against the prophets and companions of Prophet Muhammad (PBUH) near a tea stall on Bank Road in Daska.
The police arrested the suspect, shifted her to the Sialkot District Jail and started investigation into the case.
AMBULANCES: The Punjab government has provided six ambulances to the Sialkot Health Department for expanding its 24/7 maternity emergency health services to three more basic health units (BHUs) in Sialkot district.
Deputy Commissioner Dr Farrukh Naveed said 24/7 maternity health emergency services had been expanded to 28 BHUs out of total 88 BHUs in the district with total 14 ambulances for providing round-the-clock emergency maternity health and medical facilities to the pregnant women in the rural areas.
https://www.dawn.com/news/1394707/woman-arrested-on-charge-of-blasphemy
--------
Indian Muslim Women to Protect Shariah Laws
Mar 12, 2018
Nagpur: A talk-cum-interactive session on Shariah Laws Awareness and Issue of Triple Talaq Bill with respect to women in Islam was held by Dr Asma Zehra, a renowned social worker and executive member of All India Muslim Personal Law Board (AIMPLB) at Ahbab Community Hall, near Jafar Nagar, on Sunday.
In order to stand against the interference of personal laws, AIMPLB has decided to stage a women's rally at 2pm on March 20 in which around 15,000 women from the city are expected to participate. The rally will start from Kasturchand Park and move towards RBI Square.
"Thousand of women dressed in burqa would symbolize the unity among the people of our community. The rally would be peaceful, non-violent and disciplined with no slogan-shouting. It will be a silent message against the controversial Bill on triple talaq now in the Rajya Sabha," said Zehra.
The Muslim Women Protection of Rights on Marriage Bill proposed a three-year jail term for a Muslim man who divorces his wife via talaq-e-biddat (instant triple talaq). The Bill has been passed by Lok Sabha. But it is yet to be passed by the Rajya Sabha to become a law. The Supreme Court has set aside instant triple talaq or talaq-e-biddat as a "manifestly arbitrary" practice.
This initiative is being carried out across the country to awaken crores of Muslims and bring them closer to their faith so that they raise their voice to protect the Shariah, she said.
Zehra charged up the atmosphere as she explained how the concept of 'talaq' (divorce) is actually a boon to women. She said, "Islam permits dissolution of marriage and unlike other religions, it does not believe that the relationship between husband and wife will stretch beyond one lifetime up to seven lives. It is a simple contract where the husband agrees to take care of the woman and treat her well. If not, both parties can part ways and can legally marry someone else. The women need not suffer the pain in an unsuccessful marriage."
Taking potshots at the people demanding changes to Shariah, she said, "Everyone is free to practice own religion and it cannot be forced. If some people are not willing to abide by the Shariah, then they can use their fundamental right as per the Constitution of India, but they cannot demand modifications".
https://timesofindia.indiatimes.com/city/nagpur/muslim-women-to-protect-shariah-laws/articleshow/63260653.cms
--------
300 women donate blood in Ajman beauty salon drive
March 11, 2018
The blood donation drive, the first to be organised by a beauty salon, was held to mark the Year of Zayed.
Over 300 women donated blood as part of 'Together we can make a difference' initiative, organised by Yoko Beauty Salon in Ajman, in coordination with the Ministry of Health and Prevention and the Pink Caravan.
The blood donation drive, the first to be organised by a beauty salon, was held to mark the Year of Zayed.
Speaking to Khaleej Times, Yoko Tahir, owner of the salon, said a total of 120 of their own salon staff donated blood. "We have a big staff comprising of 120 beauticians of various nationalities and also a great number of regular customers who use our services. We decided to use our power for the benefit of the community. We informed our staff and clients that a 20-minute blood donation can help save the lives of three individuals.
"In order to attract donors, we used our database to send messages offering 50 per cent discount on services, if they donate blood. The turnout was amazing. As many as 180 women - from other salons and clients- also volunteered to donate blood in addition to our staff. The women also benefitted from free breast cancer screening."
We also contacted companies to sponsor the event. Macca group of pharmacies, Nazih beauty supply trading and Madi International immediately accepted to support and sponsor our initiative," said Tahir
"Blood donation not only makes the receiver's life good but also helps the donor to maintain good health, reduce obesity and cholesterol, prevent liver and heart ailments, and stimulates blood cell production. I hope more salon owners come forward to take steps towards community development and social change. "
The salon management has decided to make this drive an annual initiative to bring together more salons as well as donors.
Five suspected breast cancer cases detected
Over 100 women received breast cancer screening from the Pink Caravan team, as part of the drive. Five suspected cases were detected among the women screened during the 'Together we can make a difference' initiative.
Sumay Shahid, a breast cancer examiner at the Pink Caravan, said: "Since we knew that a large number of women will donate blood through the drive, we decided to take part by providing them with a free screening.
"We have detected five serious breast cancer suspected cases from among the 100 women screened. These are among women over 45 years of age who have clear signs of cancer such as the existence of lumps and also have a strong family history. They have been referred for mammography and further examinations."
https://www.khaleejtimes.com/nation/ajman/300-women-donate-blood-in-ajman-beauty-salon-drive
--------
Saudi women granted immediate custody of their children after divorce
By Shadaan Hammam
11 March 2018
Saudi Arabia's Minister of Justice and President of the Supreme Judicial Council, Walid Al-Sama'ani, has directed all courts in the country to automatically guarantee divorced Saudi woman custody of their children in the case where the is no dispute with the former spouse.
As a result, Saudi mothers are now free to handle their child's civil amenities and receive financial benefits without the need to file a case.
Once it is established that there is no dispute with the former spouse, the mother can start handling all affairs such as civil services, travel documents, and educational services on behalf of her child. This is meant to ensure that the child doesn't bear the burdens of family and legal matters.
However, the only matter that does not fall into mother's jurisdiction is traveling with the child abroad. In such cases, the Saudi divorcee should first get legal permission from the judge of her child's home country.
The latest move is another example of the efforts being made by Saudi Arabia to address issues related to woman's rights in the kingdom.
https://english.alarabiya.net/en/News/gulf/2018/03/11/Saudi-women-granted-immediate-custody-of-their-children-after-divorce-.html
--------
Flour power: Saudi women bakers take Instagram by storm
AMEERA ABID
12 March 2018
JEDDAH: There had been a dramatic increase in the number of entrepreneurs in the food business section on Instagram in the past five to six years.
The social media application was always famous for the pictures people took of their meals and uploaded to their accounts. This paved the way for the many talented bakers who had the potential to sell their goods.
They would upload the pictures and interested users of the application would order their required delicacy. The account owners usually take the responsibility of delivering it to their addresses.
These foods are unique, have a better variety and a reasonable pricing scheme. Also, these are perfect for people looking for "the taste of home."
There are all sorts of varieties from savory to sweets. From having an account dedicated to just one item to an account with a range of products.
As time passes there are more and more accounts appearing, each one introducing a newer, more innovative idea.
There are thousands of such accounts based in Jeddah only, and those accounts have tens of thousands of followers.
@biscotti_ksa, who makes all the varieties of cookies and brownies, makes her own creations and has a following of 93,400, whereas Dareen Shakir, a 29-year-old Saudi with an American mother, who runs the account @dees_cakesnbakes, started five years ago in 2013. She fuses Middle Eastern-style sweets with Western ones and has 23,000 followers.
View our photo gallery
"I like doing this because I have freedom, I don't have to stick to work hours, I can take off whenever I want, and I can travel whenever I want," Dareen said.
"The competition is high, so I can't linger on just one type of product for too long. I have to keep renewing my products."
Walaa Al-Sharif, 23, the Saudi girl behind the account @passionbakety.sa, has 10,200 followers. She has also collaborated with Manuel supermarkets and has a permanent spot on the supermarket's shelves.
"I started in 2014. At that time there weren't so many bakers, specializing in cookies," she said.
"When I started it took me five to eight months to have clients. Also I was a student, so I took many days off, but now I am focusing on this and I hope to have a shop soon."
The hardest part of starting the business is surely the beginning, to convince people about your product. This was properly defined by Jeddah-based Pakistani Hamna Khan, who specializes in cinnamon rolls. She is just starting out on Instagram with the name @thesugarloop.
She said: "The most difficult part is conveying the quality of my products to the people, especially because it is food. It's not something I can write features about.
"I strongly believe that baking for people should be done with love and commitment, and I am looking forward to whatever the future holds."
http://www.arabnews.com/node/1264201/food-health
--------
Muslim women encouraged to volunteer in community
10 Mar 2018
Muslim women in Ireland have been encouraged to become more involved in their communities through volunteering.
A conference held in Dublin today was told that getting involved in local activities would help women to better integrate themselves with society, while also helping to change perceptions about their beliefs.
Hosted by the Muslim Sisters of Éire, the event heard about the volunteer work many Muslim women are engaged in around the country.
In recent weeks that has included bringing supplies to vulnerable people during Storm Emma, while the organisation also holds a weekly soup run for the homeless in Dublin city centre.
https://www.rte.ie/news/dublin/2018/0310/946469-muslim-women-volunteering/
--------
URL: https://www.newageislam.com/islam-women-feminism/iran-36000-marriages-15000-widows/d/114565
New Age Islam, Islam Online, Islamic Website, African Muslim News, Arab World News, South Asia News, Indian Muslim News, World Muslim News, Women in Islam, Islamic Feminism, Arab Women, Women In Arab, Islamophobia in America, Muslim Women in West, Islam Women and Feminism