New Age Islam News Bureau
28 Apr 2017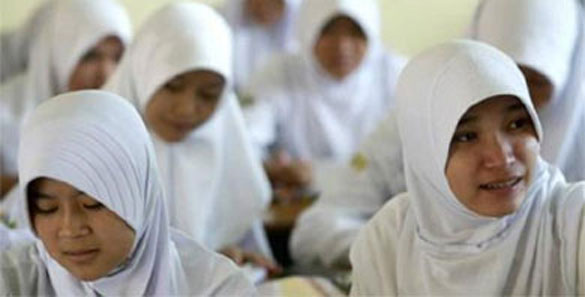 File photo of Muslim girls attending a class meeting at the Darul Muttaqien Islamic boarding school in Bogor, Indonesia, in August 2007.(Reuters)
------
• Sexual Violence Between Married Couples Haram, Clerics Say
• Women Clerics: Environmental Destruction Is 'Haram'
• India's Muslim Women Fight Tradition And Family For Right To Property
• Indian Woman 'Sold' In Saudi Arabia Rescued After Sushma Swaraj's Intervention
• All-Women Battalion In Jammu And Kashmir To Deal With Stone Pelters
• UKIP Policy Triggers Useful Debate On Validity Of Burqa Use In British Society
Compiled by New Age Islam News Bureau
URL: https://www.newageislam.com/islam-women-feminism/indonesias-women-islamic-clerics-issue/d/110947
--------
Indonesia's Women Islamic Clerics Issue Rare Fatwa Against Child Marriage
April 28, 2017 7:50 am
Female Islamic clerics in Indonesia have declared a series of fatwas, including one to tackle child marriage, a rare example of women taking a leading religious role in the Muslim-majority country. The fatwas — religious edicts that have no legal force but are influential — were on Thursday issued at the end of a three-day congress of female clerics in the country with the world's biggest Muslim population.
The meeting in Cirebon on Java island, billed as the world's first major gathering of female Muslim clerics, attracted hundreds of participants. Most were Indonesian but there were also clerics from Pakistan, India and Saudi Arabia.
They issued a series of fatwas at the end of the gathering, the most eye-catching of which was aimed at tackling child marriage. It urged the government to raise the minimum legal age for women to marry to 18 from the current age of 16. The United Nations childrens' agency UNICEF defines child marriage as a formal marriage or informal union before age 18, and says women are most affected.
The problem is widespread in Indonesia, with one in four women marrying before 18, according to the agency. Religious Affairs Minister Lukman Hakim Saifuddin, who attended the meeting, suggested authorities would examine the proposal: "I will take this recommendation to the government."
He also praised the gathering: "This congress succeeded in fighting for justice in the relationship between men and women." Among the other fatwas issued was one against women being sexually abused; and one against environmental destruction, in a country that struggles every year with huge fires that are started illegally and devastate vast swathes of rainforest.
Fatwas are regularly issued in Indonesia but it is usually the male-dominated Indonesian Ulema Council — the country's highest Islamic authority — that declares them.
While the Ulema Council has issued rulings on environmental protection in the past, it tends to focus on religious topics such as edicts against blasphemy. It has rarely dealt with any issues affecting women. About 90 per cent of Indonesia's population of 255 million people are Muslim.
http://indianexpress.com/article/world/female-muslim-clerics-in-indonesia-issue-rare-fatwas-4631334/
--------
Sexual Violence Between Married Couples Haram, Clerics Say
April 27, 2017
Female Muslim clerics attending an Indonesian women's Ulema congress in Cirebon, West Java, issued on Thursday a fatwa that says sexual violence is Haram (forbidden under Islamic law), even if it occurs between married couples.
"All forms of sexual violence are Haram for both married and unmarried couples. Islam and the Constitution have guaranteed that all people must be protected from sexual violence," said Priyati, a female cleric from Jakarta, on Thursday.
According to the fatwa, sexual violence is against the people's hifd an nafs (right to life), hifd al irdhu (rights of freedom and being respected) and hifd an nasl (rights to reproduce), all of which are the rights that are guaranteed under Islamic law, which is in line with the 1945 Constitution.
The fatwa also declares that zina (adultery or a sexual act outside a marriage) is different than rape. Zina occurs when both men and women are willing to have sexual intercourse. Meanwhile, rape is a situation when someone is forced to have sex, in which their refusal does not need to be explained in a statement, it says.
"Thus, rape victims must not receive punishment," Priyati said.
The National Commission of Violence Against Women revealed 16,217 cases of sexual violence across Indonesia throughout 2016, sharply increasing from 11,207 cases in 2015.
Female cleric Ninik Rahayu said they are hopeful that women sexually assaulted by their husbands would now report the violence to the police following the implementation of the fatwa.
"All this time they have remained silent because they considered it not to be sexual violence if it was treatment they received from their own husbands," she said. (ebf)
http://www.thejakartapost.com/news/2017/04/27/sexual-violence-between-married-couples-haram-clerics-say.html
--------
Women clerics: environmental destruction is 'haram'
April 28, 2017
Nurul Fitri Ramadhani
Muslim clerics have issued a fatwa, declaring the destruction of nature for the sake of economic development as haram, or forbidden under Islamic law, because it can trigger social and economic imbalances.
A result of Indonesia's first National Congress of Women Ulema in Cirebon, West Java, on Thursday, the fatwa is based on the Quran, Al Hadist (words and deeds of Prophet Muhammad) and the 1945 Constitution.
"Commercial development is still possible as long as the use of natural resources doesn't cross the limit of what the [project] needs. Any development is not allowed to cause natural destruction," said a female cleric from Batam while reading out the fatwa.
The fatwa urged the state to remove any laws or regulations that use natural resources as a source of development, and called on the government to tighten its regulations on natural protection.
The fatwa also called for an "Ibu Bumi" (Mother Nature) movement in which women play central roles in preserving nature.
"Nature is closer to women than men. So, it's important to put women as central actors in the protection of natures," said female cleric and congress organizer Neng Dara Affiah. (ebf)
http://www.thejakartapost.com/news/2017/04/28/women-clerics-environmental-destruction-is-haram.html
--------
India's Muslim women fight tradition and family for right to property
27 April 2017
By Rina Chandran
LUCKNOW, India, April 27 (Thomson Reuters Foundation) - S habana was 18 years old when she was married to a man 15 years her senior, in the northern Indian state of Uttar Pradesh. It wasn't long before he began beating her.
Worried for her safety and that of her two young kids, Shabana begged her eldest brother to let her return to her parental home, where he now lived. He refused, saying her place was with her husband, and that she had no right over the home.
The home was claimed by her brothers. Under Islamic law, Shabana and her two sisters were also entitled to a share of the property, but they were not aware of it.
"My father had said he would leave me a share, but he did not leave a will, and I did not know I had a right," said Shabana, who asked that her last name not be used as she fears reprisal from her husband, who has refused a divorce.
"I thought I would have to live on the streets," she said, wiping off tears in the small beauty salon she runs to support herself and her children.
It wasn't until Shabana approached a local women's group, Association for Advocacy and Legal Initiatives (AALI), that she gained the knowledge - and the courage - to ask for her share.
It took four years of mediation by AALI before her brother allowed her to move into the house with her kids, she said.
Other Muslim women in the country are less fortunate.
Muslims are India's largest religious minority, making up more than 13 percent of the 1.2 billion population.
They are among the most excluded and marginalised communities, with social indicators such as education and employment lower than the national average.
In matters of inheritance, marriage, family and divorce, Muslims are governed by their personal law, or the shariat.
According to India's Shariat Act, women are entitled to half the man's share of property, but the rule does not apply to agricultural land.
Some states have made provisions in their law to allow Muslim women to inherit land as well.
PATRIARCHY RULES
Despite the law, it is local customs and traditions that determine inheritance rights for Muslim women across India. The customary laws are largely patriarchal and do not favour women.
"Challenging inheritance rights means challenging the patriarchy, challenging the very notions of family and relationships," said Niti Saxena, an advisor at AALI who has studied Muslim women's property rights in Uttar Pradesh.
Fathers and sons are not willing to give married women a share of the parental property because they believe she belongs to the husband's family, and that she has already been compensated with a dowry at the time of her marriage, she said.
"The women, even if aware of their rights, are afraid that claiming their share will spoil their relations with the family. So they do not make a claim unless they are desperate - usually in the case of abuse or a divorce."
Ownership of assets increases the value of a woman in the husband's household and reduces the violence she faces, a separate study by land rights advocacy group Landesa India showed.
But women asking for a share in property faced violence and harassment, it said.
A 2015 study by advocacy group Bharatiya Muslim Mahila Andolan (BMMA) - which did not include Uttar Pradesh - showed 82 percent of Muslim women do not own property.
Of those who owned property, most had got it from their husbands, with only a few inheriting from their fathers.
"The vast majority of these women are dependent on their husbands," said Zakia Soman, a co-founder of BMMA in Mumbai.
"If she has nowhere to go, and if her parents are unable or unwilling to support her, she has no choice but to put up with any violence or abuse from her husband," she said.
VIOLENCE
Uttar Pradesh, one of the poorest states in the country, is also the most unsafe for women, recording the most number of crimes against women in 2015, according to official data.
It wasn't always this way. Lucknow was the capital of the wealthy Awadh region ruled by a succession of Muslim nawabs.
The abolition of the "zamindari" system after India's independence did away with the system of wealthy landlords controlling poor farmers. But land was not distributed equally afterwards, with Muslims suffering the brunt of it.
Violent communal clashes in the state have also driven thousands of Muslims out of their villages and off their land.
Landlessness among the state's Muslims is higher than other religious communities, while even those who own land have smaller-than-average holdings.
Across religions, women are often denied their right to property in the deeply patriarchal state.
Uttar Pradesh does not make distinctions when it comes to property rights, a senior state official said.
"The state laws do not prohibit anyone from any religion or gender from inheriting land or property," Arvind Kumar, in the state's revenue department, told the Thomson Reuters Foundation.
'WHAT IS FAIR'
The Muslim personal law has been in the spotlight recently, with rising opposition to some of its diktats.
The Indian government told the Supreme Court this month polygamy and triple talaq - by which a Muslim man can divorce his wife by saying "talaq" thrice - deny Muslim women "the full enjoyment of fundamental rights under the Constitution".
The leader of the women's wing of the All India Muslim Personal Law Board - a charity that oversees the application of personal law - has said the community must ensure that women are granted property rights according to the Quran.
"If done properly, it can change the fate of Muslim women," said Asma Zahra.
But the community must go further and give women equal inheritance rights guaranteed in the constitution, said Soman at BMMA.
Shabana, who lives with her children in one room of her sprawling parental home under her brother's eye, agrees.
"We are not being greedy, we only want what is fair."
"I want my daughter to be independent. For that we must treat our daughters and sons as equals." (Reporting by Rina Chandran @rinachandran, Editing by xxxx. Please credit the Thomson Reuters Foundation, the charitable arm of Thomson Reuters, that covers humanitarian news, women's rights, trafficking, corruption and climate change. Visit news.trust.org to see more stories.)
http://www.dailymail.co.uk/wires/reuters/article-4451326/Indias-Muslim-women-fight-tradition-family-right-property.html
--------
Indian woman 'sold' in Saudi Arabia rescued after Sushma Swaraj's intervention
Apr 27, 2017
NEW DELHI: Salma Begum, a resident of Hyderabad who was reportedly 'sold and tortured' in Saudi Arabia, has been rescued by authorities and will be returning to India soon, external affairs minister Sushma Swaraj said on Thursday.
"Indian national Salma Begum has been rescued. She is reaching Mumbai by flight G9406 at 04.15am on 28 April 2017," Swaraj said in a tweet.
The foreign minister commended the Indian Embassy in the Saudi capital for ensuring Salma's expeditious repatriation since she'd raised the issue to them on April 24.
"I appreciate the efforts of Indian Embassy in Riyadh for resolving this in just 72 hours," she tweeted.
TOI had first reported the plight of Salma Begum, who had been tricked and sold to her kafeel (sponsor) in the middle-eastern country after she had gone there on a migrant worker visa.
In an audio message to her daughter, Salma had revealed that the agents who had arranged her visa had sold her to the kafeel for 3 lakh. Moreover, the kafeel began exorting her for marriage and when she refused, he subjected her to mental and physical harassment.
Salma had also appealed to the Indian government to bring her back to India in the message.
Earlier, EAM Swaraj had asked Protector General of Emigrants M C Luther to take action against the agents who sent Salma to Saudi Arabia.
39-year-old Salma Begum was allegedly sent to Saudi Arabia by two agents identified as Akram and Shafi on a housemaid visa in January this year. Financial woes and debts drove Salma to the foreign land.
http://timesofindia.indiatimes.com/india/indian-woman-sold-in-saudi-arabia-rescued-after-sushma-swarajs-intervention/articleshow/58404103.cms
--------
All-women battalion in Jammu and Kashmir to deal with stone pelters
Apr 27, 2017
NEW DELHI: An all-women India Reserve Battalion will be raised in Jammu and Kashmir to primarily deal with incidents like stone pelting, a home ministry official said on Thursday.
The move comes days after girl students were seen fighting pitched battles with security forces at Lal Chowk in the heart of Srinagar on April 24, the day the educational institutions in the restive valley reopened after a five-day shutdown.
The exclusive contingent will be among the five IRBs the Centre has sanctioned for the state grappling with persistent violence.
The women battalion would also be assigned other law and order duties but its personnel will be primarily deployed for tackling protesters, the official said.
As many as 1,40,000 candidates have applied for 5,000 posts in the five IRBs. The home ministry decided to go for an all-women battalion after discovering that 6,000 applicants were women.
The issue was discussed today at a high-level meeting chaired by Home Minister Rajnath Singh on the Rs 80,000 crore development package announced for Jammu and Kashmir by Prime Minister Narendra Modi in 2015.
The process of recruitment to the five IRBs has started. Nearly 40 per cent of the applicants are from the Kashmir valley.
The response is very encouraging with nearly 30 applicants against one post, the official said.
The IRBs are being raised with an aim to provide jobs to the local youths. Sixty per cent of vacancies will be filled with candidates from the border districts.
The cost of raising each battalion is around Rs 61 crore, and 75 per cent of the expenditure will be borne by the Centre. Personnel of India Reserve Battalions (IRBs) are normally deployed in their respective states but they can be sent elsewhere if there is a requirement.
At present, there are 144 India Reserve Battalions in the country. In addition, four IRBs each are being raised in Andhra Pradesh and Telangana, 12 in Maoist-hit states, besides the five in Jammu and Kashmir.
http://timesofindia.indiatimes.com/india/all-women-battalion-in-jammu-and-kashmir-to-deal-with-stone-pelters/articleshow/58400219.cms
--------
UKIP policy triggers useful debate on validity of burqa use in British society
Apr. 28, 2017
A study in 2016 highlighted how the majority of people in the UK would favour a ban with a ration of in excess of 2:1 desiring a ban. Although such stances are expected in members of political parties such as the Conservatives and UKIP, even members of more liberal political parties such as Labour (48%) and the Liberal Democrat (42%) Party approved a ban on burka's rather then opposed it (37% and 30% respectively).
Arguably many Muslims agree with the notion of a ban on the burqa which is a symbol of the second-class citizenship of the female gender in radical Islam. Dr Taj Hargey who is Imam of the Muslim Education Centre of Oxford said in a statement:
"By banning the burka, Britain would belatedly follow the courageous lead of France, Belgium, Bulgaria, Morocco, Chad, Niger and other nations in outlawing this hideous tribal rag that has nothing to do with Islam, but only besmirches the Holy Qur'an.
"Instead of the liberal pandering to burgeoning Muslim extremism in the UK – which champions facial concealment as a religious requirement and 'personal choice' – the British public should be advised that there is no obligation for female facial coverings in Islam's divine scripture.
"This nefarious Wahhabi-imported fad from Saudi Arabia, Afghanistan, Yemen, Pakistan and other backward places, derives not from Islam's sacred text, but from the highly-suspect patriarchal sayings, hadith, of the Prophet Muhammad that were compiled some 300 years after his death.
"If the major political parties do not have the foresight or fortitude to tackle this toxic gateway ideology that reflects a virulent and militant shari'ah contagion that is gaining ground in this country, then Ukip should be saluted for doing so."
The recent killing of 50 year old Fazal Abbas by women in burqas who returned to Pakistan after fleeing an allegation of blasphemy against Muhammed 13 years ago, highlights the security danger the garments pose. Three women clad in burqas concealed guns under their garments and planned to each shoot Mr Abbas once, however during the attack only one shot was fired. The three women publicly named as Afshan Bibi, Razia Bibi and Amna Bibi, have all been arrested.
The use of the burqa in terrorist attacks is a known phenomenon. But surprisingly after freedom fighting women in 2016 started to use the burqa to conceal weapons when assassinate members of IS in Iraq, a ban of the burka ensued throughout Mosul. This humiliating U-turn by IS morality police illustrated the expendable nature of their burqa policy suggesting it is not an Islamic necessity.
Wilson Chowdhry, Chairman of the British Pakistani Christian Association, said: "Campaign groups will no doubt call label UKIP as an islamophobic group, however the debate that their new policy has initiated is a very valid one.
"Despite wearing a sacred knife (Kirpaan), no Sikh has ever been recorded as misusing the knife for terrorism. The same cannot be said for the burqa which has a history of misuse. Undisputedly the garment is considered more dangerous then the sikh knife though for all intents and purposes the Kirpaan is a weapon.
"In our desire to preserve civil liberties we cannot ignore the safety of people in Britain. The Westminster Terror Attack reminds us all that we are still a target for extremists who will use any means to strike terror in our communities.
"Moreover, the burqa is seen by many as a symbol of gender subjugation of women, often by Muslim groups too. For every Muslim that believes wearing the burka is a symbol of religious freedom, there is at least one that believes the opposite.
"Although the BPCA does not at this stage back a ban on the burqa, we by no means object to one either. We do believe that the use of a burqa in public areas has to be risk assessed and a common policy adopted that maintains security without causing societal polarisation and offence.
"To ensure an approach that is universally acceptable is in place, consultation on this important debate should include all sectors of society."
http://www.pakistanchristianpost.com/detail.php?communityid=718
--------
URL: https://www.newageislam.com/islam-women-feminism/indonesias-women-islamic-clerics-issue/d/110947
New Age Islam, Islam Online, Islamic Website, African Muslim News, Arab World News, South Asia News, Indian Muslim News, World Muslim News, Women in Islam, Islamic Feminism, Arab Women, Women In Arab, Islamophobia in America, Muslim Women in West, Islam Women and Feminism