06 November 2022
• Indonesian women vow to preserve diverse cultures amid rising Islamic conservatism
• Kankor Results Out; What Happened to Brilliant Afghan Girls?
• The Taliban wants to segregate women. So it's training female doctors.
• Hijab debate turns up heat at Odisha Literary Festival
• Azerbaijan is the first Muslim democracy in the world, says educationist ShafagMehraliyeva
• Cleric Calls for Establishment of A Muslim Women World Network
• Jordanian Woman Using Virtual Reality to Educate People about Islam
• 10 including children killed in anti-hijab protest in Iran
• Afghan female student injured in suicide attack passes university entrance exams
• Princess Basma hails Arab women's role in media
• Bahraini prisoners' families hold small protest during pope visit
• First Flight Of The Tallest Woman In The World! Turkish Airlines Made It By Removing Six Seats To Make Room For Her Travel To San Francisco .
Compiled by New Age Islam News Bureau
URL: https://newageislam.com/islam-women-feminism/indonesian-women-cultures-islamic/d/128346
------
Indonesian women vow to preserve diverse cultures amid rising Islamic conservatism
Johannes Nugroho
6 Nov, 2022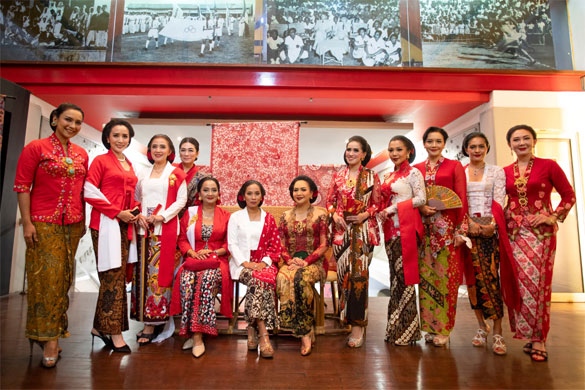 Women from the Perempuan Peduli Budaya (Women for Cultural Preservation) group at one of their public functions. Photo: Handout
-----------
When it comes to the classics, dance teacher RiniWidiastuti is a stickler for tradition. She says she has no time for her fellow Indonesians who have been trying to "modify" Javanese dance costumes to satisfy Islamic modesty rules.
"For centuries, our female dancers have been bare-shouldered, their heads unencumbered. Now people want to cover them up," said Widiastuti, from GunungKidul in Yogyakarta, the centre of Javanese culture.
While most Javanese people are also Muslims, the hijab is not a mandatory cultural garment for women. Of Indonesia's 275 million people, about four in 10 belong to this ethnic group.
The 50-year-old is among the Indonesian women at the forefront of efforts to preserve the many cultures and traditions in the country. And she's far from the first, according to local historian J.J. Rizal, who pointed to the example of prominent 19th-century women's rights activist R.A. Kartini.
Now these efforts have taken on more urgency given the increasing social pressure being felt by Muslim women and girls in Indonesia to wear the hijab. Centuries-old customs offer a way to fortify their sense of identity in the face of Islamic conservatism.
"As I watched, it occurred to me that Indonesia has a rich tradition in classical dance, too. So why not learn our own dances instead?" she said.
Today Wijayanti chairs a foundation – BelantaraBudaya Indonesia (BBI) – to preserve the country's diverse cultural traditions. BBI operates 16 studios offering free lessons in local dance traditions to almost 5,500 students, including one school for people with disabilities.
Wijayanti also rejects the idea that classical dance should bow to religious norms. "Our students can wear whatever they want during rehearsal but once they step onto the stage for a performance, they must wear the costumes as dictated by tradition," she said.
KusumawardaniWijayanti chairs the BelantaraBudaya Indonesia foundation, which is committed to preserving Indonesia's diverse cultural traditions. Photo: Handout
"If they wish to observe religious dress code, why not come up with a new creation instead of making changes to classical repertoires? We should respect how our ancestors choreographed these masterpieces," he said.
Julia Suryakusuma, a women's rights activist and director of the Gender and Democracy Centre, noted that instead of wearing Western-style clothing, Indonesian women had chosen to "go back to our own roots" as a response to the pressure of having to don the hijab.
This is reflected in efforts such as Wijayanti starting Perempuan PeduliBudaya (Women for Cultural Preservation) in 2017, a community committed to preserving Indonesia's sartorial heritage and promoting garments such as the various batiks found throughout the archipelago and traditional spun cloths like the kaintenun of Nusa Tenggara Timur.
"Indonesian women are conditioned to think that traditional costumes are for formal occasions such as wedding receptions but it doesn't have to be like that. Modern clothes for daily wear inspired by tradition are now aplenty," Wijayanti said.
Jakarta-based entrepreneur Ria Glenn, 54, is also doing her bit to protect Indonesia's jewellery-making traditions, motivated by the lack of quality traditional jewellery on the market.
Glenn and her friend Terry Wijaya Supit started their own jewellery line, Manjusha, in 2011. The name comes from a Sanskrit word meaning "jewellery box".
"Manjusha's collection is entirely made up of replicas of old traditional Indonesian jewellery handmade by our partner craftsmen," Glenn said, adding that the items were typically made of copper plated with gold or silver, combined with stones sourced locally.
Amid the current climate of identity politics and the debate over an Islamic dress code in the country, Glenn said it was important for Indonesian women to assert their national identity through wearing traditional garments and accessories.
"Our country is so rich in batiks, traditional spun cloths, jewellery and other attributes unique to our culture. If we don't appreciate these things ourselves, who will?" Glenn said.
In the last few years, more regulations have been passed in favour of making the hijab compulsory in public places. According to the Human Rights Watch NGO, since 1998 at least two regulations at the national level, about 60 regional ones at both provincial and municipal levels, and thousands issued by individual state schools across the country can be interpreted as supporting mandatory hijab-wearing.
An employee throws batik fabric in an industrial area in Sukoharjo, Central Java province, Indonesia in July 2021. Photo: Antara Foto via Reuters
An employee throws batik fabric in an industrial area in Sukoharjo, Central Java province, Indonesia in July 2021. Photo: Antara Foto via Reuters
Islamic orthodoxy is also often at odds with Indonesia's artistic traditions. Wayang, or Javanese shadow puppet performances, which combine singing and storytelling based on Hindu mythology, are on the wane due to their non-Islamic nature. Ultraconservative but popular preacher Abdul Somad, for instance, has stipulated music is not "forbidden" so long as its lyrics are used to spread Islam.
While Suryakusuma said "going traditional" was laudable, people should bear in mind that traditional clothing was not always an emblem of women's rights in the past.
The Javanese traditional garment, known as kain kebaya, was adopted as "women's national costume" by former presidents Sukarno and Suharto. However, it came to symbolise female subservience, Suryakusuma said.
"It became compulsory wear for women on formal and patriotic occasions and there was no other choice for us in those days," she said.
Suryakusuma described how the traditional kebaya costume, which consists of a long piece of cloth wrapped tightly around a woman's body, physically "constricted" the wearer such that she was only able to walk in mincing steps. The corset also made breathing difficult.
"I doubt that [kebaya] came to be as a social nod to Islam," Rizal said. "The kebaya itself shows off a woman's body contours, which is forbidden in Islam, not to mention considerable cleavage."
Despite this, there have been efforts geared towards promoting the kebaya. On Sunday, more than 100 local communities dedicated to cultural preservation are expected to take part in an event in Jakarta titled "Bela BangsaDengan Kebaya" (Defend the nation with kebaya).
Co-sponsored by the The National Agency for the Prevention of Terrorism, the event is expected to break the current national record – 18,000 people – for the largest public gathering of people wearing traditional costumes.
Beyond asserting one's identity, preserving tradition has also helped stimulate the local economy. Indonesia's creative industries sector made up 7.38 per cent (166.3 trillion rupiah or about US$10.5 billion) of gross domestic product in 2020, 18.15 per cent of which came from the fashion industry while the handicraft subsector contributed 15.7 per cent.
"My 5,000-plus students all require dance costumes, accessories, traditional hair buns and so on," Wijayanti said. "These items are made by hand mostly by artisans whose livelihoods we indirectly support."
Glenn of Manjusha makes it her company's mission to help ensure the survival of Indonesia's shrinking population of traditional silver and goldsmiths. "We have already lost a lot of goldsmith techniques because in some cases older smiths died before they could pass on their expertise to the younger generation," she said.
Glenn believes Indonesian women can help turn around the currently struggling small-scale silver and goldsmith industry by choosing to buy traditional jewellery.
"To ensure the survival of our ancient jewellery-making techniques, the industry must become viable so that the younger generations are able [to make it] a vocational choice," she said.
Source: Scmp.Com
https://www.scmp.com/print/week-asia/lifestyle-culture/article/3198437/indonesian-women-vow-preserve-diverse-cultures-amid-rising-islamic-conservatism
-----
Kankor Results Out; What Happened to Brilliant Afghan Girls?
By SaqalainEqbal
November 5, 2022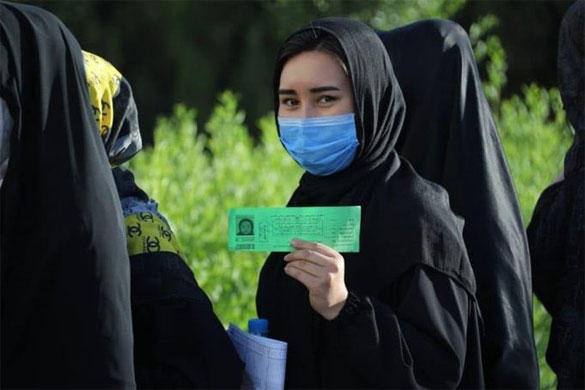 With the Kankor university entrance exam results announced on Saturday, many Afghan social media users expressed disappointment as no girl's name is seen in the list of the top 10 Kankor scorers, while girls have consistently topped the exam before the Taliban rule in Afghanistan.
-----------
The top 10 students on the Kankor entrance exam 2022 are "all-male," similar to the Taliban government in Afghanistan, while two brilliant Afghan girls, Shamsia Alizada and Selgai Baran, won the top places on the Kankor exams in 2020 and 2021, prior to the Taliban taking power in Afghanistan.
The results of the Kankor exam 2022 were released on Saturday, November 5, by the National Examination Authority, which the Taliban govern. Suleiman, Mohammad Shabir, Hedayat, Mohammad Zia, Mohammad Aziz, Mansoor Bek, Sayed Mohsen, Najibullah, Mustafa, and Mohammad Abdullah received the first through tenth scores, respectively, according to the results that were made public.
Afghan users on social media have voiced their discontentment that girls were sharply removed from academic sectors, especially the list of entrance exam winners after the results were announced in addition to a list that features 10 of the top candidates from the 2022 entrance exam, all of whom are boys.
The writer and one of the users, AfsanaWahidyar, wrote on her Facebook page, "I wish success to all these students. However, the cloud in my eyes began to pour when I looked at this list (which contained the names of the top 10 students for the entrance exam)." She continued by stating that Afghan girls were forced to stay at home and that attending school and studying had become their dream.
How can you expect girls to take exams with enthusiasm and receive outstanding scores when girls are banned from schools for any pretext, a journalist named Nilofar Langar wrote on her Facebook page?
Langar added that despite the disappointment, even if girls made it to the top 10 "do the mullahs allow a girl to come out on top and be an inspiration for the girls?"
This comes as girls ranked top in the previous years' entrance tests. The top student in 2021's national exam was Selgai Baran, who scored 352 points, making her the top scorer. When the Taliban took over Afghanistan, Baran was granted a scholarship from Turkey despite being accepted into her desired study program at Kabul Medical University.
Shamsia Alizada also achieved the highest score (353 points) and took first place in the 2020 exam. Although she was also accepted into the Kabul Medical University's medical program, she moved to Turkey to pursue her education.
Source: khaama Press
https://www.khaama.com/kankor-results-out-what-happened-to-brilliant-afghan-girls-57375/
-----
The Taliban wants to segregate women. So it's training female doctors.
By Claire Parker
November 5, 2022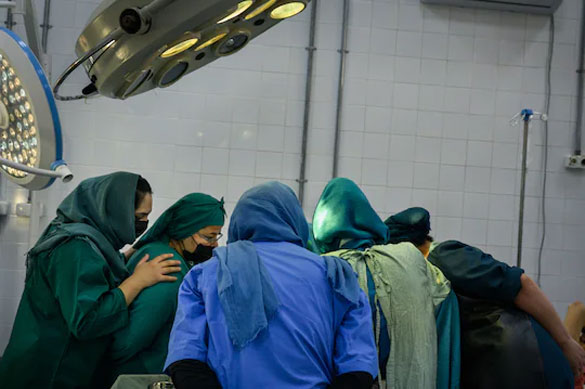 Medical residents watch and assist during a Caesarean section at the Rabia Balkhi public women's hospital, one of Kabul's busiest, on Oct. 23. Despite the ongoing training of 55 residents, the hospital is facing an uptick in patients, which has spread the remaining doctors thin. (Elise Blanchard for The Washington Post)
----------
KABUL — After the Taliban took control of Afghanistan last year, nearly a third of the resident doctors in OmeidaMomand's class at a Kabul women's hospital fled the country, she said, leaving the staff stretched thin.
Momand decided to stay, to finish the last step in her 11 years of training to care for Afghanistan's women. By day, she examines gynecology patients and monitors mothers with high-risk pregnancies in a room sometimes so crowded that patients lie on the floor. Night shifts are spent performing emergency Caesareans.
Her determination to practice medicine in her home country has aligned, ironically, with the Taliban's own interests. In the highly conservative Islamic society the Taliban hopes to create, officials say, women should be cared for by other women. That means educating more female doctors.
This marks a rare instance of the Taliban publicly and loudly promoting women's education and employment. Training female doctors and nurses is part of the movement's effort to prove it can provide essential services while building a society structured on gender segregation.
Muhammad Hassan Ghyasi, acting deputy minister of public health, said in an interview that his ministry has received "clear instructions from the top level" to bring policies in line with the Taliban's strict interpretation of sharia, or Islamic law. A new policy submitted recently to the Taliban's supreme leader, Haibatullah Akhundzada, for approval would formalize a rule already applied in some hospitals that female health workers should treat women, while male health workers should treat men.
Ghyasi said the policy will stipulate that if there is no qualified female doctor available, a female patient can see a male doctor. But with Afghanistan's health system under strain — and an economic crisis fueled by Western sanctions exacerbating hunger and sickness — the need for qualified medical professionals of both genders is greater than ever.
Source: Washington Post
https://www.washingtonpost.com/world/2022/11/05/afghanistan-women-doctors-taliban-medical/
-----
Hijab debate turns up heat at Odisha Literary Festival
06th November 2022
By Anup Nayak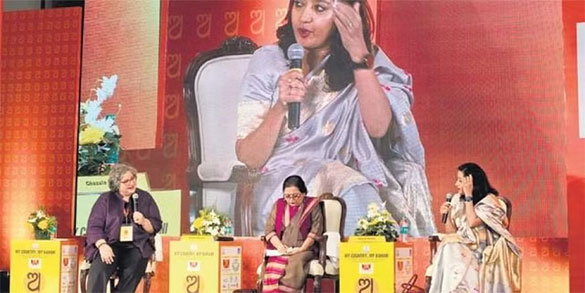 Kaveree speaks to Madhu Kishwar and Ghazala Wahab | Express
--------
BHUBANESWAR: The audience could feel the heat as the hijab debate took centre stage on day one of the 10th edition of Odisha Literary Festival here on Saturday. At the session 'The Hijab Question: Who Decides Who wears What', academic and researcher Madhu Kishwar stirred up the crowd by saying Muslim women need to wear 'hijab, niqab and burqa' for the safety of Hindu men. "Muslims keep their women in burqas to keep them away from the eyes of Kafirs (non-believers). In Islam, there is only one punishment for a Hindu boy if he marries a Muslim girl - to be throttled to death. So, Hindu boys will not meet such a fate if Muslim women are in hijab or niqab."
Opening the debate initiated by festival coordinator Kaveree Bamzai, editor and author Ghazala Wahab said India being a secular country, no organisation or institution should tell anybody not to flaunt their religious identity in public. It is everybody's right. The Constitution guarantees it. "No institution forbids you from coming to work or study wearing a Kalaba (sacred thread around wrists). If that is acceptable, then why is another form of religious flaunting suddenly unacceptable. Why should anybody object to someone wearing a head scarf?" she asked.
Ghazala said Muslim women are among the least powerful members of the community. They are not allowed to venture outside by their parents, especially fathers, without a hijab. Patriarchy and the Ulemas have been manipulating the community in enforcing such rules on women. "The state can show a little magnanimity, can do a little bit of hand-holding so that this religious conservatism does not stop Muslim women from having access to education and workforce," she said.
Countering Ghazala, Madhu said India's secular courts should not 'waste time' on religious issues like wearing hijab. "Why is India's secular government so eager to free Muslim women from Islam's ways of life. The police and Army are afraid of Muslim women as they are very skilled in pelting stones. Why do such empowered women, who are fighters, need sympathy and help of the government. They are capable of fighting for their rights."
She further said Muslim leaders openly declare that for them, Sharia is above all laws. If that is the case, why do they approach secular courts seeking permission to wear hijab which, for them, is an essential practice in Islam.
"Besides, this essential practice is applicable on a section of Muslim women. There are many celebrities and activists who don't wear hijab but back such practices in the name of freedom of choice. Do these women not know that the concept of freedom of choice is not there in Islam?" questioned Madhu.
Source: New Indian Express
https://www.newindianexpress.com/states/odisha/2022/nov/06/hijab-debate-turns-up-heat-atodisha-literary-festival-2515518.html
-----
Azerbaijan is the first Muslim democracy in the world, says educationist ShafagMehraliyeva
KallolBhattacherjee
NOVEMBER 05, 2022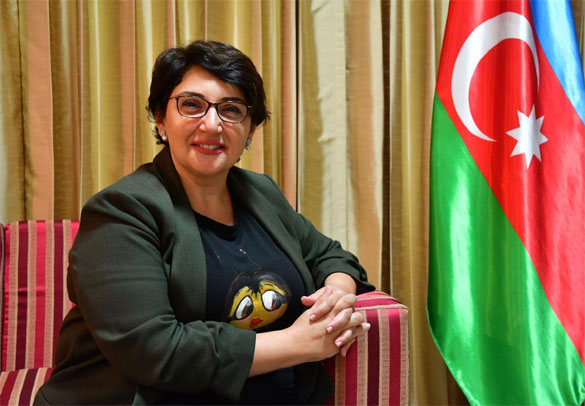 Shafag Mehraliyeva, School of Public and International Affairs Fuculty, Instructor, ADA University, Azerbaijan, during an interview in New Delhi. | Photo Credit: Shiv Kumar Pushpakar
---------
Azerbaijan is the first Muslim democracy in the world, said leading educationist ShafagMehraliyeva to The Hindu. In an exclusive interview, Ms. Mehraliyeva who represents the ADA University of Azerbaijan, a leading centre of liberal studies in the South Caucasus region, highlighted Azerbaijan's ancient cultural links with India as evident in the fire temples near capital Baku and urged closer educational and cultural ties between two sides.
Source: The Hindu
https://www.thehindu.com/opinion/interview/azerbaijan-is-the-first-muslim-democracy-in-the-world-says-shafag-mehraliyeva/article66101181.ece
-----
Cleric Calls for Establishment of A Muslim Women World Network
November 06, 2022
TEHRAN (IQNA) – The representative of the Leader of the Islamic Revolution in Iran's southwestern province of Khuzestan called for formation of a world network of Muslim women.
Hojat-ol-Islam Seyed Mohammad Nabi Mousavifard said it is necessary to protect the rights of Muslims in all Islamic countries.
A working group should bet set up to pursue the establishment of such a network, the cleric added.
Referring to the recent riots in Iran, he said the enemy hatched plots to make the issue of women a central theme in the unrest.
"We should not allow secularism and the Western model for women's life to become materialized (in the country)," he stated.
Hojat-ol-Islam Mousavifard also called on security apparatuses to decisively confront those who have insulted the sanctities during the unrest.
Leader of the Islamic Revolution Ayatollah Seyed Ali Khamenei has described the recent sparse riots in Iran as part of the enemy's passive and amateurish plot in response to the great Iranian nation's progress and major initiatives.
Ayatollah Khamenei said enmities toward Iran will continue in various forms as long as the people of Iran take up the flag of Islam and accompany the Islamic Republic. "The only solution is to stand firm," he stressed.
Source: Iqna.Ir
https://iqna.ir/en/news/3481144/cleric-calls-for-establishment-of-a-muslim-women-world-network-%C2%A0
-----
Jordanian Woman Using Virtual Reality to Educate People about Islam
Samah Safi Bayazid
November 06, 2022
TEHRAN (IQNA) – With the help of virtual reality films on Islamic history, Samah Safi Bayazid, a Jordanian filmmaker and producer, is fighting stereotypes about Muslims.
"We've been producers and filmmakers for over 10 years but we never thought that we will go into entertainment until we were in Disney," Bayazid told Anadolu Agency.
Bayazid is co-owner of LightArt Media Productions and Light Art VR, a company she describes as "for Islamic entertaining virtual reality experiences."
The idea for VR films about Islamic culture came when she and her husband were visiting the theme park. "We were having so much fun," she said.
"What if we can tell our stories and our heritage? And the Islamic history in a super entertaining way, using cutting edge technology, we develop our software," she said.
The company produces films in eight languages, has four VR films about Islamic heritage, and is producing a fifth and sixth within the next year.
The 33-year-old was in Istanbul to attend a two-day conference hosted by the Women and Democracy Association (KADEM), an Istanbul-based women's advocacy group, together with Turkey's Family and Social Services Ministry.
"I'm here to talk about the image of women and the presentation of women in the media," Bayazid said on the sidelines of the summit.
"I've worked in this industry for over 12 years and living in the US I see how the way women, specifically Muslim women, are being represented in the media directly affects how we are being treated and this sometimes causes Islamophobia," she added.
Bayazid cited the importance of "telling our stories as a Muslim producer and filmmaker" and said she will be talking about the importance of telling the stories of Muslim characters.
Along with her husband Muhammad, Bayazid founded Light Art VR five years ago. "We decided that we want to produce entertainment for Muslim audiences around the world," she said.
They started producing a Virtual Reality computer-generated company to show 8k resolution films "that take you back in time 1,400 years ago, to witness the story of Islam," she said.
The director based in Washington also discussed reactions from audiences. "So, we have completed two different reactions because we have our Muslim audience and non-Muslim ones."
Non-Muslim audiences had similar reactions but were surprised to learn facts about Muslim culture they did not know until watching the film.
"We did our project in New York just to share our Islamic culture," she said. "They loved it and they said 'we didn't know all this information because it's very informative."
"For example, they thought that Islam is a religion of violence. They told us that before watching our VR experiences they thought that women are second-class citizens in Islam and they are controlled by men," she said.
"It's one of the reasons to educate people and to tell them about our Islamic heritage and culture, to tell our own story and on our narrative," said Bayazid. "Because we're not going let other people tell our story the way they want. It's our job to tell it the right way."
Source: Iqna.Ir
https://iqna.ir/en/news/3481141/jordanian-woman-using-virtual-reality-to-educate-people-about-islam
-----
10 including children killed in anti-hijab protest in Iran
05-11-2022
The group said it was "gravely concerned about further bloodshed amid internet disruptions and reports of authorities bringing more security forces to Khash from Zahedan."
"Iran's authorities must immediately rein in security forces. Member states of the UN must immediately raise concerns with Iran's ambassadors and support the establishment of an independent investigative mechanism by the UN Human Rights Council," the human rights watchdog said.
A video shared with CNN by the activist outlet IranWire from Khash appears to show several protesters wounded and unconscious on the ground, after loud gunshots rang out in the background.
Meanwhile, the country's semi-official Fars News Agency posted images on Twitter showing charred cars and damaged buildings, with a caption that blamed the damage on "rioters."
"The governorate, the building of Jihad Agriculture and several other government buildings, several kiosks and police cars, people's private cars, and almost all banks were set on fire by rioters," Fars added.
The violence Friday comes amid nationwide protests against the death of MahsaAmini, a 22-year-old Kurdish women who died after being detained by morality police in Tehran.
Largescale demonstrations have also taken place recently in Zahedan, the state capital of Sistan and Balochistan, following the alleged rape of a Baloch girl by the police chief, reported CNN.
The province, neighboring Pakistan and Afghanistan, is home to members of the long-oppressed predominantly Sunni Muslim Baloch ethnic minority and has a history of unrest.
Authorities removed the head of police in Zahedan last week, but protests continued and on Thursday, a high ranking Shia cleric was shot dead by masked gunmen in Zahedan, according to state news agency IRNA.
The Coordinating Council of Iranian Teachers' Trade Associations (CCITTA) also tweeted on Friday that at least 16 protesters were killed, and dozens more were injured after Iranian security forces opened fire on protesters in Khash, reported CNN.
However, the death toll cannot be verified. A precise death toll is impossible for those outside Iran's government to confirm. Numbers vary by opposition groups, international rights organizations, and local journalists.
Source: Awazthe Voice
https://www.awazthevoice.in/world-news/including-children-killed-in-anti-hijab-protest-in-iran-17216.html/
-----
Afghan female student injured in suicide attack passes university entrance exams
By Khalil Noori
06-11-2022
An Afghan teenager who was severely injured in a suicide attack in September has passed her university entrance exams with high marks.
Students had been sitting a practice university exam when the bomber struck the tuition centre in the Dasht-e-Barchi area of the Afghan capital.
Eyewitnesses told the BBC that most of the victims were girls, who were seated in the front row, near the blast. A student who was injured told AFP that there were around 600 people in the room when the attack happened.
Ms Amiri spoke about its impact on her: "On the day of the exam, I was affected by the Kaaj attack - my eye was in pain, I couldn't see the question papers properly."
She said losing her eye in the attack only made her stronger: "The tasks I was not able to do with both eyes, now I will do it with one eye."
"I got really sad in the first stage, as I expected to be among the top 10. I didn't want to see my result afterwards," she said.
"If I was not among the top 10, one or two other girls should have been there... I am sure there are girls among the top 10, but I don't know why it was not announced," Ms Amiri added.
Ms Amiri said she would be determined to study regardless: "One hundred percent I will do computer science, I loved it and I am sure I will be able to go ahead with it," she said.
The Kaaj tuition centre is a private college which teaches both male and female students. Most girls' schools in the country have been closed since the Taliban returned to power in August last year, but some private schools are open.
Source: Bbc.Com
https://www.bbc.com/news/world-asia-63526483
-----
Princess Basma hails Arab women's role in media
Jordan News
06-11-2022
AMMAN — HRH Princess Basma, honorary president of the Arab Women Media Center (AWMC), on Saturday commended the key role women play in media, citing their professionalism, dedication, and adherence to journalism ethics, the Jordan News Agency, Petra, reported.
During the opening of the 18th AWMC conference, held at the Madaba Institute for Mosaic Art and Restoration in partnership with the Talal Abu-Ghazaleh Knowledge Forum, Princess Basma spoke at the opening ceremony to attendees on the role of digital media in enhancing change.
Arab women have made a remarkable and prominent presence in the media field in all its forms, including news production and program content, said Princess Basma.
An Arab media woman, said Princess Basma, plays a role no less important and dangerous than her male counterpart when delivering a story, especially in war zones and hotspots, noting the many female journalists killed in the line of duty.
At the conference, Minister of Tourism and Antiquities Nayef Al-Fayez pointed to the positive impact of the partnership between the media and national institutions working on promoting tourism and Arab countries' cultures, attracting more tourists, and direct and indirect investment.
Minister of Culture Haifa Al-Najjar, Governor of Madaba Nayef Al-Hidayat, and head of office and UNESCO Representative to Jordan Min Jeong Kim attended the conference.
Source: Jordan News
https://www.jordannews.jo/Section-109/News/Princess-Basma-hails-Arab-women-s-role-in-media-24162
-----
Bahraini prisoners' families hold small protest during pope visit
5 Nov 2022
Relatives of death row and life inmates in Bahrain have held a small protest along Pope Francis's motorcade route calling for the freedom of political prisoners in the Gulf Arab state.
It was not clear if the pope saw the placards as his motorcade moved from his residence to a school in Isa Town where he later addressed students and teachers. About 30,000 flag-waving worshippers attended an open-air mass on Saturday.
A video of Saturday's protest, which included several women and children, was posted online by the London-based Bahrain Institute for Rights and Democracy (BIRD) and by Bahrain's dissolved opposition al-Wefaq group.
Hajer Mansoor, the mother of jailed activist Sayed Nizar al-Wadaei, held a placard reading: "Tolerance does not exist for us here in Bahrain."
One of the placards read "Tolerance, Coexistence is a practice not just slogan. #Free Hassan Mushaima #Free Political Prisoners #End Sectarianism".
Hassan Mushaima, an opposition leader, was given a life sentence in 2011 for anti-government protests, led mostly by the Shia Muslim community. The Sunni monarchy cracked down on the unrest.
In the video, a policeman can be heard telling the demonstrators, who included a small boy, "If you please, if you have demands, if you have anything, not in this way and not in this manner".
A government spokesperson said that a group of nine individuals were asked to disperse by uniformed police and "acceded to the request," according to the Reuters news agency.
"No further action is being taken in this regard," the spokesperson said in a statement, adding that there "have been no arrests or apprehensions related to the Papal visit".
Before the pope arrived in Bahrain on Thursday, families of death row inmates asked him to speak out against capital punishment and defend political prisoners during the trip.
It is vital that "fundamental human rights are not violated but promoted", the pope said on Thursday at the Sakhir royal palace on his first visit to the Gulf Arab state, where the Shia Muslim opposition and rights groups accuse the Sunni monarchy of overseeing human rights abuses, a charge authorities deny.
Bahrain was the only Gulf state to see mass Arab Spring upheaval. It has imprisoned thousands, some in mass trials, since the uprising.
The kingdom has rejected criticism from the United Nations and others over its conduct of trials and detention conditions, saying its prosecutions were in accordance with international law.
Last year, Bahrain conditionally released tens of prisoners under new rules allowing electronic monitoring and home detention instead. Mushaima's son said then that his father had declined a conditional release offer.
Source: Aljazeera
https://www.aljazeera.com/news/2022/11/5/bahraini-prisoners-families-hold-small-protest-during-pope-visit
-----
First Flight Of The Tallest Woman In The World ! Turkish Airlines Made It By Removing Six Seats To Make Room For Her Travel To San Francisco .
05-11-2022
That was a moment for her and the Turkish Airlines as well , the tallest woman in the world has made her first trip by plane with the help of Turkish Flag bearer in the month of September.
RumeysaGelgi , who is the holder of Guinness Book of Records for her 2.15-meter (about 7-foot) height , boarded the San Francisco (SFO) - bound Boeing 777-300ER aircraft with her wheelchair before laying on the stretcher for the 13-hour flight.
To make the travel possible , Turkish Airlines came forward and converted 6-seats on the aircraft into stretcher for Gelgi to lie-down throughout the flight.
With the required seating adjustment ,RumeysaGelgi finally boarded a plane at Istanbul International Airport (IST) for the first time in her life accompanied by her mother. Though not an easy task for co-ordination , the tallest woman in the world finally made her very first trip by plane.
The 24-year-old travelled to San Francisco for her career interests in software development , but she will also co-ordinate with Guinness World Records to promote various events.
Gelgi has to travel by stretcher due to Weaver syndrome, a rare genetic disorder characterized by rapid bone growth . Although there is no cure, people with this condition can live healthy lives. She normally gets around by wheelchair but sometimes walks for short distances.
She mentioned at Istanbul Airport that she was very excited to travel by plane for the first time , and that this flight was important for patients like her who need a stretcher.
"This will be my first flight as well as my first travel overseas. But I believe that this experience will be a first for many individuals, not just me. Because as you know, the option of traveling as a stretcher passenger is generally reserved for patients who are being transferred from one intensive care unit to another."
"It is an alternative for patients who are referred from one hospital to another and need an ambulance. However, because I couldn't sit for lengthy periods of time due to my scoliosis, or spine curvature disorder, I had to fly on a stretcher" .
Gelgi lives in Karabük, Türkey , that's about 200 kilometers (124 miles) north of Ankara. She wants to use her world record title to advocate and raise awareness of both Weaver syndrome and scoliosis.
If one checks the records , the tallest woman ever recorded was Zeng Jinlian from Hunan Province of China , who measured 246.3 cm (8 feet, 1 inch) at the time of her death in February 1982.
Source: Fl360aero.Com
https://fl360aero.com/detail/first-flight-of-the-tallest-woman-in-the-world-turkish-airlines-made-it-by-removing-six-seats-to-make-room-for-her-travel-to-san-francisco/1143
-----
URL: https://newageislam.com/islam-women-feminism/indonesian-women-cultures-islamic/d/128346
New Age Islam, Islam Online, Islamic Website, African Muslim News, Arab World News, South Asia News, Indian Muslim News, World Muslim News, Women in Islam, Islamic Feminism, Arab Women, Women In Arab, Islamophobia in America, Muslim Women in West, Islam Women and Feminism