New Age Islam News Bureau
10 Aug 2017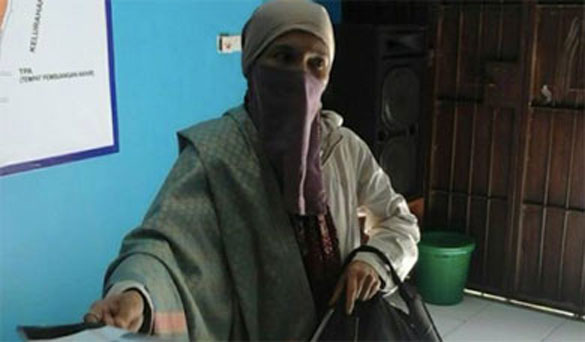 Hadasari. Photo: Facebook, Indonesian woman claiming to be 26th Islamic prophet admitted to mental hospital in Makassar | Coconuts Jakarta
-----
• Pakistan's First Female Police Chief Breaking Cultural Taboos
• Islamic State Whip, Bite 4 Women In Kirkuk For Using Cell Phones
• Meet Voice of Baceprot, the All-Girl Metal Band Making Waves in Indonesia
• Gunmen Kill Two Afghan Women Contractors at Air Base near Kabul
• Nigeria: Harnessing the Potential of Women in Northern Nigeria
Compiled by New Age Islam News Bureau
URL: https://www.newageislam.com/islam-women-feminism/indonesian-woman-claiming-be-26th/d/112161
--------
Indonesian woman claiming to be 26th Islamic prophet admitted to mental hospital in Makassar
Aug. 9, 2017
In Islam, Prophet Muhammad is the 25th and the last of the religion's prophets, so when an Indonesian woman claimed to be the 26th prophet sent by God, it was never going to end well.
That woman, identified as Hadasari, a middle-aged woman from Makassar, South Sulawesi, claims that she was sent by God to convince mankind to band together amid all their differences to fix the world, which has been destroyed by the hands of man.
It's admittedly a nice message, but it has landed Hadasari into trouble in the Muslim-majority country. While she could have easily fallen afoul of Indonesia's harsh and ambiguously worded blasphemy laws (as happened to some Indonesians who made similar spiritual claims in the past), instead of being sent to jail she was sent to a mental hospital in Makassar.
"She was admitted to the Dadi Mental Hospital in Makassar last night," said Daeng Dudding Samado, Hadasari's husband, as quoted by Liputan 6 today.
According to Dudding, doctors at the hospital said his wife suffers from heavy depression and must be treated immediately.
Hadasari began claiming her status as an Islamic prophet in 2013, regularly going around to houses, campuses and offices to spread the word of God. Despite her efforts, she never gained a single follower.
Her neighbors believe that her supposed delusion began after her family lost a land dispute. Since then, she'd always lock herself in her house, only to come out from time to time to spread her teachings.
There have been several cases in the past of sect leaders being jailed for blasphemy, as Indonesia officially only recognizes six religions and criminalizes any teachings that deviate from the mainstream beliefs of those religions. The most recent example of this was the 5-year prison sentence given in March to the founder of the Gafatar sect, Ahmad Moshaddeq, who also claimed to be another Islamic prophet and thus had his teachings criminalized as heretical.
Another high-profile sect leader in Indonesia is Lia Eden, (the founder and leader of a cult called God's Kingdom of Eden) who claims to be the reincarnation of Mother Mary and that her son is the reincarnation of Jesus Christ. Lia Eden, who once wrote a letter to President Jokowi asking to allow a UFO to land in Jakarta (which, as far as anybody knows, didn't happen), has been jailed twice for blasphemy after she publicly denounced and criticized Indonesia's officially recognized religions.
https://coconuts.co/jakarta/news/indonesian-woman-claiming-26th-islamic-prophet-admitted-mental-hospital-makassar/
--------
Pakistan's First Female Police Chief Breaking Cultural Taboos
August 09, 2017
PESHAWAR, PAKISTAN —
Rizwana Hameed made history a month ago when she became the first female head of a male police station in Pakistan's Khyber Pakhtunkhwa province, or KPK, where conservative cultural and religious traditions often discourage women from leaving home.
Hameed has been a member of the provincial police force for the past 15 years and has participated in numerous crime investigations as well as daring raids against suspected criminal terrorist hideouts.
But after becoming the first officer to supervise a male police station in a predominantly conservative male society, she is feeling the pressure.
Tough job
"It's a very difficult job for me," she said.
But Hameed is enjoying the job and is determined to undo the impression women are a lesser creed.
"If men are asked to take on household responsibilities and babysitting, for the whole day I don't think they can handle them. Whereas women can easily handle professional responsibilities outside the home also," she said.
The police officer says women in the surrounding localities have been until now reluctant to enter the police station with their complaints and discuss them openly with male police officers.
"Peshawar is a closed society where women mostly confined to their homes. And even if they are subjected to domestic violence they endure it and avoid publicly talking about it," she said. "But my presence here is now encouraging them to bring problems to the police station and their number is growing by the day. And when their problems are solved they take back a message of satisfaction to their communities, which is emboldening other women to visit the police station."
Tradition
Pashtun families in Pakistan's Khyber Pakhtunkhwa province have been traditionally reluctant to allow their women to join the police. That is why there are hardly 10 percent women police personnel in the entire province. But officials say the trend is changing because of projections in media of women police officers..
"Even some of our female complainants also ask me after their issues are addressed whether they can join the police and I sit down with them to explain the process," Hameed said.
Police station chiefs in Pakistan, she says, have to spend most of the time in the office, so the doors are open for complainants all the time, making family life a bit difficult even for men officers.
"But my husband and my in-laws are very cooperative with me, even though they know I am not spending enough time with them after assuming my responsibilities as the SHO," Hameed said. "I try to manage both and stay in contact with the family via cell phone because they still need my supervision in some areas."
The provincial police department is also conducting awareness campaigns in woman educational institutions to encourage them to join the force. Hameed said she believes the induction of more women will help bring down incidents of domestic violence and so-called family-honor related crimes against women in the province.
Pakistan's Khyber Pakhtunkhwa province has been at the forefront of the country's war against terrorism and extremism and has borne the brunt of violent attacks. However, security conditions have improved, encouraging women to look for jobs in areas traditionally considered only for men.
https://www.voanews.com/a/pakistans-first-female-police-chief-breaking-taboos/3978519.html
--------
Islamic State whip, bite 4 women in Kirkuk for using cell phones
by Mohamed Mostafa
Aug 9, 2017, 7
Hawija (IraqiNews.com) Islamic State militants punished four women at their Kirkuk stronghold with biting and whipping for using cell phones without their knowledge, a local source said Wednesday.
The source told Alsumaria News that IS's so-called "women police" raided one house in central Hawija (55 km southwest of Kirkuk) searching for "communication tools locals use to contact their relatives and check on them".
Finding an SIM card at one part of the house, the female vigilantes arrested four women from the household, and referred them to the group's judges who sentenced them to three lashes and the fourth, an elder, to ten "bites" in the hands and the back, according to the source.
Biting had been a common punishment for civilian women who violate IS militants' daily life directives.
The Islamic State has executed hundreds of civilians for contacting security forces and collaborating with them at areas under its control, and has always been stringent regarding the use of communication equipment.
IS has held Kirkuk since 2014, and the town is one of the next targets for Iraqi forces which managed in July to retake the group's former proclaimed "capital": Mosul.
http://www.iraqinews.com/iraq-war/islamic-state-whip-bite-4-women-kirkuk-using-cell-phones/
--------
Meet Voice Of Baceprot, The All-Girl Metal Band Making Waves In Indonesia
August 9, 2017
The Indonesian metal group Voice of Baceprot is one noisy band. In fact, the band's name literally means "noisy" in the ethnic Sundanese language the three members speak. They all hail from a rural, conservative part of Indonesia — West Java — about five hours southeast of the capital of Jakarta. But it isn't just the band's loud music that's attracting attention: Voice of Baceprot has also entered the spotlight for breaking the mold of a typical metal band.
For starters: The band is made up entirely of teenage schoolgirls. Vocalist and guitarist Firdda Kurnia, drummer Eusi Siti Aisyah and bassist Widi Rahmawati, who formed the band in 2014, are all daughters of local farmers. They grew up poor and attend one of the many madrasas, or Muslim schools, in the area. It was there that the three were introduced to metal music by their middle school guidance counselor, Ahba Erza.
"I don't know why the girls love the metal bands," says Erza, who taught the girls the instruments and would go on to become their band manager. Before Erza, the members of Voice of Baceprot didn't even know what metal was, but the genre has now become a way of life for them. "I found myself in the metal music," says Kurnia, 17.
The band's music is inspired by the likes of metal music legends such as Slipknot, Lamb of God and Rage Against The Machine. As the band's popularity continues to grow, Voice of Baceprot is fast becoming part of a thriving underground metal scene in Indonesia, which has fans in some of the highest places: Indonesian President Joko Widodo is known for being a huge metalhead.
Voice of Baceprot performed on Indonesia's most popular television variety show in June — an important achievement for such a young band. But the milestone is lent even more significance because of who Kurnia, Aisyah and Rahmawati are. As young women, their very presence on stage is making waves throughout the conservative corners of their community and even Indonesia as a whole.
Indonesia is the world's most populous Muslim nation and is also a place where pluralism and religion often rub against each other. So it may come as no surprise that Voice of Baceprot has caused some consternation among Indonesia's more religiously conservative. Not only are they women playing loud, abrasive music in public; they also perform while wearing the hijab, the head scarf traditionally worn by Muslim women.
Kurnia and Erza say the band members receive phone calls and messages all the time telling them to stop playing their music, and that they are often bullied on social media.
"They say my music is forbidden by my religion," says Kurnia, whose own parents forbade her from playing in the beginning. But as the band's popularity grew, Kurnia says, her parents became proud and supportive. Now, Kurnia says, she is emboldened and proud to be an inspiration to other women.
"I'm a different musician because I'm a woman, and I play metal music but I'm wearing hijab," she says. "Hijab is my identity, OK?"
The girls know what they've gotten themselves into, Ezra says. "They have many dreams in their brains," he says. "They have to make their dreams, but they have to brave the consequences."
Thankfully, Voice of Baceprot has supporters in Indonesia's music scene they can count on. Giring Ganesha, vocalist for the Indonesian pop band Nidji, is one of them. He met Voice of Baceprot backstage once when they were both performing on the same television show. Ganesha describes the band's performance as "jawdropping."
For three girls their age from outside the city to have such talent and skill is very surprising, Ganesha says, and it makes him happy to see them performing.
"They're embracing pop culture. They're embracing rock," he says. "They show that, 'OK, my religion is Muslim, that is my identity,' but still I know they can embrace music, embrace rock music and have fun with it."
Today, Voice of Baceprot mostly plays covers. But they have released a few of their own songs, including one about the state of education in Indonesia and another about protecting the environment, titled "The Enemy of Earth is You."
Kurnia says she hopes to play in England and Paris one day. "I hope my band will be successful," she says, "and can be the inspiration of younger generations."
But for now, the band has a more immediate goal: get an album out by the end of this year.
http://www.npr.org/2017/08/09/542238928/meet-voice-of-baceprot-the-all-girl-metal-band-making-waves-in-indonesia
--------
Gunmen kill two Afghan women contractors at air base near Kabul
AUGUST 9, 2017
KABUL (Reuters) - Two Afghan women working for a security firm searching people entering Bagram air base near the Afghan capital Kabul were killed on Wednesday and two others wounded by unknown gunmen, officials said.
The four were shot outside the base by two masked gunmen on a motorbike, said Wahida Shahkar, a spokeswoman for the provincial governor of Parwan.
"Two of them were killed and two wounded," she said. "The attackers managed to escape the area."
There was no immediate claim of responsibility. Taliban spokesman Zabihullah Mujahid said he was checking the report.
In June, six Afghan guards working at Bagram for a private security contractor were killed while on their way to work in an attack claimed by the Taliban.
There was no immediate comment from the U.S. military which runs Bagram, the largest U.S. base in Afghanistan.
The number of Afghan personnel working at Bagram was cut sharply last year after a mechanic detonated a suicide vest, killing four Americans and wounding 17 other people.
http://www.reuters.com/article/us-afghanistan-attack-idUSKBN1AP20R?il=0
--------
Nigeria: Harnessing the Potential of Women in Northern Nigeria
9 AUGUST 2017
By Anote Ajeluorou
Kaduna — In what later turned out as a strategic plan to score cheap political points, Mr. Ahmed Yerima, early in the life of the current political dispensation, imposed Islamic law, known as Shari'a, in little known and impoverished Zamfara State. His action was to have reverberating effects during and long after he left office and became a senator. Certain parts of the north went up in flames and lives were lost. Majority of women in Northern Nigeria still hold him responsible for setting the region backwards hundreds of years after they had begun to achieve a measure of liberation previously denied them.
As one such female activist, Mrs. Aisha Umar, succinctly submitted, "Ahmed Yerima imposed Shari'a law for political reasons and then other governors caved in. What they did not know was that they gave more powers (actually yielded their own political powers) to the religious establishments and set Northern Nigeria backwards far more than they met it!"
This was part of the views, which the Kaduna Book and Arts Festival (KABAFEST 2017), early last month, threw up among many other engaging issues about conditions in Northern Nigeria that are otherwise less known in other parts of the country. Significantly, issues about women and their limited potential as partners in progress came up in a panel discussion, 'Harnessing the potentials of women in Northern Nigeria.'
It had three women, who are actively involved in women's rights for development campaigns on the panel - Mrs. Aisha Umar, President, International Federation of Women Lawyers (FIDA), Nigeria, Mrs. Hauwa Evelyn Shekerau, and Secretary General, Women's Rights Advancement and Protection Alternative (WRAPA), Mrs. Saudatu Mahdi, with a journalist, Kadaria Ahmed, moderating.
The panel had its premise on the fact that 'women make up half of Nigeria's population. Yet they have limited access to quality education, untreated health challenges, lack of skills and aspects of traditions hampering them (women) from contributing meaningfully to the economy.' If this is true of women in Nigeria generally, what about women in Northern Nigeria, who face more than double rigours to scale through these huddles? Is enough being done to ensure that women in Northern Nigeria have as much opportunity as their counterparts in the south to achieve their full potentials?
Mahdi, who rose to the position of a Permanent Secretary in a federal ministry before founding an NGO to negotiate for women's rights, argued that it was no longer tenable for women to be sidelined in the development of any society, especially that of Northern Nigeria that is grossly lacking on many development indices. She said, in relation to statistics and the balance of numbers, women's centrality in supporting the economy of families has become inevitable. She condemned the socialization of girls in the region that places a glass ceiling to how high they can aspire.
According to Mahdi, "On a rational basis, the balance of numbers has tipped in favour of women. We have more women and girls needing to support families. So, they need education to be dignified citizens contributing to the development of Northern Nigeria. Northern women are brought up in a socialization that she can only aspire to a certain level - just the ABC level of education and no more. The opportunity of education and exposure are limited and this limits the average woman in Northern Nigeria. She lacks capacity because her self-esteem is taken away. Fathers need to do more to instill confidence in their girl children."
For Shekerau, the issue of cultural and religious misrepresentation plays a key role in limiting the potentials of women in the region. As she put it, "People use them (culture and religion) to denigrade, oppress and repress women. Women are not given space to express themselves and rise to their full potentials. In spite of the constraints of women, they still stand up to do things. So, there is a potential in her that can still be explored."
Umar also expressed anger at the way women are treated in that part of the country, arguing that the dress culture imposed on women is contrived to hinder women, noting, "Specific damage is done to women when they are excluded from the development process. The way women dress is politicised. In fact, it is made to take away women's rights. People shouldn't be made to dress in a particular way. Too many constraints are put in the way of women."
Whereas Umar and Shekerau are emphatic that it was time to deconstruct and challenge their male-folk head on to dislodge the petty prejudices mounted against women, Mahdi would rather endorse a diplomatic approach, although she also admitted to using all available measures as given situations demanded.
"Unless we dislodge these cultural myths to make women play active roles and so mitigate against these issues, we might not go anywhere," Shekerau advised. "No one way of negotiating these issues by giving it different names. Another way I believe is to challenge it by addressing it. Islam and Christianity and human rights are universal concepts."
"To challenge and deconstruct the position of men is going on a wrong footing," Mahdi cautioned. "What we have come to learn is to negotiate, to look at the nomenclature of the relative status. All along, we should speak of dialogue, negotiation instead of confronting. It's an innate thing; I want to be in the room with the people who have refused to look at me and accept me for who I am. We can win the game without fighting."
The three women were in one accord that the culture, tradition and religion practised in the region have been deployed to cage and repress women and that the time has come to fight and win the battle. The instance of Abubakar Adam Ibrahim's searing novel, Season of Crimson Blossom, about what a woman should do and not as dictated by culture and reigion, readily come to mind as an example of how women in Northern Nigeria are emotionally and psychologically repressed from attaining true potentials on account of religious and cultural impediments.
"We have hit rock-bottom and we don't have a choice," Umar asserted emphatically. "The generation of girls denied education is now retracing their steps. They now know they are left behind. Parents who refused to send their girl children to school are now regretting it. They now face the problem of promiscuity, which they initially feared to send them to school - these girls now use their bodies to feed themselves (since they are not economically empowered any other way).
"So, the people to convince are the traditional rulers. The psyche in the North is that women already have the power of the 'other room' - (sexual power) and that giving them economic power is lethal; they just dread it!"
However, Mahdi proposed that educating parents in Northern Nigeria on how the world currently works is the likely way forward, noting, "Parents' limited understanding (on the need) to educate a child, that you don't lord it over your wife, is the key. Illiteracy in the north is a myth; mothers are literate in Arabic (but it doesn't seem to be enough). Culture is wrongly misconstrued across Nigerian tribes."
While Shekerau canvassed behavioural change communication module so "parents know the benefits of girl child education; the potentials of women are there, but they have to be harnessed through political will," Mahdi sued for legislation and encouraged Northern politicians to be courageous to "give provision for the weak and to deconstruct the northern (oligarchy) of impunity (that infringes on the rights of girls and women). We need to have zero tolerance to injustice. So education, legislation and justice" are the pillars that will liberate women from inhibiting practices.
Mahdi also made a proposition, "Educated Northern women should come out to do more for other less privileged ones. They should not feel comfortable in the homes of their rich husbands. Men must also take responsibility as leaders of the home to have helpers. Women need to organise, not agonise over these issues and work in cooperation. Women have been talking to themselves; they need to mobilise men to join women, reach out and talk to those defaulting on women's issues."
Umar specifically held Yerima responsible for the continuing backwardness of women in the north, but she also encouraged state governments to "train more female teachers to make the classrooms safe for girls so they don't get molested."
http://allafrica.com/stories/201708090670.html
--------
URL: https://www.newageislam.com/islam-women-feminism/indonesian-woman-claiming-be-26th/d/112161
New Age Islam, Islam Online, Islamic Website, African Muslim News, Arab World News, South Asia News, Indian Muslim News, World Muslim News, Women in Islam, Islamic Feminism, Arab Women, Women In Arab, Islamophobia in America, Muslim Women in West, Islam Women and Feminism