New Age Islam News Bureau
21 Jan 2013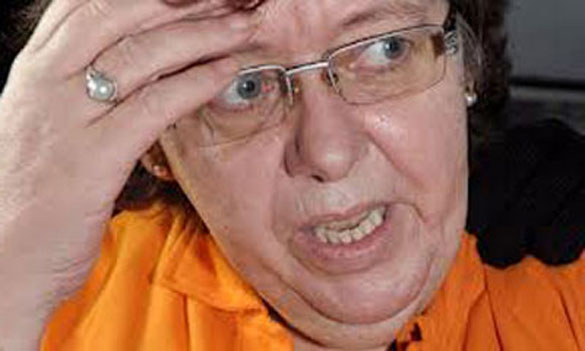 • Clerics Bat for Education of Girls in MP, India
• Nearly 72% of Girls in Sindh Get Married Before They Turn 18
• Woman in Pakistan 'Killed By Brother', Over Alleged Elopement
• Police Stop Saudi Woman Driving Family Car
• Muslim Women, Not-So-Muslim Men: Interfaith Marriage in the UK
• No Female Quotas in Elections Law in Egypt on the Argument of Salafi Members
• Indonesian Court Sentenced UK Grandmother to Death over Drugs
• Experts Demand Legislation to Prevent Early Child Marriages in Pakistan
• Try Rapists Thru' Speedy Tribunals: Activists in Bangladesh
• Women's Rights Activist Hopes Discriminatory Passport Law in Iran Does Not Pass
• Al Azhar Steps In To Help Achieve Millennium Health Targets for Women
• Women Hardest Hit by Recession: World Economic Forum
• Al-Kuraya Sees Greater Focus on Women's Issues
Compiled by New Age Islam News Bureau
Photo: Indonesian Court Sentenced UK Grandmother to Death over Drugs
URL: https://www.newageislam.com/islam,-women-and-feminism/new-age-islam-news-bureau/indonesian-ulema-council-pushes-govt-to-circumcise-girls/d/10101
---------------
Indonesian Ulema Council Pushes Govt to Circumcise Girls
January 22 2013
The Indonesian Ulema Council (MUI) is bucking a United Nation's campaign to ban female circumcision, demanding that the government keep the practice legal.
MUI deputy secretary-general Amirsyah Tambunan told reporters at a press conference on Monday that the government should continue to allow female circumcision, calling it a constitutional right.
"Circumcision is a part of the Islamic teachings that were recommended for Muslims, both male and female," Amrisyah said at MUI headquarters as quoted by Antara news agency. "The MUI and Islamic organizations in the country firmly stand against any efforts to ban female circumcision."
Female circumcision performed by licensed doctors, nurses or midwives was legalized by a Health Ministry regulation issued in 2010 that defined the practice as "incising the skin that covers the front part of clitoris, without harming the clitoris".
Last month, the UN approved a non-binding resolution urging its 193 member states to enforce legislation prohibiting female genital mutilation.
According to the World Health Organization (WHO), female genital mutilation can cause urination problems, severe bleeding and complications during childbirth.
In Indonesia the practice ranges from the symbolic — a small tap with a bamboo stick — to slicing the clitoris off with scissors.
The National Commission on Violence against Women (Komnas Perempuan) has consistently urged that the 2010 ministerial regulation be revoked, claiming it violated women's reproductive rights.
Meanwhile, Huzaemah, a member of MUI's fatwa commission, said that female circumcision was a religious obligation that should be done to control women's sexual desire.
Separately, the executive director of the Wahid Institute, Ahmad Suaedy, disagreed, saying that the practice was based on fiqih (Islamic jurisprudence) that could be interpreted differently by different Ulema.
"Female circumcision is not in the sharia. Maybe, the MUI drew their conclusions from a fiqih that was applied in a particular context and region," he told The Jakarta Post on Monday.
Meanwhile, Enrico Renaldi, a physician from the Indonesian General Practitioners Association, said that local medical schools did not teach female circumcision procedures.
"I also have never heard of female circumcision training for doctors. Traditionally, this practice is only performed by midwives," he told the Post. (yps)
http://www.thejakartapost.com/news/2013/01/22/mui-pushes-govt-circumcise-girls.html
---------------
Clerics Bat for Education of Girls in MP, India
By FP Staff Jan 21, 2013
Shamshad wants to study engineering and Sana wants to be a doctor.
Both of them study in a madrasa in Bhopal that is helping their cause by providing them education, so that they can fulfil their dreams.
A CNN-IBN report says that madrasa's are taking the lead in women's education in the city of erstwhile Nawabs and begums.
"The environment in our madrasa is very good. We have good teachers and are being provided quality education. I want to study engineering one day," says Shamshad.
Sana and Shamshad are the face of the changing scenario for girl student. Girls constitute more than three Lakh seats in the 5,300 madrasas in MP. The number of women teachers are also increasing.
"We study Urdu, Hindi, Farsi, Arabic, Science and also the Quran Sharif. I want to be a doctor when I grow up," says Sana.
The warden of Sana's madrasa practices strict Purdah which does not allow her to interact with outsiders, but the same restrictions do not apply to the girls who are allowed to interact as they prepare to step out in the outside world in pursuit of their dreams.
"It is a pride for us that 60 percent of students in madrasas across MP are girls. They are provided mid-day meals and free books by the government. Facilities are provided by the Centre and the state for the teachers as well," says Rashid Khan, the president of the Madrasa Board.
Support from the clergy and the government comes as a boost for all the Muslim girls in Madhya Pradesh for them to realise their dreams.
http://www.firstpost.com/india/clerics-bat-for-education-of-girls-in-madhya-pradesh-595859.html
---------------
Nearly 72% of girls in Sindh get married before they turn 18
January 22, 2013
KARACHI: Nearly 72 per cent girls in Sindh are married before they turn 18, and this phenomenon is no longer restricted to rural parts of the province.
Experts discussed the taboos associated with early marriages at a two-day conference, conducted by the Rutgers WPF in consultation with NGO Hands, titled 'Enhancing the Role of Media in Eradicating Child Marriages in Sindh' on Monday. Child marriages happen as frequently in cities, such as Karachi, as well, revealed Sindh Minister for Women Development Tauqeer Fatima Bhutto.
Bhutto's department has signed a MoU with Hands to highlight the issue. The first seminar of the series was conducted in Hyderabad and the third would be held in Sukkur.
"The media highlights political and criminal issues but has less space for social issues," pointed out Sindhi writer and intellectual Jami Chandio.
Bilquis Rehman of Hands said that the facts and figures highlighted that early child marriages, of both males and females, were very common in Jacobabad and Matiari districts. "Jacobabad is a district dominated by tribal men. The issue of 'piri-muridi' is also common in Matiari."
Rehman pointed out that there are strict checks on getting national identity cards or driving licences on time, "but there are no restrictions on child marriages and no one even asks if the bride is physically and mentally mature enough".
Chandio explained that most people in rural areas believed that marriage was a fundamental religious obligation. "Parents also think their daughters are an economic burden, and there is a lack of research on the issue as well."
Dr Tausif, the chairman of the department of mass communication of the Federal Urdu University of Arts, Science and Technology, said that a woman is given secondary status in our society.
"When the British imposed bans on early marriages, Muslim leaders of the time and some Hindus also opposed it. But Quaid-i-Azam Muhammad Ali Jinnah supported it."
The speakers and participants demanded the law makers of Sindh Assembly to make legislation as soon as possibly as the issue could be tackled easily
http://tribune.com.pk/story/497144/nearly-72-of-girls-in-sindh-get-married-before-they-turn-18/
---------------
Woman in Pakistan 'Killed By Brother', Over Alleged Elopement
January 22, 2013
GAKHAR MANDI: The body of a woman was found near a police station on Monday. Police said she was killed allegedly by her brother after she eloped with a man from the neighbourhood.
They said her throat had been cut and there were bruises and injuries on the body. The body was sent for a post-mortem examination. Police said they found two knives on the scene and seized them. They said the woman was apparently killed with those knives. A case was registered against the woman's brother on the compliant of her husband, who claimed that his brother-in-law had called him and confessed to the killing. Bhatti had returned to Pakistan in January after his family informed him about Fatima's elopement.
Police said Kaneez Fatima, 45, was married to Muhammad Boota Bhatti, a resident of Kotli Sahiyan, some 25 years ago. They had six children. Police said two years ago, Bhatti went to South Africa for work. He used to visit home twice a year. They said, during this time, Fatima allegedly started an affair with a man in the neighbourhood. Her family said that she eloped with him on December 23, 2012, leaving her children behind. Police said her brother Ibrar Haider, a resident of Alipur Chattha, had been looking for her. Her parents said he had threatened to kill her if he found her. They said a few days ago he had told them that he had traced her cell phone number. They said he had been calling her and asking her to return but she wanted a divorce from Bhatti. They said he promised to help and called her to his house. They said he had told her that he would accompany her to her in-laws's home and talk to Bhatti. However, they said, instead of taking her there, he killed her on the way and abandoned the body in the street.
On Monday, her husband registered a case against Haider, saying that he had called him on his cell phone and informed him about the incident. Bhatti told the police that he also told him where he had dumped the body. A few minutes later when he reached the scene, he said he found that the police were already there.
Police said Haider was missing.
http://tribune.com.pk/story/497017/crime-against-women-woman-killed-by-brother-over-alleged-elopement/
---------------
Police Stop Saudi Woman Driving Family Car
By Habib Toumi
January 22, 2013
Manama: A Saudi woman was questioned by the police for driving a car near the city of Madinah in western Saudi Arabia.
The police set up a check-point after they received a report that a woman was seen driving on the Hijra Highway on Monday afternoon, local Arabic daily Al Madina reported on Tuesday.
However, the police learnt that the woman's husband was sitting with her and that she took the wheel after he complained of uneasiness and the situation required her to drive the car.
The husband, an engineer in a local company, was taken to a clinic for treatment. He however pledged not to allow his wife to drive again, in line with local traditions.
Full report at:
http://gulfnews.com/news/gulf/saudi-arabia/police-stop-saudi-woman-driving-family-car-1.1135855
---------------
Muslim Women, Not-So-Muslim Men: Interfaith Marriage in the UK
January 14, 2013
By sana
Since apparently all of us over the ripe age of 20 walk around with visible and obnoxiously loud ticking analog biological clocks, it's no surprise that the issue of marriage is constantly smacked into our faces as though it is the sole defining moment and relationship of our lives. Marriage for Muslim women, whatever shade of practice, belief and colour they come in, is a big deal. It may not be a big deal for a particular Muslim woman, perhaps, but those around her still tend to make it into a pretty big deal. Either she's too single or too married. Or not married enough. Or single in the wrong way. Or married the wrong way. Or thinking about getting married the wrong way. Or having non-marital relationships. Or just not interested in ever getting married. Maybe she's too picky. Too educated. Too hijabed. Too naked. Too fat. Too flat. Too ambitious. Too cultural.
Full report at:
http://www.patheos.com/blogs/mmw/2013/01/muslim-women-not-so-muslim-men-interfaith-marriage-in-the-uk/
---------------
No Female Quotas in Elections Law in Egypt on the Argument of Salafi Members
Ahmed Aboul Enein / January 20, 2013
The parliamentary elections bill approved by the upper house of parliament will not require parties to run female candidates in the top half of party lists.
The provision, which was included in the original government proposed bill, was scrapped after Salafi members of parliament argued it was unconstitutional.
The approved bill will now only require parties to run one female candidate on their list but does not specify in what position.
Full report at:
http://dailynewsegypt.com/2013/01/20/no-coptic-or-female-quotas-in-new-elections-law/
---------------
Indonesian Court Sentenced UK Grandmother To Death over Drugs
January 22, 2013
BALI: An Indonesian court sentenced a British grandmother to death on Tuesday for smuggling cocaine worth $2.5 million in her suitcase onto the resort island of Bali - even though prosecutors had sought only a 15-year sentence.
Lindsay June Sandiford, 56, wept when judges handed down the sentence and declined to speak to reporters on her way back to prison, covering her face with a floral scarf. She had claimed in court that she was forced into taking the drugs into the country by a gang that was threatening to hurt her children.
Full report at:
http://gulfnews.com/news/world/other-world/uk-grandmother-sentenced-to-death-over-drugs-1.1135893
---------------
Experts Demand Legislation to Prevent Early Child Marriages in Pakistan
January 22, 2013
* Facts show that early child marriages are very common in Jacobabad and Matiari districts: Bilquees Rehman
Karachi: Speakers at a conference on Monday said about 72 percent of girls in rural areas of Sindh were married before the age of 18 years as the government has failed to pay heed to the social issue, which is one of the major reasons of poverty.
Full report at:
http://www.dailytimes.com.pk/default.asp?page=2013\01\22\story_22-1-2013_pg12_13
---------------
Try Rapists Thru' Speedy Tribunals: Activists in Bangladesh
22 Jan 2013
Human rights activists at a demonstration yesterday demanded exemplary punishment of rapists through speedy trial tribunals.
They made the demand at a sit-in arranged by Nari Nirjaton Birodhi Mancha with 86 organisations in front of Jatiya Sangsad Bhaban premises in the capital.
Sultana Kamal, who convened the event, said, "Our society always instructs girls to stay within their boundaries. Through this programme we warn those law enforcing bodies and practitioners who do not play their roles in due manner and help protect the perpetrators."
Full report at:
http://www.thedailystar.net/newDesign/news-details.php?nid=266168
---------------
Women's Rights Activist Hopes Discriminatory Passport Law in Iran Does Not Pass
JANUARY 21, 2013
Lawyer and women's rights activist Farideh Gheirat told the International Campaign for Human Rights in Iran that the new Passport and Exit Law bill, which will make it mandatory for girls and women to have the approval of their "guardian" (father, husband, or paternal grandfather) to exit the country, is at odds with the Iranian Constitution. Farideh Gheirat expressed hope that the bill will not be approved.
Full report at:
http://www.iranhumanrights.org/2013/01/passport_women/
---------------
Al Azhar steps in to help achieve Millennium Health targets for women
Plans made at a Cairo seminar by the WHO and moderate Islamic Al Azhar University towards the improvement of women's health in a region captive by harmful traditions will be revealed in Dubai
Ingy Deif
21 Jan 2013
In the name of piety and the misconceptions of religion, many women in the MENA region fall victim to practices that degrade their humanity and profoundly affect their physical and psychological wellbeing - sometimes to a degree beyond repair.
The World Health Organization offices hosted Al Azhar University in a collaborative consultative seminar under the title "Women's health in Islam: addressing harmful traditional practices" on 14 January.
Full report at:
http://english.ahram.org.eg/NewsContent/7/48/62951/Life--Style/Health/Al-Azhar-steps-in-to-help-achieve-Millennium-Healt.aspx
---------------
Women Hardest Hit by Recession: World Economic Forum
23 January 2013
Girls are bearing the brunt of the global economic recession — being more likely to experience poverty, reduced life expectancy and drop out of school, according to a new report from Plan and the Overseas Development Institute.
Longstanding economic trends, entrenched gender inequality and austerity budgets have all taken their toll — leaving girls and their families with fewer resources and reduced access to services.
Full report at:
http://www.arabnews.com/women-hardest-hit-recession
---------------
Al-Kuraya sees greater focus on women's issues
22 January 2013
As a symbol of the progress of Saudi Arabian women, Dr. Khawla Al-Kuraya stands apart. Al-Kuraya's accomplishments are formidable. She is the first Saudi woman to receive the King Abdulaziz Award for Excellence, which was awarded for her contributions in the field of cancer research. She is the first person to identify a gene, called FOSM1 that prompts the formation of cancer cells in the human body and several of her research articles have been published in scientific journals in Europe and the USA in addition to in the Arab world.
Full report at:
http://www.arabnews.com/al-kuraya-sees-greater-focus-women%E2%80%99s-issues
---------------
URL: https://www.newageislam.com/islam,-women-and-feminism/new-age-islam-news-bureau/indonesian-ulema-council-pushes-govt-to-circumcise-girls/d/10101