New Age Islam News Bureau
31 Jan 2018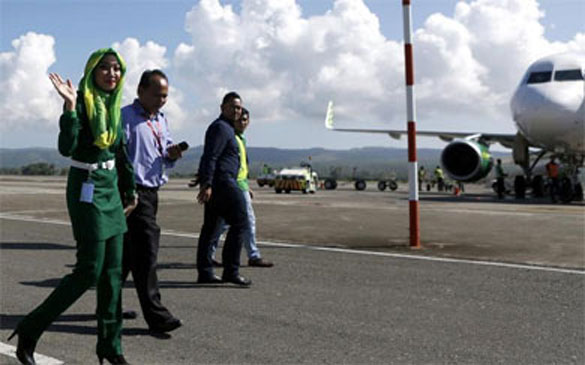 An airline stewardess wearing a hijab waves as she crosses the tarmac at Sultan Iskandar Muda Airport in Aceh, Indonesia, on January 31, 2018. Hotli Simanjuntak / EPA
----
• Triple Talaq Issue: Muslim Women Feel Offended by Indian President's Remark
• Saudi Women May Be Allowed To Drive Taxis from June
• Mechanics Welcome Women in Workshops in Saudi Arabia
• Female Judokas Strike A Blow For Women's Rights In Pakistan
• Police Save 14-Year-Old Girl from Forced Marriage in Turkey's southeast
• Iran: Women Gather In Protest outside Caspian Branch in Rasht
Compiled by New Age Islam News Bureau
URL: https://www.newageislam.com/islam-women-feminism/indonesian-province-orders-female-flight/d/114118
--------
Indonesian Province Orders Female Flight Crews to Don Hijabs or Face 'Punishment'
30 Jan 2018
The Indonesian province of Aceh has ordered female flight attendants transiting the region to don a hijab prior to landing – or face punishment by religious police.
The command to wear the Islamic-compliant headscarf has been made under sharia law which also demands non-Muslim females wear "modest clothing" instead of western clothing while visiting Aceh.
Australia's Special Broadcasting Service (SBS) reports that Aceh has been forced to issue the new regulations because of flight crew who use the local airport during layovers. Mawardy Ali, head of Aceh Besar district which includes provincial capital Banda Aceh, said:
I hope the airlines respect the uniqueness of Aceh where Sharia (Islamic law) is implemented.
We are disseminating this regulation to the airlines through the end of this week. Later, we'll talk about punishment if we find there have been violations.
If a (Muslim) crew member fails to comply, we will reprimand her. If she does it repeatedly, I will order Sharia police to nab her.
Indonesia is the world's most populous Muslim country, and Aceh province in western Indonesia is the most Islamic region in the country. Aceh is known as the "Gateway to Mecca," both because it is the westernmost tip of the Indonesian archipelago and thus a good starting point for the Islamic pilgrimage (hajj) and because of its long association with Islam.
This is not the first time that the imposition of strict Islamic laws there have caused controversy.
As Breitbart reported, the capital Banda Aceh banned celebrations of Valentine's Day in 2017, contending that the holiday violates Islamic law.
"Our society and the Muslim youth should certainly not be celebrating non-Islamic holidays," declared Mayor Illiza Saaduddin Djamal. "The law says it is haram. The government is obliged to protect the public and younger generation from unlawful acts."
The Indonesian ban extends to gifting flowers and chocolates to loved ones, as well as public displays with Valentine's Day decorations.
http://www.breitbart.com/jerusalem/2018/01/30/indonesian-province-orders-female-flight-crews-don-hijabs-face-punishment/
--------
Triple Talaq Issue: Muslim Women Feel Offended by Indian President's Remark
January 31, 2018
New Delhi: Muslim women have raised voice against President Ram Nath Kovind for advocating triple Talaq bill and describing Muslim women as confined. They said the remarks made by the president while delivering his maiden address to the joint sitting of both Houses of Parliament regarding Muslim women are misleading and insulting. They demanded revocation of the statement or else warned countrywide protest against it.
A press conference was held here at Press Club of India by the Federation of 29 voluntary organizations of women.
Federation director and head of the women cell of AIMPLB, Dr Asma Jehra, Fatima Muzaffar from Chennai, Atiya Siddiqui from Delhi, Yasmeen Farooqui from Jaipur, Rajasthan, Mahjabeen Naaz from Patna, Bihar, Arifa Naser from Bangalore, Mamdooha Majid from Delhi, Nabeera Mohtasham from Bhatkal, Zakia Nafees from UP, Sadia from Jaipur attended the conference and jointly announced that Muslim women are not oppressed but the shariah has given them freedom. Hence nobody should try to interfere in our shariah.
It must be noted that President Ram Nath Kovind on Monday said, "My government tabled a bill on Triple Talaq in Parliament and I hope it will become a law soon. After the law comes into force, the Muslim daughter and sister can live a life free of fear and dignity."
https://www.siasat.com/news/triple-talaq-issue-muslim-women-feel-offended-presidents-remark-1309658/
--------
Saudi women may be allowed to drive taxis from June
January 31, 2018
Uber and Careem have already planned to hire women drivers in Saudi.
It is likely that taxis driven by Saudi women could be seen zooming past on the Kingdom's roads from June when women in Saudi will be officially allowed to drive cars. The Public Transport Authority (PTA) is busy making regulations that could also allow women to work as taxicab drivers.
Rumaih Al-Rumaih, chairman of the PTA said that currently rules and regulations are underway to enable Saudi women to drive taxis that will transport only female passengers, according to Saudi Gazette.
Al-Rumaih added the car rental offices will be completely localized and that the authority is working with the Ministry of Labour and Social Development to complete the nationalization of jobs in public transport sector.
Moreover, the same regulations governing the licensing of men who work in transportation will be applicable to women taxi drivers, said PTA spokesman Abdullah Al-Mutairi.
Though the official announcement is still pending, Uber and Careem have already planned to hire women drivers in Saudi. Careem has received thousands of applications from Saudi women who want to become drivers. "We may hire over 10,000 female captains (drivers) by June 2018. Female captains will help us provide a better service to many women who want to travel but refuse to take cabs driven by men," Abdullah Elyas, co-founder and chief privacy officer at Careem was quoted as saying by CNN.
While, Uber's general manager in Saudi Arabia, Zeid Hreish said, "We will partner with necessary stakeholders to facilitate the paperwork, training access, and access to vehicles, including access to driving schools run by third party partners."
Not only this, Uber will also initiate 'listening sessions' for women in Riyadh to help the company in shaping priorities and upcoming plans for women in the Kingdom, besides addressing social and legal problems that women could face when driving.
https://www.khaleejtimes.com/region/saudi-arabia/saudi-women-may-be-allowed-to-drive-taxis-from-june
--------
Mechanics Welcome Women In Workshops In Saudi Arabia
January 31, 2018
RIYADH — Mechanics and car workshops say they welcome women drivers who will be behind the wheels for the first time in the Kingdom's history in June, Al-Riyadh reported.
Mechanic Abdulaziz Faisal, Syrian, said women have been frequenting car workshops even before the decision to allow them to drive.
"Women used to come with their drivers to fix their cars. We treat them with respect and appreciation. They are not strangers to us. They are our mothers, sisters, wives and daughters. We won't cause them any discomfort or harm," said Faisal.
He added having a section at the workshop that is only for women is a costly affair. No one will assault them and abuse them. They will be given the best services we have to offer.
Suhaib, his co-worker, said he invites women to visit our workshop to see the services he has.
"We have mechanics specialized in dealing with American, German and Japanese cars," said Suhaib.
Mechanic Abdulaziz Al-Thuraya, Yemeni, said dealing with women customers is not new for him.
"Women used to come to us with their drivers to fix their cars. We would treat them with respect and even offer home services. If they need us to fix their car at a certain place, all they have to do is call us and we would send a mechanic," said Al-Thuraya.
Abu Saleh, a Yemeni, said women are welcome to come to his workshop but he will not be able to provide them with special space.
"Most workshops are small in size. It would be hard to expand our workshops to give women a section just for them. We are very respectful in dealing with women customers but dealing with women customers is different than male customers. Women don't have much experience with cars and we would waste time explaining to them the problem with their cars," said Abu Saleh.
http://saudigazette.com.sa/article/527326/SAUDI-ARABIA/Mechanics-welcome-women-in-workshops
--------
Female judokas strike a blow for women's rights in Pakistan
Jan 31 2018
QUETTA: As the conversation regarding sexual harassment and violence against women unfolds, more and more women in Pakistan are taking up sports to learn self-defense.
On Monday, more than 200 female judokas from different parts of Pakistan participated at an inter-varsity championship and struck a blow for women's right in the country.
Speaking about the event, one female judoka shared that it has become important for women to take up judo as harassment cases are on the rise.
Another remarked: "Women should have interest in judo karate as they can learn self-defense."
The current situation is such that it is better for women to learn martial arts, shared another participant.
The Sixth Inter-Varsity Women Judo Championship allowed the women to showcase their talent and interact with other female with similar pursuits. The two-day event was held in Sardar Bahadur Khan (SBK) Women University.
The team from Punjab University retained their position as winners, while University of Lahore secured second position with Lahore College for Women as second runner-ups.
Speaking at the inaugural ceremony of the championship, chief guest MPA Zmrak Khan Achakzai stressed upon the establishment of more universities in Balochistan for the sake of education. "Corruption is the key of current miserable situation of Pakistan, and we must overcome it with the help of education," he said.
"I welcome with best wishes to have a pleasant journey to all the female players with their teams in this event," said Prof Dr Rukhsana Jabeen, vice-chancellor of SBK Women's University at the inaugural ceremony.
https://www.geo.tv/latest/179581-female-judokas-strike-a-blow-for-womens-right-in-pakistan
--------
Police save 14-year-old girl from forced marriage in Turkey's southeast
January 30 2018
Police in the southeastern province of Mardin conducted a special operation on Jan. 29 to save a 14-year-old girl from being forced into marriage.
Officials from the provincial directorate of the Family and Social Policies Ministry took action after they were informed about an underage marriage in Mardin's Kızıltepe district.
The directorate formed a crisis desk for the incident while trying to gather information about the girl. Upon an investigation they found the phone number of the girl's aunt, who denied knowing anything about the planned marriage.
Police also started searching wedding halls in the district, detecting an "underage wedding" in one of the wedding halls after a five-hour search.
A further investigation has been opened into the incident and the girl has been taken under state protection.
The provincial head of the ministry, Hüsnü Bengin Efetürk, said they carried out the operation with a team of 12 people.
"Family and Social Policy Minister Fatma Betül Sayan Kaya and Mardin Governor Mustafa Yaman closely tracked the case. The girl was saved by a margin of minutes. We got just a phone number and we were able to save the girl at the last minute," Efetürk said.
"It was very risky for us to take the girl from the wedding ceremony. We waited until the ceremony had ended. The home address of the family was also detected. Our work lasted until 6 a.m. The girl is now under state protection. She was shocked when we first saved her but now she is in a good condition. I hope she will get even better," he added.
Meanwhile, police detected that the bride and the 24-year-old groom were dual citizens of Syria and Turkey. The families of the bride and groom reportedly arrived in Turkey six years ago and family members have been detained as part of the investigation.
http://www.hurriyetdailynews.com/police-save-14-year-old-girl-from-forced-marriage-in-turkeys-southeast-126500
--------
Iran: Women gather in protest outside Caspian Branch in Rasht
30 January 2018
Women plundered by the IRGC-backed Caspian Credit Institute in Rasht, continued their protests on Tuesday, January 30, 2018, outside Golsar Branch of this institute. They pelted rotten eggs and tomatoes at the building to express their abhorrence over the fraud and corruption pervading the country as these companies operated with licenses endorsed by the government.
They chanted, "What has happened to our money, behind the scenes?"
On January 28, 2018, too, women of Rasht braved the cold and snow, and staged a protest outside another branch of Caspian institute by chanting slogans and pelting rotten eggs and tomatoes at its building.
http://www.women.ncr-iran.org/iran-women-news/4737-iran-women-gather-in-protest-outside-caspian-branch-in-rasht
--------
URL: https://www.newageislam.com/islam-women-feminism/indonesian-province-orders-female-flight/d/114118
New Age Islam, Islam Online, Islamic Website, African Muslim News, Arab World News, South Asia News, Indian Muslim News, World Muslim News, Women in Islam, Islamic Feminism, Arab Women, Women In Arab, Islamophobia in America, Muslim Women in West, Islam Women and Feminism