New Age Islam News Bureau
14 Jul 2013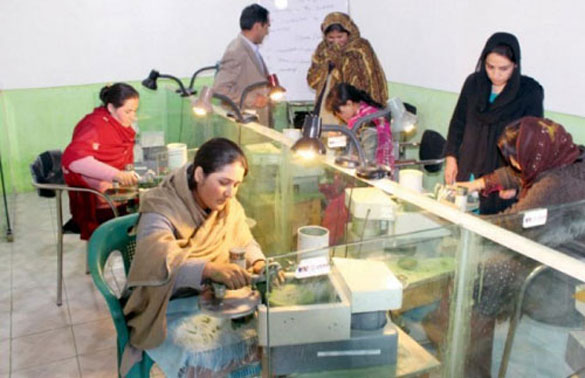 A total of 24 lady officers successfully completed the course at Parachute Training School, Peshawar. PHOTO: ISPR
---------
• Malala doesn't want to be remembered as the Taliban girl
• Indian Province to Provide Computer, Job Training To Muslim Women
• Iranian Women's Rights Activists Tell President-Elect What They Want
• Girls in Pakistan Present Resolution, Seeking Protection and Education on Malala Day
• Muslim Women Play Key Role in Independence Drive, from Moroccan Rule
• Doctors and Clerics Issue Warnings over Ramadan Fasting While Pregnant
• Qatar Mosque to Ban 'Annoying' Children
• Pakistan Army: First female paratroopers make history
• Saudi Girl, Given HIV-Tainted Blood Wants To Go Home For Ramadan
• Ahmadinejad Takes Parting Shot at Iranian Women
• Contraception Key to Reducing Child, Maternal Deaths, Experts Say
Compiled by New Age Islam News Bureau
URL: https://www.newageislam.com/islam,-women-and-feminism/new-age-islam-news-bureau/indonesian-province-bans-female-secretaries-over-affairs/d/12592
---------
Indonesian Province Bans Female Secretaries Over Affairs
July 14th, 2013
The governor of an Indonesian province on Saturday said he had ordered his top staff to replace their female secretaries with men following a string of extra-marital affairs.
"I received inputs that many government office heads here are involved in extra-marital affairs with their female secretaries," Rusli Habibie, the governor of Gorontalo province on northern Sulawesi island told AFP.
"They treat them much better than their own wives. They bring them presents from official trips like perfumes or branded bags while their poor wives get nothing," he said.
"For these reasons, I ordered them to replace their female secretaries with male assistants or with old women who are no longer attractive," he added.
Habibie is convinced that his subordinates will follow his instructions, though there won't be any punishment for those who don't comply.
"This is a moral sanction. I'm pretty sure they will follow my order, and all of them will get a male secretary soon," he said, adding that there were about 50 senior officials in the province who had hired female secretaries.
Last year, the Gorontalo administration demanded 3,200 male civil servants to transfer their monthly pay to their wives' bank accounts in order to limit the number of affairs.
http://english.alarabiya.net/en/2013/07/13/Indonesian-province-bans-female-secretaries-over-affairs-.html
---------
Malala doesn't want to be remembered as the Taliban girl
July 14, 2013
Pakistan teenager Malala Yousafzai said on Saturday that she does not want to be known as the girl the Taliban tried to kill but as "the girl who struggled for her rights."
A day after making a widely hailed speech at the United Nations, the 16-year-old said she would devote her life
for the education of girls.
The UN appearance was Malala's first public speaking engagement since a Taliban gunman shot her in the head in October 2012, in a bid to end her campaign to get girls into schools.
"The attack on October 9, 2012 was just a part of my life," Malala said at a reception at the Pakistani UN mission in New York.
"I want to work hard, I want to sacrifice my whole life for the education of girls.
"And to be true, I want to say that I don't to be the girl who was shot by the Taliban, I want to be the girl who struggled for her rights."
The teenager, considered a strong candidate for the Nobel Peace Prize, said she was determined to keep her her struggle "for a right to live in peace, for a right to go to school."
But she reaffirmed her message that the Taliban and other extremists "do not understand the importance of education."
The Taliban were among "people who think that when a woman goes to school she will be empowered, and they are afraid of it," she emphasized.
"They are still targeting schools, they are still killing innocent children," she said, referring to recent attacks both in her native Pakistan and Nigeria.
"If we work together, we will soon see that there will be many schools created in Pakistan and Afghanistan and poor countries. And we will see that every woman and every girl will have the same rights as men have," she said.
"We do want equality, we are not like men," she joked.
Malala is expected to return to New York for a summit on education on the sidelines of the UN General Assembly of world leaders in late September.
"Malala's speech was just the start of a momentous push for change in the run up to 2015, to deal with the education emergency," said Gordon Brown, the former British prime minister and now UN special envoy on global education.
Getting all children into primary school by 2015 was one of the Millennium Development Goals agreed at a world summit in 2000.
Malala was given several standing ovations for her speech Friday when she said she would not be silenced by the Taliban.
She declared: "Let us pick up our books and pens. They are our most powerful weapons. One child, one teacher, one pen and one book can change the world."
http://www.hindustantimes.com/world-news/northamerica/Malala-doesn-t-want-to-be-remembered-as-the-Taliban-girl/Article1-1092195.aspx
--------
Indian Province to Provide Computer, Job Training To Muslim Women
July 14th, 2013
NAGPUR: The Nagpur Municipal Corporation will start a Dr Abdul Kalam Computer Training and Employment Guarantee programme for women from Muslim community. The programme will be started from International Women's Day on March 8, 2014, announced chairperson of women and child welfare committee and BJP corporator Ashwini Jichkar.
Jichkar on Thursday convened a meeting to review various NMC programmes and projects for empowering women. She also reviewed the functioning of family counselling centres started at zone levels. The civic administration, which is acting on Central Government directives, and these centres provides information to women about their rights, address cases of domestic violence and other social issues. Experts from non-government organisations provide counselling to women to solve civil cases including family disputes, land disputes and disputes with government departments and organizations.
Besides, the civic body also provides training programme for women self-help groups in each zone. Social welfare officer (NMC) Sudha Iraskar informed Jichkar about UPSC and MPSC exam centres being run by the civic body for women hailing from weaker section of the society. The NMC also provides insurance cover for fairer sex between 10 and 75 years.
NMC health officer Dr Savita Meshram also informed that the NMC provided free ambulance through phone No 102 for women going into labour. After the meeting, Jichkar directed Iraskar to create awareness about these schemes among the woman citizens.
http://articles.timesofindia.indiatimes.com/2013-07-12/nagpur/40535978_1_muslim-women-nmc-international-women
---------
Iranian Women's Rights Activists Tell President-Elect What They Want
By Golnaz Esfandiari
July 14th, 2013
A group of prominent Iranian women's rights activists and intellectuals have outlined some of their main demands for Iran's President-elect Hassan Rouhani, who spoke against gender discrimination during his campaign and said women and men should enjoy the same rights and opportunities.
The group is among many Iranians who will be closely watching the new president -- who has promised to establish a Ministry for Women's Affairs -- to see whether he can deliver on his campaign promise of moderation.
The activists expressed their demands and concerns in a July 10 meeting in Tehran at which two of Rowhani's representatives were present, according to a report by the Focus on Iranian Women website. The group included several well-known figures who have come under state pressure for advocating change.
Participants said the situation of Iranian women deteriorated under outgoing President Mahmud Ahmadinejad and some of their modest gains were rolled back.
To improve the circumstances of women, they said, Rohani should take a number of steps, including ending the country's "security atmosphere," removing restrictions on women's public life, and eliminating censorship on women's issues.
Among those who spoke was Narges Mohammadi, the deputy head of the Defenders of Human Rights Centers, which was co-founded by Iranian Nobel Peace Prize winner Shirin Ebadi. Mohammadi has been sentenced to six years in prison on charges that include acting against national security.
She said the prevailing security atmosphere is the main obstacle preventing activists from seriously pursuing their causes.
"...A female rights activist or a children's rights activist... [who] takes action, [cannot be sure] whether within two days [he or she] will not be summoned to the judiciary. [Even] if there is no judicial problem, the individual [could still] face security problems," said Mohammadi, who is currently out of prison on medical leave.
Paternalistic Government
The activists said Iran's next government should remove all the "obstacles" that were created during the eight years of Ahmadinejad's presidency.
Sociologist and university professor Shahla Ezazzi claimed these obstacles included measures and policies aimed at limiting women's public and social lives.
"Apparently, [the authorities] had come to the conclusion that if men don't want to control their women and force them to stay at home, the government should act as father and grandfather and control women," she said.
Ezazzi that this way of thinking has led to restrictions on women's access to higher education, prohibitions on their studying certain disciplines at universities, and encouragement to stay at home and have babies.
Another participant pointed to the increased enforcement of Islamic dress as something that has restricted women's public lives.
Two well-known lawyers at the meeting, Farideh Gheyrat and Giti Pourfazel, suggested that Rohani should pave the way toward removing laws that discriminate against women.
"This is not a new [demand]," Gheyrat said.
Under Islamic laws enforced in Iran, women face difficulties in getting divorces; a woman's testimony in court is worth half that of a man's. Many of the women who have been campaigning against these laws have been summoned, threatened, jailed, or forced to leave the country.
Feminism Is 'Taboo'
Other participants at the meeting maintained that Rohani should remove the censorship of issues that concern women.
"The women's [body], or form, is being eliminated in society. At least let us have content," said actress Marzieh Vafamehr, arguing that women should be allowed to make movies or write books about their own issues. "Today, feminism has become a taboo in society," she said.
The actress was detained in Iran in 2011 after appearing in an Australian movie critical of the Islamic republic.
Journalist Farideh Ghaeb also called on Rohani to eliminate censorship.
She said the majority of websites that cover women's issues are filtered inside Iran and that removing the filters would be a positive step in increasing awareness about the problems Iranian women are facing.
Another participant, Maryam Nourayinejad, said the least Rohani could do was to select cabinet ministers who support gender equality. She cited reports that a politician being considered for the post of culture minister supports polygamy.
http://www.payvand.com/news/13/jul/1104.html
---------
Girls in Pakistan Present Resolution, Seeking Protection and Education on Malala Day
July 14th, 2013
LAHORE: A delegation of 30 girls presented a resolution to provincial minister for population welfare on education on the 16th birthday of Malala to celebrate it as Malala Day, during a ceremony at a local hotel on Friday.
The delegation of girls from various schools demanded in a resolution to increase education budget and provide protection to girls and making education a right to every Pakistani girl.
The meeting was arranged by Child Rights Movement (CRM) Punjab in collaboration with Plan International Pakistan. Punjab Minister for Population Welfare Punjab Begum Zakiya Shahnawaz was the chief guest on the occasion.
The meeting was part of a global initiative that will see the first ever UN Youth Resolution handed over to the Secretary-General of the United Nations. Young people around the world are involved in drafting and revising the resolution.
On the same day, other fellow girls of delegation presented a resolution in Islamabad, Karachi, Peshawar, Quetta, Muzaffarabad and Gilgit.
The resolution was presented to the State Minister for Education Baleeg ur Rehman in Islamabad, Education Minister Sindh Nisar Khoro in Karachi, Education Minister KPK Muhammad Atif in Peshawar, Education Secretary in Quetta, Chief Minister Gilgit Biltistan Syed Mehdi Shah and Education Minister Mian Abdul Waheed in AJK in Muzaffarabad.
According to details, the United Nation (UN) Special Envoy for Global Education and the President of the United Nations General Assembly will host a series of events at the UN Headquarters in New York.
The resolution calls for passing a UN Security Council resolution that recognises global education crisis and take concrete steps to address education and security, particularly for girls.
It also said in situations of emergency, every child should be sent to school, and increase education funding.
Speaking on the event, Shahnwaz said education was on top of the priority list of Punjab Government and the chief minister Punjab was very much concerned about education. She added the provincial government had allocated a huge amount in the Provincial Budget 2013-14 for education sector.
She said Government of Punjab would ensure all the legislative and administrative measures to ensure the right to education for every girl.
Plan International Pakistan Country Director Rashid Javed said, "Pakistan ranks amongst the lowest in terms of girls' education enrollment, literacy and government budgetary allocation. This necessitates more than ever the need for concerted efforts to declare an education emergency and take concrete steps for substantial increase in budget for girls' education at all levels."
The participants in Punjab out of a total of 58,535 public schools, 48 percent are for girls. Similarly, out of 11,516,133 enrolled students 43 percent are girls and out of 331,118 teachers 48 percent are women. staff report
http://www.dailytimes.com.pk/default.asp?page=2013\07\13\story_13-7-2013_pg13_7
---------
Muslim Women Play Key Role in Independence Drive, from Moroccan Rule
July 14th, 2013
LAAYOUNE, Western Sahara — As dusk enveloped the salmon-pink houses of the capital city, Laayoune, the brightly colored robes of women stood out in a mass of protesters chanting for independence from Moroccan rule.
While other African colonies threw off occupiers one by one, this rocky desert expanse on the continent's northwestern coast remains a disputed territory controlled primarily by next-door Morocco and locked in a nearly 40-year struggle for the right to choose its fate. In a Muslim-majority region where women are often marginalized, women have taken an unusually prominent role in Western Sahara's independence movement.
Their involvement has spanned a guerrilla war with Morocco and, for the past two decades, a mostly peaceful protest movement. Female activists in the former Spanish colony attribute the phenomenon to a combination of the Sahrawi indigenous population's moderate interpretation of Islam and the freedom they derived from their nomadic roots — but also, perhaps counter intuitively, to the prevalence of traditional gender roles, which they say give women the time to demonstrate.
"This is a pride for us, that this is led by women," said Arminatou Haidar, a Nobel Peace Prize nominee and the most recognizable of Western Sahara's nationalist movement.
As its duration shows, the campaign is an uphill battle that has been won by Morocco, which annexed most of Western Sahara after the Spanish withdrawal in 1976. Morocco argues that Western Sahara — home to abundant fishing grounds, lucrative phosphate mines and offshore oil — is an integral part of its territory and that separatists represent a fraction of the population of about 500,000.
That is now probably the case, because Moroccan citizens — whom the Moroccan government entices to the area with tax breaks — are believed to outnumber the remaining 150,000 or so Sahrawis inside the territory by at least 2 to 1.
Fears of failed state
The United States, like most nations, does not recognize Morocco's sovereignty over Western Sahara, but calls by the Sahrawi people for a referendum on independence have gained little traction. Experts say that is due to a combination of Moroccan lobbying against the proposal, lack of international will to upset one of the region's most stable countries and arguments between Morocco and the Sahrawis' rebel movement-turned-government-in-exile, the Polisario Front, over who should vote.
Moroccan officials argue that an independent Western Sahara is not viable and that longtime enemy Algeria is backing the cause to stir problems.
"There is no room for a failed state in the region," Morocco's deputy foreign minister, Youssef Amrani, said in May. "It will fall into the hands of extremists."
Despite the independence movement's regular protests, the victories are small. Still, it appears to have brought about a shift in Moroccan policy, which officially supports making Western Sahara an autonomous region within the Moroccan state.
"Even if I don't reach that day when the Sahara is independent, I am completely convinced that the next generation is going to live the day of independence," Haidar said.
Instead of the dozens of people most protests draw, the May march drew more than 1,000, hundreds among them women. Some activists described it as the largest in the history of the independence movement, and they attributed the crowd in part to anger over a recent U.N. Security Council decision not to approve a U.S. proposal to grant the U.N. peacekeeping mission in the Western Sahara a mandate to monitor human rights. The United States later abandoned the proposal after strong opposition from Morocco, which canceled a joint military exercise between the two countries in protest.
Sahrawi women's roles
The role of women can be partially attributed to the Sahrawis' nomadic background, said Djmi El Ghalia, a prominent activist. Until the early 20th century, women were often left to run camps while men traveled, leaving them in control of household finances and managing the community.
The legacy of that tradition was consolidated in the refugee camps in Algeria, home to the Polisario Front and an estimated 165,000 Sahrawis who fled during the 16-year war with Morocco, which ended in 1991. Women are responsible for much of the administration of the camps.
"Compared to the status and role of women in the Islamic societies along the Mediterranean coast, Arabia ... women in Western Sahara enjoy significant advantages," said Jacob Mundy, an assistant professor at Colgate University and co-author of "Western Sahara: War, Nationalism, and Conflict Irresolution."
"The war gave women in the camps more opportunities to become involved in the daily operations of the independence struggle and the effort to build a state in exile," he said, while across the border in the territory, female activists play a "huge role."
Sahrawi female activists say they generally have freedom to express their political views, and women divorce without stigma.
Female empowerment spans both ends of the political spectrum, and some women work in support of the Moroccan government.
Malainin Oum El Fadl is among them. She heads Espace Associatif Laayoune, a women's collective that gives grants to small businesses and was established after thousands of Sahrawis set up a protest camp near the capital in 2010, which was later dismantled by Moroccan authorities.
"We wanted to absorb that tension," El Fadl said. "We are not concerned with politics ... To us, bread comes before politics."
Not all is positive for women in the Algerian camps, where there have been reports of women being imprisoned for adultery and they remain excluded from the highest political posts.
Some women have paid a high price for their role in the independence struggle. El Ghalia and Haidar spent years in detention centers for their political activism in the late 1980s, when forced disappearances of Sahrawis were widespread, according to human-rights groups.
Sitting in a traditional Bedouin tent erected on the rooftop of her Laayoune home, El Ghalia pulled back her headscarf to show her scarred scalp, which she said was doused in a stinking mix of chemicals while in detention. She said she spent most of nearly four years blindfolded and was often stripped naked and subjected to torture.
"I still have the scars from the dogs biting my flesh," she said.
Though the darkest abuses are over, they still go on, rights groups say. Last month, Human Rights Watch reported that Moroccan courts have convicted Western Saharan activists on the basis of confessions obtained through torture or falsified by police.
http://seattletimes.com/html/nationworld/2021383384_westernsaharaxml.html
---------
Doctors and clerics issue warnings over Ramadan fasting while pregnant
Ola Salem and Jennifer Bell
July 14th, 2013
ABU DHABI // Pregnant women wanting to observe Ramadan have been urged by doctors and clerics to seek medical advice before attempting to fast.
Possible side-effects of fasting while pregnant include hypoglycemia, ketosis and dehydration.
"With this year's Ramadan falling in the peak of summer, the long hours of fasting can have a significant effect on the mother and the baby," warned Dr Gowri Ramanathan, division chief of Foetal Medicine at Corniche Hospital. "Pregnancy puts additional demands on a mother, and fasting can cause dehydration."
The risks are even higher for women in the first few months of pregnancy, according to Dr Ramanathan. Yet despite the repeated warnings many women remain stubborn in their resolve, she said.
Full report at:
http://www.thenational.ae/news/uae-news/health/doctors-and-clerics-issue-warnings-over-ramadan-fasting-while-pregnant
---------
Qatar mosque to ban 'annoying' children
July 14th, 2013
Manama: Qatar's largest mosque has announced that it will ban children under the age of seven at Isha (evening prayers) and Taraweeh prayers (the last evening prayer.)
"We are sorry to make this decision, but we have received several complaints from worshippers about the disturbance caused by young children," Shaikh Malallah Bin Abdul Rahman Al Jaber, the Mosque Directorate in charge of the Imam Mohammad Bin Abdul Wahab Mosque in Doha, said.
"We are forced to impose the ban both at the men's prayer hall and at the women's prayer hall, to ensure that worshippers are not annoyed by the brouhaha of underage children. We urge all parents to comply with the new rule," the Qatari daily Al Sharq reported him as saying on Sunday.
Full report at:
http://gulfnews.com/news/gulf/qatar/qatar-mosque-to-ban-annoying-children-1.1208835
---------
Pakistan Army: First female paratroopers make history
July 14, 2013
ISLAMABAD: The first group of female paratroopers completed their training on Sunday, the military announced, hailing it as a "landmark achievement."
A total of 24 lady officers of Pakistan Army successfully completed the course at Parachute Training School, Peshawar.
Chief of Army Staff General Ashfaq Pervez Kayani congratulated all the lady officers and their training staff on successful completion of the course.
Captain Kiran Ashraf was declared the best paratrooper of the batch, the military said in a statement, while Captain Sadia, referred to by one name, became the first woman officer to jump from a MI-17 helicopter.
After three weeks' basic airborne training, which included exit, flight and landing techniques, the new paratroopers completed their first jump on Sunday and were given their "wings" by the commander of Special Services Group, Major General Abid Rafique, the military said.
In 2006, seven women broke into one of Pakistan's most exclusive male clubs to graduate as fighter pilots – perhaps the most prestigious job in the powerful military and for six decades closed to the fairer sex.
http://tribune.com.pk/story/576801/pakistan-army-first-female-paratroopers-make-history/
---------
Saudi Girl, Given HIV-Tainted Blood Wants To Go Home For Ramadan
Sunday, 14 July 2013
Reham Al-Hakami, the 13-year-old Saudi girl who was given HIV-tainted blood at Jazan General Hospital in February and now under treatment, appealed to the Minister of Health to allow her to spend Ramadan and Eid at her birthplace in Jazan after spending four months of treatment and analyses.
She made this plea with the innocence and spontaneity of a child during the reporter's visit to the place the Ministry of Health has arranged for her outside the hospital in order for her to have some recreation.
Reham said, "I want you to write in your newspaper a letter to the Minister of Health, who visited me in the hospital. I request him to allow me to go to Jazan to spend Ramadan and Eid with my family and friends there. I don't like to spend Ramadan in Riyadh. I say to him: 'Would you accept for your daughter to spend Ramadan and Eid enclosed by four walls? I request him to allow me to go.'"
Full report at:
http://english.alarabiya.net/en/special-reports/ramadan-2013/2013/07/14/Saudi-girl-undergoing-HIV-treatment-wants-to-go-home-for-Ramadan.html
---------
Ahmadinejad Takes Parting Shot At Iranian Women
July 14th, 2013
Iranian President Mahmoud Ahmadinejad has proposed as one of his final legacies a new law on working hours for women. The bill, shelved until parliament members return from summer vacation, has sparked controversy.
If passed, certain women would work 36 hours a week, but get paid for 44 hours of full-time employment. The shorter shifts would be applicable to women who head a household, care for a disabled or sickly child or spouse or have children under the age of seven. These women could also opt out of working fewer hours and instead take two days of paid leave each month. The bill would be inclusive of women working in government and the private sector.
Full report at:
http://www.al-monitor.com/pulse/originals/2013/07/ahmadinejad-iranian-women-parting-shot.html#ixzz2Z18mdh7G
---------
Contraception Key To Reducing Child, Maternal Deaths, Experts Say
July 14th, 2013
The advice to the United Nations is unambiguous: Don't repeat the previous mistake of ignoring poor women's access to contraception in setting goals to reduce maternal and child deaths.
"Women continue to die unnecessarily in childbirth," wrote a 27-member panel of mostly political leaders who cited World Health Organization estimates that a woman succumbs to complications of pregnancy or childbirth every 90 seconds.
The panel called for providing more well-equipped health facilities, skilled birth attendants and effective contraceptives to help women plan their families. "Universal access to sexual and reproductive health and rights is an essential component of a healthy society," wrote the panel that included British Prime Minister David Cameron. "There are still 222 million women in the world who want to prevent pregnancy but are not using effective, modern methods of contraception."
Full report at:
http://www.latimes.com/news/science/sciencenow/la-sci-sn-contraception-key-to-reducing-child-maternal-deaths-experts-say-20130712,0,1549550.story
---------
URL: https://www.newageislam.com/islam,-women-and-feminism/new-age-islam-news-bureau/indonesian-province-bans-female-secretaries-over-affairs/d/12592