New Age Islam News Bureau
8 Jun 2013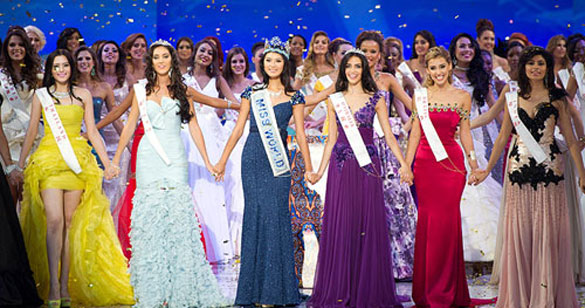 Indonesian Muslim hardliners vow to stop Miss World, AFP Photo
--------
• Honour Killing: Killed For Stepping Out By Her Husband in Pakistan
• Aceh Moral Code is Fuelling Resentment
• Demand for Asian Maids Soars In Saudi Arabia
• Two women make it to 25-member Pak cabinet
• Single Iranian women over 30 can adopt girls
• Chairwoman of Al Salam Bank, Bahrain Calls for more Women in Banking
• Stabbing Of Muslim Woman Stirs Up Fears for Community
• Muslim Women Speak Out On Discrimination Because Of Their Head Scarves
• Man Kills Sister-In-Law over Personal Dispute in Pakistan
• Indian woman's body in morgue for two months in Saudi Arabia
• $200,000 for Palestinian orphans
• Tale of 2 converts shows Egypt's sectarian divide
Compiled by New Age Islam News Bureau
URL: https://newageislam.com/islam-women-feminism/indonesian-muslim-hardliners-vow-stop/d/11970
-------------
Indonesian Muslim hardliners vow to stop Miss World
7 Jun 2013
The Hizb ut-Tahrir group slammed the show as like "selling women's bodies" and threatened to hold demonstrations against it, while a group in the province where the final is due to take place also voiced strong opposition.
More than 130 women will compete in the September event, with some rounds on the resort island of Bali and the final in Bogor outside Jakarta. Bogor is in West Java province, parts of which are considered a stronghold for radicals.
Organisers confirmed on Wednesday the contestants would not wear bikinis during the beach fashion section, to be held in Bali, and would instead wear more conservative attire such as traditional sarongs.
However, the concession was not enough for hardline groups in Indonesia, where some 90 percent of the 240 million population are Muslims.
"Supporting this event is the same as supporting the selling of women's bodies," said Ismail Yusanto, spokesman for Hizb ut-Tahrir Indonesia, who also warned the group may organise protests.
"Women are lowering themselves by allowing themselves to be turned into objects, to be stared at and have their bodies measured."
Hardline group the Islam Reformist Movement [Garis], which is affiliated with prominent radicals the Islamic Defenders Front, also said the bikini ban was not enough.
"They will still wear outfits that will encourage sex and immoral acts," said Chep Hernawan, the head of Garis which has its base in West Java province.
The organisers have insisted the decision not to have bikinis was taken when the deal was struck last year to host the show, and not after pressure from radicals.
Vocal protesters have succeeded in getting events cancelled in the past in Indonesia.
Last year, pop sensation Lady Gaga axed a concert after hardliners threatened to burn down the venue and criticised her for wearing only "a bra and panties".
Most Indonesians practise a moderate form of Islam.
Rights group the National Commission on Violence Against Women urged people to take a more measured view of Miss World.
People should consider whether "the contest really looks at the women as humans and judges them based on their talents", said Andi Yentriyani, a commissioner with the group.
http://english.ahram.org.eg/NewsContent/7/47/73396/Life--Style/Style/Indonesian-Muslim-hardliners-vow-to-stop-Miss-Worl.aspx
-------------
Honour Killing: Killed For Stepping Out By Her Husband in Pakistan
June 8, 2013
MANSEHRA: All it took was a few minutes of insane rage and an axe, and the unthinkable happened. A life was snuffed out – the life of a woman, ironically by him who was supposedly her life partner and protector, by her husband.
A man axed his wife to death and cut her body in pieces over a petty squabble in a remote village of Garhi Habib Ullah, police said. The accused, allegedly an addict, after committing the ghastly murder, threw the body parts out in the fields. According to the police, upon being arrested, he confessed to his crime.
Waqar Khan, the Station House Officer (SHO) of the police station Garhi Habib Ullah said that the villagers informed him about the murder of a woman in village Kashtara, some 12 km from the police station.
According to Khan, the accused Muneer, 45, has admitted to his crime in the police station, adding that his wife Nasreen Bibi, 35, often used to stay out of home. Muneer would take this as an insult and often stopped her from leaving the house.
On the Sunday evening before the heinous crime was committed, she again dared to step out. Muneer searched for her but failed to find any clue. However on Monday evening she returned home and when he inquired about her whereabouts the whole night, her answers could not satisfy him. According to SHO Khan, Muneer got angry and asked her to lie flat on the ground with her face down. "Before attacking her, the accused asked her to loudly recite the Kalimas; once she did so, he committed the horrendous act.
When asked about the reason for his cruelty, Muneer told the police that he in doing so had made her a lesson for other women who do not obey their spouses.
Other side of the story
Shedding more light on the possible reason for this act, Muhammad Javed of village Atarsheesha who is the younger brother of the victim, told the police and the media that his sister Nasreen got married to Muneer some ten years back and the couple had four children. Muneer, an addict, has no permanent source of living and used to work as a daily wager.
According to Javed, Muneer would often beat Nasreen whenever she demanded food and clothes for herself and her children. About two years back, the accused had beaten her with a club, damaging her skull partially. The concussion had altered her mental balance. "We took her to our home and got her treated for several months but she never fully recovered," he said, adding that during her absence Muneer gave his four minor children to local philanthropists who have been looking after them for the last few months.
According to Javed, Muneer sought the support of the jirga and requested to take Nasreen back home on the promise that he would treat her with respect. But a habitually violent husband, he again started subjecting her to severe battering day in and day out and her mental condition further deteriorated.
On that fateful Sunday evening, she had gone to see her children in the neighbouring village; when she got late she stayed there overnight. A petty squabble ensued which led to her savage murder.
The magistrate sent him on judicial remand to Mansehra District Jail. The police registered a criminal case against the accused who recorded his confessional statement in the court of judicial magistrate Balakot, Islam-ud-Din.
Meanwhile the Human Development Organisation, Aurat Association, the district coordinators of Human Rights Commission of Pakistan have condemned the ghastly murder of a woman and expressed their pledge to extend legal aid to the family of the victim.
http://tribune.com.pk/story/560597/in-cold-blood-killed-for-stepping-out/
-------------
Aceh Moral Code is Fuelling Resentment
Sharia bylaws ensure that women suffer
June 7, 2013
Norma Susanti Manalu once enjoyed a lot of freedom but now finds it very difficult to fully exercise what she says are her rights.
That's because she and virtually every other woman in Aceh are living under Sharia, or Islamic law, which was introduced in the province back in 2002.
Sharia was introduced in Aceh after the province was granted special autonomy status, as part of a government deal to end a decades-long guerrilla war with the separatist Free Aceh Movement.
Aceh, where Muslims comprise 96 percent of the province's 5 million population, is the only Sharia province in Indonesia.
Sharia law is implemented under a set of bylaws known locally as qanun.
These bylaws dictate how women dress and how they conduct themselves in public, especially when it comes to contact with men who are not related to them. Inappropriate contact is known askhalwat.
"These bylaws shackle us. Still, many women choose to keep silent because they are afraid … because protesting against the bylaws means protesting against Islam," says 37-year-old Manalu who works for Balai Syura Ureung Inong Aceh, an NGO promoting women's rights.
Protests would lead to marginalization by society, or worse, she added.
"As women, our freedom including the way we dress and behave is ruled by the government," she said.
For instance, one regulation stipulates that every Muslim is obliged to wear Islamic clothing.
Islamic clothing here is defined as covering the aurat (which for men is the knee to navel, and for women all parts of the body with the exception of the hands, feet and face).
If they fail to wear Islamic clothing, they are given a warning and "advice" by the Wilayatul Hisbah, or religious police. Repeat offenders will face ta'zir (punishment), which has not yet been specified.
But according to Azriana Rambe, an activist from the Women Volunteers for Humanity, the definition of Islamic clothing isn't clear.
"It makes us, women, feel uneasy whenever we want to dress up. We always wonder whether our clothes are breaking the qanun or not," she says.
If a Muslim – man or woman -- commits khalwat, they will receive from three to nine lashes and/or a fine of up to 10 million rupiah (US$1,050).
"However, it is women who bear the psychological and social burdens from these cases. People see them as prostitutes and sinners," Rambe says.
In September last year, a 16-year-old girl hanged herself three days after she was arrested by theWilayatul Hisbah and accused of being a prostitute.
The crime of her and a friend was to attend a concert in Langsa, in East Aceh district.
Her family later found a suicide note in her school bag, saying: "Father, forgive me, for I have brought shame on you and others, but I swear that I never sold myself to others. That night I was just watching a concert in Langsa, and I was sitting in a field with a friend."
If introducing Sharia aims to instill greater morality in the young then the policy has backfired, many activists say. Instead it has instilled resentment at the oppression and put women at greater risk from violence.
A report released last September by 16 NGOs dealing with women's rights said there were 1,060 reported cases of violence against women in the province between 2011 and 2012. The NGO's managed to verify 561.
Of this number, 413 cases, or 73.6 percent, were cases of domestic violence while 148 others or 27 percent were violence resulting from Sharia-based bylaws.
"We find that Sharia, which was imposed to improve morality among people in the province, has failed to bring about any significant result," says Samsidar from the Women's Association for Justice and Legal Aid Institute.
This strict moral code is not working, she said.
"We love Aceh. We just want change."
http://www.aleteia.org/en/lifestyle/news/aceh-moral-code-is-fueling-resentment-1867001
-------------
Demand for Asian Maids Soars In Saudi Arabia
8 June 2013
A surprising sight among the thousands of undocumented women from Indonesia and the Philippines at their consulates here is Saudis seeking to recruit them as housemaids.
Arab News has seen many Saudi women with their husbands and sons trying to convince these Asian women to work for them.
The rising demand for maids has been caused by various factors including cost and the approaching month of Ramadan.
Saudis know it is cheaper to recruit maids living in the country, considering that recruiting from outside costs around SR 15,000, and sometimes as much as SR 30,000.
There has also been a limited supply of housemaids from the Philippines recently with tightening of rules to protect their rights. The Philippine and Saudi governments only recently signed an agreement allowing Philippine maids to return to the Kingdom.
Indonesia still has a ban in place on sending its maids to the Kingdom. Saudi recruiters have been hiring Ethiopian and Sri Lankan maids. There have been reports that they are now considering getting maids from other Arab countries.
With rising demand, Asian workers are now able to negotiate salaries as high as SR 2,000 a month. Prior to the announcement of the grace period, maids from the Philippines were paid about SR 1,000 and those from Indonesia SR 600 if Saudis recruited them directly from their countries.
The Philippine Consulate in Jeddah has received 12,000 passports of maids who have run away from their original employers. Most now want to stay and work in the country.
The Indonesian Consulate has not revealed how many passports of runaway maids it has received, but it is believed to run in the thousands.
Runaway maids earned in the region of SR 1,500 for Philippine workers and SR 1,000 for Indonesians, with brokers hiring out their services to Saudi families for a commission.
http://www.arabnews.com/news/454368
-------------
Two women make it to 25-member Pak cabinet
PTI | Jun 8, 2013
ISLAMABAD: Twenty-five members of Pakistani Prime Minister Nawaz Sharif's council of ministers were sworn in at the presidency on Friday including Ishaq Dar, whose is tipped to be the finance minister.
Among those who took oath were 16 federal ministers and nine ministers of state. They were administered the oath of office by Zardari two days after Sharif was sworn in after being formally elected the prime minister by the National Assembly or lower house of parliament.
A majority of the new ministers are from Sharif's PML-N party, which swept the May 11 general election. One member each from the PML-F and National Peoples Party was included in the cabinet. The NPP has already announced its merger with the PML-N. Most of the new ministers are from Punjab, the stronghold of the PML-N.
There were 19 ministers from the country's largest province, three from Sindh, two from Balochistan and one from Khyber-Pakhtunkhwa. Only two women — Anusha Rehman and Saira Afzal Tarar — were included as ministers of state.
http://timesofindia.indiatimes.com/world/pakistan/Two-women-make-it-to-25-member-Pak-cabinet/articleshow/20486372.cms
-----------
Single Iranian women over 30 can adopt girls
08 June 2013
TEHRAN – The director of children and adolescence office at the Welfare Organization has announced that a regulation is being introduced that would allow single women over 30 to adopt girls.
Hamidreza Alvand, in an interview with the Persian service of the Mehr news published on Friday, said that the conditions under which single women over 30 could adopt girls are: having no criminal records in following Islamic rules, having good financial status, being in sound physical and psychological conditions, practicing one of the religions stated in the Iranian constitution, not having any sort of addiction to drugs or alcohol, and being free of sexual transmitted diseases (STDs) and other sort of incurable diseases.
Alvand also added that childless couples who have been married for over five years and one of them is over 30 could also apply for child adoption as well.
He said during the first 6 months of the adoption, Welfare Organization social workers visit children on a regular basis and after that period they do a telephone follow-up.
http://www.tehrantimes.com/component/content/article/108276
----------
Chairwoman of Al Salam Bank, Bahrain Calls for more Women in Banking
08/06/2013
Manama, June 8. (BNA) -- A suggestion to establish a forum to support and empower women working in Bahrain's banking and financial sector was the practical outcome of the 'Women in Banking Roundtable' held recently. Female banking executives from over 15 institutions attended the seminar, jointly organized by Citibank and the Bahrain Association of Banks (BAB) and held at the Kempinski Ixir Hotel.
The keynote speaker was HH Shaikha Hessa bint Khalifa Al Khalifa, Chairwoman of Al Salam Bank and Executive Director of inJAz Bahrain. She gave a passionate and detailed account of the role of women in the banking and financial sector, pointing out that this is the largest single employer in the Kingdom, with over 14,400 people and with women making up 37 percent of that workforce. "However, the majority of that percentile hold only junior to middle management roles", she said.
Full report at:
http://www.bna.bh/portal/en/news/564491
-------------
Stabbing Of Muslim Woman Stirs Up Fears for Community
By David DeBolt and Paul Burgarino
06/07/2013
ANTIOCH -- The stabbing of a 50-year-old Muslim woman wearing a head scarf has reignited simmering fears within eastern Contra Costa's Islamic community, where a mosque was destroyed by arson six years ago.
While authorities say the stabbing was not motivated by hate, it has become the topic of sermons, sparked a community meeting this week with Antioch police Chief Allan Cantando, and renewed a call for safety among Muslims, particularly women.
"The community there is very nervous," said Rachel Roberts of the Council on American-Islamic Relations.
Full report at:
http://www.mercurynews.com/top-stories/ci_23407031/antioch-shopping-center-assault-stirs-up-fears-muslim
-------------
Muslim Women Speak Out On Discrimination Because Of Their Head Scarves
By David Ham
June 7, 2013
Seattle's Office for Civil Rights is seeing more complaints from Muslim women who say they have been discriminated against because of their hijabs, which is Arabic for headscarf.
"When it comes to civil rights I think that we've made some progress as a society but clearly there's more progress that needs to be made," said Julie Nelson, director for Seattle's Office for Civil Rights.
Nafiso Samatar is Muslim and said more women have come forward with their complaints at recent workshops held by the Office for Civil Rights.
Full report at:
http://www.kirotv.com/news/news/muslim-women-seattle-speak-out-discrimination-beca/nYD6p/
-------------
Man Kills Sister-In-Law over Personal Dispute in Pakistan
8 June 2013
KARACHI: A woman was killed over personal dispute by her relative, while two other people also became victim of separate acts of violence in the city on Friday.
A woman was gunned down and her daughter wounded when brother-in-law of the victim opened fire at them over some personal dispute. The incident took place in Bijle Nagar, Orangi Town.
Mominabad police said that culprit Akbar Zada opened fire on Sartaj Bibi and her daughter Bushra. Bibi died on her way to hospital while Bushra was admitted for treatment. Following the incident residents of the area came out and grabbed the culprit. Zada was handed over to police, where the case was registered against him.
Full report at:
http://www.dailytimes.com.pk/default.asp?page=2013\06\08\story_8-6-2013_pg12_6
------------
Indian woman's body in morgue for two months
The Indian embassy has been unable to take the required measures to repatriate the body
IANS, June 7, 2013
Dubai: The body of a 51-year-old Indian housemaid who died more than two months ago is still lying unclaimed in a morgue in Saudi Arabia's capital Riyadh.
Saraswathy Kalappara died March 28 in King Fahd Medical City and the post-mortem report cited "cardio-respiratory arrest due to illness of unknown etiology" as the reason.
Her two sons and legal heirs then sent a power of attorney to the Indian embassy April 1 authorising it to do whatever was needed to repatriate their mother's body to India, the Arab News reported Friday.
Full report at:
http://gulfnews.com/news/gulf/saudi-arabia/indian-woman-s-body-in-morgue-for-two-months-1.1194050
----------
$200,000 for Palestinian orphans
Wam / 8 June 2013
The UAE's Human Appeal International (HAI) has offered $200,000 in support for 700 poor Palestinian families sponsoring orphaned children in Qalqilya, the West Bank, the Palestinian territory.
The agency's programme for supporting orphans provides a safety net for some 20,000 Palestinian families and costs around $10 million per year, according to Ibrahim Rashid, Director of the office of the HAI in the West Bank.
In addition to orphans, HAI's support to the population in Occupied Palestinian territory also includes educational and healthcare assistance and target the most underprivileged and the disabled, he added.
Full report at:
http://www.khaleejtimes.com/nation/inside.asp?xfile=/data/nationgeneral/2013/June/nationgeneral_June134.xml&section=nationgeneral
----------
Tale of 2 converts shows Egypt's sectarian divide
Associated Press
Jun 8, 2013
ASSIUT, Egypt | In one case, an Egyptian Christian man stabs his wife after she converts to Islam with the support of hard-line Islamists. Then after surrendering to police, he dies in mysterious circumstances, falling from a court building window.
At about the same time, a Muslim woman in another small village converts to Christianity and elopes with a Christian man. A crowd of Muslims attacks the local church in outrage. None of the attackers are prosecuted, but police arrest the Christian man's family.
The case is elevated to a national issue as angry Islamist lawmakers in parliament dedicate a whole committee session to demanding the conversion be stopped and decrying an alleged foreign plot to convert Muslims.
Full report at:
http://rapidcityjournal.com/lifestyles/faith-and-values/tale-of-converts-shows-egypt-s-sectarian-divide/article_1c992008-0825-575f-b8d1-309cd05b39aa.html
-------------
URL: https://newageislam.com/islam-women-feminism/indonesian-muslim-hardliners-vow-stop/d/11970