New Age Islam News Bureau
6 Jun 2012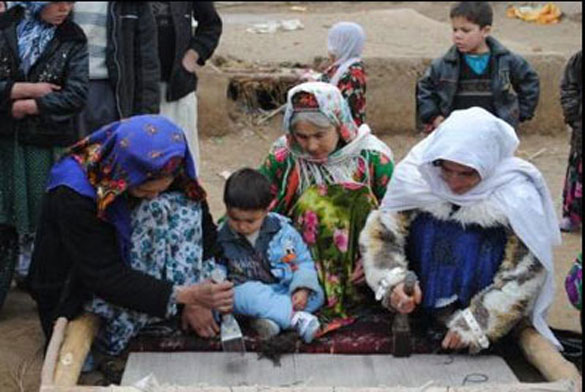 • Addiction of Raw Opium grips Afghan Women, Kids
• Saudi woman takes part in world Qur'an contest in Madina
• Hollywood Stars back call for women's rights in Afghanistan
• Civil groups back woman suing an Islamic bank in Jordan over dress code sacking
• Brotherhood presidential candidate attempts to mollify women's fears
• Sweeping arrests over Afghan schoolgirl 'attacks'
• Another twist in Amina Farah's terror trial that refused to stand before the judge on Religious ground
• HRW urges govt to investigate 'plot' to assassinate Asma
• Anti-Islam Belgian right-wingers offered $310 bounty to reports a veiled woman to police
• NATO realpolitik and US responsible for the fate of Afghan women
• Killing of four women and two men in Kohistan: CJ says women must be produced in court
• Let Saudi women compete in London
• The Muslim Woman at Play: FIFA, the Olympics and the Veil
• USOC lifted the bar for Muslim woman A year later, Kulsoom Abdullah hopes for Olympic chance
Complied by New Age Islam News Bureau
Photo: Addiction of Raw Opium grips Afghan Women, Kids
URL: https://newageislam.com/islam-women-feminism/indonesian-family-planning-calls-ulema/d/7543
---------
Indonesian Family Planning Calls on Ulema to Issue Fatwa for Using Contraception
Elly Burhaini Faizal,
06/06/2012
Indonesian men do not use condoms or participate in family planning programs due to a lack of religious edicts (fatwa), the National Family Planning Agency (BKKBN) says.
Agency chairman Sugiri Syarief called on the Indonesian Ulema Council (MUI) to issue an edict declaring that contraception, particularly the use vasectomies, was allowed under Islamic law.
"Vasectomies are not yet considered accepted under Islamic law," Sugiri said on the sidelines of a week-long seminar on population control and family planning organized by the BKKBN and the US-based Population Reference Bureau (PRB) and USAID.
Sugiri added that the BKKBN had found it difficult to encourage Indonesian men think about contraception without religious edicts.
There has been no major increase in the number of men participating in family-planning programs to date, according to the BKKBN.
Participation would likely remain low unless the Ulema issued a fatwa declaring vasectomy as halal or legal under Islamic law.
According to BKKBN data, the number of Indonesian men using condoms or undergoing vasectomies accounted for only 1.3 percent of the total number of birth control participants. As of 2011, the number of men that underwent vasectomies reached 24,144, up from 21,048 in 2010.
The number of men with vasectomies is projected to reach 28,000 people in 2012.
Without the fatwas, Sugiri said, it would be more difficult for the agency to encourage males to actively participate in family planning and contraceptive use.
"We should keep in mind that most Indonesian people are Muslim. So, they will consistently pay attention to whether or not something is acceptable under Islamic law. When the ulema say 'no' on male contraceptive use, then I'm sure people will also say 'no' about it," he said, adding that the MUI would hopefully issue a fatwa concerning male participation on long-term contraceptive use later this year.
The USAID-funded seminar brings senior women editors, reporters, and producers from influential media organizations in developing countries to examine and report on pressing issues affecting women's health and status.
Indonesia is the fourth country chosen to be the host of the seminar, following the United States, Ethiopia, and Senegal.
Thirteen journalists from 11 countries are participating in this year's seminar.
They include India, Kenya, Liberia, Malawi, Nepal, Nigeria, Pakistan, the Philippines, the United States, Uganda and Zambia.
http://www.thejakartapost.com/news/2012/06/06/fatwa-needed-promote-vasectomy.html
---------
Addiction of Raw Opium grips Afghan Women, Kids
Jun 4, 2012
By Bethany Matta
TARBOZ GOZAR, Afghanistan - Zarghoona, 37, sits on the ground in a courtyard of an impoverished Turkmen village in the north-western province of Kunduz. Her wrinkled face makes her appear twice her age.
"I am from this village," she says. "I have five sons and three daughters; one of my daughters died, though."
Losing a child is not uncommon in a nation where one in 10 children die before the age of 5 due often to preventable illnesses such as respiratory infections. But here, children are dying from taking drugs given to them by their mothers.
"I fed my daughter a lot of drugs at one time. It killed her," says Zarghoona, who like many here in this region goes by one name. "We didn't have the money to take her to the hospital."
Using drugs such as opium is common practice here and in dozens of villages that make up the carpet-weaving centre of the Qali a Zal district. Nearly all the women in this district are carpet weavers. The mundane nature of the work and long hours are made tolerable by drugs that make addicts of mothers and children.
Kunduz province, population 800,000, has more than 30,000 drug addicts, according to the Kunduz Drug Treatment Centre. Nearly half of these come from Qali a Zal alone, and women and children make up 40%.
"Unlike other districts, the most anguishing point is that the women are addicted," said Abdul Basir Murshid, director of counternarcotics for the Afghan government in Kunduz.
The women work from early morning to late in the evening, and keeping the children quiet is necessary for the women to work undisturbed.
On this day women can be seen reaching inside their clothing and pulling out plastic packets containing raw opium. They unfold the plastic, roll the sticky substance inside into a ball, and place it in their mouths.
One mother pulls out her plastic packet, rolls a ball and feeds it to her child in her lap.
"When a baby is born, on the very first day they grease their navel with fluid of opium, so that the baby does not cry and sleeps well," says Dr. Rahmatuliah, who heads the local government council here.
"After a few months, they give it to them orally," he says. "I have told many of these people not to do this, but they say, 'We have raised all our babies like this.' "
Zarghoona says all of her children have been using opium since they were born. Others say the same and say they have been using for 20 or 30 years.
Drug abuse has received little notice, according to drug-control advocates here. The United Nations Office on Drugs and Crime reports that there were around 1 million drug users in Afghanistan in 2010, about 8% of the adult population or a rate twice the global average.
Opium is the most commonly used opiate, followed by heroin. Afghanistan has seen a 53% rise in the number of opium users, over 2005, the U.N. says. Afghanistan's poppy crops produce 90% of the world's opium.
For those who are hooked, there is little help. The tribal council here says there are no clinics for addicts.
There are 40 drug treatment centers in Afghanistan. The closest is in the provincial capital of Kunduz city, about 40 miles away. Not that many would make the trip, local officials say.
"They could not even lift a glass of water now without the drugs because they are so weak," Dr. Rahmatuliah says.
http://www.wbir.com/news/article/221903/16/Addiction-grips-Afghan-women-kids
---------
Saudi woman takes part in world Qur'an contest in Madinah
5 June 2012
Saudi Arabia is participating in Jordan's Hashimiya International Holy Qur'an Competition for Women for the first time this year.
(Ahlul Bayt News Agency) - Saudi Arabia is participating in Jordan's Hashimiya International Holy Qur'an Competition for Women for the first time this year. Hasanat bint Ali Al-Harithy, a student of the Charity Society for the Memorization of Qur'an in Madinah, is representing the Kingdom in the memorization, recitation and interpretation of Qur'an competition.
Mansour Al-Sumaih, secretary-general of the general secretariat for Qur'an competition at the Ministry of Islamic Affairs, Endowments, Call and Guidance, said Minister Sheikh Saleh Al-Asheikh received an invitation from his Jordanian counterpart to send a Saudi delegate to the competition.
Accordingly, the general secretariat nominated Hasanat who won second prize in the local competition held in Madinah this year.
Al-Sumaih said Saudi Arabia, for the first time, was also represented in the judging panel of the competition. Al-Asheikh has sent Aziza bint Hussein Al-Yousuf, assistant professor at Taiba University in Madinah, to Jordan as a judge. The judging panel included representatives of Jordan and the UAE in addition to Saudi Arabia.
Al-Sumaih said Hasanat's participation in the international competition would be a major boost to young Saudi women wanting to participate in Qur'an competitions. "This also highlights the significance of the great efforts made by the ministry in promoting learning and memorization of the holy book as well as in encouraging the younger generation to have closer contact with the Qur'an to prevent them from going astray and embracing deviant ideologies," he said.
http://abna.ir/data.asp?lang=3&Id=320250
---------
Hollywood Stars back call for women's rights in Afghanistan
May 25,2012
SIR PATRICK STEWART, CYNTHIA NIXON and MERYL STREEP are among the stars backing an open letter urging U.S. President BARACK OBAMA to support women's rights in Afghanistan.
The note from Amnesty International calls for Obama and Afghan President Hamid Karzai to make sure the rights of females in the war-torn country are not affected when international troops pull out.
Yoko Ono, Joan Baez and Sting are also backing the call, and the letter reads, "As champions of women's rights who are dedicated to protecting women's human rights, we are deeply concerned that the significant gains made by women and girls in Afghanistan may be threatened as U.S. and allied troops leave the country.
"We urge you to adopt a comprehensive action plan to guarantee that the clock is not turned back on a decade of strides in education, health, security and employment for women and girls. At stake is the future of Afghanistan, after billions of dollars and tens of thousands of lives have been sacrificed. We believe if women's progress cannot be sustained, then Afghan society will fail.
"We are concerned that the U.S. and allied withdrawal from Afghanistan in 2014 may put women and girls at even greater risk of abuses... Women must be empowered in the educational, economic and political life of Afghanistan or the country will fail to achieve a stable and prosperous future after a decade of effort to secure and rebuild the country.
"Presidents Obama and Karzai, this is the defining moment to lead on women's human rights. Afghan women have never faced greater danger to the protection and advancement of their human rights; they need and deserve your support.
"We urge you to affirm that the Afghan and U.S. governments will protect Afghan women. Their human rights, their safety, their very lives must not be sacrificed as U.S. Armed Forces withdraw from the country."
http://www.express.co.uk/posts/view/322504/Stars-back-Amnesty-International-s-call-for-women-s-rights-in-Afghanistan-Stars-back-Amnesty-International-s-call-for-women-s-rights-in-Afghanistan-Stars-back-Amnesty-International-s-call-for-women-s-rights-in-Afghanistan
---------
Civil groups back woman suing an Islamic bank in Jordan over dress code sacking
Suha Philip Ma'ayeh
Jun 6, 2012
Civil society groups and human rights organisations in Jordan are backing a woman who is suing an Islamic bank that sacked her because she refused to wear the hijab.
Vivian Salameh, a Christian, finds herself at the centre of the debate over how accommodating Jordan should be when Islamic and secular principles clash.
She was sacked last month after she refused to wear the head cover, imposed on all female employees as part of a dress code introduced in January 2011 by the Jordan Dubai Islamic Bank.
The Jordanian Network of Civil Society Organisation, which consists of 10 rights groups and NGOs, expressed its concern over Ms Salemeh's sacking and urged the bank to "return her back to her job".
It said: "The bank's management got approval from the ministry of labour to enforce its new regulations without taking into consideration that they contravene the Jordanian constitution and international covenants which the country has signed.
"They respect the right of choice and personal freedoms and there are no laws that impose the head cover on Christian employees."
The bank claims it is a matter of an employee complying with company dress code.
Eman Afaneh, its head of corporate communication and marketing, said it is like, "McDonald's where employees put on hats during working hours. It's part of the uniform and nobody would make an issue out of it."
Full report at:
http://www.thenational.ae/news/world/middle-east/civil-groups-back-woman-suing-an-islamic-bank-over-dress-code-sacking
---------
Brotherhood presidential candidate attempts to mollify women's fears
Sarah El-Rashidi
5 Jun 2012
Less than two weeks before the runoffs that will determine Egypt's next president, Brotherhood Mohamed Mursi affirms his commitment to women's equal rights
Less than two week before the presidential elections, the Muslim Brotherhood's candidate Mohamed Mursi attempted to dampen fears about the implications of Islamist rule for women, by talking about women's pivotal societal role, saying that: "Legally women have the same rights as men in Egypt."
In a televised press conference held today, Mursi emphasised gender equality and guaranteed that women's rights will be upheld under his presidency. Sceptics in the crowd or those wanting further reassurances raised controversial topics such as underage marriage, khula (wives' right to request divorce), and female genital mutilation. Inas Mubarak, a dental professor from Cairo University listed such concerns, demanding Mursi's public response.
"Laws protecting women are already in place. I am not going to make any modifications in terms of the issues just raised: the legal age for marriage, khula, female genital mutilation."
Aware of cynics' distrust, Mursi guaranteed: "My convictions concerning women's rights are not related to the presidential elections."
In a different speech, Mursi praised Egyptian women, but he also made a remark for which he was immediately criticised: "In Egypt we do not have child abuse or other social problems such as illegitimate children or people living together before marriage; these are western customs."
Full report at:
http://english.ahram.org.eg/NewsContent/36/122/43945/Presidential-elections-/Presidential-elections-news/Mursi-attempts-to-mollify-womens-fears-.aspx
---------
Sweeping arrests over Afghan schoolgirl 'attacks'
6th June 2012
KABUL: Sweeping arrests have been made by desperate Afghan authorities trying to end the alleged serial poisoning of schoolgirls, but some doctors now suspect psychological stress could be behind the "attacks", officials said Tuesday.
Sixteen suspects have been detained in the past four days over the mysterious illnesses — usually including mass fainting episodes — that have struck scores of schoolgirls in northern Takhar province almost daily for the past two weeks.
Among those held are a Pakistani woman working in a clinic and a Taliban insurgent leader, provincial spokesman Mostafa Rasuli told AFP. All have denied any involvement, and no proof of poisoning has been found, he said.
No girls have died from the alleged attacks — which are also reported periodically from other parts of Afghanistan — and most are released soon after being rushed to hospital, officials confirm.
Full report at:
http://dawn.com/2012/06/05/sweeping-arrests-over-afghan-schoolgirl-attacks/
---------
Another twist in Amina Farah's terror trial that refused to stand before the judge on Religious ground
05 June 2012
By Allie Shah
Hawo Mohamed Hassan, left, and Amina Farah Ali have been convicted of conspiring to help terrorists and are waiting to be sentenced
Amina Farah Ali's stand against standing up in court is not over yet.
The U.S. Eighth Circuit Court of Appeals threw out 19 of 20 contempt citations against the Rochester woman who refused to stand before the judge and jury in the opening days of her terrorism trial last fall.
The three-judge panel sent the issue back to the U.S. District Court in Minneapolis to consider her protest on religious freedom grounds.
The ruling issued Monday sends the case to Chief U.S. Judge Michael Davis, who presided over her trial. He cited Ali for contempt and ordered her to serve 100 days in jail -- five days for each time she did not rise from her chair when court staff gave the "all rise" call.
At the time, Ali told the judge she was not standing up out of disrespect, but because it was against her religious beliefs. Ali, who is a Muslim, cited her understanding of the Hadith, or the sayings of the Muslim prophet Mohammed. She referenced a particular saying in which Mohammed told people who stood up when they saw him that they "over-honored" him with the gesture.
Full report at:
http://somalilandsun.com/index.php/world/839-another-twist-in-rochester-womans-terror-trial
---------
HRW urges govt to investigate 'plot' to assassinate Asma
06/06/2012
NEW YORK: The Pakistani government should investigate allegations that elements in the Pakistani military and intelligence agencies have plotted to kill prominent lawyer and human rights activist Asma Jahangir, the Human Rights Watch said Wednesday.
Jahangir made the allegation in a television interview on June 4, 2012, the HRW said in a press release.
Pakistani authorities should urgently and thoroughly investigate the alleged plot against Asma Jahangir and hold all those responsible to account, regardless of position or rank, said Ali Dayan Hasan, Pakistan director at Human Rights Watch.
"A threat against Jahangir is a threat to all those in Pakistan who struggle for human rights and the rule of law."
Jahangir told reporters on June 4 that through a security leak brought to her attention by a highly credible source, she had discovered that an assassination attempt was being planned against her from the highest levels of the security establishment.
She said that she thought it best to go public with the information as she feared that she could be killed and a member of her family framed for the murder.
Governments that have lauded Jahangir's human rights advocacy both in Pakistan and internationally should be alarmed by this alleged plot and press for a prompt and persistent investigation, Hasan said.
http://dawn.com/2012/06/06/hrw-urges-govt-to-investigate-plot-to-assassinate-asma-jahangir/
---------
Anti-Islam Belgian right-wingers offered $310 bounty to reports a veiled woman to police
5 June 2012
(Ahlul Bayt News Agency) - Anti-Islam Belgian right-wingers have offered to pay a 250 euros ($310) bounty to anyone who reports a veiled woman to police, they said on Tuesday, in the wake of face veil riots in Brussels.
Filip Dewinter, a senior figure within Vlaams Belang, a right-wing party, told Reuters the riots had made police apprehensive about enforcing the burqa ban and that the payment should put pressure on authorities to further enforce it.
"It's a textile prison for the women who have to live under it," he said.
It comes after protesters hurled bins and metal barriers at a Brussels police station last week after a Muslim woman was arrested for refusing to remove her face veil, or niqab.
A Brussels police spokesman said he was unaware of the money being offered, but said any officer who sees a woman wearing a niqab would issue a penalty.
"When someone is breaking the law we always have to intervene, demonstrations or no, the niqab is prohibited," he said.
Women in Belgium risk a maximum fine of 150 euros if they wear a full face veil in public. Belgium and France both banned the wearing of full veils in public last year.
Dewinter said he was not aware how many people had already responded to the offer of a bounty.
A spokeswoman for Belgium's federal police said the legality of the bounty was a question for the judiciary, but if someone felt insulted by it they could file a complaint with the police.
Police in Belgium are investigating last week's riots and arrested 13 members of the Islamic group Sharia4Belgium on Sunday, the police spokesman said.
Sharia4Belgium was not immediately available to comment.
http://abna.ir/data.asp?lang=3&Id=320229
---------
NATO realpolitik and US responsible for the fate of Afghan women
Meredith Tax
5 June 2012
As the US pulls out of Afghanistan, the issue of women's rights is being jettisoned – with the connivance of antiwar activists
Why is it so hard for people in the anti-war movement to hold two ideas in their heads at the same time? Can't we want to end the war in Afghanistan and at the same time practice solidarity with its victims?
As the Taliban, prompted by Pakistan's ISI, becomes ever more aggressive, Afghan women and civil society campaigners are asking for support to protect the gains they've made, but nobody in the US government – or the left – seems to be listening.
Obama's realpolitik has replaced the Bush administration's rhetoric about bringing democracy to the region. "Afghan good enough" is the magic phrase in Washington. If this entails throwing women overboard, hey, that's realpolitik. In March, 2011, Rajiv Chandrasekaran of the Washington Post asked a senior State Department officer what the policy would be towards women as the US withdrew. The answer:
"Gender issues are going to have to take a back seat to other priorities … There's no way we can be successful if we maintain every special interest and pet project. All those pet rocks in our rucksack were taking us down."
Full report at:
http://www.guardian.co.uk/commentisfree/2012/jun/05/nato-realpolitik-afghan-women?newsfeed=true
---------
Killing of four women and two men in Kohistan: CJ says women must be produced in court
6th June 2012
ISLAMABAD: The Supreme Court on Wednesday adjourned the hearing in the suo motu notice in the Kohistan death decree case to 6 pm, Dawn News reported.
The court had taken a suo motu notice on the issue on Monday after reports came up that clerics had allegedly issued orders for the killing of four women and two men after a mobile phone video emerged of the six singing and dancing at a wedding in a remote village in Kohistan.
A three-judge bench of the apex court comprising Chief Justice Iftikhar Muhammad Chaudhry, Justice Jawwad S. Khwaja and Justice Khilji Arif Hussain had taken up the notice in the case.
During the hearing, Attorney General Irfan Qadir informed the court that a fact-finding team was sent to Kohistan and it had determined that no such incident had taken place.
Responding to which, the chief justice inquired why the women in question had not been presented before the court. He reiterated that the women would have to be produced before the bench.
Full report at:
http://dawn.com/2012/06/06/kohistan-case-cj-urges-women-be-produced-in-court/
---------
Let Saudi women compete in London
NIKKI DRYDEN
Jun. 06 2012
With less than two months to go before the Olympic opening ceremony, every country in the world except one, Saudi Arabia, will have female athletes competing in London. Canada hosted the International Olympic Committee's executive board meeting last month in Quebec City, but what is this country doing to ensure that the Olympic movement advances rights for all women?
In London this summer, men will have the opportunity to win 108 more Olympic medals than women. Today, just 20 of 107 IOC members are women. The majority of these 20 women have no seniority and very little real power. Only one woman, Nawal El Moutawakel of Morocco, sits on the IOC's powerful executive committee, to which yet another man, Wu Ching-Kuo of Taiwan, was nominated last month.
Men will also compete in a sporting event, canoeing, that is not open to women. Women from one nation, however, will be barred from all events, as Saudi officials continue to say that Saudi women athletes will not be present in London.
IOC member Prince Nawwaf al-Faisal, in his dual capacity as Saudi Sports Minister and head of the Saudi National Olympic Committee, said earlier this year that "female sports activity has not existed [in the kingdom] and there is no move thereto in this regard. At present, we are not embracing any female Saudi participation in the Olympics." This attitude of an IOC member exists despite the IOC's own rules, which explicitly state that discrimination based on gender is incompatible with the Olympic movement.
Full report at:
http://www.theglobeandmail.com/commentary/let-saudi-women-compete-in-london/article4233895/?cmpid=rss1
---------
The Muslim Woman at Play: FIFA, the Olympics and the Veil
06/05/2012
The hijab, the head-covering worn by some Muslim women, has been denounced and defended, legislated for and against. In past months a new front has opened in the battle over the veil: the role of the veil in sport. These debates will intensify as the London Olympics coincide with the Muslim Holy Month of Ramadan, and IOC officials continue to allow Saudi Arabia to participate in the Games, despite excluding Saudi female athletes from representing their country.
The push to allow veiled Muslim women to compete has long emanated from the Muslim world, despite its lack of egalitarianism towards all women in their societies. Muslim majority countries have diligently petitioned FIFA (football's international governing body) to allow Muslim women to wear the hijab while playing professional soccer. But just as FIFA strives to become more flexible in the interpretation of its laws, ultra-orthodox Wahabi Saudi Arabia, the cradle of Islam and the apical authority of Sunni Islam, has announced Saudi women will once again not represent their nation at the Olympics.
Full report at:
http://www.huffingtonpost.com/qanta-ahmed/fifa-hijabs_b_1564325.html
---------
USOC lifted the bar for Muslim woman A year later, Kulsoom Abdullah hopes for Olympic chance
April 13, 2012
Next week at the Asian Weightlifting Championships in South Korea, a computer engineer from Atlanta will take another step she hopes could lead to the 2012 London Olympics.
That Kulsoom Abdullah has gotten this far is nothing short of a miracle, given what she needed to overcome in the often hidebound world of international sports.
It is a miracle for which the United States Olympic Committee deserves global praise at a time when much of the world criticizes the USOC for being selfish because it wants a fair and necessary share of both U.S. television rights for the Games and global Olympic sponsorship rights, more than half of which come from U.S. multinationals.
Without the USOC - especially Dragomir Cioroslan, its international relations director --- Abdullah's petition for rule changes about competition costumes that would allow her to feel comfortable as both a Muslim woman and a weightlifter never would have reached the proper authorities.
Full report at:
http://articles.chicagotribune.com/2012-04-13/sports/chi-usoc-lifted-the-bar-for-muslim-woman-20120412_1_usoc-chief-executive-scott-blackmun-dragomir-cioroslan
---------
URL: https://newageislam.com/islam-women-feminism/indonesian-family-planning-calls-ulema/d/7543