New Age Islam News Bureau
29 Nov 2017
• Ofsted Accused of Racism over Hijab Questioning In Primary Schools
• Hadiya Back in Salem College Hostel, Principal Says She Is Still Akhila for Us
• Pakistan Minister Sees Women's 'Empowerment' Thru Nikahnama
• Female Circumcision in Sri Lanka Is 'Just a Nick,' Not Mutilation: Supporters
• Girls' Physical Education Classes Raise Questions about Suitable Uniforms in Saudi Schools
• National Experts Meet On Saudi 'Women's Empowerment' Agenda
• Call for Ensuring Provision of Emergency Services in Women-Only Facilities in KSA
• Babson Global Centre Appoints Saudi Woman as Managing Director
• Iran: Woman MP Admits Violence against Women Is Pervasive
• Iran: Women and Men Trained As Nurse Stage Protest In Tehran
Compiled by New Age Islam News Bureau
URL: https://www.newageislam.com/islam-women-feminism/indonesia-neqab-squad-takes-aim/d/113393
--------
Indonesia's 'Neqab Squad' Takes Aim at Face Veil Prejudice
Nov 29, 2017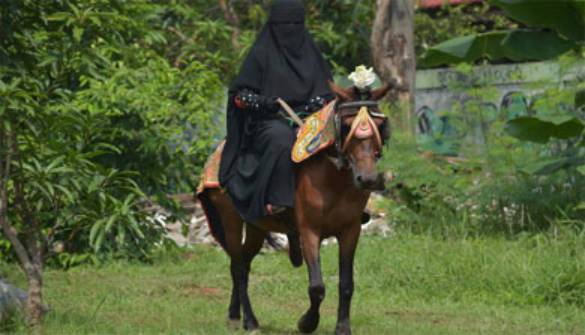 An Indonesian Muslim woman riding a horse in Bekasi-AFP
----
Riding a horse or nailing an archery target is tough at the best of times -- it's even harder when you're wearing a niqab.
But that isn't about to stop a group of Indonesian women who have banded together to combat prejudice against the face-covering veil, which has been at the centre of a heated global debate over religious freedom and women's rights.
The "Niqab Squad" meets to recite the Koran or, at one recent gathering, mounted horses and tried their gloved hands at archery, activities endorsed by the Prophet Mohammed.
Janariah, a 19-year-old group member, had never ridden a horse before but she gave it a whirl in her flowing black veil, as other niqab-wearing novices fired off arrows with suction-cup tips.
"It's not really difficult," insisted Janariah, who like many Indonesians goes by name, as she giggled and tried to keep her animal on track in the blazing Jakarta sun.
"Even running is okay. If you're used to it, it's comfortable. The most important thing is that you don't see it (niqab) as a burden and you've got to be patient."
- 'Weird looks' -
Although the body covering garment with narrow slits to see through is common in ultra-conservative Saudi Arabia and some other Gulf states, they're rare in Indonesia, where around 90 percent of its 255 million people have traditionally followed a moderate form of Islam.
Recently, a private Islamic high school on the main island Java was reprimanded by local officials after pictures went viral online that showed a classroom of female students wearing niqab. The veils violated a national regulation on acceptable school uniforms.
Seeking out other women facing discrimination online, Indadari Mindrayanti founded the squad this year after switching from hijab -- a headscarf that leaves the face visible -- to the more restrictive niqab in 2016.
The twice-divorced Mindrayanti - who was once married to an Indonesian soap opera celebrity - saw it was a way to be more pious but the decision hasn't gone over well with her family or people on the street who often give her "weird looks".
She saw it was a way to be more pious but the decision hasn't gone over well with her family or people on the street who often give her "weird looks".
"It's hard to expect people to talk to you. They look kind of afraid," the 34-year-old told AFP at a mosque in Indonesia's sprawling capital.
"Walking on the street sometimes I get comments like 'Wow, there's a ninja' or 'uh, very scary,' uncomfortable comments like that."
Some of the group's fast-growing membership of 3,000 women in Indonesia, as well as Malaysia, Taiwan and South Africa, say they've been labelled as extremists and are regularly asked questions such as "why are you dressed like a terrorist?"
- Ideological battle -
Mindrayanti felt the stares when she went to France seeking treatment for a skin condition this year.
France was the first European country to ban the full-face veil in public spaces and a bitter ideological battle is raging across Europe and in North America over whether the niqab, and more restrictive burqa, are key to religious freedom or an affront to women's rights.
Last month, Canada's Quebec province prohibited government workers and anyone receiving public services from covering their face, which critics said unfairly targets Muslim women who wear a niqab.
"Our goal is that we want to unite differences, even within Islam itself," said Mario, who was involved in organising the squad's horse riding and archery event.
"There are different views even in Islam...and the prophet wants us all to unite."
Still, some critics see the niqab as symbolic of a growing religious conservatism that is being exported to Indonesia via Saudi Arabia and other stricter Islamic countries.
Worries about Indonesia's religious tolerance soared when Jakarta's Christian governor was jailed for two years in May on blasphemy charges.
"We have to respect women who wear niqab but they cannot claim it's the best practice of the religion because it is a product of the Arabs," said Zuhairi Misrawi, head of the Muslim Moderate Society.
Niqab Squad's founder, however, says she will keep trying to win over sceptics by speaking to them in a gentle, friendly voice to let people know her intentions are good, even if they're puzzled by her appearance.
"The niqab doesn't prevent us from socialising with anyone, even if they are not Muslim," Mindrayanti added.
"We can be a good ambassadors of Muslims in front of non-Muslims...(and) those who don't understand Islam and only know it from what they see in the media."
http://www.digitaljournal.com/news/world/indonesia-s-niqab-squad-takes-aim-at-face-veil-prejudice/article/508719
--------
Ofsted Accused of Racism over Hijab Questioning In Primary Schools
28 November 2017
Ofsted's recommendation for inspectors to question Muslim primary school girls if they are wearing a hijab has been condemned as "kneejerk, discriminatory and institutionally racist" by more than 1,000 teachers, academics and faith leaders.
The schools inspectorate announced this month that the policy was designed to tackle situations in which wearing a hijab "could be interpreted as sexualisation" of girls as young as four or five, when most Islamic teaching requires headdress for girls only at the onset of puberty.
But the move has been criticised as a "dangerous" decision that risked "reinforcing an anti-Muslim political culture in which Islamophobia or anti-Muslim racism has been institutionalised in schools and across the public sector".
A letter signed by 1,136 teachers, academics and faith leaders said: "It is a kneejerk, discriminatory and institutionally racist response that will violate civil liberties and create a climate of fear and mistrust in schools, and must be retracted immediately."
Ofsted's announcement in the form of a recommendation to inspectors rather than an update to the inspectorate's official handbook was the latest of a string of requirements issued after the "Trojan horse" affair in Birmingham in 2014, which provoked controversy over fears of Islamist influence in state schools.
Amanda Spielman, the head of Ofsted and chief inspector of schools, said she respected parents' choice to bring up their children according to their cultural norms, but wanted to tackle situations "where primary school children are expected to wear the hijab [that] could be interpreted as sexualisation of young girls".
The announcement followed a meeting this month between Spielman and campaigners against the hijab in schools, including Amina Lone, a co-director of the Social Action and Research Foundation.
The letter, written by Nadine El-Enany, a senior law lecturer at Birkbeck Law School, University of London, Waqas Tufail, a senior lecturer in criminology at Leeds Beckett University, and Shereen Fernandez, a PhD candidate at Queen Mary University of London, said: "We, the undersigned, ask that Ofsted immediately retract its instruction to inspectors to question primary school children wearing the hijab.
"We find the decision to single out Muslim children for questioning unacceptable, and insist that no school children be targeted for action on the basis of their race, religion or background.
"While a wider conversation about the sexualisation of girls in Britain's culture and economy is welcome, the singling out of Muslim children for investigation is unacceptable.
"The message the Ofsted decision sends to Muslim women is that the way they choose to dress and the decisions they make in raising their children are subject to a level of scrutiny different to that applied to non-Muslim parents.
"Further, the Ofsted decision reduces the hijab to a symbol of sexualisation and ignores other interpretations ranging from a display of faith to a symbol of empowerment and resistance. Constructing women and children who wear the hijab as being either sexualised or repressed is both reductive and racist in its reproduction of colonial and Orientalist tropes about them."
https://www.theguardian.com/education/2017/nov/28/ofsted-accused-racism-hijab-questioning-primary-schools
--------
Hadiya Back in Salem College Hostel, Principal Says She Is Still Akhila for Us
by Arun Janardhanan
November 29, 2017
Holding a copy of the Supreme Court order he got from a local reporter, G Kannan, principal of the privately-run Sivaraj Homeopathic Medical College, was busy making arrangements for the arrival of Akhila Asokan, now Hadiya, on Tuesday evening when mediapersons told him that her flight has landed at Coimbatore — a two-hour drive from the college.
"We have no information except what we learnt from media reports and the copies of the order journalists shared with us. Since it is a Supreme Court order and everyone is saying it is a sensitive case, we have asked for police protection for as many days as possible," he said.
The principal was also seen asking mediapersons if the court had appointed him Hadiya's guardian.
Two dozen Tamil Nadu police personnel headed by DCP G Subulakshmi and Kalpana Sivaraj, MD of the college, were busy in the preparations too. Subulakshmi said, "There is no official communication. We will give 24X7 protection at the college and hostel for sometime," she said.
College authorities and police were also seen checking the CCTV cameras and gates.
Around 7 pm, Hadiya reached the college with Kerala police personnel. She had no luggage except a small bag. After she completed the paperwork to resume her course, Hadiya was taken to the hostel, about 8 km away, in a private vehicle.
ALSO READ: Supreme Court agrees Hadiya has the right to choose, not her parents
Before she left, Hadiya was asked whether she wanted to tell anything to her father. "I spoke to them," she said. About her plans after finishing the course, she said she wants to work.
The college has 700-odd students in various streams, including Siddha medicine. The two hostels house about a 100 students and have two wardens. Students travel between the college and hostel in a college bus.
Principal Kannan said Hadiya will follow the same rules as any other student.
Will she be allowed to use a cellphone, watch TV or go out of the college?
Kannan said students are allowed to use cellphones at the hostel for only an hour in a day. "(Cellphones are) strictly restricted on college campus. In view of this sensitive case, we are also considering banning cellphones for all students in hostel. Since they are here to study, a phone with the warden is more than enough," he said, adding that the hostel does not have a TV.
As per rules, students are to report in college at 8.45 am and lights at hostel are turned off at 10.30 pm. "Once in a week, they may be allowed to go out for shopping but they are escorted by a warden," said Kannan.
RELATED REPORT: I have won battle to get back wife, says Shefin Jahan; College says Hadiya is welcome
Will Asokan, Hadiya's father, and Shefin Jahan, her husband, be allowed to meet her?
"See, I do not know who her husband is. She is still Akhila for us, and her guardians are her parents who admitted her. In the present scenario, I will not allow anyone except her parents. We will make sure that I or an official are present when her parents visit her," Kannan said.
However, while leaving the college office, Hadiya said she will be allowed to meet her husband, adding that the police had promised that.
All batchmates of Hadiya, who joined the BHMS course in 2010, including her two Muslim friends who inspired her to convert, completed their courses in 2016. "She has to spend another 11 months here," Kannan said.
http://indianexpress.com/article/india/kerala-conversion-case-hadiya-back-in-salem-college-hostel-principal-says-she-is-still-akhila-for-us-4959424/
--------
Pakistan Minister Sees Women's 'Empowerment' Thru Nikahnama
November 29, 2017
LAHORE - Minister for Women Development Hameeda Waheeduddin has urged women to read all the clauses before signing Nikah Nama (marriage contract) and understand the significance of rights, including Haq Mehr, divorce and maintenance.
Speaking at the launch of a training programme for Nikah registrars and local government officials at Jinnah Hall on Tuesday, she said a Nikah Nama could potentially empower a woman. The Punjab Commission on the Status of Women had hosted the training.
The minister acknowledged the need for capacity-building of registrars to ensure better results for women. She emphasised the significance of women's participation in boosting the well-being of the society.
Chairperson PCSW Fauzia Viqar said 47 thousand Nikah Registrars and Union Council Secretaries would be trained with the aim to ensure accurate filling of Nikah Nama . She informed the participants about the objectives of the project which was sensitization of stakeholders to women's rights in a marriage and how they could be protected through the Nikah Nama . She further stated that the duty of a Nikah Registrar was protection of a woman's rights. She added that complaints received through PCSW's helpline showed frequent incidence of early age marriages in Punjab which could be attributed to financial constraints, social pressure and so called values. Lord Mayor Mubasher Javed highlighted the importance of this strategic partnership between PCSW and LG&RD Department due to which 2,371 Nikah registrars and UC secretaries and chairmen were trained. Project Manager TNR PCSW Shahid Iqbal informed the audience of this initiative's plan for upcoming training in Lahore and Kasur districts.
http://nation.com.pk/29-Nov-2017/minister-sees-women-s-empowerment-thru-nikah-nama
--------
Female Circumcision in Sri Lanka Is 'Just a Nick,' Not Mutilation: Supporters
November 28, 2017
New Delhi. Members of Sri Lanka's Muslim communities have strongly condemned criticism of ancient cutting rituals performed on girls, saying it should not be classed as female genital mutilation.
According to the World Health Organization (WHO), FGM includes all procedures that intentionally alter or cause injury to the female genital organs for non-medical reasons.
The practice has no health benefits for girls and women, says the WHO, adding it can cause long-term physical and psychological harm.
But representatives of Sri Lankan Muslim communities — such as the Dawoodi Bohras, Moor and Malay Muslims — who practice female circumcision or "khatna" — say the procedure their girls undergo cannot be compared to what happens in regions such as Africa, where the practice can involve sewing up the vagina.
"It is completely false to associate FGM in Africa, where the clitoris is seriously damaged or removed, with khatna in Sri Lanka," said Jamila Husain, spokesperson for a body representing the 3,000-strong Dawoodi Bohra community in Sri Lanka.
"Khatna involves making just the mildest of nicks on foreskin of the clitoris as required by our religion. There is no clinical evidence to show that it has negative health impacts or causes any kind of psychological trauma."
A UN report on FGM last year listed 30 countries where cutting is practiced, almost all in Africa. However, campaigners believe FGM happens in at least 45 countries and is more widespread in Asia than commonly thought.
Members of Sri Lanka's Moor and Malay Muslim community — which number nearly two million and 60,000 respectively — say it is misleading and damaging to their communities to brand "a nick on the hood or prepuce of the clitoris" as FGM.
"We do not mutilate or cut our girls. Our religion requires it and it actually helps to keep the area clean and hygienic and prevents infections," said Asiff Hussein, vice president at the Centre for Islamic Studies in Sri Lanka.
"In fact, this procedure actually helps women gain more pleasure during sexual intercourse."
But two Bohra women interviewed by the Thomson Reuters Foundation said when they underwent the ritual as children it involved damage to the clitoris, and vowed that their daughters would not undergo the khatna.
And in India, a group of women from the Dawoodi Bohra community have called for the government to ban the practice.
The WHO classifies FGM into four types — full or partial removal of the clitoris, the removal of the inner folds of the vulva plus the removal of the clitoris, narrowing of the vaginal opening through the creation of a seal and pricking, piercing, incising, scraping or cauterizing the genital area.
The United Nations views all forms of FGM as a violation of the rights of women and girls.
The practice among the Dawoodi Bohras hit the headlines in 2015 when a court in Australia found two members of the Indian Dawoodi Bohras diaspora community guilty of cutting two girls. A Bohra religious leader was convicted of being an accessory.
Since then, more than a dozen Bohra communities in Europe and the United States have passed resolutions against the practice.
Although it is not mentioned in the Koran, the Bohras consider khatna a religious obligation. Debate on the subject has long been taboo, campaigners say.
http://jakartaglobe.id/international/female-circumcision-sri-lanka-just-nick-not-mutilation-supporters/
--------
Girls' Physical Education Classes Raise Questions about Suitable Uniforms in Saudi Schools
NADA HAMEED
29 November 2017
JEDDAH: Physical education programs in schools for girls in Saudi Arabia begin next year and many questions have been raised about the mechanism of their implementation, including suitable clothing to be worn during these classes.
School uniforms, which consist of a long-sleeved white blouse with a long colored sleeveless dress, along with trousers under the uniform are adequate for sports, according to the Department of Student Activity in Madinah Al-Munawwara.
Girls will have mainly cardio exercises, as public schools do not include full sports facilities yet. Ghada Mohammed, a high school teacher in Jeddah, told Arab News that the exercise program would officially start in the spring semester of 2018.
Hadeel Al-Shumrani, the first Saudi Zumba trainer and also an actress @Uturn, told Arab News: "This type of uniform will create an obstacle for the student."
"While performing any kind of exercises or sports training, two-piece clothes are the best choice, which are available everywhere and it is not against Islamic regulations; it is way more comfortable," Al-Shumrani said.
It is preferable for training suits to be made out of cotton to absorb sweat, and girls also need to pay attention to what kind of sports shoes they wear, such as multi-fitness shoes, depending on the sports class they will take.
Raged Al-Ezzy, a public middle school student told Arab News: "We do morning exercises every day after we finish the national anthem. We sometimes wear training trousers under our school uniforms."
The program will be gradually implemented in schools by allocating part of the morning schedule and including programs among other student activities.
http://www.arabnews.com/node/1200761/saudi-arabia
--------
National Experts Meet On Saudi 'Women's Empowerment' Agenda
28 November 2017
RIYADH: Princess Adelah bint Abdullah bin Abdul Aziz, head of the National Family Safety Program, attended the seventh national experts' meeting organized by the National Family Safety Program at the Ministry of National Guard in the presence of Minister of Labor and Social Development Ali bin Nasser Ghafis.
The event was held at the King Saud bin Abdul Aziz Center for Health Sciences in Riyadh under the title "Empowering Women Is Empowerment Society."
The executive director of the National Family Safety Program, Dr. Maha Al-Maneef, stressed that the meeting focused on violence against women.
She said that this "emanates from the belief of our leaders in the importance of caring for women and their issues, and enabling them to obtain all their rights to contribute effectively to the development process in society, and moreover, to provide access to women for administrative and leadership posts and then in the field of scholarship, diplomatic work, engineering, law, to run and vote in municipal councils and to be a member in the Shoura Council."
In her speech, Princess Adelah referred to the previous six meetings that witnessed consultations on a number of issues related to domestic violence and combating it, in addition to promoting values and principles for building stable families and a society based on justice and balance.
She stressed the keenness of the program to "open the issue of empowerment of women through rehabilitation programs." She highlighted the results of recent studies on violence against women and the program to support and develop women to raise their psychological, social and economic levels.
Minister Ghafis also discussed the decision of the Council of Ministers to establish the Family Affairs Council, which comprises representatives from 10 ministries, family members, and experts on women, children and the elderly.
The meeting concluded with recommendations that highlight successful leadership models in various fields; aim to find a mechanism to follow up and monitor the enforcement of legislation on women's rights in various sectors; hold offenders accountable; take care of women's empowerment programs as a means to prevent domestic violence; and rehabilitate women suffering violence.
http://www.arabnews.com/node/1200901/saudi-arabia
--------
Call for Ensuring Provision of Emergency Services in Women-Only Facilities in KSA
29 November 2017
RIYADH: During the debates of the Shoura Council on Tuesday, the Health Committee of the Saudi Red Crescent Authority (SRCA) requested coordination with relevant authorities in order to adopt an effective mechanism to enter women-only facilities in emergency cases to provide urgent services in time.
The council also demanded the Ministry of Foreign Affairs (MOFA) draft a manifesto for the Kingdom's foreign policy in regional and global environments, pinpointing priorities as regard countries and issues. The suggested manifesto would play a guiding role for diplomats.
The council also demanded the MOFA to support the missions of the Kingdom in New York, Geneva, Brussels and Vienna with highly qualified staff in the fields of international relations, international law and media. Moreover, the council asked the Foreign Ministry to update the list of diplomatic occupations, including the duties and responsibilities as appropriate for the diplomatic service.
The council also demanded the ministry to develop its website and enrich it with important information about the Kingdom in English, French and Spanish. Furthermore, the Shoura Council asked the Foreign Ministry to coordinate with the Ministry of Civil Service to come up with proposals to offer bonuses to diplomatic and administrative staff to motivate them to work in Africa and Asia.
A female member of the council called for the employment of women who are specialized in Shariah law so that they could give lessons to female visitors to the Two Holy Mosques.
The council listened to a recommendation presented by the Committee on Transport, Communications and Information Technology, which urged the Saudi Ports Authority to expand electronic applications and technologies in its future projects, and to link with the concerned government agencies and private sector companies, which are benefiting from port services.
Commenting on the committee's recommendations, one member asked the ports authority to provide reasons for the rise of its spending and fall in revenues compared to figures of the previous year.
The Committee on Culture, Information, Tourism and Antiquities, among other recommendations, asked the Saudi Commission for Tourism and National Heritage (SCTH) to prepare a detailed operational plan of its programs and initiatives in collaboration with the ministries, government agencies and private sector in line with tourism objectives and goals set by the Vision 2030.
http://www.arabnews.com/node/1200766/saudi-arabia
--------
Babson Global Centre Appoints Saudi Woman as Managing Director
November 29, 2017
KING ABDULLAH ECONOMIC CITY — The Babson Global Center for Entrepreneurial Leadership (BGCEL) at Prince Muhammad Bin Salman College of Business and Entrepreneurship (MBSC), located in King Abdullah Economic City (KAEC), has appointed Amal Dokhan as Managing Director responsible for the strategic direction, tactical execution and operational oversight of the Center.
Dokhan was selected by Babson Global after a worldwide search for the most qualified expert for the role, among candidates from Europe, the United States and Australia.
"We are extremely pleased that we have found not only the best qualified candidate, but also one who will bring considerable local knowledge and experience to this role to achieve the nation's goals," said Dr. Shahid Ansari, CEO of Babson Global.
Dokhan has played a leading role at King Abdullah University of Science and Technology (KAUST) in establishing various startup accelerators, corporate innovation programs, and advanced level courses at the Entrepreneurship Center. Dokhan noted, "I can't wait to bring my previous experience to realize BGCEL's ambition to become a global center of excellence in entrepreneurial leadership. I will dedicate all my experience and expertise to make that happen." — SG
http://saudigazette.com.sa/article/522998/SAUDI-ARABIA/Babson-Global-Center-appoints-Saudi-woman-as-managing-director
--------
Iran: Woman MP admits violence against women is pervasive
28 November 2017
"Currently domestic violence against women is pervasive in the society but few people pay attention to it," said Parvaneh Salahshouri, head of the women's faction in the Iranian parliament on the occasion of the International Day for the Elimination of Violence against Women.
"Domestic violence is not clearly seen in society because unfortunately a woman who is subjected to such violence, rarely speaks out about it. This is why many women suffer from it," she added.
The regime's official went on without providing any statistics, "Clearly, we see many forms of violence against women in society. Sometimes, we see them but pay no attention but sometimes we are not even able to realize them which is much more agonizing." "The failure to deploy women's force in the positions that they do deserve is itself a kind of violence against women," she pointed out.
Shedding light on the injustice institutionalized in the regime's penal code against women, she admitted, "If a woman makes a little mistake, it would cause great problems for her, subjecting her to violence. However, when a man makes a huge mistake there is no violence against them."
She also acknowledged that the VAW bill widely advertised by the regime had not yet found its way to the mullahs' parliament. (The state-run IRNA news agency – November 25, 2017)
http://www.women.ncr-iran.org/iran-women-news/4542-iran-woman-mp-admits-violence-against-women-is-pervasive
--------
Iran: Women and men trained as nurse stage protest in Tehran
28 November 2017
A large number of women and men trained as nurses gathered in front of the Health Ministry in Tehran despite freezing cold, to protest against the ministry's fraud on November 25, 2017.
After receiving 4 million toumans ($1,227) from each, the ministry had promised to officially employ these people when they complete their year-long training. However, they are working in the hospitals for two years as nurse assistants with no sign of official recruitment.
http://www.women.ncr-iran.org/iran-women-news/4540-iran-women-and-men-trained-as-nurse-stage-protest-in-tehran
--------
URL: https://www.newageislam.com/islam-women-feminism/indonesia-neqab-squad-takes-aim/d/113393
New Age Islam, Islam Online, Islamic Website, African Muslim News, Arab World News, South Asia News, Indian Muslim News, World Muslim News, Women in Islam, Islamic Feminism, Arab Women, Women In Arab, Islamophobia in America, Muslim Women in West, Islam Women and Feminism