New Age Islam News Bureau
6 Jul 2019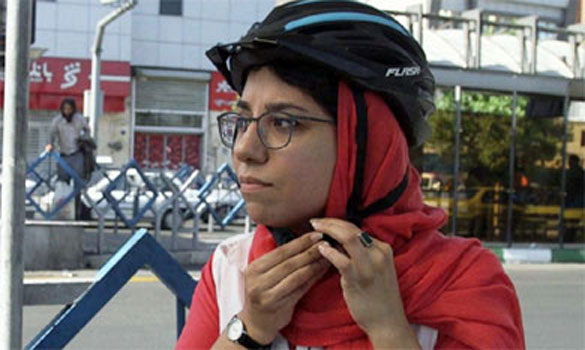 Agita Mohammadzadeh, 30, rides a bike from the first private bikeshare company to rent bicycles to both men and women in Tehran, Iran.
----
• Niqab Banned In Tunisian Government Offices
• Bright Orange Bikes Help Women Break Barriers in Iran
• Nigerian School Makes Muslim Girls Remove Headscarves
• In Tunisia, More Women in Office Can Make All the Difference
• Why This Photo of a Politician with Malala Is Being Criticised
• International Bikini Day 2019: How Burkini Continues To Spark Gender Debates across World
• Pakistan Hindu Girl Taken To 'Madrasa', Family Kept Off
• With Her Daughter, Two, Despite Calling for a Caliphate – And Insists: 'I Never Killed Anyone'
• Madison Woman Vies For Miss Muslimah USA Crown
• Religious Women In Mideast Try To Be The Heat, Modestly
• Yazidi Women Training In Israel To Help Their Community Cope With The Trauma Of ISIS
• Princess Haya Could Flee What Many UAE Women Cannot
• Idea of 'Women's Universities' in Turkey Receives Full Support from Scholars
Compiled by New Age Islam News Bureau
URL: https://www.newageislam.com/islam-women-feminism/indonesia-recording-her-bosss-lewd/d/119103
--------
Indonesia: For Recording Her Boss's Lewd Call, She, Not He, Will Go To Jail
By Richard C. Paddock and Muktita Suhartono
July 5, 2019
BANGKOK — A school bookkeeper in Indonesia who recorded her boss's lewd phone call as proof she was being harassed must serve at least six months in prison for distributing obscene material, the country's Supreme Court has ruled.
Nuril Maknun, 41, who worked as a part-time bookkeeper at a high school on the religiously conservative island of Lombok, said on Friday that she was disappointed by the court's ruling, which she called an "obvious injustice." It was her final appeal in a case that has been closely followed across the country, and which became an issue during the recent presidential election.
"I, as a woman, should be protected, but then I was the one who became the victim," she said in a telephone interview. "People should know that when we get harassed, there is no place to take refuge."
Her boss, who goes by the single name Muslim, as is common in Indonesia, was the principal at Senior High School Seven in Mataram, Lombok's largest city. Ms. Nuril recorded him using explicit language and hounding her to have an affair. He was never punished for harassing her and instead has been promoted repeatedly.
The case has highlighted the common problem of workplace harassment in Indonesia. President Joko Widodo said in the run-up to his re-election that he would consider granting clemency to Ms. Nuril once her legal appeals had been exhausted.
On Friday afternoon, the president told reporters in Manado, a city on Sulawesi island, that he would not comment on the Supreme Court ruling, but that Ms. Nuril should apply for amnesty as soon as possible so that his office could assume legal authority over her case.
"Since the beginning, my attention to this case has never diminished," he said. "If it gets to me, then it will be under my authority, and I will use the authority I have."
Women in Indonesia, a predominantly Muslim country, have little legal recourse and are expected to tolerate harassment and sometimes sexual relations if they want to keep their jobs, women's rights advocates said.
Ms. Nuril was acquitted at trial but prosecutors appealed the verdict.
A three-judge panel found her guilty last year and imposed a sentence of 6 months and a fine of about $35,000, a huge amount for her family. If she does not pay the fine, she must serve an additional three months.
In the ruling released on Thursday by a different three-judge panel, the court denied her request for a review of the case.
The problems for Ms. Nuril, a mother of three, began in 2013 when Mr. Muslim took over as principal of the high school where she worked.
He made vulgar remarks and a rumor spread that they had been carrying on an affair.
Determined to disprove the rumor, she recorded one of his calls and played it for her husband and a teacher.
After learning of the recording's existence, Mr. Muslim filed a police complaint against Ms. Nuril for criminal defamation.
During the police investigation, she was arrested and jailed for a month.
Eventually, prosecutors rejected the defamation complaint but charged her with distributing obscene material.
At trial, she denied distributing the recording and testified that a colleague, Imam Mudawin, downloaded it from her phone while she was in another room.
But the Supreme Court sided with prosecutors, who contended that she gave Mr. Imam the indecent recording for distribution.
Her attorney, Joko Jumadi, said she would apply for amnesty next week, but that she would not seek a presidential pardon because she was not guilty of any crime. A grant of amnesty would expunge her criminal record.
"We stand firm that Baiq Nuril is not guilty," he said, using a local honorific. "Even though she has to go to prison for this fight, she is ready."
An online fund-raising campaign had raised more than $26,000 by midday on Friday to help pay her fine.
Ms. Nuril said she was proud to fight for her "dignity as a woman" but questioned why she was being sent to jail when it was Mr. Muslim who made the obscene comments.
"Clearly the person has admitted that it was his voice, admitted that he was the one who called me, admitted that he was the one who said things that were inappropriate," she said.
"Why can he just casually walk around," she asked, "while I, as the victim, am the one being punished?"
https://www.nytimes.com/2019/07/05/world/asia/indonesia-harassment-case.html
--------
Niqab Banned In Tunisian Government Offices
5 July 2019
Prime Minister Youssef Chahed decided on Friday to ban the niqab for women in Tunisian government offices "for security reasons," his office said.
It said Chahed signed a government circular "banning access to public administrations and institutions to anyone with their face covered... for security reasons."
The ban on the niqab, which covers the entire face apart from the eyes, comes at a time of heightened security following a June 27 double suicide bombing in Tunis that left two dead and seven wounded.
The interior minister instructed police in February 2014 to step up supervision of the wearing of the niqab as part of anti-terrorism measures, to prevent its use as disguise or to escape justice.
The niqab and other outward shows of Islamic devotion were not tolerated under the regime of longtime autocrat Zine El Abidine Ben Ali but have made a comeback since he was toppled in Tunisia's 2011 revolution.
https://english.alarabiya.net/en/News/north-africa/2019/07/05/Niqab-banned-in-Tunisian-government-offices-.html
--------
Bright Orange Bikes Help Women Break Barriers in Iran
Jul 5, 2019
Sara Alirezaei was riding a bright orange bike along one of Tehran's main, tree-lined boulevards when a male flower seller noticed her labored breathing and offered a word of encouragement: "Don't be scared. Biking is easy," he called out.
The image of a woman on a bicycle along a busy road in Iran's capital could become far more common with the launch of Bdood, the first private bike-share company that rents its signature clunky, orange bikes to both men and women. An earlier bike-share initiative was run by the city government and was available only to men.
Alirezaei, a 27-year-old Iranian who develops game apps for phones, enjoyed cycling as a girl, she said. But after she turned nine -- the coming of age for Muslim girls in Iran -- she dropped the hobby. Now that she has taken it up again, she explained that she was woefully out of practice.
"I was stressed and excited" to take a Bdood bike for a ride, she said. "The last time I had ridden was about 17 years ago."
Since Iran's 1979 Islamic revolution, the country has lived under Islamic guidelines that, among other things, govern what women wear and how they behave in public. Women were barred from many activities outside the home, including events at stadiums and singing.
But as reform-minded women and politicians have looked for ways to push back against the government restrictive guidelines, change has come, even if very gradually. The long black veil that nearly every woman wore in the early years after the revolution has slowly given way to colorful blouses, worn long and loose over long pants or long skirts.
Similarly, the shifting view on bikes -- and Bdood's inclusion of women -- has come quietly. Its proponents note that the victory could be fleeting.
"To make changes, sometimes we campaign to let the policymakers hear us or to increase awareness. But sometimes, we just keep doing what we want without shouting it out, and it slowly leave conservatives no way but to accept us," said Niloofar Hamedi, 26, an Iranian journalist who covers women's issues and women's athletics.
Until recently, cycling on Tehran's bumpy streets was reserved almost exclusively for men. In 2016, Iran's Supreme Leader Ayatollah Ali Khameni issued an official position on the subject. "Women biking in public areas and where they might be seen by unrelated men is 'haram' (religiously forbidden)," he ruled, according to his official government website.
But others, notably the current mayor of Tehran, have encouraged the idea as a way to help reduce the city's chronic congestion.
Bike shares have exploded in popularity in recent years in cities around the world, which advocates say can help reduce the number of vehicles on the road and encourage exercise and reduce stress.
"The idea of women biking is as much a gender issue as it is an environmental one," Hamedi said.
Bdood, which is a private company, rents bikes for about 10 cents per half an hour, which women say is considered affordable. The company's presence has encouraged biking more broadly.
"I used to bike with my husband outside of Tehran, but, recently, seeing women riding the orange Bdood bikes, I am thinking of riding by myself in the city," said Saba Javid, 28, a marketing content developer.
She said she mostly rides on the weekends for fun. "It helps me feel safer when there are more women riding bikes on the street," she added.
There are also challenges.
Mahsa Hosein, who is 27 and works as a journalist, wears headphones in one ear when she rides, in order to block out the comments that male drivers and passerby shout out at her.
"They would mock me, or discourage me with loud laughter," she said.
She can't block the heckling out altogether though because, she said, she needs to be aware to safely navigate Tehran's streets.
It's not clear that the rest of Iran is ready to follow Tehran's lead.
In May, the local prosecutor in the historical city of Isfahan banned women from biking because the activity had led to "harassment." The prosecutor ordered police to issue warnings to women bikers and seize their ID cards. He told the Islamic Republic News Agency that if women are found to be biking after receiving a warning, then "they must be confronted based on the Islamic regulations."
Women in Isfahan responded by posting photos of themselves riding bikes on social media.
https://abcnews.go.com/International/bright-orange-bikes-women-break-barriers-iran/story?id=63547745
--------
Nigerian School Makes Muslim Girls Remove Headscarves
Abu 'Adnan
06.07.2019
Nigeria's headscarf crisis festered Friday after footage emerged online of school guards and teachers ordering Muslim girls to remove their headscarves before entering a school compound in the southwestern town of Ibadan.
The video sparked outrage on social media as Nigerians took sides mostly along religious lines over a topic that has become the subject of a long-drawn legal war.
The 45-second clip was filmed at The International School, Ibadan.
"Let them go to hell!" a teacher was heard shouting at one student's mother, who said the school's action was a recipe for a national crisis.
"You people are just looking for a problem," she jeered as her daughter was directed to pull off her hijab.
The teachers, however, said the children were free to wear the headscarves outside the school premises.
-Outrage
Gimba Kakanda, a public affairs analyst, said the action taken by the school amounted to "targeted discrimination".
"This video of students of The International School, Ibadan being forced to take off their hijabs before entering the school premises is dangerous in a world fighting to accommodate harmless differences. Banning headscarves is a targeted discrimination," he tweeted.
"From New York to London, the world is making laws to accommodate diversity and recognize faith-based differences, [while] some local 'international' school in Ibadan is making a law to ban the hijab…We keep creating problems where there is none."
Saint Hebrymore, another commentator, disagreed with Kakanda.
"School is not mosque or church. Dress with your school uniform and go to school. When you go out from school, you can continue with your faith."
In a landmark judgment in 2016, Nigeria's Appeal Court ruled that the hijab qualifies as a constitutional right and should be allowed in school or anywhere, striking down the ruling of a lower court that had upheld its ban in southwestern Lagos state. The government has since appealed the ruling.
The hijab crisis at the Ibadan school has also become the subject of litigation.
https://www.aa.com.tr/en/africa/nigerian-school-makes-muslim-girls-remove-headscarves/1524534
--------
Why This Photo of a Politician with Malala Is Being Criticised
July 6, 2019
A Quebec education minister is being criticised for posting a photo with education campaigner Malala Yousafzai.
The Nobel Peace Prize winner, who wears a headscarf, would not be able to teach in the Canadian province.
Quebec recently passed a controversial law barring some civil servants, including teachers, from wearing religious symbols at work.
Jean-François Roberge said he discussed access to education and international development with Ms Yousafzai.
She was shot in the head by Taliban militants in 2012 for daring to go to school and has since been recognised internationally for her work campaigning for girls' education.
In June, Quebec passed secularism legislation that prevents civil servants in positions of "authority" from wearing symbols like such as the kippah, turban or hijab while at work.
The Coalition Avenir Quebec's (CAQ) bill covers judges, police officers, teachers and some other public figures.
The secularism bill sparked protests and much debate in the province.
Supporters say the law is a reasonable step towards enshrining the separation of Church and state in Quebec.
While the legislation does not single out any specific religion, critics argue it is discriminatory and say it unfairly targets Muslim women in the province who wear hijabs or other head-coverings.
Some online commentators called the minister a hypocrite for posing with Ms Yousafzai.
Mr Roberge, who met Ms Yousafzai while he was in France, defended the law when asked on Twitter by journalist Salim Nadim Valji how he would respond if Ms Yousafzai wanted to teach in Quebec.
"I would certainly tell her that it would be an immense honour and that in Quebec, as is the case in France (where we are now) and in other open and tolerant countries, teachers cannot wear religious symbols in performing their duties," he said.
https://www.bbc.com/news/world-us-canada-48794502
--------
International Bikini Day 2019: How Burkini Continues To Spark Gender Debates across World
July 5, 2019
The debate over Burkini or full-body swimwear was re-ignited in France last week with a group of Muslim women entering a public pool in Grenoble wearing the garment in defiance of a municipal ban. The pool mandates women to wear bikinis or one-piece, while Burkinis cover a woman's arms and legs revealing only their face, hands, and feet. The women, who called themselves 'Muslim Rosa Parks' after the American civil rights activist, were eventually thrown out and fined; the pool was closed for two days even as temperatures in the city soared to a record high.
This International Bikini Day, which is celebrated on July 5, let's take a look at the Burkini's origin, its rise and how it remains at the centre of heated debates, especially in France where all forms of the veil have always triggered tensions.
Designed for comfort but raises eyebrows
Originally designed in 2004 by Aheda Zanetti, a Lebanese-born Australian fashion designer, a Burkini is a play on two words — burqa, which is a body and head covering garment worn by Islamic women in public, and bikini. It was essentially designed so that Muslim women, who choose to wear a head cover like the hijab, could participate in water activities and other sports.
Neither looking like a burqa nor a bikini, the swimwear rather resembles wetsuits with a hood attached. Burkini was popularly in headlines when, a few years ago, English TV personality and food and gourmet writer Nigella Lawson wore the "modesty-covering" Burkini on Australia's Bondi beach to protect her skin from the sun, according to a report by The Telegraph.
The designer reportedly said, "I hope that they understand that it's not something that symbolises anything – that anyone can wear it, that it's not harming anything in any way. The Burkini was designed for freedom, flexibility and confidence. It was designed to integrate into Australian society," she said, adding, "I don't understand why a piece of fabric is taking over all of these really important issues?"
Zanetti had reportedly designed Burkini to cheer her niece, who was playing netball wearing something totally inappropriate for a sports uniform — a skivvy, tracksuit pants, and her hijab. She then decided to launch a sportswear for Muslim women so they don't feel restricted.
Zanetti had also told a news agency that they have sold Burkinis to not just only Muslim women but also to Jews, Hindus, Christians, and those women with body issues. Zanetti's designs, however, aren't the only option — many brands based around the world now make Burkinis.
In March 2016, popular British retailer Marks and Spencer began selling Burkinis to appeal to women across countries and the swimsuits started flying off the shelves and came into the mainstream. More and more Muslim women took a shine to the garment — which, they said, was covering yet liberating simultaneously.
Rio Olympics 2016
Athletes at the Rio Olympics 2016 wore the Burkini while participating in events. Doaa Elghobashy from Egypt who played beach volleyball in a Burkini made headlines for her attire than for her aptitude at the game. Kariman Abuljadayel, first Saudi Arabian woman to compete in the 100m event, also wore a similar attire.
Burkini and Europe
In 2016, a number of cities in France debated banning the Burkini, arguing that the body-covering swimwear wasn't in line with France's secular views. France's highest court ultimately ruled in 2016 that a Burkini ban was unconstitutional.
Geneva banned Burkinis in 2017. But owing to the defenders of the garment in Europe, a school in Germany purchased Burkinis for students to wear in swim class in 2018. Some lawmakers protested, but a minister supported the school's decision.
Somali American model Halima Aden's Burkini photoshoot
Halima Aden, a Somali American and Muslim model, became the first woman to pose in a Burkini for American magazine Sports Illustrated's swimsuit issue earlier this year. The magazine received mixed reactions with several people expressing dismay while others appreciated her move.
Halima made headlines at age 19 when she was the first woman to wear a hijab in the Miss Minnesota USA Pageant, where she made it to the semi-finals in 2016.
Whether it is the Burkini, bathing suit, beachwear or bikini, each of them have had their own history and continue to spark debate from time to time.
Here is a quick lowdown on other types of swimwear.
Bandeau Top
Usually a strapless top, bandeau bikini tops usually comprise of a portion of fabric that covers the bust area. They may sometimes include straps to help offer extra stability and support.
The triangle top is a classic, timeless bikini top that has always been in vogue. The triangles slide along the bottom string so that one can adjust the coverage as needed.
One-Shoulder Top
An asymmetrical bikini, the one-shoulder top has a strap going over only one shoulder.
Tie-Front Bikini Top
Instead of tying your bikini behind your neck and at your back, you can tie these in the front!
Sport Top
A two-piece top that looks just like a sports bra works well for swimming laps or generally being active in water.
High-Neck Bikini
High-neck suits fit closely to the neck and don't plunge.
Longline Bikini Top
This cut of suit has a crop top like feel, hitting a little lower on the rib cage than most other bikinis.
One-Piece
Basically, a suit that covers your top and bottom in just one piece.
Monokini
Monokinis are a hybrid of one- and two-piece swimsuits.
Sport suit
Perfect for water activities, this suit helps because of its ability to stay in place and be aerodynamic.
Cheeky-Cut Bottoms
This bikini bottom style is perfect if you want to make your legs seem longer and show off a bit of skin.
Side-Tie Bikini Bottoms
This bikini bottom has straps on the side, making it easy to adjust. This is the perfect bikini bottom style when you want to tan as it will give you less tanlines.
Boyshort Bottoms
Resembling shorts, they are great for sport activities like playing beach volleyball.
https://indianexpress.com/article/lifestyle/fashion/international-bikini-day-why-Burkini-continues-to-spark-debates-in-the-world-of-swimwear-fashion-5815568/
--------
Pakistan Hindu Girl Taken To 'Madrasa', Family Kept Off
Jul 6, 2019
Amritsar: Protests have erupted in Sindh province of Pakistan following the alleged abduction of an 18-year-old Hindu girl by her Muslim teacher.
The family members of the girl, Payal, claim that they were not being allowed to meet her, but she was produced by her teacher Kamran Somoor in a 'madrasa' to record her statement. Meanwhile, the Pakistan Muslim League (N) member national assembly (MNA) Khealdas Kohistani has sought protection of minority communities from Imarn Khan-led Pakistan Tehreek-e-Insaf (PTI) government. Kohistani is MNA from Jamshoro in Sindh.
On July 3, Payal was abducted when she had gone to her class. The incident happened almost three-and-half months after two Pakistani Hindu girls Reena and Raveena were allegedly kidnapped and converted to Islam in Ghotki district of Sindh.
The abduction of the two girls in March this year had led former external affairs minister Sushma Swaraj to seek a report on the incident from Indian High Commission in Islamabad. This had triggered a Twitter war between Sushma and Pakistan's then federal minister for information and broadcasting, Chaudhary Fawad Hussain.
"There have been forcible conversions of as many as 30 Hindu girls since March," said Kohistani while talking to TOI over phone from Thatta on Friday.
TOI also traced Rakesh, the girl's brother, who runs a pesticide shop in Thatta. "We are told that she and her abductor appeared in a madrasa where she gave some statement," said Rakesh."
Kamran used to give tuitions to the girl at her home when she was in Class IX. At present, he's her class teacher in a college, added Rakesh.
When asked whether there was a possibility that the girl went willingly with Kamran, Rakesh said, "Had that been the case, she would have not left her gold ornaments and her savings, she would have carried her dresses and they would have produced themselves in the court on the very same day. But she left home wearing ordinary clothes and chappals."
https://timesofindia.indiatimes.com/city/amritsar/pakistan-hindu-girl-taken-to-madrasa-family-kept-off/articleshow/70098929.cms
--------
Female Irish soldier who joined ISIS in Syria says she should be allowed to return home With Her Daughter, Two, Despite Calling for a Caliphate – And Insists: 'I Never Killed Anyone'
5 July 2019
A former Irish soldier, who joined ISIS after becoming radicalised in Syria, has denied fighting for the militant group but says she wants to see a caliphate.
Lisa Smith, 37, who moved to Syria after her divorce, also denied training young girls to fight for the terrorist group and says she's 'never killed anyone'.
Irish Prime Minster Leo Varadkar has previously said he would allow the mother, and her two-year-old daughter back to the country, but she must be ruled out a security risk first.
Speaking to BBC Radio 4, from the refugee camp in Syria where she lives, Lisa said: 'I want myself an actual caliphate, as in a Muslim country. Not like a group, or a brutality group'.
She said that she was never asked to fight, and even if she had wanted to, she wouldn't have been allowed as she had her daughter.
The County Louth native added that she accepts that there was 'a lot of brutality within the Islamic State' but refused to answer when asked if she'd thought IS soldiers should face punishment because she 'doesn't know who's telling the truth and who's lying'.
She added she doesn't have any plans to hurt everyone and just wants to bring her daughter to Ireland so she can get an education.
In March, Taoiseach Leo Varadkar said it would be the 'right thing to do' to allow her to return to Ireland. She will need to be deemed 'not a risk to security' before returning.
She told the BBC that the FBI had been to visit her twice and have taken her finger prints and DNA.
Speaking to the Irish Daily Mail in April, Lisa said: 'I want to go back to my country.'
'I wasn't a mother when I left. I came as a single person and I thought if I died here, I died, but when I had a child I became different, you know,' she said.
'You have to take your child and look after your child, you know. She's my No.1 priority now; that's why I want to leave and take her home with me and get her educated. People here are not educated.'
She strongly denied that she had fought with Isis, claiming she never even owned a gun despite her husband offering to buy her one for self-defence.
'I think anyone that knows me, you know, in the Army or outside the Army or anywhere in my life, will know that they know me, that I wouldn't pick up the weapon and fight and stuff like that,' she said.
'I didn't do it. I didn't own a rifle. I didn't teach them anything.
'There was actually women teach[ing] their husbands like how to have classes, you know, of how to use the gun, how to do this, how to do that.
'I went to one class just to see how the woman was teaching, you know. Just to see what the woman was teaching, and she reminded me of what I used to know because I forgot everything, you know. But I didn't fight...
'My husband many times said to me, "You want me to buy you one?" I said no. He said "It's just for self-defence"... I said: "I don't want, I don't want."
'I don't want to cause problems for anyone. I don't want to mix.
'I'm still me. I'm still like a good neighbour. I'm still a good friend. I'm just still me. I'm not, like, out to kill anyone. I don't believe in suicide attacks.'
Asked whether she would travel again to such a state, she insisted that she wouldn't as it was her 'biggest mistake'.
Friends described Lisa as 'a party girl who enjoyed a good time' before she went through a bad breakup, converted to Islam and became radicalised.
By 2013 she had converted to Islam in Dundalk where she apparently began attending the local mosque and bringing much younger relatives along for the worship.
Her Facebook page is also said to have undergone a transformation, from 'cute animal' photos to pictures of her wearing a veil and posts appearing to praise jihadists.
Speaking to Extra.ie, friend Carol Duffy said she had tried to keep Smith from turning to radicalism.
The Muslim community in Ireland had 'strongly rejected' her extremism, she said, adding that she would have reported her if she had known the extent of her radicalisation.
Another friend told The Sun: 'She was a party girl in the sense that she enjoyed going out, drinking and having a good time.
'She was really sound, a really nice girl and someone who was always there for her friends.
'She started suffering from depression after a bad break-up and she was introduced to Islam by a close associate. She really got into it and became really radicalised.'
Later she reportedly described Western culture as 'dirty' saying that her friends had been 'brainwashed' into standing by it.
Lisa is believed to have left Ireland in 2013 or 2014, apparently travelling to Bizerte in Tunisia where she met her husband.
By 2016 photos from Syria had appeared on her Facebook page and rumours that she had travelled there via Turkey had reached her friends in Dundalk.
But now Smith has lost her husband and is living in the al-Hol refugee camp in Syria with her two-year-old daughter.
She fled the terror group's last holdout in Baghouz and is one of hundreds of women and children at the camp.
Speaking to CNN, she said not everyone at al-Hol was a 'terrorist' and said prison in Ireland would be no worse than her life in Syria - as the Irish government confirmed it was trying to bring her home.
She said: 'I think that people should just realise that all the people here are not terrorists. I want to go home.
'I know they'd strip me of my passport stuff, and I wouldn't travel and I'd be watched, but prisons? I don't know. I'm already in prison.'
https://www.dailymail.co.uk/news/article-7216231/Isis-bride-Lisa-Smith-denies-fighting-group-says-wants-caliphate.html
--------
Madison Woman Vies For Miss Muslimah USA Crown
by RT Both
Jul 5, 2019
On July 18, Madison's Rahma Mohamed will be one of fifteen contestants vying for the title Miss Muslimah USA when the third annual pageant is held at Dearborn, Michigan's Ford Community and Performing Arts Center.
The 17-year-old UW-Madison freshman is already a remarkable woman, and her ambitious goals are supported by other remarkable women, like Fartun Osman, her mother, and Maghrib Shahid, CEO of the Miss Muslimah pageant.
Rahma decided to participate in the pageant for young Muslim women because it "is the first of its kind" and will "bring positive change to the image of Muslim women in America and provide a platform that gives Muslim women the opportunity to change misconceptions about them," she says.
Rahma has always been that kind of role model. "I get a lot of my values from my religion, how I should be helping others and giving charity or even advocating for others."
Part of her advocacy is her involvement with the gun control movement. She is part of the organization Save our Students and gave a speech to a crowd of about 6,000 on the Madison campus as part of last winter's March for Our Lives.
At the rally, Rahma spoke about how her mother brought her young family to the United States to escape the violence at home in Somalia. "She brought her children here to give them a better, safer life. But even in the U.S., people still face gun violence like that in Somalia."
At the Miss Muslimah pageant, Rahma will give a five-minute speech about how "Muslim women are phenomenal and very capable of doing anything they put their minds to, just like any other woman." She firmly believes that "the hijab is not a barrier but rather a motivator to succeed while representing who I am fully."
To prove her point, Rahma plans to start a non-profit organization to educate women in Somalia and help them start businesses and careers.
But rather than making this one of her future, post-graduation dreams, Rahma is already taking steps. "I took a semester off," she says, and "went to Somalia . . . to survey their needs." Rahma plans to open her non-profit in the summer of 2020. "We're going to start a project in a region away from the capital – a training school for women in Galmudug," an autonomous region in Somalia.
To become a remarkable young woman like Rahma takes support and the right kind of nurturing. Fartun Osman, Rahma's mother, initially emigrated to the United States to study, first at San Diego Community College and then San Diego State. She majored in international business and conflict resolution and worked for a time training welfare case managers in how to minimize conflict.
She says she had "never been to a snow place" before moving to Green Bay when her oldest child, her daughter Buruj, was accepted into college there at the age of 15½.
Fartun's children have a way of being academically accelerated. Rahma's acceptance into UW at age 16 prompted the family's move to Madison. Buruj is currently teaching and studying in Spain.
"I believe that if you have education, you can contribute a lot to your community – and that's what we have done, my daughters and I," says Fartun, who also has a son, Nasrudin, 13.
"I actually sacrifice for [my children]. I think about their education and well-being," Fartun says. She moved to the U.S. to study while pregnant with Rahma, nine-month-old Buruj in tow. Being a single mother completely on her own (her own mother remains in Somalia; her seven siblings live in Europe) was not easy, but she was sustained by her faith, by being "a religion person, connected with our defined creator."
Rahma, she says, is a "gift from God." Her name means "mercy" in Arabic. "She's very sweet and kind. She's very intelligent – more than me and my other kids," Fartun says with a smile. "Everything she does is complete and amazingly perfect."
A remarkable young woman also needs a showcase for her talents and accomplishments. That is why another important woman in Rahma's life is Maghrib Shahid, the Miss Muslimah Pageant CEO and founder. "Rahma Mohamed has been amazing," Maghrib says. "She's very professional. If we ask for an assignment, she turns it in before the deadline. She's very compassionate. She has a strong passion" for her mission of starting an organization to help Somali women to become educated and achieve.
Maghrib is the founder of the Chimiwear line of modest women's clothing. She started Chimiwear in 2013 because of the lack of plus-sized, modest fashions, "or modest fashion, period," she says. All the clothes were custom made. "I had so many orders I was doing, like, 60 garments a week," mostly special occasion dresses, Maghrib says.
And then in 2016 came the Trump presidency, and everything seemed to change.
"As a Muslim woman and a hijabi, I was being harassed," Maghrib says. At her local Kroger's supermarket, "this Caucasian lady cut right in front of me" in the checkout line and said, '"I'm tired of seeing people like you in this type of dress.'"
And Maghrib knew she was not alone in experiencing a change in attitude toward Muslims. In Dearborn, which has the largest Muslim population in the United States, "women were getting their hijabs pulled off in grocery stories. So it was coming very hard." Maghrib decided to create the Miss Muslimah USA pageant as a platform for Muslim women, that says, "We have your back. We are here for you," that both "celebrates Muslim women" and "changes misconceptions about them."
The pageant's slogan, Maghrib says, is "modesty and inner beauty." It's about "your character, your personality, how you carry yourself." Contestants compete in five categories: best abaya; Burkini; special-occasion modest dress; a talent portion to consist of Koran recitation or singing, a women's empowerment poem or cultural dance; and finally, a speech. There will also be a Q&A on how each contestant would use her title if she were named Miss Muslimah.
This year, the pageant will include entertainment from two celebrity guests, Karter Zaher from Deen Squad and Zak Baalbaki. "This is allowing us to sell more tickets, faster," Maghrib says. Sponsors are still being sought for stage sets and decorations.
The Ford Community and Performing Arts Center holds table seating for 1,200. General admission for the pageant is $40, including dinner, desert, and beverages. Attendees in the past have been mostly women with a handful of brothers and fathers. And, Maghrib says, there are three "amazing judges – all women. They're not celebrities," but "very professional women in their field."
Though the pageant's emphasis is on modesty and inner beauty, Rahma Mohamed is clearly a beautiful young woman. When I met her at the Islamic Resource Center in Milwaukee, she was wearing an outfit she had made, including a long, green, belted skirt that made her look both modest and business-like. But what struck me about Rahma Mohamed, especially in contrast to her extroverted, light-hearted mother, is her seriousness. Rahma creates the impression that what she sets her mind to, she will achieve.
https://wisconsinmuslimjournal.org/madison-woman-vies-for-miss-muslimah-usa-crown/
--------
Religious Women In Mideast Try To Be The Heat, Modestly
07.06.19
Summer is often synonymous with less clothing to cope with the summer heat. For religious women who dress according to modesty precepts, this is not an option.
The warmer months pose the hurdle of staying cool while covering up – even more so in hotter regions such as the Middle East and North Africa (MENA).
For Orthodox Jewish women, tzniut, or modesty, involves wearing shirts that cover the collar bone and have three-quarter sleeves past the elbows. Their dresses or skirts have to be at least knee-length. In addition, married women cover their hair, either with a scarf or a wig called a sheitel.
Religious Muslim women also wear a head scarf, commonly called the hijab, but which has different names throughout the MENA region depending on the style and country.
They generally wear clothes that cover their entire body except the hands and face. Some observant Muslim women also wear a full-length robe over their clothes, sometimes called a jilbab. In other countries, a full-body robe called a chador (Iran) or burqa (Afghanistan) also covers the face.
Bracha Ben-Haim, an Israeli clothing designer for Orthodox women, says: "It can be so hot in summer and our clothing cannot be open…. I like the challenge."
For Ben-Haim, the type of material is key.
"I think about the fabric a lot and how to be more comfortable in the summer," she says. "I use a lot of cotton because the fabric doesn't absorb the sun."
In addition to cotton – the material of choice for most women in the area – Ben-Haim uses certain types of Lycra.
In mostly Arab East Jerusalem, Amina, who runs an embroidery store and declined to give her last name, said other popular alternatives include polyester and linen.
Amina believes the world has the wrong impression of Muslim women because of how they dress.
"They think that Muslim women don't have freedom, that they don't represent themselves. They believe her husband is forcing her to do things, like wearing a hijab. (But) I can go everywhere," Amina says.
For the owner of the nearby New Style Store, who declined to give her name at all, summer fashion is preferred over winter fashion.
"In the summer, everything is better. The clothes are lighter, more colorful," she says.
Like many other shops in the area, her store imports clothing from Turkey due to its proximity and the quality of the clothing available there.
"It's the closest hub for Arab clothing and the fabric is much better than in China," she says.
While religious women wear specific clothing that is appropriate for the summer weather, being modest can still be uncomfortable.
"I wear flowy clothes like bell skirts," says Li-or Cohen, a Jerusalem resident. "Sometimes it's hot, but air conditioning helps."
Riham Rajabi and Sudqia Nassaw, employees at the Banateen Boutique in East Jerusalem, say they are used to the heat, adding that one way they cool off is by taking cold showers.
But according to co-worker Riham Ayyabi, there is nothing they can really do to gain relief from the hot Middle Eastern summers.
"We dress this way because we are Muslim, not as a fashion statement," she says.
For some religious women, being too warm is an afterthought. Jerusalemite Rivka Berger says: "God wants me to (dress modestly). It's not really a question of whether it's comfortable."
Amd while there is no end in sight to the Palestinian-Israeli conflict, religious Muslim and Jewish women can find at least some common ground in trying to stay cool while still dressing with modesty.
https://www.ynetnews.com/articles/0,7340,L-5543386,00.html
--------
Yazidi Women Training In Israel To Help Their Community Cope With The Trauma Of ISIS
Jul 06, 2019
It's hard to look Lamiya Aji Bashar in the eyes. Through them you can see the hell this young Yazidi woman has went through, not to mention her scarred face. The eyes of our Kurmanji translator fill as she translates from this Kurdish dialect into English, proving a little distance from the story of a girl who was taken captive by the Islamic State at age 15. But not enough.
This rare face-to-face meeting took place, surprisingly enough, in central Israeli Bar-Ilan University's psychology department. Aji Bashar is the only member of her delegation from Iraq who can reveal her face and name. That's because she now lives in Germany, as part of a special rehabilitation program for 1,100 women and children who survived Islamic State captivity.
Most of the 15 or so women in the delegation are Yazidi, but a few are Christian. And aside from Aji Bashar, they will return to Iraq following a special two-week course that was developed for them in Israel on coping with complex post-traumatic stress disorder – a term used for extreme cases of ongoing trauma, like captivity and severe abuse.
All of the women are active in various aid agencies. Their goal is to use some of the tools acquired during their brief training in Israel to help others ease the deep emotional wounds left by Islamic State's occupation of northern Iraq, especially among the Yazidis.
They come from a variety of professions – computers, finance, teaching, medicine. None of the women have any training in psychotherapy but because of their work in aid agencies, they have heard the atrocity stories and are trying to help others heal.
"We didn't really have a choice," said Dr. Mirza Dinnayi, a Yazidi doctor and social activist who lives in Germany and is the driving force behind several projects to aid the women and children who survived Islamic State's captivity. "The whole issue of psychological treatment is very uncommon in Iraq, like in other Arab countries. There's roughly one psychologist or social worker for every 300,000 people in Iraq. Therefore, we have to use what we have."
Of the 500,000 Yazidis who lived in northern Iraq near the Syrian border, mainly in the town of Sinjar and nearby villages, most fled after it was captured by the Islamic State in August 2014. They were housed in improvised camps consisting of tents with no infrastructure.
About 6,500 women and children were taken captive by the Islamic State. Some managed to escape or were liberated when the area was retaken from the organization in 2018. But around 3,000 are still missing.
This is hardly the first conflict to leave ruin in its wake but the Islamic State's brutality made psychological trauma – both personal and collective – the major challenge for the Yazidis' rehabilitation.
'Girl market'
August 15, 2014 is a day engraved in Aji Bashar's memory. It was the day Islamic State soldiers overran her village, Kocho. According to news reports at the time, they massacred 80 men and took about 100 women captive.
Aji Bashar and her family were captured as they tried to flee. "My father and two of my brothers were executed immediately," she said. Aji Bashar was separated from her mother, older sisters and cousins.
After two days in the Iraqi city of Mosul, Aji Bashar was taken to Syria, initially to an Islamic State base housing 60 men. That's when the 15-year-old first experienced sexual abuse.
Men came to the base and demanded that the captives convert to Islam, Aji Bashar recalled. "When we refused, they beat us for two days."
Soon afterward, she was sold for the first time. "They collected all the captured girls and put us into a kind of big pit. It was like a market. Men came, looked, chose the girls they wanted and took them."
Aji Bashar was bought by a Saudi national who had joined Islamic State. A few weeks later, by chance, he also bought her sister.
She didn't offer detailed descriptions of her daily regime of humiliation, violence, rape and abuse. Nor did anyone ask. Even the imagination fails.
During her three months in Syria, Aji Bashar tried repeatedly to run away. Then her captors sold her to an Iraqi, who took her back to Mosul – without her sister.
"At first I was glad, both to return to Iraq and because the person who bought me was an Iraqi with a family," she said. But her joy proved premature: There, too, she suffered violence, humiliation, slavery and sexual abuse.
After returning to Iraq, Aji Bashar tried to run away four times. She was sold repeatedly.
The last man to buy her was a hospital director who had joined the Islamic State. He liked sex slaves and bought two other Yazidi girls.
A cell phone Aji Bashar obtained from one of her captor's female relatives enabled her to call own relatives and plan another escape attempt, this time with two fellow captives. To pay the smugglers, relatives of the girls had to raise $10,000 for each of the women.
They were picked up by car and taken to a local safe house, where they escaped the Islamic State's door-to-door search. Then they went on foot to a Kurdish-controlled area.
"This was in winter, on a dark, rainy night," Aji Bashar said. "To bypass the Islamic State checkpoint, we had to go through a minefield. The two men who guided us told us to walk exactly in their footsteps."
But one girl slipped, and her foot hit a mine. "All I remember is that I flew in the air, landed and lost my vision," Aji Bashar said. Later, she discovered burns and other injuries on her face.
She called out to her friends, but no one answered. "For 10 minutes I called them. I thought I heard one of them. But the guides wouldn't tell me what their condition was. To this day I don't know if they survived, if they were wounded or dead and left there," Aji Bashar said.
'We have to tell our story'
For the last three years, she has lived in Germany, near Stuttgart, as part of the Yazidi rehabilitation program. Aji Bashar underwent a series of treatments and operations that restored her eyesight but the scars the land mine left on her face are still being treated. She learned German and now plans to finish the years of high school she lost. Two of her sisters and one brother are with her.
"I think we have to tell our story," she said. "I don't want things like this to happen to others."
In 2016, Aji Bashar received the European Parliament's Sakharov Prize for her work in human rights.
But the prizes the West grants survivors of the Islamic State can't heal the severe trauma carried by Aji Bashar and many like her – and especially not those who remain in northern Iraq, where they have no system of support and psychological treatment.
"We began working in Iraq a month after the Islamic State invaded, in September 2014," said Yotam Polizer, co-chief executive officer of IsrAID. "And we immediately understood that the thing we could help most with was in the field of trauma treatment and psychological help, for which there was enormous need."
Over the past few years, the organization has sent some 20 Israeli experts with dual citizenship to Iraq to help treat these psychological wounds.
Two years ago, the organization was contacted by three members of Bar-Ilan's faculty – Dr. Yaakov Hoffman, a clinical psychologist and researcher, Prof. Amit Shrira, a psychologist and Prof. Ari Zivotofsky, a brain researcher. All were studying trauma among Yazidi women, and Zivotofsky had even visited Iraq.
They proposed offering training in treating complex PTSD to people who deal with the traumatized population. Their plan was to adapt a therapy method known as STAIR, which was developed by Prof. Marylene Cloitre of California.
Thus was born a joint venture that, with Mirza's help, brought 15 young women from Iraq for training in Israel. The semi-secret operation required complex preparations, including giving the Foreign Ministry detailed information about each of the women months in advance.
"We worked for a year and a half to build the infrastructure for this and learn about Yazidi culture," Hoffman said. "We tried to build an optimal model for effective training in these situations, but in the end, the people undergoing the training aren't psychologists and mental health experts. So we can't know what contribution the training will really make."
Much needed break
For the last two weeks, the women have taken classes in dealing with depression, anxiety, nightmares and other sleep disturbances. They also visited the beaches in Tel Aviv, the Western Wall, and Yad Vashem Holocaust memorial center. Regardless of the value of the professional training they received, it seems they also needed a vacation. They are returning to an extremely tough situation.
A 30-year-old Christian woman from a village near Mosul, whose identity will remain anonymous, works for two aid agencies.
"Most of my work was with Yazidis who had to flee and leave their homes," she said. "The initial period, before the aid agencies entered the picture, was chaos. Entire families lived for months under trees or in streets behind businesses," she added.
"A great many people were killed. Men were executed, and hundreds of women and children were taken captive. They turned the women into sex slaves and brainwashed the children to turn them into fighters."
Eventually, she moved from her logistical job into "trauma therapy."
"Though I'm a therapist, my patients have become my friends," she said. "There are masses of Yazidi women who endured the Islamic State's atrocities in the area where I work. I'm exposed to a lot of stories of brutal rapes."
"One of the worst was of a girl who refused to have sex with a man, and to punish her, he raped her 9-year-old sister in front of her. Those are the kinds of scars we're dealing with," she said.
"Terrible as it sounds, rape isn't always the hardest thing in this situation," she continued. "There are worse things. We're talking about people who have lost their families, their roots, the whole framework of their life. Family is a sacred value for us, and the moment you're completely disconnected, and on top of that carry a personal trauma, it's very hard to recover.
"Some of the women still have children in captivity and don't know what has become of them. One of them was watching the Islamic State's YouTube channel and saw her son, aged 14, blow himself up in a suicide attack after being brainwashed."
A 25-year-old doctor from Sinjar Munir discusses her work at Yazidi villages and camps in the Sinjar Mountains.
"It's not just the abductions, the fighting and the rape," she said. "After five years in tent camps in lousy conditions, you meet a lot of people with severe depression, anxiety, suicidal tendencies and general despair."
Even though the Islamic State has withdrawn from the area, the families are still in camps, she noted. "It's hard to go back. There are destroyed homes and damaged infrastructure. There are no medical services, and in some places, they planted mines and booby-trapped homes. The government isn't rushing to deal with this far-off place, so the families remain in the camps."
Back to chaos
Only some of the Yazidi women who were taken captive by the Islamic State have entered Mirza's rehabilitation program. Some started but chose to return to Iraq while others couldn't be included because the quota was full. Mirza has been trying to get the quota raised, but so far, his efforts have been unsuccessful.
"For women who survived Islamic State captivity and are now living in camps [this] is a catastrophe," he said. "They have almost no chance of recovering without appropriate support."
The Israelis behind the project, primarily Hoffman and Zivotofsky, have developed a strong relationship with the Yazidi people over the years. They're excited that it has finally gotten off the ground and hope their efforts will make a difference. But given the situation in Iraq, they know this a small goodwill gesture tossed into a world of chaos.
https://www.haaretz.com/israel-news/.premium-yazidi-women-training-in-israel-to-help-their-community-cope-with-the-trauma-of-isis-1.7450648
--------
Princess Haya could flee what many UAE women cannot
5 July, 2019
Jordanian Princess Haya Bint al-Hussein's flight from her home in Dubai with her two children to London has once again thrust the United Arab Emirates and their discriminatory laws against women into the limelight.
Princess Haya's husband, Sheikh Mohammed al-Maktoum, is the ruler of Dubai.
As a legal battle between the two royals reportedly gets underway in a London court, one cannot help but think of Maktoum's adult daughters from different marriages, Sheikha Latifa and Sheikha Shamsa, who were apparently forcibly returned after attempting to flee Dubai on separate occasions. The two women remain trapped in the Emirates.
Their well-being and wishes will remain unknown until they are able to speak freely and make their own decisions - including the right to leave their country when they wish.
But spare a thought too, for all the women - Emiratis, non-nationals, and migrant domestic workers - in the UAE who often do not have the resources or connections to successfully flee a country whose laws discriminate against them .
Personal status laws in the UAE deny women the right to make independent decisions about marriage. For a woman to marry, her male guardian must sign off on her marriage contract. Once she is married, the law requires her to "obey" her husband.
A woman may be considered disobedient if she works without her husband's consent. She can lose her right to financial support if she has no "lawful excuse" when she refuses to have sex with her husband, refuses to travel abroad with him, "abandons" the home, or prohibits her husband from entering.
If a woman decides to divorce her husband, she has to apply for a court order while men have the right to unilaterally divorce their wives.
And though divorced women may have their children live with them up to a certain age, 11 for a boy and 13 for a girl, the legal guardianship of the children - such as the control of their education and finances - generally remains with the father or passes to one of his male relatives.
A woman may also not travel with her children outside the UAE without their father's consent.
And while, at least for the moment, Princess Haya's 11-year-old daughter and 7-year-old son are with her, the same cannot be said for many mothers in the UAE who have lost the fight to keep their children with them.
While there has been no suggestion of violence in Haya's case, Human Rights Watch has documented cases in the UAE in which police failures to properly investigate allegations of domestic violence may have led to court decisions not in the best interests of the children.
One British woman lost a case to keep her 3-year-old son with her in August 2012, in a hearing in which she could not present evidence of two complaints of domestic violence she had filed in Dubai.
A second British woman lost a case to keep her 8-year-old daughter in May 2014, despite her three complaints of domestic violence against her husband. Both children were of an age at which, under UAE law, children generally live with the mother in divorce cases.
Without a strong law and effective procedures to respond to domestic violence, the UAE not only fails abused women, but their children as well.
The government has yet to enact legislation on domestic violence despite being pressed to do so nearly a decade ago by the UN committee tracking how countries fulfill their international legal obligations to protect women against discrimination. The UAE ratified the Convention on the Elimination of All Forms of Discrimination Against Women in 2004.
Discriminatory personal status laws compound women's second-class status in the UAE and can trap them in abusive relationships. UAE's allies should push the authorities to reform these laws, and allow women - including Sheikha Latifa and her sister - to travel freely outside of the country if they wish.
https://www.alaraby.co.uk/english/comment/2019/7/5/princess-haya-could-flee-what-many-uae-women-cannot
--------
Idea of 'Women's Universities' in Turkey Receives Full Support from Scholars
06.07.2019
The recent idea of establishing universities specifically for women in Turkey, which was suggested by President Recep Tayyip Erdoğan, received full support from scholars, who interpreted the act as a move that should be made as soon as possible.
"As a female academic, I believe that it is a quite good idea. Turkish women should be more modern, educated and equipped. These women's universities are a great opportunity for that purpose," said professor İlkay Erdoğan Orhan, the dean of the Faculty of Pharmacy at Gazi University.
Speaking to Sabah daily on the matter, Orhan said there are many fields where women are needed the most. "In my opinion, it is very beneficial for women to be experts in these areas," she noted, adding that across the world, there are various women's universities.
Visiting Japan last week to attend the G20 summit, Erdoğan delivered a speech at a Mukogawa Women's University where he received an honorary doctorate. During his speech, the president indicated that Turkey will use Japan as an example for the country's women's universities and will establish similar ones. He even called on the head of the Board of Higher Education (YÖK) to start such initiatives.
Currently, there are more than 80 women's universities and colleges in Japan, where higher education is provided to female students. Most of these universities are private universities, although some receive funding from the state as well. Yet, women's universities are not just available in Japan. Many countries have women's universities, including the U.S. with 34.
Hacı Bayram University Faculty of Communication Dean Zakir Avşar pointed out that this kind of higher education concept is not new for Turkey.
"There were 'İnaf Schools' in the Ottoman era. This is a concept that we [Turkey] have had for 700 years," Avşar said, adding that with the foundation of the republic, many other women-only schools have been established specific to each profession, such as women's teaching schools and women's technical schools.
"These schools and the women who have been trained in these schools have contributed to the development of the republic and today's modern intellectual women," Avşar asserted.
Avşar also indicated that it is not fair to interpret the issue as an end to coeducation. "These are the schools that [the founder of the republic Mustafa Kemal] Atatürk gave major significance and marked their stamp on an era," he said.
According to figures released by the Turkish Statistical Institute (TurkStat) in March, women, who make up 49.8 percent of the population, do not fare better than other women in the world in terms of employment. Still, the proportion of women in upper and middle-level management positions was 17.3 percent, TurkStat reported, based on 2017 statistics. Unfortunately, the female employment rate was less than half of the male employment rate, according to figures from 2017, the latest year with available statistics. The employment rate for men was 65.6 percent, while it was only 28.9 percent for women. Statistics show that the higher the educational status of a woman, the more likely she is to participate in the labor force. The labor force participation rate for women who graduated from universities was 72.7 percent, while it was only 27.7 percent for those who only completed high school. The highest female employment rate was in the service sector. It was lower in industry and agriculture compared to men.
https://www.dailysabah.com/politics/2019/07/06/idea-of-womens-universities-receives-full-support-from-scholars
--------
URL: https://www.newageislam.com/islam-women-feminism/indonesia-recording-her-bosss-lewd/d/119103
New Age Islam, Islam Online, Islamic Website, African Muslim News, Arab World News, South Asia News, Indian Muslim News, World Muslim News, Women in Islam, Islamic Feminism, Arab Women, Women In Arab, Islamophobia in America, Muslim Women in West, Islam Women and Feminism