New Age Islam News Bureau
15 Jun 2017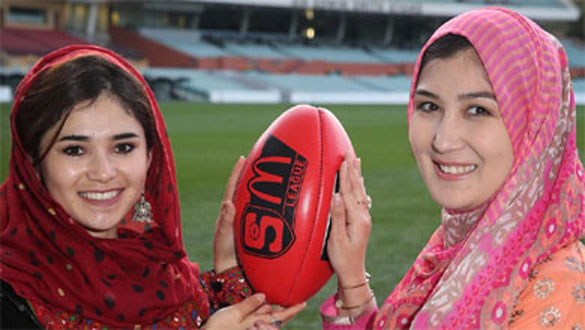 DIVERSITY ... Female Muslim football umpires Aliya Gulzari and Fatima Haidari. Picture: Dean Martin
----
• Two South Australian Muslim Women Want to Break down Barriers And Umpire In The AFL
• Opposition Walks Out Of Pak Punjab Assembly over Remarks against Women
• Pakistan: Women Get 50pc Share in PM Youth Loan Scheme
• A New Book Examines Conditions under the Hijab in Pakistan
• Nursery Children Join Women Workers for Iftar
• Bag of Vomit Thrown At Muslim Woman's Car in Suspected Hate Crime in Lancashire
Compiled by New Age Islam News Bureau
URL: https://www.newageislam.com/islam-women-feminism/indonesia-enlists-female-clerics-fight/d/111553
--------
Indonesia Enlists Female Clerics in the Fight Against Extremism
Jun. 14, 2017
JAKARTA, INDONESIA – "Who was washing the underpants of men who had joined fundamentalist groups when they were on the run? It was the wife!" So observes Lies Marcoes, a Muslim feminist and researcher in Indonesia, who is training women to help prevent violent extremism.
She says it's time to explore the role of women in violent extremism in Indonesia, both in fomenting and preventing it.
In recent years, Indonesia has seen a number of men join radical Islamist groups, declaring themselves to be jihadists. Some have traveled to Syria to join the so-called Islamic State (ISIS), many with the support of the women in their lives.
Women are also joining the fight more directly. Since August 2015, several Indonesian women have been arrested for their roles in spreading jihadism and their intent to carry out terrorist acts. Dian Yulia Novi was arrested in December 2016, the night before she intended to blow herself up at Indonesia's presidential palace. Another woman, Ika Puspitasari, was picked up a few days later in the ensuing investigation for planning a suicide attack in Bali. Indonesian women have also acted as fundraisers and online network organizers for ISIS.
Indonesia has the world's largest Muslim population and prides itself on its secularism. As the threat of violent extremism has drawn more and more attention over recent years, new ideas have flourished about how to counter it. One of these is using female Islamic clerics to spread the message.
Now may be the best time to do so. Until recently, the Indonesian Ulama Council (MUI) refused to recognize women as clerics, or "ulama," a position conferred based on a person's knowledge of the Quran and the Book of Hadith, a collection of the Prophet Mohammad's teachings. But that changed last month, when women ulama from across Indonesia gathered to assert their erudition and advance women's rights through a renewed interpretation of the religious texts.
Ideologies held by women are crucial to understanding the actions of men. Many young women join extremist movements – or support their husbands in joining – because they care deeply about inequality and injustice.
Nor Rofiah, a lecturer at Institute of Koranic Studies in Jakarta and an ulama, says women often get involved in extremism because of skewed gender relations within families. "Women are expected to obey the male authority within their families; they are expected to be subservient to the husband."
"Any disobedience is seen as not being a good Muslim, and radicalism is targeting this feeling of not being Muslim enough," she says.
A report from the Indonesia-based Institute for Policy Analysis of Conflict recently argued women in Indonesia who marry ISIS fighters do so in order to "reinforce social hierarchies [and] satisfy the 'biological needs' of prisoners." But women also see opportunities in radicalization that allow them to break out of these hierarchies.
In 2014, Marcoes' research organization Rumah Kita Bersama interviewed 20 Indonesian women who were in, or had been involved with, fundamentalist groups.
She found they had a wide range of reasons for joining fundamentalist groups, but one stand-out was the need to feel recognized as equal human beings on par with men, beyond their mere reproductive roles. "They want to learn to make a bomb, and put to use their intelligence," she says.
In both cases, Rofiah and Marcoes assert that women ulama have an advantage that their male counterparts don't: the experience of being a woman, trying to establish herself in a patriarchal world. Used right, this common thread of subjugation can be the catalyst in changing the narrative to counter radicalism.
The Asian Muslims Action Network in Indonesia is currently working to identify women ulama who would be able to speak to their communities about the devastating impacts of extremism, in the name of Islam.
Dwi Rubiyanti Kholifah is the network's country director for Indonesia. "Not all women ulama are comfortable discussing this issue, as it seems sensitive," she says.
"We have to start with what they are comfortable with: the Quran and the Hadiths, and understanding the concept of jihad. We need to emphasize that radicalism is not something that is taking place elsewhere," she explains.
Marcoes, who has been a mentor to women ulama like Rofiah on gender issues, argues that clerics need to be given an understanding of violent extremism from the perspective of those behind it, and plans to do so through Rumah Kita Bersama.
"We will select women ulama from areas where men have been arrested for their radical links," she says.
"We will develop a curriculum so that they are later able to work with the families of those whose male members are in jail," she explains.
A key factor, adds Kholifah, is to ensure that the next generation of men is not consumed by revenge when they see their fathers are arrested for extremism.
While for some women, dedicating their wombs and their roles as wives and mothers to "soldiers of God" is their identity, the same idea can be flipped towards convincing women to use that same role to prevent the men in their lives from taking up arms.
"Women ulama have their religious knowledge, and agency over the communities," Marcoes says.
https://www.newsdeeply.com/womenandgirls/articles/2017/06/14/indonesia-enlists-female-clerics-in-the-fight-against-extremism
--------
Two South Australian Muslim women want to break down barriers and umpire in the AFL
June 14, 2017
TWO South Australian Muslim women are aiming for the umpiring ranks of the AFL despite only arriving in Australia a couple of years ago.
SANFL umpiring academy members Alya Gulzari, 21, and Fatima Haidari, 20, last night took part in the SANFL's Iftar dinner at Adelaide Oval, which is the meal that breaks the month-long fast during Ramadan.
It was an event which was also attended by the AFL's Ahmed Saad, community leaders and a wide range of Muslims involved in football.
Neither Gulzari nor Haidari grew up with the game. Gulzari arrived from Pakistan in 2016 and Fatima the year before from Afghanistan.
But they have quickly fallen in love with the game and want to follow in the footsteps of another South Australian with an immigrant heritage in Eleni Glouftsis, who this season became the first female AFL field umpire for a premiership round match.
Haidari could not speak more highly of how welcome she had been made to feel in Australian football.
She and Gulzari umpire their games in headscarf but neither said they had been confronted by any racism on game day. They've both umpired in the SANFL women's league and in men's amateur ranks.
"It's great that the SANFL not only accepts our beliefs but also recognises our culture," Fatima said.
"We really love football and hope one day we will both be able to umpire at the very top – that would be our dream."
Saad, who works for the AFL alongside Bachar Houli as a multicultural ambassador, loved the fact that the game continues to attract and grow audiences from every background.
"The AFL celebrate different cultures and religions and this is one of the events ... this one is for the Islamic culture," Saad said. In his days at St Kilda, Saad was one of only two Muslim players alongside Richmond's Houli but he was hopeful the growing numbers in juniors and umpiring would lead to a larger representation.
"We're getting a lot more players playing the game, it's good to see we've now got female umpires, hopefully we can have male umpires, hopefully start introducing a female Islamic program for players.
"We just want to continue to promote that it's a game for everyone; it doesn't matter what nationality or religion or if you're male or female."
http://www.adelaidenow.com.au/sport/afl/more-news/two-south-australian-muslim-women-want-to-break-down-barriers-and-umpire-in-the-afl/news-story/c651dd3c8c66d4244c155e69abfc03c0
--------
Opposition Walks Out Of Pak Punjab Assembly over Remarks against Women
June 15, 2017
LAHORE - Opposition's boycott following remarks of a treasury legislator against PTI and its female workers led to premature adjournment of the Punjab Assembly proceedings on Wednesday.
Demanding apology from treasury legislator Rana Jamil, Opposition staged a walkout after pointing quorum. Though treasury managed to complete quorum after ringing bells for five minutes, the chair adjourned the session till Thursday at 2pm as none of the opposition legislator was there to take part in debate on supplementary budget.
The session started one hour and 45 minutes beyond the schedule with Deputy Speaker Sardar Sher Ali Gorchani in the chair.
Taking part in debate, treasury legislator Rana Jamil said that the political party that introduced dances of women at public gathering was criticising 'pro-people' budget. He said that the government had carried out record development in the province.
On a point of order, Opposition leader Mian Mehmoodur Rasheed said that use of such language for female political workers was unacceptable. He said that criticism was right of everyone but women were respectable as mothers and sisters. He threatened that opposition would not allow continuing proceedings until treasury legislator tenders apology on floor of the house.
Earlier, Nabila Hakim Ali said that it was not supplementary but a TA/DA budget. She said that ministers and bureaucrats were beneficiaries of this budget. She said that supplementary budget to the tune of Rs1.68 billion was unacceptable. Such huge allocation, she maintained, could be made to meet any calamity. Nausheen Hamid said that more than 90 per cent of the population had no access to clean drinking water but government was purchasing luxury vehicles for blue eyed.
Sheneela Ruth said that such huge allocation was a plan to purchase bureaucracy for winning polls. Taimor Masood said that vehicles worth Rs22.5 million have been purchased for ministers, parliamentary secretaries and bureaucrats. He accused the government of releasing Rs30 million for staff of chief minister without prior approval. Waheed Gull, Haseena Begum and Ali Asghar Manda also took part in the discussion.
On completion of agenda, the chair adjourned the session till Thursday (today) at 2pm. Finance Minister Ayesha Ghous Pasha has arranged an Iftar for legislators to keep the house in quorum on Thursday for approval of supplementary budget.
http://nation.com.pk/national/15-Jun-2017/opp-walks-out-of-pa-over-remarks-against-women
--------
Pakistan: Women Get 50pc Share in PM Youth Loan Scheme
June 15, 2017
Islamabad - On the special directives of Prime Minister, 50 per cent participation of women was ensured in PM's Youth Loan schemes for women empowerment.
Pakistan is committed to meet the Sustainable Development Goals (SDGs) and the Goal 5 i.e. Gender Equality; Ending all forms of discrimination against women and girls and for the purpose the government has taken a number of steps. Encouraging women employment it has announced a 10 per cent quota for women in public sector employment; Punjab raised this to 15 per cent and Sindh to 25 per cent during the year 2016-17.
According to Economic Survey 2016-17, Punjab has lifted the ban on recruitment and 25,000 posts for women have been created at different tiers, and 70 percent of jobs in primary education have been earmarked for women. Moreover, Punjab Fair Representation of Women Act 2014 ensures 33 percent representation of women on all boards of statutory bodies, public sector companies etc. The Waseela-e-Sehat (Life and Health Insurance) programs under Benazir Income Support Programme (BISP), subsidizes healthcare for beneficiaries and life insurance provided to one million women, the premium is paid by the program.
Waseela-Taleem (Primary Education) under BISP encourages beneficiary families to send their children ages 5-12 years to school through a co-responsibility cash transfer of Rs200 per child (limit to three per family).
Being a state party to the Convention on Elimination of All
Forms of Discrimination against Women (CEDAW), Pakistan is committed to implement its provisions in true spirit. The government has already taken measures to ensure women's right as envisaged in the CEDAW.
Acknowledging `honour' killings one of the most critical problems facing the country, the present government has enacted effective legislation to address women's issues with a view to safeguard their rights i.e. (Criminal Law (Amendment) (Offences in the name or pretext of Honour) Act, 2016) and (Criminal Law (Amendment) (Offences Relating to Rape), 2016). The women are being encouraged to fully participate in electoral process and in this regard a Gender Cell in Election Commission of Pakistan has been established.
http://nation.com.pk/islamabad/15-Jun-2017/women-get-50pc-share-in-pm-youth-loan-scheme
--------
A New Book Examines Conditions Under the Hijab in Pakistan
June 14, 2017
For every Malala Yousufzai or even Benazir Bhutto, there is also an Apa Nisar Fatima, who applauded Zia ul Haq's Islamisation drive, the baton-wielding girl students of Lal Masjid's seminary or Tashfeen Malik of the 2015 St Bernardino attack. Pakistani women's presence in public/political Islam, or Islamism, has been quite complex but hasn't received as much attention or analysis as their male counterparts. At its very basic, it raises questions whether this overt religiosity is imposed or voluntary, and what do these women themselves think -- or seek?
Attempts have been made to answer these in say, Rafia Zakaria's mix of the personal and public in The Upstairs Wife or Mona Kanwal Sheikh's Guardians of God - Inside the Religious Mind of the Pakistani Taliban, which also features the principal of Jamia Hafsa, the girls' seminary of Lal Masjid, but it gets overshadowed by the rest. Aneela Zeb Babar, a researcher on Islam, gender, migration and popular culture for nearly two decades in academia and development agencies in South and Southeast Asia, and Australia, tries to fill this gap -- and goes a long way towards it.
This book, she says, came in response to continuous requests to explain why Malala faces so much opprobrium, why Pakistani women can justify the Council on Islamic Ideology's section allowing men to "lightly beat their wives" and the like. "Perhaps one day I became nervous about how I felt generations of South Asians were condemned to repeat history, or that more things changed for the region, the more our neighbourhood was eager to make sure they remained the same," she says.
In her attempt to "decipher the country's convoluted equation between militarism, political Islam and gender politics compounded by the crisis of governance and socio-economic tensions", Babar does not seek to present a comprehensive, inter-related account but focuses on some key manifestations -- religious education and observance and the "hijab" (including in the diaspora), nationalist public discourse and Lal Masjid.
She uses a multi-methodological approach, including observation, personal and group interviews, attending sessions of Al Huda international seminary (to which Tashfeen Malik was associated) as well as key texts, like the 19th century Maulana Ali Ashraf Thanvi's Beheshti Zevar on conduct on "proper" Muslim women, still used.
She begins by seeking to understand why a significant section of Pakistanis are so attracted to radical Islam, and contends this lies in shifting definitions of national identity (acquiring more religious contours over the years), and its impact on education, particularly the growing fondness for Islamic education. Introducing a number of "hybrid madarsas", she also has a telling account of a visit to a girls' seminary on the Punjab-Khyber-Pakhtunkhwa border.
Subsequently, comes the issue of the "hijab" -- not only one of the most recognisable (and contentious) symbols of a Muslim woman but also part of a politicised Islamic identity -- and seeks to understand the reasons and justifications of those who use it, in Pakistan as well as in Australia.
This is carried further in the next chapter in an examination of the religious and cultural life of women at home as well as the diaspora, as they try to remain "good Muslims". In the second case especially, they only isolate themselves -- a finding that will have major resonance for the West where such sizable communities are found.
Babar next analyses the "texts of war", particularly in context of the 1998 India-Pakistan nuclear tests, and the gendered construct they foisted, which has not been shaken by a woman Prime Minister or women in combat roles, including as fighter pilots. Lastly, it is the story of the Lal Masjid told by Jamia Hafsa's principal.
The account is not very comforting with her counter-intuitive but pessimistic findings of women choosing to sequester themselves in a rather restrictive millieu as well as seeking to foster unthinking conformity, without any realisation that they only further the cause of those who have created these divisions, whether by misreading or design.
While, at times, her language is a bit academic, she does make up with telling anecdotes and insights. And while she makes no bones about the uphill work required to deal with this trend, it would be a travesty to think it as only exclusively Pakistani or Islamic. Remember, she did the South Asian neighbourhood.
http://www.news18.com/news/books/a-new-book-examines-conditions-under-the-hijab-in-pakistan-1432073.html
--------
Nursery children join women workers for iftar
June 14, 2017
Dubai: A group of women labourers were treated to an iftar and handed care packages by 29 children at the Kids World Nursery in Jumeirah Village Circle (JVC) on Tuesday.
The community event, organised by the nursery for 11 blue-collar women workers, was joined by parents of the children, staff members and members from the community.
From preparing fruit salads and helping their parents distribute the donated care packages, to singing songs for the women, the children, aged four and below, brought positivity to all those present at the iftar.
This is the second year that the Kids World Nursery has organised the iftar event with women workers, which is part of their educational programme called 'Empathy'.
The care packages included bags of shampoo, cleaning supplies, packaged food, cans of food, rice and clothes, which were donated by the community and parents.
The children also gifted the workers a mirror and a framed group picture.
Over the past 10 years, research has shown that empathy is one of the main keys to all positive social interactions, said Nayla Tareq, Executive Director of Kids World Nursery.
"As a community nursery and educational institution, we have a responsibility to our parents and society to ensure we are providing our children with everything they need to be empathetic responsible citizens for the world of tomorrow," Tareq said.
Parents, who came from 10 nationalities, said it was important for their children to be introduced to volunteering at a young age.
"The children need things like these to learn how to appreciate people around them. It makes them develop a lot more respect," said Laila Holmes, a British mother of two-year-old Aydan.
"This was the first time my child joins an event like this, and I believe there should be more programmes that teach kids that everyone is equal. I always teach my child to talk to everyone and to not look down on people because of who they are or where they work."
Another mother from Egypt said it was an opportunity to introduce her child to charity and sharing.
"I wanted my four-year-old to learn about the culture of giving, Ramadan, and giving people in need some daily essentials," Nadine Nabeel said.
Nepalese worker, Binu, 40, said she was happy that people remembered and cared for them.
"It felt nice to meet the parents. It's the first time that we met people outside our camp," she said. "This is not our country, but I still felt so respected. I thought that no one asks about the cleaner, but today I realised I was wrong."
Her friend, Parvati Kumari, 28, also from Nepal, was overwhelmed by the children's gesture. "This is my second year in a row attending the iftar and it felt like we were meeting our own family. It also made us miss our own," she said.
http://gulfnews.com/news/uae/society/nursery-children-join-women-workers-for-iftar-1.2043499
--------
Bag of Vomit Thrown At Muslim Woman's Car in Suspected Hate Crime in Lancashire
June 15, 2017
A "bag of vomit" was reportedly been thrown at a car carrying two Muslim women in Blackburn.
The pair told anti-Islamophobia charity Tell Mama that they were driving in the Lancashire town when a white van swerved towards them on a quiet road.
The bag was then thrown at the driver's window with such force it "thudded" against the window on the driver's side.
One of the women she believed they had been targeted because of the way they looked. Both were wearing hijabs,
She said the foul smelling liquid in the bag had a "vomit-like" in odour and appearance, which left her and her friend feeling nauseous.
Fortunately the drivers' window was closed, otherwise the bag would have landed inside the car.
The women were able to follow the van and photograph its number plate. The pair then parked the car and photographed the window which was hit.
Tell Mama told The Independent that Lancashire Police had been informed of the incident by the victim and were investigating. The force could not confirm this.
Both suspects were described as white, in the 20s or 30s, with medium builds.
http://www.independent.co.uk/news/uk/crime/muslim-woman-vomit-bag-thrown-car-blackburn-hate-crime-suspected-a7790006.html
--------
URL: https://www.newageislam.com/islam-women-feminism/indonesia-enlists-female-clerics-fight/d/111553
New Age Islam, Islam Online, Islamic Website, African Muslim News, Arab World News, South Asia News, Indian Muslim News, World Muslim News, Women in Islam, Islamic Feminism, Arab Women, Women In Arab, Islamophobia in America, Muslim Women in West, Islam Women and Feminism