New Age Islam News Bureau
27 Oct 2018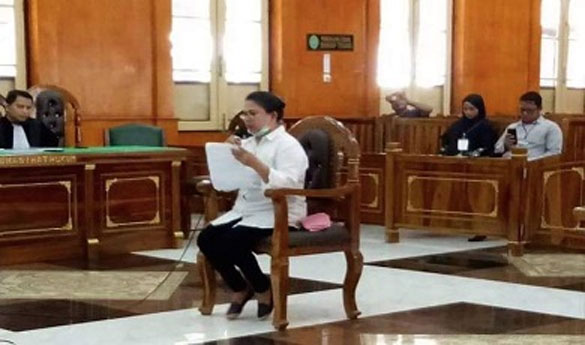 Photo: Meliana, a 44-year-old Buddhist woman, at her blasphemy trial on Aug. 21. (Photo courtesy of Ranto Sibarani)
--------
• Hashoo Group signs agreement to empower women
• Global Fatwa Index: Women fatwas make up 12% of all fatwas
• Unprecedented case in Egypt: Man reports his wife for performing FGM on his daughters
• Protect girls, end child marriages
• FaceOf: Sarah Al-Suhaimi, Saudi Arabian stock exchange chairwoman
• Rashida Tlaib, a trailblazing Muslim woman, is the new face of the civil rights movement in Detroit
• McDonald's franchises discriminated against women wearing hijabs - group
• Female Drivers Help Saudi Arabia's Economy Flourish - Scholars
• Turkey's first lady slams violence against women
• Sinkhole opens, swallows two women in Turkey
Compiled by New Age Islam News Bureau
URL: https://www.newageislam.com/islam-women-feminism/indonesia-court-rejects-womans-blasphemy/d/116729
--------
Indonesia court rejects woman's blasphemy appeal
October 26, 2018
A woman jailed in Indonesia for 18 months for complaining about a mosque's noisy loadspeakers will remain in prison after losing an appeal against her blasphemy conviction on Oct. 25.
The High Court in Medan, North Sumatra province, upheld the lower court's ruling against the 44-year-old Buddhist woman after her trial in August.
Meliana, who is of Chinese descent and only goes by one name, was accused of blasphemy after she complained to the daughter of the caretaker of a nearby mosque that the five-times-a-day call to prayer was too loud.
Local Muslims in her hometown of Tanjung Balai took her comments to mean she wanted the call to prayer stopped. Mobs later attacked her home and ransacked more than a dozen Buddhist temples.
Ranto Sibarani, her lawyer, expressed disappointment at the High Court ruling and said Meliana, who was not in court to hear the ruling, would appeal to the Supreme Court. "We hope the Supreme Court will be fair courts," he said.
Activists say the case highlights how hard-line Muslim groups in Indonesia are using the country's blasphemy law to crack down on religious minorities.
However, Indonesia's largest moderate Muslim organizations criticized Meliana's imprisonment, saying her complaint was not blasphemy.
Rumadi Ahmad, a Muslim scholar, said the call to prayer is not a fundamental part of religious teachings so should not be used as a basis for blasphemy accusations. It's ridiculous to interpret a request to reduce the volume of a loudspeaker as insulting Islam, he said.
Meanwhile, a call to free Meliana through an online petition on change.org continues to grow with more than 22,130 people having signed it.
https://www.ucanews.com/news/indonesia-court-rejects-womans-blasphemy-appeal/83730
--------
Hashoo Group signs agreement to empower women
OCTOBER 27, 2018
ISLAMABAD: Hashoo Group, owners of Pearl-Continental and Marriott Hotels in Pakistan signed an agreement with Women on Board PK. A non-profit trust that works for creating and expanding the leadership opportunities for women in corporate, social, public and philanthropic sectors. The agreement presents the "BoardTalks" Women Leadership Development Program. A project to inspire, train, and motivate women to be in leadership roles. Seen here signing the agreement are from left to right Rahat Kaunain Nafees, Chairperson Women on Board Pakistan Trust and Ms. Lashley A. Pulsipher Chief Sales, Marketing, & Revenue Officer Hashoo Group during the signing ceremony at the Islamabad Marriott Hotel.
https://dailytimes.com.pk/315018/hashoo-group-signs-agreement-to-empower-women/
--------
Global Fatwa Index: Women fatwas make up 12% of all fatwas
Oct. 25, 2018
CAIRO - 25 October 2018: The Global Fatwa Index revealed that women fatwas occupy a large proportion of the fatwas issued in 2018, amounting to 12 percent of the total fatwas that have been monitored.
The index illustrated the recent events in the world and Islamic societies, including women participation in terrorist operations, produced a new set of issues concerning women, increasing the proportion of women fatwas.
The index report pointed out that the number of women fatwas traded globally in 2018 amounted to 60,000 fatwas out of a total of 500,000 fatwas.
The index revealed that Egypt came first of the top 10 countries in women's fatwas by 44 percent due to the abundance of fatwa issuance in Egypt in comparison to other countries.
The index report stressed the need for a comprehensive reference and official muftis to avoid falling prey to currents of extremism.
Egypt's Grand Mufti Shawki Allam launched on Thursday, Oct. 18 the first Global Fatwa Index to show the status of fatwa in each geographical region.
This index contributes to the renewal of fatwa throughout the country. It is considered a mechanism that adjusts the uncontrolled and out-of-order fatwas, Allam said.
Allam's announcement came during his participation in the fourth international conference organized by the General Secretariat for Fatwa Authorities Worldwide on fatwa renewal; the conference was inaugurated on Oct. 16 under the auspices of President Abdel Fatah al-Sisi.
http://www.egypttoday.com/Article/1/59465/Global-Fatwa-Index-Women-fatwas-make-up-12-of-all
--------
Unprecedented case in Egypt: Man reports his wife for performing FGM on his daughters
October 26, 2018
In a case considered the first of its kind in Upper Egypt, a man is accusing his wife of ordering Female Genital Mutilation (FGM) – an illegal procedure in Egypt – on his two daughters, and against his will.
The man reported his wife to Northern Qena Police Station, accusing her of having a doctor perform the surgery on the daughters (aged 12 and 10) without his knowledge, as he was working in Saudi Arabia.
He asked for punitive measures against his wife, adding that while working abroad he encountered Muslims from countless backgrounds, and none of them performed FGM except Egyptians and Sudanese.
The man had also asked several doctors and religious scholars, who all agreed that FGM is not a necessity, and that it causes physical and psychological harm on women.
Therefore, when his wife had earlier told him she planned to perform FGM on his daughters, he refused the idea, threatening to take legal action if she followed through.
Northern Qena prosecution has summoned the wife for questioning. Under Egyptian law, she could be sent to jail for two years, as a repercussion of her actions.
Female Genital Mutiliation is "the partial or total removal of the female external genitalia, or other injury to the female genital organs for cultural or other nontherapeutic reasons," as defined by the World Health Organization. Short and long-term complications of the process include severe pain and pregnancy complications.
Female Genital Mutilation was criminalized in Egypt in 2016. Still, a 2016 survey by the UN Children's Fund indicates that 87 percent of women and girls aged 15-49 in Egypt have undergone the procedure.
However, criminalizing FGM is not Egypt's first effort to combat the phenomenon. In 2007, the Ministry of Health issued a decree officially banning female circumcision.
https://egyptindependent.com/unprecedented-case-in-egypt-man-reports-his-wife-for-performing-fgm-on-his-daughters/
--------
Protect girls, end child marriages
October 27, 2018
WHAT a historic year this has been for women and girls. The international #MeToo movement catalysed the long-awaited reckoning of powerful male figures guilty of sexual crimes.
At home, this coincided with the election of a new government in May, and the country's first woman deputy prime minister, Datuk Seri Dr Wan Azizah Wan Ismail. Her stewardship of the Women, Family, and Community Development Ministry signals the present government's determination to prioritise issues about women.
But the initial optimism waned with a spate of reports on underage marriages. In July, the media reported the marriage of an 11-year-old girl to a 41-year-old man. Reason for marriage? To "protect and provide", as she was uneducated and came from a poor family. Similar reasons were cited for the marriage of a 15-year-girl to a 44-year-old father of two last month.
Although these may seem like isolated incidents, approximately 82,000 child marriages have been recorded in Malaysia up to 2010. The reasons for the prevalence of the practice are unclear.
Malaysians are unequivocal in their disapproval of the practice. The issue has been the subject of intense debate on all platforms. The public wants a firm response from lawmakers.
But what do Malaysian youth think about child marriages? In a recent survey conducted with hundreds of Form 4 students in 10 schools in Taiping and Kuala Lumpur, most of the male and female respondents disagreed that it was acceptable for girls to be married before the age of 18.
Female respondents said marriage would "prevent them from achieving their full potential" — an opinion echoed by their male counterparts.
In the same study, respondents agreed that delaying marriage for the sake of career advancement was acceptable. This shows that the respondents reject child marriages and are aware that it limits their life choices.
Policymakers, activists and concerned citizens have renewed their call to raise the minimum age of marriage across all states, especially for Muslims. For Muslims, marriages with persons under 16 years old are permitted with approval from the syariah court. For non-Muslims, the consent of the chief minister of the state is required, except in cases of customary marriages conducted within the indigenous communities.
Opponents of the move to raise the minimum age argue that such reforms would contravene religious teachings. Such an interpretation is dangerous and misleading. Compounding the problem, Malaysia's dual legislative system (civil and syariah) places Muslim family and marriage laws under the purview of each state. A uniform amendment to each state syariah enactment would require the consent of each of the country's nine sultans, as well as the Yang di-Pertuan Agong.
The minimum age of marriage is different under the civil and syariah laws, with the age for males set at 18 and females at 16. Why does such disparity exist? Is it for the benefit of males over females, from the standpoint of education and labour markets? These are questions that merit further scrutiny alongside solutions to the issue.
In this historic year for Malaysia, this practice has blighted the country's goal to become a global example for women's empowerment.
Ending child marriage and gender inequalities is the key target of the Sustainable Development Goals. Therefore, the challenge before the new government is to ensure that, regardless of race, religion and gender, no girl by 2030 looks to child marriage as a ticket to better days ahead.
https://www.nst.com.my/opinion/letters/2018/10/425450/protect-girls-end-child-marriages
--------
FaceOf: Sarah Al-Suhaimi, Saudi Arabian stock exchange chairwoman
October 26, 2018
Sarah Al-Suhaimi has been the chairwoman of the Saudi Arabian stock exchange (Tadawul) since February 2017, the largest stock market in the Middle East, and she is the first Saudi woman to hold the position.
Al-Suhaimi has also been the chief executive officer and a board director of the National Commercial Bank (NCB) also known as Al-Ahli Bank, since March 2014.
Al-Suhaimi attained her bachelor's degree in accounting from King Saud University in Riyadh with highest honors, and has completed the general management program at Harvard Business School in Boston, Massachusetts, US in 2015.
Prior to her current position, Al-Suhaimi served as the vice chairperson of the advisory committee to the board of the Capital Market Authority between 2013 and 2015.
Al-Suhaimi worked as the chief investment officer at Jadwa Investment, where she led the asset management and wealth management business lines and was also a member of its management committee between 2007 and 2011.
Al-Suhaimi was named one of "50 people to watch" by Bloomberg Businessweek in 2017. It wrote: "The first woman to chair Saudi Arabia's stock market, she will preside over the exchange with what's likely to be the world's most valuable business once Saudi Arabian Oil Co., the state-run oil company, completes its initial public offering (slated for 2018)."
Speaking at the Future Investment Initiative (FII) in Riyadh, she said: "We want to be closer to the world. We want to keep increasing standards of corporate governance in our companies, and we welcome all investors to come and talk to us, and talk to the regulators."
http://www.arabnews.com/node/1394431/saudi-arabia
--------
Rashida Tlaib, a trailblazing Muslim woman, is the new face of the civil rights movement in Detroit
OCTOBER 26, 2018
Rashida Tlaib is eager to talk about where she fits into American history – just not in the way one might expect.
Around her country, Ms. Tlaib is becoming known for going where no Muslim woman has before: into the U.S. Congress. While probably not alone blazing that trail, depending how other midterm elections turn out on Nov. 6, she is the first to have an assured seat in the House of Representatives because she's unopposed after narrowly winning her Detroit district's Democratic primary.
The 42-year-old lawyer and former state representative doesn't shy away from that story, exactly, as we talk in a campaign office that is empty save for us and her teenage son. She knows it's why she's getting so much attention, and unconvincingly insists she's not tired of discussing it.
But what really gets her going, and makes some members of her party uncomfortable, is the role she sees for herself in updating the civil-rights movement for the 21st century.
It's an opportunity born of who she is, the moment we are living in and the place she will represent.
With the most concentrated African-American population of any large U.S. city, Detroit has long been a base for activism. For more than a half-century, it was represented in Washington by civil-rights icon John Conyers, before sexual-harassment allegations spurred his retirement last year at the age of 88.
Despite being a "survivor of a horrible [harassment] experience at one workplace," Ms. Tlaib speaks somewhat reverentially about the man she will be replacing. "I'll tell you, Congressman Conyers walks in a room," she says, "his presence is still very strong because he represents such huge, rich history around empowering black America." When he recently paused a speech to recognize her, she "got really emotional."
But she also says that members of her city's predominantly African-American political establishment are "nervous" about her, because she comes from outside it: She's a Bernie Sanders-endorsed democratic socialist who intends to approach fighting injustice differently from the way they recently have.
It's not that her ethnic or religious background gives her a much different perspective from other Detroit politicians about which of her constituents most need her in their corner. When it's suggested to her that Muslims (a small share of her district's voters) now face the most discrimination of any American minority, she disagrees.
"I think African-Americans face it more," she says. "It's not as public … but it's more institutional, more ingrained into policy," reflected in everything from police conduct to low home ownership to her city's unusually high auto-insurance rates.
Where she parts company with other Detroit Democrats is that she says many have been too complacent about mounting inequality, if not complicit in it.
Less than a decade after being in economic collapse, Detroit has armies of new-economy employees flocking to restored skyscrapers, making it an oft-cited symbol of American resilience. But her district, Michigan's 13th, stands as her country's third poorest. "Poverty has actually increased," she stresses, and most new jobs are for people who don't live in the city. While the Ford Motor Co. gets tax breaks to move into Detroit's abandoned train station, "half a mile from there, kids are going to school where they don't have access to water."
Nationally, she promises that the first bill she introduces in Congress will be the "Justice for All Civil Rights Act." A response to courts' watering down of the protections of the 1964 Civil Rights Act, she says, it would end the requirement for plaintiffs to prove intentional discrimination. Instead, showing "the impact of the policy itself on the ground is actually discriminatory in practice" would suffice – a change she says would, for example, "transform our education system" by ending funding inequities.
Closer to the ground, what sets the Detroit-born daughter of Palestinian immigrants apart is an affinity for civil disobedience that most politicians eschew in office rather than fusing it with their legislative agenda. That includes a willingness to be arrested, most recently earlier this month in a minimum-wage protest.
Ms. Tlaib repeatedly invokes a pair of fights undertaken during her six years as a state legislator. One was a protracted battle with Matty Moroun, the billionaire owner of the Ambassador Bridge and opponent of alternative border crossings that would send fewer trucks through residential neighbourhoods, which at one point involved participating in a blockade. In the other, she trespassed to obtain samples of petroleum coke piles along the Detroit River, to test toxicity after Michigan's environmental agency dismissed concerns, which eventually resulted in the substance's removal.
That approach now makes her a key player in a struggle for her party's identity, between those who want to push it toward the activist left and those more concerned with winning over moderate voters.
She understands different political imperatives for Democratic candidates catering to middle-class white voters in suburbia. "I'm not expecting them to block trucks," she says.
But she does hope to help instill "courage," in pursuit of goals such as single-payer health care and opposition to what she sees as corporate greed benefiting few at the expense of many, which she argues will prove more credible with voters than cold calculation.
She sees kindred spirits in other women of colour – Alexandria Ocasio-Cortez in New York, Jahana Hayes in Connecticut, Ilhan Omar in Minnesota, Ayanna Pressley in Massachusetts – who won Democratic primaries this year, mostly as progressive insurgents. "We weren't the chosen candidates," she says. "We weren't supposed to win. I think that says a lot about the direction that the party is going."
She also implies that, despite feeling part of a broader wave, the stakes facing her are uniquely high.
Detroit, to her eyes, has long been a hotbed for the sort of anti-establishment progressivism now being embraced by her party's base in other cities and states. Her district's highest turnout in memory, for this year's primary, points to as increased level of local engagement. And as in the past, where better to take a political lead tackling inequality than somewhere it's so pronounced?
But she's not afraid to hark back to Detroit's bloodiest hour – the 1967 riots – to warn what will happen there and perhaps beyond if the divide between "winners and losers" keeps growing.
"It's how we ended up with the rebellion," she says, in both a message to the political establishment and a demonstration of why the establishment finds her unsettling. "I don't think people get it."
https://www.theglobeandmail.com/world/article-rashida-tlaib-a-trailblazing-muslim-woman-is-the-new-face-of-the/
--------
McDonald's franchises discriminated against women wearing hijabs - group
OCTOBER 27, 2018
The Council on American-Islamic Relations on Thursday said it had filed complaints with the Equal Employment Opportunity Commission on behalf of two Muslim women who claim McDonald's franchises discriminated against them because they wear a religious head scarf.
CAIR, the country's largest civil rights groups representing Muslims, says a Maryland woman was forced to quit her job at a McDonald's franchise in April because of the harassment she faced after converting to Islam and starting to wear a hijab. And a franchise in Connecticut allegedly refused to hire a woman after she told the manager she planned to wear the scarf at work.
https://www.reuters.com/article/employment-mcdonalds/mcdonalds-franchises-discriminated-against-women-wearing-hijabs-group-idUSL2N1X61UG
--------
Female Drivers Help Saudi Arabia's Economy Flourish - Scholars
26.10.2018
In September 2017, Saudi Arabia lifted the ban on women driving. Last June, the country began issuing driver's licenses to women who now participate on an equal footing with men on the kingdom's roads.
As economist Saad al Dusri told Sputnik, "these four months during which Saudi women have been driving have contributed to the economic growth of the kingdom."
"First of all, more women are now working because they no longer depend on transportation. Then, the money that a Saudi family used to pay drivers can now be used for other things. And finally, the money that foreign drivers have been sending to their home countries is now in the kingdom," the expert said.
The economist went on to say that in the first quarter of 2018, the number of drivers in the kingdom had decreased by 28,000 people, and now there are 1,357,228 drivers in the country.
According to Fallah al Ahmari, chief sales officer at Al Bayan Motors, car sales have increased. "We are seeing a new 'women's car' market. Ladies choose a car that meets their criteria — it consumes less fuel, guarantees safety and is beautiful. We take into account the wishes of our clients and help them find an ideal car," he told Sputnik.
A Female Driver: Men Welcomed Us
Sarah al Wassia is 35; she was one of the first to get a driver's license. "I've had an American driver's license for 18 years. I got it when I was studying for my Master's degree. In Saudi Arabia, I just exchanged the American documents for the local ones. I finally don't have to struggle to look for a driver. Many families are so relieved now as a driver cost them a pretty penny. I am happy that now I can drive; it gives me freedom of movement and I don't depend on a driver and their issues," the woman said.
Saudi Arabian Resident: Driver Has Been Costly
Saad Al Shamrani, a resident of the kingdom, told Sputnik that he used to pay $530 a month for his driver. "He also had his meals with us and he had a room in our house, with a shower, toilet, and access to the street. Now that he's gone, our life has become more comfortable," he said.
https://sputniknews.com/analysis/201810261069238129-saudi-arabia-female-drivers/
--------
Turkey's first lady slams violence against women
October 27, 2018
Turkey's first lady Emine Erdoğan condemned on Friday violence against women describing it as a "betrayal to humanity."
"In one word, violence against women which is widespread around the world is a betrayal to humanity," Erdoğan told the audience at Let's Talk!, women's health event held in Turkey's Mediterranean province of Antalya.
"Unfortunately, one out of every three women is exposed to physical or sexual violence," the first lady added.
She was the honored guest at the event, a global symposium on tackling taboos and empowering women.
Two-day global initiative in partnership with the UN Population Fund (UNFPA) convened opinion leaders, "influencers", activists and global policymakers to create sustainable solutions and tackle taboos surrounding women's health across the world.
The event, hosted by philanthropist, campaigner, and Russian supermodel Natalia Vodianova, is supported by partners, including Turkey's national flag carrier Turkish Airlines, and the Association of Turkish Travel Agencies.
https://www.yenisafak.com/en/news/turkeys-first-lady-slams-violence-against-women-3464670
--------
Sinkhole opens, swallows two women in Turkey
October 27, 2018
It was a miraculous escape for two women in Turkey who were swallowed by a sinkhole on the road.
The shocking incident captured on the CCTV camera shows the women walking on the sidewalk in the city of Diyarbakir.
As they stop for few moments to talk, the sidewalk suddenly collapses and consumes them both. People passing by rush to help them get out of the rubble.
The women, identified as Dr Suzan Kuday Balik and nurse Ozlem Duymaz, escape with minor injuries.
The incident took place on Wednesday around 4pm.
The footage was released by Turkish security forces and has gone viral.
The area has now been sealed off while police and fire department investigate why the sinkhole opened up, NDTV report said.
https://www.khaleejtimes.com/international/video-sinkhole-opens-swallows-two-women
--------
URL: https://www.newageislam.com/islam-women-feminism/indonesia-court-rejects-womans-blasphemy/d/116729
New Age Islam, Islam Online, Islamic Website, African Muslim News, Arab World News, South Asia News, Indian Muslim News, World Muslim News, Women in Islam, Islamic Feminism, Arab Women, Women In Arab, Islamophobia in America, Muslim Women in West, Islam Women and Feminism