New Age Islam News Bureau
10 May 2013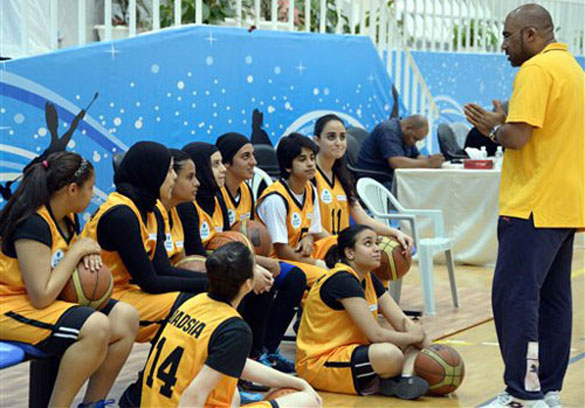 Kuwait sporting women: Kuwait's Qadsiya Club women basketball team listen to their coach, during the Women's Games, at Salwa Al Sabah (AP Photo/Gustavo Ferrari)
---------
• Indo-Pak Women Artisans Join Hands to Stitch Together 'Peace'
• Syrian Refugees 'Sold For Marriage' In Jordan
• Turkish Airlines Reverses Lipstick Ban for Flight Attendants
• Woman Agent of Gulf-Based Sex Racket Arrested
• Lower Dir: Key Political Parties to Bar Women Voters
• Kuwait Launches Sports Clubs for Women
• Arrests Mar Landmark Jerusalem Women's Prayers
• Islam Gives Complete Freedom of Business and Work to Women: Zahra Zamani
• Zahra, a 52-year-old: A Dark Horse Candidate in Tehran
• Ruqayya Hashmi Fights for Shia Hazara Community in Balochistan
• 'Badam Zari Goes More On Air than On Campaigning'
• Jeddah Call Center Girls Seek Better Working Conditions
• Female Garment Workers of Bangladesh Bear Brunt of Tragedy
Compiled by New Age Islam News Bureau
URL: https://newageislam.com/islam,-women-and-feminism/new-age-islam-news-bureau/indo-pak-women-artisans-join-hands-to-stitch-together-'peace'/d/11504
------------
Indo-Pak Women Artisans Join Hands To Stitch Together 'Peace'
May 9, 2013
AHMEDABAD: Amid simmering tension across Indo-Pak border - the killing of Indian citizen Sarabjit Singh in Pakistani jail and assault on Sanaullah Ranjay, a Pakistani in Jammu's Kot Bhalwal jail - hope for peace is being stitched, thread by thread.
Hansiba from Gujarat and Pakistan's Sabah are set to collaborate in a mega fashion show titled 'Ananta - the fabulous stitch' to be held in Lahore in October this year.
Named after a 95-old artisan Hansi, Hansiba is a brand of contemporary line of clothing made by traditional artisans of Gujarat.
Sabah is Saarc Business Association of Home-based Workers which has women artisans earning their livelihood by showcasing and selling their traditional art and craft in the mainstream.
Director of Self Employed Women's Association (Sewa), Reema Nanavaty, who is set to fly to Lahore shortly to finalize the theme and the backdrop of the fashion show, said that over 5,000 women artisans from India, Pakistan and other Saarc countries will be in touch with each other to create a body of work which will showcase their cultural integration - for instance, clothes with 'soi bharat' embroidery from Gujarat decorating a garment in complete harmony with Baluchi embroidery of Pakistan.
The artisans will work with leading designers of Pakistan.
"When women work with women for mutual economic and cultural growth, political tensions across the borders neither remain a concern nor instill fear. There is a trust which helps them focus only on their work and livelihood," says Nanavaty.
The event will be held at the historic fort in Lahore. Nada Hassan, project manager of Sabah Pakistan, said Pakistan has a rich heritage of embroidery from Hazara, Quetta, Sindh and other provinces.
"After collaborating with Sewa, women are now using these traditional skills to make contemporary mobile and laptop covers as well. The fashion show will give a great boost to local Pakistani women," says Nada.
http://timesofindia.indiatimes.com/city/ahmedabad/Indo-Pak-women-artisans-join-hands-to-stitch-together-peace/articleshow/19962711.cms
------------
Syrian Refugees 'Sold For Marriage' In Jordan
By Beth McLeod
10 May 2013
Before the war began, Kazal was in love with her neighbour in Homs. "He was 20 years old and I dreamed of marrying him one day," she says. "I never thought I would marry someone I didn't love, but my family and I have been through some hard times since coming to Amman."
Kazal says she is 18 but looks much younger. She has just got divorced from a 50-year-old man from Saudi Arabia who paid her family about US $3,100 (UK £2,000) to marry her. The marriage lasted one week.
"I lived with my husband in Amman, but we weren't happily married. He treated me like a servant, and didn't respect me as a wife. He was very strict with me. I'm happy that we're divorced."
Her huge, blue eyes fill with tears when she talks about the marriage.
Continue reading the main story
Start Quote
You can call it rape, you can call it prostitution, you can call it what you want, but it's preying on the weakest"
Andrew Harper
UNHCR
"I agreed to it so I could help my family. When I got engaged I cried a lot. I won't get married for money again. In the future I hope to marry a Syrian boy who's my own age."
'Survival sex'
Andrew Harper, the Representative of the UN Refugee Agency (UNHCR) in Jordan, is concerned that some of the 500,000 Syrian refugees in the country are increasingly turning to such desperate measures.
"We don't have enough resources to give aid to all those who need it. The vast majority of refugees are women and children. Many of them are not used to going out to work, so survival sex becomes an option."
His office in central Amman is surrounded by hundreds of newly arrived refugees, waiting in long lines to register for aid. He says the UNHCR has intervened with some families who have been offering their daughters up for early marriage.
"I can't think of anything more disgusting than people targeting refugee women… You can call it rape, you can call it prostitution, you can call it what you want but it's preying on the weakest.
"The government and people of Jordan are doing what they can but people are poor and we have to get more resources into the community so families aren't forced into something that deep down I believe they don't want to do."
Short-term marriages between men from the Gulf and Syrian girls reportedly happened before the war began. But Kazal's mother Manal, who dresses conservatively like her daughter in an abaya and headscarf, says she would have never considered such an arrangement in the past.
"Life here is very hard and we receive very little aid. We have a baby who needs lots of milk every day, and we can't afford to pay the rent. So I had to sacrifice Kazal to help the other members of the family."
She says that the marriage was arranged by an Amman-based NGO called Kitab al-Sunna, which gives cash, food and medicines to refugees. It is funded by donations from individuals across the Arab world.
"When I went for help at the NGO they asked to see my daughter. They said they would find a husband for her."
Syrian matchmaker
The director of Kitab al-Sunna, Zayed Hamad, says that he is sometimes approached by men who want to marry Syrian women.
"They ask for girls who are over 18. They're motivated by helping these women, especially those whose husbands died as martyrs in Syria. Arab men see Syrian women as good housewives, and they find them very pretty, so traditionally it is desirable to marry one."
Um Mazed is a 28-year-old Syrian refugee from Homs who has started earning money by arranging marriages between Syrian girls and Arab men.
In a grubby room covered with mould, she fields phone calls from prospective brides and grooms.
"The men are usually between 50 and 80, and they ask for girls who have white skin and blue or green eyes. They want them very young, no older than 16."
She says she has presented more than a hundred Syrian girls to these men, who pay her a fee of US $70 for an introduction, and about US $310 if it results in a marriage.
"If these marriages end in divorce after a short time, that's not my issue, I'm just the matchmaker. As far as I'm concerned it's not prostitution because there's a contract between the groom and bride."
Um Mazed means "Mother of Mazed", one of her three children. She doesn't want her identity known because she's ashamed of what she is doing for a living, but claims she has no choice.
"How are we supposed to live when the NGOs give us so little help? How are we supposed to pay our rent? We're not getting enough help to live decently, that's why I'm doing this - so my family and I can survive."
http://www.bbc.co.uk/news/world-middle-east-22473573
-----------
Turkish Airlines reverses lipstick ban for flight attendants
10 May 2013
Turkish Airlines has reversed a ban on flight attendants wearing brightly-colored lipstick following accusations it was trying to Islamize the company under government influence.
Temel Kotil, the airline's chief executive officer, announced the move in the Turkish media accusing overzealous lower-level airline executives of having imposed the ban.
"Staff can use the color [of lipstick] they want. This measure was not approved by the hierarchy," Kotil said, according to Hurriyet and Milliyet newspapers.
The airline defended the ban earlier this month, saying in a statement that "simple make-up, immaculate and in pastel colors, is preferred for staff working in the service sector."
To protest the measure, numerous women had posted pictures of themselves wearing bright red lipstick on social media websites.
In recent months the booming airline, which is 49 percent state-owned, has also stopped serving alcohol on internal flights.
The liberal media had accused the airline of seeking to Islamize the company under the influence of the conservative government.
Prime Minister Recep Tayyin Erdogan's Islamist-rooted Justice and Development Party, in power for over a decade, is often accused of creeping efforts to pressure the country to be more conservative and religious.
Turkey is a fiercely secular state, despite being a Muslim-majority country. Under Erdogan's rule, headscarves – banned in public institutions – have become more visible in public places and alcohol bans are more widespread.
http://english.alarabiya.net/en/News/middle-east/2013/05/10/Turkish-Airlines-reverses-lipstick-ban-for-flight-attendants.html
------------
Woman Agent of Gulf-Based Sex Racket Arrested
May 10, 2013
KOCHI: The main woman agent of the sex racket that trafficked girls from Kerala and other southern states to Gulf countries for prostitution was arrested by the Crime Branch. She has been identified as Lissy Sojan alias Leena Basheer alias Aswathy, 40 native of Vadakanchery.
The woman was arrested from a house in Aluva where she had come to surrender before the court. According to Crime Branch officials, the woman had returned from Dubai one year ago and was staying in different parts of the country fearing arrest. "We are interrogating the accused and nothing more could be said at this point of time," said the officials. The case was investigated by a crime branch team led by Superintendent Alex K John. Lissy Sojan was produced before Aluva Judicial First Class Magistrate Court on Friday.
The activities of the sex racket and the role of Lissy behind the trafficking came to light after a woman from Kazhakottam was arrested with fake passport at Mumbai Airport in June 2012. The woman reached Mumbai after she escaped from the racket. She was taken to Sharjah as a domestic worker but was forced into flesh trade by the racket.
The Crime Branch team had already arrested Raju Mathew, a sub inspector attached to the emigration wing of the Cochin International Airport Limited ( CIAL) at Nedumbassery, on charges of helping the racket at the emigration counter. He allegedly cleared the passage of the women who were brought to the airport with fake passport.
As per the investigation, around 120 girls had been trafficked by the racket to the Gulf countries by the racket in the last couple of years.
http://timesofindia.indiatimes.com/city/kochi/Woman-agent-of-Gulf-based-sex-racket-arrested/articleshow/19984348.cms
------------
Lower Dir: Key Political Parties to Bar Women Voters
10 May 2013
LOWER DIR: Key political parties in Lower Dir District have entered into an informal agreement to bar women for voting in May 11 general elections, official sources and locals told Dawn.Com on Friday. Sources said that the front men of Pakistan People's Party (PPPP), Awami National Party (ANP) and the Jamaat-i-Islami (JI) candidates have arrived at an informal agreement to disallow women from voting in general elections for Lower Dir's provincial assembly seat PK-94.The JI's Muzaffar Said, PPPP's Alamzeb Khan and the ANP's Ayub Khan are the major political parties contesting for the seat. Sources also confirmed that, due to the Election Commission's restrictions, the candidates had made the deal through their 'local operators' instead of coming forward themselves."The decision was taken at village Bandagai in Talash area of Lower Dir district. But there is no written document in this regard and we also do not know that there are such arrangements in other areas as well," said one source. Political parties have previously barred women from voting in the same area and adjoining union councils. However, due to the ECP's strict rules this time, candidates have asked their front-men to carry out the agreement.
http://dawn.com/2013/05/10/lower-dir-ppp-anp-ji-team-up-to-bar-women-voters/
------------
Kuwait launches sports clubs for women
May 10 2013
Muneera al-Shatti has loved playing basketball since she was a child but it wasn't until Thursday that she had chance to show off her skills at a public arena in Kuwait.
As part of a new initiative launching sports leagues for women, al-Shatti and her teammates from Salwa Al-Sabah club downed Qadsiya club 63-13 in a game that attracted several hundred men and female fans. The initiative to launch basketball, table tennis and athletic leagues for the first time in Kuwait illustrates how the landscape for women athletes is improving across the Persian Gulf where hard-liners have long opposed women playing sports.
Several of the players, in deference to the conservative Muslim culture that is common across the Persian Gulf, wore leggings and covered their heads with hijab. Others, however, wore shorts and T-shirts.
"A competition like this should have happened a long time ago," said al-Shatti, who has played in tournaments overseas and only heard about the league in her home country while playing in neighboring Bahrain. "But I am glad it finally took place. We've been trying to do this for a long time and they have promised that more sports will be included in future leagues."
Helped by government support, increased education and erosion of traditional values, football leagues for girls in the Gulf have started up in Qatar and United Arab Emirates. Saudi Arabia — which long barred girls from playing any sports — recently announced it would allow sports in private schools as long as they abide by the rules of Shariah, or Islamic law.
Saudi Arabia's decision is part of a wider package of reforms targeting women with the aim of ending discriminatory practices that have contributed to a host of health problems, including obesity and diabetes. The private schools' announcement also follows a decision last year in the kingdom to allow two female athletes to compete in the London Olympic Games following months of intense pressure from the International Olympics Committee.
Still, women's sports remain nearly an underground activity in the kingdom, which is home to Islam's holiest site in Mecca. Only the largest female university in the kingdom — Princess Nora Bint Abdul Rahman University — has a swimming pool, tennis court and exercise area for its students. No other university in Saudi Arabia has sports facilities for female students and staff.
Women are also bound by strict rules when it comes to their attire, so they cannot, for example, be seen by men while jogging in sweat pants. Female athletes cannot register for sports clubs or league competitions. They are banned from entering national trials, making it impossible for them to qualify for international competitions.
Kuwait is typical of the struggle women have endured in the Gulf.
Full report at:
http://www.thejakartapost.com/news/2013/05/10/kuwait-launches-sports-clubs-women.html
------------
Arrests Mar Landmark Jerusalem Women's Prayers
10 May 2013
Police spokesman Micky Rosenfeld told AFP that 1,000 ultra-Orthodox men were kept away from a large group of "Women of the Wall" activists conducting their monthly prayer using prayer shawls, after a court ruled they could do so.
"Police arrested three ultra-Orthodox men and detained another two" for public disturbances," Rosenfeld said.
Ultra-Orthodox men had tried to break through reinforced police lines and reach the women, some calling police holding them back "Nazis" and yelling offensive remarks at the women while others blew on whistles to drown out their prayers.
An AFP correspondent said they also threw bags containing liquid, water bottles, bags of rubbish, plastic chairs and eggs at the police and women.
Two police officers were slightly injured and treated at the site, but no women were hurt and they managed to complete their prayers, some holding flowers alongside prayer books.
When the prayer ended, police escorted the women to a bus which was hit by stones as it left the area, Rosenfeld said.
The women activists have for more than 20 years demanded to be allowed to pray using their form of liberal Judaism at the site, while wearing fringed prayer shawls and other religion-related objects and reading from Torah scrolls.
But police, acting under court orders, would distance and detain them for conduct considered "provocative" to ultra-Orthodox believers, some of whom would accost the women, creating disturbances.
Last month, a court determined the women's conduct was not causing disruption; rather it was those who were attacking them, and ruled that the Women of the Wall could pray at the site using their rites.
"We've completed a very historic prayer, if harrowing," Women of the Wall spokesperson Shira Pruce told AFP.
She said some 400 activists were confronted by thousands of protesters.
"We are extremely proud and happy that our women prayed peacefully and in complete freedom," she said, praising police for protecting them.
Ahead of Friday's monthly prayer, ultra-Orthodox rabbis called on seminary students to gather at the Western Wall to counter the Women of the Wall, and thousands filled the women's prayer section.
After consulting police, the activists decided to pray at the plaza not directly adjacent to the wall, Pruce said, since this enabled better police protection.
The women say access to the Wall, the most sacred spot at which Jews can pray, should be open to all streams of Judaism, including the Reform and Liberal branches which accord women an equal place alongside men and equal practices.
They demand to be allowed to wear prayer shawls, phylacteries -- small boxes fastened to the body by leather straps -- and to read aloud from a Torah scroll.
The Western Wall is currently managed by ultra-Orthodox Rabbi Shmuel Rabinovitz, who called Friday's incident "painful images" and urged all sides to not drag the site into a separatism dispute.
Full report at:
http://english.ahram.org.eg/NewsContent/2/8/71092/World/Region/Arrests-mar-landmark-Jerusalem-womens-prayers.aspx
------------
Islam Gives Complete Freedom of Business and Work to Women: Zahra Zamani
New Age Islam News Bureau
10 May 2013
Mumbai: Zahra Zamani, the Iranian scientist who was in Mumbai recently to attend a programme hosted in her honour spoke to Sadia Merchant of Urdu Times on issues related to Muslims and women. She said that she did her Ph. D from Mumbai University in 1991 and before that completed her B. Sc and M.Sc from the same University. She is the renowned doctor and scientist of Iran and has visited many cities of India to guide students with their research. She has written hundreds of books on scientific topics and knows English, Persian, Hindi, Urdu and French.
She said that she considered Hadhrat Fatima her ideal as she played the role of a wife, mother and daughter very successfully and gave all the women of the world the message that women had all the right to live with honour and dignity, to do business and work, the right to Mehr, the right to property and above all right to education. Islam allows women to do business, agriculture, professional jobs, the job of teaching, journalism and writing and all the legitimate work and go out for her work.
Asked how good medical field was for girls, she said that in the older days, education was not common in Iran but after the Iranian revolution under Imam Khomeini, the education of girls was given importance. Today a large percentage of Muslim girls is associated with the medical department as professors, doctors and lecturers.
------------
Zahra, a 52-year-old: A Dark Horse Candidate in Tehran
May 9, 2013
By SOHRAB AHMARI
Its presidential election season in Iran, but as this newspaper has reported there is little public enthusiasm in the Islamic Republic for the June 14 vote. That's not surprising given that most of the figures looking to succeed Mahmoud Ahmadinejad fall in the usual spectrum between the truly tyrannical—the members of the "principlist" faction—and the relatively less tyrannical—also known as the "reformists."
But one candidate is bucking this trend and promises to be the must-watch maverick in the race. Zahra, a 52-year-old Muslim woman from Tehran, is running on a human-rights platform that emphasizes "the dignity of every life." Zahra says she's running for president to hold accountable the clerical regime for its crimes.
OK, so Zahra isn't a real candidate. Iran's unelected Guardian Council bars anyone who isn't a male Shiite with irreproachable "revolutionary" credentials from running for president, so even if she were a real person, she wouldn't stand a chance against the mullahs.
Zahra is the brainchild of Amir Soltani, an Iranian-American writer based in Berkeley, Calif., and the author of "Zahra's Paradise," a 2011 graphic novel about a mother's search for her missing son during the uprising and crackdown that followed Iran's last presidential election in 2009.
r. Soltani says the character was inspired by a YouTube video he saw of a real-life Iranian mother about to bury her son, a pro-democracy student who died under suspicious circumstances while detained by security forces in 2009. "On her face you could see the distillation of the experience of the Iranian people over the past three decades," Mr. Soltani tells me. "Sorrow, rage, confusion but also courage."
He was especially struck by that last attribute: the resilience of the Iranian spirit in the face of theocratic dictatorship. As the Islamic Republic prepares for another round of voting, Mr. Soltani felt compelled to put Zahra forward "as a protest candidate to highlight the fact that Iran's elections are a sham," he says.
True, Zahra can't be registered officially as a candidate, but thanks to the Internet, Iranians inside and outside the country can meet her virtually at www.vote4zahra.org and compare her plank with those offered by the regime-sanctioned candidates. The website isn't blocked in Iran—yet—and chronicles, graphic-novel style, Zahra's campaign. ("I'd knock off Khamenei's Full report at:
http://online.wsj.com/article/SB10001424127887323628004578459402838167318.html
------------
Ruqayya Hashmi Fights for Shia Hazara Community in Balochistan
By Waqas Naeem
May 10, 2013
ISLAMABAD: In several cities across Pakistan, political parties and candidates have faced threats and deadly attacks on the basis of political ideology. But, in Quetta, Dr Ruqayya Saeed Hashmi has battled a different kind of threat throughout her election campaign.
She is a Shia Hazara politician, contesting elections for NA-259 from the platform of Pakistan Muslim League-Quaid (PML-Q), in a city where over 150 Hazaras were killed in 2013 alone.
On January 10, the Hazara community sat in protest for four straight days with the dead bodies of their relatives, after nearly a 100 people were killed in a massive bombing carried out by the Lashkar-e-Jhangvi.
But despite the imposition of governor's rule, ostensibly to provide better security to Quetta's Hazara population, terror struck a Shia Hazara neighbourhood in the city again on February 16, killing at least 67. Once again the LeJ claimed responsibility. In the protests which followed this attack, Hashmi was on the frontlines, outraged and vocal.
Hashmi, 62, thinks her presence at the protests has made her a target for the Laskhar-e Jhangvi and allied terrorist outfits.
She and her political workers have received death threats. Her campaign activities have been confined to a limited area but she has braved it out by going door-to-door to ask for votes.
Residents want to vote but they also have apprehensions about election day violence, she said.
"Candidates are mobilising people to vote but then there are threats of violence which have scared the voters," she said.
Nevertheless, she is optimistic that the voter turnout percentage in Quetta city will be above the national average.
Security for the Hazara community is among Hashmi's top priorities. If elected, she wants to bring about legislation, through mutual political consensus, to ensure the safety of the Hazaras.
"I will try to gather the support of all political parties on grounds of humanity for safety and security of the people of Quetta city, especially the Hazara community," she said.
A Quetta native, she has twice been a member of the Balochistan Assembly on the reserved seats for women.
She is also proud of the eight years she served as an Army doctor in Quetta and often identifies herself as a soldier.
An activist from her student days; she retained her connection with politics when she married into the Hashmi family, which has been involved with politics from pre-partition days.
Her husband, Saeed Ahmed Hashmi, has been elected to the Balochistan Assembly from Quetta in the past and is contesting again this year.
Full report at:
http://tribune.com.pk/story/546846/soldiering-on-ruqayya-hashmi-fights-for-shia-hazara-community-in-balochistan/
------------
'Badam Zari Goes More On Air than On Campaigning'
By Sumera Khan
May 10, 2013
ISLAMABAD: Badam Zari, who shot to prominence for being the first woman to contest polls from the ultra-conservative tribal constituency of Bajaur Agency, naturally drew media attention. Now that very spotlight is proving to be a liability.
"She is spending a bulk of her time appearing on local and foreign media instead of visiting the women of the constituency she is standing from," said Wagma, a local social activist.
Wagma also expressed reservations on behalf of the tribal women living in NA 44 from where Zari is contesting.
"Badam Zari's candidature had sent a great message that a tribal woman from a conservative culture could become a public representative," she said.
"Women of Bajaur were expecting frequent visits from Zari to explain to them as to how she is going to solve their problems," Wagma said.
However, she claims Zari did not pay much attention to the locals and kept focusing on media appearances rather than actually working on the ground.
An official from the FATA secretariat, who wished not to be named, told The Express Tribune that it was the media, which hounded Zari for interviews, that hampered her campaign.
He admitted that some people even doubt her sincerity and are spreading the word that Zari and her husband are trying to get attention through media appearances or are already being funded by some NGO or foreigners.
Full report at:
http://tribune.com.pk/story/546834/locals-complain-badam-zari-goes-more-on-air-than-on-campaigning/
------------
Jeddah Call Center Girls Seek Better Working Conditions
JEDDAH: KHADIJA HABEEB
10 May 2013
A number of female workers in customer-service call centers demand that their work environment be improved and their rights protected.
They say that customer service has become essential in most sectors, including travel, tourism and industry, and that this type of job should be included in the list of "hazardous professions" in order for the employee to receive compensation in case of injury.
Ola Omari, who has been working in customer service for five years, said that the culture of "good treatment" is lacking. Customers just do not appreciate their service and some companies force them to work for extended periods, sometimes up to 10 hours a day.
"In addition, we lack many benefits. We have no health insurance. A colleague of mine left work after having sustained a severe ear injury as a result of spending long hours at work," she said.
Maha Asiri, who has been working for a long time in this field, said that she learned to be patient and work under pressure. "Dealing with various types of clients will give you experience on how to handle people, but some companies do not provide adequate training to their female workers," she complained.
Yaseen Khayyat, chairman of the legal council's commission at the Jeddah Chamber of Commerce and Industry, said medical insurance is mandatory for all companies. "If an employee sustains an on-the-job injury, he or she has the right to sue the company. They can go to the labor office and file a complaint. It is then referred to other agencies for further action," he said.
Haya Abd Al Aziz, a customer-service supervisor, said that this is a new profession for Saudi girls and this may cause problems because their job is not well-understood by the community. "Our problems are mostly related to phone nuisance. In addition, some employers sometimes summarily dismiss an employee if they receive a customer complaint," she said.
Full report at:
http://www.arabnews.com/news/451078
------------
Female Garment Workers of Bangladesh Bear Brunt of Tragedy
May 10, 2013
DHAKA, May 10 (IPS) - Last month, 18-year-old Shapla was just another one of thousands of garment workers employed in a factory in Savar, a suburb of Bangladesh's capital Dhaka.
Today she is a handicapped survivor of one of the worst industrial accidents in history: the collapse on Apr. 24 of the massive Rana Plaza, a building housing five factories that buried scores of workers under a wave of cement and glass.
The death toll reached 996 on Friday, though officials and families are still counting the bodies and searching for others beneath the rubble.
"I am desperate about the future," Shapla said, echoing the sentiments of hundreds of female apparel workers like her who lost their limbs on that fateful day.
The young mother is now recovering in a hospital in Dhaka after her hand was amputated. Having survived the collapse, Shapla is considered one of "the lucky ones", but she is loath to see the bright side, as her handicap will almost certainly prevent her from finding work.
Experts say that women, who make up 80 percent of the workforce in this country's booming garments industry, have borne the brunt of this tragedy. According to initial reports, over 80 percent of those who lost lives and sustained injuries in the collapse were women.
"They are now socially and economically heavily disadvantaged," said Mashud Khatun Shefali, founder and head of Nari Uddung Kendra (the Centre for Women's Initiatives).
A leading advocate for female garment workers' rights, Shefali says her organisation, which has lobbied for better conditions such as safe housing for workers, is now focusing on helping female survivors overcome the trauma of the accident.
Some of the workers are "so badly affected that they say they never want to work in factories again," Shefali told IPS. "They need long-term physical and mental rehabilitation…and they need to be accepted as disabled persons by their families and society."
A woman named Nazma Begum, whose legs have been amputated as a result of her injuries, told a local television station this week that she "worried incessantly" about how she would handle her disability, until her husband assured her of his continued support and love.
The dark side of manufacturing
Over the last decade, Bangladesh - a country of 150 million of which 49 percent live below the poverty line - has become a crucial player in the international apparel trade by providing a vast supply of cheap labour.
Bangladesh's garment industry is now the third largest in the world after China and Vietnam, bringing in 20 billion dollars or roughly 80 percent of the country's annual foreign exchange.
Major apparel companies based in the West and wealthy Asian countries like Japan and South Korea began shifting their production centers to Bangladesh when old manufacturing hubs like Thailand began to raise wages.
Mass-produced and bargain clothes that include such labels as Gap, Primark, HMV, Walmart, Sears and American Apparel are all manufactured here and then sold in the importing countries.
More than 5,000 factories employing over 3.5 million workers are packed into high-rise buildings in Dhaka and outlying districts, operating round the clock.
The biggest to the smallest of these factories are staffed by mostly young women hailing from rural areas, who come to the cities in the hopes of acquiring skills they have no access to in Bangladesh's agricultural regions.
When they arrive in the city, they often live together in close quarters, sharing bathrooms and food.
Uneducated and illiterate, these women have few means by which to earn a steady income; their vulnerability makes them easy prey for manufacturers who claim that, in order to remain "competitive" on the world market, they must hire the cheapest possible workforce.
According to Shefali, young women often start off as interns, meaning they do not receive a wage but instead labour for a stipend that can be as low as a dollar per month.
Within a year, they move on to operating more sophisticated machinery and drawing a regular salary, she added.
Most women sew, wash and pack garments for roughly 30 to 40 dollars a month, working a daily average of 10 hours, seven days a week. In contrast, men tend to be hired for high-level positions, such as quality control and management.
The garment sector has been hailed as one of the country's biggest employers, bringing a steady wage to thousands of women. But a string of tragedies has recently highlighted the hazardous nature of this work.
Last November, over 100 garment workers perished in a fire in the Tazreen Fashion Factory on the outskirts of Dhaka. Survivors of that tragedy claim they tried to escape, but were locked in by the factory managers.
Full report at:
http://www.iede.co.uk/news/2013_1816/female-garment-workers-bear-brunt-tragedy
------------
URL: https://newageislam.com/islam,-women-and-feminism/new-age-islam-news-bureau/indo-pak-women-artisans-join-hands-to-stitch-together-'peace'/d/11504