New Age Islam News Bureau
25 Jun 2017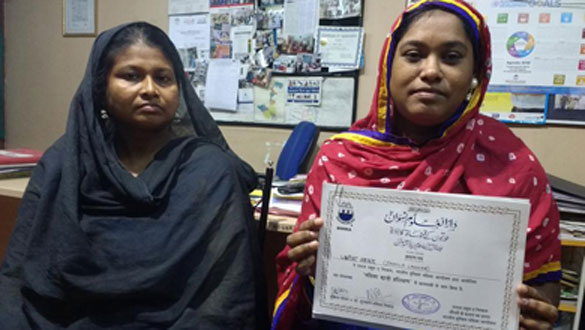 Photo: Hakima Khatun (left) and Jamila Laskar are two of the 15 successful candidates. Both live in Howrah district of West Bengal. (HT Photo)
• Muslim Girls Aged NINE Take Part in Sydney Hijab Ceremony to Symbolise Maturity - With Islamic Sheikh Slamming It as Step toward Sharia Law
• Muslim Women in India Can Become Change Agents through Education
• Women-Only Mosques, a Unique Feature of Islam in China
• First Lady Hosts Muslim Women to Ramadhan Iftar Dinner
Compiled by New Age Islam News Bureau
URL: https://www.newageislam.com/islam-women-feminism/indias-first-women-qazis-overcome/d/111669
---------
India's First Women Qazis Overcome Resistance, To Fight Social Evils
Jun 25, 2017
Even as the triple-Talaq controversy rages on, the Muslim community in India is all set to see its first batch of women Qazis – or Islamic judges – make inroads into a domain hitherto considered exclusively for men.
Besides being trained to solemnise the nikah (marriage) and validate the talaq (divorce), they are also qualified to oversee the khula (legal separation initiated by the wife) and assess the mehr (money given to the bride by her in-laws).
"I've placed an order for my very own seal, complete with a registration number. People in my neighbourhood have reacted positively to my decision to become a kazi. Even the imam of the local jama masjid wished me well," said 28-year-old Jamila Laskar, a resident of Howrah.
Hakima Khatun, a mother of two, says she enjoys the "full support" of her husband and family. "Absolute male dominance among Qazis is one of the major reasons for males allowing arbitrary talaqs. A woman kazi would ensure that wives benefit from the equal rights accorded to them by the Quran," the 40-year-old woman added.
Both Laskar and Khatun were among the 15 women who graduated from the Mumbai-based DarulUloomNiswan (DUN), an Islamic centre of learning, in April. Thirty women from various states had enrolled in the first-of-its-kind course in 2015.
The road ahead, however, may not be smooth. Two of their batchmates from Rajasthan – Jahan Ara and Afroz Begum – ran into trouble in February 2016, when several conservative clerics dubbed the appointment of women Qazis as un-Islamic. "But I completed my training despite all the opposition. I am eligible to solemnise the nikah now," Ara told HT over the phone.
HakimaKhatun (left) thinks absolute male dominance among Qazis is one of the major reasons why men get arbitrary talaq sanctions in their favour. (HT Photo)
Suraiah Sheikh (45), who grew up in a Bandra slum, overcame resistance from relatives by convincing them that the Quran does not disapprove of women Qazis. "Once we begin practising, we will act against social evils like underage marriages and polygamy. We will also ensure that the groom provides residential and income proof before signing the marriage contract," she said.
Suraiah, along with Khatun Sheikh and Hena Siddiqi, are the first women Qazis from Maharashtra.
"We know that not many will approach us in the initial days. But then, let's not forget that this is just the start of a new trend," said 61-year-old Khatun Sheikh, also from Bandra.
The concept of women Qazis has been the cause of widespread controversy in recent times. In 2008, rights activist Naish Hasan got a noted woman scholar – Syeda Hamid – to solemnise her marriage. The ethical debates that followed virtually split the Muslim community.
While some Muslim religious leaders – including the All India Muslim Personal Law Board – vehemently opposed the idea, scholars such as former Law Commission member Tahir Mahmood insisted that the Quran doesn't bar women from becoming Qazis. Institutions like the DarulUloomDeoband also supported the cause of women Qazis.
Last year, the All India Muslim Women Board appointed HenaZaheer and Maria Fazal as shaharQazis of Kanpur for the Shia and Sunni sects respectively. Their roles, however, were restricted to arbitration and counselling for fear of annoying conservative clerics.
hindustantimes.com/kolkata/india-s-first-women-Qazis-overcome-resistance-to-fight-social-evils/story-Jyl8Qja5jblzF8tkMPZ93I.html
----------
Muslim girls aged NINE take part in Sydney hijab ceremony to symbolise maturity - with Islamic sheikh slamming it as step toward Sharia law
25 June 2017
Muslim girls in Sydney are dressed in white from head to toe as part of a hijab ceremony to signify the age when they must cover up their bodies, with an Islamic imam slamming it as a step toward Sharia law.
Australia's most senior Shia cleric Sheikh Kamal Mousselmani presided over the ceremony where 24 girls walked on stage to show their maturity.
'The hijab is compulsory for the girls when they become nine according to our religion,' he told Daily Mail Australia.
The girls were dressed in white, the same shade as a wedding dress, however Sheikh Mousselmani denied the ceremony was about preparing girls for marriage, despite Islamic law saying girls reach maturity at the age of eight.
'You want me to tell you that it was a marriage ceremony. Definitely not,' he said.
However Adelaide Shia leader Imam Shaikh Mohammad Tawhidi said Islam classified eight as the adult age for girls and was worried by the ceremony's symbolism.
'I confirm that according to Islamic jurisprudence, a Muslim girl reaches the stage of maturity at eight to nine years of age,' he said.
Adelaide Shia Imam Mohammad Tawhidi says hijab ceremony for girls is 'imposing Sharia law'
'Hence the celebration took place, which means that they're no longer girls but adult females who would lead an adult life, including marriage.
'This goes against the Australian values and social ethics and is basically promoting and imposing Sharia law in Australia.'
The 34-year-old Iranian-born religious leader, who moved to Australia from Iraq in 1995, said the girls would have no idea how the ceremony symbolised them entering adulthood.
Sheikh Tawhidi said the hijab was only ever worn to symbolise maturity, which meant the hijab ceremony was different to a modern Jewish bar mitzvah, as Judaism had reformed to extend childhood.
Sheikh Mohammad Tawhidi (right) has challenged Australia's most senior Shia cleric
'The lives of those girls change from that point onwards and they're treated as adults,' he said.
The 24 girls took part in the ceremony at Banksia, in Sydney's south-east, on March 31.
Sheikh Mousselmani confirmed nine was the age when girls were considered mature in Islam before quickly retracting his statement.
'When the girl becomes nine or nine-and-a-half, we say they become eligible for hijab and we organised a party,' he said.
dailymail.co.uk/news/article-4636560/Muslim-girls-9-wear-white-Sydney-hijab-ceremony.html#ixzz4l0AJxXmL
----------
Muslim Women in India Can Become Change Agents through Education
June 25, 2017
Prime Minister Narendra Modi recently called for empowerment and education of Muslim women. One would have expected this message to receive widespread acceptance and support. It did not.
There was resistance on several fronts for a variety of reasons. Some saw Modi's move as a political stunt. Some questioned whether Modi was doing anything meaningful in the education and empowerment area. Others came out against it because of a connection to the triple-talaq controversy.
There is no gainsaying that there is an unequivocal and critical need to empower Muslim women through education in order for India to achieve its full potential. The status of education in general was captured by the 2001 census which revealed that the Muslim literacy rate was only 59 per cent.
In response to these and additional findings regarding Muslims and others in the weaker sections, the Sachar Committee Report of 2006 disclosed a development deficit in a number of areas. The report resulted in the creation of an across-the-board programme for the development of minorities.
This programme and other initiatives have had a beneficial effect. In the 2011 census, the overall literacy rate for Muslims went up substantially to 68.5 per cent against the national literacy rate of 74 per cent.
That was good news. But the numbers within the numbers tell a different story. The worst literacy rate for women in India is among those in the Muslim community at less than 52 percent. That is cause for concern.
Even more worrying is the performance of Muslims in terms of higher education. A US India Policy Institute released in 2013, six years after the Sachar Report, showed that only 11 per cent of Muslims in India pursue higher education compared to a national average of approximately 19 per cent. Most significantly, that study revealed that there has been a decline in the general category of Muslims participating in higher education.
The literacy rate and the higher education statistics represent a double whammy for Muslim women as it relates to empowerment. In education, literacy is the starting line and higher education is the finishing line for becoming fully empowered. These statistics indicate that not enough Muslim women even get to the starting line and very few get to the finishing line.
This must change. Muslim women must be able to participate fully along the entire educational continuum. This participation is pivotal for the future of the individual Muslim woman, the Muslim family and India.
For the individual Muslim woman, education itself is empowering. It removes the shackles of ignorance. It develops the knowledge, skills and attitudes to pursue and create one's own destiny. It builds self-esteem and confidence. Education is the gift that keeps on giving. It is an opportunity creator and bridge to the future.
For the Muslim family, education prepares the Muslim woman to be a change agent. Too many Muslim families are trapped in poverty because of a lack of education. With her own education, the woman can educate and equip her children to escape that trap. I firmly believe education is a powerful equaliser, opening doors to Muslim women to lift themselves out of poverty.
For India, education delivers on the promise of the largest representative democracy in the world. Central to that promise are equality, opportunity and inclusive economic mobility. Education levels the playing field and makes that promise a reality. Once that reality exists for Muslim women they will be able to deliver on that promise for India by helping others up the ladder of success. They will have the capacity to change the face of India and the landscape of the world.
In the 21st century, higher education is becoming more important for climbing that ladder. By higher education, I don't just mean four-year colleges or universities. I include technical, vocational and professional education at the secondary levels.
It might seem that I am a little delusional given the current circumstances in talking about Muslim women and higher education. But that is not the case.
On my last visit to India in February this year, I had the good fortune to give addresses and speak with young Muslim women students at Fatima Girls Inter College in Azamgarh and Abdullah Women's College at Aligarh Muslim University (AMU). I was inspired by them and their commitment to making a positive difference in India.
During that visit, my wife Debbie and I also dedicated the new Management Complex that we had financed at AMU. In my comments at the dedication ceremonies, I predicted that from this Complex "will come the future leaders who will make India and the world a better place."
Many of those leaders will be educated and empowered Muslim women who will be in the forefront of empowering other Muslim women who will then educate and empower other Muslim women -- and the cycle will continue.
When that occurs, those Muslim women would have realised their full potential and they will ensure that India and the world do as well. When they succeed, all of us succeed. India succeeds. The world succeeds.
(Frank Islam is an Washington-based entrepreneur, civic leader and thought leader. The views expressed are personal. His website is frankislam.com)
--IANS
business-standard.com/article/news-ians/muslim-women-in-india-can-become-change-agents-through-education-comment-special-to-ians-117062500194_1.html
----------
Women-only mosques, a unique feature of Islam in China
25 June, 2017
Hundreds of women attend religious services every day at Niujie Mosque.
BEIJING (APP) - Niujie Women's Mosque, a unique feature of Islam in China, is not just a worship place for local Muslim community, but very popular among foreign Muslim women visiting Beijing.
During the holy month of Ramazan, hundreds of women attend religious services every day at the mosque, located in Beijing's
Xicheng district.
"China's women-only mosques are the best representative of religion with Chinese characteristics. It's a signature building
that shows our respect for women," Liu Jun, director of the Niujie Mosque, told the Global Times.
"Besides serving as a platform for Muslim women to pray and learn about the religion, women-only mosques now also have a new identity – a platform to forge international communication," he added.
Beijing's first women-only mosque was built in 1921 in Xicheng'sShouliu Hutong. The mosque was destroyed in 1997 amid a wave of demolitions of buildings considered dilapidated by the local government. In 2005, the government rebuilt the
newNiujie Women's Mosque, near its old location and the Niujie Mosque.
Liu, referencing Chairman Mao's famous statement, said that Muslim women "hold up half the sky" and are encouraged to play a big part in community activities.
According to Liu, in some Muslim communities in China and abroad there are no women-only mosques and women have
to pray at home.
There is no official data on the number of women-only mosques in China. Professor ShuiJingjun of the Henan Academy of Social Sciences wrote in her book that such mosques were first established in China's central plains which include parts of Henan, Hebei, Anhui, Shanxi and Shandong provinces.
The Ningxia Hui Autonomous Region also has women-only mosques.
Liu said that the emergence of women-only mosques was a result of the intermixture of Chinese and Islamic traditions. He noted that the largest single Muslim community in China is the Hui who largely claim descent from Arab traders who came
to China as early as 13 centuries ago and settled in China, intermarrying with locals. This ethnic mixture is reflected
in their religious practices.
"So we have characteristics of Han culture, which is inclusive," said Liu.
Besides the influence of their mixed origins, Shui's book offers another explanation for the existence of women-only mosques.
When Muslims first came to China during the Tang Dynasty (618-907), they were honored guests. But during the Ming Dynasty (1368-1644), Chinese Muslims fell out of favour with the authorities and were subject to repression. Under this persecution, the Muslim community had to make the most of its resources to ensure its cultural survival, and hence Muslim women had to help bear the responsibility of transmitting the faith.
So as early as the middle of the 17th century, religious schools especially set up for educating female Muslims emerged. During the late Qing Dynasty (1644-1911), these schools developed into women-only mosques.
Women-only mosques aren't only places for female Muslims to learn about their religion, but also an important resource for illiterate women, especially seniors, to learn basic knowledge, according to Ma.
During the Cultural Revolution, religious practices of all kinds were banned. It wasn't until the 1980s that religion returned to public view and female Imams re-appeared.
Ma said that these days young Chinese Muslims learn about the Holy Quran from Islamic websites and books. But she feels
that it's still necessary to have women-only mosques and female Imams.
According to Liu and Wang, in the last two years, they have seen more and more young Muslim women coming to the mosque for prayers, many of whom are college students.
Liu attributes the growth in youthful enthusiasm for Islam to the greater promotion of the religion on social media, which has made young people feel closer to their faith.
dunyanews.tv/en/World/394382-Womenonly-mosques-a-unique-feature-of-Islam-in-
----------
First Lady hosts Muslim women to Ramadhan Iftar Dinner
By christinemuchira - June 25, 20170103
First Lady Margaret Kenyatta Saturday evening hosted thousands of Muslim women to a special Iftar Dinner as they prepared to break the month-long Ramadhan and commemorate Idd-Ul-Fitr.
The over 3500 Muslims women from the grassroots (but joined by non-muslim friends) were drawn from all the 47 counties, majority of them coming from Nairobi as the host County.
Iftar is the evening meal when Muslims end their daily Ramadhan fast at sunset but Saturday's dinner at State House, Nairobi was the last Iftar ahead of the Idd-Ul-Fitr expected to be commemorated on Sunday or Monday depending on the siting of the moon.
The First Lady described the Iftar as a special occasion that cements the strong bond of unity among Kenyan women of all walks of life regardless of their religions and beliefs
"The Iftar we are sharing today is also special, because women from across the country and all walks of life are here in unity representing Muslim and non- Muslim communities of Kenya.
"So, as we sit together this evening, let us resolve to strengthen our common bond of friendship and unity. Let us also reflect on the teachings that binds us all together – teachings of peace, love, sharing and caring for one another", said the First Lady.
Idd-Ul-Fitr is the culmination of the Holy month of Ramadhan when Muslims worldwide complete the mandatory fasting (Saum) period.
Mandatory fasting among Muslims is one of the five pillars of Islam where Muslim faithful are required to stay without food, water and other luxuries except under special occasions including sickness or when travelling.
The fasting allows the Muslims to concentrate in prayer, reflection and good deeds like forgiveness.
The Holy month of Ramadhan is observed by Muslims worldwide . It heralds the Islamic month of Shawwal.
The First Lady said women are inherently blessed with unique strengths whose potential can only be realized in an environment of peace and harmony.
"These strengths can only be fulfilled where there is peace and harmony. So, as we share in the happiness of this evening, I urge us to also remember and thank God for the gains women have made as leaders, mentors and role models in Kenya", said the First Lady
She re-assured Kenyan women that she will continue the work of Beyond Zero that focuses on maternal health, child survival and the elimination of mother-to-child transmission of HIV/Aids .
"It is my greatest hope that we can continue this journey together and that you will give me ideas on what else we can do in the coming years in our walk together", she said.
The Beyond Zero initiative also focuses on creating awareness among adolescents on the issues related to HIV and how they can keep off the Scourge.
Other speakers at the ceremony included Cabinet Secretaries Ambassador Amina Mohammed (Foreign Affairs), Sicily Kariuki( Public Service, Youth and Gender Affairs), Kwale Women representative ZeinabChidzuga, and nominated MP Amina Abdalla .
The latter two called on the women to vote wisely in the August elections to give President Kenyatta and the Jubilee Administration an opportunity to complete the ongoing transformative socio-economic , educational and infrastructural programmes and projects across the country.
They also called on the women to be the chief agents of peace across the country during the electioneering period.
Others at the dinner included representatives of Foreign missions and Principal Secretaries.
Ustadha( equivalent of a Sheikh) BatuliSuleimani led in the Maghrib prayers for the occasion and the country.
kbc.co.ke/first-lady-hosts-muslim-women-to-ramadhan-iftar-dinner/
URL: https://www.newageislam.com/islam-women-feminism/indias-first-women-qazis-overcome/d/111669
New Age Islam, Islam Online, Islamic Website, African Muslim News, Arab World News, South Asia News, Indian Muslim News, World Muslim News, Womens in Islam, Islamic Feminism, Arab Women, Womens In Arab, Islamphobia in America, Muslim Women in West, Islam Women and Feminism