New Age Islam News Bureau
2 Dec 2019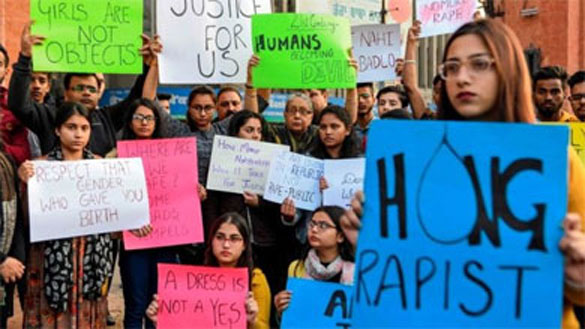 Protests such as this one in Amritsar continued on Sunday
-----
• Jaya Bachchan: India MP Calls For 'Lynching' Of Hyderabad Rapists
• No Industry for Women: Bollywood #MeToo Accused Back At Work
• New Roadblock Alleged For Women Drivers in Turkmenistan
• Woman Rescued After 12 Nights Stranded In Australian Outback
• Islamic State Bride Lisa Smith Arrested On Return to Ireland
• Muslim Woman In Dundalk Says Smith 'Not Welcome There'
• Omar's Rival Banned from Twitter after Suggesting Congresswoman Should Be Hanged
• The Interfaith Women's Group in Bridgeview Has Been Meeting Monthly Since 1997
Compiled By New Age Islam News Bureau
URL: https://www.newageislam.com/islam-women-feminism/indians-demand-justice-after-woman/d/120415
------
Indians demand justice after woman gang-raped and killed
Dec 2, 2019
Thousands of protesters gathered outside a police station on the outskirts of the Indian city of Hyderabad on Saturday demanding four men accused of raping and murdering a 27-year-old woman be handed over to them.
Some protesters clashed with police, hurling slippers, after the charred body of the woman, a veterinarian, was found in the town of Shadnagar, near Hyderabad, on Thursday.
Police said medical evidence would be hard to obtain given the state of the body but that they were working on the assumption the victim had been raped.
The four accused were remanded in judicial custody for 14 days, police said.
The victim's mother demanded that the culprits be burnt alive; the Times of India newspaper quoted her as saying.
The incident is reminiscent of the fatal gang rape of a young woman, labelled Nirbhaya (Fearless) by Indian media, on board a bus in 2012. The crime sparked widespread protests and drew international attention to violence against women in India.
The current case has also provoked outrage on social media with #HangRapists trending on Twitter in India.
"It has been 7 yrs to the gut-wrenching #Nirbhaya case & our moral fabric continues to be in pieces," Bollywood actor Akshay Kumar tweeted. "We need stricter laws. This needs to STOP!"
India's National Commission for Women has condemned the incident, with its head Rekha Sharma saying it "won't leave any stone unturned till these perpetrators get the punishment they deserve".
The commission advises the government on policy regarding women's rights and aims to provide a voice for issues ranging from sexual exploitation to employment, but has no judicial powers.
On Saturday, around 30 protesters including college students rallied outside a police station in central Delhi, carrying placards demanding justice and an end to crime against women.
"If your blood doesn't boil even now, it's not blood but water," they chanted.
One of the protesters, student Kanchan Pal, 19, said she wanted to raise her voice in support of rape victims.
"Women are being raped everywhere, whether it is Delhi or Hyderabad or any other state," said Pal. "We don't feel safe."
https://www.thenational.ae/world/asia/indians-demand-justice-after-woman-gang-raped-and-killed-1.945564
------
Jaya Bachchan: India MP calls for 'lynching' of Hyderabad rapists
02-12-19
An Indian MP has said the men who raped and murdered a 27-year-old vet in the city of Hyderabad should be "lynched".
"I know it sounds harsh, but these kind of people should be brought out in public and lynched," Jaya Bachchan said in parliament.
Several other MPs from across the political spectrum also condemned the brutal gang-rape and murder.
Protests were held across India after the victim's charred remains were found following her disappearance last week.
Police say they have arrested the four men who gang-raped and murdered the woman.
Rape and violence against women remain at high levels despite widespread public anger at high-profile cases.
On Monday, the anger on the streets was reflected in parliament with many MPs demanding to know what action the government planned to take to make the country safer for women.
Ms Bachchan, a former Bollywood actress who is very vocal on women's rights issues, led the MPs in demanding justice for the victim.
"I think it is time... The people want the government to give a proper and definite answer," she said.
Vijila Sathyananth, an MP from the southern state of Tamil Nadu, said the country was not safe for children and women and demanded that the "four men who committed this crime should be hanged before 31 December. Justice delayed is justice denied".
Defence Minister Rajnath Singh said "this act has brought shame to the entire country, it has hurt everyone" and that he didn't have appropriate words to "condemn this heinous crime".
He said tougher laws that were introduced after the December 2012 gang-rape and murder of a young woman in Delhi had given hope that crimes against women would decline.
But since that had not happened, Mr Singh said, "the government is ready for a discussion in the parliament on the issue of crimes against women and willing to explore stringent provisions in laws to check such incidents".
Prime Minister Narendra Modi has not yet commented on the case.
What happened to the victim?
The woman had left home on her bike at about 18:00 local time (12:30 GMT) on Wednesday to go to a doctor's appointment.
She called her sister later to say that she had a flat tyre, and a lorry driver had offered to help. She said she was waiting near a toll plaza.
Efforts to contact her afterwards were unsuccessful, and her body was discovered under a flyover by a milkman early on Thursday morning.
Under Indian law, a rape victim cannot be identified even after death, but on Friday the woman's name was the top Twitter trend in the country for several hours as tens of thousands of angry tweets demanded justice.
Her photographs have also been shared widely on social media by those demanding justice for her.
What has the wider reaction been?
At a police station on the outskirts of Hyderabad on Saturday, thousands of people gathered to protest, insisting the culprits must face the death penalty.
Elsewhere in the country there were other protests and vigils for the victim.
Meanwhile family members of the victim have turned away visiting politicians and police officials, demanding action instead.
In the community of Shamshabad in Hyderabad, where she lived, residents locked the main gate and held placards saying: "No Media, No Police, No Outsiders - No sympathy, only action, justice."
Three police officers have been suspended following allegations by the victim's family that they had not acted quickly enough when the victim was reported missing.
Officers suggested she may have eloped, relatives told the National Commission for Women, a government body.
Rape and sexual violence against women have been in focus in India over the past few years but there has been no sign that anti-female violence is abating.
According to the latest government crime figures, 33,658 women were raped in India in 2017 - an average of 92 every day.
https://www.bbc.com/news/world-asia-india-50627430
-----
No industry for women: Bollywood #MeToo accused back at work
November 29, 2019
MUMBAI — A year after Bollywood followed Hollywood by naming male predators accused of sexual harassment, many women say they have suffered while alleged perpetrators are back in the limelight.
In the US, #MeToo triggered the downfall of powerbrokers including Harvey Weinstein, Kevin Spacey, and Brett Ratner. Victims were hailed as trailblazers for speaking out, and millions of dollars were raised to support their cases.
In Bollywood, women have faced a backlash, campaigners say.
When singer Sona Mohapatra accused composer Anu Malik of sexual misconduct she was told to vacate her judge's seat on TV talent show, "Sa Re Ga Ma Pa".
"I was marked as a troublemaker and asked to leave. Overnight," Mohapatra said last month. Program producers Zee TV denied her claims, telling AFP her departure had "no connection" with #MeToo.
The maelstrom forced Malik, who also had a molestation case filed against him in the 1990s, to stand down last year as a judge on the Sony TV show "Indian Idol".
He was later reinstated. But after campaigners fought back, Malik, who has dismissed the allegations as "false and unverified", announced his departure for a second time last week.
It was a rare victory for #MeToo in Bollywood, where many high-flyers accused of harassment and even rape have revived their careers after lying low for a few months.
Director Vikas Bahl, whose name was initially removed from the credits of the hit movie "Super 30" following a sexual misconduct complaint, was reinstated after being cleared by an internal committee, which reportedly did not involve the victim.
Filmmaker Subhash Kapoor, on trial for molestation, was initially dropped from a movie produced by Aamir Khan, one of Bollywood's most-feted actors. But the superstar backtracked, saying only a court could establish whether or not he is guilty — a process likely to take years in India's overburdened legal system.
Veteran actor Alok Nath, under investigation for rape, has sued the complainant for defamation. His film "Main Bhi" ("Me Too"), in which he plays a judge overseeing sexual harassment cases, is awaiting release.
"I imagine the advice many of the men got was 'just go underground for a year and people will forget'," said singer Shweta Pandit, who was 15 when composer Malik, then 40, allegedly asked her to kiss him in exchange for work.
A classically-trained vocalist, Pandit told AFP the 2001 incident made her "shut down" and become a recluse.
"I stopped trusting people," she said, tearing up. "Singing was the only way I could express myself."
She never discussed the incident until the #MeToo campaign jolted her into speaking out last year.
Since then, she has faced online trolling and a backlash.
"Some men are like, 'if we hire her, then she might say something, better be careful.' For some people, the moment a woman speaks, she is trouble," she said.
"Many well-wishers had warned me against saying anything but I have to stand my ground."
Anusha Khan, a consultant who conducts workshops against sexual harassment in the entertainment industry, told AFP: "Bollywood is still grappling with the fact that this problem exists."
"The protection system for predators is very strong."
As a result, many accused men have resurrected their careers with relative ease, she said.
"It's rehab without remorse."
Even the case credited with kickstarting India's #MeToo movement has hit roadblocks.
Actress Tanushree Dutta first accused Bollywood star Nana Patekar of touching her inappropriately while filming a song in 2008, when she was 24 and he was 57.
At least two people — a journalist and an assistant director — have publicly corroborated her version of events.
The incident effectively ended her career, the former Miss India told AFP. Police refused even to register her harassment complaint.
"I lost friends, I lost work, I went through periods of depression.
"When your work is taken away from you, you feel like you have no reason to wake up sometimes," she said.
Dutta repeated the claims in an interview a decade later, triggering an outpouring by women across India.
Police agreed to accept her 2008 complaint but closed the case in June, citing insufficient evidence.
Dutta accused them of deliberately botching the investigation.
Patekar, who has repeatedly denied the allegations, did not answer AFP interview requests.
For Dutta, who plans to appeal the police decision, #MeToo is only a beginning.
"I never set out to be a revolutionary," she said.
"But they already destroyed my career so what have I got to lose? I am not backing down." — AFP
http://saudigazette.com.sa/article/583702/Life/Life-Style/No-industry-for-women-Bollywood-MeToo-accused-back-at-work
------
New Roadblock Alleged For Women Drivers In Turkmenistan
November 30, 2019
An Ashgabat mother who's been driving for two decades has found herself stranded after authorities recently refused to extend her driver's license in what looks like a fresh blow to women drivers in the male-dominated Central Asian country.
The woman, who doesn't want her identity revealed for fear of reprisals, says more than a dozen visits to the relevant authorities have elicited no explanation for why they derailed her routine application for a renewal.
She's never gotten a ticket, she says. "When I demanded that one official show me some official document" to explain the cutoff, she adds, he described "a verbal instruction from above."
"He said, 'Please understand me: I can't accept your applications.'"
She says driving is essential to her family life.
Several other women in the capital have shared similar stories with RFE/RL's Turkmen Service about not being allowed to apply for extensions in the past several months. Turkmen driver's licenses require renewal every 10 years.
Turkmenistan suffers from a legacy of Soviet bureaucracy and bribery is rampant. But informal polling of male drivers gave no indication of any similar trend among men.
The women told RFE/RL that while obstacles to license renewal had existed for some time, they believed the flat refusal to accept their applications began only months ago.
The accusations come against a backdrop of claims that Turkmenistan has already taken measures to discourage women from driving, including arbitrary stops and citations as well as on-the-spot confiscations of licenses.
The mother who lost her license says there was another sign that other women were being targeted specifically. "When [I] asked when the authorities are going to issue licenses again, the official said, 'As soon as they start [issuing licenses again], there will be rumors in the city about it and you'll find out,'" she says.
Dozens of women have described having their licenses seized by traffic-police officers under thin pretexts like missing spare tires or lack of a first-aid kit.
In February, opposition publication Chronicles Of Turkmenistan said 20 or so female drivers were stopped and inspected at a single traffic post on Bitarap Turkmenistan Avenue in one day alone.
In September, RFE/RL's Turkmen Service reported that traffic officers were stopping female drivers en masse on downtown roads and summarily taking their licenses before taking them to the central traffic-police headquarters.
Turkmen authorities have not publicly commented on allegations that they are singling out female drivers despite repeated attempts by RFE/RL to get official comment.
https://www.rferl.org/a/new-roadblock-alleged-for-women-drivers-in-turkmenistan/30300428.html
------
Woman rescued after 12 nights stranded in Australian Outback
Dec 2, 2019
A woman has been rescued after almost two weeks wandering the Australian outback.
Tamra McBeath-Riley, 52, was being treated in an Alice Springs hospital for dehydration and exposure after she was found late Sunday, Police Superintendent Pauline Vicary said. The air search continued on Monday for her friends Claire Hockridge, 46, and Phu Tran, 40.
The three set out from Alice Springs for an afternoon drive on November 19 and their car became bogged in a riverbed southwest of the town.
Ms McBeath-Riley found water about 1.5 kilometres north of the car.
"Sensibly she appears to have stayed where the water is and has been drinking that and that's probably what kept her going," Ms Vicary said.
McBeath-Riley said she and her companions found a waterhole. Her companions began trekking 20 kilometres toward a highway on Thursday, planning to avoid the desert heat, which came close to 40 degrees Celsius in recent days, by walking at night and carrying up to 7 litres of water.
Ms McBeath-Riley said she decided to stay at the waterhole with a dog that she did not think would survive a walk to the Stuart Highway, which connects Australia's north and south coasts. They did not know anyone was looking for them.
"When the helicopter found me, I thought that Claire and Phu had reached the highway. That was my immediate thought. So to find that's not the case is worrying," McBeath-Riley told reporters.
Ms Vicary said searchers had found one set of footprints.
"It's quite a diverse terrain. There's sandy dunes, there's hard clay, there's areas of dense trees, but there are also rocks and ranges in the area," Ms Vicary said.
The pair had little food with them, she said.
A cattle rancher played a key role in saving the woman, telling police that he spotted tire tracks in an area that had not been searched.
"As a result of that information, we were able to locate the vehicle and then from there they have followed some of the other tracks and have located her," Ms Vicary said.
https://www.thenational.ae/world/oceania/woman-rescued-after-12-nights-stranded-in-australian-outback-1.945433
------
Islamic State bride Lisa Smith arrested on return to Ireland
Sunday 01 December 2019
An Irishwoman who became a so-called Islamic State bride in Syria has been arrested as she arrived back in Ireland with her two-year-old daughter.
Lisa Smith, 38, is a former member of Ireland's Defence Forces who went to the war-torn country in 2015 after converting to Islam and becoming radicalised.
Ms Smith had been living with her child in a Syrian refugee camp.
She was deported from Turkey and put on the first scheduled Turkish Airlines flight to Ireland, which landed at Dublin airport shortly before 1030.
Irish police said: "Today, Sunday 1st December 2019, at Dublin Airport, An Garda Siochana has arrested an Irish Citizen (38 year old female) on suspicion of terrorist offences following her deportation from Turkey.
"She is currently being detained at a South Dublin Garda station under the provisions of Section 30 of the Offences against the State Act, 1939 as amended.
"A child, also an Irish citizen, was in the company of the female and is now being cared for by relatives."
Irish broadcaster RTE said she was accompanied by three consular officials from the Department of Foreign Affairs, members of the Army Ranger Wing, and a Turkish security officer.
She was not in custody for the four-and-a-half-hour flight but Irish police were waiting at Dublin airport for the plane's arrival.
Images of her arrival showed her covered in a pink blanket as she was taken from the plane in heavy rain.
Her daughter was born in Syria but is an Irish citizen.
Ms Smith is originally from Dundalk in Co Louth, close to the Irish border with Northern Ireland.
She has said the father of her child was a suspected member of IS who died last year.
Ms Smith held a relatively lowly role in the Defence Forces but worked on the official Irish Government jet.
She accompanied former president Mary Robinson and then Taoiseach Bertie Ahern on journeys.
Significant numbers of Europeans left for Syria to fight for and against IS during a bloody war which destroyed the Middle Eastern country and produced millions of refugees.
Ms Smith has denied being involved in violence.
Irish Taoiseach Leo Varadkar said she should have the right of return to Ireland and that removing her citizenship would not be right or compassionate.
In Britain, captured British Islamic State fighters will be brought back to the UK to be put on trial if it is the best place for them to face justice, the national security adviser has said.
Shamima Begum, the Bethnal Green schoolgirl who fled to Syria to join IS in 2015, was stripped of her British citizenship by then-home secretary Sajid Javid, prompting her to take legal action against the UK.
Ms Begum claims she married Dutch convert Yago Riedijk 10 days after arriving in IS territory.
She told The Times that she left Raqqa in January 2017 with her husband but her children, a one-year-old girl and a three-month-old boy, had both since died.
Her third child died shortly after he was born.
https://www.newsletter.co.uk/news/crime/islamic-state-bride-lisa-smith-arrested-on-return-to-ireland-1-9159994
------
Muslim woman in Dundalk says Smith 'not welcome there'
Sunday, 1 Dec 2019
By Sinéad Hussey
North-East Correspondent
A Dundalk woman who helped Lisa Smith convert to Islam has said while she cannot stop Lisa Smith from attending the Dundalk Community Mosque, the 38-year-old "will not be welcome there".
Carol Duffy grew up in Muirhevnamore in Dundalk, close to Lisa Smith and her family.
The council estate was known locally as "Little Belfast", after many families moved there during the Troubles.
"We grew up in the same estate but we didn't go to the same schools, the only contact we had with each other was when we met on the street. It was 'hi' and ;bye; and that was it", she said.
Lisa Smith joined the Defence Forces in 2000, serving as a private at Aiken Barracks in Dundalk for five years before transferring to the Irish Air Corps where she served as a flight attendant on the Government Jet.
It was around 2010 that Carol Duffy struck up a friendship with Lisa Smith.
It was a friendship that would last just over three years.
"I met her when she came to the Mosque to ask questions about her conversion to Islam. She was still in the Army. She was living like anyone else would. She said she had tried a few religions beforehand but she always seemed to come to Islam because she had friends who were Muslim," she said.
Carol Duffy said initially they got on well and enjoyed each other's company.
"I liked her, she was a nice girl but sometimes when people come to religion, it brings out the best in them, but in Lisa's case, it brought out the worst," she said.
"She became arrogant, self-centred, she was arguing about everything. She had militant ideas. She was very quick to make it about them and us. It was the Muslims against everyone else, this is what she started doing. It's not an attitude we're used to. We don't believe in them and us," she said.
During Ramadan 2012, Carol Duffy invited Lisa Smith to her house.
She had been asked to speak to Lisa about her behaviour.
It was the last time the two friends spoke.
"People were worried about things she was doing so I invited her to my house. It was basically to tell her that people are talking about her. We had a row then and she left my house," she said.
Before she left Lisa Smith told Carol Duffy that she was moving to Tunisia.
Carol Duffy says to her knowledge Lisa Smith returned to Dundalk in 2015 before leaving for Syria.
When the story of her whereabouts broke earlier this year, Carol Duffy said she initially believed Ms Smith had simply been in the wrong place at the wrong time and had found herself in Syria through bad luck, after getting stuck there while on holiday.
"I was thinking, why would you go there? How would a white woman get into Syria from Ireland? Why would you leave comfort and go live in a war zone? I didn't believe it. When I saw her interviews, it completely changed my mind. Her demeanor, the way she was talking. It completely changed my mind about her being naive and not knowing what she doing."
"ISIS are not boy scouts. This is not a club where you go and enjoy yourself. People were killed and murdered. Women are sold off like cattle. Children are married off."
Ms Smith has been saying she was just a housewife doing her shopping and visiting friends but she would have seen all that.
"In one of her reports she said as she was going in a taxi with her new husband he told her not to look at the side of the road. There was a man nailed to a cross on the side of the road with his eyes gauged out. How can you be so flippant about this?"
Whatever happens to Lisa Smith, Carol Duffy said she won't be welcome back at the Mosque in Dundalk.
"We've talked about this a lot. I have my own opinion but I can't push that on the other women. People don't want her here. Some of these women have come from war-torn countries and they came here to get away from that. They want to live here and want to have peace for once in their life".
"Legally if she comes into worship we can't stop her but when it comes to our classes or activities, she won't be welcome in any of those."
https://www.rte.ie/news/2019/1201/1096317-lisa-smith-carol-duffy/
------
Omar's rival banned from Twitter after suggesting congresswoman should be hanged
Sunday, 01 December 2019
Twitter has permanently suspended the accounts of one of Democratic Representative Ilhan Omar's political rivals after she accused the Minnesota Muslim congresswoman of treason and suggested Omar should be hanged.
The social media giant on Saturday banned Republican House candidate Danielle Stella's personal and campaign accounts for "repeated violations" of Twitter's policies.
Stella, a potential Republican candidate challenging Omar for her Minnesota seat in the 2020 election, pounced on unsubstantiated media claims earlier this week that the Muslim congresswoman had been recruited by Qatari officials to pass on classified information to Qatar and Iran.
"If it is proven @IlhanMN passed sensitive info to Iran, she should be tried for #treason and hanged," Stella wrote in a tweet.
The congresswoman has already dismissed the accusations and denounced them as "outlandishly absurd," nevertheless, the claims continue to be spread.
Omar said in response to Stella's comments on Twitter that the Republican candidate's latest statements were "violent rhetoric" that could "inevitably" lead to violent threats and harm.
"This is the natural result of a political environment where anti-Muslim dogwhistles and dehumanization are normalized by an entire political party and its media outlets," Omar wrote on Twitter. "Violent rhetoric inevitably leads to violent threats, and ultimately, violent acts."
Omar has received a number of death threats since winning her seat in the 2018 midterms.
A New York man pleaded guilty on November 18 to threatening to kill Omar in a March call to her office. He faces a maximum of 10 years in prison and up to a $250,000 fine.
Rep. Omar is part of "the Squad" of four colored congresswomen who have clashed with President Donald Trump over his racist rhetoric. All four congresswomen, three of them Muslim, were elected to the House of Representatives in last year's elections.
In July, Trump stirred controversy by telling Omar and Representatives Alexandria Ocasio-Cortez, Rashida Tlaib and Ayanna Pressley to "go back" to where they came from.
https://www.presstv.com/Detail/2019/12/01/612582/US-Twitter-Ilhan-Omar-accounts-Danielle-Stella-hanged
------
The interfaith women's group in Bridgeview has been meeting monthly since 1997
By DONNA VICKROY
DEC 01, 2019
It's a Sunday afternoon in November and inside St. Fabian Catholic Church in Bridgeview Turkish tea and Pakistani chai are brewing.
On banquet tables are carafes of Palestinian sage tea and North African orange blossom tea, not to mention assorted cakes and cookies, while women gather at round tables boasting all manner of tea pots.
It is the 18th annual formal gathering, and the 200th-plus casual meeting, of the St. Fabian Parish and The Mosque Foundation Women's Dialogue Group. Though the yearly meetings have typically been dinners, this time the group is hosting a weekend afternoon tea, in the hopes of attracting newcomers.
They are here to connect, understand and talk about the things women everywhere talk about -- their children, their neighborhood, their faith.
Dalila Benameur greets the crowd of nearly 50.
"On March 19, 1998, 14 women of different faiths, ages and nationalities came together as a group to learn about each other's faith and customs ... Here we are, 21 years later, still learning, loving and building relationships and closing some gaps."
Women of all faiths are welcome, but the group's core is made up of about 20 dedicated neighbors and friends who either attend the church on Thomas Avenue or the mosque on 93rd Street.
"It's just people, just women getting together," said Andreatte Brachman, a member of St. Fabian. "We enjoy each other's company.
"We eat together, we pray together, nobody is interested in changing anyone's religion. We're all interested in learning more," she said.
On this day, the ladies are gathering to discuss tea and anything else that comes to mind. The topic of the day is "What you always wanted to know but were afraid to ask."
The group was started in 1997 by Karen Danielson, a member of The Mosque Foundation, after she approached the Rev. Walter Turlo, then pastor at St. Fabian, about creating a dialogue.
"I was working with a (group) of Catholic, Jewish and Muslim women in Chicago. We were traveling to the north side and downtown. I wanted to create one in my hometown," she said.
The first official gathering was that fall. The following spring, monthly meetings began, she said.
Although some of the original members have passed away or moved, Danielson said, "A lot of us are the same women, still meeting."
They dine and they discuss. Topics have included worship practices, saints, angels in both faiths, as well as similarities and differences in religious hierarchy. In between, they share news about their children and grandchildren.
Every summer, Brachman hosts a barbecue in her backyard.
Many of the women have been members since the start, Danielson said.
"We've seen the birth of our children and grandchildren. We go out to dinner, we go out to lunch," she said.
And they come together in the name of service, volunteering to help at BEDS Plus homeless shelters and serving tea to seniors at assisted living centers. Soon, they'll prepare a dinner for women seeking refuge from domestic violence at the Crisis Center for South Suburbia in Tinley Park.
"We do a number of things, but what we do best is sustainable engagement," Danielson said.
She said the group has been so successful that a few years ago she was invited to address the Parliament of World Religions to describe their model of sustainable dialogue.
If the friendships were tested during the tensions that arose following the terrorist attacks of Sept. 11, 2001, they passed with flying colors.
Back then, the mosque was surrounded by SWAT teams and the National Guard had been called to Bridgeview. Muslims were told by police to not leave their neighborhood and had to show a driver's license when traveling about, Danielson said.
It was the women of St. Fabian who were first to reach out to the women of The Mosque Foundation, she said.
"The women that we have our dialogue with called me and others. They were the first to reach out to us. They brought us bread, milk, whatever we needed," she said.
That first weekend after the attacks, an interfaith prayer service was held at St. Fabian during which the Imam from the Mosque Foundation spoke.
"For a lot of (the Catholics) that was really their first time meeting us. They hosted us, called us neighbors, said they stand with us," Danielson said.
A few years ago, she added, on the anniversary of 9/11, there were more threats against the mosque and in addition to police protection, the Muslims found support from the dialogue group as well as Oak Lawn clergy, the Southwest Interfaith team, Jewish Voice for Peace and Alianza Americas.
Brachman said all of the women in the group are supportive of the missions at the Catholic church as well as the church members.
When her mother passed away in June, some of the first people she contacted were the members of the dialogue group.
"They all came to the wake. Such kindness," she said.
They all went together to visit a sick member of the group who was unable to attend meetings.
"It's small things like that. It's togetherness," she said. "And I love the fact that we were together before 9/11."
A longtime member of the dialogue group, Huma Murad came to the United States from Pakistan. She said, "There's so much misinformation about Muslims and other faiths. So we want to make sure we do face-to-face learning. That's the reason we come together, to learn about each other, to build bridges and make the world a better place."
Danielson, a mother of five and grandmother of three, has been an activist and teacher for more than 20 years. She currently teaches a class in Contemporary Challenges at Universal School in Bridgeview.
Danielson said she believes it is religion that will move the world forward.
"I truly believe people of faith, no matter where they come from, can really inspire and do something different. Unfortunately, the 'nones' are on the rise, people who don't affiliate to any faith or religion," she said.
"I fear people who don't have faith, who only live for this moment. That idea is rooted in materialism. It doesn't matter what comes next, it matters what I do now," she said. "That's a real problem in our society. It's why we go to war. It's why we do all sorts of things. Because it's about what I want for myself, what I think I deserve or I have the privilege of.
"I feel like our religions teach us to do what's right. If people of faith grasp the true meaning of faith they will realize they must be that agent of change in their society. The divisiveness, can it be changed? If not by people of faith then who?"
She said her involvement with the interfaith women's group has impacted her children and their career choices.
"This is who Mom is, and who our family is," she said. "We are a family who respects people of different faiths. We are a family who is not afraid to have close relationships with people of other faiths."
She said if an interfaith gathering conflicts with another invitation, they always opt for the gathering.
"It defines us. This is the candle in the dark. This is important," she said.
Her son is a chaplain at Arizona State University as well as an assistant Imam at the mosque in Tempe, Ariz. Her daughter works for MAS-ICNA Convention to promote the American Muslim community. The conference that meets annually at McCormick Place now exceeds 20,000.
"I chair a parallel program in the conference called the Interfaith Symposium in which we try to bring various interfaith work models to speak to American Muslims," she said. "It's a learning moment for American Muslims to listen to leaders from interfaith communities talk about what inspires them, what motivates them, what are their important issues."
The work, she said, had spun off to put her in touch with Latino communities and Jewish leaders.
https://www.chicagotribune.com/suburbs/daily-southtown/ct-sta-vickroy-interfaith-tea-st-1202-20191201-csm2e546hjhmzkznzmznicxskm-story.html
------
URL: https://www.newageislam.com/islam-women-feminism/indians-demand-justice-after-woman/d/120415
New Age Islam, Islam Online, Islamic Website, African Muslim News, Arab World News, South Asia News, Indian Muslim News, World Muslim News, Women in Islam, Islamic Feminism, Arab Women, Women In Arab, Islamophobia in America, Muslim Women in West, Islam Women and Feminism