New Age Islam News Bureau
05 January 2022
• Jordanian Artist Rudaina Assia: Women and Palestine Inspire My Works
• Iraqi Woman Challenges Traditions with Martial Arts
• Women in Saudi Arabia Set To Take over Admin Duties in All Personal Status Courts
• Justice Ayesha's SC Appointment: Seniority Not Legal Requirement, Nor Convention, Says Women in Law Pakistan
Compiled by New Age Islam News Bureau
URL: https://www.newageislam.com/islam-women-feminism/bulli-bai-auction-press-corps/d/126100
--------
Indian Women's Press Corps: 'Bulli Bai' App "A Well-Planned Conspiracy" To Promote Gender-Based Violence; Hundreds Of Muslim Women Were Listed For "Auction"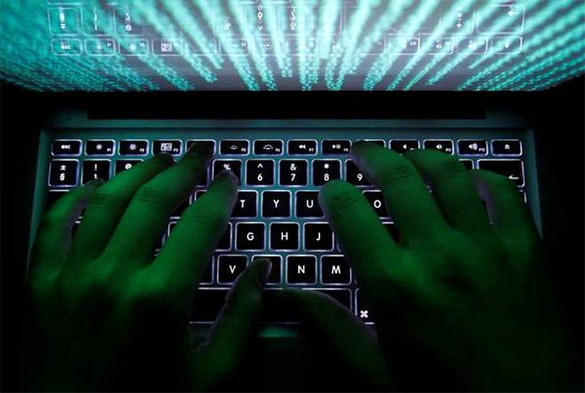 File photo for representation. | Photo Credit: REUTERS
-----
January 05, 2022
The women journalists' body said it was "very unfortunate" that objectionable things were written about Muslim women "through the Bulli Bai app"
The Indian Women's Press Corps on Tuesday termed the 'Bulli Bai' app "a well-planned conspiracy" to persecute the minority and promote gender-based violence and it hoped the government will take "strong steps" to stop the "auction of women's respect on the Internet".
In a statement, it also thanked the Mumbai police for taking "a prompt action" in the case by arresting two accused.
The women journalists' body hoped the police will take "a prompt action" and arrest the accused involved in a similar case of listing of Muslim women for "auction" on the 'Sulli Deals' app that had surfaced in July last year.
"Had the police identified the perpetrators of the infamous 'Sulli Deals' that went online last year, this incident of targeting and terrorising Muslim women would not have recurred and those with nefarious intentions to defame Muslim women would not have become so courageous," it said.
Hundreds of Muslim women were listed for "auction" on the 'Bulli Bai' mobile application with photographs sourced without permission and doctored. It has happened for the second time in less than a year. The app appeared to be a clone of 'Sulli Deals' which triggered a similar row last year.
The Delhi Police on Saturday registered an FIR against unknown persons for allegedly uploading a doctored picture of a woman journalist on a website. The journalist had lodged a complaint and shared a copy on Twitter.
The cyber cell of the Mumbai Police, probing the app case has arrested a 19-year-old woman, alleged to be the main culprit, from Uttarakhand, and a 21-year-old engineering student from Bengaluru.
Vishal Kumar Jha, the student, and co-accused Shweta Singh reportedly knew each other. According to the police, more arrests are likely.
"We are thankful to the Mumbai Police which understood the gravity of the matter and took prompt action," the Indian Women's Press Corps (IWPC) said.
The women journalists' body said it was "very unfortunate" that objectionable things were written about Muslim women "through the Bulli Bai app".
"What we understand is that the Bulli Bai app is a well-planned conspiracy to persecute the minority and promote gender-based violence against Muslim women," it said.
"The IWPC strongly condemns this conspiracy against women. We express our solidarity with all of our members who have suffered mental harassment due to this entire episode... we will not allow our voices to be suppressed against violence or injustice against women," it added.
This is the second time that "such a public auction" of Muslim women has taken place, the IWPC said, adding, "It is disturbing (to note) that the accused in such a serious case have not yet been arrested." "We hope that the police will take prompt action in the case of 'Sulli Deals' as well and arrest the accused at the earliest. We also expect the government to take immediate strong steps to stop the auction of women's respect on the Internet," it added.
Last year, Delhi Police and Uttar Pradesh Police had registered separate cases against unidentified persons following a row over the listing of Muslim women with their pictures for "auction" on the 'Sulli Deals' app.
Source: The Hindu
https://www.thehindu.com/news/national/bulli-bai-app-conspiracy-to-persecute-minority-promote-violence-against-muslim-women-says-indian-womens-press-corps-iwpc/article38120197.ece
--------
Jordanian Artist Rudaina Assia: Women and Palestine Inspire My Works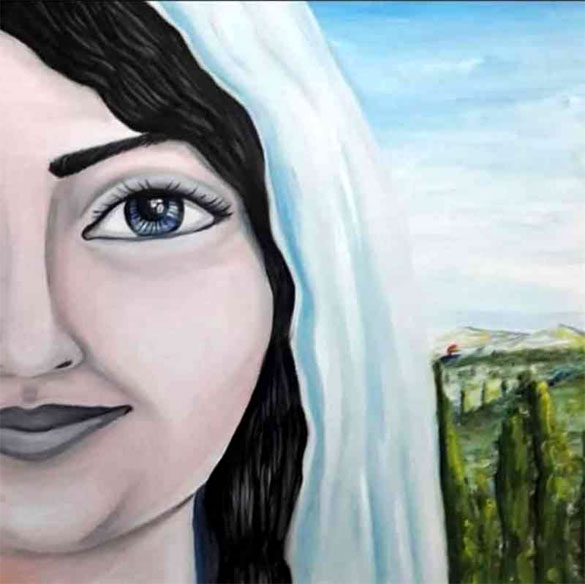 Faces of beauty and courage in Assia's paintings. (TAW)
-----
04/01/2022
AMMAN-
Jordanian modern artist Rudaina Assia said in an interview that her paintings are inspired by the key themes of Palestine and women.
She has tried to express her commitment to the Palestinian cause through various artistic media, be it in painting, poetry, or novel writing.
She says, "I feel duty-bound towards my cause, which I believe is the cause of all Muslims and Arabs as well." She adds, "Since the homeland is my inspiration, I do paint the pain I feel but also the yearning for freedom and the rejection of occupation and its tyrannical manifestations."
In addition to her artistic preoccupation with Palestine, women constitute a recurring theme in Assia's paintings, based on the artist's belief that women are a "face to the homeland", she says.
"The mother is a homeland and the wife is a homeland, as well as the daughter ... The woman is a homeland for the human spirit and human values," adds the artist.
About her interest in current Arab women issues, Assia says, "It is natural for me to reflect the suffering of women or their feeling of joy. This is because, first, I am a woman and secondly, because women are an essential component of society."
Palestinian women appear in the paintings of Rudaina Assia as a source of hope and resistance. They are also an icon of beauty in their femininity but also of strength and determination.
"It is this mixture that shapes women," she says.
Assia believes artists should be committed to the core causes of their societies. "The educated person who is aware of the challenges that face the Arab world must be present and influential, not subordinate or imitating of others. That is what I have endeavoured to reflect in my poetry collection 'In her palm is the henna of the sun', as well as in my short story collection and my paintings".
Source: The Arab Weekly
https://thearabweekly.com/women-and-palestine-haunt-works-jordanian-artist-rudaina-assia
--------
Iraqi Woman Challenges Traditions with Martial Arts
4 January, 2022
Iraqi Bushra Abdul Zahra challenged the stereotypes and traditions of her society and decided to learn martial arts such as karate and boxing.
Bushra, 36, a mother of two based in the Iraqi city of Najaf, said she faced many difficulties, and a strong opposition from her family and society that believe such sports are unsuitable for women.
She started teaching karate in a gym, and then, boxing. She even turned a room in her house into a training space. "I was a fitness trainer for 15 years, taught swimming, and I currently work in a gym. To develop my skills, I started with karate, practiced it for four years, and won championships. Then I decided to practice boxing, and I always watch YouTube videos of martial arts to improve myself," she told Reuters.
"I faced many difficulties and obstacles as I live in a conservative community. However, despite all these challenges, I proved I am capable of practicing these sports and won gold medallions," she added.
International coach Saadoun Jallawi was surprised by the remarkable number of women and girls willing to learn martial arts and self-defense.
"We launched martial arts classes for women as individual sports, and we saw a significant turnout from girls, as well as mothers willing to enroll their daughters to learn martial arts to defend themselves against recurrent attacks."
Source: Aawsat
https://english.aawsat.com/home/article/3394736/iraqi-woman-challenges-traditions-martial-arts
--------
Women in Saudi Arabia set to take over admin duties in all personal status courts
Sakina Fatima
4th January 2022
Riyadh: Women in the Kingdom of Saudi Arabia are all set to take over administrative duties in all personal status courts in the Dammam region, local media reported on Monday.
Noura Al-Ghunaim, director of the Women's Department at the Saudi Ministry of Justice, said that this step comes as part of a restructuring program to gradually replace male clerical staff with females to perform a set of administrative tasks.
Prior to the restructuring, the Dammam court employed only six female members of staff. "The number has jumped to 116 in only six months," Arab News reported.
MS Education Academy
The Eastern Province City Court is now working with only 116 female employees, and the authorities plan to offer the same job opportunities to women in all personal status courts in the kingdom.
The project aims to improve the working environment within the courts and implement modern operational methods to reflect the continuous development of the justice sector, accelerate the judicial process and provide better service to the public. This is in line with the National Transformation Program and Vision 2030.
During the past six months, the ministry has trained female workers who were given specialist training in all aspects of managing judicial and administrative departments.
The faculty members are well qualified with degrees in Islamic law, management and sociology. It is reported that over a six-month period, these female employees completed 107,000 job tasks.
The country in recent years adopted several reforms to empower women, including ensuring that women can drive cars, enter playgroups and stadiums, and pursue occupations that were previously accessible only to men.
After the transition to allow Saudi women to travel in the kingdom, from 2019 onwards Saudi Arabian women can also travel abroad without permission and may apply for their passports, ID documents and all official registrations directly without requiring a male guardian (mahram).
In February 2021, Saudi Arabia opened up military posts for women for the first time which allowed them to report through a unified portal.
In a first, Saudi female officers were allowed to guard Islam's holiest site not just that the women were allowed driving license, and even elected to councils, and so on.
Source: Siasat Daily
https://www.siasat.com/women-in-saudi-arabia-set-to-take-over-admin-duties-in-all-personal-status-courts-2252836/
--------
Justice Ayesha's SC appointment: Seniority not legal requirement, nor convention, says Women in Law Pakistan
January 5, 2022
The Women in Law Pakistan initiative has issued a statement with respect to the seniority debate on the appointment of Justice Ayesha A. Malik of the Lahore High Court (LHC) to the apex court, saying the idea that seniority is a legal requirement is a myth and "there is no requirement in law and Constitution to appoint the senior most judge to the Supreme Court".
The initiative states that "at least 41 times judges have been appointed to the Supreme Court without them being most senior. There is, therefore, no such custom either. 'Seniority', is at best a mere demand of some members of the Bars at the moment and has no legal basis".
The initiative makes a reference to Article 175-A(3) of the Constitution of Pakistan which "speaks of seniority only in relation to the appointment of the Chief Justice of Pakistan", adding that as per Article 177 (2) of the Constitution, to be eligible for appointment as a judge of Supreme Court, a person must: be a citizen of Pakistan; been a judge of the HC for five years, or been an advocate of the HC for 15 years.
"Absence of the words, 'the most senior' in Article 177 for appointment of Judges of the SC shows that seniority of a Judge in the High Court is not an essential condition for their appointment as a Judge of the SC."
The initiative adds that "seniority as an interim measure will halt conversation for holistic reforms actually needed for greater transparency and representation".
The statement comes as a section of the legal fraternity has called on Chief Justice of Pakistan Gulzar Ahmed to postpone Thursday's meeting of the Judicial Commission of Pakistan (JCP), scheduled to be held on January 6 to consider the elevation of Justice Ayesha.
In case the meeting is not called off, the Pakistan Bar Council (PBC) and all bar associations would boycott all court proceedings, from the superior judiciary to the lower courts, PBC Vice Chairman Khushdil Khan and PBC Executive Committee Chairman Muhammad Masood Chishti and others announced after a representative meeting on Monday.
Source: Dawn
https://www.dawn.com/news/1667773
--------
URL: https://www.newageislam.com/islam-women-feminism/bulli-bai-auction-press-corps/d/126100
New Age Islam, Islam Online, Islamic Website, African Muslim News, Arab World News, South Asia News, Indian Muslim News, World Muslim News, Women in Islam, Islamic Feminism, Arab Women, Women In Arab, Islamophobia in America, Muslim Women in West, Islam Women and Feminism