New Age Islam News Bureau
29 Aug 2014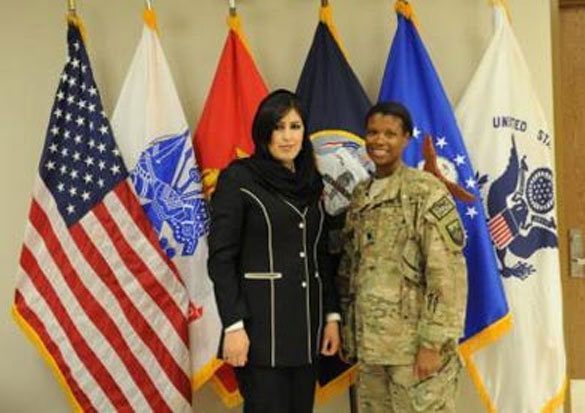 Sediqa Nuristani of Afghanistan (left) joins Lt. Col. Shavoka Douglas (right) as a special guest on Women's Equality Day
---------
• Lebanon Plans Law to Stem Growing Child Marriage Trend
• Final Piece of Texas Law Will Further Slash Access to Abortion
• Australian Women too Performing Sexual Jihad for The Islamic State
• Morocco-born women in French Cabinet
• US Forces Afghanistan Honours Afghan Women on Women's Equality Day
• Pakistan: Cell Launched to Address Women's Complaints
• Nigeria: Gender Issue Throws Up Fresh Challenges
Compiled by New Age Islam News Bureau
URL: https://www.newageislam.com/islam,-women-and-feminism/new-age-islam-news-bureau/indian-women-activists-condemn-love-jihad-'myth',-say-individuals-have-right-to-choose/d/98800
------------
Indian Women Activists Condemn Love Jihad 'Myth', Say Individuals Have Right to Choose
29 Aug, 2014
New Delhi: Women and civil rights activists and lawyers held a joint press conference in Delhi and Mumbai on "Right to Choose and Politics of Love Jihad." Speakers condemned the propaganda over so called 'Love-Jihad,' dismissing it as myth and stressed on the fact that individual women or men not only have the right to choose their partners but are also free to choose their faith in a secular democratic country.
Speakers in Delhi included Vrinda Grover (Advocate), Jagmati Sangwan (AIDWA), Annie Raja (NFIW), Manisha Bhalla (Researcher) and Teesta Setalvad (social activist); and in Mumbai Shabman Hashmi (ANHAD), Neilofer Bhagwat (Lawyer), Chayankiya Shah (AKHM), Vahida (WARG), Sonia Gill (AIDWA) and Dr. Kranti Jejurkar (NFIW) were present. The Delhi press conference was called by ANHAD.
Quoting from a 2006 Supreme Court judgment, activists reiterated, "This is a free and democratic country, and once a person becomes a major he or she can marry whosoever he/she likes. If the parents of the boy or girl do not approve of such inter-caste or inter-religious marriage the maximum they can do is that they can cut off social relations with the son or the daughter, but they cannot give threats or commit or instigate acts of violence and cannot harass the person who undergoes such inter-caste or inter- religious marriage."
The joint-statement noted, "Every year, hundreds of young men and women fall in love in India. They defy their parents, caste and religious considerations and traditions. Many of them elope and get married; some others also give in to family pressures and fall back into traditionally more acceptable roles. The Bollywood film industry thrives on such stories. We have laughed and cried with these couples on screens. The Supreme Court of India has repeatedly come to the protection and aid of just such couples. "
To stress on the fact that it would erroneous to suggest that only Muslim men marry Hindu girls, they also presented a list of 84 couples where the woman is a Muslim to emphasize the point that in a plural and diverse society there would be inter religious marriages and both ways and every individual has the right to choose. Many of the prominent names in the list included Bollywood celebrities, like late Sunil Dutt, who married Nargis, Aditya Pancholi who married Zarina Wahab, cricketer Ajit Agarkar who married Fatima, Congress leader Sachin Pilot who married daughter of Farooq Abdullah, Sarah, don turned politician Arun Gawli who married Ayesha, Sitaram Yachury who married Journalist Seema Chisti, Author VS Naipual who married Nadiya, among others.
Advocate Vrinda Grover questioned the hype over issue and criticized the Bhartiya Janta Party and its Hindutva affliates who have been fanning communal issues for electoral benefits, particularly in Western Uttar Pradesh.
There is no data or evidence to even suggest that such a conspiracy of 'Love Jihad' exist, she said, adding that if cases of discord in inter-religion or inter-caste marriages come up, those should be dealt sensitively.
Asked about the case of Ranchi based national shooter Tara Shahdeo, who has alleged that her husband was coercing her to convert to Islam, she said that the matter is still being probed and if she was being subjected to any pressure for conversion, they would definitely help her get justice. But one should not immediately jump the gun and put it as an instance of some Jihadi conspiracy, she cautioned.
While criticizing the propaganda and communal politics of the BJP, Social Activist Teeesta Setalvad said that she stands for freedom of choice and thinks that for larger integration of the country and for promoting secular values, inter-caste and inter-faith marriages should be welcome. Dispelling any doubts, she said that if tomorrow some clerics or any member from the minority community too resist inter-faith marriage, their reactions and oppositions would remain similar.
Jagmati Sangwan of AIDWA wondered why media played along the politicians and are creating furor over inter-faith marriages, but remain mute when Dalits and other backward castes people are subjected to oppressions or even murdered – or they commit suicide – due to coercions for marrying in higher castes.
Reminding that even the Law Commission had suggested a passing a law titled "Prohibition of Interference with Matrimonial Alliances In The name of Honour and Tradition Bill," activists demanded that it's high time there should be legal protection for such marriages.
Two contradictory beliefs of Jihad and Love are being linked and a new term namely, "Love Jihad" has been coined by the Sangh parivar to use it as their "latest hate tool to polarize the two communities and spread falsehood and hatred," the press statement issued said.
"They are trying to propagate a myth that all such interfaith marriages where the male is a Muslim are malicious and are solemnized with single objective of religious conversion and increasing the population of Muslims by producing innumerable children. Similarly, the orthodox Muslims are not ready to accept any interfaith marriage without nikah of a non-Muslim," they pointed.
They expressed their and concern and were alarmed at the way the right wing is using 'Love Jihad' to polarize people and spread hatred between communities.
The word Love Jihad must be a creation of an evil genius and it has come to be used to further demonize the Muslim community, argued the activists. They drew parallel to similar campaign by Hindtuva forces in 1920s.
The propaganda has been that some Muslim organizations are funding Muslim youth, to lure the non-Muslim girls, to marry them and to increase the Muslim population. The rumor is being spread that youth are given money to buy motorbike, mobile etc and lure the non-Muslim girls.
In India the word began to be used in coastal Karnataka, Mangalore couple of years ago, and in parts of Kerala. It was Sri Ram Sene founded by RSS trained Swayam Sevak, Pramod Mutalik, which started attack on Hindu girl-Muslim boy couples. The marriages of such combinations started being looked at with suspicion and if parents were opposed to the marriage, Sri Ram Sene would help to take the matter to the court also. The pretext was that the girl has been forced to marry the Muslim boy.
Over a period of time, from being just a mechanism to control the lives of Hindu girls, a tool to ensure that girls don't have the right to choose their own life partners, this phrase has been used to instigate violence. Most of the pretexts of communal violence are cooked up, gradually manufactured. This term 'Love Jihad' by now is being used as a dangerous weapon. Lot of messages on whatsApp and face book are flying and relating the phenomenon as an international conspiracy of the Muslims.Communal politics, communal violence all over used women's bodies as the site of contestation and community honor. Women's sexuality is sought to be controlled as they are seen as the repository of culture, values, faith and honour.
This Raksha Bandhan day (August 2014) hordes of RSS volunteers spread in different parts of Western UP, tying Rakhi (sacred thread, traditionally tied by sister on brothers wrist) to the people and warning them of the threat of the Muslim youth wooing away their 'girls' for love jihad. 'Muslim youth teasing and luring Hindu girls' has been made the central part of propaganda in Western UP currently.
Sangh is also trying to divert the fact that organised targeting and rape of minority women has happened and happens in communal attacks - Gujarat, Kandhamal & Muzaffarnagar are glaring examples. And this is also another way to control the sexuality of women.
Kerala High Court in 2009 and Karnataka High Court in 2010, asked police to investigate, love -jihad. In both cases police said there was no such organized mission by Muslim boys.
The BJP's new rhetoric focusing on a communal twist to crimes against women in Uttar Pradesh is not borne out by cold facts. Data accessed by NDTV shows that in western Uttar Pradesh, where vociferous campaigns have highlighted the alleged abuse of Hindu women by Muslim men, women have been assaulted by men from their own community in most rape cases this year.
Out of 334 rape cases in 9 districts of Uttar Pradesh in 25 cases Muslims men were accused and Hindu girls were victims, in 23 cases Hindu men were accused and Muslim women were victims, in 96 cases Muslim men were accused and Muslim women were victims and in 109 cases Hindu men were accused and Hindu women were victims.
uch campaigns against inter-religion, inter-caste marriages are not only against the spirit of a diverse and plural society they also aim to control women's sexuality and polarize the society along communal lines for electoral and political purposes.
"The reality is that thousands of couples across the country are defying both the Hindu right wing and the conservative Muslim groups and are doing both inter-religious and inter-caste marriages. We believe that Inter caste and inter-religious marriages will make for a united and strong India in future," the joint-statement read.
Since some global Jihadist conspiracy of conversion has been made a pretext, it would be interesting to point here that in 2008, Darul Uloom Deoband had issued a fatwa that accepting Islam simply to get married, without actually having faith in it, is against the basic tenets of the religion.
http://twocircles.net/2014aug28/1409227520.html?utm_source=feedburner&utm_medium=email&utm_campaign=Feed%3A+Twocirclesnet-IndianMuslim+%28TwoCircles.net+-+Indian+Muslim+News%29#.U_-iLNJdU4V
------------
Lebanon plans law to stem growing child marriage trend
29 Aug, 2014
At 13, Samiha left school and the home she shared with 10 people near Baalbek in eastern Lebanon to live in a tent with her new husband, a 41-year-old tradesman.
"I didn't feel anything, I didn't have a choice," she said of the marriage, arranged by her father.
"The first night, when I followed him into the bedroom, I was terrified. I couldn't move."
That night, without knowing anything about sex, she fell pregnant.
"I'm unhappy, but I have to accept this life," said the pretty blonde with green eyes.
Both she and her husband hail from the town of Qusayr, just across the border in Syria, part of a massive influx of refugees into Lebanon since the war there started.
Now aged 15, Samiha is already the mother of two children.
There are no official statistics on child marriage in Lebanon, but it takes place in several rural areas in the country and has risen with the influx of Syrian refugees, experts say.
Now, Lebanon is trying to tackle the problem with legislation that would give civil authorities a role in an area that is usually the preserve of clerics.
"We have drawn up a first draft regulating the marriage of minors," said Fadi Karam, secretary general of the National Commission for Lebanese Women, a state body on women's rights.
At the moment, religious tribunals handle all so-called personal status issues related to Lebanon's 18 officially recognised sects, including setting the age of consent.
In Muslim communities, it is usually 18 for men and between 14 and 17 for women; for Christian sects, the age varies between 16 to 18 for men and 14 to 18 for women.
"But families can obtain an exception from a religious tribunal to allow earlier marriages," Karam said.
In Muslim communities, that can permit the marriage of girls as young as nine.
"For the best protection of children, there must be a complementarity between religious and civil authorities," Karam said.
According to a source close to those working on the draft law, it would require that marriages involving children below the age of consent receive approval from a civil judge as well as a religious tribunal.
The draft law will eventually be presented to Lebanon's parliament but could face significant opposition from religious leaders, traditionally resistant to any attempt to erode their monopoly over personal status issues.
The Commission is also working on a broad campaign to raise awareness and lobby for Lebanon to sign and ratify the Convention on Consent to Marriage, Minimum Age and Registration of Marriages.
Child marriage already existed, particularly in the rural areas of Akkar in the north and the eastern Bekaa, but is on the rise because of the influx of poor and vulnerable Syrian refugees.
"It was a marginal phenomenon in both Lebanon and Syria, but since the war, marrying off a girl has come to mean one less mouth to feed," said Jihane Latrous, a child protection specialist at UNICEF.
Rita Chemaly, a project development consultant at the Commission, said finances are often a key driver.
"It is trafficking. Young girls are being married for money, or to pay the rent," she said.
Sabah al-Hallak, a Syrian activist who cooperates with Lebanese women's rights group KAFA, has managed to halt numerous child marriages by focusing on the health risks.
"We raise awareness first of all about health," she said.
"I tell them about the case of a woman I knew: she married off her daughter and the girl died in childbirth at the age of 14."
Chemaly said child marriage often means the end of schooling for the girls involved, as well as violence and the trauma associated with a wedding night frequently experienced as rape.
But the practice is so embedded in some communities that girls can express comfort with it.
Nemo was 13 when she married her husband Ahmed, an apple and marijuana farmer, who was 22 at the time of their wedding three years ago.
"It was my choice, and I am very happy," the 16-year-old told AFP, seated with her son and daughter.
"I wanted to have children as soon as possible so I could grow up with them."
http://english.ahram.org.eg/NewsContent/2/8/109395/World/Region/Lebanon-plans-law-to-stem-growing-child-marriage-t.aspx
------------
Final Piece of Texas Law Will Further Slash Access to Abortion
29 Aug, 2014
When the final provision of Texas' omnibus anti-abortion law, HB 2, goes into effect Monday, September 1, hundreds of thousands of women — especially those who are poor and live outside of major cities — will see their access to safe, legal abortion drop dramatically.
Despite Democratic state senator Wendy Davis's 10-hour filibuster, and the people's filibuster that followed, HB 2 passed the Texas legislature in July 2013. The bill was part of an unprecedented wave of state-level abortion restrictions that swept the country over the past three years.
HB 2 includes four new restrictions on reproductive care:
A requirement that physicians performing abortions have admitting privileges at hospitals within 30 miles of the facility;
A ban on abortions at 20 weeks post-fertilization or later, except in cases where the woman's life is in danger or where there is severe fetal abnormality (but not rape);
Further restrictions on the use of the medical abortion pill;
A requirement that all facilities meet the standards of amulatory surgical centers (ASCs), even if they only offer medical abortion.
It's the last provision that goes into effect September 1. Already, 19 of the state's 41 clinics have had to close as a result of HB 2, and 16 more are in line to shut down on Monday. That will leave between six and eight legal abortion providers in a state of more than 26 million people, of whom about 5.5 million are women of reproductive age.
"That's one legal abortion provider for every one million Texans who could become pregnant, according to an estimate from the University of Texas' Texas Policy Evaluation Project," Andrea Grimes writes for RH Reality Check. "Those eight facilities will all be located along the I-35 and I-45 corridors, in major cities in the eastern half of the sprawling state. No legal abortion facilities will operate south or west of San Antonio."
According to the Texas Policy Evaluation Project, the number of women of reproductive age in Texas living more than 200 miles from a clinic providing abortion in Texas increased from 10,000 in May 2013 to 290,000 by April 2014. When the ASC requirement goes into effect this will increase to 752,000. And almost 2 million women will live more than 50 miles from an abortion provider.
Considering that Texas also requires women to have a sonogram 24 hours before their procedure, the necessary investment of time and money makes a legal abortion increasingly inaccessible especially for low-income women, immigrants, and women of color.
The San Antonio Current reports:
Amy Hagstrom Miller runs the Whole Woman's Health abortion provider network in Texas. Right now, the San Antonio location is the only facility in the city operating an ambulatory surgical center, and it will remain open after September 1. McAllen's Whole Woman's Health closed last year, and since then, Miller said her organization has purchased 15 gas cards and bus tickets for women to travel the more than 200 miles to San Antonio. The McAllen clinic used to treat about 45 women weekly, she said, so she knows more need help.
"We're here and ready, but the vast majority of women can't add those travel costs to the cost of an abortion or they can't take off work," she said. "There will be access in San Antonio, but abortion becomes out of reach for so many women."
The effects of the law could be catastrophic. At FiveThirtyEight.com, Amelia Thomson-Deveaux looks at how Texas's abortion restrictions may increase the number of self-attempted abortions. She quotes Dan Grossman, a co-investigator of the Texas Policy Evaluation Project: "One important reason that women turn to self-induction is because of a lack of clinic-based care. It's a hypothesis, but it seems likely that given the clinic closures, greater knowledge about self-induction methods, and the high rates of poverty in the area, that this is something more women are going to consider."
According to the Guttmacher Institute, an advocacy organization focused on sexual and reproductive health, state legislatures have continued in the first half of 2014 to restrict access to abortion through targeted regulations of abortion providers, known as TRAP laws. Altogether, 26 states have some sort of TRAP law, a sharp increase from 2000, when only 11 states had such requirements. With the addition of new laws passed this year, 59 percent of women of reproductive age live in a state that has enacted TRAP provisions.
http://www.commondreams.org/news/2014/08/28/final-piece-texas-law-will-further-slash-access-abortion
------------
Australian Women too Performing Sexual Jihad for The Islamic State
29 Aug, 2014
Australian women are reportedly volunteering themselves to serve as 'comfort women' as part of a sexual jihad for the Islamic State.
In the wake of Malaysia's investigation involving Malaysian women performing sexual jihads, it was found that women from Australia and the United Kingdom had also joined up.
"Intelligence exchanged with other countries revealed that Sunni Muslim women from Australia and the United Kingdom had also joined up with ISIS," a Malaysian intelligence officer, speaking anonymously, told The Malaysian Insider.
The Islamic State, in its seize of Mosul in Iraq in June, had announced a decree imposing Jihad Al-Nikah.
Jihad Al-Nikah is a practice where Sunni women volunteered themselves to comfort Islamist fighters through sexual means. Through such practice, the fighters' morale is believed to be boosted up. It all started during the battle against Bashar al-Assad's regime in Syria.
"These women are believed to have offered themselves in sexual comfort roles to Isis fighters who are attempting to establish Islamic rule in the Middle East. This concept may seem controversial, but it has arisen as certain Muslim women here are showing sympathy for the Isis struggle," the official said.
Three Malaysian women had already been confirmed to have travelled to the Middle East to serve as comfort women. One woman, in her 30s, travelled to Turkey to meet up with a middleman who travelled with her by land until they reached Syria. Another woman, in her 40s, has been reported to be with the ISIS since April.
Australian Foreign Minister Julie Bishop had confirmed that there are approximately 100 more Australians who are supporting the ISIS, 60 of which are fighting with the group on the battlefield. However, the government has not reported any information relating to Australians serving as comfort women for the terrorists.
"We do have a significant number of Australian citizens who are taking leadership roles within the Islamic State terrorist organisation and this is a particularly brutal, barbaric organization," Bishop told ABC radio.
Bishop said that Australia is issuing a call to other nations, involving Arab nations, to build a coalition of support in eradicating abhorrent terrorist activities.
http://au.ibtimes.com/articles/564422/20140829/islamic-state-comfor-women-sexual-jihad.htm#.U_-mb9JdU4U
------------
Morocco-born women in French Cabinet
29 Aug, 2014
TWO women of Moroccan origins were assigned ministerial posts in the newly formed French government announced on Tuesday evening by President Francois Hollande.
Myriam El-Khomri was appointed minister of urban affairs, youth and sports while Najat Vallaud-Belkacem, who was minister of women's rights in the resigned cabinet, was given the education portfolio.
Belkacem, who was born in 1977 in Bni Chiker in north Morocco, is the first woman to be assigned the ministerial post of education in France.
She was first appointed minister of women's rights and government spokesperson on May 2012 but last April she was appointed the position of minister of women's rights, the city, youth and sports.
El-Khomri was born in Rabat in 1978. She was elected twice as councilor in the Paris' city council and she has also worked in the office of Paris' mayor.
http://www.saudigazette.com.sa/index.cfm?method=home.regcon&contentid=20140829216269
------------
US Forces Afghanistan honours Afghan women on Women's Equality Day
29 Aug, 2014
BAGRAM, Afghanistan - U.S. Forces-Afghanistan (USFOR-A) celebrated Women's Equality Day with a simple but significant ceremony at Bagram Air Base, Aug. 26. This American holiday honors the passage of the 19th Amendment to the U.S. Constitution granting women the right to vote. There is a special relevancy to this year's celebration as an estimated 5 million Afghan women defied Taliban threats and went to the polls to vote in the recent Afghan elections.
One of these courageous women, Ms. Sediqa Nuristani was a special guest at the event. Ms. Nuristani represents the progress Afghan women have made in the last 13 years after being liberated from Taliban oppression.
A student of higher education at Kateb University, she has benefited from being one of an estimated 4 million girls and women who are currently attending school in Afghanistan. Nuristani is studying political science and hopes to help lead her country into a better future. She worked in the elections process as a gender manager, traveling to villages and conducting seminars to empower and encourage women to vote. These women, along with women of the Afghan National Security Forces who secured the polls for women, enabled women to participate in the vote.
The fact that women currently hold 28 percent of the seats in the Afghan parliament, a woman ran as a vice presidential candidate, and many of the candidate's wives gave campaign speeches, serve as clear indicators of the progress Afghan women have experienced in the last 13 years.
"This was unheard of a decade ago and has been accomplished through the dedication and resolve of the Afghan women. Women who were banned from attending schools are now teachers, women who were not permitted healthcare are now doctors," said Lt. Col. Shavoka Douglas, USFOR-A Equal Opportunity director.
There are women athletes- a football team and a cricket team, a women's boxing federation and on the streets of Kabul you can see women riding bicycles. Women are farmers, bee keepers, taxi drivers, journalists, artists and are represented in the security forces as police chiefs and pilots. They are entrepreneurs with an estimate of over 3,000 women-owned businesses.
"These are substantial achievements and the Afghan women are committed to sustain and defend their rights at any cost," said Nuristani.
Unfortunately many women still remain oppressed, particularly in the rural areas. Afghan women face obstacles and grave threats as they struggle for continued progress toward equality.
Nuristani is the first women to climb Afghanistan's highest peak and has founded the Afghan Mountaineering Federation. As Vice President of the National Olympic Committee, she follows in the footsteps of her father, who was an Olympic coach and trainer. She receives many threats against herself and her family.
"Afghan women have many challenges ahead and they have a long road to run," said a resilient Nuristani.
USFOR-A's celebration of Women's Equality Day honored courageous women like Nuristani, who are an inspiration to many people around the globe.
The U.S. is committed to an enduring partnership with the Afghans and continues to support equality and human rights for Afghan women.
http://www.dvidshub.net/news/140667/us-forces-afghanistan-honors-afghan-women-womens-equality-day#.U_-pydJdU4U#ixzz3BjB5Wdfn
------------
Pakistan: Cell launched to address women's complaints
29 Aug, 2014
KARACHI: A women complaint cell was launched as part of the Citizens-Police Liaison Committee (CPLC) set-up on Thursday at a ceremony held in a hotel.
The cell at Governor House will address complaints related to domestic violence, divorce and Khula, right to inheritance, maintenance, child custody, kidnapping, sexual abuse, harassment at work, underage marriage and illegal detention.
The round-the-clock cell will gradually open up in the zonal and district offices of the CPLC that currently has four reporting cells (central, west, Malir, south and east zones) in Karachi (besides a central reporting cell in Governor House) and Hyderabad district. Soon a cell will be opened in Sukkur district.
"Complaints will be attended by female staff so that women feel comfortable in sharing their grievances. Legal aid will also be provided, if there is a need," said Ahmed Chinoy, the CPLC chief, in his brief speech.
The 24-year history of the CPLC was evidence of the good service it had been providing to the citizens of Karachi, he added.
According to Mr Chinoy, more than 6,000 complaint calls coming from across Pakistan were daily received at the CPLC offices, which, he said, was one reason that plans were afoot to expand the network.
"Staff training for the women complaint cell is going on right now and, at the same time, there is a plan to open a youth helpline," he said while appreciating the support of the Sindh governor and the law enforcement agencies in addressing citizens' complaints.
Nusrat Haris, a TV host and head of the CPLC women complaint cell, said the cell would be a great support for distressed women, most of whom feared to report offences at police stations. There was also a general belief among women, she said, that seeking outside support for a domestic issue might jeopardise their relationship.
The cell, she said, had started working three months back and now it had been formally launched.
"So far, we have received 30 complaints, most of them are related to domestic violence. Men can also approach the cell for domestic issues," she said.
Zohra Yousuf representing the Human Rights Commission of Pakistan said the CPLC effort was commendable given the fact that most cases involving women in society went unreported and the few that reached courts often remained without conviction.
She stressed the need to train the staff handling women-related complaints on gender sensitisation and legal intricacies.
"Offences such as domestic violence, child marriage, abduction and sexual harassment must be looked at as crimes and mediation shouldn't be employed as means to resolve the conflict," she said.
Ms Yousuf appreciated the Sindh Assembly for legislating on issues such as domestic violence but regretted that the law passed last year had not been enforced yet. Awareness of the law, she said, was the first step towards the law's enforcement.
Sindh Assembly deputy speaker Shehla Raza, Hum TV president Sultana Siddiqui, playwright Hasina Moin, Senator Abdul Haseeb Khan, former law minister Barrister Shahida Jamil, former MNA Khushbakht Shujaat and journalist Khursheed Hyder also spoke.
http://www.dawn.com/news/1128421/cell-launched-to-address-womens-complaints
------------
Nigeria: Gender issue throws up fresh challenges
29 Aug, 2014
A WOMAN as governor is on the lips of everyone in Akwa Ibom State. Since its creation in 1987, no woman has ventured to aspire to the coveted seat talk less of occupying it.
Out of the 27 governorship aspirants in the state, only one female is in the race — Senator Helen Esuene. Incidentally, most talks for the race to the Hill Top House are about her — either positively or negatively.
The nearest women of Akwa Ibom have gone is the position of deputy governor, currently occupied by Lady Valerie Ebe, courtesy of the governor, Chief Godswill Obot Akpabio.
Her emergence as the first female deputy governor on November 2, 2012, was a case of happenstance, following the sudden 'resignation' of the then deputy governor, Mr. Nsima Ekere, in Akpabio's second term in office.
The entry of Senator Esuene from Eket senatorial district, seeking to become the 10th and first female governor of Akwa Ibom State, has sent tongues wagging as to whether the state is ripe for a female governor or not.
She is the first female aspirant in the state to dare the men in the game that is erroneously seen as their exclusive preserve.
Some persons have argued that Akwa Ibom is too large for a woman to govern. They noted that the state is too complex and conflict-prone for a woman to rule.
According to them, no woman had emerged, as governor before in Nigeria and the time was not ripe for them to come out now.
A politician in Uyo, Mr. John Etim, said, "Akwa Ibom is too big for a woman. As far as I am concerned, the time is not ripe for a woman to rule as governor in this country.
"What we need now is a female deputy to continue to understudy the men for quite some time before they can come in.
The workload in Akwa Ibom is too much and I don't think a woman can handle it. Any female aspirant now is swimming against the tide."
Another critic of a female governor, Mr. John Udosen, a businessman in Uyo, did not mince words in his outright placement of women in the society.
"The place for the woman is the home," he said, adding, "women should be home taking care of the children and their husbands.
"Politics is not for a woman. Personally, I will not allow my wife to venture into politics because of their nocturnal meetings.
"Politics in Nigeria is characterised with violence and blackmail and I cannot imagine a woman coping with it.
"Women should wait for now because the coast in Nigerian politics is not clear for a woman, especially in this our Akwa Ibom where violence and senseless killings and kidnapping took the centre stage in Governor Akpabio's second term bid."
On the other hand, however, some other respondents feel that the state is "even too small" for a woman. What is going on now is the attitude of male chauvinists, who want to perpetuate themselves in the corridors of power.
This school of thought has maintained that the issue of governance has nothing to do with gender but mental competence.
The proponents of female governors argued that all over the world, both men and women have been battling shoulder to shoulder on leadership.
After all, women like Margaret Thatcher of Britain, Benazir Bhutto of Pakistan, Joyce Banda of Malawi, Michelle Bachellet of Chile and Indira Ghandi of India and others had ruled their countries.
Currently in Germany, Angela Merkel is doing her third term as the Chancellor; Dilma Rousseff in 2011 emerged the first female president of Brazil; Cristina Fernandez de Kirchner of Argentina, while Ellen Johnson Sirleaf is doing her second term in Liberia as President.
Catherine Samba-Panza is the new Interim President of the Central Africa Republic and the third female head of government in Africa.
"So, what is the big deal in a tiny state like Akwa Ibom, as compared to big countries of the world?" one of the respondents queried.
"Those with gender discrimination or hinging governance of the state on sex are just being myopic and narrow-minded in today's world of gender equality.
"The days of women playing second fiddle in politics or staying at home as housewives are gone. After all, both men and women go to the same school and compete in the same examinations and challenges and in some cases, if not most, the women come out tops."
A DOMINANT socio-political group with structures in the 31 councils of Akwa Ibom State has strongly differed with the opinion that the state was not ripe for a woman to govern.
In a recent rally, Ibom Consolidated Assembly (ICA), in recognising the competence and capability of women in the Nigerian society, unanimously adopted Senator Esuene as its preferred governorship candidate for 2015, saying, "If we need a drastic change and consolidation, we need not just a woman but a mother."
While inaugurating the Chapters and Wards Executives of ICA in Eket Federal Constituency, which comprises Eket, Onna, Esit Eket and Ibeno councils, the National Coordinator of ICA, Mr. Joseph Utib said, of all the aspirants in the race, the group decided to adopt Senator Esuene as its preferred candidate given her pedigree and ability to deliver at any point in time.
He said that the issue of gender was irrelevant because, "when I was doing the inauguration of the chapters, we met in March this year and before the meeting, there was a committee on ground and the essence of the committee was to go out and interact with other aspirants and look at their pedigrees, what they could do for the people of Akwa Ibom and not for ICA."
One of the criteria was that, we need somebody that is experienced and they came back at the committee level with the choice of Senator Esuene."
http://www.ngrguardiannews.com/features/policy-a-politics/176869-akwa-ibom-gender-issue-throws-up-fresh-challenges
------------
URL: https://www.newageislam.com/islam,-women-and-feminism/new-age-islam-news-bureau/indian-women-activists-condemn-love-jihad-'myth',-say-individuals-have-right-to-choose/d/98800