New Age Islam News Bureau
9 Oct 2015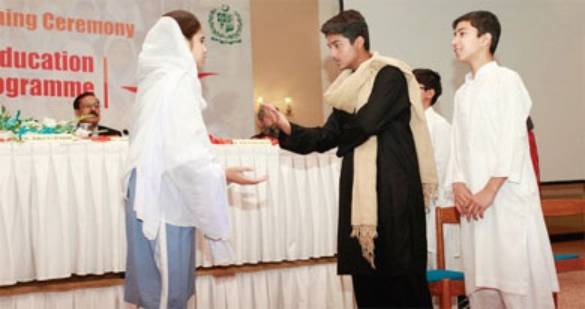 Students perform a play after the launch of enrolment prgramme. Photo by Sara Farid
---------
• Malala Trust-Funded Enrolment Drive Launched in Pakistan
• Saudi Women Candidates Can Use Social Media
• Women's Campuses Host Civic Election Awareness Campaign in Saudi Arabia
• Enable Saudi Women to Start Their Own Businesses
• Niqab Should Not Be Election Issue, Say Christian, Muslim and Hindu Leaders of Canada
• Petition in IHC Asks Nawaz to Raise Dr Aafia Issue with Obama
Compiled by New Age Islam News Bureau
URL: https://www.newageislam.com/islam,-women-and-feminism/new-age-islam-news-bureau/indian-woman-s-arm-cut-off-by-saudi-employer---unacceptable-,-indian-external-affairs-minister-tweets/d/104857
----------
Indian Woman's Arm Cut Off By Saudi Employer: 'Unacceptable', Indian External Affairs Minister Tweets
Oct 9, 2015
NEW DELHI: External affairs minister Sushma Swaraj on Friday expressed outrage over reports of a Saudi sponsor chopping off an Indian maid's hand.
"We are very much disturbed over brutal manner in which Indian lady has been treated in Saudi Arabia. This is unacceptable. We have taken this up with Saudi authorities. Our embassy is in touch with the victim," Sushma said.
Kashturi Munirathinam, working as a domestic help in Saudi Arabia, has alleged that her right hand was chopped off by her employer when she tried to escape harassment and torture.
Saudi Arabian officials have arrested a Saudi woman.
Officials with the Indian embassy in Riyadh took up the case with Saudi authorities at the highest level after learning that the employer of Kasthuri Munirathnam severed the maid's right arm after she complained to officials that the family she was working for ill-treated her.
Kasthuri was in a critical condition but has stabilised and doctors are treating her in Kingdom Hospital in Riyadh.
Anil Nautiyal, first secretary (labour) at the Indian embassy in Riyadh, said the mission is pursuing the case with the Saudi Arabian ministry of foreign affairs.
Kasthuri's son Mohan told TOI from Vellore that his mother Kasthuri sustained severe injuries in the attack by the woman of the house, whose name Saudi authorities have withheld.
A video on a social networking site shows Kasthuri in tears as she recalls the brutal attack. "I pleaded with the lady not to harm me but she kicked me, punched me and cut off my arm," she said. "I want to go back home. Please help me."
Mohan, a mason, said his mother left for Saudi Arabia two years ago to support the family, which consists of an ailing husband, three daughters and a son, even though he tried to persuade her against going to that country. Kasthuri first worked for a family in Damam and later moved to the house in Riyadh.
http://timesofindia.indiatimes.com/india/Indian-womans-arm-cut-off-by-Saudi-employer-Unacceptable-we-are-very-much-disturbed-Swaraj-tweets/articleshow/49282455.cms
----------
Malala Trust-Funded Enrolment Drive Launched in Pakistan
AASMA MOJIZ
Oct 9, 2015
ISLAMABAD: A $7 million programme, which aims to enrol at least 50,000 out-of-school-girls from 12 districts across the country over the course of three years, was launched on Thursday.
The Girls' Right to Education Programme, which will be implemented through NGOs and civil society organisations across the four provinces, is funded by the Malala Funds-in-Trust. The trust was launched in February 2014 by the government of Pakistan and the United Nations Educational, Scientific and Cultural Organisation (UNESCO) to support better access, improved quality and safe learning environments for girls in hard-to-reach areas.
Speaking at the launch, UNESCO's Vibeke Jensen said target districts were chosen in collaboration with provincial governments and demonstrate the highest rates of gender disparity in the country. Jensen said the programme will target primary school age girls, parents, schools, teachers and district education officials.
Programme aims to enrol 50,000 schoolgirls in 12 districts
The programme, she said, was created after detailed discussions with the government, civil society and schoolgirls themselves and features strategies developed according to provincial needs and local contexts.
The project aims – among other things – to mobilise school management committees, support teachers, improve physical infrastructure such as boundary walls and strengthen district officials to facilitate schools, support planning and education, and design strategies to target girls.
Speaking at the launch, Education Minister Mohammad Balighur Rehman said that the government's resolve was to ensure 100 per cent enrolment in primary and secondary schools and reiterated the resolve to make education free and compulsory.
The minister said that the programme would pay special attention to border areas, particularly the Durand Line, where war-torn districts are facing unique challenges. The target districts for the programme are Muzaffarabad, Hattian and Neelum in AJK, Jafferabad and Ziarat in Baluchistan, Mohmand Agency in Fata, Gilgit and Hunza Nagar in Gilgit-Baltistan, Neelor and Tarnol in Islamabad, Kohistan in Khyber Pakhtunkhwa (KP), Muzaffargarh in Punjab and Tharparkar in Sindh.
The minister said the programme was being carried out in districts where there is no education infrastructure and said that with time, more programmes would be initiated to operate alongside this. He also said that provincial district education departments had been taken on board.
Balochistan MPA Raheela Durrani said that Balochistan had fallen behind in education standards.She revealed that of the 22,000 villages in Balochistan, 10,000 were without schools and there were only 11,500 schools in the province.
"There is the ghost schools issue, the ghost teachers issue, the ghosts students issue; all education is a ghost in Baluchistan," she said.
Many of the speakers also spoke about girls' education with regards to sustainable development goals (SDGs) set by the UN this year. UNESCO Director General Irina Bokova, in a video statement, said that the new SDGs recognised that access to education was a human right.
http://www.dawn.com/news/1211865/malala-trust-funded-enrolment-drive-launched
----------
Saudi Women Candidates Can Use Social Media
09 October 2015
JEDDAH — The Ministry of Municipal and Rural Affairs will allow women candidates in municipal elections to use social media platforms. The ministry also said through its Twitter account that the General Committee for Municipal Elections will allow female candidates to use newspapers to carry out their election campaigns conforming to Shariah controls as well as to set up election headquarters. The candidates will be granted licenses for various types of election campaigns. The tweet from the ministry indicated that women candidates have the right to obtain licenses to run election campaigns directed at both male and female voters.
http://www.saudigazette.com.sa/index.cfm?method=home.regcon&contentid=20151009259133
----------
Women's Campuses Host Civic Election Awareness Campaign in Saudi Arabia
9 October 2015
RIYADH: The women's campuses of King Saud University (KSU) and Princess Nora bint Abdulrahman University (PNU), the largest university for women in the world, hosted the "Your vote makes a difference" campaign ahead of the upcoming civic elections.
"The awareness campaign was jointly organized by the Women's Renaissance Institution and the King Khalid Charitable Foundation, where they set up a number of booths to give important information about the municipal elections," KSU's media department said Thursday.
"The awareness campaign was conducted in light of the political developments Saudi women are witnessing, where they have the right to vote and to contest as candidates in the municipal elections," the official pointed out.
Commenting on the program hosted on the KSU women's campus, Einas Al-Eisa, vice rector for female student affairs, expressed her pride in this important step, saying: "The municipal elections are considered a turning point where women will participate as candidates and voters."
She also emphasized women's efficiency and capability in all fields.
"KSU is proud to be the oldest and largest higher education facility for Saudi women," she noted.
Commenting on the program hosting, Ibthal Al-Zaml, director of finance resources and public relations at the Women's Renaissance Institution, expressed her deep gratitude for KSU women's campus' effective contribution to the awareness of this important political event.
Due to the set age of voters at 18 years, the Women's Renaissance Institution targeted universities such as KSU and PNU, she said.
PNU also hosted an awareness campaign to educate and encourage voters ahead of the forthcoming elections and the awareness booths received large numbers of attendees.
The campaign seeks to improve the level of election skills among community members. It also seeks to illustrate the criteria of female and male candidates, and the duties of municipal councils in the community working for a vibrant Saudi society.
The municipal elections will be held between 8 a.m. and 5 p.m. on Dec. 12 and the results will be announced the following day.
http://www.arabnews.com/saudi-arabia/news/817721
----------
Enable Saudi women to start their own businesses
09 October 2015
I do not know how large the budget of the Human Resources Development Fund (HRDF) is. However, the SR2,400 per person fee paid annually into the fund means that it has billions of riyals in revenue. The fee is imposed on the private sector and the revenue is meant to be used to reduce unemployment.
However, the question is: What has the HRDF done to solve the problem of unemployment? I have always been against giving financial support to able-bodied people who can work because the job opportunities available to men outnumber the opportunities available to women, especially in the private sector. The HRDF should implement programs that help women start their own businesses instead of giving them financial support.
The fund should establish a department that offers consultation services and financial facilities to unemployed women. I strongly believe that helping people start their own business will eliminate unemployment and reduce pressure on the government when it comes to creating job opportunities for both men and women.
This should be the HRDF's strategic goal. Simply put, the fund should provide loans to support projects and programs that allow people to start their own businesses. People who take loans should pay them back to the fund and be given 10 to 30 percent off if they pay the money back on time. Giving loans is much better than giving people money that they are not required to pay back.
The strategies for supporting solutions to the problem of unemployment should be radically changed. How can we expect to end unemployment without financial support and without helping unemployed men and women start their own businesses?
The fund should give special attention to productive families. The importance of setting up a specific department to help unemployed women start their own businesses cannot be stressed enough. It is also important that procedures for granting loans are made easy and fast, not hard and slow.
http://www.saudigazette.com.sa/index.cfm?method=home.regcon&contentid=20151009259127
----------
Niqab Should Not Be Election Issue, Say Christian, Muslim and Hindu Leaders of Canada
Oct 08, 2015
Leaders from different religions gathered in St. John's on Thursday and were united in their belief that wearing of the Niqab should not be so much attention during the Canadian federal election campaigns.
The Niqab has become a divisive federal election topic in recent weeks, with the Conservative government vowing to fight a Federal Court of Appeal ruling saying women shouldn't have to remove Niqabs, which cover their faces during citizenship ceremonies.
Leaders from the Anglican, Catholic, Muslim and Hindu religions all took part in the meeting on Thursday, organized by the Religious Social Action Coalition.
While the focus was on poverty reduction, the Niqab issue wasn't far from their minds.
Muhammed Nazir, with the Muslim Association of Newfoundland and Labrador, doesn't think the Niqab should be part of anyone's campaign.
"It's really an issue which I think certain politicians feel they can make some points and gain some ground," he said after the meeting.
"That's up to them, whether the public will support them or not. As far as we're concerned, it's totally a non-issue."
Rami Wadhwa
Rami Wadhwa hopes that Canadians will get used to the Niqab the same way they did with Sikh turbans in the past. (CBC)
Rami Wadhwa, a local Sikh leader, remembers when turbans were once a point of controversy in Canada.
He said back then communities worked together to understand each other — and that may be what's needed now if people take issue with the Niqab.
"I had some incidences where there was some name-calling and everything, but I think things have changed," he said.
"We have worked hard to do the exposing, to see who we are and what we do, and we don't have any problems."
Father Paul Lundrigan
Father Paul Lundrigan thinks there is a double standard with people accepting the attire of Christian sisters but not the wearing of the Niqab. (CBC)
Father Paul Lundrigan, with the Roman Catholic Church, is also surprised every time the Niqab issue comes up.
He made the point that Canadians generally had no problem with Catholic nuns being mostly covered and doesn't think there is any difference with women wearing Niqabs or any other religious garb.
"I'm not too sure exactly what the issue is," he said.
"From my own faith tradition, there were large numbers of women who wore something very similar to the Niqab and burqa, covered head to toe in black — the sisters."
http://www.cbc.ca/news/canada/newfoundland-labrador/Niqab-should-not-be-election-issue-say-christian-muslim-and-hindu-leaders-1.3263525
----------
Petition in IHC asks Nawaz to raise Dr Aafia issue with Obama
MALIK ASAD
Oct 9, 2015
ISLAMABAD: The Islamabad High Court (IHC) on Friday sought comments from the government over a petition asking for Prime Minister Nawaz Sharif to raise the issue of releasing Dr Aafia Siddiqui during his upcoming visit to the United States.
Aafia, a Pakistani neuroscientist, is serving an 86-year prison sentence in US for attacking American soldiers.
Justice Noorul Haq Qureshi of the IHC heard the petition filed by Aafia's sister Dr Fauzia Siddiqui.
The petitioner's counsel took the stance that at the time when Nawaz was not the prime minister; he had written a letter to the then prime minister Yousuf Raza Gilani, asking him to take steps for the release of Aafia.
The petitioner requested that the court direct the premier to raise issue of Aafia's release with President Obama during his visit to Washington on Oct 22.
President Obama's permission should be sought for the grant of access to Aafia's councillor, the petitioner said.
He added that permission for Aafia's family to meet the imprisoned doctor should also be sought.
Know more: Dr Aafia Siddiqui sentenced to 86 years in jail
After hearing the arguments, the court issued notices to the Prime Minister House and the foreign and interior ministries, seeking comments on the petition. The hearing was subsequently adjourned.
After a childhood split between Pakistan and Zambia, Aafia Siddiqui travelled as a teenager to Texas, where her brother lived, before studying at Boston's prestigious Massachusetts Institute of Technology (MIT) and doing a PhD in neuroscience at Brandeis University.
Siddiqui's story, one of the most intriguing of the "war on terror" era, began in March 2003 when Al Qaeda number three and alleged main 9/11 architect Khalid Sheikh Mohammed was arrested in Karachi.
Soon after his arrest, Siddiqui — suspected of Al Qaeda links by the US — disappeared along with her three children in Karachi.
Five years later she turned up in Afghanistan, where she was arrested by local forces in the restive southeastern province of Ghazni.
According to US court papers, she was carrying two kilos of sodium cyanide hidden in moisturiser bottles, along with plans for chemical weapons and New York's Brooklyn Bridge and Empire State Building.
The Afghans handed her to US forces who began questioning her. During her interrogation she grabbed a rifle and opened fire, according to witnesses, at US agents while screaming "Death to America" and "I want to kill Americans".
Take a look: Dr Aafia denies shooting at Americans
The soldiers escaped unhurt, but she was injured.
From Afghanistan, Siddiqui was put on trial in the US and sentenced in 2010 to 86 years for attempted murder — and not for any Al Qaeda links.
http://www.dawn.com/news/1211941/petition-in-ihc-asks-nawaz-to-raise-dr-aafia-issue-with-obama
----------
URL: https://www.newageislam.com/islam,-women-and-feminism/new-age-islam-news-bureau/indian-woman-s-arm-cut-off-by-saudi-employer---unacceptable-,-indian-external-affairs-minister-tweets/d/104857