New Age Islam News Bureau
8 Sept 2019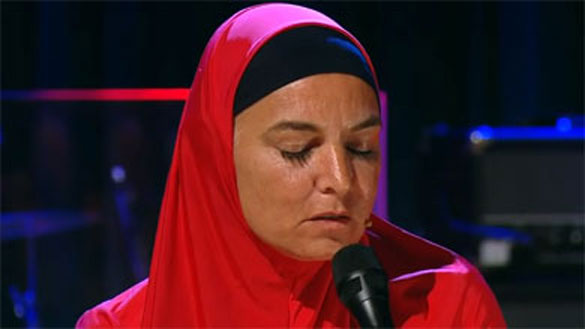 Sinead O'Connor has discussed becoming Muslim on Ireland's 'The Late Late Show'. YouTube / The Late Late Show
-----
• Singer, Sinéad O'Connor: 'I Have Been A Muslim All My Life and I Didn't Realise It'
• Female Trainees Graduate Through Saudi Ministry's Leadership Initiative
• Kerala Braveheart, Sifiya Haneef, Conferred Neerja Bhanot Award
• Kuwaiti Woman Earns Global Recognition In Malaysia
• Saudi Women Directors Bring Empowerment Message To Venice
• Afghan Women Determined To Vote In Presidential Elections
Compiled by New Age Islam News Bureau
URL: https://www.newageislam.com/islam-women-feminism/indian-woman-delivers-khula-divorce/d/119687
--------
Indian Woman Delivers 'Khula', 'Divorce Initiated By a Muslim Woman' On Mail, Clerics Say Follow Rule
Sep 8, 2019
LUCKNOW: A 42-year-old Muslim woman from Lucknow on Saturday, announced divorce from her husband using the Islamic procedure of 'khula', claiming her marriage stands dissolved. Ten days ago, she had declared 'khula' (divorce initiated by a Muslim woman) on WhatsApp, email and post to her husband.
The couple had a love marriage 12 years ago, but they drifted apart after four years and moved high court for divorce last year. The court put them through a mediation process, after which they separated. However, they agreed on terms and conditions for their daughter's custody and reconciliation.
The woman claimed her husband was alcoholic and would torture her at gunpoint, so she approached an organisation working on Muslim divorce cases.
On their advice, the woman sent a stamp paper 'khulanama' to the husband through email and post. After her husband didn't respond for 10 days, she made the public announcement, claiming 'khula' was her Islamic right.
"Islam and Quran give women the right to divorce. The Quran doesn't say a cleric has to be involved. For long, clerics have tried to curb women's rights by saying husbands have to give consent for such a divorce. This woman has used her Quranic right and tried all mediums of reconciliation which didn't work," said social worker Naish Hasan.
The 'khulanama' states her husband did not support her for two years, paid school fees of their daughter for only three months and didn't agree to divorce or work on the marriage.
The clergy, though agreeing on 'khula' being a woman's right, said the process for dissolving the marriage had not been followed in this case as the husband has to be heard. Otherwise, clerics said, such a 'khula' is like 'instant triple talaq' pronounced by a man.
"If the marriage was performed according to Shariat, the divorce will be valid only by following its procedure. This involves the woman writing her reasons for 'khula' and submitting an application to the Darul Qaza. The husband is then summoned, a mediation window is opened and the man's side is heard. If no headway is made, divorce is granted," said All India Muslim Personal Law Board (AIMPLB) member Maulana Khalid Rasheed Farangi Mahali.
"If all goes well, the process can take less than a month, but it has to be duly completed. Just conveying your message through post or email and not communicating mirrors instant triple talaq," he said.
The cleric who also oversees Darul Qaza at Farangi Mahali also said a number of women know about their right to 'khula' and approach clerics. "It is a stereotypical majoritarian view that only Muslim men pronounce divorce. Women have the right to initiate too, but both have to follow procedure," he added.
However, Naish, who has been helping the woman, said, "She tried reconciliation and as per Islamic law will let go off her 'mehr' (money paid by groom). A woman can initiate divorce and take it to its conclusion. A Sitapur-based woman had initiated 'khula' in 1946 to set an example."
https://timesofindia.indiatimes.com/city/lucknow/up-woman-delivers-khula-on-mail-clerics-say-follow-rule/articleshow/71032364.cms
--------
Singer, Sinéad O'Connor: 'I Have Been A Muslim All My Life and I Didn't Realise It'
Sep 7, 2019
Sinéad O'Connor has described how she felt "at home" after reading the Quran and subsequently embracing the Muslim religion.
The singer, who has returned following a five-year hiatus from touring, announced her decision to "revert" to Islam almost a year ago and says she often wears the hijab as a means of signalling her new-found beliefs.
"The word 'revert' refers to the idea that if you were to study the Koran you would realise that you were a Muslim all your life and you didn't realise it. That's what happened to me," she said on Friday night's Late Late Show.
"I am 52. I grew up in a very different Ireland to the one that exists now and it was a very oppressed country religiously speaking. And everybody was miserable; nobody was getting any joy in God."
The singer, who has long captivated audiences with her views on Irish life, spoke about reading the scriptures as a child and later exploring other religious texts "trying to find the truth about God". She left Islam until last because she held her own prejudices about the religion, she said.
"I [then] realised oh my God I am home, I have been a Muslim all my life and I didn't even realise it."
Ms O'Connor wore a hijab during her appearance on the show and gave performances of Shane McGowan's A Rainy Night in Soho and Nothing Compares 2U, the latter song written by the late Prince to whom she said she was dedicating the performance.
Late Late Show host Ryan Tubridy asked the Bray singer if she was enjoying being 52 and if she was happy in life, to which she said she now felt like a 17-year-old.
"My experience of ageing is that as my body is getting older, I am getting younger," she said.
As regards the notion of a "comeback", Ms O'Connor said she was unsure if she still had an audience.
"I was really working so hard for years, I was burnt out. So it is a bit of a, I suppose a comeback," she said.
"I actually thought nobody would be interested anymore. I really thought nobody was going to buy any tickets to the shows. I really thought I wouldn't even get any shows, that nobody would hire me."
Although achieving global fame in 1990 with her recording of Nothing Compares 2U, Ms O'Connor has released numerous albums and remains one of Ireland's highest-profile artists. She is due to perform at Féile '19 in Co Tipperary later this month.
https://www.irishtimes.com/culture/music/sin%C3%A9ad-o-connor-i-have-been-a-muslim-all-my-life-and-i-didn-t-realise-it-1.4010482
--------
Female Trainees Graduate Through Saudi Ministry's Leadership Initiative
September 07, 2019
RIYADH: The Ministry of Labor and Social Development announced the graduation of the second batch of women enrolled in the "Leadership Training and Guidance" initiative. In September, 31 female trainees graduated in mid-level leadership, and 30 others in senior leadership. In July, 59 trainees graduated.
The initiative comes within the initiatives of the National Transformation Program 2020, aiming at training up to 1,700 females working in the private and public sectors to be promoted to leading positions. The training is offered through INSEAD business school. The initiative aims to develop leadership skills of women working in the private sector and empower them to lead Saudi companies.
Furthermore, it raises awareness of women's leadership and conveys an accurate picture of the ministry's support for women's capacities.
The program also aims to build a network of professional relationships among participants to provide professional support, advice and motivation, thus ensuring effective professional development in the future.
The training course focuses on several themes: Women and leadership, strategic planning, influence and motivation, motivating others through feedback, making decisions in confusing and high-risk situations, making group decisions, applying leading change and implementing strategies.
The program will train women working in the governmental sector in the near future.
The ministry is pleased to invite private sector facilities to support women's participation in the labor market and promote their presence in leading positions, through nominating their female employees to the program on the platform's link: https://wl2030.pnu.edu.sa/ar/Documents/Home.aspx.
https://www.arabnews.com/node/1551131/saudi-arabia
--------
Kerala Braveheart, Sifiya Haneef, Conferred Neerja Bhanot Award
September 07, 2019
Chandigarh: A young braveheart from Kerala, Sifiya Haneef, was conferred with the Neerja Bhanot Award in a solemn ceremony here on Saturday.
The award was presented to her by Wendy Sue Knecht, who also worked with the Pan American World Airways in the '80s and had trained Neerja Bhanot in 1986. Knecht specially came here from Los Angeles for the award function. The award consists of Rs 1.50 lakh, a citation and a trophy.
The award was instituted in 1990 in memory of Neerja Bhanot, who saved hundreds of lives while sacrificing her own when a Pan Am flight from Mumbai to New York was hijacked at the Karachi airport on September 5, 1986.
A specially constituted jury comprising three Rotarians — Sneh Popli, Manjit Kaur and Anu Dhingra — selected Sifiya for the honour after she met the criteria laid down by the Neerja Bhanot Pan Am Trust, which stipulates that the awardee has to be an Indian woman who when faced with social injustice, overcomes it with guts and grit.
Akhil Bhanot, managing trustee at Neerja Bhanot Pan Am Trust, said: "Sifiya got married when she was 16 and her studies were stopped. Unfortunately, her husband died when she was 20. She had two children by then. Sifiya wished to continue her studies, but did not get any support. Not willing to give up, she took on a part-time job and resumed her studies.
"After a lot of struggle and realising that life was very tough not only for her, but also for other widows as well, she started spending her salary on helping widows."
Sifiya started a Facebook page called 'Chithal' where she wrote about the issues facing widows.
She also met a lot of sick mothers, kids, elderly people and cancer patients, among others. She would update her page on the problems these people were facing and get public support to solve their issues.
Today, she is helping more than 300 families by providing them shelters, constructing toilets in colonies, distributing medicines and giving them pension, Bhanot said.
An emotional Knecht said: "Though a lifetime has passed, Neerja's generosity, her humanity and her sacrifice will never be forgotten."
"By fighting for justice, Neerja proved that you can re-write your story from being called a 'victim' to a 'hero'. The message that Neerja imparted upon the world was 'do the right thing, come what may'. This is what all of us must do. I too have been inspired to follow Neerja's path," she added.
https://www.siasat.com/kerala-braveheart-sifiya-haneef-conferred-neerja-bhanot-award-1610234/
--------
Kuwaiti Woman Earns Global Recognition In Malaysia
Sep 8, 2019
KUALA LUMPUR: Malaysia honored Chairperson of Kuwait's Women's Cultural and Social Society Lulwa Al-Mulla with the Muslim World Rania award in recognition of her contributions to women rights in Kuwait and Muslim world. The award was received by Al-Mulla's son, Saleh Al-Nafisi, during a ceremony held at the conclusion of the Muslim World Business and Investment Zone on Friday. Layla Rani, director of the event, said that Mulla has major social and cultural contributions in Kuwait as well as in Muslim worlds and internationally. She commended Mulla campaigning for women's rights and empowerment. Rani also praised Kuwait's contributions to Muslim countries and the rest of the world. She added the event's magazine highlighted the scientific, economic and social development in Kuwait. The Muslim World Rania Award is presented in recognition of amazing efforts by great women leaders and to appreciate their feat in all sections of life. Honored by the business and investment magazine 'OIC TODAY,' this year's award was extended to 12 women from Kuwait, Malaysia, the United Arab Emirates (UAE), India, Azerbaijan, Qatar and Iran. – KUNA
https://news.kuwaittimes.net/website/kuwaiti-woman-earns-global-recognition-in-malaysia/
--------
Saudi Women Directors Bring Empowerment Message To Venice
September 07, 2019
Female Saudi directors Haifaa Al-Mansour and Shahad Ameen brought a message to the Venice Film Festival along with their movies: Women must be seen and heard.
Mansour's "The Perfect Candidate" is one of two films by female directors out of 21 competing for the festival's Golden Lion award, telling the story of a woman doctor facing gender-based challenges while running for municipal council.
Ameen's "Scales," which screened out of competition, focuses on a young girl surviving against superstitious villagers who believe she is a curse. Both directors hope their films will convey a message of empowerment at a time when Saudi Arabia has been easing male guardianship rules. "Showing a lead female character, it is indirectly empowering women," Mansour said.
"The one who will make most money in this film is the girl, she is not a supporting role, she is the main role. You invest in her journey, love her and root for her that is what is very important for a conservative audience to see."
The start of Mansour's film reflects the changes in the Kingdom, with protagonist Maryam driving her car to work.
Asked what she wanted Saudi female audiences to take away from the film, Mansour, also known for the English-language film "Mary Shelley," said: "That it is about time to put themselves out there and not to be afraid of failure or to be judged.
"We come from a very traditional society so even with the liberties, like ... (women) driving is legal but not a lot of women drive because it is not accepted still socially. So it is very important for women ... to take advantage of the new freedoms given to them because that is ... how to move forward."
In "Scales," Hayat has been saved by her father from a village tradition of families sacrificing their daughters to sea creatures, making her an outcast.
Mansour has previously described how she at times had to hide in a van while directing her 2012 film "Wadjda" about a young Saudi girl determined to buy a bicycle.
"It's changed a lot, I don't have to be in the van anymore ... and accessibility ... we shot in really remote areas and we were able to shoot," she said.
https://www.arabnews.com/node/1551001/saudi-arabia
--------
Afghan Women Determined To Vote In Presidential Elections
07th September 2019
KABUL: Fearing that a Taliban-like fundamentalist government may return, many women in Afghanistan are determined to vote in the upcoming presidential polls to defend their hard-won rights enshrined since the collapse of the Islamist regime in 2001.
Activist Muqadasa Ahmadzai, 25, was a child when the Taliban ruled the country for five years from 1996. She works for women in Nangarhar, one of the most dangerous provinces where the Taliban and the Islamic State (IS) insurgent groups dominate vast territories, Efe news reported on Saturday.
"Today women are teachers, doctors, pilots, they have the right to drive, take part in elections, and advocate for their civil and fundamental rights," Ahmadzai told Efe news, explaining the progress made in the past 18 years.
In contrast, she said, under the Taliban regime "women were killed, flogged in public for not wearing burqa, schools abandoned and hospitals destroyed".
"Although women still have challenges, the progress we have made is significant," she said.
After starting almost from scratch, women now occupy 27 per cent of civil service posts, and dozens of them hold senior positions in the government as Ministers or Ambassadors in the country where 39 per cent of over 9 million school students are girls.
Ahmadzai has asked women to mobilize through democratic means, especially during the elections set for September 28.
"To protect their achievements and defend their rights, women need to take an active part in upcoming elections and should elect a president who can truly defend their rights against the Taliban in the peace talks," said the activist.
There are 18 candidates in the fray, including incumbent President Ashraf Ghani, who is seeking a second term, his CEO Abdullah Abdullah, former insurgent leader Gulbuddin Hekmatyar and former intelligence chief Hanif Atmar.
Out of the 9.6 million registered voters, only 3.3 million, or 34.5 per cent, are women, despite the efforts by the Independent Electoral Commission (IEC) to increase female participation.
"Women's participation in urban areas is good, but due to family and cultural restrictions, insecurity, and lack of awareness, the number goes down as we move from cities to rural and remote areas," Abdul Aziz Ibrahimi, IEC spokesperson, told Efe news.
Meanwhile for women like Lina Faiz, the Taliban's threats were not enough to deter them from exercising their democratic right.
"Taliban threats should not stop us. We should use ballots against the Taliban's bullets," Faiz said.
http://www.newindianexpress.com/world/2019/sep/07/afghan-women-determined-to-vote-in-presidential-elections-2030247.html
--------
URL: https://www.newageislam.com/islam-women-feminism/indian-woman-delivers-khula-divorce/d/119687
New Age Islam, Islam Online, Islamic Website, African Muslim News, Arab World News, South Asia News, Indian Muslim News, World Muslim News, Women in Islam, Islamic Feminism, Arab Women, Women In Arab, Islamophobia in America, Muslim Women in West, Islam Women and Feminism