New Age Islam News Bureau
24 Jul 2015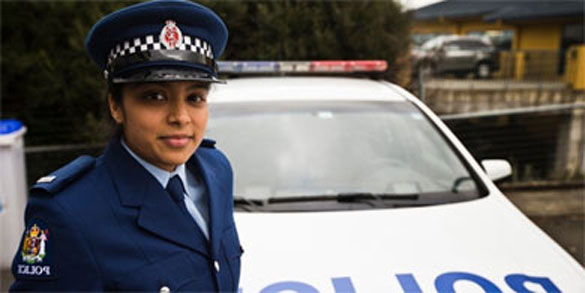 Shazmeen Khan is able to translate for Hindi speakers. Photo / Greg Bowker
-----------
• Indian Supreme Court Refuses To Allow Headscarf Inside AIPMT Exam Hall, Says Faith Won't Disappear If Not Worn
• Denied Accommodation for Being Muslim: Blind DU Prof Reem Shamsudeen
• Dubai Woman Starts Drive to Launch World's Biggest Animal Rights Billboard
• Muslim Policewoman, Shazmeen Khan, Now Living the Dream
• Corniche Harassment Case: 'Girls Egged Them On'
• To Tackle Bullying Greater Jakarta Bans 'Funny' Outfits At School
• 14-Year-Old Gujarat Rape Victim Denied Abortion By Court
Compiled By New Age Islam News Bureau
URL: https://newageislam.com/islam-women-feminism/indian-supreme-court-refuses-allow/d/104016
---------
Indian Supreme Court Refuses To Allow Headscarf Inside AIPMT Exam Hall, Says Faith Won't Disappear If Not Worn
July 24, 2015
Zee Media Bureau
New Delhi: The Supreme Court of India on Friday refused to entertain a plea of Islamic organisations which contended that Muslim girl students be allowed to wear headscarf during CBSE's All India Pre Medical Test (AIPMT) exam.
The apex court bench headed by Chief Justice HL Dattu while rejecting the plea by Students Islamic Organisation of India, said: "If you appear in an examination without a scarf, your faith will not disappear."
Describing the plea as "nothing but an ego", the court said that candidates can wear the headscarf after the exam is over.
The court also observed that faith is something different from wearing a particular type of cloth.
The SC observation came three days after the Kerala High Court granted conditional permission to two Muslim girls to appear for the July 25 AIPMT wearing Hijab, a customary religious dress.
Passing orders on their petition, Justice K Vinod Chandran had said the students shall appear before women invigilators half-an-hour before the examination.
The court had refused to interfere with the dress code prescribed by the Central Board of Secondary Education (CBSE) for students appearing for AIPMT to prevent malpractices and said the petitioners would be subjected to any mode of personal search on any suspicion expressed by the invigilator.
If required, the headscarf and full sleeve garments will be removed and examined, for which the petitioners shall cooperate, the court had said.
http://zeenews.india.com/news/india/sc-refuses-to-allow-headscarf-inside-aipmt-exam-hall-says-faith-wont-disappear-if-not-worn_1635476.html
--------
Denied Accommodation for Being Muslim: Blind DU Prof Reem Shamsudeen
PTI | Jul 24, 2015
NEW DELHI: In a video message to chief minister Arvind Kejriwal, a visually impaired professor of Delhi University has alleged that she was denied rented accommodation in the national capital on grounds that she is a Muslim.
Reem Shamsudeen, an assistant professor of English in a DU college, has aired her grievances about facing discrimination on basis of religion in a video message, posted on YouTube, to Kejriwal referring to him as "Paanch Saal chief minister".
The video which has clocked over 3,500 views has kick-started a campaign #Justice4Reem on Social Media.
30-year-old Reem, who hails from Kerala, says in the video, "When I came here (Delhi) last February, the whole state was booming with the promises of AAP about how Delhi is going to change when you become a Chief Minister and how the party is going to deal with many issues including discrimination."
"Here I would like to bring to your notice an instance of discrimination which I had to undergo recently. After the summer vacation when I joined the college I got a rented flat and paid the advance for my mother and me to move in.
"The day when I am supposed to shift in with all my luggage, the landlord denied giving me the key saying that she cannot rent out her flat to a Muslim. Of course, it was a shocking experience considering Delhi boasts of its cosmopolitan nature all the time," she says sharing that she had never experienced "this level of discrimination" while studying in Hyderabad for eight years.
The professor, further says, "if I have to face this, what about thousands of students who come from various parts of the country? I believe the state you administer, the Delhi you promised, accommodates every other citizen - Bihari, Bengali, Malayali, Manipuri, Kashmiri, Goan, black, white, man, woman, transgender, gay, blind, deaf, homeless... ."
Based on her experience, Reem says she hopes thousands of students moving in from various parts of the country would not have to face similar "shameful and inhuman" experiences and urged the Delhi chief minister to look into the issue.
"I urge you our dear 'panch saal' chief minister to look into the issue," she says.
http://timesofindia.indiatimes.com/city/delhi/Denied-accommodation-for-being-Muslim-Blind-DU-prof-tells-CM/articleshow/48202070.cms?
-------
Dubai Woman Starts Drive To Launch World's Biggest Animal Rights Billboard
By Dina al-Shibeeb, Al Arabiya News
Thursday, 23 July 2015, Ulrike Evelyn, a 42-year-old German woman, who made the glamorous city of Dubai her home for more than seven years, has started a whole new ambitious campaign, which could break a world record.
Evelyn, the owner of four dogs - Mailo, Fibi, Sheela and Charly - is focusing her energy on making "a lot of public noise" in a bid to launch the world's biggest animal-rights billboard to raise awareness of animal suffering in the UAE.
"I thought about a campaign for a long time and what could really be done to improve the situation for animals in the UAE," she told Al Arabiya News. "A lot of people are not even aware about it and they do not see it as a community issue."
The animal-rights advocate cited the predicament of Francis, a small puppy who suffered immeasurable abuse and was left two weeks in the scorching sun without any attention.
Luckily Francis found a home, with people able to care for a paraplegic dog. But his plight pushed her to further pursue her ambitious project.
Nations like Britain have organizations like the well-established Royal Society for the Prevention of Cruelty to Animals (RSPCA) which takes cases of animal abuse to the courts where offenders face prosecution, fines and in extreme cases even jail.
But Evelyn said the UAE, which as a "very young country," has no such service offering people an animal hotline,
"So even if people would like to offer assistance, or call for help, there is no nationwide number assigned to this cause yet," she added.
But she said "any country needs time to build up systems, and I think this issue is increasing as more people move to the UAE."
The resident emphasized that "there is nothing to be critiqued if it comes to this country, the UAE is an amazing place with great leaders and I am sure that it is just a matter of time," adding that even her home country of Germany does not have all the necessary arrangements for animal welfare and animals rights.
Baby steps leading to big support
The ambitious project needs $500,000 in budget, an owner of a skyscraper or tower willing to give "a decent rent offer" for six months to show the world that the UAE's latest record breaking project is not about the stereotypical bling, but instead about being benevolent.
Evelyn started her project two weeks ago and has 105 days left to accomplish this new world record. She has so far raised just $818 as of Thursday.
But Evelyn is gradually getting the support of big names to her realize her dream.
She already has one of the most popular Emirati artists on board in the shape of Mohammed Al-Astad.
She also has the backing of a creative agency called &Storm, which according to Evelyn is "glad to contribute to the marketing and creative works to our cause."
"Mohamed was immediately on board as he feels that this is a humanity issue and he likes animals," she said.
"I do hope he will provide us with an outstanding artwork to raise awareness, for such a cause is making him highly excited," she said of the artist who was the first Arab to paint the late Princess Dianna.
Mohammed Al-Astad, who is one of the most popular Emirati artists. (Photo: supplied)
She also has Ali Al-Saloom, who is famous for his Q&A "Ask Ali" where he articulately explains UAE culture to expats living in the country.
Evelyn said Saloom was excited to jump on the bandwagon especially as he had defended animal-rights for the past 10 years together with another animal-rights advocate, who is also German.
The Dubai resident also described a high-level official who she can't disclose at this stage.
"I am very positive and of course will try to approach more people to help raise awareness for all of us, as we are living together in one country and its communities and with nature and all the animals that surround us," she said.
Evelyn is using https://life.indiegogo.com/fundraisers/uae-animal-awareness-campaign for her campaign.
https://english.alarabiya.net/en/variety/2015/07/23/Dubai-woman-starts-drive-to-launch-world-s-biggest-animal-rights-billboard-.html
------
Muslim Policewoman, Shazmeen Khan, Now Living The Dream
Jul 24, 2015
Her parents wanted her to become a doctor or a lawyer, but 28-year-old Shazmeen Khan stood her ground to live her childhood dream of becoming a police officer.
"Especially for an Indian Muslim woman, it's not a job that you would go around saying 'hey Dad, I want to be a police officer'," said Ms Khan, the only daughter in the family.
"It took some convincing but eventually they were very supportive."
The Fijian-born constable will today be revealed as the first Muslim woman to have successfully come through a programme to help police increase diversity on the front line and within its ranks.
Te Wananga o Aotearoa (TWoA), which runs the 18-week certificate course, is signing a new memorandum of understanding with police to expand the programme. Ms Khan said the increasing ethnic diversity of Auckland's resident population means the city needs an equally diverse police force.
Of the 12,000 sworn police officers in New Zealand, 11.6 per cent are Maori, about 5 per cent are Pacific Islanders and 2.5 per cent are Asian or "others".
Ms Khan is attached to the Counties Manukau Police District, and also helps with recruitment campaigns aimed at ethnic minorities.
She does not wear a Hijab or Islamic headscarf with her police uniform.
"Being ethnic, female and Muslim, it obviously helps when I am attending to cases involving ethnic or Muslims," she said. "We naturally have this mutual understanding, I'm able to translate for them if they speak Hindi and don't speak English and help both sides understand what's going on."
The TWoA programme targets young Maori, Pasifika and ethnic people - helping them improve their understanding of tikanga Maori, leadership communication skills, numeracy and fitness - for a career in the police. Since it began in 2009, more than 70 who finished the course have graduated from the Royal New Zealand Police College and many are now working throughout the Counties Manukau, Waikato, Rotorua and the Gisborne/East Coast areas.
Commissioner Mike Bush said attracting people with the right skills to serve on the frontline was essential.
As part of a "Turning of the Tide" Whanau Ora crime and crash prevention strategy, the police are doubling the number of their ethnic staff to improve the way they engage and respond to ethnic communities. - NZ Herald
http://www.nzherald.co.nz/nz/news/article.cfm?c_id=1&objectid=11485870
------
Corniche Harassment Case: 'Girls Egged Them On'
FOUZIA KHA, Friday 24 July 2015
JEDDAH: The news about the harassment of two Saudi girls on the Jeddah Corniche a day after Eid Al-Fitr went viral on social media and was condemned by everyone.
But the reality behind the incident has set everyone thinking.
A new video of the two girls before the harassment was shown on a TV channel and posted on social media, which revealed the reality of the harassment and how it all started. It also went viral and opened up new doors for debate among social media users.
The new video showed the two girls driving a quad bike at the seashore, waving their hands and gesticulating at the boys.
A number of people condemned the provocative behaviour of the girls. A few called for accountability of the two girls as they started it; others said that it doesn't justify their harassment and that punishment for their harassers should be stiff.
After the release of the first video, which showed a group of boys harassing the girls by making comments and even blocking their way and making demands, a number of young men were arrested and Makkah Gov. Prince Khaled Al-Faisal directed law enforcement agencies to expedite an investigation and arrest those involved in the case.
Musa Kalo, a Saudi journalist, said on his WhatsApp account that the video shown on the channel and posted on social media revealed the true character of the girls, who provoked the boys in the first place and showed "immoral behaviour" while riding the desert bike on the Corniche.
"Most of us watched the video of the harassment that occurred in Jeddah, but the video shown on MBC revealed the real reason for this harassment; I hope quick sanctions will be launched against the girls and boys who showed immoral behaviour," he said.
Another social media user, Shazia bint Abdat, said the video showed the immoral behaviour of the girls. They started harassing the boys first and were trying to grab the attention of the young men, while riding on the bike which was also improper behaviour.
"We wear Abayas to cover and protect ourselves. It doesn't mean that after wearing Abaya women are allowed to move around among men. Not only this, they were totally wrong in their behaviour which showed that they were trying to catch the attention of the boys. The girls are the main culprits here," said Abdat.
http://www.arabnews.com/saudi-arabia/news/780776
-------
To Tackle Bullying Greater Jakarta Bans 'Funny' Outfits At School
The Jakarta Post, July 24 2015
In a move to tackle bullying, the city administration has prohibited senior students from forcing their juniors to wear outlandish outfits and accessories during school orientation programs.
Jakarta Education Agency deputy head Sopan Adrianto said the agency had issued letters stipulating the prohibition.
"Such outfits are not allowed at schools any longer. Students can only wear uniforms," Sopan said on Thursday at City Hall as quoted by kompas.com.
The agency had previously sent letters ordering schools to ban all activities classified as bullying and to ensure orientation contained only activities relevant to pupils' studies.
"If the seniors want to introduce the school, they can just take the juniors around on foot, show them the classes, the laboratories and the area around the school," Sopan said.
He added that seniors caught bullying juniors would face sanctions, including expulsion from school, being banned from studying abroad and retraction of Jakarta Smart Cards (KJP). - See more at: http://www.thejakartapost.com/news/2015/07/24/greater-jakarta-city-bans-funny-outfits-school.html#sthash.MDf836UV.dpuf
http://www.thejakartapost.com/news/2015/07/24/greater-jakarta-city-bans-funny-outfits-school.html#sthash.MDf836UV.dpuf
------
14-Year-Old Gujarat Rape Victim Denied Abortion By Court
PTI Ahmedabad, July 24, 2015
The petition said the girl was raped by a doctor whom she had visited in February for treatment of typhoid. The doctor administered her injection of a sedative and raped her after she fell unconscious, it said.
The Gujarat High Court on Friday dismissed a petition filed by the father of a 14-year-old rape victim seeking permission for termination of her pregnancy.
Justice Abhilasha Kumari refused permission on the ground that the existing law does not allow termination of pregnancy after 20 weeks. In this case, the pregnancy was in the 24th week.
The judge also directed the Sabarkantha district administration to take care of the victim and pay her compensation of Rs one lakh.
The victim's father, a resident of Himmatnagar town of Sabarkantha district, had moved the HC last week seeking permission for abortion.
The petition said the girl was raped by a doctor whom she had visited in February for treatment of typhoid. The doctor administered her injection of a sedative and raped her after she fell unconscious, it said.
The police subsequently registered a case and arrested the doctor.
The girl's father first approached the Himmatnagar sessions court seeking termination of her pregnancy, saying that she was in no position to take care of the child.
But the sessions court rejected the petition as the pregnancy had crossed 20 weeks. Today, the High Court upheld the lower court's ruling.
In April, in a similar case, the High Court had denied permission to terminate pregnancy of a rape victim from Botad town as the foetus was 28 weeks old.
http://indiatoday.intoday.in/story/gujarat-14-yr-old-rape-victim-denied-abortion-by-court/1/453724.html
------
URL: https://newageislam.com/islam-women-feminism/indian-supreme-court-refuses-allow/d/104016