New Age Islam News Bureau
2 Sept 2019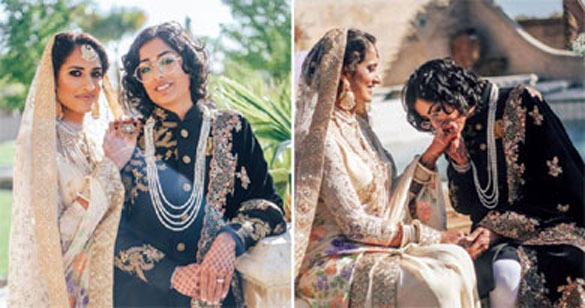 Both Bianca Maieli and her new wife Saima Ahmad just got married in a wedding that showed 'love has no boundaries'.
------
• Women Teach Young Boys for the First Time in Saudi Public Schools
• Brave I Iran Starts New Hijab Enforcement Plan to Suppress Women
• Iran Arrests Female Political Activist Requesting Khamenei's Resignation
• Iranian Women Step Up Their War on 'Gender Apartheid'
• Woman Hunted By Cops after Muslim Women in Hijabs Left With Broken Ribs And Internal Bleeding In Tube Attack In West London
• Another Hindu Girl Abducted, Forcefully Converted To Islam In Pakistan
• Saudi Justice Ministry Completes Reform Project, Including Hiring Of Women Notaries
• ACJU Requests Muslim Women to Avoid Full-Face Cover
• Kerala Woman Alleges Torture For Declining ISIS Service
• Palestinian Teen's Suspected 'Honour Killing' Provokes Outrage In West Bank
Compiled by New Age Islam News Bureau
URL: https://www.newageislam.com/islam-women-feminism/indian-pakistani-lesbian-couple-get/d/119633
--------
Indian-Pakistani Lesbian Couple Get Married – With One Bride Wearing A Sari and the Other A Sherwani
Faima Bakar
Sunday 1 Sep 2019
Bianca Maieli and her new wife Saima Ahmad just got married in a wedding that showed 'love has no boundaries'. The lesbian couple, respectively from India and Pakistan looked regal on their big day with one wearing a sari and the other a sherwani (groom's outfit). Bianca, a Colombian-Indian Christian woman met Saima, a Muslim woman from Pakistan at an event where they live in the U.S. Some time later, the couple decided to tie the knot in California, wearing two traditional outfits. South Asian fashion designer Bilal Hussain Kazimov dressed Bianca in a stunning ivory sari, complete with a maang tikka (head jewellery), gold bangles and pearl kadas (bangles). Saima, on the other hand, opted for a sherwani, traditionally worn by male grooms from South Asia. They went for similar vibes during their Mehendi too (pre-wedding ceremony). And they nailed the looks each time.
Saima was also dressed by Bilal and went for a black sherwani with embroidered detail in gold hues and other colours. She completed the look with a dupatta (scarf) on her side and a moti (read pearl) mala On their wedding day, there were baraat processions – whereby both sides of the family meet, singing and dancing – and the brides also joined in. They then exchanged rings and officially got married. At their Mehendi, they were equally gorgeous, with Bianca wearing a pink lehenga (skirt-top combo) while Saima sported a kurta pyjama (a lighter version of sherwani) which she teamed up with a pink brocade jacket.
News of the couple's sweet union has been met with wide praise online, with many commending the couple for bringing together two divided nations. One person wrote: 'Despite tensions over Kashmir, this marriage is a positive step in strengthening Indo-Pak relationship. Good luck to the couple. Congratulations'. While another wrote: 'How beautiful is love. Indeed there are no boundaries in love.'
Bianca and Saima aren't the only couple to unite two opposing nations. Anjali Chakra and Sundas Malik, also respectively from India and Pakistan, were also celebrated for their union. They took breathtaking pics on social media entitled 'a New York love story' and it wowed thousands.
'We feel good about all the young LGBTQIA girls, non-binary people, and boys looking at our photos, feeling seen and not alone' they previously told Metro.co.uk. What beautiful power couples. We love to see it.
https://metro.co.uk/2019/09/01/indian-pakistani-lesbian-couple-get-married-with-one-bride-wearing-a-sari-and-the-other-a-sherwani-10665442/
--------
Women Teach Young Boys for the First Time in Saudi Public Schools
September 02, 2019
JEDDAH: Female teachers will educate boys in 1,460 state-run schools across the Kingdom for the first time.
"With this project, the Ministry of Education aims to improve the efficiency of the educational system and ensure that every child has access to quality education around the Kingdom," Suaad Al-Mansour, assistant director general of education in Jeddah, told Arab News.
Al-Mansour said the Early Childhood Schools Project included kindergartens for boys and girls between aged 4-5 years-old and the first three primary grades for students between 6-8 years.
She said there will be no mixed classes in primary grades. "There are separate classrooms, toilets, and other facilities for the young boys and girls."
Besides improving the quality of education, the ministry aims to increase space utilization efficiency and take full advantage of public school buildings.
According to the ministry, women will teach 13.5 percent of young boys, saving $533 million from the education budget in space alone.
Moreover, the ministry also aspires to increase children's enrollment in public kindergarten schools versus private schools by 21 percent this year.
During the summer vacation, the ministry set up 3,313 kindergarten classes to accommodate 83,000 children.
Al-Mansour noted that early childhood is the most important stage in building a child's personality, and said a female teacher is more approachable and less intimidating for young boys at that stage.
"This project will bridge the gap young boys used to face after moving from kindergarten to primary school. The classes at early childhood schools are specially designed to fit their needs at this age, and being taught by women will give them a more fruitful learning experience."
Many private schools around the Kingdom assigned primary teaching to female teachers decades ago. The General Department of Education in Jeddah Region has held workshops with leaders in the private sector to share their experience with public institutions.
For the first time, female teachers are teaching young boys in 1,460 government schools across the Kingdom. Women will teach 13.5 percent of young male pupils, saving SR2 billion from the education budget in space alone
Arab News visited the 177th Primary School in Jeddah and met with the staff and young pupils.
Principal Rajhah Al-Jihani told Arab News that she was impressed with the community's awareness of the importance of the Early Childhood Project.
Al-Jihani explained that the school organized a training course for teachers on early childhood teaching, including teaching techniques and upbringing strategies, as well as an introduction on the project and its goals.
Maryam Al-Zahrani, an early childhood teacher at the school with 22 years of experience, said that the first day is crucial, and that it was "necessary for the student to feel that the woman in front of him is more like their mother" than just a teacher. "I nominated myself as soon as the project was announced," she said. "I am happy with this experience."
About 6 million students across the 13 administrative regions of the Kingdom returned to school on Sunday after almost four months of summer vacation.
https://www.arabnews.com/node/1548366/saudi-arabia
--------
Brave I Iran Starts New Hijab Enforcement Plan to Suppress Women
August 30, 2019
The Iranian regime is set to implement a new Hijab plan to further step up suppression of women for improper veiling across the country.
Branded as "Watch 2", the new method will be enforced from September 1, said the deputy police chief, Ayyoub Soleimani.
The new plan is designed to put maximum pressure on women.
According to the new plan, Police will be deployed in public places, including supermarkets and beaches to "verbally warn" women considered having "bad hijab."
The Iranian regime's Police have tried to implement another plan, branded as "watch 1, to monitor women who remove their veils inside their cars.
"The degree of police success in this plan was over 80 percent in most provinces, and between 40 to 50 percent in Tehran," the Islamic Revolution Guards Corps (IRGC) General Soleimani maintained.
He added, "We were successful in "Watch 1" meaning that we have cameras, eyes (spies) and police present everywhere in all public thoroughfares."
According to "Watch 1", if women are seen with "loose hijab" driving or being passengers in vehicles, the police sends a text message to the owners of the cars, giving them 72 hours to present themselves to the "Morality Police" headquarters and commit in writing that they will never repeat the offense.
Soleimani also stressed on the compulsory veil for women and on the need for implementation of "Watch 2" plan by citing the mullahs' supreme leader Ali Khamenei as saying that Hijab (the veil) is a religious issue and all managers must order its observation in government offices.
Earlier this year, talking about the plan to send text messages to car owners, Hossein Rahimi, commander of Tehran's Police, stressed that the police are obliged by the law to deal with any illegal action. He added, "The police will identify and deal with vehicles whose passengers remove their veils."
Only in Gilan province, some 66,000 women have been called in to police stations via text messages on their cell phones, the state media reported in July. In Tehran, 300,000 text messages were sent to women and many cars were detained for weeks, Iranian media quoted the the regime's Police Chief Hossein Ashtari as saying at the time.
Meanwhile, Ashari announced that another plan, named as Watch 3, that will control women's dress factories and shops to prevent them from producing or selling "non-Islamic" dresses.
According to a survey published in July 2018 by the Research Center of the mullahs' parliament, nearly 70 percent of Iranian women either do not believe in the compulsory veil or are among "the improperly veiled" and protest the compulsory veil in Iran. The report further confirms that Iranian women observe the veil only through coercion and harsh restrictions.
https://iran-hrm.com/index.php/2019/08/30/iran-starts-new-hijab-enforcement-plan-to-suppress-women/
--------
Iran Arrests Female Political Activist Requesting Khamenei's Resignation
By Zachary Keyser
August 13, 2019
In a move to prevent the further spread of political dissidence within the Islamic Republic of Iran, another activists calling for Supreme Leader Ayatollah Ali Khamenei to resign has been arrested by Iranian authorities, according to Radio Farda.
The unnamed woman was one of the signatories who took part in an open letter that 14 Iranian women's rights activists penned to Khamenei, requesting that he resign from his position after his 20-year tenure.
They wrote that the country needs to undergo political change.
"The sister of one of those detained told Radio Farda on Monday that Narges Mansoori, another signatory has also been arrested in Tehran," Radio Farda claimed in their report. "The source also said she has heard about other arrests in Tehran, but she does not more information yet."
According to a report by Radio Farda, the letter, dated August 5, refers to "gender apartheid" and a "patriarchal approach" that for 40 years has stifled the Iranian political climate. They said that since the Iranian Revolution of 1979, the situation in Iran has created an unfair disadvantage for women who want to live and thrive in the country.
"We, 14 civil rights and women's rights activists, are determined to continue our combat until victory through civil and non-violent measures," they wrote. "Like other pioneers [of non-violent freedom fighters], we go ahead by chanting 'no to the Islamic Republic.'
"Four decades of this theocracy has eliminated the rights of half of the country's citizens," they continued.
The activists are requesting that others join them in peaceful and non-violent protests to construct a new constitution to eradicate "this anti-women system."
All of the signatories reside within the Islamic Republic, opening them up to potential political persecution or arrest. In fact, two of the signatories have already been arrested by Iranian authorities, though the authorities have not yet responded directly to the letter.
"In a world where women in most countries move side by side with men in science, economy, culture, arts and politics, under the Islamic Republic women still fight for their basic human rights," the women wrote.
The letter also claimed that "systemic tyranny and irresponsibility" are the main reasons why the country is in the state it is today, with domestic protests and international politics chaotically spinning out of control before the country's very own eyes.
They said there is an inability for Iranian women to attend sporting events with their male peers, a ban that Saudi Arabia itself lifted recently, and explained that the Fédération Internationale de Football Association (FIFA) advocated against this practice to allow women to enter the stadiums, and reportedly issued a deadline to the Iranian government by which it had to change its rules.
Giti Pourfazel, an attorney who is one of the signatories in Iran, told Radio Farda in an interview on Tuesday that 14 women have signed the letter and "20 million other Iranian women could count themselves as the 15th signatory," according to the report.
In a related development, at least 10 political activists were arrested in the Iranian city of Mashhad this week, during a protest supporting an activist – Kamal Jafari Yazdi – who took part in an open letter calling for Khamenei to resign from his position.
Yazdi reported the arrests to Radio Farda, claiming that he saw more than 10 activists arrested at the Mashhad court when he arrived for his own court hearing on Sunday.
The activist, who is currently still entangled in a legal battle with the Islamic Republic, faces a 13-year sentence for his participation in the open letter.
"Based on recent amendments to the constitution, there is no room for doubt that the president and members of the parliament are merely butlers of the supreme leader," the activists' letter read. "People, deprived of the right to elect figures who have brought glory to their country, may only vote in individuals who play right into the hands of the Vali Faqih (the Guardianship of the Islamic Jurist, Ayatollah Khamenei).
"During these highly harmful and damaging years, lovers of Iran have repeatedly attempted in friendly, civil ways to prevent the leaders of the Islamic republic, specifically Ayatollah Khamenei, from following their destructive deviation," it continued. "Sadly, the regime has imprisoned patriots by shameful means, and either killed [them] or forced them to endure a lot of suffering behind bars."
Yazdi was arrested in August 2018; his sentence was announced in April of this year.
The other activists were arrested while protesting outside of the Mashhad court in support of Yazdi.
"Previously, Reza Mehregan, another member of the first group of 14 activists who had called for Khamenei's resignation, told reporters that he was attacked by three men," Radio Farda reported. "Mohammad Hossein Sepehri, another signatory to the letter to Khamenei, also said that somebody broke into his home and attacked him with a knife, but police refused to come to his rescue. Social media reports also said that Javad La'l Mohammadi, a teacher who was arrested on Sunday, had earlier received death threats over the phone."
Iranian officials have not responded to these reports.
The state-run Fars News Agency reported that the activists came from cities across Iran to take part in the protests, accusing the dissidents of "disrupting security" and of "being in contact with groups supporting regime change."
Iranian state television confirmed the arrests and accusations, claiming that "members of a network" who support a regime change in Iran have been taken into custody.
These types of calls for Khamenei's resignation are not uncommon in the Islamic Republic.
"Another report from Tehran on Sunday said 8,700 people have written to [Iranian] President Hassan Rouhani asking him to help end the house arrest of three prominent opposition leaders, confined to their homes since 2011," Radio Farda concluded.
https://www.jpost.com/Middle-East/Iran-arrests-female-political-activist-requesting-Khameneis-resignation-598443
--------
Brave Iranian Women Step Up Their War on 'Gender Apartheid'
IDA LICHTER
SEPTEMBER 2, 2019
Iranian women activists are making new and dangerous demands for radical political change. In the past, they simply called for abrogation of sexist laws, but in a recent open letter, they stipulated the resignation of Supreme Leader Ayatollah Ali Khamenei and a new, equitable constitution.
In strong words, the women called for an end to "systemic tyranny and irresponsibility", and the "gender apartheid" imposed on half the population. Moreover, they are determined to continue their non-violent struggle until victory is achieved, spurred on by their slogan, "No to the Islamic Republic".
Giti Pourfazel, one of the 14 signatories, said another 20 million Iranian women "could count themselves as the 15th signatory". She lamented that Iranian women were still battling to attain the most basic rights when they could be forging ahead together with men in educational, economic, cultural and political spheres.
After decades of oppression, Iranian women "cannot tolerate this degree of discrimination any longer". Banning their entry into stadiums to watch men's football matches is a recent example. FIFA, which forbids gender discrimination, set Iran a deadline of October 10 to lift the ban or face exclusion from international competitions. Iran finally agreed to allow women spectators into Tehran's Azadi stadium to watch the national team play Cambodia in the October 10 qualifier for the World Cup in Qatar.
Dissidents are risking prison sentences to undermine Khamenei, who, as Iran's leading mullah, has lifetime tenure to rule as Guardian Jurist. This religio-political position confers control over the judiciary, armed forces, media, Islamic Revolutionary Guards Corps, Basij civil militias, oil revenues, and the Guardian Council, which screens parliamentary rulings and nominees for election. About 125,000 strong, the IRGC has attained great financial power in a society where wealth is increasingly concentrated in the hands of the mullahs, the military and their cronies.
Apart from corruption and disparity in wealth, the country suffers from long-term environmental mismanagement. Water shortage is critical, largely due to drought and poor planning of dams by contractors associated with the IRGC or firms close to ministers. Air pollution is also a serious problem, and some of Iran's cities are among the most polluted in the world. Instead of trying to correct these domestic failures, the regime has diverted wealth to finance proxy militias and military adventures in Iraq, Lebanon, Syria and Yemen in a bid to become the regional hegemon.
On human rights, Iran's record is dismal. According to UN Special Rapporteur Javaid Rehman, the number of executions "remains one of the highest in the world". More than 80 offences, including adultery, homosexuality and blasphemy, attract capital punishment.
Under increasing sanctions, the regime is ratcheting up its attack on breaches of Islamic dress. In April, Tehran's chief of police announced that 8000 men and women were assigned as undercover morality police. The government has instructed tailors not to produce coats that might expose women's legs and Mousa Ghazanfarabadi, head of the Tehran Revolutionary Court, warned women who post online images of themselves in public without a hijab could face a 10-year jail sentence.
Most infringements apply to those who upload videos and photos on My Stealthy Freedom and #white­wednes­days on Instagram. The social media sites were founded by exile Masih Alinejad, who reports that women posting their videos are "braver and angrier than before".
Last year, the regime arrested women for removing their hijabs and waving them high while standing on street telecom boxes. Nasrin Sotoudeh, a lawyer for women prosecuted for hijab offences, was herself sentenced to a total of 38 years in jail and 148 lashes.
By cracking down on "bad hijab", the mullahs signify they are in full control, and any internal attempt to defy their power and religious authority would elicit a harsh response.
But the regime is vulnerable. It might withstand escalating US sanctions and inflation at 40 per cent, but a rising internal revolt would constitute a more severe challenge. Persistent internal and external pressure in the case of the FIFA deadline led the regime to capitulate, and Iranian women's campaign against stoning succeeded in halting that capital punishment for adultery.
Since the Islamic revolution 40 years ago, women have endured brutality and prison as they fought discriminatory laws. After decades of protest, they have little to lose and much to gain by civil disobedience.
Women could also play a key role in pushing for basic freedoms of speech, association and assembly, as well as mobilising civil society against corruption and squandering of reserves on imperialist adventures. Iranian women are fed up with the misogyny, corruption and mismanagement, but they possess a stone that could start an avalanche with the power to threaten the regime. Iran's theocratic authority is personified by the compulsory hijab. If women remove this ensign, the Islamic revolution could lose its banner, billboard and blessing.
Ida Lichter is the author of Muslim Women Reformers: Inspiring Voices Against Oppression
https://www.theaustralian.com.au/world/brave-iranian-women-step-up-their-war-on-gender-apartheid/news-story/8d5c537f4e7ad0df49d94c30ede94f58
--------
Woman Hunted By Cops After Muslim Women In Hijabs Left With Broken Ribs And Internal Bleeding In Tube Attack In West London
Jacob Dirnhuber
1 Sep 2019
COPS have launched an appeal to find a suspected race-hate thug after a Muslim woman wa left with broken ribs in a horrifying tube attack.
British Transport Police claim a woman in ripped jeans and a low-cut top punched two hijab-clad women at West London's North Ealing tube station.
One of the victims was left with broken ribs, while the other sustained a black eye.
The assault is thought to have taken place at 5:30pm on Friday August 23.
A British Transport Police spokesman said: "The incident happened at 5.30pm on Friday August 23th at North Ealing station.
"Two women, aged in their 60s and 30s, are reported to have made verbally abused for wearing Hijabs. They were then attacked.
"Both were taken to hospital with the older victim suffering possible broken ribs and the younger suffering a black eye, bruising and internal bleeding."
He added: "Officers believe the woman in the image may have information that could help their investigation.
"Anyone who knows her is asked to contact BTP."
https://www.thesun.co.uk/news/9841531/muslim-women-hunted-cops-north-ealing/
--------
Another Hindu Girl Abducted, Forcefully Converted To Islam In Pakistan
Sep 1, 2019
In yet another tragic incident of forced conversion, a Hindu girl was allegedly abducted from the Institute of Business Administration (IBA) in Sukkur in the Sindh province of Pakistan on Saturday and was forcefully converted to Islam.
The undergraduate student, identified as Renuka Kumari, was abducted from her college where she was pursuing a Bachelor's degree in Business Administration.
All Pakistan Hindu Panchayat, a non-profit organisation, in a Facebook post claimed that the girl left for her college on August 29 and after that she went missing.
Meanwhile, the brother of the girl, Vinesh told ANI that his sister was involved in a romantic relationship with a fellow classmate Babar Aman and the two are now in Sialkot.
However, sources confirmed ANI that the couple is staying at Pakistan Tehreek-e-Insaf (PTI) worker Mirza Dilawar Baig residence in Sialkot. Sources added that Renuka was forcefully converted the same way other girls belonging to the minority community were forced to change their religion.
Meanwhile, the police arrested the Aman's brother last night and is still in custody, sources added.
This incident follows the case of 19-years old Jagjit Kaur, who was similarly abducted and converted to Islam before being married to a Muslim man in the country's Punjab province.
The incident came to light on Thursday after a Shiromani Akali Dal (SAD) MLA, Manjinder Singh Sirsa shared a video of the girl's family alleging that the girl was abducted and forcefully converted.
The incident had drawn the attention of Sikhs worldwide and sparked anger in the community. The girl's father, identified as Bhagwan Singh, is a 'granthi' (priest) at Gurudwara Tambu Sahib in Nankana Sahib.
In a viral video, the family of the girl had complained to Pakistan Prime Minister Imran Khan claiming that their daughter was kidnapped by six persons at gunpoint on the night between August 27 and August 28. Even though an FIR had been filed, nothing was done to bring back the abducted girl, the family alleged.
The kidnapped girl later emerged in a video in which she claimed she had 'converted' to Islam. The family of the girl begged Imran Khan for justice, stating that they'd self-immolate if their daughter did not return.
The matter had raised a furore in India, with several political leaders across parties seeking action against the perpetrators.
In Pakistan, many such incidents are regularly reported where Hindu, Sikh and Christian girls are forcibly converted to Islam and married to Muslim men.
The incidents have come at a time when Pakistan has been ranting up its diabolic rhetoric of the so-called mistreatment of minorities in India, particularly Muslims, ever since the Indian Parliament decided to revoke the especially accorded constitutional status of Jammu and Kashmir. However, the fact remains that Pakistan remains a thoroughly unsafe country for its own minorities.
In addition, Islamabad aims to internationalise the Jammu and Kashmir issue, the strictly internal matter of New Delhi, on the global platform has been meeting failures, especially after United States President Donald Trump, with Prime Minister Modi on his side during the sidelines of the French G7 summit last week, backed off on his proposal to mediate on Kashmir.
The much-hyped 'Kashmir Solidarity Hour' failed to garner much attention among the Pakistanis. Pakistani authorities made desperate attempts to direct school children to join the protests in support of the people of Kashmir, but that too failed to gather any steam.
Ever since Jammu and Kashmir was stripped of its special status, Islamabad has downgraded bilateral relations with New Delhi by suspending trade, partially closing its airspace, banning of screening Indian cinemas and halting Samjhauta and Thar Express train services.
Instead of addressing pressing issues like struggling economy, rising inflation and poverty, Pakistanis have been concentrating more on Kashmir, vowing to stand in "solidarity" with the Kashmiris till the region attains "freedom".
Apart from spewing venom against India, Pakistan has not learnt its lessons and continues its nefarious and diabolic propaganda by openly supporting 'jihad' against the neighbouring country, despite facing massive international pressure over tackling terrorism.
Despite being snubbed by the international community, Pakistan is now looking forward to raising the Kashmir issue during the United Nations General Assembly meeting in New York next month.
https://www.dnaindia.com/world/report-another-hindu-girl-abducted-forcefully-converted-to-islam-in-pakistan-2786630
--------
Saudi Justice Ministry Completes Reform Project, Including Hiring Of Women Notaries
September 01, 2019
RIYADH: The Justice Ministry has completed a number of projects in the last 12 months including the launch of e-services and the creation of notary positions for women, the Saudi Press Agency reported.
Other developments from the last 12 months include the inauguration of labor courts by Minister of Justice Sheikh Dr. Walid bin Mohammed Al-Samaani and the documenting of judicial hearings in audio and video.
The ministry last month announced Grade-7 "notary public" vacancies for women to work at offices across the country. The breakthrough move to boost female employment within the legal sector is part of the ministry's plans to support and empower women, widen their career options and encourage them to play a bigger role in the sector.
Female notaries have started helping people in accordance with the ministry's digital efforts, without using paper, and issuing low-risk authorizations through www.moj.gov.sa.
They are working across 21 cities in the Kingdom, in addition to serving soldiers stationed on the country's southern borders.
Al-Samaani adopted new rules aimed at making reconciliation and mediation viable options for conflict resolution.
He also launched five new services this year, including an e-complaint service that allows people to electronically submit complaints and the launch of a website to document marriage data.
Al-Samaani ordered the establishment of specialist centers aimed at creating a family-friendly environment through the "Shamel" initiative and the preparation of custody and visitation centers in 11 regions.
https://www.arabnews.com/node/1547991/saudi-arabia
--------
ACJU Requests Muslim Women to Avoid Full-Face Cover
September 2, 2019
The All Ceylon Jamiyyathul Ulama (ACJU) yesterday issuing a statement calling on Muslim women to avoid situations where they could face harassment due to their attire.
The statement was issued with reference to the matter of wearing 'Niqab' and 'Burka' face veils that result in full-face cover which was banned under Emergency law in the immediate aftermath of the Easter Sunday bomb attacks, Muslim community sources told the Daily News.
ACJU Vice President Ash Shaikh H. Omardeen in a statement has pointed out that the fear psychosis of the people still remains in the aftermath of the Easter Sunday terrorist attacks, and as a result those who wear full-face covers could face inconvenience.
The ACJU requests the Muslim women to be mindful of their attire at public places because extremists could try to get undue mileage out of it. The ACJU pointed out that the Muslims must be cautious at this moment in order to win their rights in the proper manner.
http://www.dailynews.lk/2019/09/02/local/195723/acju-requests-muslim-women-avoid-full-face-cover
--------
Kerala Woman Alleges Torture For Declining ISIS Service
SEP 01 2019
The woman, aged 26, literally broke down while sharing her plight with Kerala State Police Chief, Loknath Behera at an adalat held in Pathanamthitta district on Saturday.
Hailing from Ranni in Pathanamthitta district, the woman also alleged that though she filed a complaint in this regard with the local police in Pathanamthitta earlier, there was no proper investigation. The state police chief is likely to order a high-level probe into the matter.
The incident took place while the woman was working at a hospital in Hyderabad about three years back. A love aair developed between the woman and a staer at the hospital who hailed from Miryalaguda, now part of Telangana.
The woman was a Hindu and the youth a Muslim. He had converted to Christianity and later reconverted to Islam, said the woman.
They started living together and she became pregnant. The youth forcibly terminated her pregnancy. As she insisted on a formal marriage, he demanded that she should convert to Islam and work at hospitals in ISIS camps so as to earn more salary.
The woman alleged that she was frequently assaulted aer she rejected the youth's demands.
Later he abandoned her in 2017 and the woman is now staying at Ranni.
Pathanamthitta district police chief J Jaidev told DH that he did not come across the complaint of the girl earlier. Since the woman now directly gave a petition to the state police chief, the state police chief would be issuing further directives on the investigation, he said.
Over the years, scores of youths, including women, from Kerala joined the ISIS and many were also suspected to be involved in terror strikes including the Easter day strike in Sri Lanka. Many youths
https://www.deccanherald.com/national/south/kerala-woman-alleges-torture-for-declining-isis-service-758446.html
--------
Palestinian Teen's Suspected 'Honour Killing' Provokes Outrage In West Bank
1 September 2019
The suspected "honour killing" of Palestinian teen Israa Ghrayeb has provoked an outpouring of anger in the occupied West Bank, with Palestinians demonstrating against violence against women in Bethlehem on Saturday.
The death of Ghrayeb, a 19-year-old make-up artist from Beit Sahour, has struck a chord in Palestinian society and encouraged activists to call an end to femicide and domestic violence.
Ghrayeb's friends and supporters say she was beaten to death by her relatives, while her family has said that she died of a heart attack.
Footage circulating online is purported to show the screaming of Ghrayeb as she is beaten by relatives in hospital shortly before she died.
The Palestinian police have said an investigation is continuing and her body has been sent for forensic examination.
"Israa was communicating with her friends during the time she was suffering," Minerva Jaraysah, a women's right activist and sociology lecturer at Bethlehem University, told Middle East Eye during the Saturday protest.
"All the material that was published on social media is an indicator that she was hurt and beaten to death by her family."
Starting in Bethlehem's Manger Square, protesters marched east toward Beit Sahour chanting "Stop killing women," "There's no honour in honour crimes," and "We are all Israa".
The protest was organized by Manar Raji, a 19-year-old Palestinian from Beit Sahour, who said that she called the demonstration to draw attention to the so-called "honour killing" of women and to condemn those who commit such crimes.
Her family have denied the accusations, and officials have yet to release a post-mortem report describing the circumstances of her death, which protesters have demanded immediately.
On social media, Arab and Palestinian girls expressed fears of becoming victims like Ghrayeb as long as the law does not protect them or criminalise men who kill their female family members.
"After I heard what happened to Israa, I was terrified," said Qamar al-Masri, who went to high school with Ghrayeb.
"I live with my family and I have my freedom to go wherever I want. But what if someone started to spread rumours about me? Will that lead to my death too?" she asked.
"I live at home and I still feel unsafe. We shouldn't remain silent, and the law must protect us."
Lawyer Fareed al-Atrash, the director of the Independent Commission for Human Rights in the West Bank city of Hebron, took part in the protest.
"We are here to raise our voices, as we need new laws to protect women from murder and violence," he said. "We also demand penalties to deter people from committing violence against women."
Ghrayeb's story has garnered considerable public attention after the hashtag #weareallIsraaGhrayeb emerged five days ago and went viral. It has been a trending on Twitter as tens of thousands of people from all around the world, especially from the Arab world, tweet about it.
Arab celebrities Nancy Ajram, Elissa, Nishan, and Shams have tweeted about Ghrayeb, expressing sympathy and condemning the killers.
Meanwhile other Palestinian and Arab social media users vow to not stop protesting until she receives justice.
https://www.middleeasteye.net/news/palestinians-march-against-honour-killings-after-make-artist-slain
--------
URL: https://www.newageislam.com/islam-women-feminism/indian-pakistani-lesbian-couple-get/d/119633
New Age Islam, Islam Online, Islamic Website, African Muslim News, Arab World News, South Asia News, Indian Muslim News, World Muslim News, Women in Islam, Islamic Feminism, Arab Women, Women In Arab, Islamophobia in America, Muslim Women in West, Islam Women and Feminism