New Age Islam News Bureau
20 Oct 2016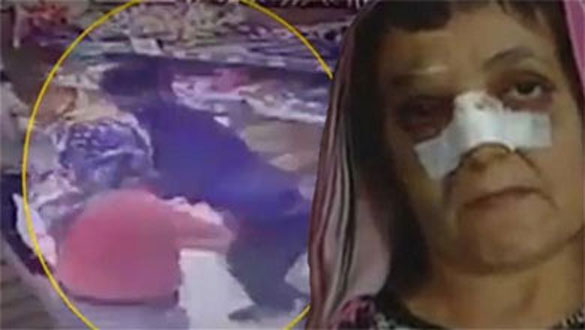 A Turkish woman was physically attacked after she was verbally assaulted for allegedly "not walking properly"
--------
• Turkish Woman Beaten For 'Not Walking Properly' In Istanbul
• 'Better To Give Muslim Women Right to Divorce Than Abolish Triple Talaq': Shia Cleric
• 'Don't Politicize Triple Talaq, Polygamy': Muslims for Gender Justice
• Battle for Mosul: ISIS Evacuate 'Women Of The Caliphate' As City Falls
• Respect Islam's True Message, Malala Tells Muslims Everywhere
• All India Shariah Conference for ladies in Hyderabad, India
• Muslim Women Celebrate Karwa Chauth
URL: https://www.newageislam.com/islam,-women-and-feminism/new-age-islam-news-bureau/indian-muslim-women-threaten-to-boycott-kitchen-over-triple-talaq/d/108896
Compiled by New Age Islam News Bureau
----
Indian Muslim Women Threaten To Boycott Kitchen over Triple Talaq
Oct 20, 2016
VARANASI: A group of Muslim women held an impromptu court and opposed the practice of triple talaq describing it as a "humiliation for women". They also threatened to move Law Commission and boycott kitchen if they were not heard sympathetically.
Scores of participants denounced triple talaq and decided to oppose it strongly at a Muslim Mahila Kutchehry (court) organised by Muslim Mahila Foundation at Hukulganj here on Wednesday. They also warned to go on a 'kitchen hartal' (kitchen strike) against the issue.
Several divorcees also attended the meeting and narrated their plight after given talaq (divorce) by their husbands.
"Life became miserable after talaq...no one bothers to look at the plight of women after talaq," lamented a divorcee.
"We have decided to oppose triple talaq strongly. We will also oppose those who advocate this practice. We will also go on kitchen strike if our husbands won't support us against this system, said MMF president Nazneen Ansari.
She added that there should be strict laws to prevent physical and mental exploitation of women.
A participant, Najma Parveen, said, "The practice of triple talaq is not only inhuman, but also a 'gunah' (sin), which supported by some maulanas (clergy). We will oppose those who support triple talaq."
The MMF has decided to hold a convention of divorcees and also approach the Law Commission if needed.
Among others, the meeting was also addressed by Guria Qureshi and Afsana.
http://timesofindia.indiatimes.com/city/varanasi/Muslim-women-threaten-to-boycott-kitchen-over-triple-talaq/articleshow/54948921.cms
--
Turkish woman beaten for 'not walking properly' in Istanbul
Thursday 20 October 2016
A Turkish woman was physically attacked after she was verbally assaulted for allegedly "not walking properly" at a supermarket in Istanbul, private broadcaster Show TV has reported.
Aslıhan Çamoğlu, 53, told the station that the attacker told her to walk properly at the supermarket, saying otherwise he would beat her. After she confronted him he broke her nose by hitting her with a heavy object.
"You go to the market and face a beating for no reason. I did not know the man and he does not know me. This is the first time I've ever experienced such a thing," Çamoğlu said.
Video footage showed the man attacking her while fellow shoppers in the supermarket stand aside without intervening.
Çamoğlu said the attacker claimed that Çamoğlu "deserved it" after the assault, while fellow shoppers told them to fight outside.
Çamoğlu filed a complaint with police against the attacker, but he was reportedly released after giving his testimony.
Shopkeepers in the area said the attacker had often stood in front of the market demanding money from shoppers, attacking them if they refused.
The incident comes after outrage was stirred last month by footage of a 23-year-old woman being kicked in the face on a public bus for wearing shorts in Istanbul.
The attacker, Abdullah Çakıroğlu, was arrested by police on Sept. 19 after he was re-detained following his initial release, which had sparked a massive reaction from the public.
http://www.hurriyetdailynews.com/turkish-woman-beaten-for-not-walking-properly-in-istanbul.aspx?pageID=238&nID=105160&NewsCatID=339
--
'Better To Give Muslim Women Right to Divorce Than Abolish Triple Talaq': Shia Cleric
Oct 20, 2016
LUCKNOW: A day after Sunni cleric and executive member of the All India Muslim Personal Law Board announced launch of a campaign by the Muslim body on 'rights of women in Islamic law', vice-president, and most revered Shia cleric Maulana Kalbe Sadiq said that the better idea was to give women the right to divorce.
Talking to TOI on Thursday he said, "Many countries of the world have already abolished triple Talaq. But in my opinion, the better idea is to give women the right to divorce her husband. Also, men should be made aware of the problems that he could face in case of a divorce."
Stating that Islam has always shown the path of equality for women, he said, "Islam is a pro-women religion. It is easy to get married as per Islamic law, but it is far more difficult to take a divorce in it. As of now, women have the right to take divorce... not give it.... giving them right to give divorce would take its principle of equality further."
Talking about the role of government in triple Talaq, he said, "Islam is a complete religion in itself. Government interference in the Shariat law is not welcome. Also, matters related to Shariat are better understood by religious leaders and not politicians." He however stated that efforts should be made to understand the reasons for ban in these countries by talking to their Ulema.
Maulana Sadiq also said that triple Talaq was a matter related to the sunni community while shias have always opposed it. "Triple Talaq is a problem relating to Sunni brethren. Shias have always opposed it." Explaining further, he said, "the difference of opinion persists because our sources of Shariat law are different. While we believe in the rules and regulations fixed by Rasool's family members, Sunnis follow his companions."
Women are opposing triple talaq. What would you tell them? Answering this, he said, "Muslim women resorting to streets to protest triple talaq will not really help in finding a solution. They should speak to the scholars instead to voice their opinion."
http://timesofindia.indiatimes.com/india/Better-to-give-Muslim-women-right-to-divorce-than-abolish-triple-talaq/articleshow/54954037.cms
--
'Don't Politicize Triple Talaq, Polygamy': Muslims for Gender Justice
Oct 20, 2016
Mumbai: Muslims for Gender Justice, a group of progressive Muslims, has cautioned against politicization and communalization of triple talaq, halala marriages and polygamy.
The activists said that these are gender justice issues and political parties, both in power and opposition, and organisations like All India Muslim Personal Law Board (AIMPLB) are diverting people's attention from the much-needed reforms in Muslim personal laws.
Javed Anand of Indian Muslims for Secular Democracy (IMSD) said, "The day the BJP-led government filed its affidavit in Supreme Court, its law commission issued a questionnaire seeking suggestions for possible models of common civil code. This causes suspicion about the government's concerns for Muslim women," he added.
Islamic scholar Zeenat Shuakat Ali said that boycotting the questionnaire, as asked by personal law board, is not the solution. The activists are asking people to fill the questionnaire, adding that Personal Law Board's signature campaign of "interference in Shariat" might help BJP polarise voters before elections in states like UP and Punjab.
http://timesofindia.indiatimes.com/city/mumbai/Dont-politicize-triple-talaq-polygamy/articleshow/54945398.cms
----
Battle for Mosul: ISIS evacuate 'women of the caliphate' as city falls
OCTOBER 20, 2016
The operation has apparently been carried out swiftly and stealthily because the burka-clad ladies are all the wives of ISIS leaders.
Al Sumaria reported: "ISIS evacuated what it called the women of the caliphate from the city of Mosul to the Syrian ISIS controlled cities, including Raqqa, over the last two days."
It added they were removed from the city on the strict orders of terror boss Abu Bakr al-Baghdadi to ensure not a single person linked to the "caliphate" is captured alive by security forces.
Reports emerged today that al-Baghdadi was still in Mosul after he was previously thought to have saved his own skin and fled.
On Monday, Iraqi forces launched a huge strike against the terror group in the ISIS stronghold city.
The huge military operation quickly became a bloodbath as allied troops pounded the terror nuts with shells, bullets and bombs.
Footage of battles has been steadily appearing online, including one showing a desperate suicide bomber jihadi ramming an explosives-packed vehicle into a fleet of Iraqi tanks.
Another video showed allied forces dropping a "mini-nuke" on an underground network of ISIS fighters.
The bomb blows up with such force, it obliterates the entire surrounding area.
http://www.dailystar.co.uk/news/latest-news/555093/mosul-battle-isis-isil-caliphate-women-abu-al-baghdadi-islamic-state-iraqi-army
--
Respect Islam's true message, Malala tells Muslims everywhere
Oct 19, 2016
Pakistan's Nobel Peace Prize winner Malala Yousafzai, giving a speech on Wednesday in the Emirates, urged Muslims to respect the "true message of Islam" and unite against wars in their countries.
The 19-year-old, who was shot in the head by the Taliban in 2012 after she had publicly advocated education for girls, urged the world's Muslims to "come together... and follow the true message of Islam as they join hands in the struggle for peace".
"We cannot talk about investing in our future in this region without calling for an end to these bombings and these attacks," she told a conference in the southern Gulf emirate of Sharjah on the future of women in the Middle East.
"We must not forget that the majority of those suffering because of these conflicts and wars are Muslims," said Malala, referring to conflicts in Syria, Iraq and Yemen.
"I cannot stop thinking of those 500,000 children in Mosul right now under a threat to be used as human shields," she said of the Iraqi city where an offensive has been launched to retake it from the Islamic State jihadist group.
She called for empowering the younger generation, especially women, with the education needed "to bring peace and prosperity to their countries".
The youngest-ever Nobel recipient stressed the need for men to support women in their attempt to receive "quality education".
Malala, who moved to England where she received medical treatment after the shooting, is both admired and hated in her native Pakistan, where some conservatives view her as a Western agent on a mission to shame her country.
She was awarded the Nobel Peace Prize in 2014 jointly with India's Kailash Satyarthi, a fellow education activist who made similar calls at the Sharjah conference on Wednesday.
http://www.hindustantimes.com/world-news/respect-islam-s-true-message-malala-tells-muslims-everywhere/story-wWZqeKyvlQemv66x3TauCI.html
--
All India Shariah Conference for ladies in Hyderabad, India
October 20, 2016
Hyderabad: Muttahida Tahaffuz-e-Shariat Committee for Women is going to organise a 2-day All India Shariah Conference on November 5 and 6, 2016, in Hyderabad.
Maulana Khaleelur Rahman Sajjad Nomani All India Muslim Personal Law Board member and delegates from various states of India will participate in the conference.
A large number of women from all the districts of Telangana and Andhra Pradesh are expected to attend the conference.
http://www.siasat.com/news/india-shariah-conference-ladies-1045818/
--
Muslim women celebrate Karwa Chauth
Oct 19, 2016
JAIPUR: Twenty-six-year-old Anjuman Chrishty, a native of Shiv Colony of Churu got mehandi applied on both of her hands and participated in all the rituals. She was eagerly waiting for spotting of Chand (Moon) to break her vrat (Fast) on the occasion of Karwa Chauth.
Got married to Jeeshan barely 45 days ago, she was celebrating the festival with the vrat to pray for the long life of her husband along with her sister-in-law in an open-minded family along with thousands of women in the state.
TOI spoke to the family and found that the family celebrates every festival from Holi, Meethi Eid, Bakrid and Diwali.
Rehana Riyaz, 56-year-old woman who is the mother-in-law of Anjuman Chisty and Deepti Chishty, had no surprise when her elder daughter-in-law insisted to celebrate every Hindu festival and thus Anjuman too followed the footsteps and was on fast on the occasion of Karwa Chauth.
"It is an open world and we have to respect every religion and their sentiments. My elder daughter-in-law who got married to my son Hasan was a girl of Hindu beliefs before marriage and she insisted to follow rituals of her festivals. I had no hesitation in allowing her. But, the best part is my younger daughter-in-law Anjuman who saw Deepti doing various things since morning on Karwa Chauth too insisted to follow the rituals and I said fine," said Rehana while talking to TOI over phone from Churu on Wednesday.
"The best thing is that both are on fast for long life of my sons and thus I should be thankful to them," Rehana added.
Anjuman Chisty is on fast and despite the fact that her husband who is away due to his job, she will do a video calling after spotting the Chand(Moon). "After completing all the rituals with my Bhabhi Deepti I will have a video call to my husband Jeeshan. It is my first Karwa Choth and I will continue to keep a Vrat(Fast) on this auspicious day. It is of course a great festival when you pray to almighty for the health and life of your husband," Anjuman said.
Deepti after entering into this marriage nine months ago is elated as she is been allowed to follow all her religious practices after marriage. "We celebrate every festival. I am lucky to have an open-minded family like this," she added.
"I liked the way my family responded to my beliefs and my younger sister-in-law is also on fast on this auspicious day. Most importantly my husband Hasan Chishty(36) is also on fast and reciprocating the same," she added.
Later, both sat on the terrace of the house and were waiting for spotting of moon.
http://timesofindia.indiatimes.com/city/jaipur/Muslim-women-celebrate-Karwa-Chauth/articleshow/54943085.cms
--
URL: https://www.newageislam.com/islam,-women-and-feminism/new-age-islam-news-bureau/indian-muslim-women-threaten-to-boycott-kitchen-over-triple-talaq/d/108896
New Age Islam, Islam Online, Islamic Website, African Muslim News, Arab World News, South Asia News, Indian Muslim News, World Muslim News, Women in Islam, Islamic Feminism, Arab Women, Women In Arab, Islamophobia in America, Muslim Women in West, Islam Women and Feminism