New Age Islam News Bureau
15 Dec 2019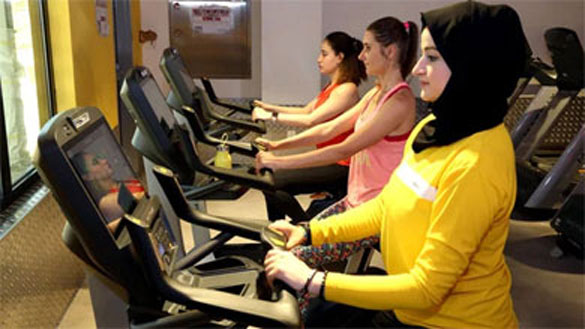 The future share of the female population in Saudi Arabia's fitness service revenue is expected to increase compared to that of the male population. (Supplied)
------
• Indian Muslim Women Share Their Startup Stories
• High Prices Putting Off Women From Joining Gyms In Saudi Arabia
• Women Don't Need Arms? BJP MP Roopa Ganguly Begs To Differ
• Women Of The World Festival, Organised By The British Council in Pakistan, Kicks Off By Honouring Resilient Women
• Ras Al Khaimah: Calling women entrepreneurs
Compiled By New Age Islam News Bureau
URL: https://www.newageislam.com/islam-women-feminism/indian-muslim-women-share-their/d/120528
------
Indian Muslim Women Share Their Startup Stories
Dec 15, 2019
BENGALURU: Over 100 Muslim women gathered in the city on Saturday to break stereotypes and share their entrepreneurial journeys.
At the launch of the Association of Women Entrepreneurs (AWE), formed to support and connect Muslim women entrepreneurs, a zesty bunch of businesswomen came to the fore.
For instance, 38-year-old Nousheen Taj has turned the stereotypical role of a woman in the kitchen into a successful business that delivers homemade food to corporate offices.
"It's on the lines of Mumbai's dabbawallahs altough I use Dunzo to deliver it for now," she says about her sixmonth-old startup called Areha Foods. The unique selling point of her service is the promise of the menu not being repeated for an entire month.
Nousheen, who has an MSc degree, worked as an administrator at a Hyderabad hospital until 2017. Away from her family in the city, she says she craved for home food every single day back then. "I know that pain and that's why I wanted to make fresh food for people who are away from home," she says.
Her startup runs on a subscription basis for 26 days a month. It is based in Dairy Circle and caters to surrounding areas.
"It is an all-woman army. My sisters help me cook and I have two helpers for other things," she says.
Among the women was Ishana, who convinced her family to invest her wedding savings into her business. He startup manufactures cloth sanitary pads and provides employment to 25 women.
Like Nousheen and Ishana, nearly 10 entrepreneurs spoke about their ventures at the launch of AWE. AWE is a wing of the Muslim Industrialists Association.
Shabana Begum of Sacred Oven, a baking company and Akhila of Alfa Creations, that specialises in designer hijabs (headscarves) and jilbabs (prayer gowns), turned some heads with their unique designs at the event.
Salma Moosa, founder of city-based Startups Club, said: "If I can do this, even you all can. As women, we need to be seen and heard."
https://timesofindia.indiatimes.com/city/bengaluru/muslim-women-share-their-startup-stories/articleshow/72666467.cms
------
High prices putting off women from joining gyms in Saudi Arabia
December 14, 2019
RUBA OBAID
JEDDAH: Since Princess Reema bint Bandar championed the licensing of female-only gyms and sports clubs by the end of 2017, the number of female-only gyms have increased around the Kingdom. Nevertheless, there is a pervasive dissatisfaction among women with the prices of gym membership and the quality of their services, as well as their limited policies.
This can be sensed just by searching "Female fitness clubs" on Twitter and reading people's tweets.
There are many complaints, with many agreeing that good gyms are too expensive while the cheaper ones are "a waste of money." Hala Al-Owaidhi, from Jeddah, said: "Despite the high prices, the quality of services is poor."
Sarah Al-Asta from Riyadh listed several issues. "I joined one of the most popular gyms in Saudi Arabia that belongs to a global fitness brand. I have noticed a lack of maintenance, limited options, overcrowding, as well as a huge difference between male and female gym-memberships prices, men's membership is way cheaper than women's," she said.
Salha Al-Hazmi said: "Some gyms have strange restrictions, despite the high fees we pay; sometimes we are required to pay an extra fee to join the classes. Also, when the gym has several branches, our membership is limited to the branch where we were first registered, using the membership freely in other branches around the city means paying more money just for this specific advantage."
The price of membership to fitness clubs in the Kingdom range approximately from SR900 ($240) to SR4,000 per month. It varies from gym to gym, according to the package.
After granting licenses for women-only gyms began, Princess Reema, the former head of the women's section at the General Sports Authority, said that she was targeting the licensing of 500 medium-sized gyms by the middle of 2018, in addition to the previously existing 47 gyms.
A survey by the Saudi General Authority for Statistics published in 2018, showed that around 91 percent of Saudi females did not practice any sporting activity (150 minutes and more per week). The survey covered 26,000 households selected across Saudi Arabia.
According to the survey, the absence of adapted facilities is one of the main reasons behind this result: 21.7 percent of females said that a lack of facilities near their residence was why they did not exercise, compared to 9.6 percent of males.
Furthermore, a recently revealed study by Saudi researcher Wafaa Al-Shega on the social and cultural factors affecting women's physical activity in Saudi society showed that 40 percent of Saudi women were not engaging in sports due to the prohibitive prices of gym services fees.
This view presents an obstacle for Vision 2030's social well-being goals, which aims to increase the ratio of individuals exercising at least once a week to 40 percent of the population.
Research published in 2018 by the Ken Research Company, titled "Saudi Arabia Fitness Services Market Outlook to 2022," stated that the growing youth population in the country, along with changing laws for women, had benefitted the exercise market. The future share of the female population in Saudi Arabia's fitness service revenue is expected to increase compared to that of the male population.
Approximately 70 percent of the individuals who attended gyms in 2017 were men. The study expected that by 2022, the proportion of female membership would reach a little less than 50 percent due to the rise in the number of women-only fitness centers.
Lawyer Nujood Qassim said that obtaining a license for a women-only gym was a complicated process in the past due to numerous regulatory requirements — as well as the difficulty of finding professional training staff — resulting in a substantial financial burden on institutions and affecting the pricing of gym's services.
"The limited number of women's fitness clubs in the Kingdom have raised their fees in the past. However, the situation now is different — many permits have been granted to open more female fitness clubs. However, what we see now is that prices have not been affected much. Despite the growing number of these clubs, owners are upholding the old prices, perhaps because of the high demand."
https://www.arabnews.com/node/1598611/saudi-arabia
------
Women don't need arms? BJP MP Roopa Ganguly begs to differ
Written by Abantika Ghosh
December 15, 2019
Long before Roopa Ganguly hit bullseye as Draupadi in B R Chopra's TV series Mahabharat, she had learned to aim right thanks to the quintessential Kolkata hawkers (part of the cityscape right up to the 1980s) who roamed the streets with a board of balloons, sundry other targets and a rusty rifle for target practice.
That is why, when Rajya Sabha Chairman M Venkaiah Naidu made a statement last week, during a discussion on the Arms (Amendment) Act, that women "don't need arms", Ganguly, a BJP MP, shot back: "I enjoy shooting."
What started as an after-school dash for the heavy, rusty guns that the hawkers carried, graduated to systematic target practice in a Howrah farmhouse, and the eventual ownership of an air rifle.
"It all began because my uncle, with whom I used to stay in Kolkata, did not bring me up as a girl; I was one of the boys, changing the battery water, doing small electrical repairs. Then I fell in love with shooting during my visits to my aunt's place in Ballygunge. I would time my visits to when the hawkers came calling," says Ganguly, going on to talk about her childhood "shooting sprees" in the South Kolkata neighbourhood, her trips to Marine Drive after pack-up during the Mahabharat days and then how, as destiny would have it, she married into a family which too loved guns.
"My father-in-law has a gun, and he was very encouraging. We used to go to our farmhouse to practice. To ensure that the bullets did not ricochet, we would hit at targets placed in a mound of sand. I got so involved in the sport that I even bought my own air rifle. I used to shoot till very recently, even after my son grew up," the 53-year-old says.
Under the new Act, owners of air rifles too have to apply for a licence, and Ganguly says she is still to do so.
In 2010, Ganguly was among the celebrities the CRPF took to a camp in Jammu. Recalling the thrill of handling an AK-47, she says, "When I told them I love shooting and have a decent aim, they took all of us to the practice range and gave us a few rounds to shoot. We shot in the single-shot mode and I hit the target every time — the head, behind the ear, on the chest. They were very impressed. That is why I said in Parliament that shooting is fun, it is a sport, not a weapon of political vendetta like in West Bengal."
While arguing that women don't need weapons, Naidu had said, "Others will try to protect you." Apart from Ganguly, one other woman MP got time to speak on the arms legislation that was introduced in Parliament on December 10 and passed the same day due to lack of time.
Ganguly, who is otherwise known to speak her mind, is willing to let Naidu's remark pass. "You know, time was running out, the minister had to reply. He (Naidu) makes jokes, talks in rhymes. He was just trying to get the speeches done quickly. There were two women, he must have thought it would not be fair to allow one to speak and deprive the other. So he said that. I do not see anything else (in his remark). As a disciplined member of the party, I would willingly make way for the minister's speech."
https://indianexpress.com/article/india/women-dont-need-arms-she-begs-to-differ-6167419/
------
Women Of The World Festival, Organised By The British Council in Pakistan, Kicks Off By Honouring Resilient Women
SHAZIA HASAN
The distance between the stage and the chairs at the inauguration of the two-day Women of the World (WOW) Festival, organised by the British Council at a hotel here on Saturday morning, was covered with red and striped black and white zebra print floor cushions. And the women preferred the floor to the chairs.
This year WOW Festival's theme is 'Resilience, Transformation and Return.' It was explained that 'Resilience' honours the spirit of women to turn adversity into strength. 'Transformation' celebrates their collective efforts to create societies that value all women. And 'Return' embraces the wisdom of practices that are closer to nature.
With the Chinna Creek mangroves as the backdrop, Senator Sherry Rehman delivered her thought-provoking keynote address. "I hope we have a good time. And I hope we connect and develop synergies," she said. "Festivals like these are important in linking activism in the real sense."
She said: "Women have fought at the forefront for reform. Whenever there is activism needed, women are at the forefront, despite the onerous double burden both at the workplace and at home. As we celebrate women, we must continue to push back, disrupt and defy emerging challenges, risks and problems women face at multiple levels."
Welcoming this year's theme, she said that she was there to talk about the resilience of women in the face of climate change. "There are two great structural challenges in the world — poverty and water," she said.
"Some 70 per cent women in the world live under the poverty line. They feel climate change, and usually with no one to raise a voice for them. These women's lives, deeply entangled with access to natural resources such as water and firewood to complete their daily chores, are harder hit by climate-enhanced burdens and frustrations. They have been thrust to the forefront in dealing with the harsh realities of this rapidly changing environment. Being scarce as a daily necessity means that those who are lesser privileged are having to bear the burden of bringing water back to their homes. Women in rural areas are walking at least two kilometres to bring water back to their villages," she said.
Earlier in her welcome address, Chantal Harrison-Lee, British Council's director for arts, said that working with their team, the WOW Foundation and their phenomenal curatorial team they had put together their most ambitious programme to date, featuring nearly 100 women as well as men, across ages.
"We have climate change at the heart of our work, throughout our programming and in our delivery approach and we are dedicated to making WOW a climate-friendly festival," she said.
"WOW first and foremost is a family-friendly, inclusive festival for all ages and genders. We really believe that if we move towards a world where gender equality is an everyday fact, it takes all of us to get there no matter what their age, race or social standing. WOW is a vital platform to celebrate and empower women to provide a space for discussion around key issues and barriers women and girls face, and aims to make a bottom-up change," she said.
The British Council hosted the first full-scale WOW in South Asia in Karachi in 2016. WOW festivals first began in the UK in 2010, launched by Jude Kelly CBE at Southbank Centre London. WOW festivals around the world are platforms to celebrate women and girls, discuss what prevents them from achieving their potential, raise global awareness and discuss solutions to the issues they face. WOW has reached over two million people in 17 countries in six continents, in locations including Australia, Brazil, China, Egypt, Finland, Nepal, Nigeria, Sri Lanka, the UK, US and Pakistan with more than 60 festivals around the world. The WOW Foundation was created by Kelly in 2018 to manage what has now become a global movement.
Daniella Jenkins, executive director at the WOW Foundation, said that she felt humbled to come to Pakistan where WOW began in South Asia. "A child of Africa, I would sit and wonder about things. But belief brought me to Pakistan to listen and see what brings us together. Karachi became the caucus of the movement," she said.
"We are about gender equality, which is how the world should be balanced," she said. "Gender equality is possible and achievable. Gender equality is not about wrestle for power. It is about creating space," she concluded.
The day's other highlights included a Zoe and Rachel Viccaji concert, talent performances, panel discussions, talks, film screenings and workshops. There were also a number of stalls with interesting offerings to explore.
The festival concludes on Sunday.
http://images.dawn.com/news/1184214/wow-festival-kicks-off-by-honouring-resilient-women?preview
------
Ras Al Khaimah: Calling women entrepreneurs
December 15, 2019
The thought of becoming an entrepreneur never crossed Elena Agaragimova's mind until she came to the Emirates. Having worked with several organisations in the US, the talent development specialist decided to take the plunge to launch her own business in 2019.
As the founder of Agar Global Services, a training and development firm, she joins a growing league of women working in small to medium-sized businesses (SMEs) in the UAE.
When it comes to opportunities for women in business, the UAE is a world leader.
Today, women make up 70 per cent of the country's university graduates, 46.6 per cent of the workforce and 10 per cent of the leadership within private sector companies, according to statistics from the Ministry of Finance. These are clear signs that they are a key part of the UAE's economic and social future.
Globally, research from Boston Consulting Group (BCG) found that if female entrepreneurs received as much support as male entrepreneurs, the world's economy could experience up to a $5 trillion boost. This is great news as the presence of more women-led businesses in the UAE will further bolster the economy. Currently, the contribution of the SME sector to the UAE's GDP is estimated at 53 per cent and plans are afoot to increase this to 60 per cent by 2021.
Supporting women entrepreneurs
From a surge in female entrepreneurs and support groups to increased funding for new businesses, there's never been a better time for a woman to start a business in the UAE.
When Agaragimova decided to launch her businesses, she picked Ras Al Khaimah Economic Zone (RAKEZ), a thriving hub for start-ups and that is less than an hour's journey from Dubai.
"I shopped around, and I think price-wise what they have for women entrepreneurs is attractive and affordable," she says. "The process of setting up was easy and transparent, and there were no hidden charges."
As part of its commitment to encourage more women to pursue their entrepreneurial dreams, RAKEZ began offering one-year and three-year business packages dedicated to women for the first time in the UAE in August.
The RAKEZ BusinessWomen packages start from Dh6,200 and include a free zone licence, a shared workstation, eligibility for a UAE residency visa and various support services, such as business cards and priority at RAKEZ service centres. The three-year package comes with the additional benefit of one free investor visa, which normally costs Dh3,950.
"The customer service they offer is excellent and the package I chose fitted my budget and needs. Also, RAKEZ has offices in Emaar Square, which is very beneficial for someone based in Dubai, like me, so I didn't have to commute."
Getting around formalities
Monica Marinho is the Founder of Twenty III Design, a studio that focuses on interior design for high-end hospitality, residential, F&B and retail clients. Having arrived in the UAE with the aim of launching her own business, the Brazilian expat's main challenge was getting around the process of business set up in the country.
She was also concerned about finding a local sponsor to start the business. "The package with RAKEZ gave me 100 per cent ownership rights for the company. I chose the BusinessWoman package because it was just perfect for my needs."
"Signing up was easy. Every time I needed information, they replied in less than 24 hours. The whole process from the day I sent documents and received my licence, took less than two weeks."
For entrepreneurs who are new to the country, it is important to find the right partner they can trust, she says. "RAKEZ offered me that trust. I will recommend it to my friends or anyone who needs to pursue their business dreams," she adds.
Dubai-based Jazz artist and soul singer Carrie Gibson has been in the entertainment business for more than 20 years. Her jazz band Nuvo Soul, a funky four-piece act, was nominated in 2018 for a Time Out Dubai Music & Nightlife award.
"My need for a licence was all about visas," she says. "Most musicians in Dubai are freelancers, but that licence only offers a single visa. I wanted to have an extra visa to employ other musicians."
"The business package dedicated to women entrepreneurs was best suited for my needs. They also have an office here in Dubai, which made it easier for me."
Setting up
RAKEZ has a one-stop-shop concept, which is very helpful when you are starting a new company, says Injy Guenena, Owner and Founder of Pearl Homes. Having lived in Ras Al Khaimah for the past six years, she launched her own property start-up this year.
"We specialise in helping people with their property investments and support the expat community with their leasing needs," she says.
"I got into real estate business due to general interest in homes and many people needing help when looking for a home. The UAE and Ras Al Khaimah, in particular, have made it so easy for us to set up the business - they take care of everything."
She decided to set up her business under the RAKEZ BusinessWomen package. Again, lower set-up costs played a key role in the decision.
"When we saw there were huge savings for women as a [business] owner, we decided to go for it."
"The startup cost was essential for us, and we were able to rent the office space from them. Also, the package gives me enough visas for myself and my future staff."
Ease of doing business
With simplified set-up processes, fast-track visa, licence issuance and ongoing business support services, RAKEZ is focused on supporting women entrepreneurs such as Guenena to underpin Ras Al Khaimah's and the UAE's thriving economy.
Such efforts by the government of Ras Al Khaimah and other federal entities mean the UAE has climbed 10 spots to 11th place in the World Bank's annual ease of doing business last year, which is ahead of some traditional stalwart countries in Western Europe and Asia, making it the easiest place to do business in the Middle East. The country also has an ambitious goal to become one of the top 25 in the world for gender equality by 2021.
There's never been a better time for women to set up a business in the UAE, says Pearl Homes' Guenena. The UAE's business ecosystem and supporting laws are ripe for growing start-ups.
"I would say if you want to start a business, do it now. There is never going to be a [more] perfect time."
https://gulfnews.com/business/ras-al-khaimah-calling-women-entrepreneurs-1.1575883998660
------
URL: https://www.newageislam.com/islam-women-feminism/indian-muslim-women-share-their/d/120528
New Age Islam, Islam Online, Islamic Website, African Muslim News, Arab World News, South Asia News, Indian Muslim News, World Muslim News, Women in Islam, Islamic Feminism, Arab Women, Women In Arab, Islamophobia in America, Muslim Women in West, Islam Women and Feminism