New Age Islam News Bureau
31 March 2016
• UN, Arab League Tackle Sexual Violence against Women
• Nigeria Says Female Suicide Bombers Were From Its Chibok Region
• French Minister Has Compared Muslim Women to 'American Negroes'
• Bahraini Women's Contributions to Development March Praised
• Topeka Resident Shares Experiences as a Muslim Woman
• 'Solos' Features Four Women in Works Reflecting the Arab World
• The Everyday Resistance of Women in the Arab World
• 'She Who Tells A Story' Highlights Contemporary Women Photographers from Iran and the Arab World
Compiled by New Age Islam News Bureau
URL: https://newageislam.com/islam-women-feminism/indian-muslim-women-see-hope/d/106824
----------
Indian Muslim Women See Hope In SC Study Of Triple Talaq
Eram Agha | TNN | Mar 30, 2016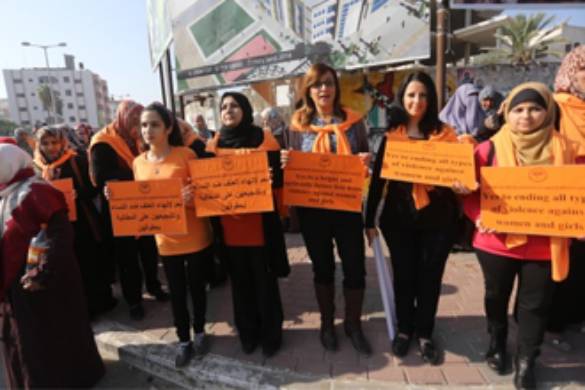 Photo: Women form a human chain outside the UN offices in the Gaza Strip to protest Israeli violence against women on the International Day Against Violence Against Women. Copyright (C) 2015 Mohammed Asad. All Rights reserved. Photos may be reproduced with proper credit to Mohammed Asad and the Arab Daily News
-----------
Aligarh: With the Supreme Court deciding to study the legality of triple talaq, several women who have been victims of this unilateral form of divorce see a ray of hope that a change could be around the horizon. TOI talked to some of these victims and tries to explain the controversial law.
On Monday, the apex court agreed to review the law upon Shayara Bano's plea which said, "The practice of triple talaq practically treats women like chattel. Many Islamic nations, including Saudi Arabia, Pakistan and Iraq, have banned or restricted such practice but it continues to vex Indian society in general and Muslim women like the petitioner in particular."
In February this year, 47-year-old Afsha Khan was given triple talaq by her husband, a sitting judge of a district court in Aligarh, 59-year-old Mohd Zaheeruddin Siddiqui. She wrote several letters to the Chief Justice of India and the chief justice of the Allahabad High Court apprising them of how a judge is acting in contravention with the ethics of his post. Siddiqui remained firm on his stand that since he could not reach a compromise with Afsha, he divorced her according to the shariat.
Another human rights activist who shared her story, but did not wished to be named, said her former husband was living abroad and decided to call off their marriage over the phone.
"He just told me (over text message) 'Talaq, Talaq, Talaq' and not a word since," said the activist. Her attempts at reconciliation failed and her husband did not even meet her to call off the marriage. She was told that since her husband has already decided, it would be "un-Islamic for her" to stay with him. She claims there wasn't the mandatory three-month waiting period and no real attempts of reconciliation were made by his family.
The Muslim Personal Law (Sharia) Application Act, 1937 accepts Talaq when "any man who wishes to divorce his wife shall, as soon as may be after the pronouncement of talaq in any form whatsoever, give the chairman a notice in writing of his having done so, and shall supply a copy thereof to the wife."
Muslim men conveniently uses the clause "talaq in any form whatsoever" and divorce their wives over Skype, Whatsapp or text message. But Quranic verses emphasize dialogue, discussion and compromise by family members before talaq. This process is supposed to last 90 days in the presence of "two witnesses on each side".
The ulema and members of the All India Muslim Personal Law Board, however, say that triple talaq is in line with the Quran. The Board has been resistant to the Supreme Court's intervention as it sees as meddling with Muslim personal laws. Both had said Muslim personal law was Quran-based and not enacted by the legislature and hence was beyond the ambit of judicial scrutiny.
"Bharatiya Muslim Mahila Andolan has time and again conducted surveys to show how Muslim women are being divorced arbitrarily and want ban on the practice. Triple talaq is widely prevalent in Indian Muslim society despite of the fact that it is absolutely against the Quran. The practice is banned in most Muslim countries in the world, even Pakistan and Bangladesh," said Zakia Soman of Bharatiya Muslim Mahila Andolan (BMMA).
They also said that, in order to get rid of triple talaq in India, there must be amendment of Shariat Application Act, 1937, which loosely says Muslims will be governed by shariat without specifying what is Quranic and what isn't.
timesofindia.indiatimes.com/city/agra/Muslim-women-see-hope-in-SC-study-of-triple-talaq/articleshow/51620940.cms
----------
UN, Arab League Tackle Sexual Violence against Women
March 30, 2016
The United Nations and the League of Arab States today signed an agreement to strengthen collaboration on prevention of conflict-related sexual violence in the Arab region.
The agreement was signed in Cairo, Egypt, by the UN Special Representative on Sexual Violence in Conflict, Zainab Hawa Bangura, and Nabil el-Araby, Secretary-General of the League of the Arab States. It is meant to form the foundation on which to mobilize political commitment and collaborate in combatting rape and other instances of conflict-related sexual violence, particularly in Iraq, Libya, Somalia, Sudan, Syria and Yemen
"This framework of cooperation gives us a platform to join and reinforce our efforts, and together build a comprehensive response in the security, justice and service sectors," said Special Representative Bangura, who is also a UN Under-Secretary-General. That will include deeper information sharing and analysis, training and capacity building, and providing medical and psychosocial services to survivors and their families, according to a press release from the Office of the Special Representative.
The agreement also cites the role of civil society, as well as religious and traditional leaders "to help shift the stigma of sexual violence from the victims to the perpetrators" and to ensure that survivors and the potential children they bear as a result of the crimes, are accepted back into their communities, the Office said.
"Ultimately it is my hope that the focused engagement of the Arab League will catalyze greater national leadership, ownership and responsibility among its member countries to protect vulnerable women, children and men from sexual violence," Mrs. Bangura added.
While in Egypt, the UN Special Representative met with Sheikh Ahmed El-Tayeb, whose title of Grand Imam of Al Azhar makes him one of the highest authorities in Sunni Islamic thought.
During their meeting, Mrs. Bangura received assurance of the Sheikh's commitment to speaking out against conflict-related sexual violence, particularly in the context of acts by extremist groups such as ISIL and Boko Haram, according to the press release. "This is an affront to the most sacred and fundamental tenets of Islam as a religion of peace and tolerance," Mrs. Bangura said, referring to what she calls "perverting" of Islam by groups that attempt to give religious justification for sexual slavery and other acts of violence against women and girls.
thearabdailynews.com/2016/03/30/un-arab-league-tackle-sexual-violence-women/
----------
Nigeria Says Female Suicide Bombers Were From Its Chibok Region
March 31, 2016
Nigeria's Defense Minister Mansur Dan-Ali said the Islamist militant group Boko Haram is using girls abducted from the Chibok region, in the country's north-eastern Borno state, as suicide bombers.
The suicide-bombers aren't part of the more than 200 schoolgirls kidnapped from their dormitories in Chibok in April 2014, Dan-Ali said in an e-mailed statement.
Borno has been the epicentre of Boko Haram's seven-year campaign to impose its version of Islamic law on Africa's largest economy. The group's brutal tactics drew global outrage after it abducted the schoolgirls. While the military has rescued thousands of women and children kidnapped in the northeast, most of the schoolgirls haven't been found.
Troops fighting the insurgents have liberated 60 of 62 local government areas spanning three states in the northeast previously occupied by Boko Haram, Dan-Ali said in the statement. Two local areas still have "remnants of Boko Haram activities but not under the complete occupation of the terrorists," he said.
bloomberg.com/news/articles/2016-03-30/nigeria-says-female-suicide-bombers-were-from-its-chibok-region
---------
French Minister Has Compared Muslim Women to 'American Negroes'
March 31, 2016
French Minister for the Family, Children and Women's Rights Laurence Rossignol delivers a speech during the launching of the High Council for Equality between Women and Men on International Women's Day at the Elysee Palace in Paris
Pool—Reuters French Minister for Families, Children and Women's Rights Laurence Rossignol delivers a speech during the launching of the High Council for Equality between Women and Men on International Women's Day at the Élysée Palace in Paris on March 8, 2016
She has apologized for her choice of words, but stands by her general observation
France's Minister for Women's Rights has found herself in hot water after comparing Muslim women who wear their faith's traditional garments to "American negroes" who supported slavery.
Laurence Rossignol, the government minister, made the remark during a French television interview on Wednesday. She was condemning retailers like H&M and Dolce & Gabbana for their decision to sell product lines designed for Muslim women, saying these firms were "promoting the confinement of women's bodies," France 24 reported.
The interviewer noted that some Muslim women in fact choose to wear articles of clothing like burqas and hijabs.
"Of course there are women who choose it," Rossignol replied. "There were American negroes who were in favor of slavery."
Rossignol has since expressed remorse for her choice of words, calling it an "error of language" and insisting that she would only use the word negro in the context of slavery, but otherwise she is standing by her observation. She is now the target of a social-media backlash. As of early Thursday morning, a Change.com petition demanding that Rossignol face "sanctions" for her language had received more than 15,800 signatures.
time.com/4277377/laurence-rossignol-muslim-women-hijab-negroes-slaves/
----------
Bahraini Women's Contributions to Development March Praised
30/03/2016
Manama, Mar 30 (BNA): Information Affairs Minister Ali bin Mohammed Al-Rumaihi today received a delegation from Arab Women Investors Union (AWIU) led by Dr. Huda Jalal Yassi, on the sidelines of their participation in the "B to B International Businesswomen's Forum and Exhibition" organized by Bahrain Businesswomen's Society (BBS) under the patronage of Her Royal Highness Princess Sabeeka bint Ibrahim Al-Khalifa, Wife of the King and President of the Supreme Council for Women (SCW).
The Information Minister praised the active participation of Bahraini women in supporting the national economic, trade and investment movement, in the development of press and media sector, and in assuming executive, legislative and judicial offices in the prosperous era of HM King Hamad bin Isa Al Khalifa.
The minister took pride in the contributions of Bahraini working and business women in all walks of life, thanks to the SCW President's efforts in empowering them and boosting their presence in government and private sectors.
He lauded the women's vital role in promoting the march of reforms and democracy through their participation in decision-making as ministers, undersecretaries, parliamentarians and members of municipalities. He said that they have proven high competencies in assuming leadership posts and have gained the confidence of the international community as members of regional and international organizations.
He pointed the implementation of a wide variety of projects and programmes to empower women politically, economically and socially in the context of equal opportunities and gender equality to reflecting the bright image of Bahrain under the royal leadership and the government led by HRH Prime Minister and HRH Crown Prince and First Deputy Prime Minister.
bna.bh/portal/en/news/719413
----------
Topeka resident shares experiences as a Muslim woman
March 30, 2016
Kathleen Sebelius, former Kansas governor and U.S. secretary of Health and Human Services, will speak April 6 at the YWCA on Kansas' tradition of women leaders and how to preserve and extend it. Sebelius also will answer questions from the audience. The luncheon starts at 11:45 a.m. and costs $10 for YWCA members and $12 for non-members. For reservations, call (785) 233-1750, ext. 200.
Topeka resident Deqa Rabile sees her faith in God as an inseparable part of her identity. It informs her daily decisions in the many roles she plays — as a mother, neighbor, wife, and even as a scientist and state employee who specializes in public health.
That was her message to an audience Wednesday at the YWCA, where Rabile had been invited to speak about her experiences as a Muslim woman living in Kansas. The event sold out.
Rabile, a chemist at the Kansas Department of Health and Environment and mother of four children, all of whom play soccer, interspersed her speech on religious identity with lighthearted quips and descriptions of everyday moments familiar across cultures and religions, such as the challenges of raising kids approaching their teens.
"So we have half an hour — to cover everything on Islam," she joked at the start of her talk, drawing laughter from the audience before launching into a more serious discussion of the need to dispel misconceptions about the religion.
Rabile described Islam as "very simple" — essentially focused on the idea that we should obey our creator. She said she believes many non-Muslims, especially in the western hemisphere, misunderstand Muslims because they don't recognize the way faith infuses their lives. Without this understanding, she said, someone might see a person wearing a traditional head scarf — as Rabile does — and conclude she is extremist or oppressed instead of simply living out her beliefs.
"It was my choice to wear the scarf. It's my choice as a Muslim woman to pray five times a day, no matter where I am," said Rabile, a native of Somalia who left that country for England as a teenager and later pursued college and a master's degree in the U.S. "No, I'm not extremist."
Rabile said she considers her faith liberating. She feels she doesn't need to worry about conforming to a consumerist society or looking a certain way, for example, because those things don't concern God.
"I make my own choices based on one thing: Is my choice going to please the one who created me?" she said.
For the same reasons, Rabile said, she sees her work life, too, as part of "that relationship I have with the designer, the creator."
"The integrity of the work I do for the state, the trust that's given to me to take care of the public health of individuals and communities in this state, is part of my spirituality," she said. "It's part of who I am."
Rabile took questions from the audience about the basics of Islam — from the role of Mary and Jesus in the Quran to the meaning of fasting and wearing a hijab.
"In other monotheistic religions, such as Christianity and Judaism, the concept of veil or scarf or habit is there," she said, "and they all go back to one reason, which is modesty."
She cited the examples of Catholic nuns and Orthodox Jewish women covering their hair, and noted some of her Eastern Orthodox friends do so to attend church.
On the matter of Ramadan — a month during which Muslims fast — Rabile said it teaches gratitude about myriad things taken for granted in daily life.
"I'm telling you, the taste of water after you've been fasting a long day in the summer — I mean there's nothing compared to it," she said. "You come out of that month being grateful for everything, from the food you eat to your health."
Rabile has a bachelor's degree in chemistry from the University of Missouri-Kansas City and a master's degree in education from Webster University.
cjonline.com/news/2016-03-30/topeka-resident-shares-experiences-muslim-woman
----------
'Solos' Features Four Women in Works Reflecting the Arab World
MARCH 28, 2016
The very news of a program of four female soloists in various ways linked to, or deriving from, Egypt, Syria and Tunisia was tantalizing. How many here know much about the dance of those countries? How many here have experienced the creativity of the women there?
Congratulations to New York Live Arts for "Solos," the program it presented on Friday and Saturday as part of its Live Ideas series. All four women — Marie Al Fajr, based in Paris and Cairo; Mona Gamil, based in Dublin and Cairo; Leyya Mona Tawil, who is a Syrian-Palestinian-American; and Amira Chebli, who is Tunisian — broke any dance stereotypes of the Arab world (sexy belly-dancing for tourists, for example), though two drew from folk traditions.
The opening number, Ms. Fajr's "Shagarat Mussafira (Traveling Trees)," proved the richest. Not at first, though. Ms. Fajr had hardly entered, dressed in a floor-length gown, when she folded to the ground and remained slumped there a long time, her rich mane of dark hair spilling like a hood. When she rose, her dancing gradually disclosed more and more resources: different meters, different floor geometries, different lines of the body.
The movement sometimes spiralled slowly, vertically up and down her physique, or horizontally across her arms and torso. Sometimes she maintained her arms in a single position, with tilted torso, while turning, as if invoking the movement of dervishes; but then she would straighten her posture and turn the phrase into something more complex. And her face is extraordinarily theatrical: Mature, scarcely ever changing its impassive expression, it was both passionate and Sphinx-like.
"In Situ," Ms. Chebli's dance, was a series of ideas connected only by her performing them and their sense of restricted space and constricted physicality. Sometimes she drew from the oscillations of belly dancing (without any virtuoso pelvic speed); sometimes she used veils (black, green), wrapping them around her head, across her face, over her hips. Moment by moment, it was entirely attractive. Overall, it left too vague an impression.
Ms. Gamil's solo "S.A.P. Safe Art Practice" — not a dance but a satirical lecture, with illustrations on a screen — seemed entirely Western. It was just sophomoric: a trite exercise in cynicism about how to win grants and ingratiate yourself with followers by performing predictable and unalarming work.
Paradoxically, "Atlas," Ms. Tawil's solo, was both tedious and extraordinary. Most of it consisted of Ms. Tawil's rolling across the stage (she was dressed in a knee-length coat and ankle boots): about 10 rolls to the left, then 10 back — the number varied. Basic though this sounds, there was technique and even beauty in it. The propulsion of the hand and heel was connected to arcs throughout the body. You could liken the rolls to waves and tides of the sea. You could also feel them as helpless searches for a point of rest.
When Ms. Tawil stood and moved on her feet, the same sense of frustrated search continued: She seemed driven. Mike Khoury played successive violin solos, mainly on just one or two notes. I kept running out of patience with Ms. Tawil's repetitions; then they would rekindle my attention. The plight "Atlas" expressed became larger than that of one individual.
nytimes.com/2016/03/29/arts/dance/review-solos-features-four-women-in-works-reflecting-the-arab-world.html?_r=0
----------
The Everyday Resistance of Women in the Arab World
Dina el-Khawaga (2016-03-30)
CAIRO — They did not expect the joy and the despair, the potential and the tribulations that have spanned six long years. They were allured by calls for freedom and social justice before they were hit hard by authoritarian regimes and objectified by the region's Salafists in both the East and the West.
They held on to their right to be present in the streets before the parliaments. They were active online and led various national committees on the ground, where they organized and mobilized for syndicates more than working toward positions in political parties. They were part of the masses that faced rubber bullets and live ammunition. They stood their ground in the face of physical harassment, smear campaigns, detention, torture, displacement and captivity. They did not retreat or long for a patriarchal sanctuary.
We all recall the female doctor in the makeshift clinic who removed the bullets from the protesters' bodies and numbed the pain; the female journalist documenting the injured and the dead; the female student exposed to virginity tests before being detained. We recall that brave girl, a survivor of rape, who had to pull through the trauma of the crime and familial stigma. She endured without blaming the revolution or its aspiration for change, without internalizing society's desire to erase her from memory. How can we forget the mothers who, fearing for their children, objected to their participation in protests in vain, only to receive news of their imprisonment, forced disappearance and torture with tears of defiance? How can we forget the young women who lost their loved ones in Shiqa, Aleppo, Maspero, Qasrayn, Benghazi, Aden, and how they have survived alone?
Who among us is not astounded by the bravery of female lawyers and activists who long for a glimpse of sunshine while they are unjustly imprisoned in horrid cells? Or those who have memorized the shapes of the stones of prison gates from their long waits to visit their loved ones? Who among us is not proud of the women working in rehabilitation centres who have prepared many groups to help sexual assault survivors, and worked on documenting the effects of the counterrevolution's psychological and physical abuse of the female body? Who is not proud of our feminists?
Egyptian women protesting violence against women in Cairo on Dec. 22 — Photo: Amr Sayed/APA Images/ZUMA
How can we forget the Syrian women refugees in Arab and Western countries who startle us with their diligence to make ends meet for their families? As they cook, sell and move endlessly, they dust away the pitfalls of pity and staleness of life in the camps.
Before ministers, entrepreneurs, princesses, ambassadors or political experts, these women give meaning to International Women's Day in the Arab world — a meaning that comes with a heavy price and hard work.
The women of the Arab world have protested, authored, nursed. They have been caretakers, legal councils, rights activists. They have collected funds for the camps and taught their children. And all their efforts have given room for Arab women to narrate their own stories as protagonists.
The story of Arab women today surpasses international treaties such as the Convention on the Elimination of All Forms of Discrimination against Women (CEDAW), or the United Nation's Millennium Development Goals, whose aim was to promote gender equality and empower women. The story of Arab women today derides any hyperbolic enlightenment rhetoric; it is a narrative that defies all the Islamic State-like religious bigots — both the barefaced ones and those claiming to be modern.
It is a narrative that declares that we, the women, have fought as women. We have engaged in war, just like men. Our youth have joined in the fury of street battles. We have supported our families. We have traded in the markets. We have experienced fear and fled for our lives. We have endured loss, poverty and displacement in the quest for freedom and a just future. We will never allow the meta-narratives to crush us or subdue us under empty religious and national slogans.
We have a voice now, one that we did not acquire through education or by inheritance, one that was not granted to us by governments. We acquired it the hard way through our everyday resistance and endurance amid a global scrabble for money and arms.
We are the protagonists of our own story. We no longer accept being divided and categorized as mothers, martyrs, poor, intellectual, immigrants, artists ... We are part of a whole. We move gracefully and steadily between all roles. We mend our wounds and move on.
If you can only realize how much has changed and disappeared thanks to the new meaning of the Arabic feminine.
worldcrunch.com/culture-society/the-everyday-resistance-of-women-in-the-arab-world/c3s20802/
----------
'She Who Tells a Story' Highlights Contemporary Women Photographers from Iran and the Arab World
March 30, 2016 11:00 am
The Arabic word "rawiya" translates to "she who tells a story," which also happens to be the name of a new exhibit at the National Museum of Women in the Arts in Washington, DC, opening April 8 and running through July 31. She Who Tells a Story: Women Photographers from Iran and the Arab World presents more than 80 photographs, along with a video installation, by 12 contemporary women artists who challenge stereotypes about the region and shed light on the political and social issues faced by Arab communities.
Among the featured artists is internationally renowned filmmaker and photographer Shirin Neshat, whose earliest works questioned notions of femininity and veiling in the Arab world. She continues to confront indigenous and Western portrayals of Middle Eastern women. Photojournalist Newsha Tavakolian's Listen series gives a voice to women singers who are not allowed to perform solo or produce their own music due to Islamic regulations in place since the 1979 revolution.
The landmark exhibition aims to open a cultural dialogue on a national level about the complexities of being a woman, and woman artist, in the Arab world.
flavorwire.com/568387/she-who-tells-a-story-highlights-contemporary-women-photographers-from-iran-and-the-arab-world/5
URL: https://newageislam.com/islam-women-feminism/indian-muslim-women-see-hope/d/106824
New Age Islam, Islam Online, Islamic Website, African Muslim News, Arab World News, South Asia News, Indian Muslim News, World Muslim News, Womens in Islam, Islamic Feminism, Arab Women, Womens In Arab, Islamphobia in America, Muslim Women in West, Islam Women and Feminism