New Age Islam News Bureau
18 Jun 2013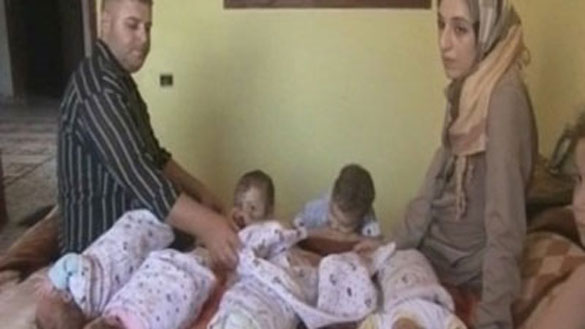 Photo: Naima, 21, and her husband Raad, 25, say they are feeling the financial strain to raise 11 children. (Al Arabiya)
------------
• Dukhtaran-e-Millat Warn "Buddhist Fascists" against Persecution of Muslims
• 16-year-old girl 'married' to eight-year-old cousin 'for property'
• Women's Group Upholds Rights of Russia's Muslim Soldiers
• 21-Year-Old Gaza Woman Mothers 11
• Police Check of Veiled Woman Sparks Clashes near Paris
• Nigerian Catholic Women to Collaborate With Muslim Women for Peace
• Islam 'Flexible' on Niqab Removal: Australian Muslim leaders
• Aceh Women Say They Suffer Discrimination
• Malala first signatory to UN-backed education petition
• Australian MP Reignites Burqa Debate
• Sharjah's Women Artists: Our Art Is an Expression of Our Muslim Identity
• 106 Couples to Tie the Knot at Mass Wedding In Oman
• 3 Israeli Settlers Assault Palestinian Woman in Jerusalem
• Newcastle Women Dispel Myths about Islam
Compiled by New Age Islam News Bureau
URL: https://newageislam.com/islam,-women-and-feminism/new-age-islam-news-bureau/indian-muslim-women-demand-ban-on-verbal-triple-talaq/d/12133
---------------
Muslim Women Demand Ban on Verbal Triple Talaq
New Age Islam News Bureau, June 18, 2013
Cuttak (India): More voices are being raised against the verbal Talaq given by Muslim husbands to their wives which put them in trouble.
Recently, to create public awareness about the gravity of the one sided verbal Talaq, the Bharatiya Muslim Mahila Andolan (BMMA) launched a cycle and bike rally in Cuttak, Odisha. The organization also distributed a booklet named 'Stories of triple Talaq and Indian Muslim women'. The booklet presents heartrending accounts of divorced Muslim women.
The booklet also says, 'The practice of verbal triple Talaq in the community has become an evil for the women and a cause for unending social and economic problems for women in this age of technology. Husbands divorce their wives though Skype, Facebook, SMS, email and mobile phone. The divorced women are not considered worthy of receiving maintenance after divorce. As a result, they have to lead a life of misery, penury and utter helplessness and indignity in the society. Despite repeated appeals from women's organizations for putting a ban on verbal triple Talaq, the government refuses to recongise the gravity of the problem'.
The BMMA, which is running the movement on Talaq, Polygyny, Meher, maintenance and child care is also presenting a draft on Muslim family laws based on the injunctions of the Quran. It says that if the community had codified set of laws, these social evils could have been eliminated. The state convenor of BMMA, Farhat Amin said, 'A survey conducted earlier showed that more than 83 percent women were opposed to one sided verbal Talaq and wanted an end to this practice.'
---------------
Dukhtaran-E-Millat Warn "Buddhist Fascists" against Persecution of Muslims
17 Jun 2013
Towseef Ahmad
Srinagar, June 17: Women separatist group Dukhtaran-e-Millat (DM) Monday warned the Buddhists of Zanskar against persecution of Muslims saying the situation could have dangerous consequences.
Addressing a press conference here, DM Chief, Asiya Andrabi appealed the separatist and "true religious leaders" to visit the area and address the problems of Muslims.
"We warn the Buddhist fascists to stop persecuting Muslims in Zanskar. We will not stoop so low that we launch a social boycott with their community here like they have done with our Muslim brothers in Zanskar, but the consequences will be dangerous. Muslims take revenge with certain limitations but we can't allow our brethren to die," Andrabi said adding that such thing should not be allowed to fester.
The situation had turned hostile in the area last September after 22 members of four families of Buddhists embraced Islam. Residents had alleged that the conversion infuriated the Buddhist population who attacked the Muslims.
Expressing serious concern about the condition of Muslims, Andrabi said they are living a very difficult life which poses an open challenge for the Muslims of Jammu and Kashmir.
"We appeal to the separatist leaders, bar association and the true religious leaders to take immediate notice of the serious matter of our Muslim brethren. It is already too late but we have to fulfill our responsibilities and come to their rescue. We have to do away with the practice of issuing press statements only. They should visit Zanskar and take serious efforts for protection of Muslims," she said.
Andrabi alleged that the attacks and social boycott against Muslims is going under a deep rooted conspiracy on the call of Zanskar Buddhists Association who have the support of Ladakh Hill Council.
"The Muslims are under attack in Zanskar by the Buddhists who have the tacit support of the government. Most of the members in LHC are the members of Congress and National Conference who are providing support to the fascist elements," she said.
"We don't expect any favour from the political parties who have kept mum for their vote bank. Chief Minister had recently visited Leh but didn't bother to visit them or address their problems," she added.
Stating that Muslims in Padam, a town in Zanskar are facing "social boycott" which has made their lives extremely difficult.
"Muslims are facing social boycott in entire region posing great problems for them. They can't buy things from Buddhist shops and Buddhists don't talk to Muslims. Even the hospital administration has adopted a differential approach towards the Muslims and are not attending the Muslim patients having serious health problems," she alleged.
She also alleged that in some areas Buddhist monasteries have fixed huge loudspeakers to play music and Buddhist prayers every time there is Azaan (call for a prayer).
http://www.risingkashmir.in/news/asiya-warns-against-persecution-of-muslims-49360.aspx
---------------
16-year-old girl 'married' to eight-year-old cousin 'for property'
June 18, 2013
BAHAWALPUR: A 16-year-old orphan in a village near Khanpur has reportedly been married to an eight-year-old cousin of hers to "keep property inherited by her in the family".
A case has been registered against the boy's father and the nikahkhawan, but no one has been arrested so far.
Umar Hayat, Rukhsana's maternal uncle, said he had hidden her to prevent her to be forcibly taken by her paternal uncle, Muhammad Yousaf, who he said had acquired a false nikahnama by bribing the nikahkhwan.
He said his niece had not even been informed about the nikah.
On Sunday, he said, Yousaf had arrived at his house and inquired about Rukhsana. When she refused to go with him, he had said that he was legally entitled to take her back because she was married to his son.
Hayat said he was shocked to hear that as Yousaf's son was too young. He said he later found that the boy had been shown to be 18-years-old in the false nikahnama.
He alleged that Yousaf had threatened Rukhsana with an acid attack and said that he will get Rukhsana and her two sisters killed if he (Hayat) did not let Rukhsana go with him.
He said Yousaf had shot Rukhsana's mother 15 days ago after the death of her father to take over the Rs30 million land she and her two sisters had inherited.
He said since then Rukhsana and her two younger sisters had been living with him.
He said had filed a murder case against Yousaf which was being heard at the court. He said Yousaf had not been arrested due to lack of evidence.
He said Yousaf had eyes on the land his nieces had inherited from their father and so he plotted to get her married to his son.
He said there had been a scuffle when Yousaf tried to take the girl away. He said Yousaf left threatening to return with his men. Hayat said as soon as Yousaf left, he approached the Sahja police, who initially refused to register his complaint.
They, however, later filed the case after some of Hayat's relative and residents of the area protested against the police.
Investigation Officer Malik Rab Nawaz said police were looking for the men nominated in the FIR. He said they were missing. He said the police had questioned the girl. The girl said she had not signed any nikahnama and that she and her sisters did not want to go with her paternal uncle's house.
http://tribune.com.pk/story/564522/in-the-family-16-year-old-girl-married-to-eight-year-old-cousin-for-property/
-----------
Women's Group Upholds Rights of Russia's Muslim Soldiers
17/06/2013
MOSCOW, June 17 (RIA Novosti) – Muslim soldiers make up a fifth of the Russian Army, according to a recent state poll. An Islamic rights group wants to make sure those servicemen are able to perform their religious duties and receive halal meals.
The Committee of Soldiers' Mothers, formed under the Russian Muslim Women's Union, is also seeking to ensure that Muslim soldiers are safe from "bullying and hazing," the committee's leader, Nailya Ziganshina, said Monday.
"By setting up this committee, we wanted to also make our contribution to stability, to make the environment [in the Army] better with a mother's love," Ziganshina told RIA Novosti, adding that the group included both mothers and wives.
A government poll in February found that about 20 percent of soldiers in the Russian Army are Muslim, while 70 percent are Russian Orthodox.
The new Muslim committee is an analogue of the Committee of Soldiers' Mothers of Russia, a non-government established in 1991 to protect the rights of conscripts, military personnel and their families. The committee has about 300 regional branches.
The Russian Muslim Women's Union was registered in February to promote traditional Islamic values, solve family problems and help Muslim women find jobs. The union has more than 50 regional branches.
Of Russia's 143 million population, an estimated 12 to 15 percent is Muslim. That portion is expected to rise to 20 percent by the year 2020.
Updates with new headline changing "Islamic" to "Women's."
http://en.ria.ru/russia/20130617/181715474/Islamic-Group-Upholds-Rights-of-Russias-Muslim-Soldiers.html
---------------
21-Year-Old Gaza Woman Mothers 11
17 June 2013
A 21-year-old woman in Gaza has given birth to quintuplets, making her a mother of 11 after previously giving birth to sextuplets.
"I really don't want to keep on giving birth, but this is what happened to me," Naima al-Batash told Al Arabiya.
"After one course of breastfeeding and bottle-feeding, I put one child to sleep, but then the second child will wake up, so I start breastfeeding, and the same thing happens again… My head is spinning," she said.
"Crying won't help. If God gave me these children, he'll help me raise them," Batash added.
Naima's husband Raad is feeling the financial strain, as the salary from his government job is less than $500 a month, and half of it goes to paying debt.
"I feel what's demanded from me is more than I can give as a 25-year-old, a lot of money every day to buy milk and pampers," he said.
http://english.alarabiya.net/en/life-style/variety/2013/06/17/Video-21-year-old-Gaza-woman-mothers-11-.html
---------------
Police Check Of Veiled Woman Sparks Clashes Near Paris
Jun 17 2013
Police fired tear gas and rubber bullets to disperse an angry crowd in a town on the outskirts of Paris where clashes erupted on Wednesday night after they questioned a woman wearing a full facial veil, which is banned in France.
A police source, speaking on condition of anonymity, said the trouble started when police stopped a 25-year-old woman in the centre of Argenteuil, a suburb north-west of Paris, who was wearing a full-face Muslim veil, or niqab.
A passer-by got involved, calling the check "illegitimate", and soon a crowd of about 60 people gathered and attacked the police, who called for back-up, said the source.
Full report at:
http://english.ahram.org.eg/NewsContent/2/9/73877/World/International/Police-check-of-veiled-woman-sparks-clashes-near-P.aspx
---------------
Nigerian Catholic Women To Collaborate With Muslim Women For Peace
Jun 17 2013
THE Catholic women in Nigeria, under the aegis of National Council of Catholic Women Organisation (NCCWO), rose from a three-day retreat in Umuahia, Abia State capital, resolving to work with their Muslim sisters in the North and other denominations in the pursuit of peace and cohesion in the country.
They also counselled the youth to note that all efforts by government and the adult society are geared towards giving them better and brighter future; hence they should reciprocate same and avoid acts capable of disrupting peace and progress.
Full report at:
http://www.ngrguardiannews.com/index.php?option=com_content&view=article&id=124388:catholic-women-to-collaborate-with-muslims-for-peace-&catid=1:national&Itemid=559
---------------
Islam 'Flexible' on Niqab Removal: Australian Muslim leaders
17 June 2013
QUEENSLAND – Australian Muslim leaders have highlighted Islam's flexibility on the removal of face-veils, or niqab, in necessities, amid a growing debate about the wearing of the outfit in courts.
"The Islamic scholars in Australia have already reached a position on this," Muslim community leader Keysar Trade told SBS on Monday, June 17.
"They've published a statement to say that, whilst a person is required to be identified, there are certain points -- for example, entering the court building, et cetera -- they can remove it temporarily, and, if they're in the court and they're giving evidence, they can remove it for the duration of the period that they're giving evidence.
Full report at:
http://onislam.net/english/news/asia-pacific/463164-aussie-muslims-ok-to-remove-niqab-in-courts.html
---------------
Aceh women say they suffer discrimination
By Elisabeth Oktofani for Khabar Southeast Asia in Jakarta
June 18, 2013
Despite the 2005 peace pact that ended 30 years of bloody conflict in Aceh, life in the province has not improved for women and children since then.
That was the stark message conveyed by a panel of women activists from Indonesia's westernmost province, who were in Jakarta June 4th to present findings on violence against women in Aceh from 2011-2012.
During that time, there were 1,060 cases of violence against women, according to the 231 Monitoring Network, a coalition of women's rights groups based in Aceh.
Full report at:
http://khabarsoutheastasia.com/en_GB/articles/apwi/articles/features/2013/06/18/feature-03
---------------
Malala first signatory to UN-backed education petition
2013-06-18
UNITED NATIONS: Malala Yousufzai became the first signatory of a new worldwide petition calling for urgent action to ensure the right of every child to safely attend school.
The petition was launched on Monday with the backing of the United Nations Special Envoy for Education.
Malala, 15, is expected to be honoured at a ceremony at the world body's headquarters on July 12. It will be her first public appearance since she was shot last year by extremists, said a UN press release.
The launch came in the wake of an attack on a bus in Quetta that killed 14 girl students, said Special Envoy Gordon Brown in an article published in the Huffington Post.
"This, the bloodiest atrocity yet in escalating violence against female students, comes eight months after the attempted assassination of Malala and her two friends, Kainat and Shazia, targeted by terrorists just because they wanted to go to school," Mr Brown wrote.
Full report at:
http://dawn.com/news/1018983/malala-first-signatory-to-un-backed-education-petition
---------
Australian MP Reignites Burqa Debate
Damian Bathersby
16th Jun 2013
SUNSHINE Coast MP Peter Wellington is set to reignite the debate over Muslim women being forced to remove Burqas and face veils.
The Independent Member for Nicklin has warned the State Government it has just weeks to act on the issue or he will reintroduce a private member's bill he drafted in 2011.
Mr Wellington wants the laws changed to give police, courts and the security industry powers to compel people to remove the veil for identity checks.
The move came just days after a Brisbane magistrate expressed concerns about sentencing a woman who was wearing a veil that left only her eyes visible.
Mr Wellington said it was an issue that needed to be reconsidered as the world's leaders were due in Brisbane next year for the G20 summit.
Full report at:
http://www.thechronicle.com.au/news/mp-reignites-burka-debate-coast-mp-pushes-for-law-/1908947/
---------------
Sharjah's Women Artists: Our Art Is an Expression of Our Muslim Identity
June 17, 2013
Sharjah: On June 15, the Sharjah Museum of Islamic Civilisation presented a groundbreaking workshop entitled 'Muslima: Muslim Women's Art and Voices,' in which three inspirational Sharjah-based women artists spoke about their identity as expressed through their art.
The workshop was held as part of a year-long, international collaboration around the web-based project 'Muslima: Muslim Women's Art and Voices,' a global initiative developed by the San-Francisco based, online International Museum of Women in partnership with Sharjah Museums Department, the Women's Museum in Aarhus, Denmark and the Ayala Museum in the Philippines. Providing a platform for talented Muslim women around the globe to exchange ideas and celebrate the way they see themselves in this world, the Muslima exhibition features art works, poetry, creative writing and new media created by Muslim women from all over the world.
Full report at:
http://gulftoday.ae/portal/856db02b-4a15-468b-8545-82f26866c44a.aspx
---------------
106 Couples To Tie The Knot At Mass Wedding In Oman
By Mohammed al Belushi
June 18, 2013
MUSCAT - As many as 106 couples from the wilayat of Saham in North Batinah will get married at a mass wedding event on June 27.
The weddings, which will be organised by Al Badi Investment Company will be held at the community ground in Saham.
Khalid Saif al Badi, head of the organising committee of this event, said, "As many as 122 couples had applied during registrations that continued from late April to May 31. But till date, only 106 have confirmed."
The organising committee will meet the 106 grooms on June 21 and give them the approved programme list of the event and invitation cards with their names. "The couples tying the knot belong to villages in the wilayat of Saham. We are expecting around 12,000 to 15,000 people to turn up," Badi said.
Full report at:
http://www.muscatdaily.com/Archive/Oman/106-couples-to-tie-the-knot-at-mass-wedding-in-Oman-2cfj
---------------
3 Israeli Settlers Assault Palestinian Woman in Jerusalem
Jun 18 2013
TEHRAN (FNA)- A 75-year-old Palestinian woman filed a complaint with police after being assaulted by three Israelis as she waited for a bus in West Jerusalem, her son said.
Fathiyeh Ajaj was waiting for a bus in Deir Yassin, now known as Givat Shaul, after a hospital appointment when she was pushed to the floor by three Israelis, who the son described as settlers.
They tried to remove her hijab (the Muslim headscarf), and tore her clothes, the son said.
"My mother fainted and the bus driver saw her, rushing to rescue her," he told the official Palestinian Maan News Agency.
Full report at:
http://english.farsnews.com/newstext.php?nn=9203183712
---------------
Newcastle Women Dispel Myths about Islam
Jun 17 2013
MUSLIM women came together to spread messages of love and unity after a series of alleged reprisal attacks following the death of soldier Lee Rigby.
Women and children handed out 500 individual roses to shoppers on Newcastle's Northumberland Street yesterday in a bid to unite the people of the city.
The group were keen to dispel the misrepresented image of Islam and show people that their religion is in fact about "peace, love and unity".
Nusrat Ahmed, from Newcastle, said: "We wanted to do this after all the recent events that have been reported in the media since the Woolwich murder.
"People have got quite a negative view of Islam and this is not a true representation of Islam so we wanted to get together to give out roses to people to show that Islam is actually about peace, love and unity.
Full report at:
http://www.journallive.co.uk/north-east-news/todays-news/2013/06/17/newcastle-women-dispel-myths-about-islam-61634-33482983/#ixzz2WYh3qOii
---------------
URL: https://newageislam.com/islam,-women-and-feminism/new-age-islam-news-bureau/indian-muslim-women-demand-ban-on-verbal-triple-talaq/d/12133