New Age Islam News Bureau
30 Jul 2016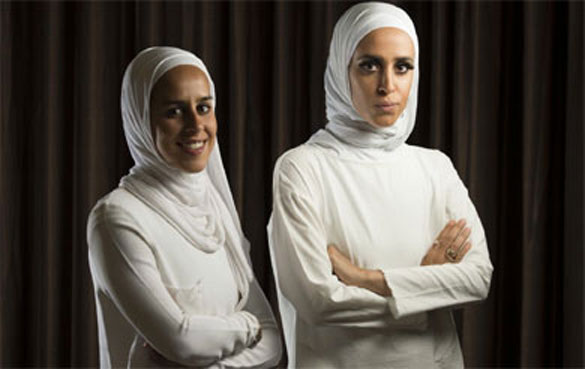 Triathlete sisters Nada, left, and Najla Al Jeraiwi pose for a portrait in Kuwait City in April. (Nikki Kahn/The Washington Post)
-------
• Indian Muslim Woman to Give Kidney to Sister's Ailing Hindu Friend
• How Social Media Is Helping Muslim Women Fight Islamophobic Harassment
• Saudi Female Athletes Find Sport So Essential They Compete While Covered
• Mandsaur: Was The Attack On Muslim Women A Plot To Stoke Communal Riots?
• Hijab-Wearing Muslim Women Fear Going Out After Increase In Hate Crimes
• 12th World Islamic Economic Forum Set To Accelerate Women's Leadership in SMEs
Compiled by New Age Islam News Bureau
URL: https://www.newageislam.com/islam,-women-and-feminism/new-age-islam-news-bureau/indian-muslim-woman-to-give-kidney-to-sister-s-ailing-hindu-friend/d/108128
------
Indian Muslim Woman to Give Kidney to Sister's Ailing Hindu Friend
Jul 30, 2016
KANPUR: Amid the cacophony of communal strife, here comes a heart-warming gesture. A Muslim woman from Fatehpur district has come forward to donate her kidney to a Hindu woman from Pune (Maharashtra), who has been battling for life for over a year.
Donor Shamshad Begum (40) and the recipient Aarti (38) both have undergone all required medical examinations. The donor, a native of Raribuzurg village in Bindki Tehsil of Fatehpur district, has submitted all the documents required at the district health department, and is now waiting for the nod from the state government's authorization committee for organ transplantation.
The recipient, who is a friend of Shamshad Begum's younger sibling Junaida Khatoon, stays in Pune (Maharashtra).
"I was shocked by the pain being suffered by a person facing death. I underwent the blood group test which matched Aarti's group," said Shamshad Begum.
"I am ready for organ transplant. The religion of a person should always be humanism. It is just a simple sacrifice for a fellow being," she said.
Shamshad Begum, whose husband had expired about ten years ago, stays with her father Zakir Khan and her teenage daughter in Raribuzurg village in Bindki tehsil in Fatehpur district.
The unusual story of two persons, belonging to different faiths and different places, unfolded when Shamshad, during her visit to Mansarovar area in Pune, where her younger sister Junaida Begum lives, met the latter's friend Aarti, who was going for dialysis as both her kidneys had failed. Shamshad, without giving a second thought, decided to donate one kidney to the ailing Aarti.
Later, they went to a hospital to complete the procedure and necessary formalities for donation and transplant.
All the tests have been positive. The hospital authorities said that the blood group of Shamshad has matched with Aarti's group.
"Now a few counselling sessions of my daughter and a final nod from the state government's authorisation committee for organ transplantation remain," said Zakir Khan, Shamshad's father.
He added, "The paper work for the donation has been completed. Both the families have no objection to the kidney transplant. We have submitted an affidavit in the office of the chief medical officer undertaking that my daughter will give her kidney to Aarti."
Chief medical officer, Fatehpur, Dr Vinay Kumar told TOI that the district health department has received Shamshad's affidavit and all other documents which would now be dispatched to the health directorate for final approval.
http://timesofindia.indiatimes.com/city/kanpur/Muslim-woman-to-give-kidney-to-sisters-ailing-Hindu-friend/articleshow/53460093.cms?utm_source=toiandroidapp&utm_medium=Email&utm_campaign=show
--
How social media is helping Muslim women fight Islamophobic harassment
30/7/16
A couple of months ago, I was crossing a parking lot from the store to my car and a driver coming my way decided not to stop. Luckily I jumped out of his way before he could hit me, but I was still stunned and scared.
I continued walking to my car but the driver decided to get out of his car and start yelling at me in front of everyone. He screamed at me for wearing the hijab and told me to leave this country because "Muslims don't belong here." Full of shock and anger, I took out my phone and yelled back at him, I am recording you now and I will put it up online. Once he realized that I was recording, he cut himself off mid-sentence, got in his car and drove away.
It turns out I wasn't the only Muslim woman who had the instinct to document the abuse I was receiving in this way. Many other women are using social media tools like Facebook Live, Snapchat and Twitter to capture the harassment they and their families are facing daily on the streets.
"Technology is being used to help Muslim women protect themselves," Maha Elkolalli, a Muslim American attorney and mother of five children—three of whom wear the hijab—told me in an interview. "I always yell at my kids if they leave the house with their phones not charged. I tell my kids, when crossing the street you always have to look and assess because you don't know if that person behind the wheel is malicious and would run you over because they don't like who you are."
Maha US FLAG HIJABMaha Elkolalli
Technology has allowed more people than ever to witness what is being done to some Muslims in America.
Nura Takkish and her friend, for instance, were eating ice cream when a Trump supporter walked into the shop and began hassling them. Takkish's friend took her phone out and captured the entire incident on the phone. Later she tweeted it and it went viral.
There were also the disturbing images that Farad Afshar, a college student in California, posted of his mother after she had raw eggs thrown at for wearing the hijab outside a Walmart. The photos spread everywhere, fueling a renewed dialogue about Islamophobia.
Then, there is Yasmine's story.
Seven years ago, Yasmine, a Muslim U.S. Army soldier, was getting ready to deploy to a Muslim country and wanted to blend in a little better. She interchangeably covered her hair with a hijab or a wide bandana every so often on the base. Soldiers repeatedly harassed her and asked if she was "becoming a terrorist," she told me.
Yasmine, who asked to withhold her last name to protect herself, said that she now viewed social media as a crucial weapon.
--
Saudi Female Athletes Find Sport So Essential They Compete While Covered
July 29, 2016
MISHREF, Kuwait — On a perfectly breathable Friday near sunset in the spring, you might have spotted what residents say you never would have spotted 10 years ago: women, here and there, on the pathways that twist near a sports park, walking briskly or jogging, in their abayas.
Look more carefully, and you would have noticed another novel sight of the 2010s: six cyclists on their bikes, zipping back and forth, and coed— four men in helmets, two women in helmets and hijabs.
These two sisters have happened upon a passion for triathlon in their 20s, and the sport has driven them around the world and even to the wilds of eBay. That's where Najla Al Jeraiwi, determined that being covered would not impede being competitive, bought 15 body suits some time ago, fearing their obsolescence because swimming's governing body had banned them from world competition. She gave three to her sister Nada. She gave four to friends. "I have the rest, but with time it's getting worn down," she said. "So now we're struggling."
Count the Al Jeraiwi sisters, all inconspicuous 5 feet 1 (Najla) and 5 feet 3 (Nada) of them, among a fresh wavelet of human athletes: women who find sport such an essential part of themselves that they compete in traditional Hijab headscarves, loose-fitting Abayas robes or other covering.
Especially for triathlon, that combination of swimming, cycling and running, this means exhaustive searches for ever more agreeable fabrics. It means there's a novel fashion item of the 21st century, the sport Hijab, and a trickle of companies making it.
Hijabs and Abayas, both a tradition and a personal choice in most Middle Eastern cultures, have begun to dovetail more with sports. They have appeared with flair, such as when Shinoona Al Habsi, then a 19-year-old runner for Oman, entered the Olympic Stadium at the London Games four years ago to run the 100 meters in a memorable hijab of a fine red, "red because of Oman," she said, referring to a dominant color in the country's flag.
They have caused policy advancements, such as when FIFA, the world governing body of soccer, opted to allow hijabs in early 2014. "Look, it's a popular sport," Prince Ali bin Al Hussein of Jordan, a FIFA member archly supportive of women's sports, said in an interview. "We had, for example in West Asia, we had a tournament. I'm president of the West Asian Football Federation. And when we first introduced women's football, the Iranians resisted by saying they would not allow their girls to play if men are present in stadiums. But if you put it to them properly, which we did, they have to accept the status quo. And things are easy to move ahead.
"We had the same issue with headscarves. The way we did it in FIFA was to say that, 'Look, you have to have mutual respect.' In fact, our women were the first girls who went and played in Iran without headscarves after the decisions were made. So there's a lot of things that can be done as long as we take the politics out of it."
Yasmeen Khair called it "one of the best decisions that was made." Khair, a defender on Jordan's women's national soccer team and a designated ambassador for Jordan's upcoming Under-17 Women's World Cup, said, "In Arab countries, Hijab, it's a main thing, you know. In our team, we had a lot of girls wearing Hijab. . . . Three, four of them, they were with the national team, and they were some of the main players, you know? So if this decision wasn't made, then you're going to lose a lot of the girls playing football. Even the young ones."
In turn, athletes have set off seeking better fabrics. Najla Al Jeraiwi still uses a custom-made hijab of "normal fabric, not ideal for racing" but not terrible, just not quite cool and dry enough. It's still an improvement over 2012, when her Spanish coach, Vicent Beltran, first found her swimming in routine sports clothes and long-sleeved shirts, then found long-sleeve swimwear that proved unfit for cycling and running, until a Spanish company made a trisuit for Najla. She improved her 100 meters by 14 seconds. "We all almost cried of happiness that day at the swimming pool," Beltran wrote in an email.
"The situation of the women in this area is very different from one to another," said Marisol Casado, president of the International Triathlon Union, "because in some of these areas they are really very open, like Lebanon, and then they have no problem at all, and in others like Iran, for example, they have more problems, but with hijab, they allow to compete. The movement is coming from people, from women from Iran. . . . I hope that they will decide not to wear it. This is my hope. But it's up to them."
Sport-hijab makers have materialized, shipping the hijabs to about 15 countries in the case of one Dutch company, Capsters. Its roots lie in the case of a Dutch high school student forbidden from gym class in 1999 because of her hijab. Cindy van den Bremen, then a design student in Eindhoven, Netherlands, began thinking, never imagining that 17 years later a livelihood would stem from her designs, with fabrics once futuristic.
"Capsters believes the choice to cover yourself should be yours and yours only, otherwise you deny the right of the women themselves," van den Bremen wrote in an email. "Both the Muslim community as well as people outside the community are forcing their ideas upon the women to cover or not. So on both sides there is social pressure as well as connotations that are based on assumptions and stereotypes and deny the rights of the women themselves."
Perhaps even more often, people root for the singular. Roquiya Cochran told of a three-day process in 2012 when she and her daughter, Zahra Lari, a figure skater from the United Arab Emirates, first appeared at an event in Italy.
Oman tennis player Fatma Al-Nabhani explains how she creates tennis outfits that align with both her culture and are allowed by the Women's Tennis Association and the International Tennis Federation. (Thomas Johnson, Nikki Kahn/The Washington Post)
At first, fellow skaters and their coaches stared quietly and quizzically, having never seen a skater dressed in a hijab. (Lari even received a points deduction because judges deemed this novelty a prop, a matter long since cleared up.) The second day, people began to smile. By the third, they took selfies.
"When I go to competitions, people usually have a lot of questions about it because they've just never seen anyone like that," Lari said. "But it's just that they're curious about it. They'll be staring and they'll come and they'll ask me. They want pictures with me or something like that. I think it's a good way to spread the word, like, 'We're normal. There's nothing different between me and you.' "
With the abaya, some athletes report even an unforeseen boon. Sarah Attar, a Californian who ran for Saudi Arabia in the 2012 Olympics , has visited Saudi Arabia with her Saudi father and American mother umpteen times in her 23 years to see her father's populous side of the family tree. Nowadays, she runs in an abaya when in Saudi Arabia and in American running gear while training in Mammoth Lakes, Calif.
"A lot of the girls I've talked to, it's not that the abaya itself is the obstacle, but just making one that's easier to run in, so you just have to kind of think they're obstacles only if you let them be," she said. "It goes down to your ankles, and it's an extra layer on top of running clothes underneath, and it is much warmer."
She laughs slightly. "So it's just like, it's just part of it. . . . You know, it's interesting because when I'm there and running it, I'm like, 'This is just extra training.' Or it's like a different form of endurance. Or 'If you can get through it when it's harder, then when you race . . .' "
Nesreen, a Saudi mother of four in her early 40s and based in Jeddah and who asked that only her first name appear, said running had revamped her life after she joined a coed group called Jeddah Running Collective. "When the weather is good, it doesn't bother me much," she said of the abaya, "and we rarely get good weather here, maybe two months a year. But when the weather is hot, like now, I feel like I'm a walking sauna, literally. I do feel like I'm heavier and uncomfortable as well. But all this won't make me stop running. On the days I'm feeling really into the run, I don't remember I'm wearing abaya."
Triathlete Najla Al Jeraiwi brings up the rear, at far right, with her sister Nada Al Jeraiwi, third from right, as they navigate city streets while training near Kuwait City. (Nikki Kahn/The Washington Post)
A girl trains with the boys
The issue of attire has been, of course, markedly different in swimming, in which athletes compete far less covered than in, for example, taekwondo.
Faye Sultan, 21, who swam for Kuwait in the 2012 Olympics and for Williams College in Massachusetts for four years, recounts stories that tell of change.
When she was 11, Sultan went to an international meet in Kuwait, then went right home when authorities shut it down after learning that boys and girls would compete concurrently. From when she was 9 to when she was 17 at the London Olympics, her father, Tarek Sultan, a former basketball player for the Kuwait national team and also for Williams, wasn't allowed to watch her swim competitively. She grew to 6 feet tall, and as the only girl rising at 4:30 a.m., coming to school with wet hair from training, eating in morning class for replenishment, she usually swam very much alone. As the only girl around competing in her teens, she never got to swim a Kuwaiti relay — when she reached Williams, she didn't know how to do one, which drew some ribbing from teammates — and she spent much of her teens in undersized, non-Olympic pools where her limbs would hit concrete.
Finally, when she was 17, her father asked Kuwait's swimming federation whether his daughter could train in the Olympic-size pool with the men's team. The federation complied. For her first appearance, Tarek accompanied her, his lone daughter among three athletic offspring whose sports participation the parents viewed equally.
"You could tell she looked nervous," said Mohammed Madouh, a team member who had swum for Kuwait in the 2008 Olympics and for Arizona State. After all, it was a pool to which, simultaneous to the team's training, parents brought small children to swim.
Said Madouh: "So you can see the parents from the distance looking at Faye like, 'Oh my god, how can a girl train with boys?' So we got that feeling. We saw that. I can understand it can be uncomfortable, but then the same parents that show up every single day, they saw that it's normal. . . . It's all about breaking the rule and then getting used to it, and then you'll find it normal, and that's it."
On the first day, Madouh, then 25, walked over to the teen. He handed her a Kuwait swim cap. "Welcome to the team," he said.
In May in Dubai, he said, "It's an honor to have a female swimmer in Kuwait," and, "I think I'm very lucky to witness that."
Yet change has rumbled for a while. Madouh said that at the 2010 Asian Games in Guangzhou, China, as Sultan swam in a standard swimsuit for international competition, Madouh wearied of hearing Kuwaiti officials from various sports bemoan Sultan competing "in a bikini," a word he found objectionable out of his respect for her dedication. At the 2014 Asian Games in Incheon, South Korea, Madouh heard no such whining. While Sultan studied and swam at Williams, her mother, Muna Al-Mousa, told her of seeing a Kuwait swim club advertising that parents should bring girls to learn to "swim like Faye."
Said Tarek Sultan, "I think recently, certainly seeing Faye attend the Olympics, I think there's been a real shift in people's attitudes, and the number of women participating is off the charts."
The Elite Swim Team in Kuwait, he notes, has 850 members, about 400 female. "Isn't that something?" he wrote in a subsequent email.
Closing the generational gap
Even now, though, the Al Jeraiwi sisters are on their third pool for training because others discontinued women's hours. They know that one former Kuwaiti triathlete had to train in a lagoon near a construction site, with jellyfish and jet skiers, and that she no longer competes after marrying.
While driving from the cycling training session on the Friday evening, Nada Al Jeraiwi spoke of generations. The gap between her generation and her mother's, she said, actually is smaller than the gap between her mother's generation and her grandmother's. Two generations back, she explained, women stayed entirely at home. Last generation, they began going off to university and going out with friends. With this generation, Al Jeraiwi said, they have mobile phones whereby parents can check on their safety.
She and her sister realize they're at a forefront. They tell about how a Kuwait Olympic Committee executive, at a meeting in 2014, had no idea Kuwait even had female cyclists until Najla's friend and fan Saleh Al Duwaisan stood and corrected him. "I said, 'Yes!' " Al Duwaisan said. "I said, 'This girl got lots of medals and nobody had an accident while she was cycling.' " Najla recalls that the executive "became supportive" and said, "Oh, that's good."
They have heard the occasional gossip about themselves. "For me, I heard some people were chatting about it behind my back," Nada said. "But I wouldn't care, because I'm telling you, the girl, she said that if her husband allows her to do that, she would do it, and she would do more." Such negativity, she said, comes from "only maybe 5 percent."
Nada's husband, Osama Al Othman, figures his support of his wife's athletic pursuits place him roughly in a 35 percent minority. "I think the old people reject it generally and the young people accept it," he said. "But the strange thing is, the young people here in Kuwait, if they're married, they reject it for their wives."
He laughed slightly and said, "This is the strange thing I cannot understand." He added, "Even to my friends, I am talking to them, [telling them] that my wife is participating, and I am posting her participation on the Instagram, Twitter, because I am very proud of my wife and I'm proud of what she's doing and I don't hide it anywhere."
"In any situation in any incidence," Najla Al Jeraiwi said, "there are some people who criticize you, about the way you dress, about what you're doing, but in every side of the world. Doesn't matter if you're here or anywhere else. So just continue what you're doing, and you'll get shocked from the support you'll get from the people."
They're hoping to get more children involved, with earlier starts in life. Najla does just that on a Saturday morning, bouncing around with her uncommon energy to oversee a kids' mini-triathlon in her job organizing events at a seaside health club. Nowadays she gets questions from parents about nutrition, crucial for a region with a high rate of diabetes, as Tarek Sultan points out.
At 5 a.m. on Sunday, then, it's quiet in the club parking lot. The first light of day has come. In close view are a mosque and a P.F. Chang's. Into the parking lot comes an SUV, and out pops a 5-1 force of nature whose determination makes her "the perfect athlete every coach would like to train," Beltran said.
Najla goes inside, readies, swims in the Kuwait cap she used at the Asian Games. Amid one drill, she churns, reaches the wall, pops up. Her coach, a Filipino woman named Chal Burns, reads out her time.
Najla smiles.
The Female Muslim Athlete
Muslim countries from the Middle East might send an unprecedented number of female competitors to next month's Olympics in Rio de Janeiro. With the support of other women and a growing number of men, they have widened the cultural possibilities about the role of women in their societies, including standards about when they should marry, how soon they should start a family and what they should wear while competing. This series is about the courage and perseverance of female athletes in one of the last regions on Earth to celebrate them.
https://www.washingtonpost.com/sports/olympics/muslim-female-athletes-find-sport-so-essential-they-compete-while-covered/2016/07/29/a899e7a8-2da4-11e6-9de3-6e6e7a14000c_story.html
--
Mandsaur: was the attack on Muslim women a plot to stoke communal riots?
29 July 2016
Illegal trade in meat is fairly widespread in Madhya Pradesh's Ratlam and Mandsaur. Every day, 4-5 quintals of meat is illegally transported in these regions. Alleged meat smugglers are arrested regularly, but most are freed within days after payment of fine.
The recent attack on two Muslim women by cow protection vigilantes in Mandsaur for allegedly carrying beef has again linked meat smuggling with the contentious issue of cow slaughter. The attack led to a furore, resonating from the Madhya Pradesh assembly to the Parliament.
The possibility of a conspiracy to vitiate the communal atmosphere of MP cannot be denied in this case. The Mandsaur-Ratlam region is known to be communally sensitive. The state government had recently issued an alert to the collectors and police officials of all districts prone to communal violence, including these districts. It had shared inputs with local administrations about possible attempts to foment communal trouble and asked them to prepare for any contingency.
According to official data, MP saw 41 cases of communal violence last year, in which 167 people were injured. Six months ago, the government issued a directive to at least 12 districts, including Mandsaur and Ratlam, to improve "communal atmosphere".
On Tuesday, the train from Ratlam to Chittor halted at Mandsaur railway station at about 10.30 am. Salma Mewati and Shamim Hussain, both from Khanpura, alighted, carrying some meat. The vigilantes were waiting. They surrounded the two women as soon as they came out. The commotion started with sloganeering but soon turned into violence against Salma and Shamim.
The women kept shouting that they were innocent. Soon, the police reached the spot and seized 30 kg meat from the women. According to the local SHO, MP Singh Parihar, the court has sent both of them to jail. Four cases of illegal meat smuggling are already pending against Salma, while Shamim is an accused in three such cases.
COMMUNAL CONSPIRACY?
Separately, activists of the Vishwa Hindu Parishad were tipped off about two women carrying beef. They informed the Dhodhar police, which arrested the women with 20 kg of meat. This is prima facie reported to be buffalo meat. The samples have been sent to a laboratory in Mathura.
"Illegal transportation of meat is rampant in this region. Several people have been caught smuggling meat. Cases are pending against the arrested women as well. What is wrong in acting against this unlawful activity," asks local BJP MLA Yashpal Sisodia.
Sisodia though disapproves of the misbehaviour with the women. "Beating up women cannot be justified. It is a pre-planned conspiracy. One does not become a VHP or Bajrang Dal activist merely by carrying saffron flags or raising 'Jai Shri Ram' slogans. None of the people arrested for roughing up the women is an activist of these organisations," Sisodia adds.
Congress MLA Arif Aqeel sees it differently. It was a plot to "target innocent Muslim women", he says and demands that the culprits be brought to book as soon as possible.
Although Aqeel agrees that many Muslim women are involved in illegal transportation of meat in Mandsaur, he insists that it's not a communal issue. Aqeel recalls how communal tensions had flared up in this region in 2007-08 following reports of mass slaughter of cows. "Painting this incident in communal colours can be fraught with danger," he cautions.
http://www.catchnews.com/india-news/mandsaur-was-the-attack-on-muslim-women-a-plot-to-stoke-communal-riots-1469811485.html/fullview
--
Hijab-wearing Muslim women fear going out after increase in hate crimes
29 July 2016
MUSLIM women are worried to go out fearing their hijabs may make them targets for hate crimes.
A spokesman from Worcester Islamic Association spoke of people's concerns and hopes good community relations can be rebuilt after the fallout from Brexit.
It comes after superintendent for south Worcestershire Kevin Purcell talked about the work police have been doing following a slight increase in hate crimes over the last month.
He has been meeting with groups, community leaders and councillors to tackle the issue which he said was one of the priorities for West Mercia Police.
Spokesman Nazrul Islam said the association, based in Lowesmoor, gave advice or helped with issues and signposted people to other services who could help.
"People are frightened to go out to towns and cities - that's the message we're getting from people.
"Especially our females, for example if they have a hijab on when they are out they are frightened if they are going to have comments made to them.
"Obviously they have seen the report in the Worcester News of what happened in the Cornmarket to the four-year-old girl victim - that's frightening.
"Worcester has always had good community relations.
"People have been friendly in Worcester and all get on but after the referendum things are changing very slowly.
"What I have seen a hint of is people losing confidence going out in the city and towns."
Mr Islam said he did not believe it was just the Muslim and Asian communities that felt this way and other minority groups were feeling similar.
He said however that it was only a few "badapples" responsible for the increase which included a man allegedly shouting racist slurs in Tallow Hill, children chanting "Go home" at a Polish family's house and a taxi driver punched in the face.
Worcester Islamic Association, a charity established in 2009, advised anyone who is a victim of a hate crime or witnesses an attack to contact police.
"I wouldn't describe it as tension, it's a few bad apples who make it worse for others.
"I'd hope we would be able to build good relationships and a few people don't make it worse for others."
How to report a hate crime:
* In an emergency call 999
* For non-emergencies call 101
* Report online at www.report-it.org.uk
* Call in at a police station or stop police officers in the street
* Call the Victim Support national number - 0808 168 9111. You do not need to provide your name when reporting to Victim Support.
* Call North Worcestershire Victim Support on 01527 66462
* Call South Worcestershire and Herefordshire Victim Support on 01905 726885
http://www.worcesternews.co.uk/news/14651397.Hijab_wearing_Muslim_women_fear_going_out_after_increase_in_hate_crimes/?ref=arc
--
12th World Islamic Economic Forum Set To Accelerate Women's Leadership in SMEs
Jul 30, 2016
JAKARTA, Indonesia - There has never been a better time for women in Islamic Economies to be entrepreneurs. There are more business opportunities and more openings in the employment market for women today. They are being recognised for their value in contributing to the economy and to enrich the workforce.
The 12th World Islamic Economic Forum, to be held in Jakarta from 2 to 4 August, 2016, provides an opportunity for women entrepreneurs to connect, contribute, and share best practices and personal success on an internationally respected platform. There will be sessions and panel discussions dedicated to "Empowering Women in eCommerce", "Restructuring SMEs and Improving Credit Access and "SMEs in a World of Digitised Trade", where women entrepreneurs own 60% of SMEs globally.
The Forum will also feature prominent female speakers who have made a success of the businesses they run, such as Shinta Witoyo Dhanuwardayo, CEO and Founder of Bubu.com in Indonesia, Faduma Aden, CEO & Founder of Jemmila in Sweden and Fatma A. Elmaawy, Managing Partner of Auto Village in Kenya, to name a few.
The International Labour Organization data indicates that, on average, the female labour force participation in Islamic Economies has grown from 1990 to 2014. In ASEAN Islamic Economies such as Malaysia and Indonesia, the figure sits at 45 and 51 percent respectively. The Asian Development Bank says that SMEs make up over 99 percent of businesses; and out of that, 60 percent of these businesses are run by women.
According to Nita Yudi, Chairwoman of Indonesian Businesswomen Association (IWAPI), "Despite these figures, opportunities are still missed by women, due to poor support infrastructure. This is in spite of studies consistently showing companies that practice inclusion at the executive level generally outperform organisations with male-only boardrooms."
A global study by Credit Suisse revealed businesses with just one woman on the board outperformed all-male counterparts by 2 percent annually between 2012 and 2014. Despite this, women still only hold 1 in 10 of executive positions globally.
"The only way for an economy to reach its full potential is through inclusive growth, to provide equal opportunities for women in business and in our workforce, and we must work harder to ensure those structures are in place, enabling women and women with family responsibilities to be in employment," Yudi concluded.
The Asian Development Bank predicts that eliminating gender gaps in employment could add 70 percent to per-capita GDP throughout the region over the next 60 years.
http://www.eturbonews.com/73316/12th-world-islamic-economic-forum-set-accelerate-womens-leadersh
--
URL: https://www.newageislam.com/islam,-women-and-feminism/new-age-islam-news-bureau/indian-muslim-woman-to-give-kidney-to-sister-s-ailing-hindu-friend/d/108128