New Age Islam News Bureau
20 Jan 2015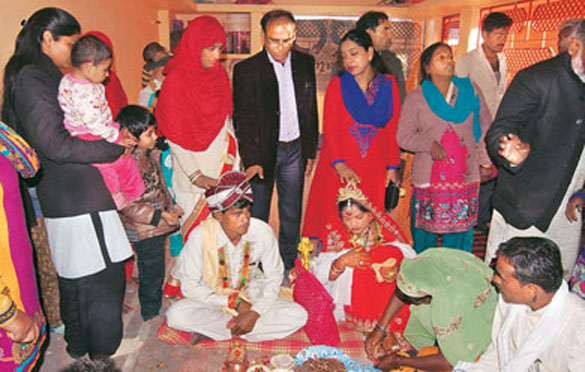 The Muslim couple, with their relatives, blessing the newly-weds
------------
• Malaysian Girls Threatened With Jail Time for Hugging K-Pop Stars
• Iran Stars Warned Over 'Selfies' With Women Fans
• Nigeria Boko Haram: 50 Children Abducted By Islamic Militants in Cameroon
• £2million Blackburn Islamic Girls Boarding School Gets Go Ahead
• Lebanon: Laws Discriminate Against Women
• Little Sister: The Girl Who Was Sold To Islamic State Has a Mission
• Darwin's Muslim Leaders and NT Police Discuss Hijab Harassment and Racism
• Afghan Border Police Zone 301 Hosts Women's Police Integration Conference
• Gujarat HC Orders Action against Muslim Youth for Second Marriage
• Duke Professor to Give Talk at Washington and Lee about Feminism in Islam
Compiled by New Age Islam News Bureau
URL: https://www.newageislam.com/islam,-women-and-feminism/new-age-islam-news-bureau/indian-muslim-couple-marries-off-adopted-hindu-daughter-according-to-hindu-tradition/d/101127
---------
Indian Muslim Couple Marries Off Adopted Hindu Daughter According To Hindu Tradition
Mail Today
20 Jan, 2014
At a time when the two main communities in the country lose no opportunity in baying for each other's blood, a Muslim couple performed the marriage of a Hindu girl on the premises of Ramjanki temple, situated on the banks of Narmada river at Budhni ghat in Sehore district of Madhya Pradesh.
Incidentally, the girl had been abandoned at a railway station 15 years ago. The ceremony performed on Saturday was according to Hindu tradition, culture and belief.
Guests and relatives of Nadim Akhtar and his wife Haseen Parvez reached the premises of Ramjanki temple, the venue for the marriage ceremony.
Akhtar and his wife landed with a few ornaments and items of regular use to be given to the daughter of a Hindu when she ties the knot with a boy of her community.
"Humanity is the best religion of humankind. We allowed Sharda (23), the bride, to follow her religion," Parvez told media persons after the happy ceremony.
To recall, Sharda (then seven years old) was abandoned at the Barkheda railway station in 2000. She was then sent to a shelter home "Nav Prabhat Samaj Kalyan Samiti", run by a Muslim community based in Goharganj of Raisen district in the state.
At the age of 15, she joined the family of Akhtar and his wife in Bhopal where she studied till Class VIII. She also took special classes in how to become a beautician and run a beauty parlour. It was during the same period when Parvez and her husband started looking for a suitable groom for her.
Finally, Sharda's marriage was fixed with son of Durga Prasad Patel, hailing from Ambai village of Goharganj tehsil in Raisen district and a date for tying the knot was fixed.
To a query why the marriage was held on the premises of a temple, Haseen said the groom's father and relatives had decided the wedding venue.
Subsequently, on Saturday, the temple premises reverberated with Hindu rituals amid chanting of Vedic mantras as the new couple entered into wedlock.
http://indiatoday.intoday.in/story/hindu-muslim-marriage-couple/1/413997.html
-----------
Malaysian girls threatened with jail time for hugging K-pop stars
20 Jan, 2014
K-Pop stars B1A4, have unwittingly landed some Malaysian fans in very hot water. Last week, video footage surfaced of the boy band hugging and kissing (on the crown of the head) three young, star-struck female fans, under the inflammatory headline, "Malay girls molested on stage by K-Pop artists," causing widespread outrage -- at the girls.
Under Malaysia's Criminal Offences Act, even these simple, platonic gestures fall under strict public indecency laws. And so, politicians and keyboard warriors alike are calling for the girls' prosecution for "offending the sensitivities" of Muslims.
The girls, as of writing, have not been identified, and authorities have called for them to come forward, warning criminal charges will be pursued if the girls don't give themselves up. Meanwhile, the management of the beleaguered boy band have released an official statement, declaring:
"The event took place after consent from those who participated...We understand that it could be perceived in such a way from certain perspectives and from now on we will take cultural differences into careful consideration in order to provide a more global fan-meet that all fans from different cultures can enjoy."
Obviously, the band's new-found cultural sensitivity doesn't do much to help the girls who could now face up to six months in prison, and must be terrified out of their wits. Watching the video, it's hard to fathom how something that looks so innocent could have such serious consequences. I understand that we are foreign observers, and that every country has the right to determine their own laws and standards, but this particular case isn't merely about cultural standards.
That fully grown adults are baying for the blood of three teenage girls, who have done nothing other than be teenage girls, is pretty chilling. As someone from a Muslim background, this sort of puritanical behaviour that many Muslims are prone to makes me cringe. There is an impossible amount of pressure put on young Muslims, particularly young girls, to behave in traditionally acceptable ways, even as the carrot of liberalism is dangled right before their eyes.
In this case, even as foreign pop stars are encouraged to tour (K-Pop is hugely popular), and local stars in the music and television business appear to be exempt from rules pertaining to moral propriety, ordinary Malaysian girls are somehow expected to represent a pure version of Islam to the world. Hence, the director of Federal Territories Islamic Religious Department (JAWI), is accusing the girls of "bringing shame onto Islam." I imagine that this has something to do with the fact that all three are wearing headscarves and so are visibly Muslim, but what an unbearable burden for adolescent girls to bear.
There are two things that bother me about this case.
Firstly, talk about a frivolous use of the term "offensiveness." When innocent teenagers gushing over their idols is denounced as "offensive," it makes something of a mockery of the term. Offensiveness should not merely be about feelings that are hurt or moral worldviews that are upset, but about behaviour that contributes to oppression and discrimination. Drawing a black person in the likeness of a monkey, for instance, is offensive, because this comparison is exactly one of the ways in which their dehumanisation has been justified. Likewise, using objectified images of women to sell products is offensive because of the long history of women being regarded as things to be owned and used by others.
In other words, the barometer for what is "offensive" should be whether it has real world consequences that can negatively impact people's lives. While teenage girls giggling around pop stars may irritate Muslim conservatives who think genders should be strictly segregated, it does nothing to contribute to discrimination against Muslims anywhere in the world.
If anything, the precise opposite is true. This antiquated attitude makes it so very difficult for those of us who wish to both challenge Islamophobic sentiment and to defend the rights of Muslims to free expression within their own communities, which leads me to my second issue; is this really about Islam or something else?
It's true that ultimately every country gets to determine their own laws but the question is, why are authorities so keen to pursue this particular case? The spokesperson of Sisters Of Islam, a progressive NGO, in agreement with some concerned netizens, has accused the JAWI of double standards, pointing out that Muslims hold hands in public and actresses play roles that "require physical contact" with male actors.
With that in mind, a quick look at some of the comments of outraged citizens claiming to be offended on behalf of Islam shows that this could well be less about religion and more about simple male jealousy.
"Korean men get to kiss for free... Malay men have to fork out RM15,000-RM20,000 to propose [to Malay girls]," complained one Facebook user. Meanwhile, a cartoon uploaded to social media contrasted a burqa-clad Muslim woman bearing an AK-47, with a Malay woman in a headscarf being hugged by a fair-skinned man, with captions declaring, "In Syria, women protect their honour and take up arms to defend Islam..while in Malaysia... they allow their honour to be dragged through the mud on stage."
Huh. It's almost like these men think they have the right to control women's bodies. It certainly seems that at least some of the outrage is about foreign men getting too close to local women. A local politician, for instance, tweeted his hopes that local women would return to "tall, dark, and handsome" Malaysian men, rather than the "pale" and "pretty" K-Pop singers.
On that note, Malaysian columnist Bu Su-Lyn writes:
"If the genders were reversed and it was female K-pop stars hugging Malay men, people wouldn't bat an eyelid. The attacks against the female K-pop fans show a disconcerting rejection of women's rights to self-determination over their own bodies...the...controversy illustrates the social (and perhaps, legal) cost of Malay women taking control of their own bodies. It also shows the entitlement that men have towards women in Malaysian society, where females are expected to gift one man – their husband — with their bodies….Enough with the slut-shaming."
Before this story is filed as yet another example of Islam's intolerance and intolerability, consider an alternative explanation: Some Malaysian men are irritated at Korean pop idols muscling in on their turf. To justify their offended Muslim sensibilities hurt feelings, they are invoking religion to shame and oppress women.
Who is really being offended here?
http://www.dailylife.com.au/news-and-views/dl-opinion/malaysian-girls-threatened-with-jail-time-for-hugging-kpop-stars-20150118-12slo3.html
-----------
Iran stars warned over 'selfies' with women fans
20 Jan, 2014
Iran's footballers have been warned they could face punishment if they take "selfie" pictures with female fans who have turned out in large numbers at the Asian Cup.
The head of the Iranian Football Federation's moral committee said players risked being used as a "political tool" if snapped with women fans.
Women are banned from attending men's sports events in the Islamic republic but they have flocked to see Iran's games at the Asian Cup in Australia.
Ali Akbar Mohamedzade, head of the moral committee of the Iranian Football Federation, issued the warning last week as photos of players with women fans circulated on social media.
"National team players should be aware that they won't be used as a political tool so that those who take pictures with them don't use these photos against the players," Iran's Shahrvand newspaper quoted him as saying.
"So according to this they should not take photos with everyone. If the players don't respect this, we will be obliged to take action."
No detail was given on what punishment the players might face. Enthusiastic male and female fans of Iran, many wearing the team shirt, have been a feature of the Asian Cup.
The scenes contrast with the situation in Iran, where women are banned from men's sports events on moral grounds.
Iran's Portuguese coach Carlos Queiroz has carefully steered clear of any controversy, giving a firm "no comment" when asked about the presence of women fans.
One female fan Tweeted pictures of goalkeeper Ali Reza Haghighi and midfielder Karim Ansari Fard posing with women, while another photo shows a woman holding an Iranian flag inscribed with a marriage proposal to Haghighi.
Three-time champions Iran are already through to the quarter-finals. Their games have been noisily supported with thousands of fans, some banging drugs and blowing trumpets.
"We are monitoring what is happening in Australia, we haven't sent any representative to Australia," Mohamedzade was quoted as saying.
http://english.ahram.org.eg/NewsContent/6/55/120703/Sports/World/Iran-stars-warned-over-selfies-with-women-fans.aspx
-----------
Nigeria Boko Haram: 50 children abducted by Islamic militants in Cameroon
20 Jan, 2014
Boko Haram fighters have abducted 80 people, most of them children, in an assault on villages in northern Cameroon.
Officials confirmed to Reuters that those abducted included 30 adults and 50 young children, after suspected militants "burst into two villages in the Tourou area", in Cameroon's far northern region.
A police officer told the AFP news agency: "They torched houses and left with around 60 people. Most of these people were women and children."
Up to 80 houses were destroyed as soldiers attempted to intervene, exchanging fire with the assailants for around two hours.
Government spokesman Issa Tchiroma Bakary confirmed that three people were killed in the attack, which targeted the village of Mabass and several others along the Nigerian border.
"According to our initial information, around 30 adults, most of them herders, and 50 young girls and boys aged between 10 and 15 years were abducted," a senior army officer told Reuters.
The assault comes just days after Amnesty International released satellite images of "catastrophic" Boko Haram attacks on two towns in Nigeria earlier this month.
Hundreds of people are believed to have been killed and over 3,700 structures were either damaged or destroyed in the attacks in Baga and neighbouring Doron Baga.
The Islamist organisation was also responsible for the kidnap of more than 200 teenage girls from a school in the northern Nigerian town of Chibok last April. Those abductions caused worldwide outrage and sparked a social media campaign under the hashtag #BringBackOurGirls.
Young girls and boys kidnapped by the terror group are being forced to participate in attacks, a rights group has warned.
Last November, a girl blew herself up in a collage in Kontagora, in Nigeria's central Niger state, killing 10.
In January, a 10-year-old girl was forced to carry out a suicide attack in Maiduguri, capital of Borno state, killing 16 people.
Thousands of people have fled from Nigeria to Cameroon because of Boko Haram attacks during a six-year insurgency to create an Islamic state, which has left thousands dead.
Cameroon has criticised Nigeria for failing to do more to confront Boko Haram.
Earlier this month, Boko Haram's leader, Abubakar Shekau, released a video threatening Cameroon's President Paul Biya, who has been vocal in his criticism of the group.
The Chadian government has announced it will send troops to Cameroon to help fight Boko Haram's insurgency.
On Friday, Ghana's President John Mahama said African leaders would discuss plans this week to "deal permanently" with Boko Haram militants, and that a multinational force may be considered.
http://www.ibtimes.co.uk/nigeria-boko-haram-50-children-abducted-by-islamic-militants-cameroon-1483983
-----------
£2million Blackburn Islamic girls boarding school gets go ahead
20 Jan, 2014
A £2MILLION Islamic girls boarding school for 400 pupils looks set to be given the go-ahead.
Councillors are being recommended to approve the new school in the grounds of the boys' college in Moss Street, Daisyfield, Blackburn, at a meeting on Thursday.
A petition and letters of support have been received for the development on a vacant parcel of land within the site of the College of Islamic Knowledge and Guidance and associated mosque.
But borough National Union of Teachers representative Simon Jones has attacked the plan for the new secondary school as 'unnecessary and unwanted'.
If approved, the 40,000 square foot 'Rawdhatul Ilm Wal Huda', or Gardens of Knowledge and Guidance' school , would house 200 boarding residents from around the country and possibly abroad.
It would also provide day education for another 200 girls from the Blackburn and East Lancashire area.
It follows the success of the Tauheedul trust' approvvals Islamic Girls High School, the best performing in the borough.
The new school would consist of a detached building, partly of four floors and partly of two surrounding an internal courtyard.
It would be 'of traditional Islamic architecture', with a large overhanging flat rood and arched windows and doors.
The current 'Jaimatul Ilm Wal Huda' boys college, established in August 1997, has 450 pupils aged between 11 and 18, most of them local but some from elsewhere in the UK and from overseas.
Boys college principal Mufti Abdus-Samad Ahmed, who has submitted the application for the sister girls' school, said: "'Gardens of Knowledge and Guidance' is a proposed secondary school for girls, of ages 11 and over.
"Since 1997, our Boys' School has been providing outstanding education to hundreds of learners – many of them achieving excellent results and progressing on to further and higher education and a range of careers. "We are excited about the opportunity to provide similar outcomes to girls and young women. "Our aim is to contribute to young people having the skills and qualifications to play a full role in their communities and develop as exemplary British citizens.
"The proposed plan received overwhelming support from local residents. "A couple of concerns have been raised, which we are working to resolve."
Two residents have objected to the plan, with one saying: "If this building goes ahead we will be overlooked."
The second warns of traffic gridlock' if the school goes ahead.
The Tauheedul Trust had to abandon plans for its boys secondary school on Clarence Street over problems with parking and playing fields.
Mr Jones, Blackburn with Darwen NUT representative, said: "The problem with independent schools, free schools and indeed academies is they are all outside of the local authority control, so it make the coherent planning for school admission numbers impossible.
"It further undermines community cohesion.
"We also do not know if it is an excuse to employ unqualified teachers.
"These kinds of schools are unnecessary and unwanted. It will have a devastating impact on other schools in the area, as we have already seen with the Olive School."
A report to the committee by borough planning officers recommends approval of the scheme with conditions.
http://www.lancashiretelegraph.co.uk/news/11735135.__2million_Blackburn_Islamic_girls_boarding_school_gets_go_ahead/
-----------
Lebanon: Laws Discriminate Against Women
20 Jan, 2014
(Beirut) – Lebanon's religion-based personal status laws discriminate against women across the religious spectrum and don't guarantee their basic rights, Human Rights Watch said in a report released today. Lebanon has 15 separate personal status laws for its recognized religions but no civil code covering issues such as divorce, property rights, or care of children. These laws are administered by autonomous religious courts with little or no government oversight, and often issue rulings that violate women's human rights.
The 114-page report, "Unequal and Unprotected: Women's Rights Under Lebanon's Religious Personal Status Laws," found that, across all religions, personal status laws erect greater barriers for women than men who wish to terminate unhappy or abusive marriages, initiate divorce proceedings, ensure their rights concerning their children after divorce, or secure pecuniary rights from a former spouse. The laws also violate children's rights, most significantly the need to consider their best interests in all judicial decisions concerning their welfare.
"Not only are Lebanese citizens of various religions treated unequally under the law, but women are treated unfairly across the board, and their rights and security go unprotected," said Nadim Houry, deputy Middle East and North Africa director. "Passage of an optional civil marriage code, alongside badly needed reforms to existing personal status laws and religious courts, are long overdue."
Human Rights Watch analyzed 447 recent legal judgments by religious courts adjudicating divorce, custody, and spousal and child support, and interviewed lawyers, judges, social workers, activists, and women who went through divorces or custody battles in religious courts.
Lebanon's constitution explicitly guarantees respect for the "personal status and religious interests" of the individual, whatever their religion. This constitutional protection has often been used as a justification to keep personal status laws under the exclusive realm of religious authorities, block attempts to adopt a civil code or ensure greater oversight over Lebanon's religious courts and laws.
The 1936 decree that established the basic personal status order and that remains operational recognized freedom of belief, granting each person the right to opt out of their religion's personal status laws and marry under a civil code. But Lebanon has yet to adopt a civil code despite numerous campaigns since independence to do so.
The 1936 decree required each religious group to submit its personal status code and trial procedures to the government and the parliament for review and ratification to ensure compliance with the constitution and public order. But while the Christian and Jewish confessions submitted their laws for review, the Sunni confession objected to the requirement, and a later decree was issued stating that the provisions of Decree 60LR did not apply to Muslims. In the vast majority of cases, the Court of Cassation, the country's highest court for all civil cases, will not consider the substantive decisions of the personal status courts.
"I forced myself to bear beyond what a human being can take, all the injustices and violence," said Mireille, a Maronite woman who endured years of physical abuse but only sought a divorce after her children became adults because of discriminatory custody provisions. "My daughters, who are my soul and my life, were the main reason... I couldn't even bear the idea of losing them."
Human Rights Watch reviewed 243 divorce cases and found systematic discrimination against women, including because of their disadvantaged access to divorce or court procedures that burdened women financially and created barriers to ending their marriage and protecting their rights.
Under Lebanon's Shia, Sunni, and Druze laws, men can demand a divorce at any time, unilaterally, and without cause, while a woman's ability to access divorce is limited, and often at great cost and after lengthy court proceedings. In principle, these laws allow women to have an explicit clause inserted into the marriage contract stating that husband and wife have an equal right to unilateral divorce, but this right is rarely exercised due to social pressure and customs. Only 3 of the 150 divorce judgments before Islamic courts that Human Rights Watch reviewed included such clauses.
Divorce is difficult for both men and women under Christian laws, but two key aspects of the Christian laws impact women differently and disproportionately. Christian men can convert to Islam and remarry without divorcing – Muslim men are legally allowed up to four wives, while a Christian woman may not enter into a new marriage without terminating her first marriage. And although spousal violence is grounds for desertion, short of attempted murder it is insufficient to end a marriage quickly.
Seven of the 27 women who wanted to end their marriage that Human Rights Watch interviewed said they did not approach religious courts for a divorce because they could not afford the costs of court proceedings or they feared losing primary care responsibility for their children.
Religious courts do not recognize joint custody of children, usually granting custody to the woman until a certain age, after which the father gets custody. But the father remains the child's legal guardian, passed to their male relatives in some cases if the father dies.
In reviews of 101 decisions in Christian, Islamic, and Druze courts, Human Rights Watch found that while religious judges often applied the maternal custody age cut-offs without examining what would be in the best interest of the child, some judges, particularly in Christian courts and more recently Sunni courts, were willing to consider that factor. But the religious courts rarely looked at the father's behavior in deciding custody issues, while scrutinizing the woman's conduct in ways that reflect social prejudice or stereotypes. The result was a greater likelihood that the mother would be stripped of custody than the father.
Of 27 women interviewed, 23 said that their principal obstacle to divorce was their vulnerable economic position. A major contributing factor is the failure of personal status laws to recognize a wife's economic and non-economic contributions to the marriage, including the value of her unpaid domestic labor, or the concept of marital property. In addition, cultural, religious, and traditional expectations and norms undermine a woman's economic independence and contribute to her financial dependence on her husband.
This system means that for example women can contribute, financially and otherwise, to assets in their husband's name but receive no compensation at the time of divorce. Women also frequently gave up their financial rights to get out of bad marriages.
Amina, who wed under Sunni personal status laws, gave up her financial rights even though her husband had abused her, because her husband demanded it in return for granting her a divorce. Amina said that the judge's only involvement was to advise her to accept the conditions.
Lebanon's current system of personal status laws violate women's human rights, including to non-discrimination, equality in marriage, and at its dissolution, physical integrity, and health. These rights are all guaranteed in several international human rights treaties that Lebanon has ratified. Under international law all children are entitled to have their best interests be a primary consideration in all decisions made by official bodies concerning their welfare.
The Lebanese parliament should adopt an optional civil code that would ensure equal rights for all Lebanese who wish to marry under it, Human Rights Watch said. The government should exercise oversight over religious courts and authorities to ensure compliance with human rights obligations and bring them in compliance with Lebanon's international human rights obligations, guaranteeing women and men equal rights in all personal status matters.
"Ending a marriage or determining who a child should live with after divorce are often difficult decisions," Houry said. "Lebanon should ensure a level playing field between men and women."
http://www.hrw.org/news/2015/01/19/lebanon-laws-discriminate-against-women
-----------
Little sister: The girl who was sold to Islamic State has a mission
20 Jan, 2014
Adeba Shaker, a 14-year-old from Iraq's minority Yazidi sect, recalled the day when she smiled again for the first time since her abduction by Islamic State militants.
It was October 28, 2014, when she was reunited with her younger sister who had also been kidnapped and sold in a market. Shaker and 13-year-old Chenar found each other at a camp for internally displaced people just outside Dohuk, in northern Iraq, where Chenar came after being freed by a Sunni Muslim family who paid to save her from Islamist fighters.
"I can't describe how I felt, I was so happy," Shaker told the Thomson Reuters Foundation at the camp. "Now we need to find everybody else."
Sixteen of Shaker's relatives are still being held by Islamic State fighters who control large swathes of Iraq and Syria. They were abducted from their village in the Yazidi heartland of Sinjar in northwestern Iraq, and separated.
Islamic State has hounded ethnic and religious minorities in northern Iraq since seizing the city of Mosul in June, killing and displacing thousands of Christians, Shi'ite Shabaks and Turkmen who lived for centuries in one of the most diverse parts of the Middle East.
Hundreds of Yazidi women and girls have been captured, raped and tortured, and forced to convert to Islam and marry Islamic State followers, according to rights groups. Shaker was trafficked to the Syrian border and was given as a "gift" to fighters on the frontline. She was converted to Islam and forcibly married to one of them.
Young Chenar was sold at the local market. Just hours before the bidding started, a Sunni man noticed her. "He said I was too young," Chenar said. He paid $1,500 for her and brought her to his home. "As soon as I stepped in the house, he allowed me to call my family."
Dangerous situation
Although she was told she would be released, the man told her to be patient. "The Daesh (an Arabic acronym used for the Islamist group) were watching all our moves, it was a very dangerous situation for everybody," she said.
Chenar was held in the man's house for 55 days. "I wasn't asked to do anything in the house. I would just eat and sleep. They were kind to me, although I was not permitted to go out."
The sisters told their story while sitting in their tent in the Shariya refugee camp that opened in mid-November. They live with two brothers, two cousins and an uncle. "We know other members of our family are still alive, some of them called us, but they have not been able to escape," said Sal, one of the brothers.
The Yazidi are a religious sect whose beliefs combine elements of several ancient Middle Eastern religions. Tens of thousands have fled Islamic State fighters, who say the Yazidi must embrace their radical version of Islam or die.
Harsh life in the camps
Shaker escaped from a house in Raabia, Iraq, in late August when her Islamic State captors received a phone call and stormed out. She took the chance to escape, running towards the Syrian border and to safety with Kurdish fighters.
She is now focused on finding her mother and sisters and leaving Iraq for good.
"Nowhere is safe here for us. I want to go away. I want to go to America." In the meantime, the family faces harsh, wintry conditions in the camp, where water seeps into tents when it rains. And fear remains.
Some of the nearly 3,000 families sheltering at Shariya are Sunni, the branch of Islam followed by Islamic State, and Shaker, like many others, fear further violence. "They are scared to be harmed again and, as a result, there is constant tension," said Stefano Nanni, who works at the camp for Italian aid group Un Ponte Per.
Nanni said the two groups were housed in separate sectors of the camp, but he thought they would have to be moved to different camps. There are 21 camps in the Dohuk area - five still under construction - where 700,000 people live, most of them Yazidis.
http://www.hindustantimes.com/world-news/little-sister-the-girl-who-was-sold-to-islamic-state-has-a-mission/article1-1308335.aspx
-----------
Afghan Border Police Zone 301 hosts women's police integration conference
20 Jan, 2014
NANGARHAR PROVINCE, Afghanistan – Afghan Border Police Zone 301 hosted a women's conference Jan. 13, 2015, to discuss the integration of women into the Afghan National Police.
Lt. Gen. Ayar, ABP Zone 301 commander, hosted the women's conference, which included participation from the Kunar province chief of police, Brig. Gen. Habib, the Nangarhar province regional training center commander, Col. Nuristani, various female police officers from Nangarhar, Kunar, Nuristan and Laghman provinces, and women interested in joining the Afghan National Police forces. Members of the Train Advise Assist Command – East Police Advisory Team were also on hand to support the event.
The women's conference discussed the importance of female integration and equality within the Afghan National Police, women's right to work according to Islamic Law, current police facilities and workshops available to support the training of women, and Afghan National Police female recruitment goals. The Afghan Ministry of Interior has directed the ANP to employ 6,000 females by the end of fiscal year 2015, employ 10,000 females by the end of 2016 and have women make up 10 percent of the workforce by the end of 2017.
At the event, Ayar helped explain some of the necessity for a robust female police force, "Due to Islamic Law, we must have police women search females, arrest females and collect intelligence."
The planning and coordination on behalf of the ABP ensured the first of many successful police women's forums.
Staff Sgt. Ashley Pena, the gender affairs lead for the Police Advisory Team, also assisted the ABP in planning the event. "This was a great opportunity for police women and prospective recruits to come together, understand the importance of their service and the initiatives of their government and leadership."
More than 100 Afghan police attended the conference, to include 35 women. The next women's conference is scheduled for March 2015.
http://www.dvidshub.net/news/152262/afghan-border-police-zone-301-hosts-womens-police-integration-conference#.VL1zA9LF84U#ixzz3PIv3OCiJ
-----------
Gujarat HC orders action against Muslim youth for second marriage
Saeed Khan,TNN | Jan 20, 2015
AHMEDABAD: Gujarat high court on Monday directed the authorities in the city to take action against a married Muslim boy, who illegally solemnized second marriage with a Hindu girl under the special marriage laws even while his earlier marriage subsisted.
The boy mentioned in the application before the marriage registrar that he was 'unmarried' when he applied for second marriage in October last year. When the court ordered action for providing false information to the marriage officer, the girl threw tantrum in courtroom and threatened that she would commit suicide by strangulating herself with her dupatta.
The court took police's help to contain the girl and ordered her to be sent to the Nari Vikas Gruh at Paldi, where she will stay till January 28.
The boy has been restricted from seeing her in the meantime.
The youth is an automobile mechanic and runs a garage in Danilimda area, while the 19-year old girl is a BCom student. By stating that he was unmarried, the couple obtained marriage certificate on December 24 and eloped later on.
As girl's father filed habeas corpus petition, cops brought the couple before the court on January 16. The boy confessed that he was already married and was shouldering responsibility of a huge family of 25 members. The girl too said that she was aware of the boy's marital status. The court asked the boy to furnish his marriage certificate.
On Monday, the boy furnished the certificate showing that the marriage was solemnized under the Special Marriage Act. Advocate Apurva Dave, who represents the girl's father, argued that this inter-faith marriage was contrary to specific provision of section 4 of the Act. He submitted that the marriage is not valid because the boy's earlier marriage subsisted and his wife was alive.
A bench headed by Justice R R Tripathi ordered Kagdapith police to place all documents before the marriage officer so that appropriate action can be taken against the boy for supplying false information in order to solemnize second marriage.
http://timesofindia.indiatimes.com/city/ahmedabad/Gujarat-HC-orders-action-against-Muslim-youth-for-second-marriage/articleshow/45950112.cms
-----------
Duke professor to give talk at Washington and Lee about feminism in Islam
20 Jan, 2014
Miriam cooke, the Braxton Craven Professor of Arab Cultures and director of the Middle East Studies Center at Duke University, will give a talk at Washington and Lee University on Monday, Jan. 26, at 5 p.m. in the Hillel House.
The title of the event, which is free and open to the public, is "Feminism in Islam." It is sponsored by W&L's Department of Politics, the Department of Religion and the Women's and Gender Studies Program.
cooke, who intentionally spells her name with only lowercase letters, is the author of "Nazira Zeineddine: A Pioneer of Islamic Feminism" (2010) and "Women Claim Islam: Creating Islamic Feminism through Literature" (2001), among others.
Her writings have focused on the intersection of gender and war in modern Arabic literature and on Arab women writers' constructions of Islamic feminism. She earned her Ph.D. from Oxford University in 1980 and has been a visiting professor in Tunisia, Romania, Indonesia, Qatar and at Dartmouth College.
http://augustafreepress.com/duke-professor-give-talk-washington-lee-feminism-islam/
-----------
URL: https://www.newageislam.com/islam,-women-and-feminism/new-age-islam-news-bureau/indian-muslim-couple-marries-off-adopted-hindu-daughter-according-to-hindu-tradition/d/101127