New Age Islam News Bureau
8 Jan 2020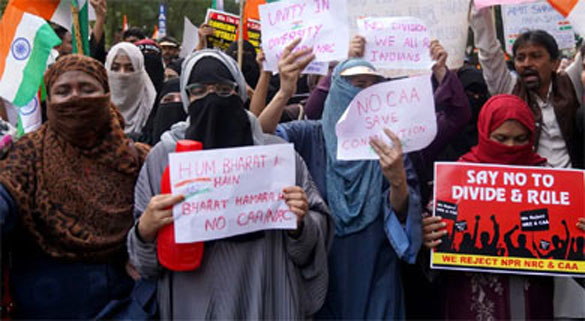 Women have been taking a leading role in protests against a new citizenship law in India. (Vinod Babu/Reuters)
------
• Indian Citizenship Protests Drawing Many Muslim Women and Girls — Housewives, Students with Hijabs Covering Their Hair
• Muslim Women Cooked Breakfast for 150 Fire-Fighters in Australia
• Chicago Co-Op Empowers Immigrant Women, Refugees
• Film, Based On the Life of Acid Attack Survivor Laxmi Agarwal, Is Here To Break Stereotypes: Deepika Padukone
• Kerala Woman Pleads For 'Daesh Sympathiser' Daughter Lodged In Kabul
• Rare Phenomenon: Emirati Woman Delivers Quadruplets At A Sharjah Hospital
• Singapore: Woman Gets Jail for Embezzling S$38,000 from Mosque Over More Than 2 Years
• Woman Arrested At the Jamia Mosque in Nakuru Handed Over To Anti-Terror Police
Compiled By New Age Islam News Bureau
URL: https://www.newageislam.com/islam-women-feminism/indian-citizenship-protests-drawing-many/d/120740
------
Indian Citizenship Protests Drawing Many Muslim Women And Girls — Housewives, Students With Hijabs Covering Their Hair
Jan 06, 2020
Ongoing protests in India against a new citizenship law that critics say targets Muslims, are drawing many women and girls — housewives, students with Hijabs covering their hair, and others in full-length burka robes — in a rare sign of public anger against the government.
"What is happening in the country is wrong," Shabana, a 21-year-old student at Jamia Millia Islamia University, said through the veil covering her face. Jamia Millia is a major public university in the capital where a large number of Muslims study. "They can't suppress our voices."
The women can be seen painting graffiti on university walls, organizing rallies and gathering funds for posters and food for protesters. Often, they rally under the watchful eye of police dressed in riot gear.
Shabana, who would only provide her first name, said she had been moved to act after some of her friends had been injured when police stormed the Jamia campus to break up a protest involving hundreds of students last weekend.
At least 200 students were injured as police fired tear gas and used batons to disperse the crowd. The police have denied using excess force.
"I had to lie to my parents, but I'm still here, because this is important. We need to speak out," Shabana said at the rally Tuesday. "I was horrified when I saw their injuries."
The protests, some of the most widespread in India in recent years, erupted on Dec. 11 after parliament passed the controversial law, which protesters say is an attack on India's secular foundations.
The Hindu nationalist government of Prime Minister Narendra Modi insists the new law is essential as it eases the path for minorities from neighbouring countries to gain Indian citizenship. But critics say it is biased as it excludes Muslim immigrants.
'We are not scared'
Many protesters Reuters spoke to over the past week are Muslim women and girls from conservative backgrounds. Some said they had to sneak out of their homes to join the protests.
"My mother stops us from stepping out, but if we do not show strength now, then how will we encourage others to step out?" said Nazia, a 13-year-old schoolgirl protesting outside the university.
In the past, women have played a prominent role in many Indian protests, including those that broke out following the brutal rape of a young woman on a Delhi bus in 2012.
But the current displays of public anger include people not usually seen out protesting. Social norms have often restricted participation by Muslim women in the public arena in India.
Most girls and women interviewed declined to give their full names as they did not want their families to know they were involved in the protests.
Shumaila, a 24-year-old PhD scholar at the Jamia university, said that many women from around the surrounding neighborhood had also come out in solidarity with the students.
One of them was Nadia Khan, a 35-year-old housewife who said: "The government has forced us to come out on the streets."
"We are not scared of the government or the prime minister. We are ready to take a bullet in our chest," she said. "We know how to fight for our rights."
Among the most striking images of the protests that began in India's northeast before mushrooming across the country, was one of three young women pointing fingers in the air and shouting slogans from the top of a wall outside the Jamia campus last week, with a throng of protesters around them.
One of those women, Chanda Yadav, comes from the northern Indian state of Uttar Pradesh, where she says she was raised in a conservative environment in which women's voices were suppressed.
"There were restrictions on everything from the kind of clothes I wore to what time I would come home from school," said Yadav. "I would always argue with my family over it. My uncles would often say, 'Shut up, you've got a big tongue!'"
Yadav, 20, is now a Hindi language masters student at the Jamia university, and her voice, as she stood alongside two hijab-clad school-mates, was among the loudest at the protest.
Yadav said she was a Hindu, but felt strongly that all Indians needed to come forward to oppose the law.
"This is not the issue of just one community," said Yadav. "What they are doing to Muslims today could happen to anyone tomorrow."
https://www.cbc.ca/news/world/india-protests-citizenship-women-muslim-1.5417132
------
Muslim women cooked breakfast for 150 firefighters in Australia
2020-01-07
By Leyal Khalife
Millions of acres of land have been burned, tens of people have been killed, and countless others have been left stranded following the devastating bushfires that have taken a toll on Australia in recent months.
The horrifying fires were nothing short of disastrous and destructive. But they were also met with humanity in a time of tragedy. A Muslim group made it out to a fire-stricken town in Australia to offer their support to those who have been affected by the devastating fires.
That's not all they did.
Over the weekend, women volunteers at the Australian Islamic Society - from Newport, Victoria - cooked meals for 150 firefighters at the Johnsonville Volunteer Fire Brigade. In just 48 hours, the women were able to supply five trucks of aid supplies, raise $1,500, and organize a breakfast for the firefighters who have been tirelessly attempting to contain the fires that have erupted in East Gippsland.
"It was very emotional to see how tired and drained they were. They were just exhausted," one volunteer told Daily Mail Australia.
The members, alongside other volunteers, traveled for more than four hours to distribute aid to victims affected by the fires.
To make all this happen, the volunteers worked overnight to organize it all. After staying up on Friday night, the group headed to relief areas and worked all day Saturday without so much as a complaint. They were escorted by the Melbourne Fire Brigade to affected areas to offload the items.
"No words can describe how proud we are of our sisters, may Allah reward you all. You are an inspiration to all," the Australian Islamic Centre wrote in a Facebook post.
The bushfires across East Gippsland have left hundreds of homes up in flames; many have been displaced as a result of this. Areas that have been most affected include New South Wales, Victoria, and South Australia; the fires have reportedly burned an area roughly the size of Croatia.
The devastating fires will most likely continue burning until at least March, authorities predict.
https://stepfeed.com/muslim-women-cooked-breakfast-for-150-firefighters-in-australia-4631
------
Chicago Co-Op Empowers Immigrant Women, Refugees
Maria Ines Zamudio
January 7, 2020
The war in Aleppo, Syria, destroyed Safiya's life.
Her husband, son, mother, brothers and sisters were all killed in the war. Safiya managed to escape with her remaining four children to Jordan, where they lived for three years. Then, in 2016, the family made Chicago its new home.
Despite the trauma of war and grief, Safiya had to find a way to navigate a new country without knowing the language. She said her children inspired her every day to keep going.
"[Safiya's son] didn't go to school for five years because of the war and came here and had to learn a new language, and right now he's on honor roll and getting awards, going to awards assemblies," Safiya said through a translator. WBEZ is not using Safiya's real name because she's a refugee.
But Safiya has a valuable skill: She knows how to make clothes.
Safiya is one of four refugee and immigrant women advocating for an ethical garment industry in Chicago. Their new sewing co-op, Blue Tin Production, aims to empower immigrant women and, in the process, create a sustainable garment manufacturing option for designers and consumers.
Hoda Katebi, a fashion blogger and activist, raised over $40,000 in crowdsourcing and foundation funds to launch Blue Tin in 2019.
"This project came from my own interest in wanting to start a clothing line in the U.S., that was obviously ethically produced [with] sustainable fabrics, and seeing the huge gap that exists in domestic manufacturing in the United States, in which the majority of the clothes made in America are made in prisons," Katebi said.
The name for Blue Tin comes from the blue metal cookie container that's often used to store sewing materials.
"It definitely has been so much like a project of the community here in Chicago," Katebi said. "It is definitely so much driven by everybody, all of the members here since we are a workers co-operative. Everyone gets to own and run the business and decide the direction that it goes in what we do everyday. So that, itself, is also really exciting."
And Katebi said immigrant women having ownership in the co-op is important because many women in developing countries who make the clothes we wear in the U.S. are paid low wages and are sometimes physically or sexually abused.
"People just don't understand how clothes are made," she said. "And that itself is a huge barrier for people to understand why clothes are so cheap and that violence has gone into creating the clothes to make it so cheap."
The Blue Tin sewing co-op has become like home for the women who own it.
Unlike some women in the co-op, when Mercy joined Blue Tin, she was not escaping war but an abusive husband.
After Mercy migrated from Nigeria to Chicago to join her husband, she faced daily cruelty from him.
"All that time, from 2003 ... to 2017, it was like a living hell," Mercy said.
She was in a new country and completely dependent on her husband. But she knew how to sew. She bought a sewing machine and started making clothes. Mercy's ability to sew became her ticket out of an abusive marriage.
When she started looking for work, Mercy said her children told her, "Ma, I don't see you working for somebody. You are your own boss."
For Mercy, Blue Tin came along at the right time. "This is an answer to prayer," she said.
Despite the language barriers, Mercy said the women are like sisters.
"Because they don't speak English and I don't speak Arabic, I thought that was going to be an issue," she said. "But no. Even though they don't speak, they just point to things, and they get it."
And that's because these women have a universal language: sewing.
For Katebi, clothes and fashion are ways to continue her political work — because she says clothes are inherently political.
"Fashion is so political in terms of where it's produced," Katebi said. "The fact that the majority of our clothes are created in South East Asia. What does that say about power dynamics when the majority of that is consumed in the West, and we have no relationship to the maker."
And the way we dress is also political — more so for some groups than others, she said.
For example, black men who wear hoodies or baggy pants are politicized, Katebi explained. So are black women for the way they wear their hair, she added.
Muslim women who wear a hijab are also politicized, she said.
In Oklahoma, where she grew up, Katebi said her mother had a difficult time finding work because she wore a hijab. Katebi wishes her mother could have taken advantage of a project like Blue Tin.
"This is obviously a very personal project ... knowing the legacy of my own family and the struggles that they faced when I was very young, but I continue to face to this day," Katebi said. "And what with the Muslim ban and so much heightened anti-immigrant, anti-refugee sentiment in the U.S., it makes a space like this all the more important."
This story was produced in association with the Round Earth Media, a program of the International Women's Media Foundation.
https://www.wbez.org/shows/wbez-news/chicago-garment-production-coop-empowers-immigrant-women-refugees/47064e9a-dbe1-4acd-b1a4-0378ba4b5aff
------
Film, Based On the Life of Acid Attack Survivor Laxmi Agarwal, Is Here To Break Stereotypes: Deepika Padukone
Neha Mahamood
January 6, 2020
When Deepika Padukone teared up at the trailer launch of Chhapaak last month, the emotional toll the movie had taken on the actress was there for all to see. Playing the lead character of Malti in the biography based on the life of acid attack survivor Laxmi Agarwal, the drama is definitely not for the faint of heart.
Deepika turned producer for the first time in her latest film project that follows the life of the young woman as she tries to rebuild her life after a man threw acid on her face on a public street in New Delhi in 2005.
After having done a varied list of roles like in Padmaavat (2018), Piku (2015), Yeh Jawaani Hai Deewani (2013) and many more, playing the role of Malti was admittedly an emotionally challenging one for her.
An advocate for mental health awareness, the actress knows the impact body shaming can have on the mind. Deepika felt passionate about taking this role on because she realised the importance of having Laxmi's story taken to the greater audience.
The actress, who celebrated her birthday yesterday in Mumbai, has been a busy bee promoting Chhapaak.
Excerpts from our telephonic conversation with the actress ahead of the movie's release.
We last saw you in Padmaavat in 2018. Was this little break intentional or were you just holding out for the right roles?
I was waiting for the right script to come my way so I can channelise all my energy in the right place.
During the trailer launch of Chhapaak, you got really emotional. When was the last time you felt so emotional about a movie role?
Every film on some level is an emotional journey. But then your attachment to that varies based on so many different things; on set experiences, and the character that you're playing and the story. I don't think I've ever come across something as impactful.
Did you relate to the character or were you just emotionally invested?
A bit of both. It's a combination of having lived as the character for so many months and having invested in it emotionally. I think being an actor also allows you to empathise and live the life of somebody else. So both of those things have been emotionally challenging for me.
What helped you get into the mindset of Malti? Did you speak to Laxmi Agarwal before starting the film's shoot?
I've met her several times many years ago in a completely different context. And I've had the opportunity to meet her several times through the process of this movie as well. It definitely enables you as an actor when you get to meet a character you're playing.
In fact, this is the first time I'm playing a real life character. I've never played a real life character before and especially a living person. So that makes it all the more challenging. When you're playing real life characters you've got to do it with a sense of responsibility as well. But yes, getting into the character is so many things. The physicality is just one part of it; more important than that are the emotional formalities.
Chhapaak is not your everyday feel good entertainer. It's a hard hitting emotional ride. What attracted you towards it?
(I was attracted towards Chhapaak) at many levels. I think one is to create awareness about the act of violence not just in our country but globally and the crime rate is only increasing. But more importantly to shed light on it.
Bollywood essentially puts a lot of focus on beauty and good looks. What are your thoughts on the importance the film industry places on women fitting a certain mold?
I can't speak for everyone. Different filmmakers have different agendas, different filmmakers have aesthetic sense, different emotional understanding, and different directors and actors want to tell different kinds of stories. So I can't really comment on what has been done but I can tell you that Chhapaak as a film is here to do exactly what you've asked; to break that stereotype and to broaden our understanding of what our perception of beauty is.
As an advocate for mental health awareness what advice would you give someone going through their own share of body image issues that is affecting their mental state?
I think acceptance is key. While I think what Laxmi has been through in her own way has been extremely traumatic, but for someone like me, I've been through depression and that was a life altering experience for me. So while the two experiences cannot be compared and are so different from each other, I think the takeaway here is that both of us have chosen to not succumb and we've chosen to overcome our experience, and what we've made of our lives after that.
I think we're able to do what we do because we've accepted what we've been through. I think acceptance is key. And when I say acceptance, of course, of ourselves in terms of what we've been through but also acceptance from society.
https://www.khaleejtimes.com/citytimes/chhapaak-is-here-to-break-stereotypes-deepika
------
Kerala woman pleads for 'Daesh sympathiser' daughter lodged in Kabul
January 07, 2020
Thiruvananthapuram: A hapless Kerala mother on Tuesday begged the Centre to see that her daughter Nimisha who was a Daesh supporter and currently lodged in a jail in Kabul is brought back to India.
Bindhu told the media that she too heard the news that her daughter along with nine other Indian widows of former Daesh activists are currently lodged in a jail at Kabul.
"I beg the Centre to take steps to see that my daughter and others who are lodged in a jail in Kabul is brought back to India. I am an Indian and I want the due process of Indian law to look into what they did. I do not want my daughter to be tried in an alien country and I have full faith in the laws of my country," pleaded Bindhu.
"I want to know the truth on who were behind my daughter. I have already shared whatever information I had with the NIA. I really want to know how, and what happened to my daughter and who were behind misleading her. The entire evidence of what happened to her is in Kerala, so the Centre should bring back my daughter and others," said Bindhu.
Among the ten include Nimisha and two other Kerala ladies - Nabeesa and Maria.
The news of Keralites joining Daesh surfaced after the Kerala government contacted various central agencies - IB, NIA, RAW in 2016 about the veracity of reports about 19 missing people from the state and according to some of the relatives they are believed to have joined the Daesh.
These 19 included 10 men, six women and three children and of these, most of them hail from Kasargode and a few from Palakkad districts and includes Christian and Hindu converts.
While in the past two years, a few of those who had joined Daesh were reportedly killed, according to their relatives, who got information about it and the husbands of the three Kerala ladies were among those who have been killed.
It was in 2016 that Bindhu, who is settled near Manacadu in the state capital approached Chief Minister Pinarayi Vijayan seeking his help to locate her daughter who had gone missing.
But later it was known that Nimisha has got married to her friend Eeza, a Christian who had converted to Islam.
Further to this the news came that she had left for Afghanistan and the last contact the mother and daughter had was in November last year, when she spoke to her daughter and husband.
https://gulfnews.com/world/asia/india/kerala-woman-pleads-for-daesh-sympathiser-daughter-lodged-in-kabul-1.1578394312249
------
Rare phenomenon: Emirati woman delivers quadruplets at a Sharjah hospital
January 05, 2020
Ashfaq Ahmed
Sharjah: An Emirati mother is overjoyed after she gave birth to four boys at Zulekha Hospital in Sharjah.
The 29-year-old Emirati woman and her husband, who live in Ajman, were thrilled to receive new members to the family after a prolonged wait.
The family was gifted four times the joy when she gave birth to the quadruplets, the hospital confirmed on Sunday.
Quadruplets are a rare phenomenon that occur 1 in 700,000 deliveries — and the average length of gestation at birth is 29 weeks. This is the first such case in Zulekha Hospital, Sharjah since its inception in 1992.
The babies, all boys, were delivered on October 28, 2019 at 28 weeks of pregnancy with extreme caution following an hour-long Caesarean operation.
They weighed 0.83 kg, 0.86 kg, 1.1 kg and 1.05 kg respectively.
All the four babies and mother are doing well, said the hospital.
Discharged
The babies were discharged when they were around 36 weeks corrected gestation and all have crossed 2 kg weight mark.
Though the delivery took place on October 28,2019, the news was released on Sunday after they were discharged from the hospital last week in good health.
The hospital did not reveal the name of the parent and also did not release photos as the family did not give consent.
Dr Pooja Mohan Jaisal, Specialist Gynecologist, said the woman faced extreme discomfort and shortness of breath due to pushing of diaphragm by an extremely large and distended uterus.
Dr Pooja Mohan
"She was admitted for management of this condition in the previous hospital she visited and was discharged after bleeding was momentarily controlled. However, she needed early delivery as the antepartum hemorrhage could have been life threatening to the fetuses," said Dr Mohan.
"I was in intense pain and was advised to expedite my delivery after minimising the risks, so I decided to come to Zulekha Hospital Sharjah. The reputation of Zulekha Hospital, expert doctors and availability of Level III NICU services helped me with the decision," added the new mother.
Dr. Sujay Narayanarao, Consultant Neonatologist commented: "All babies faced challenges related to lung immaturity at the time of birth and required CPAP (Continuous positive airway pressure) respiratory support at birth. Three of them also received surfactant after birth to help with the maturity of the lungs. Total parenteral nutrition was administered to all of them for weight gain and balanced nutrition."
Dr Sujay Narayanarao
Routine head ultrasound scan and eye evaluation were normal for all the babies and they are doing neurologically well at present. The neonatal team at Zulekha Hospital is expecting a good neurodevelopmental outcome for all of them.
https://gulfnews.com/uae/rare-phenomenon-emirati-woman-delivers-quadruplets-at-a-sharjah-hospital-1.68816140
------
Singapore: Woman Gets Jail For Embezzling S$38,000 From Mosque Over More Than 2 Years
08 Jan 2020
By Lydia Lam
SINGAPORE: A woman working at a mosque dipped her hand into its coffers, drawing out about S$38,000 between 2017 and 2019.
For one count of criminal breach of trust by a servant, with another two similar charges taken into consideration, 36-year-old Marlina Abdul Rahman was sentenced to nine months' jail on Wednesday (Jan 8).
She had pleaded guilty to the offences, crying in court and telling the judge that she had just discovered she was pregnant.
The court heard that Marlina, who was not represented, worked as a corporate service officer at Darul Aman Mosque in 1 Jalan Eunos.
She began taking money from the mosque a few months after she started work there in late January 2017.
She was entrusted to collect payments for the religious institution, gathering donations from the public, fees for using the mosque facilities and payments for religious classes.
Between March 2017 and November 2017, Marlina took a total of about S$15,000 belonging to the mosque.
She took another S$12,770 between January 2018 and November 2018, and S$10,195 between January 2019 and July 2019.
In August 2019, a corporate and estate manager at the mosque discovered that there was a shortage of S$4,800 from the money collected by the mosque during the Hari Raya Haji period.
She checked the receipts and the mosque's accounting system and found that Marlina had issued about 219 manual receipts, which were meant only as a back-up if the accounting system was down.
The manager made a thorough check and found that 155 of the 219 manual receipts had not been registered in the accounting system, and nine of the 64 manual receipts that had been registered were logged with smaller amounts in the system.
Marlina spent the money on her own expenses, as well as those of her family.
In total, she took S$37,877.50 from the mosque, and has repaid only S$4,800, said Deputy Public Prosecutor Suhas Malhotra.
For criminal breach of trust by a servant, she could have been jailed for up to 15 years and fined.
https://www.channelnewsasia.com/news/singapore/woman-gets-jail-for-embezzling-s-38-000-from-mosque-over-more-12242818
------
Woman Arrested At the Jamia Mosque In Nakuru Handed Over To Anti-Terror Police
Mercy Kahenda
07th Jan 2020
A 20-year-old woman arrested at a mosque in Nakuru town has been handed over to the Anti-Terrorism Police Unit (ATPU) in Eldoret for interrogation.
According to authorities, the lady was picked up by regular police at the Jamia Mosque last week on Friday after the Imam, Ahmad Rashid, raised alarm over a suspicious person amidst them.
County police commander Stephen Matu said the woman, dressed in a hijab did not reveal where she came from, and what she was doing in the country.
She too did not have identification, neither carried travel documents.
"Clergy brought the woman to the police station saying she was a stranger and acted suspiciously when questioned about her identity and where she hails from," said Matu.
The police boss said the woman was handed over to Directorate of Criminal Investigations (DCI) headquarters in Nakuru for interrogation and later handed over to ATPU on Tuesday morning.
During interrogation at the DCI offices, the woman is said to have shared limited information with investigators.
"We are yet to establish where the woman came from, what she does for a living and if she has a family because she was reluctant to share information after her arrest," he added.
Matu said more information about her whereabouts would be revealed after completion of investigations by the special police unit.
Imam at Jamia mosque said they shall not allow people with suspicious characters to influence the youth. "We shall a work closely with police to guarantee safety of worshipers and to curb various crimes," he said.
The suspect was handed over a day after two aliens arrested on a road block were handed over to APTU for more probe.
Matu said police have intensified surveillance in all areas that seem prone to terror attacks in the cosmopolitan town.
"Police shall continue with regular patrols in various localities highly frequented by locals. We are also calling on the public to always share with us information of suspicious characters as a way of fighting terrorism," said Mr Matu.
Last year, Nakuru launched County Action Plan for Preventing and Countering Violent Extremism and Nakuru County Violence Prevention Policy to curb terrorism and crime.
According to the document, violence in and around Nakuru has increased gradually over the years with an increase in organized crimes, land related violence, sexual violence, armed robberies and election related violence.
https://www.standardmedia.co.ke/article/2001355606/woman-arrested-at-mosque-handed-over-to-anti-terror-police
------
URL: https://www.newageislam.com/islam-women-feminism/indian-citizenship-protests-drawing-many/d/120740
New Age Islam, Islam Online, Islamic Website, African Muslim News, Arab World News, South Asia News, Indian Muslim News, World Muslim News, Women in Islam, Islamic Feminism, Arab Women, Women In Arab, Islamophobia in America, Muslim Women in West, Islam Women and Feminism