New Age Islam News Bureau
15 Sept 2014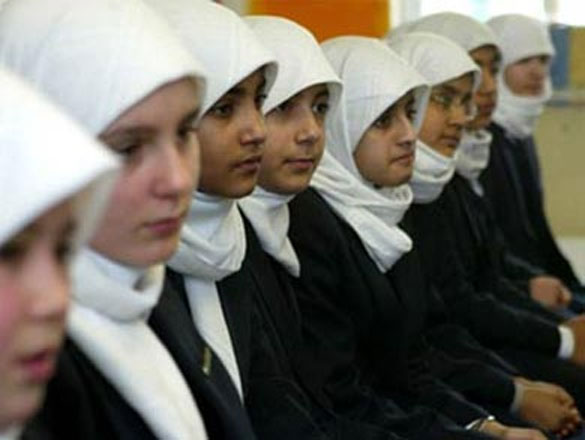 A leading Muslim academic is calling for Catholic schools in Ireland to allow Muslim students to wear the Hijab in class and for religious symbols to be removed from school crests.
-----------
• Kyrgyz Deputies Request Minister to Consider Rights of Girls Wearing Hijab
• Connecticut Women Support Afghan Women
• 27 Saudis on Forbes 200 Most Powerful Arab Women list
• Iraq Honours Its First Anti-ISIS Female Tribal Leader
• First All-Female Business Process Service Centre Opens in Riyadh
• I Am a Muslim American and I Deserve Respect
• Leading Muslim Academic Calls on Irish Catholic Schools to Allow Wearing Of Hijab
• Boko Haram Has Turned Many Women Beggars, Says Group
• St. Paul Woman Unexpectedly Leaves Home For Syria
• Iraqi Women Sold to IS Monsters like 'Cattle at an Auction': Report
Compiled by New Age Islam News Bureau
URL: https://newageislam.com/islam-women-feminism/india-wife-alleges-muslim-woman/d/99084
--------------
India: Wife Alleges Muslim Woman of 'Love Jihad' with Her Husband
Bhaskar News | Sep 15, 2014
Bhopal: A woman named Amrita Advani has alleged a Muslim woman, Firdaus of marrying her husband and converting his religion. According to Amrita, her husband also converted the religion of their 4-year-old daughter.
As to a report published in an English daily, Amrita has filed a complaint with Madhya Pradesh State Commission for Women stating it as a case of 'Love Jihad.'
Amrita alleged that Firdaus wooed her husband Amit with expensive gifts. She said that Amit and Firdaus along with her daughter went missing on June 25. Firdaus have a boy from her last marriage and her husband has died.
Amrita wanted to lodge a case on her husband Amit for kidnapping their 4-year-old Daughter. She contacted the police but did not file a complaint. The police said that the girl is with her father and filed the complaint for 'missing.'
The Women Commission pressured police to investigate the matter. The Commission argued that even if it the case of love affair, Amit should not have taken the daughter along.
Amit and Firdaus were found living in a rented accommodation in Sarkhej near Ahmedabad. The police brought them to Bhopal on Friday along with the children. According to SP Arvind Saxena, the daughter has been returned to her mother.
However, no criminal case has been filed against Amit and Firdaus. As Amrita did not agree for to the divorce, her husband Amit has proposed a different deal to her.
According to the proposal, Amit aka Ayaz Khan said that he will distribute his time equally among both the wives. According to his lawyer, Amrita has asked for 2 days time to think about it.
http://daily.bhaskar.com/news/MP-BHO-bhopal-wife-alleges-muslim-woman-of-converting-her-husband-daughter-religion-4745401-NOR.html
--------------
Kyrgyz Deputies Request Minister To Consider Rights Of Girls Wearing Hijab
15/09/14
Deputies of Kyrgyzstan sent a letter to the Minister of Education and Science, demanding to consider the rights of girls wearing hijab to school, a member of Ar-Namys faction Tursunbai Bakir uulu said to 24.kg news agency.
According to him, 20 parliamentarians appealed to Kanat Sadykov that, while approving the sketch of uniforms he paid special attention to girls wearing Muslim headscarves in educational institutions. "But we haven't the received answer yet. Single form will be introduced in 2015, I would like to take into account the interests of the religious," Tursunbai Bakir uulu said.
He added that Kyrgyz citizens, who don't profess any religion, discriminate against those who identify themselves as Muslim or Christian faiths. "So, secular extremism is gaining power in the Kyrgyz Republic. The religious are constantly being told that Kyrgyzstan - a secular state, and they have to play by the rules of those who don't go to the mosque or the church," he said.
http://www.eng.24.kg/parliament/172200-news24.html
--------------
Connecticut women support Afghan women
15 September 2014
Three Connecticut women will discuss their work to help Afghan women in their struggle for education and equal rights at the St. Matthew's Seniors' luncheon at noon on Thursday, Sept. 18.
The women, one of whom was born in Afghanistan, will describe their efforts to bring education to Afghan women and girls as they fight against incredible obstacles to make their voices heard.
Connie Tate, a World YWCA representative to the UN, Elizabeth Titus, a professional writer working with the Afghan Women's Writing Project and the SOLA school in Afghanistan, and Shekaiba Bennett, will be the speakers.
Lunch will be served at St. Matthew's, 36 New Canaan Road. To reserve, please call the Church office at 203-762-7400.
http://www.wiltonbulletin.com/26559/connecticut-women-support-afghan-women/
--------------
27 Saudis on Forbes 200 Most Powerful Arab Women list
15 September 2014
JEDDAH – Forbes Middle East has unveiled its coveted 2014 ranking of The 200 Most Powerful Arab Women. Published in the September issue of the renowned business publication, this year's impressive lineup includes inspirational and accomplished women from family business and government, as well as top C-level executives in the corporate sphere.
Of the 200 Most Powerful Arab Women ranking, Egypt dominates with 29 entries. The largest economy in the region—Saudi Arabia—has 27, followed closely by the UAE, with 26 entries.
A total of 85 women make the 200 Most Powerful Arab Women—Family Business ranking as Arab women prove their acumen across the business world, whether it involves taking the reins of a family firm or establishing their own enterprise from scratch.
Family businesses which are publicly listed have been excluded from this ranking.
Overall, 16 entries are in the diversified sector followed by 15 in consultancy and 12 in the retail sector. Reflecting its entrepreneurial spirit, the UAE has the highest number of entries overall with 15 Emirati businesswomen, and Raja Easa Al Gurg, Managing Director of UAE-based Easa Saleh Al Gurg Group LLC, topping the list.
Saudi Arabia follows with 12 entries; Lubna Olayan, CEO of Olayan Financing Company, is the leading Saudi woman in the section, and second overall. The 200 Most Powerful Arab Women—Government ranking includes 59 women in ministries and legislative councils across the region.
Last year, Saudi Arabia introduced female members to its Shoura Council – the Kingdom's formal advisory body. This is reflected in the ranking with nine of the women in government hailing from Saudi Arabia. Algeria, with seven entries finished second, followed by Jordan, Morocco and Oman, with six entries each. Of the women in government, 12 are concerned with social affairs and 11 with legislation, while the education and tourism sectors boast six entries each. Commerce, labor and transport, meanwhile, are represented by just one entry each, with female presence absent in vital ministries such are economy, trade and finance.
The 200 Most Powerful Arab Women – Executive Management ranking features 56 women from both public and private companies. Women from Egypt top this ranking with 14 entries, followed by Kuwait – which boasted four of the top ten positions – with 10 entries.
Lebanon, UAE and KSA follow with six. Shaikha K. Al-Bahar, Deputy Group CEO of National Bank of Kuwait, ranks first with Nayla Hayek of luxury watch maker, Swatch, coming in second.
Overall, this list features 25 entries in the banking and financial sector, seven entries in petrochemicals and five entries from the diversified sector, highlighting the range of talents and business interests these women possess.
For the second consecutive year, Forbes Middle East shines the spotlight on the leading ladies making fundamental contributions to the business and political landscapes of an ever-evolving Arab world. Motivation for undertaking this In-depth exercise stems from the reality that Arab women today are not only inspiring future generations of aspiring females, but driving the advancement of national economies and political agendas across the region.
Reflecting a steady rise in female representation in national politics, a total of 59 women in government positions also feature prominently, accounting for 29% of total entries. The UAE's Sheikha Lubna Bint Khalid Al Qasimi ranks first, followed by Oman's Dr. Rawya Al-Busaidi and Hind Subaih Al-Subaih from Kuwait. The move to include women in Saudi Arabia's Shura Council also paves the way for strong Saudi representation in this sector.
For the first time, this year's Forbes Middle East ranking has been extended to include accomplished women who occupy senior positions in the corporate world. The 56 women featured in this executive management category have risen through the ranks to assume C-level, board, chair and presidential roles within their respective organizations, and account for 28% of the list.
Egypt tops this section with 14 entries, but it is Kuwait's Shaikha K. Al-Bahar, Deputy Group CEO of National Bank of Kuwait, who sits in pole position. Lebanon's Nayla Hayek of luxury watchmaker, Swatch, comes in second with Emirati, Salma Ali Saif Bin Hareb, taking third place.
In a context of female accomplishment, Khuloud Al Omian, Editor-in-Chief of Forbes Middle East provides Insight into the transformational role of women in the region and the motivations driving The 200 Most Powerful Arab Women ranking: "Not just regionally, but worldwide, there is still much to be done to engineer a level playing field between the sexes, but by showcasing the achievements and unlimited potential of Arab women, we are one step closer to balancing the equation. Female workforce participation stands at an estimate of just 24% in the Middle East, but the region's women are proving their worth and it is down to the region's collective efforts to ensure that Arab women continue to play a formative role In shaping the future, whether in the government, business or social realms."
http://www.saudigazette.com.sa/index.cfm?method=home.regcon&contentid=20140915218188
--------------
Iraq honours its first anti-ISIS female tribal leader
15 September 2014
In Arabic, "sheikh" is the title given to a tribal leader. But for the first time, Iraqis have broken the rule when they granted the title, posthumously, to the country's first female tribal head, Oumaya Naji al-Jabara.
Jabara was reportedly killed on June 22 following a battle with Islamic State of Iraq and Syria (ISIS) militants in the western province of Salah al-Din.
The mother of four was not at all forgotten but rather honored in a historic move when she was named named Iraq's first woman tribal leader or "Sheikha" on Wednesday, according to the head of the Iraqi Tribal Affairs Office Marid Hasoun.
"Jabara is the first woman in Iraq's history to be given this title. This is to honor her heroic role in fighting ISIS criminals," Hasoun told al-Sumaria News website.
A lawyer by profession, Jabara was also a women's rights activist and a consultant for Salah al-Din's Women and Social Affairs.
She took up arms soon after ISIS started infiltrating the al-Alam district east of the city of Tikrit.
The country's higher council for human rights said "the sheikha was with her people, heroically resisting the dark forces of ISIS, pushing the militant group only to react by bombing the city with mortars, which also lead to her death."
Jabara, which literally translates to "mighty" in English, died as a result of a shot to the chest by an ISIS sniper.
http://english.alarabiya.net/en/News/middle-east/2014/09/15/Woman-who-fought-ISIS-named-as-Iraq-s-first-sheikha-.html
--------------
First all-female business process service centre opens in Riyadh
15 September 2014
RIYADH – Saudi Aramco, GE and Tata Consultancy Services (TCS) inaugurated Saudi Arabia's first all-female business process service center in Riyadh on Sunday, the companies announced in a joint statement.
The center will offer customers specialized finance and accounting, HR, materials supply and office services to improve operational efficiency.
Supported by the Human Resources Development Fund, it is aimed at supporting the Kingdom's localisation targets and boost economic diversification.
Spread across 3,200 square meters, the facility will create up to 3,000 local jobs for Saudi women within the next three years, the statement said.
"The first all-female business process service center in Saudi Arabia brings significant value to the Saudi economy and society," said Saudi Aramco President and CEO Khalid Al-Falih.
"It helps address the challenge of creating jobs for talented and skilled Saudi female graduates, establishes a more diverse workforce, and boosts the competitiveness of Saudi Arabia."
Natarajan Chandrasekaran, CEO and MD of TCS, added: "Skills, talent and technology converge at the Kingdom's first all-female business process service center, which marks a new era for the IT and business process services industry in the Kingdom."
In the first phase, around 300 employees have been recruited, the statement said. Nearly 90 of the Saudi recruits are fresh graduates, while the rest have two to four years of experience.
The Saudi fresh graduates were chosen from King Saud University, Princess Noura University, Imam University and others. Over 1,200 candidates were interviewed for the jobs.
Those recruited received over 80,000 hours of intensive training in various disciplines, such as communications, presentation skills, corporate etiquette, global culture, MS Excel skills and domain training, the statement added.
Saudi Aramco and GE are the initial clients of the center and both organizations said that they have already reached their targets of hiring over 100 women each and transferred business services to the center.
John Rice, GE's vice chairman, said: "Today's inauguration is proof of our commitment to support the Kingdom's priorities around human capital development and the creation of employment opportunities for talented Saudi women."
The Kingdom has taken measures to nationalize the workforce by implementing the Nitaqat system, which forces private companies to recruit a required percentage of Saudi men and women.
The Human Resource Development Fund was also set up as an independent body by the government to facilitate the employment of Saudis into the country's private sector.
http://www.saudigazette.com.sa/index.cfm?method=home.regcon&contentid=20140915218187
--------------
I Am A Muslim American And I Deserve Respect
September 15, 2014
After reading about Chris Lollie's arrest in St. Paul and the terrible treatment he received, I was inspired to come forward with my own bad experience with local police.
In August 2013, I had a court date that I had missed. I had a $300 ticket for driving with a suspended license for not having insurance. The ticket was almost three years old, and I know driving a car without insurance was wrong. But poverty was something continuous in my life and so insurance was just something I couldn't afford.
I decided to try to negotiate and so I had made arrangements with the court to appear in front of the judge to speak about the price of my ticket. But on the day of my court date my daughter relapsed from Sickle Cell Anemia and was rushed to Fairview Hospital. I called the court and I was told I had ten days to appear.
What I didn't know was that Hennepin and Ramsey County had issued a warrant for my arrest for missing the court date. I was scared so I turned myself in. I didn't think much about it. Maybe they will give me another fine and let me go? It was my first experience so I really never expected that they would treat me so disrespectfully.
I turned myself in to the Edina Police Department, the closest station to my home in St. Louis Park. They arrested me and I was transferred to the Hennepin County Sheriff's Office for processing. Afterwards they transferred me to the St. Paul Police Department. That's when things changed.
I was accompanied by three other female inmates when I walked into the lobby of the St. Paul Police Department, but I was the only one the officer concentrated on. She looked straight at me with so much hate and said, "You need to take that scarf off." Then she raised her hand to my face and attempted to remove my scarf in front everyone there, including men.
In my faith, it is inappropriate to show my hair and figure to men. But I didn't have time to explain this, just react. I raised my hand to try and stop her and negotiate. When I did she told me that she was going to put me in isolation.
They told me I was resisting arrest and that raising my hand was a threat and kept demanding I take off my "Burqa." I pleaded with them not to take off my Hijab in front of the men.
"You better take it off," a male officer told me. "Or we will throw you downstairs where we put people who don't follow orders."
One of the other female inmates said, "Leave her alone. Let her wear her Hijab. Why are you bothering her?"
She actually knew the word. I was so proud of that girl.
Then the female officer and another male officer dragged me with my hands behind my back to an isolated room, where they made me remove my Hijab and my Abaya, which covers my figure.
I felt humiliated.
Then I was told I had two options: to stay in isolation and have my scarf, or sit in the lobby where people wait to pay bond without my scarf. They told me it was a hazard, which I could use to hurt myself or others. Why would my scarf be harmful? It didn't make sense to me.
I chose to stay in isolation and spent about two hours in a nasty metal cage with no windows and just an open toilet and heavy graffiti in sight. Later they processed me and moved me to another isolation room upstairs where I stayed for 23 hours. Another officer grabbed my hijab and took it from me. She threw me a bed sheet and told me to use it instead.
What did my scarf have to do with my traffic ticket? Why was I so threatening? I felt like my religion was under arrest. Now officers must let women wear their hijab even for mug shots, but that day in August, that female officer who brought me in had no intention of being fair and just. She was full of rage. It was an awful sight.
During my stay they made me change into an orange jumpsuit, and when I left they made me change in front of the other female inmates. They didn't care how that made me feel.
Yes, I did have an unpaid ticket for driving with a suspended license. I know that it had consequences, and that driving after my suspension crossed the line. I understood my crime and take ownership. But what I don't understand is why those St. Paul officers treated me so disrespectfully. I am a Muslim woman who drove a car without insurance, yes, but do I need to be humiliated so badly by someone who should be fair?
Change needs to be made with our officers. I saw almost no diversity in the staff. And there was a clear lack of training and education. When I told the officer who was processing me in St. Paul that I was born in Ohio, he said, "Really, Ohio? Were you really born in Ohio?"
My mother immigrated to the United States back in 1959 from Yemen due to civil war. But he didn't know any of that.
Closed minds don't serve our community, and being blind to the cultural diversity in our society is a big mistake. We will have clashes because we are not willing to really get to know one another. We need to work to actually understand each other. I was judged by my clothing, and was mistreated and abused.
How many lawsuits and how much suffering needs to occur for us to really get our act together? I hope we can bring change to our community across the board and start living our true potential of being treated like full human beings.
I'm a mother, a public relations student, a documentarian, and even a former ROTC recruit. Most importantly, I'm a human being and deserve to be treated like one.
© 2014 Aida AlKadi
http://www.tcdailyplanet.net/news/2014/09/12/opinion-i-am-muslim-american-and-i-deserve-respect
--------------
Leading Muslim academic calls on Irish Catholic schools to allow wearing of hijab
September 15, 2014
One of Ireland's leading Muslim academics has clashed with a Catholic commentator on the wearing of hijabs in Irish schools.
Trinity College professor Dr Ali Selim has called on all Catholic schools to allow their Muslim pupils to wear the hijab.
He also wants Catholic schools to tailor uniforms to suit the needs of Muslim students.
The Sunday Independent reports that David Quinn, a leading voice on Irish Catholicism, is as odds with Dr Selim's request.
And even the Islamic Foundation of Ireland (IFI) and the Islamic Cultural Centre of Ireland have taken issue with Dr Selim's remarks.
Speaking at the launch of his new book on Islam and education in Ireland, Dr Selim said: "The hijab for Muslims is an essential aspect of character. Depriving Muslims of the right to wear hijabs is very threatening to their identity.
"Although there is no legal ban on the hijab in Irish schools, wearing the headscarf is a divine obligation for Muslim girls. I urge schools to be more flexible about incorporating it as part of their uniform.
"In today's society we need to apply a more pluralistic approach when it comes to the school uniform."
A former Secretary General of the Irish Council of Imams and resident in Ireland since 1999, Dr Selim has also called for religious symbols to be removed from school crests.
He added: "It is not dangerous to wear a hijab in class, some may argue that they are dangerous in PE, but there is a special sports hijab that Muslim women wear in the Olympics.
"Sometimes our school uniform might have a religious identity. If I don't believe in this religious identity does this put me in a difficult situation with regard to my faith values. In order to provide children with an inclusive educational environment these obstacles need to be removed.
"And admission policy is a practice of discrimination in my understanding."
Leading commentator and Iona Institute director David Quinn, who attended the launch, told the Sunday Independent that he has 'issues' with Dr Selim's views.
Quinn told the paper that while Muslim parents have the right to send their children to Catholic schools, the ethos and identity of the school should not be compromised.
He said: "A faith school is by definition set up to mainly cater for children of the faith of the school.
"Muslim students should be allowed to wear their traditional headscarves, as long they do not cover their faces.
"Covering the whole face acts as a barrier between the person, the rest of the class and the teacher . . . it is going too far in the other direction."
Ireland's Department of Education and Skills said uniform guidelines are specifically set by individual schools.
A statement from the department said: "School uniform policy is a matter for each individual school, preferably in consultation with its own stakeholders . . . parents, students, and any other relevant parties."
Over 60,000 Muslims now live in Ireland and is the fastest growing community in the country.
Some 91 percent of the country's 3,165 primary schools are under Catholic patronage with just two Muslim primary schools in Ireland, both based in Dublin.
The Islamic Foundation of Ireland (IFI) and the Islamic Cultural Centre of Ireland (ICCI) - the official body for Islamic education in Ireland – have both rejected Dr Selim's views.
In a statement to the Sunday Independent, the IFI said: "As patron of the Muslim National schools in Ireland since 1990, we can confidently assert that such opinions are neither shared by the IFI, the ICCI nor the majority of participating members in the Islamic community here.
"We have found that Catholic school managements have made wonderful efforts to make their schools as inclusive as possible without losing their own ethos.
"We acknowledge that there is always pressure on schools and on parents of all denominations and no faith seeking places, which sometimes results with many parents not receiving their first choice."
But the report adds that Church of Ireland Archbishop of Dublin Michael Jackson agreed with Dr Selim that Catholic schools in the Republic need to be more tolerant of students from other religions.
He said: "Those who are not of a tradition can actually learn and share their childhood together and will be able to stand for respect, integrity and tolerance if situations become aggressive . . . if you learn about that at an early stage it will continue to inform your reactions as an adult."
Michael Nugent, chairperson of Atheist Ireland, said Dr Selim's version of inclusivity is 'not practical.'
Nugent said: "If he wants schools to promote specific beliefs of other groups then he should recognize that the Islamic schools should also openly respect atheism and other religious views.
"The only realistic way you can have proper inclusivity in education is to have a system that is neutral rather than one than manifests all beliefs."
http://www.irishcentral.com/news/Leading-Muslim-academic-calls-on-Irish-Catholic-schools-to-allow-wearing-of-hijab.html
--------------
Boko Haram Has Turned Many Women Beggars, Says Group
September 15, 2014
A group University of Maiduguri Muslim Women Association (UMMWA) has complained that the Boko Haram insurgency in the Northeastern region has made many women and girls beggars in the area.
The coordinator of the group established to foster unity at the university community, Hajiya Hassana Ibrahim Waziri, said it is alarming the rate at which women and girls are now begging on the streets of Maiduguri due to the insurgency affecting the state.
Hajiya Hassana who was speaking at the weekend in Maiduguri at a workshop organised for domestic and casual women workers of the university, said one of the objectives of the group is to discourage street begging by women and girls.
According to her, the workshop was organized in partnership with the Nigeria Stability and Reconciliation Programme(NSRP), to inculcate savings culture in the women and girls working as domestic workers at the university.
http://allafrica.com/stories/201409150251.html
--------------
St. Paul Woman Unexpectedly Leaves Home For Syria
September 15, 2014
ST. PAUL — The week she disappeared, the biggest worry on the mind of the 19-year-old St. Paul woman seemed to be what to wear to a friend's bridal shower.
The shy Muslim woman hated to shop and typically wore a loose-flowing Hijab. Seeking a new look, she tried on her sister's western-style dresses and fretted over the ones that clung too tightly. Finally, she chose an orange and white dress, shimmery brown cardigan and fitted headscarf.
That was Aug. 20. Two days later, she left her house around 5 p.m. in her new clothes. Around midnight, she called her mother to say she'd stay at her friend's apartment if she couldn't find a ride home.
She didn't come home. The next day, she didn't call. The family began to panic.
A day later came a 6 a.m. phone call that would change all their lives: She was in Syria.
The girl said she'd gone to study the Quran, and her sister says she has sounded content in several calls since. But her family worries she is in a very dangerous place, a war-torn region that continues to lure Minnesotans for jihad.
"She did say, 'I'm sorry.' She kept repeating, 'I'm sorry I left, mom. I'm not in the city anymore, but I promise I'll come back,'" said her sister, who agreed to be interviewed on the condition that MPR News withhold her name and her sister's name.
A federal grand jury now is investigating the movements of young Minnesota men enticed to travel to Syria in hopes of joining brutal militants, including the Islamic State in Iraq and Syria, known as ISIS. Federal authorities have confirmed that a man with Minnesota ties has died fighting for ISIS. A second Twin Cities man is believed dead.
The conflict is also starting to draw women from the West to assist the fighters.
The St. Paul woman's departure has sent her family on a frantic quest for answers. They've met with mosque officials and the woman's friends to find out how a woman with no job or travel documents could have made the trip to a bloody war zone. The family now believes a Twin Cities friend lent the woman her passport (the friend told relatives the woman had stolen it).
FBI agents have interviewed family members and told them they're aware of two additional women who have left Minnesota for Syria, according to the sister.
FBI officials have declined to comment on the case. But speaking generally, spokesman Kyle Loven said investigators understand that the profile of someone who might fall for jihadist ideology may also include women.
"When it comes to focusing on strictly men, that's something we're not doing," he said. "We're keeping an open mind with respect to our efforts."
Academics say women are among the hundreds of Westerners recruited by ISIS. But the propaganda used to hook females is far different than the gruesome videos of beheadings intended for male audiences.
On social media, female recruiters for ISIS entice women by promising a romantic notion of what their lives will be, said Mia Bloom, a professor of security studies at the University of Massachusetts, Lowell and author of "Bombshell: Women and Terrorism."
"The kind of messages that come out for women are one of sisterhood, one of great comfort, where the women are sitting around and baking cookies, or they're having these little parties where they're cooking," Bloom said. "They're tweeting the pictures or they're posting to Tumblr, to show how wonderful their life is.'"
The reality is ISIS sexually exploits its women, who are expected to help populate the Islamic State, she said. The group, she said, "uses them for rewarding the fighters and having babies."
Family members of the St. Paul woman remain hopeful that she would never join a terror group, let alone one as brutal as ISIS.
"What they're doing is terrifying and completely wrong," said the sister.
The missing woman was born in Nairobi, Kenya, the eighth of nine children, and raised by a widowed mom. The family, ethnic Somalis, came to the United States five years ago, and had applied this year to become U.S. citizens, the sister said.
To outsiders, the teenager was excruciatingly shy. When visitors came to the house, she greeted them briefly before retreating upstairs. "She loves to be alone most of the time," the sister said.
Over the years, the woman volunteered at her family's local mosque in St. Paul and also tended a community garden while attending a Minneapolis charter school. She graduated last spring, her sister said, and expressed interest in one day going to school to become a nurse.
But she began to become more fixated on memorizing the Quran. It's a point of pride among the most devout young Muslims, but the family feared the woman was taking it too far. She stopped going out for long walks with her family, saying they diverted her from her religious studies.
"We used to go to Lake Calhoun and laugh and talk," the sister recalled. "But then she said, 'I don't want to waste my time. Praying and reading the Quran makes me feel good and closer to God.'"
Roughly two years ago, the woman changed mosques, telling her family she preferred a place where there were fewer friends to distract her. Officials with the Al-Farooq Youth and Family Center in Bloomington confirmed the woman attended the center, but said she had no formal role there, according to mosque attorney Jordan Kushner.
In the six months before the woman left, family members became increasingly concerned about the lack of balance in her life. They even confronted her. But in the end, her mom reasoned that her daughter was safe in the family's home and under her watch, according to the sister.
The teen didn't party or smoke shisha tobacco, after all. She strove to be modest, and frequently donned the head-to-toe covering known as the niqab when she went to the mosque. Listening to R&B tunes on her phone by Muslim singer Maher Zain seemed to be the only pastime at odds with her beliefs. The woman de-activated her Facebook account several months ago but may have been active elsewhere on social media, said the sister.
As for world affairs, the sister never noticed the young woman showing an interest in jihadist movements around the globe.
Picking out clothes that day three weeks ago, "she really liked the way she looked. She seemed very excited to meet her friends," her sister said. "Before she left, she never mentioned anything about Syria."
The family sought the help of law enforcement by reaching out to community activist Omar Jamal and former Ramsey County Sheriff Bob Fletcher, who together shared the information with the FBI. She said the family is suffering and wants the FBI to bring her sister home.
The woman called a third time last Friday, sounding enamored with her new environment. She said she shared a house with other girls from around the world. She sounded happy as she described the warm air and teased her family for having to put up with Minnesota winters.
Her sister is still in disbelief that her shy sister could be in Syria. "We hope she pops up randomly," she said, "and tells us it was a prank."
http://www.albertleatribune.com/2014/09/st-paul-woman-unexpectedly-leaves-home-for-syria-quran/
--------------
Iraqi Women Sold To IS Monsters Like 'Cattle at an Auction'
September 15, 2014
Washington: Notorious for having decapitated three Westerners in less than a month, the barbaric extremists of the Islamic State are now almost synonymous with 'beheaders'. However, there is much more to their barbarism, than they flaunt in videos posted online.
Having annexed huge swathes of occupied territory across Iraq and Syria, the Islamic State established an Islamic Caliphate there in June. And then they started unleashing a bloody and barbaric trail of terror, torturing and murdering people, and the ugliest element being the abduction, torture, forced conversion and rape of women.
According to a blog posted by the US State Department, "thousands of women and girls abducted from their families and sold in markets "over the last two months".
The blog paints a sad and painful portrait of Iraqi women, who have been taken from their homes in Iraq and subjected to unspeakable atrocities including rape, torture, forced conversion to Islam, kept as sex slaves, etc. Some of them are reportedly forced to watch their children being thrashed badly by the IS extremists until they convert to Islam.
Citing a plethora of reports, the blog post written by Catherine Russell, goes on to describe the tragic plight of thousands of innocent women, and calls for directing the use of resources and expertise from anti-IS coalition (whose making is in process), to ensure that the women in the captivity of the extremists return safely to their homes.
"Now, as we galvanize an international coalition to work with the newly formed Iraqi government to confront the evil represented by these extremists, we need to ensure ISIL's horrendous treatment of women and girls is front and centre," reads the blog.
The blog further cites reports of abduction of some 1,500 to 4,000 women and girls, mainly from Iraqi minorities and regrets how even the young ones of age 12 and 13, too, were auctioned to the IS monsters "like cattle".
"Girls as young as 12 or 13 have been forced to marry extremists or sold to the highest bidder -- like cattle at an auction".
Reportedly, many women have begged to die rather than to bear with the intolerable trauma and brutality meted out to them by the IS men.
There is a sea of "heartbreaking and terrifying" stories of such Iraqi women in IS captivity who prefer to die than to live as Islamic State extremists' concubines.
Explaining how the "de-humanization of women and girls is central to ISIL's campaign of terror", the blog recommends the newly formed Iraqi government and the international coalition being formed to hold discussions on how to ensure the safe return of "those who have been abducted and trafficked".
http://zeenews.india.com/news/world/iraqi-women-sold-to-is-monsters-like-cattle-at-an-auction-reports_1470027.html
--------------
URL: https://newageislam.com/islam-women-feminism/india-wife-alleges-muslim-woman/d/99084