New Age Islam News Bureau
26 March 2014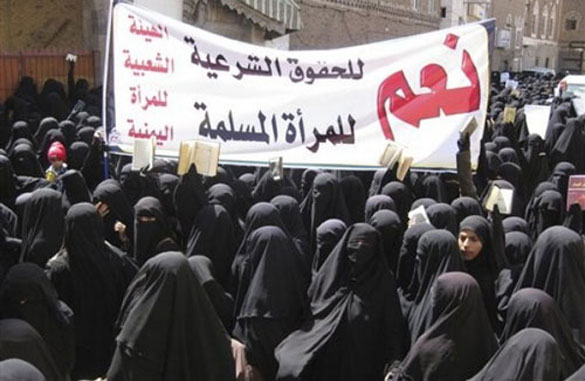 Photo: Women Rights in Post-Revolution Yemen
-------------
• American Medical Student Auctions Her Virginity for 250,000 Pounds Online
• Free Morning-After Pills, Condoms for UK Schoolgirls
• Two Women Killed For Honour in Wazirabad, Pakistan
• American Woman Says Man Called Her 'Terrorist,' Tried To Run Her Down
• Women Suffer More in Conflict Zones: Princess Haya
• Pak's Film Actress Meera Faces Arrest over Leaked Sex Video
• Women Rights in Post-Revolution Yemen
• Pak Minister Appeases Hardliners on Child Marriage Bill
• Govt Develops Cold Feet on Women's University in Rae Bareli, UP
• Saudi Girl Students Start Project to Assist Blind in Shopping
• Elderly Women Learners to Benefit from Hafiz (Unemployment Allowance)
• Nirbheek, World's First Gun for Women, To Be Launched Today
• Carter Speaks Out On Religion and Equality for Women; Slams Sexist Biblical Interpretations
Compiled by New Age Islam News Bureau
URL: https://newageislam.com/islam-women-feminism/india-village-mahapanchayat-bans-girls/d/66282
-----------
India: Village Mahapanchayat Bans Girls from Wearing Jeans
Press Trust of India | Mathura | March 26
A Mahapanchayat of Yadavs has barred its girls from wearing jeans and banned consumption of liquor to "control evils of society".
The Mahapanchayat, held at Rahera village Sunday, also banned child marriage, use of DJ at weddings, grant of dowry and gambling by community members.
"The decision will help control evils of the society," said community leader Udai Singh, who presided over the Mahapanchayat. "It has also been decided that a maximum of Rs 21,000 can be given as gift during 'Kanyadaan' (a marriage ritual carried out by the girl's parents)".
At the Mahapanchayat, Ramesh Baba, a religious leader, said, "The ban on use of DJ in marriages, child marriage, and use of liquor is also welcome. Use of liquor has ruined several families. It (the ban) would pave the way for the upliftment of the community."
The Mahapanchayat has decided on a fine of Rs 11,000 for not following the orders. The panchayat also decided to reward Rs 2,100 to any person who brings to its notice a violation of the orders.
The Mahapanchayat was attended by members of the Yadav community from 52 villages in UP, Haryana and Rajasthan, they claimed.
Other leaders who attended the Mahapanchayat included Gopal Singh, Ram Swaroop, Jaipal Singh and Raghubir Singh.
Tempo falls into canal, 3 dead
Mandi: Six people were feared dead after a tempo they were travelling in fell into a canal in Sundernagar town in Himachal, late on Monday. Three deaths were confirmed, while a search was on for three others, reports said. PTI
http://indianexpress.com/article/india/india-others/in-up-yadav-mahapanchayat-bans-girls-from-wearing-jeans/
-----------
American Medical Student Auctions Her Virginity For 250,000 Pounds Online
Mar 26, 2014
LONDON: A medical student, who refers to herself as Elizabeth Raine, has auctioned her "virginity" and hopes to make at least 250,000 pounds.
The 27-year-old pretty blonde is seen showing off her body on her website to the prospective bidders, in sexy lingerie called Musings of a Virgin Whore, but does not show her face to keep her identity concealed, the Mirror reported.
The prize will be a 12-hour date with the blonde, including her first sexual experience.
Raine said that she's not under the slightest bit of financial pressure and instead view this to be a practical financial opportunity.
Till date, at least eight women from across the world have auctioned their virginity for big bucks, and with this move Raine will join the list.
http://timesofindia.indiatimes.com/world/mad-mad-world/Medical-student-auctions-her-virginity-for-250000-pounds-online/articleshow/32350217.cms
-----------
Free morning-after pills, condoms for UK schoolgirls
PTI | Mar 26, 2014
LONDON: In a bid to cut the growing number of unwanted teen pregnancies in the UK, schools have been advised to provide free morning-after pills and condoms to teenage girls.
According to new guidelines from the National Institute for Health and Care Excellence (NICE), under-25s should be able to access emergency contraception more readily, including pills and the IUD (intrauterine device, or coil).
Although under-18 conception rates have fallen, England still has one of the highest teen pregnancy rates in Europe, said a statement by NICE.
Improving contraceptive services will help ensure young people get the support they need and reduce unwanted pregnancies.
NICE has advised commissioners of services in England to give all young people access to contraception and advice at convenient locations so no-one is denied services because of where they live.
"It is really important that sexual health services offering information and advice can be found in places where young people have access to them," Professor Mike Kelly, director of the Centre for Public Health at NICE said.
"Evidence clearly shows that the availability of contraception reduces the rate of unwanted pregnancies. Local planners and providers of services must make sure that what they offer is right for their area," said Kelly.
According to the guidelines, young women should be informed that an intrauterine device is a more effective form of emergency contraception than the oral method and can also be used on an ongoing basis.
Young women should have timely access to emergency contraception using an intrauterine device, NICE said.
"Young people often find contraceptive services and advice difficult to locate. This can be for a number of reasons. They may not know where services are, who provides them or when they are open," Kelly added.
"They can also be wrongly worried that information they give may not be treated confidentially. For that reason, this guidance focuses on ensuring they receive culturally sensitive, confidential, non-judgemental and empathic advice and support tailored to their individual needs," said Kelly.
Many of the recommendations made in the new guidance from NICE will cost nothing to implement. They look at existing services to ensure everything is being done to give all young people the support and advice they need.
The new guidance focuses on helping those up to the age of 25. It is aimed at those who have responsibility for contraceptive services.
This includes the National Health Service (NHS), local authorities and those working in education, and the wider public, private, voluntary and community sectors, NICE said.
http://timesofindia.indiatimes.com/world/uk/Free-morning-after-pills-condoms-for-UK-schoolgirls/articleshow/32726607.cms
---------
Two women killed for honour in Wazirabad
March 26, 2014
WAZIRABAD- Two women were killed for honour, in Alipur Chata area today.
According to police sources, the two accused named Mustafa and Murtaza along with their cousin named Afzal opened fire at their sister and step mother on charges of illicit relation with a man, killing them on the spot and fled from the scene. The deceased women were identified as Farzan Bibi (mother) and Nida Bibi (sister). Police registered a case against the accused and started investigation.
http://www.nation.com.pk/national/26-Mar-2014/two-women-killed-for-honour-in-wazirabad
---------
American Woman Says Man Called Her 'Terrorist,' Tried To Run Her Down
Mar 26, 2014
STOCKTON - A Stockton woman is seeking hate crime charges against a man she said called her a "terrorist" and then tried to hit her with his car in the Costco parking lot on Hammer Lane.
The prominent civil rights group Council on American Islamic Relations is supporting the woman. CAIR said it suspects the man targeted the woman because she is a Muslim who wears a Hijab - a veil that covers the head and chest.
CAIR said the woman, who does not want to be identified and did not return calls via CAIR, was placing purchased items in her car when a man pulled into the spot next to hers, got out of his car and shouted "terrorist" at her.
Later, the man came out of the store and got back into his car. The woman said she tried to take a photo of the man's license plate, but he backed out quickly. She alleges he tried to hit her with the car, and then allegedly taunted her further.
CAIR Executive Director Basim Elkarra said the Muslim and Sikh communities are often the target of negative comments by "extremists."
"It does happen, but not to the extent that they try to run someone over," Elkarra said.
Stockton police spokesman Officer Joe Silva confirmed that a police report has been filed. A charge has not been filed.
"After talking to the involved parties, we took a report and then forwarded the case to the District Attorney's Office for review," Silva said.
http://www.recordnet.com/apps/pbcs.dll/article?AID=%2F20140325%2FA_NEWS%2F403250312
-----------
Women suffer more in conflict zones: Princess Haya
Amanda Fisher / 26 March 2014
Humanitarian aid conference begins in Dubai, UN official highlights the plight of women in refugee camps.
The plight of women in conflict zones and the ongoing Syrian crisis have come under the spotlight at the Dubai International Humanitarian Aid and Development conference (Dihad).
he 10th edition of Dihad, opened by Princess Haya bint Al Hussein on Tuesday, will have a dual focus. Opening the three-day event, Princess Haya, who is both the UN Messenger of Peace and International Humanitarian City chairperson, said humanitarian organisations must pull together to improve the lot of women and children, who make up 80 per cent of refugee camps.
"Without doubt, the danger women face during disasters and conflicts is steadily increasing in many parts of the world. Because of women's special case, they suffer even more from the repercussions of conflicts and disasters due to violence, exploitation and tough living conditions."
Women's rights, enshrined under international law, were at times being violated, she said.
"This calls for humanitarian organisations and all bodies concerned with human rights to remind the world about women's rights at every possible occasion."
Through the Red Crescent, she said the UAE government had long sponsored women's relief programmes in countries like Yemen, Afghanistan and in Jordan's Syrian refugee camps.
The United Nations' World Food Programme Executive Director Ertharin Cousin, who spoke after Princess Haya during the opening ceremony, told Khaleej Times she commended the UAE's humanitarian efforts. With a raft of high-level meetings during the morning, that contribution looks set to grow.
"We have a great relationship with the UAE that gets better all the time. I appreciate the government here. Princess Haya has become more than just a donor now, she's a friend."
Violence and theft
Cousin said there was much more work to be done, especially in the realm of helping women in conflict and disaster zones. The World Food Programme was aware of the violence and theft women were sometimes subjected to inside camps, and had initiated programmes where staff escorted women after aid distribution, for example, she said.
"(Women are) now in situations where men may prey on them because they now have access to cash…we need to protect them."
She spoke passionately during her opening remarks, telling the humanitarian workers gathered they needed to ask one question: "Why? Why are women often denied full prominence and why are women's specific needs often absent from many of the (aid) programmes?"
Addressing gender was not simply a question of equity, but was about increasing the chances of women and children's survival in times of hardship, she said.
"It is not an optional extra, it is a requirement."
Women's rights
The Office of the United Nations High Commissioner for Refugees (UNHCR) GCC Deputy Regional Representative Nabil Othman said his organisation often came in to contact with young girls who were being married off as early as 13, while others were forced to work instead of going to school.
"Women and young girls are facing a lot of problems."
The worsening crises in places like Syria meant early marriage was a quick financial fix for some families, though UNHCR had been doing a lot of work to counter such weddings.
"We cannot say we have had 100 per cent (success), but we are doing as much as we can. We are not a government, we are a humanitarian agency and we are trying to address this issue."
He said Dihad, which the UNHCR had been exhibiting with from the beginning, was "one of the most important (humanitarian) events". The goal of their involvement was to highlight the worsening situation in the Syrian conflict, increase their partnership with the UAE government, and also to develop methods for agencies to work in sync with each other better.
Sudanese humanitarian group El Ruhama Organisation for Development is one fighting for better women's rights on a smaller scale. General Manager Mariam Mohamed Adam said the group was looking for funding partnerships during their first Dihad, in order to combat the phenomenally high maternal mortality rate — the highest reported in the world.
amanda@khaleejtimes.com
For more news from Khaleej Times, follow us on Facebook at facebook.com/khaleejtimes, and on Twitter at @khaleejtimes
http://www.khaleejtimes.com/kt-article-display-1.asp?xfile=data/nationgeneral/2014/March/nationgeneral_March164.xml&section=nationgeneral
-----------
Pak's Film Actress Meera Faces Arrest over Leaked Sex Video
Mar 26, 2014
A PAKISTANI court on Tuesday issued arrest warrants against film actress Meera and her husband and directed the police to produce them in the court on April 2 in connection with their alleged sex video leaked online.
Additional District and Sessions Judge Safdar Bhatti issued the order on a petition, which accused Meera and her husband Captain Navid Shahzad of committing a sin by filming their sexual act.
The judge also snubbed the station house officer Mozang for not submitting a report over the issue.
"The couple spread obscenity in society and challenged Islamic values," the petitioner alleged and prayed the court to give exemplary punishment to the couple.
Shahzad however, said there was no point making the video controversial, since they were a couple.
The alleged homemade video featuring Meera and her husband, an airline pilot of Pakistani origin settled in the US, sparked a controversy in the country when it was released on the Internet a couple of months ago.
It was uploaded by unidentified persons to several websites over the past few days. The Pakistan Telecommunication Authority had cut off access to the video following a request from Meera, who has appeared in two Bollywood films.
Although Meera claimed that it was a fake video, Shahzad insisted, since he and Meera were husband and wife there is no point in making the video controversial.
"Those making hue and cry over (our sex) video should stop propagating against us," he said.
"It is a fake video as the girl in it has put on a 'Meera's face mask'. The video should be sent to the US for forensic tests as Pakistan has no such facility," Meera said. Meera says tape with hubby is fake
Mail Today
-----------
Women rights in post-revolution Yemen
Mar 26, 2014
Categorized the worst place to be for a woman, back in November 2013, two years after the Arab Spring movement swept across the Middle East, the women of Yemen remained determined to turn the impoverished nation into a modern civil state where women are respected and protected within their own rights, free from patriarchal stereotypes, in keeping with principles of equality and personal freedom.
While 2011 saw the rise of strong female persona, Tawakkul Karman and Amal Basha come to mind; Yemen's political landscape has nevertheless remained overwhelmingly dominated by male politicians.
With a female literacy rate of 35%, a female to male income ratio of 30:100 and extremely low level of educational attainment, Yemen has a long way to go before its women could ever hope to attain their revolutionary goals. While efforts have been exerted by officials, among whom Human Rights Minister Hooriah Mashour in relation to women rights and the implementation of much needed judicial reforms, the impoverished nation has failed so far to capitalize on its revolutionary momentum.
As per noted by Human Rights Watch in previous assessment reports on Yemen, the country essentially lacks in term of opportunities. Unlike their male counterparts, women in Yemen face a series of challenges, whether social, religious or even judicial for them to be able to fully enjoy and practice their rights. For example, many women have not yet managed to obtain their identification card, which has of course hindred their ability to exercise their voting rights.
But beyond a simple matter of rights, lies a deeper issue, one which would require much more than just legal reforms or funding: gender discrimination.
According to Human Rights Watch, gender discrimination and gender based violence are preventing Yemen from moving forward in its social reforms. In November, the rights group called on the coalition government to amend the constitution as to address such issues. HRW has been campaigning "to get all provisions that discriminate against women removed, as well as granting women equal rights within marriages, and setting a minimal age for marriage at age 18."
Minister Mashour has over the past few months often voiced her support for such reforms as she explained that only then would Yemen have truly answered its people for change and desire to build a fairer society. However, while many rights campaigners have hailed such efforts, conservative politicians and religious figures have vehemently opposed any change which they feel would clash with Islamic tradition, especially in relation to family law.
Conservatives have argued that in order for Yemen to fully embrace democracy, the country need not to renege on its Islamic tradition, stressing that rather than look at reforming marriage, divorces and inheritance laws, the authorities should concentrate on providing better health care and protection for women.
But all is not gloom and doom for the women of Yemen.
Back in February, Abdul Karim Ali Al-Eryani, former Prime Minister and former NDC representative explained on the side line of a Council on Foreign Relations discussion, that progress had been made in regards to the inclusion of women within the political arena.
Most notably, Yemen National Dialogue Conference included several women within its quorum. 30% of Yemen NDC representatives were women; a huge achievement for a society as traditional as Yemen.
Moreover, the NDC recommended that a quota of 30% female participation be respected and implemented throughout all state institutions as to ensure fairer representation and address gender discrimination. While indeed such recommendations are in no way legally binding it is likely progress will nevertheless be made in that regard, enough to build on.
http://yemenpost.net/Detail123456789.aspx?ID=3&SubID=7655&MainCat=5
-----------
Pak Minister appeases hardliners on child marriage bill
2014-03-26
ISLAMABAD: The religious affairs minister on Tuesday seemed appeasing mullahs who failed to stop the introduction of a private bill in the National Assembly that seeks to make child marriage a cognizable offence with higher punishment for violations.
The bill, brought by five lawmakers of the ruling PML-N, invited a retrogressive tirade from Maulana Mohammad Khan Shirani, chairman of the Council of Islamic Ideology (CII) and a member of the government-allied Jamiat Ulema-i-Islam (JUI-F), who, along with another party colleague, called the move contrary to Islam and the Constitution, pressing a stance that recently outraged liberal circles and rights groups.
The Minister for Religious Affairs and Interfaith Harmony, Sardar Mohammad Yousaf, did little to conceal his apparent tilt towards Maulana Shirani's ideas, saying the house standing committee asked to vet the bill should take CII opinion on the issue or send the draft to the council if deemed necessary — a course that could put the fate of the bill in great doubt.
Also, there seemed little coordination on Tuesday among opponents of child marriage despite a recent denunciation of Maulana Shirani's views by a parliamentary women's caucus as only the lead author of the Child Marriage Restraint (Amendment) Bill, Marvi Memon, stood up to advocate its cause to prevent marriages below the adulthood age of 18 for reasons of health hazards to girls and social problems.
While opposition parties like the PPP and Pakistan Tehreek-i-Insaf (PTI) refrained from making a common cause with members of the ruling party, none of even Ms Menon's own party colleagues challenged Maulana Shirani's claims that the bill violated several articles of the Constitution forbidding legislation contrary to Quran and Sunnah.
"Such laws relating to religious issue should not be brought directly … without reference to the Council of Islamic Ideology," said Maulana Shirani, who was later vehemently endorsed by his party colleague Maulana Ameer Zaman.
"Nobody differs with what the Maulana said (about CII opinion)," Mr Yousaf said, adding: "The committee will consider those recommendations."
The bill seeks to amend the British-era Child Marriage Restraint Act, 1929, to empower family courts established under the Pakistan Family Court Act, 1964, to take cognizance of an offence and to provide for a punishment with up to two years' rigorous imprisonment, or with a fine of up to Rs100,000 (instead of the presently provided one month's simple imprisonment of and a fine of Rs1,000) , or with both. A defiance of a court injunction will also be punishable with up to one year's imprisonment of either description or a fine of Rs100,000, or with both.
Four other private bills were also introduced and referred to the standing committees concerned on the first private members' day of the present session, which began on Monday, including one from Asiya Nasir of JUI-F and five other lawmakers from non-Muslim minority communities, seeking to amend the Constitution to increase minorities' seat in the National Assembly to 16 from 10 and raise the strength of the house to 348 from 342.
Another bill introduced by Marvi Memon seeks to prohibit corporal punishment against children. A bill by PML-N's Tahira Aurangzeb seeks to facilitate provision of jobs to disabled persons in both public and private sectors and another by JUI-F's Maulana Ameer Zaman seeks to amend the Constitution to provide for the establishment of a high court bench in Loralai town of Balochistan.
Later, the house, before adjourning until 10.30am on Wednesday, unanimously passed a resolution moved by PTI's Asad Omar demanding that the government "take measures to reduce indirect taxation in the country", after an animated debate marked by complaints about evasion of taxes by the rich and the brunt of indirect taxation borne by the poor and middle classes.
Rana Mohammad Afzal, parliamentary secretary for finance, informed the house that the government was already working on broadening the tax base and said that those refusing to divulge their incomes, from about 77,000 people to whom notices had been issued, could face cancellation of their computerised national identity cards.
https://www.dawn.com/news/1095594/minister-appeases-hardliners-on-child-marriage-bill
-----------
Govt develops cold feet on women's university in Rae Bareli
TNN | Mar 26, 2014
NEW DELHI: HRD ministry's proposed ordinance to set up Indira Gandhi central university for women in Rae Bareli has hit a roadblock. Sources say both HRD and law ministries have developed cold feet on the university proposed to be set up in Congress president Sonia Gandhi's parliamentary constituency.
"There is a cabinet meeting on Thursday. But so far ordinance is not listed. Final decisions will be taken by Wednesday. But there is a general reluctance," said a source.
A senior HRD official said, "Proposal for ordinance was made after the bill could not be taken up by Parliament. The ministry has been working on it for very long. We had immediately sought the ordinance route and sought law ministry's clearance."
But the two ministries are in a bind. HRD ministry cannot come up with a reason that would convince President Pranab Mukherjee to sign the ordinance. Law ministry is in a dilemma and wants HRD ministry to be more forthcoming as to what is so urgent to bring the ordinance in the middle of the election process. "It is not that the campus has already started and future of children is at stake," a law ministry official said.
Any rejection of ordinance by the President can cause a huge embarrassment to the UPA. The President has already rejected a series of anti-graft ordinances, pushed by Congress vice president Rahul Gandhi.
http://timesofindia.indiatimes.com/home/specials/lok-sabha-elections-2014/news/Govt-develops-cold-feet-on-womens-university-in-Rae-Bareli/articleshow/32692342.cms?
-----------
Saudi Girl Students Start Project to Assist Blind in Shopping
March 26, 2014
DAMMAM — Several female students here have launched a voluntary project to help blind people in buying their commodities from shopping malls and commercial centres, Al-Yaum reported on Tuesday.
Under the title, "We have duties toward you", the girls will insert tags in Braille language on commodities showing their price, colour and size, enabling the blind the privilege of shopping without being assisted or waiting for outside help.
Reem Al-Mansour, supervisor of the students' activities in the school, said the girls have visited a number of shopping malls and agreed with the administrators to put the tags on the commodities.
http://www.saudigazette.com.sa/index.cfm?method=home.regcon&contentid=20140326199840
-----------
Elderly Women Learners to Benefit from Hafiz (Unemployment Allowance)
March 26, 2014
RIYADH – Those attending schools for the elderly women are entitled to benefit from the Hafiz unemployment allowance, and this will be after they have qualified for it, according to spokesman of Human Resources Development Fund (HADAF). The spokesman's clarifications came following reports that several elderly women who were attending classes at these schools started dropping out in order to apply for Hafiz allowance.
The spokesman said that the executive bylaw for the Hafiz program covers those studying at all anti-illiteracy centres and evening schools. The bylaw has exempted elderly women attending such schools from the category of normal school students or trainees.
http://www.saudigazette.com.sa/index.cfm?method=home.regcon&contentid=20140326199906
-----------
Nirbheek, world's first gun for women, to be launched today
Faiz Rahman Siddiqui,TNN | Mar 25, 2014
KANPUR: Nirbheek, a .32 bore lightweight revolver, designed by Indian Ordnance Factory (IOF) especially for women, will be officially launched in a function to be held at Field Gun Factory today.
The first three women customers have been shortlisted for the launch ceremony, including Geeta Yadav from Lucknow, Kalpana Pandey from Barabanki and Seema Kharbanda from New Delhi.
According to IOF sources, Geeta Yadav is a wife of senior IPS officer; Seema comes from political background while Kalpana is a housewife.
Giving more power to women to defend themselves and as a tribute to December 2012 gangrape victim Nirbhaya, Indian Ordnance Factory, Kanpur, manufactured India's first firearm designed for women. At 500 grams, it is also a first IOF handgun ever designed specially for women, which can easily be carried in handbags. "The selection criteria has been made on first come first serve basis. We are impressed with the sheer number of women customers who submitted their applications for the firearm. All applicants were notified via e-mail and posts of their application status," said DN Verma, joint general manager Field Gun Factory.
"Priced at Rs 1,22,360, we have already done 100 bookings and have been receiving a huge number of queries daily," said Verma. "The weapon is capable of firing six rounds loaded in a revolving chamber, hence any misfire of a round does not affect the next shot, unlike in a pistol," Varma added. Keeping in mind the clientele, IOF Kanpur has also ordered specially designed boxes lined with velvet.
After the Delhi gangrape incident, IOF researchers had worked on a revolver which is light and can be carried by women in their purses or small handbags. The weight of .32 bore revolver is 750 grams, but Nirbheek only weighs 500 grams.
Talking to TOI, Kalpana Pandey, a native of Barabanki, and one of the first three buyers said, "I have decided to buy a gun only after knowing that it is light in weight and easy to carry.
http://timesofindia.indiatimes.com/india/Nirbheek-worlds-first-gun-for-women-to-be-launched-today/articleshow/32660023.cms
-----------
Carter Speaks Out On Religion and Equality for Women; Slams Sexist Biblical Interpretations
March 26, 2014
Former President Jimmy Carter is issuing a call to action for religions to stop using scripture to trample on women's rights.
He spoke about his new book out today, "A Call to Action: Women, Religion, Violence, and Power," with HuffPost Live host Alyona Minkovski and responded to her question about what religion has to do with women's rights.
President Carter stressed that there is no room in Jesus' message for sexism:
"There's no evidence at all that Jesus Christ did anything except to exalt women. Never has a single word or action been alleged to him that would deprive women from their equal or superior rights."
Carter explained that he left the Southern Baptist Church when they voted that women must be subservient to their husbands in 2012, a ruling that went against his commitment to gender equality. He maintains a strong Baptist faith and attends a Baptist church where a woman served as pastor and his wife is a deacon.
"Everybody is equal in the eyes of God," he said.
http://www.huffingtonpost.com/2014/03/25/jimmy-carter-religion-women_n_5028595.html?utm_hp_ref=religion
-----------
URL: https://newageislam.com/islam-women-feminism/india-village-mahapanchayat-bans-girls/d/66282