New Age Islam News Bureau
2 Jun 2016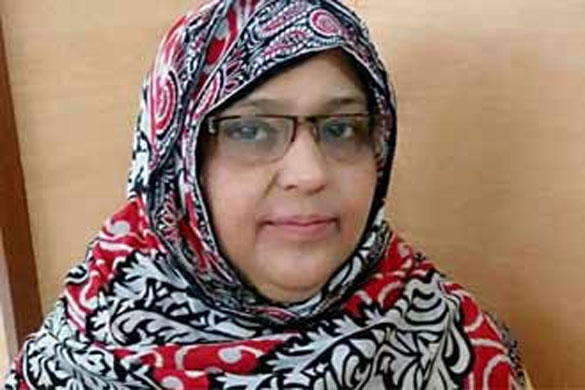 Photo: Uttar Pradesh's first woman qazi Hina Zaheer Naqvi on Wednesday urged Prime Minister Narendra Modi-led government to intervene into the matter and demanded an immediate ban on the practice.
---------
• Florida Muslim Girl Picks School after Citadel Says No To Her Hijab
• Try Beating Me Lightly: Pakistani Women Fight Back Against Council of Islamic Ideology
• ISIS Cowards Use Women and Children As Human Shields As Battle For Falluja Rages On
• 64 School Girls Poisoned In Central Maidan Wardak Province of Afghanistan
• 'Muslims ... You're like Cockroaches': Horrific Racist Rant at Two UK Young Women Wearing Veils Is Caught on Camera
Compiled by New Age Islam News Bureau
URL: https://newageislam.com/islam-women-feminism/india-up's-first-woman-qazi/d/107507
---
India: UP's first woman qazi demands govt's intervention in banning oral talaq
Jun 1, 2016
Dubbing triple talaq as "misinterpretation of 'ayats' (verses)", Uttar Pradesh's first woman qazi Hina Zaheer Naqvi on Wednesday urged the Narendra Modi government to intervene in the matter and demanded an immediate ban on the practice.
Naqvi said oral talaq had been widely misused, adding that this put a Muslim women's life at risk as it was promoting more and more divorces.
"I strongly oppose triple talaq. Even Quran, the central religious text of Islam, does not give any instructions encouraging the practice of oral talaq. This is mere misinterpretation of the verses," Naqvi told ANI.
"It is high time when the government takes a strict action and bans this practice right away," she added.
Over 50,000 Muslim women and men have signed a petition seeking a ban on triple talaq. The petition, spearheaded by the Bharatiya Muslim Mahila Andolan, has sought the National Commission for Women's intervention to end this "un-Quranic practice".
tribuneindia.com/news/nation/up-s-first-woman-qazi-demands-govt-s-intervention-in-banning-oral-talaq/245314.html
--
Florida Muslim Girl Picks School after Citadel Says No To Her Hijab
June 1, 2016
NORTHFIELD, Vt. — A Muslim high school student from Florida who hopes to become a Navy officer is going to attend Norwich University after the Vermont military school said it would allow her to wear her headscarf beneath her uniform.
Sana Hamze had initially hoped to attend The Citadel in South Carolina, but the school would not change its uniform policy to accommodate her headscarf.
"I didn't think it was fair to choose between practicing my faith and attending the Citadel," she told CNN. She noted that the U.S. military makes accommodations for Sikhs wearing turbans and Muslim women wearing hijabs.
The 17-year-old said she chose Norwich, which touts itself as the nation's oldest private military college and the birthplace of ROTC, after the school agreed to her request.
Norwich, located in the town of Northfield, has a total on-campus student body of about 2,250. About two-thirds of students are in the Corps of Cadets, its military program, while the rest are civilians who don't participate in military training. The students sit side-by-side in classrooms, though they have separate residences.
Norwich officials said privacy rules prevented them from confirming that Sana had agreed to attend. But last week, Norwich President Richard Schneider sent a message to the college community saying the school had agreed to accommodate a request from an accepted female student to wear a hijab beneath her uniform.
The student was told the "religious headgear" must be in "authorized colors and fabrics that can be covered" by the uniform.
"As educators of future leaders, it is our duty to matriculate a diverse student body that reflects our society," Schneider wrote. "Norwich prepares traditional students and the young men and women of our Corps of Cadets to welcome and respect diversity and to be inclusive of all people."
Norwich spokeswoman Daphne Larkin said Wednesday the reaction from Norwich alumni and others was "mixed, but generally positive."
Norwich was founded in 1819 by a former West Point instructor. It's considered the birthplace of the Reserve Officers' Training Corps, which prepares students to become officers in the armed forces. In April, top military leaders visited the school to help celebrate the centennial of college ROTC.
stripes.com/news/us/muslim-girl-picks-school-after-citadel-says-no-to-her-hijab-1.412600
--
Try Beating Me Lightly: Pakistani women fight back against Council of Islamic Ideology
02 June 2016
Pakistani women have reacted angrily online to a proposed law to allow husbands to "lightly beat" their wives.
The Council of Islamic Ideology (CII) advises the Pakistani government and has suggested a law to help men keep their wives in line.
"If you want her to mend her ways, you should first advise her. ...If she refuses, stop talking to her...stop sharing a bed with her, and if things do not change, get a bit strict," CII chairman Muhammad Kahn Sherani told the Express-Tribune newpaper.
"A bit strict" was clarified by the group: "A husband should be allowed to lightly beat his wife if she defies his commands and refuses to dress up as per his desires; turns down demand for intercourse without any religious excuse; or does not take bath after intercourse or menstrual periods."
Women across Pakistan have reacted furiously to this suggestion, framed in a bill entitled the Women Protection Bill.
Photographer Fahhad Rajper created a portrait series of women who described what they would do if someone beat them lightly.
The album posted on Facebook started a trend across Pakistan and around the world based around the tag, #TryBeatingMeLightly.
Some mocked the law.
Some conservative Muslims criticised the trend and said it was un-Islamic but generally people supported the campaign as a stand against the CII.
It was not only social media that reacted strongly to the suggestion. The Human Rights Commission of Pakistan (HRCP) said it was "difficult to comprehend why anyone in his right mind would think that any further encouragement or justification is needed to invite violence upon women in Pakistan".
The group estimates that 70 per cent of Pakistani women have suffered domestic violence. A statement read: "As much as the HRCP wanted not to dignify with any comment the ridiculous CII recommendations regarding 'light beating' of women, the commission thinks it is imperative that every right-respecting person must condemn such counsel unreservedly. The irony of calling the measures 'women protection' should not be lost on anyone."
It added: "We hope and expect that...the draft bill will be condemned unreservedly by all segments of society."
christiantoday.com/article/trybeatingmelightly.pakistani.women.fight.back.against.council.of.islamic.ideology/87435.htm
--
ISIS cowards use women and children as human shields as battle for Falluja rages on
1 June 2016
The gutless jihadis, whose so-called Caliphate is hurtling towards total defeat, are deliberately putting women and children in the firing line to save their own skins.
Officials revealed the handful of Islamists left in the city of Falluja, which is set to be retaken by Iraqi forces, are turning to increasingly desperate methods as their grip on power slips away.
Jihadi fighters have even begun summarily executing those civilians, including young children, who refuse to fight for them.
Aid workers with the UN Refugee Agency (UNCHR) say that hundreds of families are still trapped inside the city, some 40 miles west of Baghdad, whilst thousands more have fled.
ISIS fighters are desperately trying to stop the remaining civilians from leaving so that they can use them as human shields as and when Iraqi troops attempt to storm its centre.
UNCHR spokesman William Spindler said: "UNCHR has received reports of casualties among civilians in Falluja city centre due to heavy shelling, including seven members of one family on May 28.
"There are also reports of several hundred families being used as human shields by ISIS in the centre of Falluja."
Inside the ruined city officials said there has been a "dramatic increase in the number of executions of men and older boys for refusing to fight on behalf of ISIS".
Backed by Sunni militias and special forces from across the globe, Government forces have made huge gains against the evil Islamists and have brought their so-called Caliphate to its knees.
Fallujah - which once had a population of 300,000 - is one of just two major Iraqi cities still controlled by the jihadis, and taking it back will be seen as a major step towards all-out victory.
The previously thriving urban centre has been decimated by two years of ISIS rule and now just 40,000 still remain in their homes, either too frightened or unable to leave.
Some 3,700 of its remaining inhabitants have managed to escape the clutches of the evil jihadis and are now being looked after by officials in camps which have been set up on the outskirts of the city.
All of the 624 families to have fled will be screened by security services to ensure that they are not Islamist sympathisers trying to blend in with refugees before they are resettled.
Many had to run for their lives under the noses of Islamist maniacs at night, with large numbers including women and children being executed after being caught trying to leave the city.
Others have been publicly whipped for 'desertion' and one man's leg was reportedly amputated, according to UNCHR officials.
Those who did make it out are amongst the estimated 3.2million people who have been displaced across Iraq since ISIS rose to power with a blitz offensive across the country in January 2014.
The cocksure Islamist group declared a so-called Caliphate covering huge swathes of the Middle East, but has since lost most of its lands following a fierce fightback by local forces supported by the US-led coalition.
express.co.uk/news/world/675919/Islamic-State-ISIS-use-women-children-human-shields-battle-Falluja-Iraq
--
64 School Girls Poisoned In Central Maidan Wardak Province of Afghanistan
Thu Jun 02 2016
At least 64 schoolgirls were poisoned in central Maidan Wardak province of Afghanistan on Wednesday, the education officials said.
An official in the Ministry of Education Kabir Haqmal said the incident took place in a girls school in Behsud district.
He said the students were immediately taken to hospital for treatment and the health condition of them has been reported satisfactory.
According to Haqmal, similar symptoms were seen as the other girls were poisoned in other provinces which include reduced blood pressure, nausea and headache.
He also added that an investigation is underway regarding the cause of the incident and further information will be released later.
This is not the first time the school girls have been poisoned during the school hours but numerous incidents have taken place in the past, specifically in Northern provinces of the country.
Over 100 school girls have been poisoned in western Farah province of Afghanistan late in the month of April.
According to the local officials, the incident took place in the central city of Farah in a girl's school.
khaama.com/64-school-girls-poisoned-in-central-maidan-wardak-province-01147?utm_source=feedburner&utm_medium=email&utm_campaign=Feed%3A+khaama+%28KHAAMA+PRESS+%7C+Afghan+Online+Newspaper+%26+Magazine%29
---
'Muslims ... You're like Cockroaches': Horrific Racist Rant at Two UK Young Women Wearing Veils Is Caught on Camera
1 June 2016
A man is caught on camera calling Muslims 'cockroaches' during a horrific racist rant at two young women wearing veils.
The middle aged white man launched the repugnant tirade at Kalsoom Naqvi and her friend as they walked along a street in Exeter.
Among the accusations he levels at the friends are that England is not their country and that Muslims are 'raiding' the nation.
The man, who is wearing a grey polo top and has tattoos across his arms, continually asks where the girls are from and says: 'Do you know the biggest problem with this country at the moment, Muslims are absolutely raiding this country.
'You're like cockroaches. If we went over to your country what we would have to wear one of these? [her head scarf]'
He then asks why Kalsoom won't take off her head scarf and claims he's not being racist.
The girls say they decided to confront the man after he made alleged 'bomb jokes' and told them to 'go home'.
The incident took place in Exeter City Centre on a road called Sidwell Street, which is just a short walk away from the Exeter Mosque and Cultural Centre.
Kalsoom, who was born in west London, filmed the exchange and posted it on Facebook, with the clip since racking up 157,000 views and 1,437 shares.
She wrote: 'My friend and I walked past this individual on our way to Sidwell Street Tesco.
'We heard him say 'I hear a trigger going off... Kaboom!' and he followed up with some racist comments telling us to 'Go back home' and 'This is not your country'.
'His friend, who can be seen walking away in the video, stood by and watched at the time.
'No-one, no matter their religion or race, should be subject to unnecessary abuse. Unfortunately, this is the reality of Islamophobia and the irrational fear of the 'other' that exists today.
'Many of those who have contacted me have opened up about similar experiences - it is far too common.
'I cannot stress how frightening and lonely it was to be surrounded by bystanders who did nothing but watch. Almost more frightening than the man himself.
'Thank you to the group who intervened - it really helped. I would like to encourage others to act similarly, given that it is safe to do so.
'If I had not been convinced to report this to the police, I probably would not have captured the situation on video.
'The police have been very sympathetic and supportive. They are using stills from the video to find the individual, so please do not be afraid to report hate-crime.'
dailymail.co.uk/news/article-3619504/Muslims-like-cockroaches-Horrific-racist-rant-two-young-women-wearing-veils-caught-camera.html
URL: https://newageislam.com/islam-women-feminism/india-up's-first-woman-qazi/d/107507
New Age Islam, Islam Online, Islamic Website, African Muslim News, Arab World News, South Asia News, Indian Muslim News, World Muslim News, Womens in Islam, Islamic Feminism, Arab Women, Womens In Arab, Islamphobia in America, Muslim Women in West, Islam Women and Feminism