New Age Islam News Bureau
4 May 2015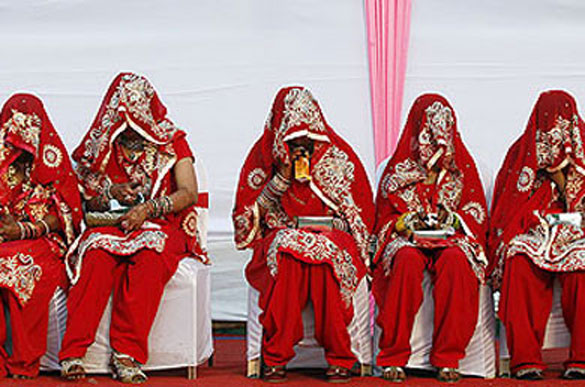 India: UP Girls Take a Stand, Say 'No' To Unfit Grooms and Mismatched Marriages
----------
• With Rescue Near, Boko Haram Stoned Nigerian Girls to Death
• UK's First Women Mosque Planned
• We Are World's Last Line of Defence against Terrorism - Kurdish Female Fighter
• Navy Seals See No Barrier to Women in Combat Ranks
• Mali Law Would Reserve One-Third of Government Jobs For Women
• Boko Haram Freed Women Tell Of Captivity Horror
• British Grandmother Prepares For Execution in Indonesia
• Afghan Woman Accused Of Seeking Asylum after 'Iron Underwear' Stunt
• Islamic Website Aimed At Young Emiratis Would Provide Relationship Guidance
• Strategic Retreat: Jirga In Tangir Valley Puts Off Decision To Bar Women's Suffrage
Compiled by New Age Islam News Bureau
URL: https://www.newageislam.com/islam,-women-and-feminism/new-age-islam-news-bureau/india--up-girls-take-a-stand,-say--no--to-unfit-grooms-and-mismatched-marriages/d/102805
-----------
India: UP Girls Take a Stand, Say 'No' To Unfit Grooms and Mismatched Marriages
04 May, 2015
Minutes before solemnising her wedding vows, Kanpur's Lavli Kushwaha discovered to her horror that the man she was about to exchange garlands with was not the one she had agreed to marry – it was his illiterate elder brother.
The prenuptial ceremony was already complete, but she did not hesitate and walked out of the wedding, backed by her family and relatives.
The bride's father told HT the man they had matched Lavli with, Sonu, was replaced with his brother Ram Karan but the groom's family disputed this, saying Sonu was already married.
The Kanpur resident is not the only one as a bunch of brave women across Uttar Pradesh have been taking a strong stand against mismatched marriages in a state otherwise in the news for rampant violence against women and dowry-related deaths.
In Varanasi last month, a minor girl escaped a forced underage marriage when she called the police with the groom's party at her door. The authorities arrived after getting a call from Kavita* and stopped the marriage, sending the girl to a child welfare committee.
Some of these botched weddings have also been settled amicably – as was the case last Friday in Bareilly's Aonla, where the bride discovered during the wedding rituals that her husband-to-be had very poor eyesight.
She noticed the groom kept missing the mark when asked to offer water to the deities and got up to tell her mother she could not tie the knot.
As news spread, members of the groom's family tried to convince the girl that the boy's eyesight was alright but it soon came to light that the bride had been deliberately left in the dark about his problem.
The groom then returned home unwed with the two sides sitting down amicably and deciding to share the expenses of the botched wedding.
In yet another case, a Dalit girl, Shakuntala Devi, refused to tie the knot with an ill-matched groom, Vipin, in Kanpur Dehat.
Shakuntala's relatives and friends noticed a lump on his back and that he had a problem opening his mouth. They told her about the groom's 'problems'. When she confronted Vipin she also found that he was inebriated and without thinking twice, Shakuntala announced she was calling off the wedding.
Despite requests from her family as well as the groom's side, Shakuntala put her foot down and the two sides agreed to return all the things that they had exchanged in prenuptial ceremonies and the groom went home single.
Such incidents are reported across religions as educated women refuse to compromise on their husbands and listen to the diktat of their family, rejecting obscene dowry demands.
An educated Muslim woman in Kanpur, Gulshan Khan, refused to marry an illiterate carpenter who demanded a dowry of Rs 1.5 Lakh in cash and electronic gadgets, filing a police complaint against the man.
Khan was engaged to Mohammad Nazir Ahmad since December 2009 but while she worked hard on her education for the last 5 years and got two post-graduate degrees, he remained illiterate, even taking Rs. 50,000 from Khan's family for a motorcycle at a pre-nuptial ceremony held earlier this year.
Before the wedding, Khan's septuagenarian father Mukhtar Ahmad Warsi requested Ahmad's family to accept his educated daughter without any dowry and said his family was already impoverished. He even put his turban, a sign of a man's honour, at the feet of the groom's father and asked him not to press for dowry, but to not avail.
When Khan learnt all this, she decided to call off the proposed alliance.
http://www.hindustantimes.com/india-news/up-girls-take-a-stand-say-no-to-unfit-grooms-and-mismatched-marriages/article1-1343671.aspx
---------
With rescue near, Boko Haram stoned Nigerian girls to death
The Associated Press
04 May, 2015
YOLA, Nigeria – Even with the crackle of gunfire signaling rescuers were near, the horrors did not end: Boko Haram fighters stoned captives to death, some girls and women were crushed by an armored car and three died when a land mine exploded as they walked to freedom.
Through tears, smiles and eyes filled with pain, the survivors of months in the hands of the Islamic extremists told their tragic stories to The Associated Press on Sunday, their first day out of the war zone.
"We just have to give praise to God that we are alive, those of us who have survived," said 27-year-old Lami Musa as she cradled her 5-day-old baby girl.
She was among 275 girls, women and their young children, many bewildered and traumatized, who were getting medical care and being registered a day after making it to safety.
Nigeria's military said it has freed nearly 700 Boko Haram captives in the past week. It is still unclear if any of them were among the so-called "Chibok girls," whose mass abduction from their school a year ago sparked outrage worldwide and a campaign for their freedom under the hashtag #BringBackOurGirls.
Musa was in the first group of rescued women and girls to be transported by road over three days to the safety of the Malkohi refugee camp, a dust-blown deserted school set among baobab trees opposite a military barracks on the outskirts of Yola, the capital of northeastern Adamawa state.
Last week's rescue saved her from a forced marriage to one of the killers of her husband, she said.
"They took me so I can marry one of their commanders," she said of the militants who carried her away from her village after slaughtering her husband and forcing her to abandon their three young children, whose fates remain unknown. That was five months ago in Lassa village.
"When they realized I was pregnant, they said I was impregnated by an infidel, and we have killed him. Once you deliver, within a week we will marry you to our commander," she said, tears running down her cheeks as she recalled her husband and lost children.
Musa gave birth to a curly-haired daughter the night before last week's rescue.
As gunshots rang out, "Boko Haram came and told us they were moving out and that we should run away with them. But we said no," she said from a bed in the camp clinic, a blanket wrapped around ankles so swollen that each step had been agony.
"Then they started stoning us. I held my baby to my stomach and doubled over to protect her," she said, bending reflexively at the waist as though she still had to shield her newborn.
She and another survivor of the stoning, 20-year-old Salamatu Bulama, said several girls and women were killed, but they did not know how many.
The horrors did not end once the military arrived.
A group of women were hiding under some bushes, where they could not be seen by soldiers riding in an armored personnel carrier, who drove right over them.
"I think those killed there were about 10," Bulama said.
Other women died from stray bullets, she said, identifying three by name.
There were not enough vehicles to transport all of the freed captives and some women had to walk, Musa said. Those on foot were told to walk in the tire tracks made by the convoy because Boko Haram militants had mined much of the forest. But some of the women must have strayed because a land mine exploded, killing three, she said.
Bulama shielded her face with her veil and cried when she thought about another death: Her only son, a 2-year-old toddler who died two months ago of an illness she said was aggravated by malnutrition.
"What will I tell my husband?" she sobbed after learning from other survivors who used borrowed cell phones to try to trace relatives that her husband was alive and in the northern town of Kaduna.
Musa, who had been in pain and withdrawn after her arrival the night before, greeted a reporter with smiles on Sunday — and the news that her breasts were finally giving milk and nourishment to her yet-to-be-named daughter.
Another survivor, Binta Ibrahim, was 16 years old and accompanying her sister-in-law to the dressmaker when Boko Haram insurgents rode into their village of Izghe, firing randomly at civilians. On that day in February 2014, the AP reported at least 109 people were killed and almost every hut destroyed as the militants lobbed firebombs onto their thatch roofs.
Ibrahim, her sister-in-law and two of Ibrahim's sisters were among scores of young women abducted.
Her two sisters escaped in the pandemonium that surrounded an air raid, but Ibrahim, who was caring for three children she found abandoned after the insurgents moved into the neighboring village of Nbitha, did not go with them.
"I had these three kids to care for and I couldn't abandon them a second time," she explained.
She described trekking for two days from Nbitha to Boko Haram's hideout in the Sambisa Forest with 2-year-old Matthew and 4-year-old Elija Yohanna strapped to her back and 4-year-old Maryam Samaila clinging to her waist.
"They were so weak from lack of food that they couldn't walk. There was nothing to do but rest when I couldn't take another step, and then press ahead when I had recovered," she said.
The children are Christian and Ibrahim is a Muslim. While Nigeria's northeastern Islamic insurgency has polarized many of Nigeria's people on religious lines, that was the last thing in Ibrahim's big heart.
"I love them as if they are my own," she said, striking her breast with both fists to show the depth of her love for the children, who were rescued with her and still remain in her care.
http://www.theherald-news.com/2015/05/03/with-rescue-near-boko-haram-stoned-nigerian-girls-to-death/awqheak/?page=1
---------
UK's First Women Mosque Planned
04 May, 2015
CAIRO – Following the suit of their sisters in the US, British Muslim women have announced plans for the country's first women-only mosque, the plans regarded as offering women a platform to offer adequate religious service for women.
"The aim of the Bradford Mosque Project is to build a mosque for women, and run by women. It would be the first of its kind in the UK," Bana Gora, the chief executive of the Muslim Women's Council, was quoted by The Telegraph & Argus.
"Over the last year we have carried out a detailed audit of local mosques and found that the services offered by mosques were not always adequate for women.
"Rather than just complain, we decided to do something about it.
"We hope that this is something we can start in the next couple of months."
Gora made the announcement on the first day of the Daughters of Eve conference, which involved women from across the country coming together to discuss issues including Shari`ah Law and the portrayal of Muslims in the media.
The announcement of Bradford Mosque Project culminated a year-long effort to find a suitable facility in the city's existing mosques.
Gora expects the idea to create some debate, such as whether women would be able to lead prayers in the new mosque.
Earlier this year, the first ladies-only Women's Mosque of America in Los Angeles, Calif., has divided the opinions of American Muslim women.
Moreover, the new mosque raised controversy on the validity of conducting a women-only Jumu`ah prayer, being a female imam and the feasibility of the fruits for which the idea was initiated.
http://www.onislam.net/english/news/europe/485489-uks-first-women-mosque-planned.html
---------
We are world's last line of defence against terrorism - Kurdish female fighter
04 May, 2015
When mothers, daughters and wives have to leave their loved ones to fight for the survival of nations – you know the war has reached its darkest stage. These women, the Valkyries of the modern era, are not afraid to risk their lives, as the stakes this time are very high. The Kurdish female battalion instills fear into the zealots of the Islamic State, holding the line alongside men of the Peshmerga against the extremists. Who are these women? Why are they taking up arms, and what are they leaving behind? We posed these questions to the All-female Peshmerga Battalion Commander, Colonel Nahida Ahmad Rashid.
Follow @SophieCo_RT
Sophie Shevardnadze: Kurdish female fighters are on the frontlines along with men, fighting against the Islamic State today - why have you taken up a man's job? Why did you choose the army life over family life?
Nahida Ahmad Rashid: Several generations of my family lived under anti-Kurdish regimes in Iraq. The Kurdish people have survived oppression, genocide, our history, our culture was nearly destroyed. Joining the Peshmerga, protecting our homeland is an honor for all of us - men and women alike. Today we live in a free Kurdistan, but women are still joining the Peshmerga, we're prepared to fight shoulder to shoulder with men…
SS:When the regiment was founded, you were fighting against Saddam Hussein's regime, for Kurdish rights and freedom - why did you stay at Peshmerga when the fight against Saddam was over?
NAR: Women have always been part of all the Kurdish uprisings, along with men. After the toppling of Saddam's regime and the liberation of Kurdistan, we went into politics, became part of the Kurdish government. There weren't enough fighters in Kurdistan, so women took up arms.
It all started off from a small group of women, who wanted to join the Peshmerga. I am one of the founding members of the Women's battalion. We were initially backed by Jalal Talbani - a Kurdish politician who later became the president of Iraq. That's how we built the women's regiment. Today it's a regular unit, there are around 600 women serving in the female battalion. It includes women from all over Kurdistan, regardless of ethnicity or religion - for instance, there's Sunni and Shia Arabs, Turkmens, Christians and Kurds serving in the regiment.
SS:From what I understand the woman's role in the Kurdish society is limited to family and household duties, yet you are accepted in the army. Do you get more respect as a woman with a gun?
NAR: Women Peshmerga fighters are not only soldiers; we are also mothers, wives, and sisters. Many of us have families, husbands, and children. But family never gets in the way of our job, we are still full-fledged fighters. There are girls who are engaged, there are those who have two or three kids at home. We even have a mother and daughter serving together in the regiment.
Today, Kurdistan is undergoing major change. There is no more talk of gender discrimination. The Kurdish women who take up arms to defend their country alongside men are living proof to that. And we are always ready to stand up for our country, the rights of women and all the communities in Kurdistan.
SS:You said you have children – what does your family think of your job? Do your children maybe want to join the Peshmerga too?
NAR: When it comes to family… my daughter is eleven years old, and she already has a strong sense of national identity, she wants to protect her homeland. And while there are no age limits for aspiring Peshmerga fighters, she is certainly still a child, and what she needs to do first is finish school and get professional education. In any case, joining the Peshmerga is something you do of your own accord. There are many women among us who are still studying in university; they're encouraged to continue their studies. We are considerate of the needs of female students and young mothers too. For example, after having a baby, a woman can go on maternity leave for six months. Until the baby is 18 months old she doesn't have to be on duty every day, it's enough if she attends regular military drills.
SS:Do you serve in the same conditions as men do? Do you undergo the same training? Do you receive the same pay?
NAR: Definitely, of course! Our regiment was formed 18 years ago and the whole purpose of its creation was equal rights, freedom. We wanted to put an end to discrimination against women. We weren't even paid at first, but we didn't care. Money didn't matter to us, we wanted freedom, democracy. Defending our homeland was all that mattered. We were so scared of losing our new-found freedom.
Today women take part in military training more often than the male Peshmerga. Competing against men, our female soldiers take first and second places. We use all the same weapons men do.
At first we were trained by male officers, but now women took over that task.
Right now I can say with confidence that male and female Peshmerga are equal. We work with men during military exercises. As I said, women are taught how to use all types of weapons, just like men. We have a female sniper team, female mortar gunners, units that are equipped with heavy machine guns and other heavy weaponry. We even have female tank crews. Our regiment is part of a well-trained, well-equipped modern fighting force.
SS:What are women's stronger points compared to men in battle? Men are undoubtedly stronger physically, but women are said to be psychologically more endurant. How does that show on battle field? Are women more fearless?
NAR: What you are saying is central, vital for all people, regardless of their sex, of their personal traits of character, level of courage and diligence. There are girls who charge into battle in the first line, leaving men behind. We use the same kind of weapons in this war as men do: we fight with rifles, grenade launchers, heavy machine guns. Personally, I see no essential difference between a female and a male Peshmerga.
Of course, not all women can become Peshmerga fighters, just like not all men can qualify for this. Whoever wants to be a Peshmerga has to have an iron will. It's that iron will of today's Peshmerga soldiers that give them strength to confront the most barbaric enemy of all time - and win. Considering all this, I don't see a significant difference between myself and a male Peshmerga, even if he is my superior. For example, on the front lines I can be commanding one flank, and my male superior would be holding positions on the other flank. And the success we get would be our common success.
From the very beginning we have been on the frontline in this war with ISIS, we are the first to fight. We fought both in Kirkuk and at the Hanakin front. Our women get killed in this war. The deputy commander of the regiment, that is to say, my immediate deputy, was killed last November. She was a captain, a skilled shooter and a sniper. She was better at fighting off enemy attacks than any man, and it was thanks to her that the enemy failed to reach our positions. She left behind two daughters, one was barely 3 years old and the other was about 9 months old, not even 1 year old. She had never mentioned being a mom and having two small kids. She used to say that it was her duty to combat the foes of humankind and was prepared to give her life for her country.
My battalion is very close to ISIS positions, so we have been shelled much more than any other unit. We never agree to be put to alternate sectors where there is less fighting or in the rear.
SS:Can you tell me, what was your biggest most dangerous battle?
NAR: This isn't our first war. We've been through many fights already. Let me tell you about our role in the fight against Saddam Hussein. We were on the front line near Kirkuk and Khanaqin. Several of our fighters were wounded. We were the first women's unit to enter Kirkuk in 2003 together with the Peshmerga brothers. We were fighting side by side. The local residents – women, children, and the elderly – welcomed us with excitement, asking us to free them from Saddam's regime. The same happened in Khanaqin. And back in 1995, we were fighting against Islamist terrorists. So this is clearly not our first fight.
This time around, we've been fighting along the Kirkuk-Khanaqin line since June. When our division was preparing for an assault near Al Bashir, the women's unit armed with heavy machine guns, grenade launchers, and sniper rifles reached the front at midnight. It was an intense and difficult battle. The enemy was fighting back, fiercely trying to repel our attack, but the Peshmerga won the battle. Terrorists had to retreat leaving many dead behind. That's when we saw that they were beheading their wounded so that they aren't captured.
Last October we were in another difficult fight. We were attacked from all four sides. Suicide bombers were trying to get to our lines, to blow themselves up amid the Peshmerga, so that they could puncture our defense. But our regiment demonstrated outstanding bravery on the entire front, and the enemy was unable to break through.
Today our members are fighting right on the front line, in actual contact with terrorists. In the last battle, we lost several people, including a general. It was a tough affair, but we hit them hard with our mortars, machine guns and grenade launchers - they were forced to pull back.
SS:You just mentioned the Islamic State - ISIS is imposing fundamental rules against women, promoting sexual slavery… what happens to a woman-fighter if she falls into the hands of ISIS?
NAR: Women are the main target of ISIS in their assault on Kurdistan. The entire world saw what they did to women in Shangal. They made them slaves, gang-raped them, and sold them on the market. ISIS rejects any kind of human values. They even torture children! So they really hate the Peshmerga women, and they instruct their militants to kill us first. A Peshmerga woman is a particularly valuable trophy for ISIS terrorists, as they don't believe women should be fighters, or should even sit at the same table as men. They are convinced that women should stay at home and just wear a hijab all the time.
But we the Peshmerga women have our own rules too. We swear an oath that the enemy will never seize us alive. Each of us carries a spare bullet as a last resort so that this doesn't happen. If they treat ordinary women and children so ferociously can you imagine what they would do to a female Peshmerga fighter? We're not afraid of ISIS; it's them who fear us. They believe that if they die from a hand of a woman they will not go to heaven, and will not be considered Jihadi martyrs. And that helps the Peshmerga women stay fearless when facing the enemy.
SS:What happens to an ISIS fighter falling into the hands of a woman regiment? Has that ever happened? Or they'd rather kill themselves?
NAR: Yes, we saw wounded terrorists in the fights near Al Bashir. But as I've said, jihadists behead their own wounded with their knives before leaving the battlefield. 00.19.38
SS:You've fought ISIS on the frontlines - What was it like? Are they well-equipped?
NAR: Clearly, all weapons of the retreated Iraqi army landed in the hands of the IS terrorists, which means that they are equipped with modern arms. Moreover, they also receive help from outside. Whereas the Peshmerga fighters mainly have light arms and rifles, which are far from being new. However our willpower and bravery made the enemy kneel before us.
SS:Do you receive any kind of help? Are you receiving help from the U.S. and its allies like the Iraqi military is?
NAR: As a Peshmerga member, I am grateful to all the nations that have provided us with air support and supplied us with arms. But unfortunately that is not enough. The terrorists have seized state-of-the-art weapons from the Iraqi Army, and quite a few neighboring countries supply them with military hardware. Nevertheless, we thank the international coalition for providing both moral and material support to us. The air strikes have played a major role. Coalition jets bombed terrorist positions and strongholds, inflicting serious damage. Once again, we are thankful to all the members of the coalition. But unfortunately, such help hasn't been sufficient. Indeed, countries like the United States and Germany have provided us with weapons and miliitary instructors and other support, which was highly useful. But let us not forget that the Peshmerga are singlehandedly resisting international terrorism, which threatens the entire world, including Europe. It is evident that if the terrorists were to succeed in Kurdistan, people in other countries will be sharing the plight of the Kurdish women and children in jihadist-controlled areas.
SS:What more do you need? Do you need weapons?
NAR: We certainly do need weapons. We need qualified military instructors to train our troops. We need support in all of these areas from the anti-terrorist coalition.
SS:Why are the Kurdish fighters a stronger force than the Iraqi military? Iraqi soldiers ran for their lives when they faced ISIS.
NAR: The thing is, the Iraqi Army was corrupt and demoralized. It was formed in a highly sectarian environment – I mean the Sunni-Shia strife, which is a very dangerous factor. The Iraqi Army has never been a truly national army. Besides, it still is very poorly trained. It had vast stocks of of weapons and ammunition, but it had neither the skill for using them nor the morale befitting a national army. To be honest, you could say they weren't a real army at all. They had no proper discipline. They have proved unable of even protecting themselves. ISIS managed to infiltrate the officer corps, and the Army eventually surrendered all its territory to the jihadists. The Iraqi Army has essentially defeated itself.
SS:Are you only fighting inside Iraqi Kurdistan, or are you moving into areas of Iraq proper?
NAR: As you can see, we are currently posted at the edge of Kurdistan. Our mission is to guard the border. We are ready to engage the enemy anywhere if we get the order. But this is a decision that only the political leadership can take. At the moment, the Peshmerga are on the front line, protecting our nation's boundaries.
SS: I am listening to you and I am amazed at how brave Kurdish women are - But tell me something, how is it that Kurdish women are fighting on the frontlines, but back home they are subject to nasty things like genital mutilation and honour killings? Do you feel the service in the army makes things better for women in the whole Kurdish society?
NAR: Right now we do our duty as members of the Peshmerga. In the meantime, we, the women of Kurdistan, stay active in our country's political and social life. We work with all women's rights groups, confronting violence against women. The government is now also helping prevent violence against women. It's true that we were isolated from the rest of the world for quite some time. Those who ruled Iraq and Kurdistan before did everything to keep our society backward. We still have prejudices. But together with women's groups we've gone a long way. It's safe to say that violence against women is gradually on the decline. As for honor killings, seen as revenge, they are still common. However, this is a problem not just for Kurdistan. Many countries suffer from this. Violence against women in general is an issue in all countries, including those in Europe, the US, but violence just takes a different form.
When we talk about rights, about freedom and democracy, I would not say these concepts are deeply ingrained in nations around the world. In Kurdistan as well - it's not complete. We do have democracy and freedom. I can surely speak for women, at least they are free and it's up to them to choose their profession. We work hard to ensure the legitimate rights of women are respected. We have a law in place that bans domestic violence. The parliament of Kurdistan passes laws to protect women. The country now has a 30 percent quota for women at every level of power. Our women can now play an important role in decision-making, including in parliament and executive agencies. Thanks to this move we now have fewer problems. But it doesn't mean we don't have any left. We live in a society where Islamist parties are still strong. They pretend to be protecting Islam, but really that's just a cover to trample women's rights, including their right to make their own decisions. This is still a barrier on the way to full empowerment.
SS:Colonel, you – personally, do you envisage a different life for yourself sometime in the future? If there's peace? Would you like to have a life different from that of a fighter?
NAR: I dreamed a long time of joining the Peshmerga. I grew up in a family where many, including my brothers, fought in the Peshmerga. When Saddam Hussein was in power, I was part of the political struggle. And I intend to stay part of the Peshmerga. I love what I do.
SS:We can hope, that one say there's peace, in 10, 20 years, what then – would you choose a different job?
NAR: We, the Peshmerga, do what we have to do as a nation. We've taken up arms not to kill. We have taken up arms to raise vigilance, to regain our rights, women's rights, and protect these rights. Initially, the idea behind the female unit was to defend what we already achieved – our parliament, our stability and security that the government of Kurdistan has attained.
http://rt.com/shows/sophieco/255333-kurdish-female-fighter-is/
---------
Navy SEALs see no barrier to women in combat ranks
04 May, 2015
U.S. Naval Special Warfare Command has found no barriers to integrating women into all-male SEAL teams, a finding that greatly increases the chances that Defense Secretary Ashton Carter will open the units to females by January.
The command has completed studies ordered in 2013, including one that examined the physical standards for becoming a SEAL as well as study of the unit that killed Osama bin Laden and has conducted hundreds of other counterterrorism missions against Islamic extremists.
The Navy validated that each demanding standard remains relevant to the occupation of a SEAL and that none should be lowered, a special operations source told The Washington Times.
Furthermore, commanders do not see the standards, or other issues, such as mixed-sex teams in isolated austere locations, as a barrier if women have what it takes to pass the physical challenges.
"We don't see anything that will prevent us from moving forward with our integration," the source said. "We don't see any barriers to being able to integrate females into Navy special warfare."
The final approval process will play out this year. In the fall, Army Gen. Joseph Votel, commander of U.S. Special Operations Command, will make recommendations to Mr. Carter on now-closed SEAL positions, as well as other exclusively male units such as the Army's Green Berets, Rangers and Delta Force.
According to timelines set up by then-Defense Secretary Leon E. Panetta, who revoked the ban on women in direct ground combat, Mr. Carter will make a final decision by January.
The outcome seemed certain when Mr. Panetta and Army Gen. Martin E. Dempsey, the Joint Chiefs chairman, made the announcement. Gen. Dempsey said that if there were any combat standard women could not meet, the military better have a good reason for not lowering it.
In March 2013, retired Adm. William McRaven, a SEAL and then-chief of Special Operations Command, sent an upbeat memo to the Joint Chiefs.
"I applaud the department's decision to eliminate the Direct Combat Assignment Rule and believe the eventual and complete integration of women into U.S. Special Operations Command (USSOCOM) will provide a new and powerful dimension to our Special Operations Forces (SOF) formations," he wrote.
Last week, during an appearance at Georgetown University, Mr. Carter was asked if various ground combat jobs will be opened to women. "I think most will. Maybe all will," he answered.
Uncharted territory
The SEALs have not used women volunteers in any type of pilot program.
In contrast, the Marine Corps dispatched 27 women volunteers on the grueling Infantry Officer Course. None passed. Enlisted women, however, completed less-demanding infantry training.
The Army also went the volunteer route on April 20 by putting women into the Ranger Course at Fort Benning, Georgia. After the first week, a step called Ranger Assessment Phase (RAP), eight of 19 women remain. Of 381 men, 184 are moving on.
An Army press release said the success rate — 48 percent for men and 42 percent for women — is "within historic norms for the Ranger course."
The RAP test consisted of 49 pushups, 59 situps, a five-mile run in under 40 minutes, six chin-ups, a swim test, a land navigation test and a 12-mile march with a 35-pound rucksack in under three hours.
Naval Special Warfare has opened some support jobs, or military occupational specialties (MOS), to women. But the tip of the spear, SEALs (3,957 jobs) and special warfare combatant craft crewmen (944 jobs) remained closed pending the defense secretary's final decision.
Grueling training ahead
The Special Warfare Command completed several studies before concluding that there are no barriers to admitting women.
The Joint Special Operations University looked at how mixed-gender small teams would perform.
Researchers at the University of Kansas queried personnel on their attitudes for admitting women and impact on unit cohesion. The Rand Corp., a Pentagon-supported research group, looked at the same issues.
Karen R. Kelly, a physiologist for the Department of Warfighter Performance at the Naval Health Research Center in San Diego, studied current standards for becoming a SEAL and their occupational relevance.
A command statement to The Times said, "Standards will not be lowered."
The future of all-male SEAL teams has garnered much attention since they are arguably the most famous, and macho, commandos in the U.S. arsenal.
If the Pentagon orders the command to open its jobs, female candidates will face what some experts consider the toughest military training qualification test in the world.
It begins with a preparatory school and, next, an indoctrination and pre-assessment phase. Then comes a grueling six-month, phased qualification called Basic Underwater Demolition/SEAL, or BUDS.
Carried out at the Naval Special Warfare Training Center in Coronado, California, BUDS demands strength, endurance, speed, underwater and airborne skills, mental toughness and marksmanship.
According to a naval special warfare website, the BUDS phases are: basic conditioning for running, swimming and calisthenics culminating in a sleep-deprived "Hell Week"; combat diving; land warfare; and then final qualifications that test candidates across the combat spectrum.
Throughout, exhausted sailors are pushed and tormented by instructors looking to weed out those who cannot carry a comrade off a Pacific Ocean beach, for example, or belly-crawl up a steep sand berm.
'Days of Rambo are over'
Elaine Donnelly, who runs the Center for Military Readiness, says she doubts that standards will be maintained because of political pressure.
"The presumption that tough standards in SEAL or Delta Force training would remain the same is in conflict with the administration's stated paramount goal of 'gender diversity metrics,' meaning quotas," Mrs. Donnelly said.
She painted this scenario: "A few women might be accepted at minimum performance levels, displacing higher-scoring men. Then, to achieve higher numbers, officials would question, modify or incrementally drop physically demanding training elements while coping with new personal relationship complications in conditions of high stress and forced intimacy. The result would be less preparation and higher risks of injury, death or failure in sea/land special forces combat operations, with no trade-off benefits in terms of mission success."
Mrs. Donnelly said she was "astonished" when a senior SOCOM officer appeared in the Pentagon briefing room and said, "We're looking for smart, qualified operators. You know, there's just — there's a new dynamic. I mean, the days of 'Rambo' are over."
"This was an affront to the professionalism of Special Operations Forces everywhere," she said. "And policies affecting our most elite fighting forces should not be based on the fictional images, whether it's Sylvester Stallone as Rambo or Demi Moore as G.I. Jane."
During an interview in February with The Washington Times, former Navy Chief Petty Officer Robert O'Neill, the man who shot and killed Osama bin Laden, answered "absolutely" when asked if women can make the SEALs.
"I've met women that I think can beat me up. I'm not joking. Here in the States. There are some tough women out there," he said.
Mr. O'Neill said SEAL training "is the toughest in the world. It's tough physically. But it comes to a mental spot where you need to talk yourself into doing more. And you can convince your body through your mind to do anything, and I think a lot of women are mentally tougher than men. Like I said, if they don't lower the standards. If they can do the amount of pullups, do the 'slide for life,' get over the cargo net and carry the log, then, yeah."
Will the red-blooded SEAL community accept women?
"I would say, based on the guys I know, if they do not lower the standards, then yes," he said.
http://www.washingtontimes.com/news/2015/may/3/navy-seals-see-no-barrier-to-women-in-combat-ranks/
---------
Mali law would reserve one-third of government jobs for women
04 May, 2015
BAMAKO, Mali — An unlikely battle in an unlikely place has broken out over a bid to guarantee Mali's women a seat at the political table in this poor, conflict-ridden and heavily Muslim African country.
If enacted, a proposed law before Malian lawmakers would reserve one-third of government jobs for women, including in elected offices. Currently, only 14 women sit in Mali's 147-member parliament, three women belong to President Ibrahim Boubacar Keita's Cabinet of 33 ministers, and men claim the vast bulk of civil service positions.
Activists see the quota idea as a way to jump-start the drive for equal rights between the sexes.
"We no longer want men only to be selected for high-level responsibilities in Mali," said Djeneba Sy, 50, president of the National Union of Young Women Muslims.
The push for more representation in government is a remarkable development in Mali, where 90 percent of the population is Muslim, and where the former colonial power France intervened just three years ago to defeat an al Qaeda-linked Islamic insurgency in the north. A truce signed in 2013 has since broken down, and rape and violence against women remain common in the war-torn north despite the continued presence of French forces. The government and rebels are slated to sign another peace accord on May 15.
Before the French intervention, Islamist and Tuareg rebels established a brief regime in the north that enforced Shariah law, with Malian women confined indoors and forced to wear full-body, face-covering veils. A Human Rights Watch investigation said reports of forced marriage and rape also soared.
"The jihadists inflicted so much on the women in the north of the country," Katie Orlinsky, a New York photographer who traveled to the north for a reporting trip in 2013, told The New York Times last year. "It made just living almost illegal for women."
Even in areas not controlled by radical groups, women play a secondary role in Malian society, according to conservative Muslim mores. While the country's constitution states that men and women are technically equal, the law designates that men are the head of families and wives must obey their husbands. Educational opportunities for women are limited. Traditional female genital mutilation practices are widespread throughout the country, according to the United Nations.
Last year, the World Economic Forum's Global Gender Gap Report ranked Mali 138th out of 142 countries in a global survey of the state of women's rights.
"Our culture is the basis of the problem," said Ms. Sy. "Women have to obey their husbands. A woman hasn't the right to raise her voice while talking to her husband. Men don't even impose themselves on women — women voluntarily accept to be submissive in our society."
The proposed legislation would compel political parties to nominate a quota of women as candidates in elections. Advocates hope the law would apply to local elections in October.
Mounting opposition
Powerful Muslim groups are already lining up against the measure, however.
Among the legislation's most influential opponents are Sabati 2012, an alliance of young Muslim activists that supported Mr. Keita during his successful election bid in the run-up to 2013 elections. Sabati means "success" in Bambara, the predominant language in Mali. In exchange for that campaign help, the group expects the president to fulfill his promise of upholding conservative Islamic values, said Boubacar Bah, the head of Sabati 2012. "He must respect his commitment, given that this bill is opposed to our tradition," said Mr. Bah.
"There are two extremisms in Mali, religious extremism and secular extremism, and we want to combat secular extremism," added Mr. Bah. "They must know that we don't need the secular tradition that is in France."
Despite Sabati 2012's opposition, President Keita supports the proposal and has asked lawmakers in his party, Rally for Mali, to support the bill. But while they control the largest bloc in parliament, they don't have a majority.
Another religious organization that opposes the legislation, the Mali Islamic High Council, killed a women's rights bill in 2009. That law would have granted women permission to work without their husband's permission, for example. But the council organized rallies throughout the country that persuaded then-President Amadou Toumani Toure to add provisions to the final version of the law that undercut women's rights, including reducing the legal age of marriage from 18 to 16.
Mahmoud Dicko, president of Mali Islamic High Council, said there is little support for quotas for women in government in Mali. The Malian government is pursuing the bill at the behest of Western countries and international organizations in return for financial aid, outside pressure that Mr. Dicko thinks his country should resist.
"Even when you are starving, there is food you should refuse," said Mr. Dicko. "The authorities mustn't accept changing laws to obtain aid money."
But Ms. Sy said Islam doesn't proscribe women's participation in government. The problem is political, as men decide everything in the National Assembly. "Most of the parliament members are men, and they don't want to pass a law giving more public responsibilities to women," she said.
Mama Koite, a leading Malian women's rights activist, said the proposed law is essential to breaking the cycle of men oppressing women who can't change Malian laws, because cultural and legal roadblocks prevent them from sitting in parliament. If more women sat in Mali's parliament, she said, they could slowly but surely bring about other changes in society.
"The bill on the quota for women will help reduce the discrimination against women and girls in terms of access to opportunities," said Ms. Koite. "The legislation isn't sufficient by itself, but it will advance the efforts of women's rights defense organizations."
http://www.washingtontimes.com/news/2015/may/3/mali-law-would-reserve-one-third-of-government-job/
---------
Boko Haram freed women tell of captivity horror
04 May. 2015
Former hostages held by Boko Haram militants in northern Nigeria say some fellow captives were stoned to death as the army approached to rescue them.
The women said Boko Haram fighters started pelting them when they refused to run away as the army came nearer.
A group of nearly 300 women and children was brought out of the vast Sambisa forest to a government camp.
The military says it has rescued more than 700 people in the past week in an offensive against the Islamist group.
The women said several were killed in the stoning, but they did not know how many.
The survivors said that when they were initially captured, the militants had killed men and older boys in front of their families before taking women and children into the forest.
Some were forced into marriage.
They said the Islamists never let them out of their sight - not even when they went to the toilet.
"They didn't allow us to move an inch," one of the freed women, Asabe Umaru, told Reuters news agency. "We were kept in one place. We were under bondage."
One woman described how they were fed just one meal a day.
"We were fed only ground dry maize in the afternoons. It was not good for human consumption," Cecilia Abel told Reuters. This led to malnutrition, disease and death.
"Every day, we witnessed the death of one of us and waited for our turn," Umaru, a 24-year-old mother of two, told Reuters.
The women and children travelled for three days on pick-up trucks from the vast Sambisa forest where they were rescued, to the camp in the city of Yola.
Through interviews, officials have determined that almost all those rescued are from Gumsuri, a village near the town of Chibok, the Associated Press news agency reports.
It does not appear that any of those released are from the group of nearly 300 Chibok schoolgirls kidnapped by Boko Haram a year ago in a mass abduction that led to worldwide protests calling for the girls' release.
Thousands have been killed in northern Nigeria since Boko Haram began its insurgency in 2009 to create an Islamic state.
In February, Nigeria's military, backed by troops from neighbouring countries, launched a major offensive against the Islamist fighters, recapturing Boko Haram territory taken in the previous year.
http://www.bbc.com/news/world-africa-32574777
---------
British Grandmother Prepares For Execution in Indonesia
May 04 2015
A British grandmother on death row in Indonesia is writing goodbye letters to her family and believes she could be executed at any time, she wrote in an article on Sunday.
Lindsay Sandiford, 58, said she was expecting to die shortly, after seven foreign drug convicts were executed last week, causing a storm of international protest.
"My execution is imminent and I know I might die at any time now. I could be taken tomorrow from my cell," Sandiford wrote in British newspaper the Mail on Sunday.
"I have started to write goodbye letters to members of my family."
Sandiford, originally from Redcar in northeast England, wrote that she planned to sing the cheery popular song "Magic Moments" when facing the firing squad.
"I won't wear a blindfold. It's not because I'm brave but because I don't want to hide -- I want them to look at me when they shoot me."
She said her greatest sadness is that she may never meet her two-year-old granddaughter, who was born after her arrest.
Sandiford was sentenced to death on the island of Bali in 2013 after she was convicted of trafficking drugs.
Customs officers found cocaine worth an estimated £1.6 million ($2.4 million) hidden in a false bottom in Sandiford's suitcase when she arrived in Bali on a flight from Thailand in 2012.
Sandiford admitted the offences, but says that she agreed to carry the drugs after a drug syndicate threatened to kill her son.
She described Andrew Chan, 31, one of two Australians killed by firing squad on Wednesday for his role in a plan to smuggle heroin, as "one of the heroes of my life".
The two had become close friends in prison, where Chan had spent a decade after being arrested as one of the so-called "Bali Nine" group of smugglers.
The execution of Chan, who became a Christian pastor in prison, and another Australian Myuran Sukumaran, 34, cast a pall over relations between Australia and Indonesia.
A mentally ill Brazilian man and four African men were also executed. A Filipina single mother, Mary Jane Veloso, was granted a last-minute reprieve.
Sandiford's family have recently launched a fundraising drive to raise money to lodge an appeal at the Indonesian Supreme Court, after the British government refused to fund the legal fight.
If the challenge fails, Sandiford still has the option to appeal for clemency from Indonesian President Joko Widodo.
Mercy pleas of the convicts executed on Wednesday had been rejected.
http://www.thejakartapost.com/news/2015/05/04/british-grandmother-prepares-execution-indonesia.html#sthash.QLS0bTkZ.dpuf
---------
Afghan woman accused of seeking asylum after 'iron underwear' stunt
May 04 2015
Amid reports that the young Afghan woman was forced into hiding after 'iron underwear' stunt, new posts and photos went viral on social media suggesting that the performance by Kubra Khademi was aimed at seeking asylum in one of the European countries.
Khademi dressed in a metal suit featuring exaggerated breasts and buttocks and appeared on Kabul streets late in the month of February this year to protest against the sexual harassment faced by the women through a symbolic demonstration.
She had reportedly received several death threats after she was immediately forced back into her car by an angry mob of men despite she hoped to make a walk for at least 10 minutes.
Kubra Khademi
The social media was once again flooded with posts and photos of Kubra on Sunday slamming her for orchestrating the stunt to pave the way for seeking asylum outside.
A photo which purportedly shows Kubra in western dress while posing for a photo outside the country was widely shared by social media users claiming that she has used the shortest way to reach Europe by producing an irony dress to feature exaggerated breasts and buttocks and wear it just for a few minutes while walking in the streets.
However, an Afghan artist Ali Hazara based in France, ruled out rumors that Kubra has sought asylum and said she is in France during the past 40 days and has to attend numerous events as she has managed to attend only two of them so far.
Kubra Khademi2
Khademi said she carried out the performance as all Afghan women experience various forms of street harassment every day in their life, but it's not just a daily experience to be forgotten a few seconds later.
It leaves long lasting scars on women's spirit and sense of confidence which discourages and limits women's participation in public life, according to a report by Stop Street Harassment Organization.
However, due to the predominant culture of "shame" and "honor" and high social stigma attached to issues of sexual harassment, Afghan women often do not talk about their experiences of street harassment.
The scar remains invisible and women continue to suffer, generation after generation.
https://www.khaama.com/afghan-woman-accused-of-seeking-asylum-after-iron-underwear-stunt-1065
---------
Islamic website aimed at young Emiratis would provide relationship guidance
04 May, 2015
ABU DHABI // Young Emiratis have reacted positively to the idea of the creation of a website where they could openly and anonymously ask Islamic scholars about issues related to sex and relationships.
The concept was hatched during the second annual forum for Promoting Peace in Muslim Societies, which took place in the capital last week.
As part of the forum's aim to battle the online influence of violent extremists, the project Haqqathon (Haqq meaning truth in Arabic) tasked five groups to create viable ways of fusing technology and faith to bridge the gap between Islamic scholars and young people.
One of the groups decided to create an Islamic sex-education website and app called "Marhubba".
It received the highest number of votes from live and online audiences.
Hamda Al Zaabi said the anonymous nature of chatting with an Islamic scholar online would encourage Emirati youth to talk more freely about the topic.
"I'm sure a lot of kids do things they are not supposed to because of a lack of guidance. Knowing they could chat with a knowledgeable person without telling them who they were would persuade more to talk," she said.
Ms Al Zaabi said even though she could confide in her mother on such matters, she would still make use of such a website.
"Even though I'm pretty open with my mum there might be certain things I would be too embarrassed to approach her with," said the 22-year-old Emirati.
Having the option of talking to a female Muslim scholar would be crucial for Emirati girls, said Ms Al Zaabi.
"For this to work you would need the girls to feel completely comfortable and having a women to talk to would be essential," she said.
Fatimah Farah, 23, agreed that such a website would be better than any of the other options she was aware of.
"We have many questions but we can't get answers because it is considered provocative, so we just end up sharing opinions rather than finding the truth," said the Emirati freelance artist.
Ms Farah said scouring the internet for answers left her confused most of the time and calling into Islamic TV shows or Awqaf, the General Authority of Islamic Affairs and Endowments, was not an option.
Another young Emirati who said the online platform would be useful was Abdulrahman Saleh.
"This topic is generally taboo and what you learn you learn from your friends without any religious context," said the 22-year-old film student.
Mr Saleh said as long as it was anonymous and easy to access he could see it becoming very popular.
However, none of those interviewed knew that Awqaf currently offered very similar services.
Since 2007, it has provided religious edicts through its Fatwa Centre, which receives more than 1,000 calls daily, and three times as many during Ramadan.
The centre not only answer questions by phone, text, or online but also provides female Muftis to girls and women who feel uncomfortable speaking with men.
But all three young Emiratis agreed that parents should always be the first and primary source of sexual education.
"If I had a daughter I wouldn't want her getting this information from a website, I would want her to come to me," said Ms Farah, adding that even if she did not have the information asked of her she would seek it out and share it with her children.
"It was never mentioned in my house but I think it is very important for parents to talk to their kids about the topic," said Mr Saleh.
http://www.thenational.ae/uae/islamic-website-aimed-at-young-emiratis-would-provide-relationship-guidance
---------
Strategic retreat: Jirga in Tangir Valley puts off decision to bar women's suffrage
04 May, 2015
GILGIT: Fears of a possible backlash have compelled a jirga in Tangir Valley to put off its decision to bar women from voting in legislative assembly elections in Gilgit-Baltistan.
The decision was taken on Sunday, a few days after a jirga barred women in Darel Valley from casting votes in the June 8 polls. The controversial decree – issued by 40 jirga members, including religious scholars, community elders and candidates from JUI-F, PPP, PTI and PML-N – drew the ire of politicians and activists as it threatens to disenfranchise roughly 15,000 women.
"Following the hue and cry created by the decision in Darel, the jirga in Tangir Valley has steered clear of passing a similar decision," an insider told The Express Tribune on Sunday.
The decision has also been put off in light of the show-cause notice issued to the jirga in Darel on Saturday by the G-B Election Commission, a much more compelling threat for candidates.
The notice has asked candidates to explain their actions, and to specify the law which permits the banning of women from participating in polls. According to legal experts, candidates may face disqualification if they do not withdraw their stance against women's suffrage.
"The show-cause notice has sent alarm bells ringing," said the insider. "The jirga in Tangir Valley was supposed to pass its decision urging women to stay away from polling stations on the day of the elections. However, the show-cause notice has served as a tacit warning to the jirga, forcing it to put off the matter."
No vote, no voice
Israruddin Israr, a rights activist, told The Express Tribune, the same jirga had barred women from participating in the 2009 elections as well.
"According to the relevant law, anyone who bars women from participating in elections is liable to be tried in a court of law," he said. "Women also can't be forced to cast their votes. It should entirely be up to them to decide. If they want to vote, no one can stand in their way. If they don't want to participate, no one has the right to force them either."
Israr urged relevant authorities to prioritise this matter and ensure women who want to participate in the legislative assembly elections do not face any obstacles.
Speaking to The Express Tribune, Maqsood Ahmed, a JUI-F spokesperson, said the decision to bar women from voting in the upcoming polls was a collective decision and his party should not be singled out for blame.
Separate polling booths
The administration in Diamer district has provided a viable strategy to allow women to vote in the legislative assembly polls. It has decided to establish separate polling booths for women in Darel.
"The decision has been taken to protect women's right to vote," an official said on Sunday, requesting anonymity as he is not authorised to speak to media.
G-B Caretaker Minister for Information Inayatullah Shumali has thrown his weight behind the new scheme. Talking to The Express Tribune, he confirmed a separate polling facility for women will be a culturally appropriate solution to the challenges of women's suffrage in the region.
"It is now the responsibility of government and the election commission to arrange separate arrangements for the women," he said.
http://tribune.com.pk/story/880352/strategic-retreat-jirga-in-tangir-valley-puts-off-decision-to-bar-womens-suffrage/
---------
URL: https://www.newageislam.com/islam,-women-and-feminism/new-age-islam-news-bureau/india--up-girls-take-a-stand,-say--no--to-unfit-grooms-and-mismatched-marriages/d/102805