New Age Islam News Bureau
06 December 2021
• Women Activists of Afghanistan: Banning Forced Marriage Was Not Enough To Address the Issue of Women's Rights
• Muslim Pakistani Woman Attacked By Senior UK Civil Servant in Abuse of Power
• Rights Group: Services for Female Survivors of Gender-Based Violence In Afghanistan 'Decimated'
• Miss Universe Hopefuls Arrive In Israel Ahead Of Beauty Pageant
Compiled by New Age Islam News Bureau
URL: https://www.newageislam.com/islam-women-feminism/shooter-areeba-india-muslim-girl/d/125910
--------
India's Number Two Ranked Shooter Areeba Shoots to Fame, Breaks Stereotypes about Muslim Girls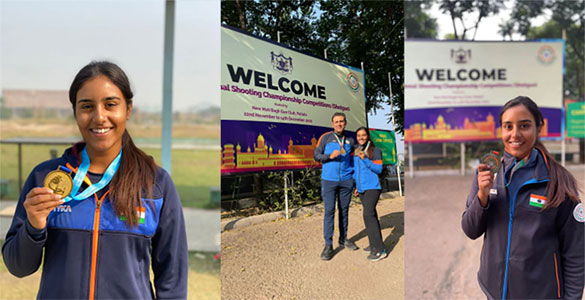 Aligarh's Areeba
-----
04 Dec 2021
Born in Dodhpur locality of Aligarh into an Alig family, Areeba Khan, who is now India's number two ranked shooter, was encouraged to take part in sports activities from her childhood. Her father Khalid Khan was a national-level shooter and her elder brother Umer Khan has been part of the Indian shooting team.
"Since shooters were in her immediate family, it was natural for Areeba to develop a fascination for this sport. She started taking part in formal shooting competitions at the age 13 in 2013," says her father Khalid Khan.
Areeba impressed everyone with her stellar debut in the UP State championship and won three gold medals in skeet shotgun events. She later participated in the North Zone championship in Delhi and won a silver medal in the junior trap event for women.
In the same year, she took part in the national Shotgun Shooting Championship in Delhi and was honoured with the renowned Shooter of India rank and thus she became part of the national squad at a very young age.
The next year in 2014, she again won three gold medals in the UP State championship and a gold medal in the Junior Skeet event in the North Zone Shooting championship. Then, she began taking part in the national events from 2015 onwards and notched up top slots in Junior Skeet events in almost every outing.
In 2017, she got a chance to participate in her maiden foreign event in Suhl, Germany. Later that year, she won a gold medal in the International Shotgun Cup held in Orimattila, Finland. Since then her rise as a shooter star continues. Her oeuvre boasts of a number of medals in national and international events.
In 2019, she was ranked as number 1 shooter of India in women category and currently holds 2nd position in the same ranking.
"Areeba missed her Tokyo Olympic chance by a whisker. For an Olympic qualification, a shooter has to attain a top 6 quota position and she unfortunately couldn't come in top 6," Khalid Khan says.
"But, now she is determined to qualify for the Paris Games to be held 2024 and is preparing for them with extra vigour and dedication," he told Times Headline.
Does being in a small-town like Aligarh, hailing from a Muslim family and studying in AMU create some hurdles for her? Her father says it's wrong to judge people from Aligarh, AMU and Muslim community through certain lens.
"Our family, like many families in Aligarh, has always been supportive of women taking part in every walk of life, be it sports or other fields. Even my grandmother was a horse rider in her younger days," he says.
He hopes that once Areeba will achieve more, she will inspire more girls to adopt sports as their passion and career.
(Dr. Shujaat Quadri is a Delhi-based journalist & community leader)
Source: India Blooms
https://www.indiablooms.com/life-details/L/6258/aligarh-s-areeba-shoots-to-fame-breaks-stereotypes-about-muslim-girls.html
--------
Women Activists of Afghanistan: Banning Forced Marriage Was Not Enough To Address the Issue of Women's Rights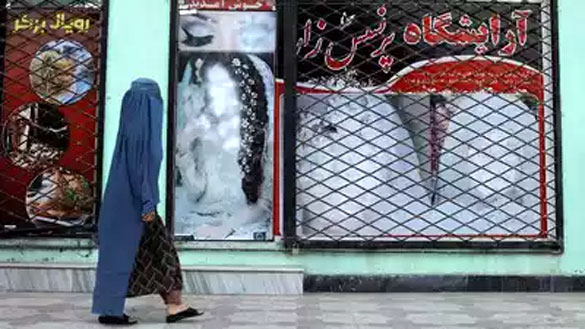 (Photo: The Times of INdia)
-----
Dec 5, 2021
KABUL: Women's rights activists in the Afghan capital of Kabul insisted Sunday they would continue fighting for their right to education, employment and participation in Afghan political and social life, and said a recent Taliban decree banning forced marriage was not enough to address the issue of women's rights.
The decree, issued Friday, comes as poverty surges in Afghanistan following the Taliban takeover of the country in mid-August amid the withdrawal of US and NATO troops.
Foreign governments have halted funds to the aid-dependent country since then.
Social rights activist Farida Akbari said the new Taliban government should permit women access to education and employment.
Currently education at the secondary school level and above has been banned, while most women have been banned from working.
Akbari said Friday's decree on forced marriage would not have any particular benefit to women living in cities, where such practices are rarer.
"It is not acceptable for us to get married, eat and stay at home," she told reporters.
"We want our role in politics, economics, jobs, education and social activities where they can't limit us."
Writer and women's rights activist Huda Khamosh noted women are "a key part of the community" and denying them the right to work and participate in Afghanistan's political and economic life "is tantamount to a denial of women in society."
The right of girls and women to education is one which exists in all Islamic countries, said writer and social activist Marzia Darazi.
Friday's Taliban decree was apparently aimed at addressing criteria the international community considers a precondition to recognizing their government and restoring aid.
According to the decree, "both (women and men) should be equal," and "no one can force women to marry by coercion or pressure."
It also noted women have the right to inheritance, and a widow can marry the man of her choice 17 weeks after her husband's death.
Forced marriages have become more frequent in the poor, conservative country, as the internally displaced marry off young daughters in exchange for a bride-price that can be used to pay debts and feed their families.
For decades women in Afghanistan were treated like property — as an exchange token for blood money or ending disputes or tribal feuds. The Taliban now state they are against the practice.
Source: Times of India
https://timesofindia.indiatimes.com/world/south-asia/women-activists-call-for-more-rights-in-afghanistan/articleshow/88109503.cms
--------
Muslim Pakistani woman attacked by senior UK civil servant in abuse of power
4 Dec, 2021
By Mujtaba Ali Shah
LONDON – UK Government's senior civil servant Jonathan Francis McGarry insulted a British Pakistani Muslim woman in front of witnesses during a mortgage fraud case but his employer Serious Fraud Office (SFO) has allowed him continue working on the same case even though an official investigation found serious breaches.
Jonathan Francis McGarry, who works as a lawyer within the Proceeds of Crime and International Assistance Department at the SFO, called British Pakistani Muslim woman Shabana Kausar a "gangster's moll" in the presence of witnesses in court and accepted during investigation he insulted the Muslim woman, according to media reports and official papers.
Legal papers show that Jonathan Francis McGarry referred to Shabana Kausar as a "gangster's moll" at the Westminster Magistrates' Court on 28 February 2020 in the course of post hearing discussions held with the counsel Christopher Convey and Jayne Edwards, the Principal Financial Investigator in the case.
In a separate attack on an ethnic female lawyer Ghislaine Sandoval working on the same case for the defendant Shabnam Kausar, Jonathan Francis McGarry compared the female lawyer to a "dog".
Jonathan Francis McGarry attack Shabana Kausar, the ex-wife of British Pakistani businessman Nisar Afzal, and Ghisliane Sandoval without any provocation according to media reports.
The UK Serious Fraud Office (SFO) has now dropped the criminal fraud investigation into Nisar Afzal after 15 years of investigation, giving him clean chit. At the request of the SFO, restraining orders and arrest warrant have been cancelled through the Southwark Crown Court against Nisar Afzal who left for Pakistan in 2006. He has always stressed his innocence.
According to papers, Shabana Kausar's lawyers at Imran Khan and Partners complained to the UK Government against the civil servant. The SFO investigated and found that McGarry was involved in abusing two women and he confirmed that too. The SFO disciplined Mr McGarry and separated him from the case file of Nisar Afzal and Saghir Afzal but quietly allowed Mr Jonathan Francis McGarry to take control of the case again. Legal sources have said that this is abuse of power and process and Afzal family has stressed that they have been unfairly targeted by the investigators who spared the real culprits in the case.
According to legal papers, lawyers of Shabana Kausar at Imran Khan and Partnerships wrote that the highly offensive comment was "unwarranted, unprofessional and highly offensive, particularly as it came from a member of the prosecution agency" targeting a female who has suffered violence.
Imran Khan and Partners also reported in the same complaint to SFO that Jonathan Francis McGarry attacked another professional woman related to the same case. On 20 October, McGarry sent email to Ghislaine Sandoval, a trainee solicitor, saying: "At least Ghislaine has got a training contract now and isn't merely a dogs body."
The complaint to SFO said the attack from Mr McGarry was a "serious breach of the SRA principles 2 and 5" as solicitors must "act in a way that upholds public trust and confidence in the profession and in legal integrity. We don't know why MG chose to compare a female trainee solicitor of this firm to a dog".
Lawyers of the defence said that Jonathan McGarry's motives and the professionalism has raised concerns about how the Pakistani family's case as being prosecuted.
The lawyers also complained to SFO on 26 august 2020 that Mr McGarry wrote to Southwark Crown Court accusing Shabana Kausar's son Akash Afzal of attempting to sell a property known as Turtle Creek, Florida, USA. The lawyers told SFO that he had misled the court because both the US Department of Justice and lawyer of Akash refuted the allegation as false.
The lawyers told SFO they were making complaint after a number of incidents over a period of time led to concerns regarding Mr McGarry's professionalism and his regard to the Rules of Conduct in prosecuting the case against Nisar Afzal, Saghir Agzal and their family members because the family members repeatedly raised concerns that they were being victimised.
According to legal papers, on 29 January 2021, the SFO confirmed in writing it's investigation upheld two complaints related to Shabana Kausar and Ghislaine in that the comments were made and were inappropriate.
The SFO said that "as a result we have taken the action" and Mr McGarry "is to have no further direct contact with you or your colleagues". The SFO told lawyers it had encouraged Mr McGarry to apologise but neither any apology was given nor Mr Mcgarry stayed away from the case after his attack on two women.
Official papers show that Jonathan Francis McGarry is running the case against although SFO had taken him off the case over complaints by the Afzal family.
Source: Daily Pakistan
https://en.dailypakistan.com.pk/04-Dec-2021/muslim-pakistani-woman-attacked-by-senior-uk-civil-servant-in-abuse-of-power
--------
Rights Group: Services For Female Survivors of Gender-Based Violence In Afghanistan 'Decimated'
December 06, 2021
Essential services for female survivors of gender-based violence in Afghanistan have been "decimated" since the Taliban took control of the country, Amnesty International said on December 6.
In 26 interviews, survivors and service providers told the London-based rights group that the Taliban closed shelters and released inmates from prison, including many convicted of gender-based crimes.
"Women and girl survivors of gender-based violence have essentially been abandoned in Afghanistan. Their network of support has been dismantled, and their places of refuge have all but disappeared," said Agnes Callamard, Amnesty International's Secretary General.
When the Taliban took control of Afghanistan in August, protective shelters were closed and some looted or seized by the Taliban, Amnesty said.
As the shelters shut, staff were forced to send many women and girls back to their families, or the survivors were forcibly removed by family members. Some survivors were forced onto the street or into other difficult situations. In some cases, Taliban members harassed or threatened staff.
Now many survivors – as well as shelter staff, lawyers, judges, government officials, and others involved in protective services – are at risk of violence and death, Amnesty said.
Before the Taliban seized control, Afghanistan had a network of shelters and services for victims of gender-based violence.
"The system was far from perfect, but served thousands of women each year in Afghanistan," Amnesty said.
As the Taliban rapidly took control of territory in the summer, they also released many militants and other detainees from prisons. Many detainees had been convicted of gender-based violence offenses, Amnesty said.
"It defies belief that the Taliban threw open prison doors across the country, with no thought of the risks that convicted perpetrators pose to the women and girls they victimized, and to those who worked on survivors' behalf," Callamard said.
In response to the allegations, Taliban spokesperson Suhail Shaheen told Amnesty International via telephone: "There is no place for violence against women and girls, according to the rules of Islam… The women facing domestic violence can be referred to the courts, and the courts will hear their cases… and their grievances will be addressed."
The Taliban also denied releasing criminals, insisting the previous government had opened prisons as security forces collapsed.
Amnesty International called on international donors to provide funding for protective services and evacuate survivors and service providers facing danger.
The rights group also urged the Taliban to uphold their obligations to women and girls, particularly those who survive or are at risk of gender-based violence.
Since it toppled the internationally-backed government in Afghanistan, the Taliban has struggled to turn a guerrilla movement into a functioning administration.
The country is suffering a major economic crisis and the Taliban has struggled to pay civil servants.
Foreign donors had provided around 75 percent of the budget to the previous Western-backed government as well as supported organizations helping women and girl survivors of gender-based violence.
Source: Gandhara
https://gandhara.rferl.org/a/female-gender-violence-afghanistan/31595482.html
--------
Miss Universe hopefuls arrive in Israel ahead of beauty pageant
06 December ,2021
Miss Universe hopefuls have arrived in Israel ahead of the pageant, with contestants from more than 80 countries – including the GCC – hoping to take home the winning crown.
Israel will host the Miss Universe beauty pageant on Dec 12 despite imposing travel restrictions in a bid to stave off the Omicron strain of the coronavirus, Tourism Minister Yoel Razvozov said on Sunday.
For all the latest headlines follow our Google News channel online or via the app.
He said participants in the contest, to be held in the Red Sea resort of Eilat, were granted waivers from the curbs, despite a ban on the entry of foreigners into the country.
Official pictures released by Miss Universe organizers show the contestants taking the opportunity to explore all the host country has to offer, beginning in Jerusalem and ending their trip in Eilat, where the competition will take place.
Their country-wide tour has included a trip to Israel's famed Dead Sea and the headquarters of Israeli national airline El Al.
Among the hopefuls this year is Manar Nadeem Deyani, 25, who is set to make history when she becomes the first beauty queen from Bahrain to represent her country at the pageant.
A Dubai resident, Deyani has been named as her country's representative at the global pageant.
"I may be the shortest candidate in the history of Miss Universe, but I stand tall representing a country of love, peace and kindness – your first ever Miss Universe Bahrain," Deyani posted on Instagram, announcing her participation.
On Deyani's description on the Miss Universe website, she said: ""Nowadays people have a concept of what a beauty queen is, but she is here on the international stage as the first Bahraini representative to show the we are a generation that breaks stereotype."
The United Arab Emirates is also expected to send a participant this year.
This will mark the first time that a delegate from the UAE has competed in the event, although organizers behind the first-ever Miss Universe UAE canceled a planned coronation night for the inaugural beauty contest in November.
The event, which was supposed to be held on Sunday, November 7, was called off "due to time constraints," according to a statement posted by organizers on their Instagram story.
No updates were posted on the organization's dedicated Twitter page and a new date has not been announced.
On the online voting poll, which has headshots of each participating country's representative, including biographies, the UAE continues to have a blank space.
In another historic moment, Miss Universe Morocco returns to the competition for the first time in over four decades.
This year, the pageant, in addition to celebrating the past 70 years of championing strong women and their platforms, will also shine a spotlight on the issue of global warming as part of a green agenda that corresponds with the values of the host country.
Source: Al Arabiya
https://english.alarabiya.net/News/middle-east/2021/12/06/Miss-Universe-hopefuls-arrive-in-Israel-ahead-of-beauty-pageant
--------
URL: https://www.newageislam.com/islam-women-feminism/shooter-areeba-india-muslim-girl/d/125910
New Age Islam, Islam Online, Islamic Website, African Muslim News, Arab World News, South Asia News, Indian Muslim News, World Muslim News, Women in Islam, Islamic Feminism, Arab Women, Women In Arab, Islamophobia in America, Muslim Women in West, Islam Women and Feminism