New Age Islam News Bureau
16 Oct 2014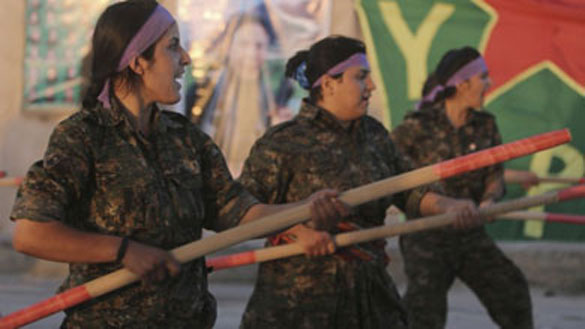 Kurdish female fighters of the Women's Protection Unit (YPJ) wage a battle to retain control over Kobani.Reuters
----------
• Heroine of Kobani: Kurdish Female Fighter Rehana 'Kills 100 Isis Jihadis' Single-Handedly
'• Love Jihad' Case: In Latest Twist, Girl's Father Says She Can Marry Muslim
• A Muslim, She Looks After 14 Hindu HIV Positive Kids
• In Pakistan, Malala Is Seen As an Overexposed Poster Child of the West
• Women Drivers in Afghanistan Must Brave the Traffic and the Stares
• Sufi International Association: Continued Captivity of Nigerian Girls Is an Insult to Islam
• Maldives- Women against Drugs to Provide Vocational Training for Recovering Addicts
• Changing Our World of Conflicts; the Role of Muslim Women
• Breaking Muslim Stereotypes through Education, Dialogue
• Malaysian Singer Yuna Is Far More Than Just a 'Muslim Pop Star'
• Muslim Women Say the 'Ban the Burqa' Debate Is Inspiring Positive Conversation in Adelaide
• Floods, a Kashmiri Family, a 5-Year-Old Girl from Mumbai, And a Happy Ending
Compiled by New Age Islam News Bureau
URL: https://newageislam.com/islam-women-feminism/india-echoes-saif-ali-khan's/d/99553
--------------
India Echoes Saif Ali Khan's View on Inter-Religious Marriage
16 Oct, 2014
Actor Saif Ali Khan's opinion on inter-religious marriage that appeared in today's edition of The Indian Express has been appreciated by people from across the country. In the article titled Intermarriage is not jihad, it is India, Saif argues that the fabric of India is woven from many threads – English, Muslim, Hindu and many others. "A major concern in today's India is that we keep deleting our past. To say Muslims don't have a role in India is denying their importance and contribution," he writes.
We gleaned through the scores of comments and complied the best so far:
Malika Kazi: This article answers all the questions of those who have problem with intermarriage! It's not necessary to fall in love with a person of your own caste… after all love is an involuntary feeling… The most important aspect of every person should be RESPECT for others and their religion.
Geeta: Exactly Mr. Saif, we are talking about that one point "I think we should have one law for all Indians, a uniform civil code, and we should all think of ourselves as one nation". Million Likes:) Ramesh Grover: Saif Ali Khan is clear headed, sincere, direct, and well meaning. He has made many good points to which most sane and rational beings will agree G. Arunima: Thank you Saif Ali Khan for making a clear, succinct, and courageous statement. Also for your reflective views on doubt, faith and the complexity that being 'Indian' means. Saif has a good understanding of religion and secularism and India. His article is inspirational and uplifting. Kiran: Excellent Saif, I can see our great captain Nawab Mansur Ali Khan Pataudi smiling at you from heaven. Brahmananda Sahoo: Absolutely marvelous piece. You are right. We give more importance to religion than love and humanity. This must change. Ashok Raut: Great thinking – "My conscience is my god". and About Uniform Civil code. Let the God be a personal thing. Let the country come first. Good Mr. Saif, I respect you more today then yesterday. Amit: I thought it was a very well written article, and more importantly well meant. I know the comments here are going to fly off in all directions, so I hope people take it in the spirit intended. I was quite moved by one particular line – "… I am more Indian than any Hindu or Muslim I know because I am both." Dhananjay: It can't be put better – "My conscience is my god, I think, and it tells me that that one tree in Pataudi near which my father is buried is closer to god than any temple, church or mosque." Shihab Mohammed: First of all, those who practice any religion should be broad minded, good hearted and caring. Then all problems will be solved. Religion is the means to reach the destination (God). Just take it that way and help the needy around you, love them, behave humanely. Just simple. Muslim: Good work Saif! People like you are hope for the community and the country. Sridhar Raman: Saif I haven't seen much of your film so I can't comment on your acting ability but through this article you have shown to be true human being I salute you. Wish you best in your life Anand Chandolu: Thanks Saif for writing on this and taking a stand, which is unusual of Bollywood stars. In our country which takes Bollywood quite seriously, Bollywood has the position, potential and power to counter love jihad.
http://indianexpress.com/article/india/india-others/india-echoes-saif-ali-khans-view-on-inter-religious-marriage/99/
-----------
Heroine of Kobani: Kurdish Female Fighter Rehana 'Kills 100 Isis Jihadis' Single-handedly
16 Oct, 2014
A Kurdish female fighter has been hailed on social media for allegedly killing over 100 Isis (Islamic State) militants single-handed in the battle for Kobani.
The fighter, known only as Rehana, was named in a tweet which has already been shared thousands of times since it was initially sent on 13 October.
However some sources are reporting that Rehana has been killed by Isis, with one graphic picture purportedly showing her beheading.
either the news of Rehana's death, nor the number of people she has killed, can be independently verified.
Several Kurdish women have been lionised for the bravery and determination they have shown in attacking Isis.
The women belong to the Yekineyen Parastina Jin, or Women Protection Units (YPJ). The female contingent earned international renowned after one of its fighters blew herself up in Kobani killing several Islamic State (also known as Isis) militants.
Dilar Gencxemis, known by her nom de guerre Arin Mirkan, was a 20-year-old mother of two who detonated herself as she ran towards Isis fighters, killing as many as 23 of them.
Kurdish resistance is increasingly relying on its female fighters to save the town on what appears as a desperate fight for survival. According to various estimates, female fighters make up between 7,000 and 10,000 of the Kurdish forces fighting in Syria.
The YPJ is an all-female, independent militia which at the frontline embrace arms along with their male "comrades" of the People's Protection Units.
Linked to the Marxist-inspired Kurdistan Workers' Party (PKK), an outlawed organisation blacklisted in the US and the EU who fought the Turkish army for 30 years and caused 40,000 deaths, the YPG is desperately outnumbered and outgunned by Isis, which boasts an arsenal of US weapons looted from the Iraqi army in Mosul.
http://www.ibtimes.co.uk/heroine-kobani-kurdish-female-fighter-rehana-kills-100-isis-jihadis-single-handedly-1469989
-----------
'Love jihad' case: In latest twist, girl's father says she can marry Muslim
16 Oct, 2014
The Meerut 'love jihad' saga continues to unfold with new twists and turns.
After the 'victim' confessed that she was forced to give false statements of gangrape and forcible conversion by her family and that she had willingly eloped with her Muslim boyfriend, the father of the girl has now come out and said that she can marry him if she wants.
This statement comes even as the father was earlier quoted in news reports as saying that his daughter was forced to change her statement.
He had earlier told The Indian Express, "The police are working to to weaken the case of my daughter's abduction, forcible conversion and gangrape."
Now the father of the girl has told Times of India, "We never tried to politicize the matter. Ever since the issue was first brought to light on 3 August, political parties started approaching us. She is an adult, free to marry Kaleem. It may be a case of love jihad, but if she is happy that way, she can marry him."
He added that he wanted the case filed against Kaleem to be dropped and said that he had not expected his daughter to file a case against them. The girl had filed a complaint on Sunday with the Mahila Police Station against her parents, saying that she had run away from her house on her own free will with Kaleem, a Muslim, as there was "threat to her life" and alleged that she was also "beaten up".
In this complaint, she had also alleged that her family had forced her to file a false rape case and when she objected, they threatened her with dire consequences and that she ran away fearing danger to her life. Meanwhile the girl's father insists that it was political parties who tried to play up the issue of 'love jihad' and that he "had no intention to draw any publicity to his daughter's affairs," adds the TOI report.
It was earlier reported that a BJP leader, Vineet Agarwal had given her family Rs 25,000, although Agarwal claimed that he was only doing this to help the poor family.
Agarwal had earlier told TOI "My help should not be linked with politics. Had she been of any other religion, I would have helped just the same."
The report also quotes a neighbour Sandeep Bhardwaj as saying that the family was already facing social ostracism in the village and that, "We initially tried to help, but ever since we discovered that they've accepted money, we've kept our distance."
But Hindu groups it seems are not ready to accept that there was no 'love jihad' in the first place. The TOI notes that members of Hindu Behen Beti Bachao Sangharsh Samiti (Save the sisters and daughters struggle) were trying to talk to the father as well.
Earlier an Indian Express report had quoted Ajay Tyagi the head of this organisation, who insisted that there was a conspiracy behind the girl changing her statement and that the administration was protecting the accused.
He told the paper, "Hum Hindu beti ko kisi keemat par police ke dabao mein doosre dharm ke logon ko nahin saunp sakte (We cannot hand over a Hindu girl to members of the other community under pressure from police)." He also insisted that the police was working with the ruling SP to save the accused.
While the fringe right-wing groups are continuing to play up this issue, it is evident that for the parents of the girl the 'love jihad' matter is now over and that they wish to drop the case.
And the father's statements also make it clear that the issue was politicised by political parties in the region including the BJP which had tried to capitalise on the same in the UP bypolls.
http://www.firstpost.com/india/meerut-love-jihad-case-in-latest-twist-girls-father-says-she-can-marry-muslim-lover-1759327.html
-----------
A Muslim, she looks after 14 Hindu HIV positive kids
Bangalore Mirror Bureau
16 Oct, 2014
Tabassum faced tough opposition from family and society when she decided to work with the children
Breaking the HIV taboo is a challenging task. The moment a case is diagnosed, some families choose to distance themselves from the victims. About ten years ago, when a close friend of Tabassum died just two days after the doctors told her that she was suffering from HIV, Tabassum saw that none of her friend's family even wanted to touch her. At this point, Tabassum was left alone to perform her last rites. That was when she decided to dedicate her life for the sake of HIV positive children. Until then, her job with an NGO was nothing more than a source of income.
Speaking to Bangalore Mirror, Tabassum said, "For the past 14 years, I have been working for HIV positive children and pregnant women. My outlook changed after this incident." Recollecting her past, she said, "I hail from a very poor family. I secured a distinction in SSLC and wanted to study further, but my family could not afford to support my studies. I somehow managed to go up to PUC, but by then, my family got me married. After marriage, I did not want to stay at home and went on to do my degree, after which I took up a job with an NGO for the sake of a living. It is never easy for a Muslim woman to come forward and work, specially with an NGO where you deal all kinds of people. I somehow fought opposition from family and went ahead. I continue to work at the NGO even today, and at the same time since I enjoy working with kids, I took it up as a challenge and went ahead to set up my own protection care centre called 'Snehadeep' about two years ago," she said.
"Strangely, I received lot of opposition; some even said it was not right for a Muslim lady to take up this responsibility. I can proudly say that at Snehadeep, I look after 14 girls in the 7-12 years age group and all of them are Hindus. There is no religion once these children fall sick. Often, their families prefers to distance themselves from the children. More than their physical health, these children suffer from psychological pain or want of company. The bigger children scan through newspapers everyday looking for any new medicine that can cure them. They know that they will die soon. At times, convincing them to study is also difficult. When these kids are at their last stage and are shifted to the hospital, nobody from their family wants to associate with the child. Often, they are left to die alone. I try my best to be there with them during their last stage though it is very painful and perform their last rites in the best way I can. With every death, I only pray and hope that this is last child dying before me. The initial days were a struggle. I used to go door-to-door on a Sunday asking people for help. Even a packet of biscuits for kids would make a difference. Getting funds for food is always a big task," she said.
For Tabassum, spending time with the kids provides peace of mind. "Recently, I was very happy when a child received 92 percent in PUC. "
http://www.bangaloremirror.com/bangalore/others/A-Muslim-she-looks-after-14-Hindu-HIV-positive-kids/articleshow/44818209.cms
-----------
In Pakistan, Malala is seen as an overexposed poster child of the West
16 Oct, 2014
SIALKOT, Pakistan — To the rest of the world, Malala Yousafzai is a hero, but to many if not most of our fellow Pakistanis, she is the West's poster child, and someone who is getting far too much attention.
You'd think that being shot by the Taliban for speaking out for the right of all girls to go to school would make her as celebrated here as in New York, where on her 16th birthday last week, she spoke at the U.N. Youth Assembly. "Malala Day," they called it.
But there are no such days here, and it is so disheartening to see this girl who has so much passion for Pakistan being treated so harshly in the country she loves. Over and over, we hear speeches that begin, "I support Malala and the right to education for all, but…"
This but disgusts me.
Nearly 66 years after independence from the British, we still haven't managed to decolonize ourselves, and so still have an angry, defensive attitude toward the West. Which is why, the moment the West applauded Malala, we forgot all she'd done for us and focused only on the West's hypocrisy.
Yes, it is hypocritical of the West, especially the United States, to celebrate one girl when they are directly responsible for depriving millions of girls of basic human rights in Iraq, Afghanistan, Yemen and Pakistan.
How so? Much of the American public sees civilian victims of drone strikes and other military intervention as collateral damage. And yes, there is something of the white savior's complex in the way the Western media have reported Malala's story; by glorifying her, they also use her as an excuse to justify drone strikes and aggression against Taliban.
Still, there are two major problems with this whole defensive approach. First, it puts the entire blame for the Taliban's hostility on the West. It is very convenient to say that they are a product of U.S. policies in the 1980s, but the fact is that although the funding was mostly American, the Taliban were supported by Saudi Arabia and trained by the Pakistani army.
The Pakistani state supported them at its own peril. When the Taliban infection became contagious and incurable, we covertly agreed with the United States on drone strikes.
The even bigger problem I have with our defensiveness over Malala's high profile in the United States is that people take it too far, to the extent that they see her as a helpless pawn– which is especially ironic because that's exactly what they blame the West for.
They question why Malala's friends, Shazia Ramzan and Kainat Riaz, who were shot along with Malala, are not celebrated in the same way. What we forget is that Malala's achievement was not being shot, or even for surviving the attack. She is celebrated for her passion for education — a cause she has been advocating since the age of eleven.
She is rightly celebrated for daring to stand up for her rights and unyieldingly doing so even after an assassination attempt. Malala is not merely the West's tool, whose aim is to promote drone strikes. She has her own independent identity as a young, fearless, indigenous activist whom we ourselves thwart when we focus too much on her shooting and not enough on the reason behind it.
This summer, on break from the college I attend in the United States, I'm back in Pakistan and working in an underserved public high school for girls. The passion and eagerness to learn that shines in their eyes has convinced me that they are all Malalas, who don't need to be saved by anyone.
The eagerness to serve them, and Pakistan, is what Malala and I have in common. When people belittle her, they undermine every girl who aspires to a quality education. Yes, we are all Malala — and we are sick of whining victimhood.
http://www.washingtonpost.com/blogs/she-the-people/wp/2013/07/16/in-pakistan-malala-is-wrongly-derided-as-an-overexposed-poster-child-of-the-west/
-----------
Women drivers in Afghanistan must brave the traffic and the stares
16 Oct, 2014
Seventeen-year-old Zainab Zawol Shahidy was driving her Toyota 4Runner home from school in Kabul recently when she noticed two men in a vehicle following her. "One of them pointed a gun at me and threatened me to drive along in their direction, but I refused and kept driving faster to reach home as soon as I could," she said.
She was forced to pull over when they blocked her. One of the men threw a slip of paper at her with his phone number and said if she didn't call him, he would kidnap her. She made it home and called security. Thankfully she has not seen these men since.
Although there are a growing numbers of women drivers in Kabul, the sight of Shahidy behind the wheel is still unusual. Everywhere she goes, she gets curious stares and frequent harassment, ranging from people making fun of her for driving to threats. "I can't drive to places too distant from where I live due to the risk of kidnapping," she told me through the translation of her brother, Ali Shahidy, a psychology major at Norwich University in Vermont.
Despite the risk and danger, Shahidy says she loves to drive. Besides, she said, she faces more harassment when she walks or takes public transportation.
Some of Shahidy's relatives believe her driving is dishonorable and will reflect poorly on them, but her immediate family strongly supports her decision, including her older brother Ali. Although the cultural norm is that elders drive, Ali rides as a passenger when he is with her because, he says, "I want both men and women to see us together and to see her driving."
"The more people who see women driving on streets, the more common it becomes," he said. "It is changing now. One could rarely see a female driver in Kabul many years ago. But today we have more women drivers than we ever had."
Noorjahan Akbar, an activist, blogger and American University master's student, agrees. When she learned to drive in Afghanistan a few years ago, she recalls passing a group of children. One of the girls looked up and yelled in Pashtu, "Look, it's a girl!" For many youths, seeing someone like Akbar or Shahidy behind the wheel is the first time they have seen a woman drive.
In 1992, after the communist regime was ousted in Afghanistan, women were discouraged from driving. When the Taliban came to power in 1996, women were banned from driving; the penalty was death. Once the Taliban rule ended, a trickle of women began driving. In 2002, for example, seven of the 8,698 driver's licenses issued were to women, and in 2003, Medica Mondiale, a German medical organization, began teaching women to drive. Fast forward a decade and 20 times as many women received a driver's license, 140 in 2012.
Akbar finds harassment and opposition today usually comes from "re-radicalized youth who are influenced by Islamist propaganda." In contrast, the older generation who remember when women had more freedom and drove are "less combative," she said.
Islam does not expressly prohibit women from driving, so the laws and cultural norms vary across ultra-conservative Islamic countries. Although it is legal for women to drive in Afghanistan, it is illegal in Saudi Arabia, where in recent years, women have organized campaigns to challenge the law. Women can drive in Dubai but the government supports women-only pink taxis driven by women for women. In Qatar, driving is legal, but few families allow their female members to drive. Cheryl Benard, sociologist and author of "Veiled Courage: Inside the Afghan Women's Resistance," told me "Many Qatari women have a weekend hobby of racing around the family's private estate because they love to drive but are not allowed out on the public streets."
Benard points out that the variation in laws and customs is, in part, because of conservatives seeing pros and cons to women driving. On the one hand, not driving "restricts women's independent mobility, often supported by a moral argument that this would leave women unsupervised and able to meet with a lover." On the other hand, she says, for women who need to leave the house at some point, the reality is "taxis and public transportation throw women into close physical proximity with male strangers."
In Afghanistan, the increase in women drivers is more a matter of necessity and convenience than women consciously wanting to challenge cultural restrictions. Also, more women today are making their own money and have the financial freedom to buy a vehicle. In fact, Akbar sees the increase in women drivers as being spurred by economics.
"Women can now finally afford to buy their own cars and this economic shift is preparing people's minds for the cultural change," she said. "It is the middle and upper class women who have the privilege to buy cars and who by doing so are creating the cultural shift, not the other way around."
With each new woman who drives – no matter her reason – it increases the likelihood that people will see a woman navigating the streets from the driver's seat and with time, hopefully they will see it as commonplace. The Afghan Sisters Driving School in Herat City is working toward that goal. They have trained more than 300 women to drive over the past few years, and there are three other driving schools that accept female students.
Shahidy looks forward to the day when she can drive down the street without stares and harassment. Not only does she love driving, she also sees it as a way she can make a difference.
"By driving my own car in Kabul, I want to be a role model for other girls and women," she said. "I always encourage other women to drive, too."
Holly Kearl is the author of "Stop Street Harassment: Making Public Places Safe and Welcoming for Women" and a consultant to UN Women.
http://www.washingtonpost.com/blogs/she-the-people/wp/2014/10/13/women-drivers-in-afghanistan-must-brave-the-traffic-and-the-stares/
-----------
Sufi International Association: Continued Captivity of Nigerian Girls Is An Insult To Islam
16 Oct, 2014
(Vatican Radio) The Sufi Alawiyya International Association (AISA) says the 200 plus schoolgirls kidnapped in Nigeria by the militant Islamic group Boko Haram must be released, calling their abduction "an insult to Islam." The communiqué released by the Association came exactly six months after the girls were seized by Boko Haram in the town of Chibok in north east Nigeria. It said the fate of these girls "is "a shame and a disgrace to everyone endowed with a moral conscience." The association also said it is "particularly unacceptable and intolerable that a global coalition of political, religious and association leaders" has not succeeded in resolving "this disgrace." Describing Boko Haram as an "inhumane sect terrorizing Nigeria and neighbouring countries," the Sufi association urges the members of the United Nations to convene on the sidelines of the General assembly a special session on this kidnapping issue.
Based in Paris, AISA is an NGO that seeks to promote peaceful co-existence, non–discrimination, cultural cooperation and mutual understanding of religions and human spirituality.
http://en.radiovaticana.va/news/2014/10/14/sufi_group_says_nigerian_girls_kidnapping_insults_islam_/1108546
-----------
Maldives- Women against drugs to provide vocational training for recovering addicts
By Ismail Humaam Hamid
16 Oct, 2014
Local drug prevention and rehabilitation NGO Society for Woman Against Drugs (SWAD) has today initiated a programme to provide vocational training for recovering female addicts in the Maldives.
This programme – conducted in collaboration with the German embassy to Sri Lanka and the Maldives – was launched today at the SWAD vocational training center by chief guests Ambassador Dr Juergen Morhard and Home Minister Umar Naseer.
Speaking at the ceremony, Umar Naseer thanked Dr Morhard for the generous contribution which has allowed the NGO to buy the necessary materials as well as noting his appreciation for SWAD's extraordinary contribution to the fight against drugs.
"I am sure that every country is struggling in this fight against drugs and so is Maldives, but I am very hopeful that we will see progress in this fight with initiatives such as this vocational training by SWAD," said Naseer.
In his speech, Dr Morhard stated that drug abuse and trade is the harsh reality of the current world from downtown Berlin to the beautiful beaches of the Maldives, and thanked SWAD for stepping up against drugs in the Maldives.
Speaking to Minivan News after the ceremony, SWAD Chairperson Fathimath Afiya said the aim of the training center is to provide skill building opportunities for recovering addicts in order to make the transition back into society easier.
"Participants will be taught a wide variety of skills such as sewing and carpet weaving which could be marketed towards tourists which would enable the participants to earn an income in a society where there is a lot of stigma towards former drug addicts preventing them from obtaining work," said Afiya.
The NGO plans to make the project self-sustainable using the income generated by the sales of the goods and has aspirations to have the whole programme run by recovering addicts in the future.
A national drug use survey published in 2012 by the United Nations Office on Drugs and Crime reported that 48 percent of drug users in the Maldives feel they are neglected and perceived as outcasts by the local community.
The stigmatisation of drug addicts leads to the creation of a cycle of addiction with recovering addicts relapsing back into drug abuse as an escape from perceived 'disgrace' they have brought upon themselves and their families.
Work done by NGOs such as SWAD and Journey – a support NGO for recovering addicts – seeks to break the the addiction cycle with recovering addicts having opportunities to successfully reintegrate into the society as useful and contributing citizens.
The UNODC survey reported that there were 7,496 drug users in the Maldives between the age of 15 and 64 in the Maldives and that 48% of drug users in the capital Malé were between the ages of 15 and 19 years.
http://minivannews.com/society/women-against-drugs-to-provide-vocational-training-for-recovering-addicts-90468
-----------
Changing Our World Of Conflicts; The Role Of Muslim Women
16 Oct, 2014
More than 54 speakers and 3,000 delegates from around the world will meet for five days at the International Feminine Congress for a Culture of Peace, to be held from 27 October to 2 November in Oran and Mostaganem, Algeria, in order to seek new approaches to end the fighting in the name of Islam and to promote the emergence of a society of "living better together ".
While the first day of the conference will focus on the feminine and masculine stereotypes so rooted in the collective imagination, the second day will focus on education and on the debate between tradition and modernity. How educating the youth can contribute to the emergence of a culture of peace? Do tradition and modernity clash in the Muslim world? How women and feminine values can help resolve the conflicts that plague our societies?
"The events that occupy the news show us that we must make fundamental changes in how we live together. Muslim women must assume genuine leadership in order to change this world of conflicts. Producing lasting changes must pass through education and that is one of the reasons why women have such an important role to play in the formation of a culture of peace. They are the ones who transmit the values of equality, compassion, cooperation, and now they must get involved in the debate of ideas to build the foundations of the culture of peace" declared Sheikh Khaled BENTOUNES, spiritual leader of the Alawiyya Sufi path, one of the organizers of this conference.
Organized by AISA International NGO and by the Djanatu al-Arif Foundation, this conference aims to provoke thought regarding the importance of women and the feminine in the Muslim tradition and to generate a profound change in our society where men and women must be equal and equally responsible. It will try to highlight the key function of the feminine in the establishment of a culture of peace that will promote "better living together", essential to our humanity.
The conference revolves around five axes: Axis 1 – Different Perspectives Axis 2 – Ethics and Education; Axis 3 -Tradition and Modernity; Axis 4 – Veiling and Unveiling: Axis 5 – Feminine and Culture of Peace.
The full program of the International Feminine Congress is available on the website at: www.congres-international-feminin.org.
The detailed program of the second day, October 29, 2014
The day of October 29 will be devoted to the study of Axis 2 – Ethics and Education.
In a changing world, how to promote a conscious education in order to transmit human values?
How to make our children free and responsible beings in a society sick with consumerism?
And Axis 3 -Tradition and Modernity
Tradition and modernity: marriage or divorce? In this dehumanized world, it becomes essential to consider the meaning of universal human values. How to highlight the values and wisdom shared by all in order to build together a world of peace.
Topics to be discussed during the day are:
What roles for ethical values in education ?, Hoda Darwish (EG), Dean of the Institute of Asian Studies and Research at the University Zaqaziq (EG)
Media and human values, Patrick Busquet (DRC), journalist, representative of the Hirondelle Foundation (Media for Peace & human Dignity) in the Democratic Republic of Congo.
Rethinking the education system, what reforms? Mustapha Cherif (DZ), philosopher, educator, researcher in the humanities and social sciences.
About pedagogical awakening, Malika Boudalia (Ministry of Education, DZ), Nadia Mimouni (University of Evry FR), Rachid Benzine (Institute of Political Studies in Aix-en-Provence, FR).
How to put information in the service of humanity? Patrick Busquet (Fondation Hirondelle, DRC) Abrous Outoudert (Freedom, DZ), Cherif Lahdiri (ELWatan, DZ), Kamel Daoud (Quotidien d'Oran, DZ), Bouziane Ben Achour (El-Djoumhouria, DZ), Leila Boukli (Chain III and IV, DZ)
Intergenerational debate without taboos: Youth and Politics: Aissa Belmekki (DZ), pedagogue: Mustapha Cherif (Professor, DZ), religious: Tareq Oubrou (Theologian, FR) and Abderrazak Guessoum (philosopher, DZ)
The contribution of the feminine to peace, Leila Zerrougui, Special Representative of the Secretary General of the UN for the plight of children in armed conflict (DZ)
Tradition and modernity, when one enriches the other, Fatma Oussedik (DZ), a feminist activist, professor in sociology and consultant to UNESCO and the Ford Foundation
Trans-modernity: Vision of the future, Gunter Pauli (BE), ecologist, author and lecturer, promoter of the concept of the blue economy.
Issues between tradition, religion and modernity, Iqbal Gharbi (Zeytouna University, TN), Karima Ramdani (CRESPPA / GTM, FR)
Transmission in traditional societies, Farida Sellal (Save Imzad, DZ), Elisabeth INANDIAK (Courrier International, UK, Indonesia)
Transmission of customs and traditions today, Fatma Oussedik (DZ), a feminist activist, teacher in sociology and consultant to UNESCO and the Ford Foundation
http://www.spyghana.com/changing-world-conflicts-role-muslim-women/
-----------
Breaking Muslim Stereotypes through Education, Dialogue
16 Oct, 2014
Girls wearing multicoloured Hijabs in various styles, or no Hijabs at all, travel from class to class, just more fish in a sea of college students.
Men in jeans and t-shirts study for exams or hang out on The Strip, indistinguishable from the masses save for their occasional transition from English to Arabic.
All students, all Knoxvillians and all Muslims. Each of these individuals must face the realities of living in a post-9/11 world filled with fear and misunderstanding.
Knoxville native Abdalla Husain is one such individual. As a teenager, he was one of only two or three Muslims at his local high school, with the exception of his sisters.
While he played sports, hung out with friends and graduated as the valedictorian of his class, pervasive stereotypes followed him in the form of questions both benign and aggressive, from friends and strangers alike. In one particular instance, a close friend asked him, "Why do all Muslims want to kill Americans?" Similar questions included "When did you learn to speak English?" Others inquired about human sacrifice, animal torture or whether everyone gets 70 virgins in heaven.
"Honestly, I think it's purely ignorance," Husain said. "They just don't know. That's why I don't get offended. They're just asking a genuine question."
Taking the time to answer these questions gives Husain the opportunity to dispel such myths and teach people the truth about Islam.
Amany Alshibli, a freshman in chemical engineering, recalls being asked similar questions, mostly pertaining to her Hijab. Like Husain, Alshibli not only excuses the questions, but encourages them.
"As much as some people are scared of a question sounding stupid, there aren't really any stupid questions," Alshibli said. "I would rather answer it than them go to other outlets where they may not be getting a good, accurate representation."
Husain views the average American's lack of exposure to Arabic culture and religion, combined with constant news coverage of violence in the Middle East, as leading to the formation of preconceived ideas and misunderstandings about Islam that misrepresent a diverse and universal religion.
"If they don't understand the language, and don't understand the culture, and don't understand the religion, then it's so easy (for others) to manipulate their beliefs," Husain said.
Alshibli echoed this concern.
"A lot of people who don't know Muslims personally, all they know about the faith is what is being broadcast on the news," Alshibli said. "Muslims, or anything related to Islam, is only in the news when it's something happening overseas."
News coverage of Muslims focuses almost exclusively on the Middle East, but 20.1 percent of all Muslims live there. Of those who live there, the extremists covered by the media make up only a fraction of the overall population.
"The .001 percent of Muslims who are extremist are given 100 percent of the news coverage," Husain said.
Alshibli and Husain, both members of the Muslim Student Association, feel these misconceptions have forced them to grow up under constant scrutiny, and have made them ambassadors for the majority of Muslim moderates.
"Because of all the stereotypes around our faith, we have to stand upright and show through our actions what Islam really is," Husain said.
Abdelrahman Murphy, director of the Muslim youth group "Roots" and the first Muslim chaplain at the University of Tennessee, believes that by humanizing Islam "a lot of the stigma is dropped and people can really see it for what it is."
Murphy said the best way to accomplish this is to simply talk to one another as students, friends and human beings.
"People are very curious, and once they learn about what we believe, they don't hold it against us," Murphy said. "Share some food with each other, and get to know one another."
http://utdailybeacon.com/news/2014/oct/15/breaking-muslim-stereotypes-through-education-dial/
-----------
Malaysian singer Yuna is far more than just a 'Muslim pop star'
16 Oct, 2014
You might know Yuna Zarai as simply, the singer behind the Pharrell Williams-produced song "Live Your Life."
On the track, Yuna sings, "Find your light/Don't hide from what you are."
These lyrics are sort of a mission statement for Yuna. She began writing songs at the age of 14 and then landed a spot on "One in a Million," Malaysia's version of American Idol. She managed to get into the top 40 contestants before being eliminated.
Would people know her music without the show? "Probably not," she answers, but not in the way you'd think.
"When I went for that audition, I remember I really wanted that opportunity to just advance to the next round," Yuna says. "And I did not, and I got so frustrated. I told myself, 'Well, this is not the end. You know how far you could go. People know that you can actually sing.'"
So Yuna says she began to learn the guitar and really throw herself into her song writing. It paid off: She quickly got noticed by an American record label, and things snowballed from there.
But most of the attention she gets in American media is focused on the fact that she is a pop star wearing a hijab. That often leads to headlines like "The Muslim Pop Star," which L.A. Weekly used in May.
"I mean, I'm not going to run away from the person that I am," she says. "It is what it is. I am a Muslim singer songwriter. I practice Islam. It's my religion, it's my belief — it's normal. You know, everyone has their own thing, their own beliefs. It doesn't stop me from getting people listening to my music."
Yuna has filled clubs in Boston twice in the past year, where she says her audience is diverse, consisting of "hijabi girls, hip-hoppers and the Asian-American boys." And she says she's just grateful her music has been well-received.
http://www.pri.org/stories/2014-10-15/malaysian-singer-yuna-far-more-just-muslim-pop-star
-----------
Muslim women say the 'ban the burqa' debate is inspiring positive conversation in Adelaide
16 Oct, 2014
MUSLIM women in the southwest are feeling more accepted in the community than ever despite negative publicity towards the religion in the past few weeks.
Park Holme woman Kathryn Jones said the "ban the burqa" debate in Parliament House had made the once taboo topic part of mainstream conversation.
Mrs Jones, who converted to Islam 19 years ago, said the debate had helped to break the stigma of female oppression associated with the religion.
She said a positive conversation had started about the different coverings Muslim women wore, whether it be a hijab, which covered the full body and head, the niqab, a veil covering the face, or the burqa, which was rarely worn outside of Afghanistan.
"I'm used to being stared at because of how I'm dressed," Mrs Jones, 42, said.
"Now people are starting to smile and say hello.
"It's almost like they are trying to say they don't agree with what is being said (in Parliament)."
Mrs Jones said new Facebook groups such as Women In Solidarity (with) Hijabis were also helping Muslim women feel more accepted.
"It's really opened the door for conversations between Muslims and non-Muslims," she said.
The mother-of-five said it was in stark contrast to just a month ago, when terror raids in the eastern states prompted widespread racial abuse towards Muslim women — worse than that experienced post-September 11.
"The negative stuff is dying down and it has opened the door for the discussion that had to happen."
Clovelly Park woman May Jassem said she had found Adelaide a more accepting place than Melbourne.
The 37-year-old, who moved from Iraq in 2011, said it had been about five months since she last felt uncomfortable in Adelaide.
In contrast, she visited Melbourne for a holiday last week and had a man deliberately tip his drink on her.
"I became angry but then I didn't care because he was not a respectful man," Mrs Jassem said.
"I feel like I belong to Australia and dislike people who behave like this."
Mrs Jassem said she had noticed people in her neighbourhood were becoming more accepting of Muslim women in the past few weeks.
"When I am at work people are very kind to me, they are interested in where I am from and they invite me to their homes and treat me in a lovely way," she said.
"Even at the market, people will smile at me and say hello."
Ascot Park woman Nadine Imran, 27, said support had grown for Muslim women since she and a friend were verbally abused in Moseley Square last month.
"For every bad comment we get there are more and more people coming out in support of us," Mrs Imran said.
She volunteered at a Flinders University Islamic Awareness Week stall last week and said non-Muslim women were fawning over different scarfs and trying on hijabs.
"So many women have been supportive of us by wearing the hijab in solidarity," she said.
Flinders University emeritus professor Riaz Hassan said while there was no systematic research on the treatment of Muslims in Australian society, general acceptance had grown.
"With the passage of time there will be more acceptance of religion and more acceptance of diversity," Professor Hassan said.
http://www.news.com.au/national/south-australia/muslim-women-say-the-ban-the-burqa-debate-is-inspiring-positive-conversation-in-adelaide/story-fnii5yv4-1227091513959
-----------
Floods, a Kashmiri family, a 5-year-old girl from Mumbai, and a happy ending
16 Oct, 2014
Ten days ago, members of the Sheikh family in Srinagar found a girl wearing torn clothes, crying and asking for food in the Dalgate area. They realised she was one of the thousands of survivors of the floods that ravaged Kashmir the previous month. But what really surprised them was the five-year-old's answer when asked where she was from — Bandra in Mumbai, and separated from her parents for over a year.
Today, Megha is living with the Sheikhs, like their own daughter, hours away from reuniting with her family which has been traced in a slum. And giving a sinister twist to this story is the clear indication that she may have been a victim of child-trafficking.
"She is missing her family," said Dilshada Bano, wife of Abdul Rashid Sheikh, adding that she has taken care of Megha like her own daughter Nifya. "During the initial days, she refused to eat food but now she is better. We are treating her like a family member," she added.
Sitting with Nifya inside Sheikh's home, Megha told The Indian Express in Hindi that she was brought to Kashmir on a train by a person she called Nazir who "took me to Sopore, Ashmuqam and Anantnag where he would beg for money from people." \"He even cut my hair," she said. "He (Nazir) kidnaps small children from Mumbai. I went to Uttar Pradesh, Nizamuddin in Delhi, Jammu and then Kashmir," she said, adding that Nazir didn't give her food for days. Recalling her days in Mumbai, Megha said that her father "used to beat my mother after drinking alcohol." "I miss my mother so much and I want to go back to my home now," she said. The Sheikhs initially informed the local Nehru Park police station about the child. "They told us to visit the Ram Munshi Bagh police station. But there, they refused to accept the child, saying that this station is only meant for women," Dilshada Bano said. Masood Rashid, Station House Officer (SHO) at Nehru Park, said that it was they who alerted police in Mumbai. According to Rakesh Maria, Police Commissioner, Mumbai, "We got the information (from police in Srinagar) and the missing persons bureau was put into action. In two hours, the details were matched. The family lives in Nirmal Nagar and had registered her as missing a year ago. The family is now being taken to Kashmir by our team which will ensure they are reunited with the child." According to Vasant Dhoble, ACP in Mumbai police's Missing Persons Bureau, they found at least 13 Meghas initially and the search was narrowed down only because the child could remember where she lived. "Nirmal Nagar is a huge slum pocket. We sent teams to track her hut and they showed people prints of her photograph doing the rounds in social media. They confirmed the identity of the girl," said Dhoble. Police records have identified Megha's father as Shardaprasad Chaudhury and her mother as Seema. According to them, Megha was walking with her mother when she asked Seema to get her something to eat from a roadside eatery. "Her mother paid for the food and had begun walking. When she turned back after a minute, the child was gone. This was in June 2013." In fact, it was a member of the Sheikh family, Parvaiz, a tour operator, who first posted Megha's photo on Facebook. Bashir Ahmad, Abdul Rashid Sheikh's brother, said that the family is doing everything to keep Megha happy. "In the evenings when we watch the news, she comes and wants to switch the channel to Cartoon Network. We immediately change the channel so that she can watch the Doremon cartoons," he said. "She is just like my daughter and my only worry is that she should reach her parents," Bano said. And till that happens, Megha seems happy where she is. "Aunty (Bano) is treating her like her own daughter and tries to keep me happy all the time. They give me chocolates too, I am happy here."
http://indianexpress.com/article/india/india-others/floods-a-kashmiri-family-a-5-year-old-girl-from-mumbai-and-a-happy-ending/99/#sthash.z1P6dw0l.dpuf
-----------
URL: https://newageislam.com/islam-women-feminism/india-echoes-saif-ali-khan's/d/99553