New Age Islam News Bureau
15 Oct 2014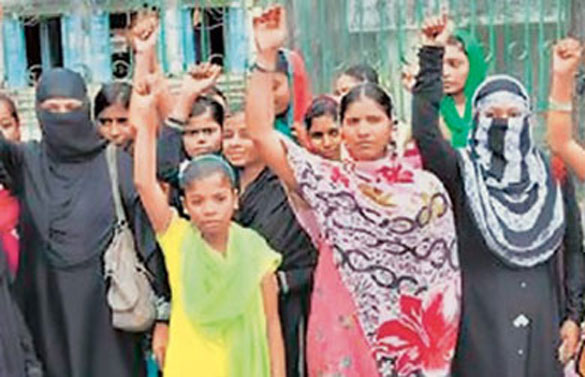 Girl students of Madarsa Azizia during a protest
------------
• Citing Love Jihad, Sanskriti Bachao Manch Stops Court Marriage in MP, India
• How a Jewish French Girl Joined ISIS, Tried to Blow up Parents
• 2 Pak Women Killed For 'Honour'
• Women 'Allowed To Enter' Saudi Soccer Stadium for Match
• Lowering Marriageable Age for Women in Bangladesh Will Encourage Child Marriage
• New Taxi Hailing Service Eases Commuting For Saudi Women
• Indian Cop Wins UN's International Female Police Peacekeeper Award
• Malala Yousafzai Pleads For Nigerian Abducted Girls
• AFC U-16 Women's Qualifiers: Girls Eager to Make a Mark
• 800 Violations Found At EP, Saudi Arabia's Women's Beauty Salons
• Private-Event Videos On Social Media Irk Saudi Women
Compiled by New Age Islam News Bureau
URL: https://www.newageislam.com/islam,-women-and-feminism/new-age-islam-news-bureau/india--bihar-madrasa-bans-admission-for-girls,-citing-co-education--un-islamic-/d/99531
------------
India: Bihar Madrasa Bans Admission for Girls, Citing Co-Education 'Un-Islamic'
Giridhar Jha | Mail Today | Patna, October 15, 2014
Calling co-education "un-Islamic", a prominent madrasa in Bihar has banned admission of the girls into the institution and even barred their entry into its campus.
Issuing a diktat recently, Madrasa Azizia, located at Biharsharif in Nalanda district, has stopped enrolment of girl students on the ground that co-education of boys and girls was against the basic tenets of the Islam.
Mohd Mumtaz Alam, headmaster of the madrasa, said that the decision had been taken in keeping with the directive of the madrasa administration. He said that the Islam did not permit co-education of boys and girls under one roof.
S.M. Sharaf, secretary (Mutawalli) of the Soghra Waqf Estate Committee, which runs the madrasa, said that a decision to discontinue co-education had been taken since it was against the religion. "Boys and girls cannot study together under one roof," he said. "Besides, male teachers are not supposed to teach the female students."
He said that no enrolment of girls would be possible at the madrasa until separate arrangements were made for them on the campus.
Sharaf said that the decision of his predecessors to allow coeducation at the madrasa was completely un-Islamic. "I do not know under what circumstances the girls were allowed to join the madrasa but it is illegal as per the Islamic laws," he said.
The secretary said that education for women at the madrasa would resume after separate arrangements were made for them. "Women teachers would be appointed for them but it will take some time," he said.
The decision came as a rude jolt to the girls who were enrolled there in the current session. Protesting against the move, they assembled outside the gate of the madrasa on Monday demanding rollback of the decision. They were, however, not allowed to enter the campus.
They alleged that the madrasa had taken the regressive step at a time when the governments and charitable institutions were trying to promote girl education across the world. They said that the girls, who had already been enrolled in the current academic session, were also not being allowed to attend their classes.
"We have been told that classes for girl students would no longer be held at the madrasa for now," Farzana, a student, said. "This has put our future at stake."
The decision evoked sharp response from the locals. "This institution takes grant from the Bihar government which has done so much for female education," Mohd Murtaza, a local social worker, said. "There is so much importance on the Taleem (education) of girls in our religion and yet, they are being denied the opportunity to learn."
http://indiatoday.intoday.in/story/bihar-madrasa-bans-girls-madarsa-azizia-co-education-un-islamic/1/395786.html
------------
Citing Love Jihad, Sanskriti Bachao Manch Stops Court Marriage in MP, India
India Today.In New Delhi, October 15, 2014
Some advocates and activists of the right-wing Sanskriti Bachao Manch on Monday reached the Bhopal district court premises and prevented the marriage between a 25-year-old Muslim man and a 22-year-old Hindu woman tagging it as Love Jihad, Indian Express reported.
The couple, Reena Uikey and Shoaib Khan, were looking for a notary when some advocates tipped off the right wing activists who reached the district court premises and posted volunteers at all exit points, the report stated.
It's unclear who called police but the cops intervened and the two were eventually taken to the MP Nagar Police Station with right-wing activists following them.
A resident of Narsinghpur, Reena is an engineering graduate while Shoaib, a resident of Shahzahanabad in Bhopal, repairs coolers for a living. After completing her graduation Reena moved to Bhopal and was taking classes for competitive examinations where she met Shoaib, who has studied till Class XII.
Citing the difference in the couple's educational qualifications, the right-wing activists said it was a clear case of love jihad and that Shoaib had lured Reena by doling out false promises.
This forced the police to intervene. The woman was handed over to a local guardian and eventually to her mother while the man was sent home.
Chandrashekhar Tiwari of the right wing group told The Indian Express that his organisation got a tip from advocates about the impending marriage. "Hindu girls are made to believe that notarized marriages are legal and then they are exploited only to be abandoned after bearing a child or two," he said adding, "we are not against love but we won't let such unions take place because they are part of a conspiracy."
Devendra Rawat, who was till recently president of Bhopal district bar association, said, "We have prevented several such marriages in the past by developing a proper system (intelligence) on the court premises and get timely information."
SP (South) Anshuman Singh told the Indian Express the police reached the court premises because the issue threatened to disrupt public order. "We just wanted to make sure that the girl had not been offered any enticement as was being alleged. She is major and free to go anywhere. She told that she had accompanied him of her own will."
http://indiatoday.intoday.in/story/love-jihad-hindu-group-stops-court-marriage-hindu-muslim-bhopal-mp/1/395839.html
------------
How a Jewish French Girl Joined ISIS, Tried to Blow up Parents
October 15, 2014
Center against Islamic cults reveals how girl from religious Jewish family turned to anti-Semitic Islamic extremist bent on jihad in Syria.
After it was revealed last Friday that a Jewish girl was among 100 French women and girls joining the brutal Islamic State (ISIS) terror group in Syria and Iraq, another Jewish girl has been revealed as having joined ISIS - and trying to blow up her parents' shop for jihad.
The girl, a 17-year-old identified only as A who grew up in a religious family and today covers her face with a traditional Muslim face veil, was set to leave for Syria but was caught before takeoff.
Anthropologist Dounia Bouzar, founder of the Center for the Prevention of Islamic Related Sects (CPDSI) that works to rescue French youth from radical Islamic brainwashing, told the Hebrew-language Channel 2 about the details of the case which she has been working on.
The girl referred to as A tried to leave for Syria, but at the last minute the Center succeeded in keeping her with her parents "so that the family connection won't be broken - that's important to prevent even more serious extremism," said Bouzar.
According to the anthropologist, A's case is unusual because she was not brainwashed from a recruiter, but rather "is a victim of brainwashing that she did to herself. Today her face is totally covered; she is an extreme anti-Semite and claims she is the victim of a conspiracy. It's a hard case and we still have a long way to go."
Understanding how A reached the point she arrived at is difficult, as she "grew up in a Jewish home that was religious but open with loving parents," said Bouzar.
The parents contacted Bouzar in March, and are "pretty affluent merchants who are trying to rescue A from this trap. Imagine the shock of the parents when they found out that their daughter intended to blow up their store!"
A was an outstanding student in a good high school in Paris, reports the anthropologist, but signs of a problem first were raised when her parents found their daughter's grades had dropped "from 90 to 10, and she started to refuse to leave home."
The Jewish girl turned ISIS fanatic doesn't fit the mold Bouzar reports seeing, in that "the overwhelming majority come from atheistic homes. It can be assumed that the lack of spiritual elements in education is one of the causes of extremism." However, Bouzar stresses A's parents "are also believers and also open."
One point about A's case that is similar to the trend is that she - like 70% of others trying to join jihad in Syria - is not Muslim.
ISIS recruiting networks - not only online
While A presumably began her descent into Muslim extremism from ISIS's numerous French recruitment sources online, Bouzar warns "there are worse things that the virtual enemy and more dangerous - there are actual networks to recruit candidates for Syria planted in France and the Paris region. She made contact with them and they won't leave her alone."
A's parents have been forced to move to a new apartment out of fear of the extremist jihadist recruiters, but report worrying signs that their daughter is still under the influence of her ISIS handlers.
"When they take away her iPhone they find a new iPhone on her a few days later," notes Bouzar. "The same thing regarding propaganda books that keep popping up in her room despite her parents' alertness."
A French official on Monday revealed that the Jewish girl who left for Syria last week was not the only Jew to have joined ISIS, apparently hinting at A, and added that over 1,000 French citizens have so far joined ISIS.
Meyer Habib, a member of French parliament, told Channel 2 that if the French Jewish teenager had indeed joined ISIS "it really is the end of the world."
For those women who make it to Syria and Iraq and join the jihadist group, they generally serve as wives, concubines, babysitters and housekeepers for the terrorists, positions they can never leave in most cases.
http://www.israelnationalnews.com/News/News.aspx/186188#.VD4piLDF84U
------------
2 Pak Women Killed For 'Honour'
15 Oct, 2014
LAHORE: Two women were shot dead by their relatives in the name of honour in different parts of the provincial metropolis on Monday, police sources said.
A youth forced his entry into the house of his uncle in Munir Town, Hanjarwal, and shot dead his 22-year-old cousin, identified as Adeela Batool, after a brief altercation. The alleged killer, Taseer Haider, fled the crime scene instantly. The police reached the spot and removed the body to the morgue for autopsy. Police are yet to ascertain the motives behind the gruesome killing. However, investigators say they believe the young woman was killed over an affair. Further investigation was underway.
In another incident, a man shot dead his wife allegedly over an affair in Kot Lakhpat area.
The family told the police that Akram exchanged harsh words with his wife Firdous Bibi at their house in Bhatti Colony. The man took out gun and opened fire at his wife, resulting in her on-the-spot death. The killer immediately fled the crime scene. According to police, the man killed his wife on suspicion of developing an affair with someone.
Police have removed the body to the morgue for autopsy. Firdous had tied her knot with Akram a couple of years ago. The relations between the couple were not cordial as they used to quarrel frequently.
http://nation.com.pk/lahore/14-Oct-2014/2-women-killed-for-honour
-------------
Women 'Allowed To Enter' Saudi Soccer Stadium For Match
15 Oct, 2014
Female supporters of Western Sydney Wanderers Football Club will be allowed to enter King Fahd International Football Stadium (KFFS) in Riyadh.
The fans will accompany the Australian club for its final match against al-Hilal of Saudi Arabia on Nov. 1 in the AFC Champions League.
Adnan al-Moaibid, spokesman of the Saudi Arabian Football Federation (SAFF), however, said the entry of the Australian women fans is not their prerogative but rather a decision of the Asian Football Confederation (AFC) that is organizing the final match. He said the SAFF is committed to honoring the rules and regulations of both FIFA and the AFC regarding all soccer matches held under their umbrellas.
He told Dammam-based Alsharq newspaper: "Any football match under FIFA or AFC is their concern. We in the SAFF have to implement any rules or bylaws put by them in this regard."
The spokesman said if the rules of the two football federations allow women to attend soccer matches the SAFF has to make plans to accommodate them in the stadium.
The spokesman said this is not the first time women have been in Saudi stadiums. "Women fans attended soccer matches in the Kingdom before," he said.
Khaled al-Aqeel, director of KFFS, said they were still waiting for instructions. He, however, recalled women fans of foreign football clubs attended matches in Jeddah, Riyadh and Dammam before. The Australian club has asked the Saudi authorities to issue visit visas to a number of its female fans.
http://english.alarabiya.net/en/sports/2014/10/14/Women-allowed-to-enter-Saudi-soccer-stadium-for-match.html
-------------
Lowering Marriageable Age for Women in Bangladesh Will Encourage Child Marriage
15 Oct, 2014
Reducing the threshold of marriageable age for females from 18 to 16 would encourage child marriage, said the National Committee to Observe International Day of Rural Women yesterday.
It would jeopardise women's reproductive health and be an obstacle to lowering maternal mortality rate, it added during a conference held at Jatiya Press Club in the capital ahead of International Day of Rural Women today.
To observe the day, the committee will hold rallies and organise seminars in 60 districts.
While addressing the event, Shamima Akhtar, the committee vice-president, said child marriage was still prevalent in the country, proving the anti-child marriage campaigns a failure.
Ferdous Ara Rumi, a member of the committee, said although the existing laws dictate women should not marry before 18, the law was violated rampantly.
Committee's members from different districts were present in the event.
http://bd.thedailystar.net/city/move-will-encourage-child-marriage-45736
-------------
New Taxi Hailing Service Eases Commuting For Saudi Women
15 Oct, 2014
A global taxi hailing service has enabled Saudi women to contribute to the Kingdom's economic future by being able to commute safely and securely.
The introduction of Easy Taxi has come to the rescue of many.
"Almost 80 percent of Easy Taxi's customers in Saudi Arabia are women, according to research," said Easy Taxi's Middle East CEO Mahmoud Fouz.
He added that females in the Kingdom face barriers to driving and, as such, must rely on commuting services.
"Nevertheless, they are reluctant to ride with a stranger, leading to a potential loss of comfort that has boosted spending power and economic contribution," he said.
"Easy Taxi's remit has always been to connect customers with a verified taxi service securely and easily. Saudi Arabia is a market where female customers face challenges in commuting."
"It is brilliant to see Saudi women using our service regularly to commute with the certainty that every experience will be safe, secure and respectful. Whether they are commuting for work or leisure, all these activities contribute to economic growth," he said.
"We are delighted that Easy Taxi is their service of choice," he said.
Aside from Saudi Arabia, Easy Taxi also operates in other countries in the Middle East, like Jordan, Kuwait, Qatar and Bahrain.
Fouz added that under the leadership of Custodian of the Two Holy Mosques King Abdullah, women in the Kingdom are making great strides toward participation in economic and social development.
"Easy Taxi is delighted to be able to play a positive role in helping women move around more easily, while staying completely respectful and abiding by the Kingdom's cultural norms and legal regulations," he said.
He added that it is no secret that women represent an enormous source of untapped potential for the Kingdom's economy.
"Easy Taxi is delighted to be playing a role in King Abdullah's vision of empowering women to benefit the Kingdom's social and economic affairs, while meeting family and social obligations," he said.
http://www.arabnews.com/saudi-arabia/news/644621
-------------
Indian Cop Wins UN's International Female Police Peacekeeper Award
15 Oct, 2014
Inspector Shakti Devi of the Jammu and Kashmir Police, who is currently deployed in the UN Assistance Mission in Afghanistan (UNAMA), has been named recipient of the International Female Police Peacekeeper Award 2014 by the UN's Police Division for her "exceptional achievements" with the UN mission in Afghanistan, including her efforts towards helping victims of sexual and gender-based violence.
Ms. Devi has been honoured for her "exceptional achievements" in leading the establishment of Women Police Councils in several parts of Afghanistan, the UN Police Division said in a communication to the Indian mission.
It said Ms. Devi has contributed to the improvement of the status of female police and has effectively helped the police of Afghanistan move towards achieving their goals of fully adopting democratic principles of policing.
"In addition, her consistent engagement in improving the service for victims of sexual and gender-based violence has led to successful investigation and prosecution," the UN agency said.
The award was delivered during the International Association of Women Police (IAWP) conference held earlier this month in Winnipeg, Canada.
India is the largest contributor to UN peacekeeping operations, having contributed more than 170,000 troops in 43 out of 69 peacekeeping missions mandated by the United Nations Security Council so far. The UN also owes India $110 million, the second highest outstanding payment to any country, for costs relating to peacekeeping operations and troops.
http://www.thehindu.com/news/international/world/indian-cop-wins-uns-international-female-police-peacekeeper-award/article6499179.ece
-------------
Malala Yousafzai pleads for Nigerian abducted girls
15 Oct, 2014
Malala Yousafzai has called on Nigeria to intensify efforts to free 219 schoolgirls who were abducted by Islamist militants six months ago.
The Nobel Peace Prize winner said campaigners needed to raise their voices "louder than ever" to demand the freedom of the girls.
The Boko Haram group sparked global outrage when it seized the girls.
Foreign governments including the US and China, have sent experts to Nigeria to help track them down.
Boko Haram fighters abducted the girls during a raid on their boarding school in Chibok town in north-eastern Nigeria in April.
Malala said in a statement that the schoolgirls needed to be reunited with their families and receive a quality and safe education.
"I urge the Nigerian government and the international community to redouble their efforts to bring a quick and peaceful conclusion to this crisis," Malala said.
Critics accuse government of not doing enough to secure the release of the girls - a charge ministers deny.
A mother's pain
"We are in a desperate situation. Sometimes, when we go to the farm and remember what has happened we just start crying and can't work," Hannatu Dauda told the BBC.
She says she last heard from her abducted daughter, Saratu, when Boko Haram raided her boarding school in Chibok in April.
"When she called, we were all lying in the compound. She said: 'Some people have come to take us and they have rounded us up. Please pray for us'. And then her father and the rest of us kept praying," Mrs Dauda recalls.
"After some minutes she called again to say: 'Daddy they have taken all of us from school. We have been loaded onto a truck and we don't know where they are taking us to. Please tell my mummy to forgive me until we meet again'," she adds.
Activists earlier tried to march to the official residence of President Goodluck Jonathan in Abuja.
But Maureen Kabrik, an organiser of the Bring Back Our Girls campaign in Nigeria, said an "army of policemen" halted the protest.
"We're here. We're a civil group. We're not a disobedient group," she told BBC Focus on Africa.
"Yet, they stopped us with heavy arms."
The police have not commented on why they blocked the march.
Malala, a 17-year-old Pakistani campaigner for girls' education, met Mr Jonathan in July to discuss the abductions.
She won the Nobel Peace Prize earlier this month, making her the youngest ever recipient of the award.
http://www.bbc.com/news/world-africa-29615162
-------------
AFC U-16 Women's Qualifiers: Girls Eager to Make a Mark
15 Oct, 2014
Social and religious constraints have long been a hindrance to the growth of women's sports in Asian Muslim countries, but those hindrances will be set aside as four of the Asian Muslim countries along with India lock horn in the AFC U-16 Women's Championship Qualifiers, which begins in Dhaka today.
Bangladesh, Iran, Jordan and United Arab Emirates (Qatar pulled out of the qualifiers at the last moment) have been placed along with India in Group B of the AFC U-16 Championship Qualifiers from where the group champions would get a ticket for the eight-team final round to be held in China in 2015.
Though there was interest among journalists to know about the state of women's football in these countries, the coaches of the respective sides were more interested to talk about their target and preparation for the qualifiers, at the official press conference yesterday.
Preparation wise, Jordan are ahead of the others as they trained in Germany and played two practice matches there. The Jordan Football Association and their royal family are eager to take women's football ahead.
"Our Queen is eager to take country's women forward, not only in sports but in all arenas. We have three age-level women's teams starting from the U-14 team," said head of Jordan delegation Rana Ahmad Ali Husseini.
Jordan coach Manar Mustafa Ahmed Fraij is thinking of securing the final berth for China and believes they are strong enough to become group champions.
Like Jordan, Iran have the same target to win the group stage and they are on the back of seven-month's preparation, having played three practice matches in Uzbekistan.
"The federation has been very supportive for the last 12 years and we have now three women's leagues. We are facing no problems playing football at home and I think we are on the right path," said Iran captain Fatemah Geraelisheikh.
UAE just started women's football a few years ago and it is the first time that the UAE U-16 team is participating in an international tournament. They are taking the AFC U-16 Championship Qualifiers as part of their preparation for AFC U-14 tournament to be hosted by UAE.
"Most of the players are from U-14 team and this tournament has been taken as a preparation for AFC U-14 championship," said UAE coach Samir Al Andaluse.
"It is difficult to find local girls for football but now we have nearly 1500 girls in different ages and we are looking forward to form UAE national women's team within five years with these girls," said Samir.
India coach Maymol Rockey has also set her sights on the final round but she believes Jordan and Iran would be toughest opponents in the group.
"All over the world, women's sport is treated with less importance and India is not an exception. But the present situation in India is better than the past," said Rockey.
On the opening day, Iran take on UAE at the Bangabandhu National Stadium from 2:00pm while hosts Bangladesh will be playing against Jordan in the second match from 5:00pm.
http://www.thedailystar.net/sports/girls-eager-to-make-a-mark-45677
-------------
800 Violations Found At EP, Saudi Arabia's Women's Beauty Salons
15 Oct, 2014
The Eastern Province Municipality found nearly 800 violations in women's beauty salons across the province during the first half of this year.
Muhammad Al-Sufian, municipality spokesman, said that inspectors routinely found hair or skin care products that are either expired or come from unknown sources during rounds.
"Some workers were found not to be in possession of health certificates, while other shops had unlicensed medical devices inside salons or failed to sterilize tools effectively," he said.
Al-Sufian said that the municipality has intensified field tours on female beauty salons during the Eid Al-Adha holiday in order to raise awareness among owners, workers and customers about the seriousness of transmitting infectious diseases, especially during holiday seasons and special occasions, when demand for services increases.
"There is a specific mechanism for opening women's beauty salons derived from a list drafted by the Ministry of Municipal and Rural Affairs. The list stipulates requirements and work procedures to ensure customers' and workers' safety," Al-Sufaian added.
http://www.arabnews.com/saudi-arabia/news/644011
-------------
Private-Event Videos on Social Media Irk Saudi Women
15 Oct, 2014
Saudi women have expressed concern over the increasing circulation of video clips and photos of private, women-only events on social media.
Such photos or footage, which are often secretly recorded by other attendees on their smart phones, may lead to family disputes or even divorce in an ultra-conservative society.
Sara Abdullah, an employee, said women resort to many ploys to smuggle mobile phones into wedding halls.
"Some women hide their mobile phones under their clothes or even inside their shoes while getting in," she said. "They could simply want to have photos of the event, which they have no intention of sharing, or actually want to harm others by posting their videos on YouTube to tarnish their reputation."
Adilah Al-Amri, a housewife, attributed the unethical publication of private events at weddings to stolen mobile phones. "The theft of mobile phones is on the increase these days."
Fatima Al-Falqi, who runs a photo studio, said guests often want to capture clips and snapshots for their own personal record. "Outsiders may be to blame for these types of invasion of privacy," she said, adding that confidentiality is top of her list.
Al-Falqi urges wedding organizers to trust only reputed photographers to capture images of their wedding.
"Professional photographers would not knowingly violate the privacy of wedding events because a lack of reliability would harm their reputation and their profits," she said.
Muhammad Al-Nujaimi, a member of the Islamic Fiqh Academy, said women are not allowed to take photos of other women without their consent.
"Publishing pictures, whether purposefully or inadvertently, is a violation of women's honor, so I discourage taking photos at any wedding event," he said.
Telecommunications engineer Ziyad Ata said clips could be copied from stolen mobile phones since smart phones can function as digital cameras. "However, there are also ways to stop the circulation of illegally posted clippings with the help of authorities," he said.
Legal expert Abdul Aziz Dashnan said such forms of cyber crime are dealt with at the King Fahd Satellite Telecommunications City. "Perpetrators could be imprisoned for up to 15 years and fined SR1 million."
http://www.arabnews.com/featured/news/644071
-------------
URL: https://www.newageislam.com/islam,-women-and-feminism/new-age-islam-news-bureau/india--bihar-madrasa-bans-admission-for-girls,-citing-co-education--un-islamic-/d/99531