New Age Islam News Bureau
6 Jun 2016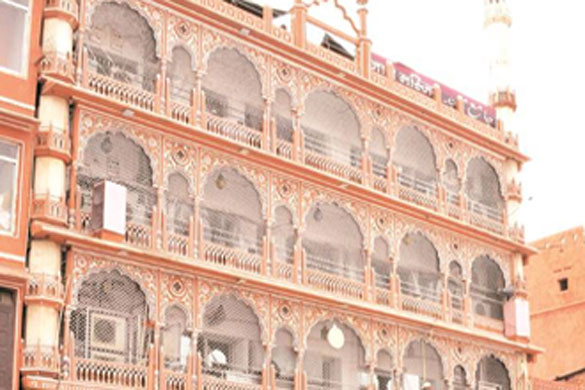 Photo: The designated place is located on the mosque's first floor.
----------
• Arabs Marry Bosnian Women to Establish Parallel Families
• Fatou Bensouda, the Woman Who Hunts Tyrants
• Fay Weldon: Racism should not trump sexism
• Men Won't Understand the Trauma of Women: J&K CM
Compiled by New Age Islam News Bureau
URL: https://newageislam.com/islam,-women-and-feminism/new-age-islam-news-bureau/india--at-jaipur's-jama-masjid,-women-get-dedicated-space-to-offer-namaz/d/107547
--------
India: At Jaipur's Jama Masjid, Women Get Dedicated Space to Offer Namaz
June 6, 2016
In a first for Jaipur and probably the state, the city's Jama Masjid has made special arrangements for women to offer Namaz at a separate section created inside the mosque. "Women, who were usually out for shopping in this area, used to come and offer prayers at the mosque. Women have always been allowed to pray at mosques since they couldn't go back home in time to offer prayers. Hence, we created a designated place within the mosque for them to offer prayers," said Naim Qureshi, chief of Jaipur Jama Masjid committee, the largest mosque in Jaipur. Though they are allowed, women rarely pray at the mosques. Jama Masjid in the city is among those few mosques where women pray occasionally. Situated in the old city market of Johri Bazaar, a tourist attraction, the mosque also sees a few tourists who stop by to pray.
The designated place is located on the mosque's first floor. A small portion in the south-west corner of the main hall has been separated with glass partition and curtains for Purdah. "For ablution, there was a common Hauz (place for ablution) on the ground floor. So we created another hauz for women in their designated place on the main floor above it," Qureshi said, adding that "it does not violate Islamic jurisprudence". Javed Hyatt, another committee member, said, "Earlier, there was a concern for Purdah. Now any woman can draw the curtains, perform ablution, and then pray." Welcoming the move, All India Muslim Personal Law Board (AIMPLB) member Maulana Khalid Rashid Farangi Mahali said: "It is certainly a welcome step, but it (women offering prayers in mosques) should not be made into a habit. Men are encouraged to offer prayers at mosques as it translates into Sawab (reward in the context of Islam), while women are supposed to offer prayers at home. It is more convenient for them and the family." Nishat Husain, chief of Bharatiya Muslim Mahila Andolan (BMMA), termed the move "historic". "Doors to God are open for everyone but in a male centric society, the men have appropriated Dargahs and mosques. This move is certainly historic for, for a change, they have thought about women and their entry in mosques." All India Muslim Women Personal Law Board (AIMWPLB) chief Shaista Ambar, too said that she is "happy" over the news. In 1997, Ambar had set up the only such mosque in Lucknow, and perhaps in Uttar Pradesh, where both men and women offered prayers. "Clerics often generalise and say that Muslim women are ignorant. I keep telling them that they have always kept the women away from various forums, and from including them in discussions about Deen (faith). I have always felt that women should be allowed to freely pray and hear the Taqreer (religious speech) at mosques, this will bring them closer to knowing their rights; and in turn, they will be able to educate their children in a better way and ultimately uplift the society." Recently, two Jaipur women had underwent a training course for Qazis in Mumbai, backed by BMMA, making them perhaps the first women Qazis in the state. However, the clerics had opposed the move and termed any possible marriages administered by them as automatically invalid. Further, a 25-year-old woman from Jaipur had last month moved the Supreme Court seeking reform of the Muslim personal law and an end to the system of "triple Talaq", after her husband had divorced her through Speed Post.
indianexpress.com/article/cities/jaipur/at-jaipurs-jama-masjid-women-get-dedicated-space-to-offer-namaz-2836462/
--
Arabs Marry Bosnian Women to Establish Parallel Families
06 Jun 16
A thirty-six year old woman from Sarajevo, who has two children from her first marriage, told BIRN about how she married an Arab, to become his second wife.
She says her new husband, who is 51, originally came to Bosnia for business, to open a small company in Sarajevo. They met, the woman recalls, when he came to her place of work. She says they joked and she noticed him looking at her.
After a while, a mutual friend who is already married to an Arab introduced them. This friend explained that the man was looking for a Bosnian wife, to help her if he could.
She says it took her about two months to familiarize herself with his way of life and habits over the phone and through video messages. Her father gave his consent to their marriage, so they got married in Sarajevo.
"I deliberately consented to this kind of marriage, knowing I am not his only wife. Nobody tricked me", she said.
The story from the woman from Sarajevo represents a new trend in which Bosnian women, usually with the consent of fathers or brothers, marry businessmen from Arab countries who are increasingly coming to Bosnia, either for business or for holidays which they spend in apartments or houses they rent or buy here.
Only in the past few years tens of thousands of visitors from Gulf countries came to Bosnia, because of its fair climate, pristine nature, culture, as well as the fact that at least half of the country's population practice Muslim religion and mosques are always close by.
Most of these men already have one or more wives, which is allowed by the Islamic Sharia law that is respected in these countries.
The wedding ceremonies which take place in Bosnia and Herzegovina are performed by members of the clergy, but marriage certificates they issue are invalid both according to the rules of the Islamic community in Bosnia, as well as by Bosnia's legislation.
Bosnian brides usually remain living in the country and are waiting for their husbands to visit them.
"We are married before Allah…" the woman from Sarajevo says, adding that she is aware of at least twenty other women, who have become the second wives to Arab men and one has even become the third wife.
She explained that this group of about 20 women, who have Arab husbands, prays together and meets regularly.
The Islamic Community in Bosnia and Herzegovina says they don't have any data on this subject. In case an Imam would eventually perform such a ceremony, a disciplinary procedure would be initiated against him, because he would be violating the procedures applied within the Islamic Community.
Sharia wedding in Bosnia and Herzegovina is allowed but only symbolically and after the couple is married in accordance with the Family Law. According to that law, polygamy is not allowed, i.e. none of the spouses can be married to more than one person. Also, Sharia wedding alone is not legally recognized.
Protection of women
Sarajevo Mufti Enes Ljevakovic, says the Islamic Community has no exact data on Arab men marrying Bosnian women as their second or third wives.
Ljevakovic says that, for this reason they cannot undertake any measures, because the Islamic Community procedures are not being violated since they do not approach "our Imams authorized to perform wedding ceremonies" and they are not "registered in the main register of marriages at the Islamic Community Majlises".
"The Islamic Community fully respects the state laws regulating marriage procedures. On the other hand, this also ensures the rights of women and protects them," Ljevakovic says, pointing out that women are protected only in case the state recognizes a certain union as a marital union, which is achieved by holding "a civil" marriage.
Yet according to the woman from Sarajevo, this does not prevent women from marrying Arab men. She said that she loves her husband, but admitted that his financial support to her was also a factor in the marriage.
"I was thinking about changing my job, and it was very hard. When he proposed this I thought maybe it was a chance for a better life", she explains.
She claims most of the women in her group which have Arab husbands married for both reasons.
"This concept of polygamy is not foreign to me. I understand it, in Bosnia it happens more than people think", she says.
According to her, the Arabs meet potential wives through friends and others who have already found a match. She added that Arab men most often marry religious women, but stressed that her husband did not request her to wear a Niqab (a part of Hijab that covers face or head) like the one worn by women in Arab countries.
Attorney Esad Hrvacic explains that nobody has the right to practice polygamy on the territory of Bosnia and Herzegovina.
"That is the basic postulate of the European law. It is impossible to apply the Shari law according to which a man can marry more than one woman," Hrvacic said, yet added that Bosnia's law on family does not prescribe fines for polygamy.
Sharing a husbandThe woman from Sarajevo says that, when she accepted to marry the Arab man, she was aware of the fact that her husband would not be with her every day. She explains he visits Bosnia and Herzegovina almost every month, depending on the amount of work he has to deal with in his own country or in Bosnia and Herzegovina.
"As far as my husband is concerned, he is a wonderful person. We speak to each other and communicate via video calls every day. I get plenty of nice words and kisses from him," the woman from Sarajevo says, pointing out she has felt his full respect and love.
She explains that the age difference between women and their Arab husbands varies from two to 20 years.
"Considering the fact that they already have wives of their age, they will normally look for younger women. However, in some cases they search for women of their age," she said, explaining that most of the Arabs who marry Bosnian women come from Saudi Arabia, Emirates, Kuwait, Egypt and Libya.
A Bosnian woman, who married a man from Kuwait at the age of 23, thus becoming his second wife, has a similar faith. She says it was "a love marriage".
The 23-year old woman refused to reveal the name of her hometown because of disapproval of her fellow citizens. As she said, an Imam whose identity she does not want to disclose conducted the wedding ceremony of this woman and her new husband.
"We met in a mosque where I prayed. We saw each other often and then he asked for my hand. Now, my husband comes monthly… We talk every day. I have a daughter from my first marriage and I knew going in that he had another wife. This is not a problem. We have the same rights, under Sharia law", the 23-year old explains.
"One thing I have to highlight – for me, this is a love marriage - love and honour. I have never seen men honouring their wives as much as he honours me", she adds.
The woman from Sarajevo stressed that women who want to marry Arab men have to accept the fact that their husbands will not be here all the time, because they are married and have children and jobs in their countries.
"If a woman agrees to share her husband with another woman, she has to accept the conditions that accompany such marriages," she says.
When she got married to an Arab, the woman from Sarajevo got a Mahr (property or certain amount of money given by husband in case of divorce). She says she is not worried that he could one day just stop coming back to her, since he has proved to be an honourable man and she knows him well.
Besides that, she points out that he gives her a certain amount of money each month to support her family and cover other costs as well.
"They mostly look for divorced women with children, so they can secure better future for them. They are not interested in having children with those women, although it does happen
in some cases," she said.
The woman from Sarajevo also says that, while her husband is away from Bosnia and Herzegovina, she spends time with her children or simply uses the time "for herself".
"When he is here, I enjoy," she says.
balkaninsight.com/en/article/arabs-marry-bosnian-women-to-establish-parallel-families-06-06-2016
--
Fatou Bensouda, the woman who hunts tyrants
JUNE 6, 2016
She can't quite explain it, but for the best part of five decades, since she was a very young schoolgirl growing up in the Gambia, Fatou Bensouda says she has felt powerfully driven by a sense of right and wrong. "The issue of justice and accountability seems to be ... in my DNA." She wiggles her fingertips as if they tingle. "I just feel I have this [sense] – and I'm sure many people do, huh? – but there must be justice. There must be fairness. As soon as I was able to know and analyse certain injustices in society around me, I wanted to do something about it."
As a high school student, Bensouda used to sneak into the nearby courts in her school uniform, until chased out by the court officials. She watched women, in particular, "and I did not seem to feel that they were receiving the protective embrace of the law. For me that is one of the things that informed my decision to say, 'This is what I want to do.'"
That young schoolgirl, one of more than a dozen siblings born to a polygamous Muslim family in the smallest country in mainland Africa, is now the chief prosecutor of the international criminal court in the Hague. The institution was established with the intention of ending impunity for war criminals and genocidal tyrants across the world who might otherwise have considered themselves above the law; Bensouda, as such, might be described as the person from whom they have most to fear. From that small schoolgirl, to this: "It's been a journey," she says with a smile.
Bensouda is now 55, and has been the ICC's most senior prosecutor since 2012, a decade after the court was established, when she was elected to replace the post's inaugural holder, Luis Moreno Ocampo. She became, at a stroke, one of the most powerful African (or Muslim) women in the world.
But to understand what Bensouda can do, it is important first to clarify what she has not done. It was not, for instance, the international criminal court that put the former Serbian president Slobodan Milosevic and more than 100 others on trial for crimes in the former Yugoslavia, and earlier this year convicted Radovan Karadzic of war crimes and genocide.
I have sent loud and clear messages that we will do whatever is in our power to address sexual violence in conflict
That was the international criminal tribunal for the former Yugoslavia (ICTY), an ad hoc body established in 1991 that to date has seen more than 80 of that conflict's bloodiest criminals convicted and sentenced. A similar international tribunal for Rwanda (ICTR), set up three years later, convicted 61 people of war crimes, genocide and crimes against humanity.
The ICC, by contrast, has had a much bumpier beginning. Though the court has issued nine summonses and 29 arrest warrants, including for the Ugandan warlord Joseph Kony and, before his death, Muammar Gaddafi of Libya, in the 14 years since its existence it has convicted only two people, both Congolese rebel leaders found guilty of war crimes.
More than 120 countries have ratified the court's founding statute, but equally important is the list of those that have not – including around half of the nations in Africa, almost all the Middle East and most of central and far-east Asia. Most critically, three of the five permanent members of the UN security council, which have the power to veto the court's investigations, are not party to it: the US, Russia and China.
And so, though the Palestinian Authority joined the court last year and the prosecutor is currently examining alleged crimes committed in the occupied territories, few expect any potential ICC action against Israel to get past a US veto. When 65 nations called in 2014 for the Syrian conflict to be referred to the court, meanwhile – a context for which one might think a criminal court to challenge war crimes and genocide was invented – it was vetoed by China and Russia.
Partly in consequence, the court has focused to date predominantly on African conflicts, irritating and increasingly enraging the continent's leaders, who accuse the court of first world bias. In February, the African Union backed a proposal by the Kenyan president Uhuru Kenyatta "to develop a road map for the withdrawal of African nations" from the court. Kenyatta, it should be noted, is not a disinterested party, having been the subject of a failed attempt by the ICC to prosecute him for crimes against humanity.
However powerful her commitment to justice, in other words, that all amounts to a to-do list of bewildering legal complexity and political sensitivity. Or as Bensouda puts it with no little understatement: "The challenges are there."
Just because a job is perplexingly difficult doesn't mean you should give up, however. It is a grey afternoon in the Hague, but in marked contrast to the austere surroundings of the court's new, heavily fortified home close to the Dutch coast, Bensouda is wearing a long, brightly coloured African-print dress with a modest frill at its hem. Having lived in the Hague with her husband, a Gambian businessman, and two children for more than a decade (she was previously head of the legal advisory unit at the Rwanda tribunal), she is used to northern European weather, though she admits she still feels the chill.
Her decisions as chief prosecutor are first and foremost driven by the law, she stresses, and by the complex tangle of lines defining where her jurisdiction begins and ends. But her own position as a woman from west Africa has also informed the character of Bensouda's ICC. As well as prioritising efficiency measures (wrangling for enough resources from member states is another constant headache), Bensouda has made it an explicit strategic goal of the court to challenge rape and exploitation of women and children in war.
"I have sent very loud and clear messages that we will do whatever is in our power and in our mandate to address sexual violence in conflict. Because as you know, in these conflicts, unfortunately the most vulnerable groups are women and children. Whether they are taken as sexual slaves, or forced labour, or the children are recruited to fight wars that they shouldn't be fighting – this happens."
Her own background has shaped her view, "of course". "I believe that looking at these crimes through the lens of a woman is unique to women ... And as an African, I know the different cultures, I know the diversity of the continent." As a result, she says, she stresses the importance of training her investigators – who must gather evidence of atrocities from traumatised victims, often in situations of ongoing terrible conflict.
A few days after we meet, Bensouda emails to express her regret that she hadn't mentioned the situation in her home country of the Gambia, where there have been violent crackdowns on civilians protesting at the regime of president Yahya Jammeh. Bensouda was formerly the country's attorney general and minister of justice under Jammeh until he fired her in 2000. She has asked her team to assess the situation, she writes.
As for the accusations of anti-African bias, Bensouda insists they are easily rebutted. Of the 10 conflicts currently being investigated by the ICC, nine are in African countries (the last is in Georgia), but in six instances, she says, the court got involved at the request of the countries themselves. In two other cases, those of Libya and Darfur in Sudan, the ICC got involved at the request of the UN security council, leaving only one – in Kenya – undertaken at the discretion of her predecessor as chief prosecutor.
"So I wouldn't say that I regret that we are working in Africa, because of the fact that the victims also are African victims. If certain people are looking to shield the alleged perpetrators of those crimes, of course they will say we are targeting [African nations]. But ... the victims deserve justice, the victims are Africans, and in the absence of the ICC nobody else is giving them justice."
They are far from the ICC's only controversial cases, however. The ICC is also conducting "preliminary examinations" into eight further conflicts, including in Afghanistan, Colombia and Burundi. Only one major western nation is under examination – the UK, over allegations that British soldiers committed war crimes, including murder and torture, while occupying Iraq.
The court has been fiercely criticised by some in Britain for examining the allegations despite a five-year public inquiry (which concluded the most serious allegations against British troops were "deliberate lies") as well as an ongoing judicial investigation into Iraq fatalities and a government review headed by a former senior police officer. Why is the ICC intervening now?
First of all, says Bensouda, the court is not yet investigating, but is examining a dossier of information – "a lot of information, actually" – submitted by British lawyers for alleged Iraqi victims in 2014. The court must first determine whether the crimes were committed, whether they fall into ICC jurisdiction (as systematic war crimes rather than individual outrages, for instance), and whether they have been properly investigated in Britain, before deciding whether to investigate further.
The big question for many may be how high up the command chain such an investigation might go. It is likely, I tell Bensouda, that the context in which her court is mentioned most frequently in conversation in the UK is by those who would wish to see Tony Blair prosecuted for what they regard as an illegal invasion of Iraq in 2003. The Chilcot inquiry into Britain's role in the Iraq war is finally due to report in July – depending on what evidence it uncovers, might that be a possibility?
"I want to make it clear that when we look into any situation, beginning with the preliminary examinations and going forward, nobody is targeted. Nobody. We do not say, 'We are going out to investigate, in this case, Tony Blair.' Or any other person." Rather, she says, if a case passes the criteria to become a formal investigation, they consider all its circumstances.
"How did the crimes start, how were [they] committed? ... But we also look at who bears the greatest responsibility for those crimes. Who, in our assessment, is the person without whom the crime would not have been committed?... We cannot say now that if we were to start investigations, we are going to charge Mr X or Mr Y. It's not responsible to even say that."
On the question or otherwise of the war's legality, however, she is able to be more clear. The ICC signatories are soon likely to add the "crime of aggression" (meaning an unjustified or illegal war) to the three other crimes in their jurisdiction – genocide, war crimes and crimes against humanity. Bensouda hopes it may deter other illegitimate conflicts in future – but it will not be retrospective.
We are running out of time, and Bensouda must prepare for an executive committee meeting with her senior staff, then head to a reception for Cameroon's national day, before returning to the office early in the evening for more paperwork. In a few days she will be heading to New York to the UN security council for her biannual briefing on the situation in Libya. "It's back to back, every day."
The job does take its toll, she says, not least in the horrifying details of the allegations that she deals with, day after day. How does she cope? "What I have put at the forefront, always, are the victims of these atrocity crimes. I have been placed in a position where I can at least do something. You have that at the back of your mind that there must be justice, there must be accountability for these crimes. I mean ... that drives me. That drives me."
She tells me a story of when she was accompanying investigators on the Rwanda tribunal in visiting a woman who had never previously been interviewed. "This is a woman who was held as a sex slave almost throughout the conflict. She was crying, so I said: 'I am so sorry, it's just that we have to ask these questions ...' She said, 'No, no no. I am not crying because you are asking these questions. I am crying because somebody is listening. Finally someone is listening to me.'
"We perhaps take it for granted, but these victims deserve to talk about their experiences. They deserve to see that those who have made them suffer are held accountable. I cannot see it any other way."
This article was corrected on 6 June 2016. An editing error meant it was stated that Fatou Bensouda has three children, when she has two. Also, it originally stated that 39 individuals had been charged by the ICC. In fact, it has issued nine summonses and 29 arrest warrants.
theguardian.com/law/2016/jun/05/fatou-bensouda-international-criminal-court-tyrants
--
Fay Weldon: Racism should not trump sexism
5 JUNE 2016
The fight against sexism should be considered more important than defeating racism, the novelist Fay Weldon has suggested, as she argues fixing gender inequality will solve everything else.
Weldon, the feminist and writer, said British women should turn their attention to oppressed women elsewhere, even if they risk being accused of racism.
Speaking at Hay Festival, sponsored by the Telegraph, the novelist said racism has "enjoyed a higher status" than sexism, as she urges oppressed Muslim women to "rise up".
When asked about the challenges facing society today, she said: "What I really think is that feminists in this country should be helping their fellow feminists who are Muslims who can't live freely or express their thoughts.
"To say 'oh we mustn't interfere' seems to be cowardly in the extreme, because we will be accused of racism if we do.
"Racism has sort of enjoyed a higher status than sexism, but I think that should reverse and getting rid of sexism is the way through for absolutely everybody.
"If you could only get the women to rise up, life could be a very different place."
Earlier this week, feminists including Laura Bates, founder of the Everyday Sexism project, and Lindy West discussed the issue of overseas feminism, suggesting it was patronising for Western women to assume they need to lead to way.
In a wide-ranging talk at Hay, about her new novel Before the War, Weldon said her opinions had changed greatly with age, and as society had moved on.
A feminist, she has now come to believe that women entering the workplace was not the best thing for society, inadvertently leaving children suffering.
She told an audience: "As women entered the market the male wage was no longer enough to support a family.
"So the women have to work. And who suffers? The children."
Weldon added: "Mothers are rather reluctant to have babies, and fathers, because they're so expensive.
"Very few mothers have the number of babies they want anyway. They can manage one or two.
"I think things have changed in that way. Although women are now able to go out to work and work is much more fun than staying at home."
Weldon said it had become "difficult" to share strong opinions nowadays because of the risk of backlash, but was also drawn on her views on the rise of transgender surgery.
It must be tempting to men, because women - particularly young women - have so good a time now compared to young men.
"If you can achieve the same thing by putting on a dress then that would be a rather good idea."
She added: "It's not a totally serious position, I'm just thinking how nice a dress is."
When asked about the state of modern debate, she added: "I think the world has changed, we live in the world of the internet now.
"Everyone has a voice but not everyone's voice is valuable. It's very difficult for people to sort out who's voice is valuable and who is not."
telegraph.co.uk/news/2016/06/05/fay-weldon-racism-should-not-trump-sexism/
--
Men Won't Understand the Trauma of Women: J&K CM
All India | Press Trust of India |June 04, 2016
JAMMU: Jammu and Kashmir Chief Minister Mehbooba Mufti on Friday said that women were the victim of sexual harassment as whenever they board a public transport, men of all age try to touch them inappropriately.
"A woman is not safe, when she boards a matador or a bus, men from the age group of 15 to 70 tries to touch her indecently."
"Men won't understand what mental trauma the woman has to go through, when she is touched inappropriately by these pervert," she said during a function in Jammu on Friday.
Ms Mehbooba said that passing on of "vulgar comments" by the men was one torture which the female passenger has to go through.
"These men touch the woman inappropriately with their elbows, it's a torture that a woman travelling in public transport has to go through everyday," she said.
The Chief Minister said that her government would soon be introducing all women passenger vehicles in both the capital cities of the state.
"Some have already been introduced in Srinagar, while more would be introduced and they will be introduced in Jammu as well," she said.
Ms Mehbooba said that her government was working for encouraging women entrepreneurship in the state and has decided to reserve 10 per cent land in the industrial hubs for the woman entrepreneurs.
She said that her government was also is in the process of offering 50 per cent subsidy to the female students of two colleges of Jammu and Srinagar so that they can purchase a two-wheeler.
"The aim of this is to put the female in a controlling situation where she is free to travel go wherever she wants," she added.
ndtv.com/india-news/men-wont-understand-the-trauma-of-women-mehbooba-mufti-on-sexual-harrasment-1415371
URL: https://newageislam.com/islam,-women-and-feminism/new-age-islam-news-bureau/india--at-jaipur's-jama-masjid,-women-get-dedicated-space-to-offer-namaz/d/107547
New Age Islam, Islam Online, Islamic Website, African Muslim News, Arab World News, South Asia News, Indian Muslim News, World Muslim News, Womens in Islam, Islamic Feminism, Arab Women, Womens In Arab, Islamphobia in America, Muslim Women in West, Islam Women and Feminism