New Age Islam News Bureau
10 Sept 2018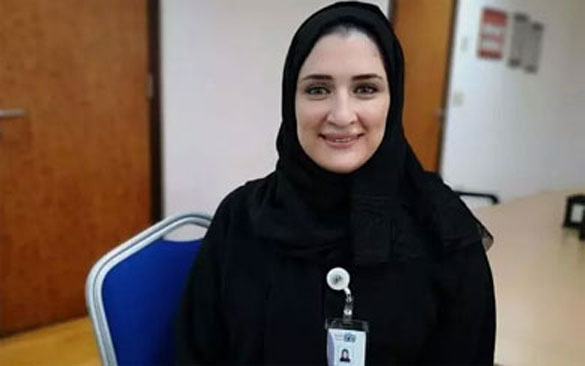 Mariam Abualenain had a simple dream of having her own office and a phone. She didn't realize that one day she would head the women's municipality branch. (Saudi Gazette)
------
• Report Reveals 76% of Islamophobia Attacks in Belgium Target Women
• Turkey's First Lady to Get Humanitarian Service Award
• We Look Forward To Bringing Change and Serving the Public, Say Saudi Female Passport Staff
• Iranian Women to Face Further Suppression In The Upcoming Month
Compiled by New Age Islam News Bureau
URL: https://www.newageislam.com/islam-women-feminism/in-welcome-move-jeddah-mayor/d/116334
--------
In Welcome Move, Jeddah Mayor Places Women In Prominent Roles In Municipality
9 September 2018
A reshuffle in the Jeddah municipality by Mayor Saleh Al-Turki led to structural changes and more opportunities for women that weren't available in the past.
The mayor ordered the reorganization of the municipality's branches and redistributed over a dozen civil servants to various posts. Five were assigned to women, advancing women's participation in leadership roles.
The changes and introduction of divisions such as an agency for hygiene services, community services, and a rain drainage project, among others, aim to increase productivity and performance, according to the mayor.
A newly created position called the supervisor of central municipalities is now taken up by Amani Mahmoud. She oversees the airport, al-Sharafiyah, al-Balad and Historical Jeddah and regularly meets with the mayor and his deputies.
Her ambitions have expanded beyond the women's section where she worked during her career at the municipality. She said her shift to the administrative headquarters was met with professionalism and respect by fellow male colleagues despite her being the only woman occupying an office on the floor.
Women at the forefront
Women civil servants were previously segregated from other sections of the municipality and services were limited to women's commercial affairs.
"Saudi women are penetrating all kinds of fields nowadays and the same is happening in this sector," Ms. Mahmoud told the Saudi Gazette. "The step could lead to increasing women in the organization in the coming years. Having a mix of genders in the organization creates for a healthier workplace."
While she's happy to see advancements in women empowerment, she didn't expect the fact that women heading municipalities would happen this quickly.
Asked about her most pressing assignments, she said the goals are according to the mayor's directives of making Jeddah a world-class city, focusing on cleanliness, preserving the natural scenery and aesthetics.
Hiba Al-Bluwi amusingly described her first week as chief of al-Sharafiyah central municipality, a position where no woman has filled before.
Leaving the women's section was a leap in itself and dealing with men and women clients was something she did not expect to happen.
"Many citizens, both men and women, were walking in and were surprised to find a woman running the municipality. It's unusual at first but many were proud, saying words of encouragement and wishing their daughters would reach a similar position."
She said her family and friends did not expect such a change to occur, adding that her husband was especially supportive of her promotion.
"Our dreams were focused within the women's department," she said. "Our responsibility was mainly on developing the services concerning businesswomen in Jeddah. Running al-Sharafiya means we're serving five districts that include all residents and this has expanded our role."
Unconventional roles
Al-Bluwi's role meant working on the ground and visiting the sites she's responsible for. On her first field visit with her team, she monitored cases that need to be treated such as sidewalks, lighting, and other urban matters but didn't face obstacles.
Photos of Dhahban's new municipality chief Shadah al-Mohanna inspecting a site widely circulated on social media as it was the first time for people to see a woman in such a role.
When she graduated from university, Mariam Abualenain had a simple dream of having her own office and a phone. She didn't realize that one day her hard work throughout the years would earn her a promotion to head the women's municipality branch.
As a civil servant, she started out as an electronic communications employee and gradually made her way to become a deputy supervisor of the women's section.
She was surprised to be chosen as head of the women's municipality branch, a new division that was renamed from the general directorate for women's services.
"I'm glad women are gaining more status and leadership positions in the kingdom," Abualenain said. "Eleven years ago when I first started working, the women's section was newly opened at the time. Female residents were able to run their own matters and follow up by visiting the women's section. They were very happy about it and expressed relief in being able to follow up their cases and dealing with female civil servants."
Areej Al-Bugmi was named director general of human resources. After serving as a civil servant in the department and her experience in supervising a number of sections, she now oversees the entire department and reports directly to the mayor.
Her priority is to follow the King Salman Program for Development of Human Resources that aims to raise productivity and quality of employees, which she described as the biggest challenge she aims to overcome.
She was surprised at the decision to hire women in such leadership positions. "I didn't expect something like this to happen so quickly," she said. "Promoting women to positions they weren't able to reach in the past is a great advancement for government organizations that pulls the organization ten years ahead. Throughout my career, I was working on developing my skills and earning experience from my managers but I'm glad I was granted the opportunity and trust to take up this role."
The decision of female appointments reaped positive responses from citizens and celebrations for progress in women empowerment in the kingdom.
Although the position of municipality branch heads has been introduced to women employees, it's not the first time for women to take up leadership in the municipality. Prof. Arwa Al-Aama was appointed as Vice Mayor of IT since 2009, which was considered the highest-ranking position for a Saudi woman in municipalities and the Ministry of Municipal and Rural Affairs.
https://english.alarabiya.net/en/features/2018/09/09/In-welcomed-move-Jeddah-mayor-places-women-in-prominent-roles-in-municipality.html
--------
Report Reveals 76% of Islamophobia Attacks in Belgium Target Women
September 10th, 2018
Around 76 percent of Islamophobic attacks in Belgium in 2017 targeted Muslim women, an anti-Islamophobia association in the country revealed on Saturday.
The Belgian Association for the Prevention of Islamophobia (CCIB) published a report on the attacks happened in 2017.
According to the report, the attacks mainly carried out by targeting places of worship, spreading hatred on social media and physical aggression towards people.
"There is an Islamophobic attack in Belgium every two days," the report said.
As 29 percent of Islamophobic attacks occurred on the Internet, cyberspace was the most widespread area where these attacks happened. Daily life (17 percent), education institutes (16 percent), workplace (14 percent), and politics (8 percent) are other areas where Islamophobic attacks occur.
The CCIB said the report is based on the information gathered from people who were attacked.
According to the report, Muslim women were mainly attacked because of their headscarves.
The report stated that most attackers were male.
The EU has lately witnessed growing Islamophobia and hatred of migrants in recent years triggered by propaganda from far-right and populist parties, which have exploited fears over the refugee crisis and terrorism.
https://www.albawaba.com/editorchoice/report-reveals-76-islamophobia-attacks-belgium-target-women-1183518
--------
Turkey's First Lady to Get Humanitarian Service Award
09.09.2018
Turkey's First Lady Emine Erdogan will be given a humanitarian service award in London on Sept. 11 by the Global Donors Forum.
The forum is being organized by the Chicago-based World Congress of Muslim Philanthropists as the first meeting of the forum was held in Istanbul in 2008.
The Humanitarian Service Recognition Award acknowledge's the first lady's philanthropic efforts for the needy, especially the Rohingya that drew the attention of international public opinion.
Emine Erdogan first went to Myanmar in 2012 despite threats to her life and drew international attention to the persecution of Rohingya; she had pioneered aid campaigns for the Muslim minority people.
On Sep. 7 last year, the first lady and Turkey's Foreign Minister Mevlut Cavusoglu visited refugee camps in southeastern Bangladesh where Rohingya Muslims took shelter after fleeing Myanmar's Rakhine State.
They handed out humanitarian aid to Rohingya Muslim refugees at a camp in Cox's Bazar district near the Myanmar border.
Emine Erdogan also wrote an article for CNN International on the Rohingya issue on Sept. 19 last year under the title "The world cannot ignore the plight of Rohingya Muslims", highlighting the issue before the international audience.
She also outlined Turkey's efforts related to refugees and humanitarian aid at a meeting on the theme 'Solidarity with Refugees: Humanitarian Approaches to Mediterranean, Africa and Myanmar,' hosted by Turkey's Permanent Mission to the United Nations in New York.
Furthermore, the first lady wrote and sent letters to spouses of world leaders on the Rohingya issue.
She had also showed humanitarian sensitiveness over the 2009 attack on Palestinians in the Gaza Strip.
She had organized an international summit in Istanbul under the title "Women for Peace in Palestine" where many spouses of leaders were invited to the summit calling for an end to the attacks in Gaza.
Emine Erdogan has also done a lot of philanthropic work in Turkey in fields such as education and health, and has also made efforts for the disabled community. She has also taken several initiatives for refugees.
Global Donors Forum, the biennial convening of the World Congress of Muslim Philanthropists, mobilizes financial and intellectual resources to create socio-economic value beyond racial, religious and political divides, according to the official website of the forum.
The 8th Global Donors Forum will be held in London between Sept. 10 and Sept. 12.
At the three-day event, topics such as human dignity, resistance against radicalization, social solidarity and faith based donation will be discussed at locations such as the British Museum, Mansion House and House of Lords.
The Forum brings together distinguished philanthropists, grantmakers, social investors, government and business leaders, and experts from across the world to offer pragmatic insight and constructive responses to pressing global challenges.
The forum envisions a peaceful, equitable, and sustainable world, generously endowed by ethical, inclusive, and effective philanthropy.
https://www.aa.com.tr/en/todays-headlines/turkeys-first-lady-to-get-humanitarian-service-award/1250732
--------
We Look Forward To Bringing Change and Serving the Public, Say Saudi Female Passport Staff
September 09, 2018
RIYADH: Women who have begun the training program for security personnel dealing with passports have said their recruitment will empower women and expand their participation in serving Saudi society.
The two-week training program, which was launched a week ago, is being implemented in nine Saudi provinces under the supervision of the Passports Department training center. It aims to introduce 290 women trainees to the sector's work and procedures, methods of examining documents, and the culture of military and security, in addition to improving their interpersonal and professional skills.
In an interview with Arab News, trainees said they were ready to provide and improve services in all departments and disciplines.
Trainee Norah Hassan Al-Shehri said: "The most important thing I have learned is to listen and do as my management says while complying with the laws and regulations.
"As a passports employee, I receive passengers, whether citizens, expatriates, pilgrims, or diplomats, take their passports and visas, make sure they are effective and match the individual's real data and image, I take their biometric features (fingerprints) and ensure their validity."
Al-Shehri added: "We undergo theoretical training in military and security culture, as well as passports procedures and laws to implement them once we start working."
She stressed the importance of preserving the image of Saudi Muslim women, who are loyal to their country, religion, and leadership, in addition to respecting their management and colleagues and performing their duties professionally.
"My new job means a lot to me as I contribute to the great honor of serving my country," she said. "I aim to reach the highest rank and prove that women are capable of bearing the workload."
She concluded that it is a great honor for her to serve her country and leadership, highlighting that the passports sector is a vital one for all segments of society.
"We aim to ensure the security of this country through our work with the Directorate General of Passports," she said.
Trainee Sumaya Mohammed Al-Harthi said she has learned about a group of general services, including serving citizens and residents to ensure the security and safety of this country in the first place, in addition to facilitating their procedures.
"We have also received comprehensive training in security and military culture to enhance the women staff's security sense," she added.
Al-Harthi emphasized that it is important to equip women with a good understanding of the passport laws and duties as well as their rights and responsibilities.
She said: "Getting a job in a sensitive department that requires sufficient discipline and a strong sense of responsibility means a lot to me, and I seek to achieve many goals through my role."
Al-Harthi added that she was delighted to see women in such roles and with society's blessings, hoping to achieve more faith in women's abilities to hold higher positions and have more authority.
She stressed the importance of having women take jobs that allow them to improve their skills, in addition to giving them the authority to make decisions and seize opportunities.
Trainee Amsha Al-Sahli said passports employees should give a good first impression of Saudi Arabia as their work includes serving the departures and arrivals, ensuring the validity of their official documents, verifying their travel status, taking necessary measures, verifying travel permits, and ensuring that biometric features (fingerprints) are identical.
Al-Sahli explained that she received theoretical training that introduced her to the sector's work and procedures, taught her how to examine documents, educated her on military and security culture, and improved her professional and interpersonal skills.
She stressed that the department's female staff seek to prove that women are capable of handling and quickly completing tasks, and are keen to improve their skills in the field.
Al-Sahli said: "I am honored to be part of this sector and thankful for the opportunity to serve my country through my job with the Directorate General of Passports. I ask Allah to help me, and I hope women's knowledge and skills contribute to Saudi Arabia's development and prosperity."
She pointed out that women are an important part of society and that the time for their integration in the job market has come, especially in the military sector.
"We strive to fulfill our duties and be able to bring about positive change to reflect the honorable image of Saudi women," she continued.
"I am very optimistic and will do my best as I support empowering women for my faith in their ability to professionally contribute to serving Saudi Arabia. This has been recognized by our wise leadership, who made new decisions to empower women.
"My message to those who wish to join us is to have complete confidence in our leadership and to do their best to serve Saudi Arabia."
http://www.arabnews.com/node/1369481/saudi-arabia
--------
Iranian Women to Face Further Suppression In The Upcoming Month
09 September 2018
Iranian women will face further suppression and harassment under the pretext of improper veiling for the upcoming month of Muharram, which is essentially a month of mourning for Muslim Shiites.
The State Security Force Commander Hossein Ashtari announced this in a meeting on September 4, 2018, stating that the SSF would deal seriously with women violators who do not observe their hijab in vehicles, further adding that if such violators have previous record of warnings, their cars would be impounded.
The SSF and a plethora of morality police are stepping up their operations to enforce harsher confrontations with Iranian women for mal-veiling in personal vehicles as they hound the roads in the days leading to Muharram.
Fearing the spread of popular protests against the regime and in a bid to contain them, the SSF Commander said, "We need to improve our readiness so that we can carry out our missions efficiently in the coming months."
Ashtari reiterated that the SSF's priorities have been endorsed by the mullahs' supreme leader Ali Khamenei. (The state radio and television IRIB, September 4, 2018)
Just last July, the Office of Cultural Studies of the Research Center of Majlis, the mullahs' parliament, published a report entitled, "Effective elements in the implementation of the policies on (women's) Hijab (veiling) and the available solutions."
According to this report, nearly 70 percent of Iranian women either do not believe in the compulsory veil or are among "the improperly veiled" and protest the compulsory veil in Iran. The report further confirms that Iranian women observe the veil only through coercion and harsh restrictions.
The law on the compulsory veil in Iran was adopted by the mullahs' parliament in 1983 and ratified punishments for Iranian women who do not observe the compulsory dress code in public places.
Previously, in a meeting on October 8, 2017, with the SSF Commander, mullah Jafar Sobhani, one of the clerical regime's high ranking religious scholars, had admitted, "Despite all the various emphases in recent years, we have not been able to achieve our goals regarding mal-veiling." (The state-run Fars news agency – October 8, 2017)
Admission of failure by the state-backed cleric is despite 29 state agencies and 301 cultural organizations having been tasked with promoting and enforcing compulsory veil on Iranian women for the past 40 years.
https://women.ncr-iran.org/iran-women-news/5458-iranian-women-to-face-further-suppression-in-the-upcoming-month
--------
URL: https://www.newageislam.com/islam-women-feminism/in-welcome-move-jeddah-mayor/d/116334
New Age Islam, Islam Online, Islamic Website, African Muslim News, Arab World News, South Asia News, Indian Muslim News, World Muslim News, Women in Islam, Islamic Feminism, Arab Women, Women In Arab, Islamophobia in America, Muslim Women in West, Islam Women and Feminism