New Age Islam News Bureau
18 Jun 2012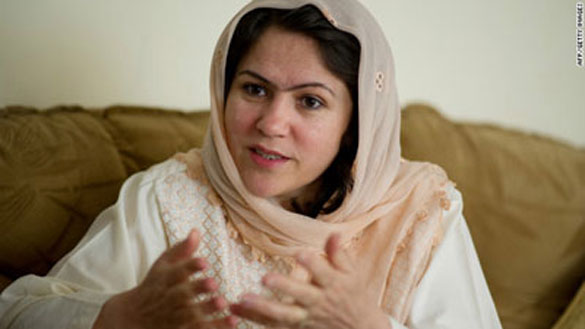 • Women's Rights Law No Match for Kurdistan Tradition
• Saudi Arabian women risk arrest as they defy ban on driving
• For Women of Faith, the Quest for a Good Halal Workout
• Kohistan girls alive: KP Information Minister
• Saudi heir's death fails to curb women at wheel
• Women in both Iowa and Afghanistan play a major role in agriculture
• HRH wife of His Majesty the King of Bahrain to Patronise Women's Forum for Human Rights
• Women challenge ban on Palestinian freedom of movement in direct action; seven arrested
• Army task force: Female soldiers need better health care
• The Women of The Middle East, Not Getting Their Due
• Iran hosts first International Women's Health Conference
Complied by New Age Islam News Bureau
Photo: Fawzia Koofi: In the Land of Talibans, A Mother Bravely Campaigns For President
URL:
https://www.newageislam.com/islam,-women-and-feminism/new-age-islam-news-bureau/in-the-land-of-taliban,-a-mother-bravely-campaigns-for-president/d/7651
----------
In the Land of Taliban, A Mother Bravely Campaigns For President
By Ashley Fantz
June 17, 2012
The mother with an important but dangerous job sat down to write a goodbye letter to her two young daughters. Just in case, she thought. The Taliban could get lucky this time and finally kill her.
Fawzia Koofi, who is campaigning for the presidency of Afghanistan, began by writing this to her 10- and 12-year-old.
"Today I am going on political business to Faizabad and Darwaz. I hope I will come back soon and see you again, but I have to say that perhaps I will not."
If she didn't come home, she wrote little Shuhra and Shaharzad, they should take their mother's advice on how to get on without her.
"First," she wrote, "don't forget me."
Finish school, live independently, stay with your aunt, study abroad. All the money their mother has in the bank, it's all theirs. Spend it wisely, on school.
"A girl needs an education if she is to excel in this man's world."
Explore the world. Be brave. Make your country a better place.
"All of us human beings will die one day," Koofi wrote. "Maybe today is the day I will die. But if I do, please know that it was for a purpose."
Despite her security detail receiving a message that the Taliban had planted a bomb under her car, she went, and made it back home safely. This is Koofi, someone who believes without question, even since childhood, that purpose has always guided her. Luck was just something that always showed up when she needed it.
She had come from a place where nothing was expected of a woman to being the first female elected to Afghanistan's Parliament, a body reformed after the war. Every outing was a risk.
An episode in 2010 proved that. As Koofi's convoy traveled near Kabul, shots were fired at cars carrying her, her daughters and sister. Her security fired back. It was a chaotic nightmare, but they made it out alive.
The close call with death is one of many detailed in her new memoir "The Favored Daughter," released as buzz began building about her campaign to become President Hamid Karzai's successor.
The country's presidential election is slated for 2014. Under the latest timetable, all U.S. troops are supposed to be gone from the country then.
Shuhra and Shaharzad were so young back then. They were too young to remember like their mother does an Afghanistan that, under Taliban rule, forbade girls to go to school and sanctioned the murder of women perceived to have shamed their male relatives. Her girls will only hear of the days when the Taliban ordered homeowners in some parts of Afghanistan to darken their windows so the women inside could not be seen.
"My daughters always feel that I am very exceptional in Afghanistan," Koofi said last weekend near Kabul.
It was bright out, and she squinted into the sun. Her face lit up when she talked about her daughters. She seemed relaxed and warm, perhaps an unexpected state for a woman who receives constant death threats and changes her phone number all the time. The pressure does get to her, though.
"It's a very difficult life for a woman, to be a woman alone in Afghanistan, to be a mother, to be a single mother and to be a woman politician," she said, adjusting her navy headscarf when the breeze catches it.
She still laughs as she said in fluent English, "I get overwhelmed. I get overwhelmed 10 times a day."
When that happens, she take a few minutes to be alone. And then she turns to her children.
"I forget everything when I'm with my daughters and we watch TV or watch the news."
She'll sit with them as they message their friends on Facebook.
"Sometimes they are proud of me, and especially when I go to foreign countries," Koofi said. "I tell them that if I don't go, there is no money, so I have to go and raise money for schools for other girls."
Shuhra and Shaharzad like to tell their classmates, "My mother builds schools," she said.
But there are also some mornings when one of her girls will tug at her arm.
"My elder daughter is protective, like a grandmother," Koofi said. "She doesn't want me to go out of the house."
"The younger one is realistic. She said, 'Even if a woman becomes president in Afghanistan, it might be difficult to rule Afghanistan."
Defying death
"Even the day I was born, I was supposed to die."
That's how Koofi explains her first 24 hours.
She was born in 1975 in the remote and wild northeastern province of Badakhshan, near the border of Tajikistan and China.
Koofi was the 19th child out of her father's 23 children.
Her mother was her father's second wife. Koofi writes in her memoir that she saw him beat her mother badly, tearing out chunks of her hair.
But Koofi's mother loved him. This was the way in Afghanistan. Her mother was dignified, strong, yet at the same time she believed that women obeyed their husbands. When wives failed to please their husbands, they had earned a beating.
While her mother was pregnant with Koofi, her father took a seventh wife, a 14-year-old. That depressed her mother terribly, and her pregnancy was troubled. She was pale, sick and exhausted, Koofi wrote.
Her mother prayed she would give birth to a boy.
After a 30-hour labor in a countryside shack, and falling semi-conscious, someone told Koofi's mother disappointing news.
The woman turned away from her newborn and refused to hold her child.
"No one cared if the new girl lived, so while they focused on saving my mother, I was wrapped in cloth and placed in the baking sun," Koofi wrote.
After nearly a day left alone, screaming, and her parents believing that "nature would take its course" and she would die, someone went outside and brought the baby indoors.
Koofi writes that her mother's instincts to love her kicked in. From then and throughout her early life, Koofi and her mother forged a bond built from surviving circumstances that would probably break most people.
Even today, talking with CNN, when Koofi is asked what her mother would think about her running for president, she has no harsh feelings.
In fact, she reveres both her mother and her father, who became involved in politics and was killed by Afghan fighters when she was 3.
She speaks lovingly about her mother, who died years later.
"My mother always [regarded me] as a special person in her life," Koofi said. "She will always tell me one day you will become something.
"She never told me what that something means for her," Koofi said. "She would be proud, I'm sure. If my mother was alive, my life would be different in a good way because my mother was a big supporter of me."
She included a letter in her memoir to her late mother.
"I'm a politician now. But sometimes I'm just a silly girl and I make mistakes," Koofi wrote. "When I do make a mistake, I imagine you'll be there, gently chiding me and correcting me."
A teenager under the Taliban
Koofi laughs as she recalls how she was determined to go to her English classes when she was a girl, before the Taliban took control and prohibited girls from getting an education.
When Koofi was 11, her mother had moved the children to Kabul, where one of her brothers got a job as a police officer.
Even during Afghanistan's civil war, Koofi would set out from her family's home to school despite the violence.
"You could see rockets coming from different parts of Kabul, but I could still go," she said.
Her brothers taunted her unrelentingly. Girls weren't supposed to learn, they said. And her mother was scared she would get hurt. "She would tell me, 'If this English class makes you president, I don't want you to be president, I want you to be alive.'"
Kabul introduced Koofi to modernism. She saw women wearing nail polish and makeup. Some of her friends had swimming pools. She talked about poetry and literature with her friends.
Her life was largely peaceful and fun, she writes, until 1989 when the same rebel fighters who killed her father, the Mujahedeen, were declared the new government. Afghans were still optimistic. The Russians were gone, retreating after years in a war they couldn't win.
Afghanistan was changing, and in ways that a 16-year-old girl who was once free to express herself didn't like. With so many male soldiers around, it seemed smart to her family to make Koofi cover herself with a burqa. It was oppressively hot, first of all, young Koofi thought. And what was the point of getting to wear makeup and look pretty when she went to parties? She recalls seeing glamorously dressed female news anchors taken off the air and replaced by "dowdy women in scarves." She was scared about where the country was heading, and went to her mother, who sent her daughter to another city to go to school.
Soon, though, the changes in her life got much more serious.
One of her brothers who she was especially close to was killed, shot to death in his home. Koofi writes in her memoir that the killing is still a mystery, and the family got little help in solving the crime. The country had become so unstable by this time that justice was in short supply for everyone.
As a Muslim, she writes in her memoir, she believes God decides everyone's fate. "He chooses when we live and when we die. But even that certainty doesn't make the painful events and losses of my life easier to bear."
One of those heartbreaks came when the man she married was imprisoned by the Taliban shortly after their wedding. He was punished because Taliban leader Mullah Omar wanted to get back at one of her brothers, she writes. Koofi's husband was taken into custody a week after they wed.
Koofi's husband was freed and then arrested again. She fought for his freedom, and eventually he was released. But it was too late. He had caught tuberculosis from other prisoners. He lived long enough to see his daughters become adventurous girls who loved to play and dance. But he had to keep his distance, especially when the coughing fits shook him.
In his hospital room, Shuhra and Shaharzad came in dressed up like gypsies and sang silly songs. They asked if they could give him a kiss. He refused, too afraid he would infect them.
Koofi's husband died later that night.
Taking the burqa off
When the Taliban came to Kabul, Koofi was in college. At the time, she only vaguely knew who they were, or how they were different from the Mujahedeen.
"In my view, they were all just men with guns," she remembered.
Soon, the Taliban blasted statues with rocket-propelled grenades and heavy artillery until they fell. "Then they started destroying our minds," she writes, burning schools, books and banning literature.
In short order, girls could go nowhere. They were terrified of being accused of "morality crimes" and dragged to the Taliban's Ministry of Vice and Virtue.
Those were bleak years.
But there are bright moments. She had her daughters, and she had started to work for the United Nations Children's Fund, venturing out into the countryside and talking with those who had the worst possible lot under the Taliban.
In the frenetic atmosphere in Afghanistan after the September 11 attacks, she said, for the first time, some of her male counterparts began focusing more on the work they had to do, and how to do it better, than whether she needed to wear a burqa.
Before then, she said, "I never attended a meeting with government officials [without wearing one]," she said.
She was suddenly thrust in the position of initiating school openings for girls. She had to organize vaccine supplies for the children. In her memoir, she writes that a governor who was in meetings with her urged her to take off her burqa. They needed to see her face, he said, to communicate with her.
"They respected me for what I did," she recalled.
She ached from the loss of her husband and decided she couldn't remarry. She could, however, marry politics. When parliamentary elections were announced, and women were allowed to run, her relatives debated the idea that she put her name on the ballot.
She reasoned that she had solid networks from her United Nations work, and she had outreach and support in far-flung displacement camps and villages. Her family name still carried some political weight. She went for it, campaigning as she does today, without wearing a burqa.
The Taliban's 'conditions' for women
Koofi believes that in the years since her win in 2005 to her current campaign, life for women in Afghanistan has improved to a degree. There are statistics and reports that support this. In 2004, girls were formally guaranteed a right to an education under the Afghan constitution. Human Rights Watch reported in 2010 that nearly 2 million Afghan girls were enrolled in school (though only a small number advance past elementary school, rights groups have reported).
Literacy rates are up for girls between 12 and 16, according to a 2011 Oxfam report. Across Afghanistan, infant mortality rates have dropped and life expectancy has risen, according to Unicef. Women who once had to quit their jobs have gone back to work as doctors, lawyers and police officers, Oxfam reports.
But stories of honor killings, poisoned wells at schools for girls and attacks that disfigure women persist. Human Rights Watch reported in March that women are still being targeted for committing "moral crimes" like sex outside marriage or running away from home.
Koofi said she fears what will happen if the Taliban regains their political footing as a result of ongoing negotiation with the United States intended to stabilize the country.
"You know that [the] Taliban have three conditions -- one of those conditions is women's Islamic rights. I know what that means -- Islamic rights of women. ..." she said. "They deprive women from all rights, including the right to [an] education."
The Taliban must change "some of its core principles" and agree that girls can go to school, work and be involved in politics. If they "come back with the same mentality," Koofi said, "this will be a huge step back for all women, for all citizens."
"Our daughters are like the hope, the future of Afghanistan," she said. "I think women have to stand up, they have to raise their voice, demonstrate that they have equal abilities in this country like many other people have."
Taking chances
Her first day in her new job as a lawmaker was the first time Koofi had been inside Afghanistan's parliament building. On her second day, she put her name in for deputy speaker. She knew her chances were slim. Several male members of Parliament practically sneered at her. It was an audacious move. But she made it because she was emboldened by her then 6-year-old daughter, Shuhra.
Do you think I should try? Koofi asked her.
The little girl promised she'd gather 100 schoolchildren and come down to Parliament and wave flags so that her mom would win.
Days later, Koofi was elected deputy speaker.
It was an international news event. She felt fantastic, but also like a novelty. She was besieged by expectations. Journalists descended on her. How was she going to fix Afghanistan?
She started with victories that would seem small in the United States but huge in Afghanistan -- getting funding to build a highway, raising awareness about getting girls in school and pushing for women in higher education. She has met with international heavyweights like former Secretary of State Condoleezza Rice and, now in her second parliamentary term, Koofi talked with U.S. Secretary of State Hillary Clinton. She has received praise internationally for championing women's rights, and spoken at the World Economic Forum.
Yet, could she really win the presidency in Afghanistan, beating the United States at electing a woman as its top leader?
She laughs.
"I don't think any candidate will actually run to lose. I don't run to lose."
"Leaders in Afghanistan, once they get elected they don't go back to their community and ask about social problems," she said. "I did. That gives me confidence, esteem, that people will not compare me with other candidates."
She's sure that villagers in provinces who she worked with during her Unicef days will remember her and support her campaign, she said.
When asked if she has any regrets, she pauses. She could have done more in that job, she said.
"I could have mobilized more donors to establish more girls schools in my village or other villages in Badakhshan."
The girls who attended schools she did open have always been her biggest supporters, like her daughters.
But there's never enough time to do everything she wants, she said. And the pressure on her can come down hard, too much, sometimes.
Shuhra and Shaharzad, in those moments, are her peace.
"When I am alone, they fill the gap."
http://edition.cnn.com/2012/06/17/world/fawzia-koofi-afghanistan-president/index.html
----------
Women's rights law no match for Kurdistan tradition
June 18, 2012
In June 2011, Iraqi Kurdistan passed a landmark law that criminalized female circumcision and domestic violence, but one year on, activists remain frustrated with its patchwork implementation.
In what is a conservative society even by Middle East standards, the passage of the law last year was hailed by rights groups and NGOs as a major step forward after years of struggle.
The law punishes physical, sexual and psychological assault committed within the family, creates conditions for the protection of victims and mandates the establishment of specialized courts.
It also carries penal and financial punishments for those who promote or practice female genital mutilation.
Kurdistan is a three-province region in Iraq's north that enjoys great autonomy from the central government, with its own parliament, budget, and armed forces.
The region benefits from a markedly more stable security situation than the rest of the country, and an improving economy, two factors that mean life for women in Kurdistan is widely regarded as better than Iraq's other provinces.
But terrible problems remain, one of which was female genital mutilation.
Though often perceived as a problem mostly prevalent in Africa, the practice was widespread in Kurdistan, according to German NGO Wadi, which published a report in 2010 on the subject, based on interviews with 1,700 women in the region.
According to that report, 72.7 percent of women in the region's two biggest provinces of Erbil and Sulaimaniyah were victims of female genital mutilation, with the rate rising to almost 100 percent in some areas.
Wadi pointed to a "clear link" between the practice and illiteracy, pegged at 51.1 percent among women in Kurdistan.
The adoption of the law marked a "big victory," said Suzan Aref, head of the Women's Empowerment Organization, a local NGO established in June 2004.
"At least now we are talking about this," she said.
Pakhshan Zangana, secretary general of the High Council for Women's Affairs, a Kurdish government agency, agreed: "In our society, just to recognize domestic violence is very important."
"Society recognized that, yes, we do have domestic violence, it is a crime. This is so important.
"In other societies, it is [considered] the right of the family, that they have the right to do anything," she said.
But both women agree the battle will not be won until the law is fully applied, which appears a long way off.
"Yes, we have laws, but... we don't have implementation," Aref said. "This is a big problem."
"You cannot find that the numbers [for female genital mutilation] have reduced because of this law, because no one knows about it," she said, adding: "We need a campaign of awareness."
Police in the region are widely seen as reluctant to investigate deeper in to violence against and the causes of apparent suicides, which may well be so-called honor killings, Aref noted.
Women see the law not being applied, she said, and "they lose hope."
Ramziya Zana, head of the Erbil-based Gender Studies and Information Center Organization, is more direct.
"It has been one year since the law was passed, and it has still not been applied," she said. "It's a disaster. Now, you have to either return the law to parliament, or apply it."
According to her, judges and religious leaders have stood in the way of the law's full implementation.
"Most judges think this is harmful for the family," and those who apply it "can be counted on one hand," she said. As for religious leaders in Kurdistan, "there is nothing in the law that they like" and many have called for it to be amended or scrapped.
Zangana admitted there have been difficulties in applying the new law, particularly in the creation of special courts, but insisted an implementation plan was being developed with the United Nations, and said patience was needed.
http://www.nowlebanon.com/NewsArticleDetails.aspx?ID=410169#ixzz1y8W0MBDT
----------
Saudi Arabian women risk arrest as they defy ban on driving
Jun 17, 2012
RIDYADH (Saudi Arabia) - Women in Saudi Arabia have been arrested and jailed for defying a ban on driving. Now they want men to join them in the passenger seat as they get behind the wheel.
In the past year, they have lost jobs, friends, social standing, reputations and they have been imprisoned, shunned and - in a few cases - even received death threats.
But women in Saudi Arabia were this weekend preparing once again to risk arrest and even flogging to drive cars in defiance of the country's ban.
It was on June 17 last year that about 100 women took part in the first demonstration organised by underground civil disobedience campaigns Women2Drive and I Will Drive My Own Car.
Many were arrested and jailed. One woman's sentence of 10 lashes was revoked only after the king intervened. It was the largest mass action since November 1990, when 47 Saudi women were arrested after demonstrating in cars.
On Wednesday, two founders of the movement, Ms Manal al-Sharif, 33, and Ms Najla Hariri, 45, posted an open letter with 600 signatories to King Abdullah, appealing once more for an end to the ban on women driving. The letter said: "Our initiative is not aimed at violating laws."
Today, women with international driving licences are being urged to flout the ban, but to make sure they do it respectfully, wearing the legally required full Islamic dress and displaying a picture of the king.
Campaigners want men to show their support by travelling in the passenger seat with their wives, mothers, and sisters. They are also asking women to flood the traffic department with driving licence applications.
"We only want to enjoy the right to drive like all women over the world," Ms Hariri told the Observer. "It is really hard for women to take such a stand for the right of driving," she said.
It was in May last year that Ms Hariri, fed up with having to find a male relative to ferry her and her children around, began to drive herself. After hearing about Ms Hariri driving on Facebook, Ms al-Sharif, a divorced mother, followed suit a few days later, posting a video of herself on YouTube. Ms Al-Sharif was imprisoned by the religious police for more than a week.
This month, Ms Al-Sharif was unable to join four other Arab women in Washington to receive a Vital Voices Leadership Award from an organisation founded by Hillary Clinton.
"The main reason for not being at the awards was (concern) for my family's safety after receiving death threats from insane people," Ms al-Sharif tweeted.
A year after she won recognition for defying the ban, Ms al-Sharif has been forced to resign from her job at Saudi's government-owned Aramco oil company and has lost her housing. Family members have left the country out of fears for their safety.
\Meanwhile, a campaign called My Guardian Knows What is Best for Me - which opposes calls for a more liberal approach to women's rights, including women driving - has been started by a group of Saudi women.
That means the high personal price that is being paid by Ms Hariri, Ms al-Sharif and other women could be for nothing if apathy stops women driving in Saudi.
"I am very happy with the attention that we draw to our right to drive and I thank God that so many men are supporting us," said Ms Hariri. "I can't say women are afraid, but of course they are worried - worried equally about the police and about their families.
"I hope that June 17 this year will bring us some good news regarding driving, because society's awareness is so much better now and there is wider understanding that there is an alternative here," she said.
"All of us have the dream that our country can and will become a supportive community for women, where men and women are treated equally."
http://www.todayonline.com/World/EDC120617-0000066/Saudi-Arabian-women-risk-arrest-as-they-defy-ban-on-driving
----------
For Women of Faith, the Quest for a Good Halal Workout
June 18, 2012
By Arun Venugopal
Sadia Kalam, a 26-year-old project manager at midtown nonprofits searched for months for an all-women's yoga class in Manhattan. No men, she said, could be present.
Finally, she settled on one in New Jersey, nearly 40 miles from her home — where the windows would be covered and the Muslim participants felt free to remove their Hijabs.
"In my search for a dance or yoga class in New York City, I always had to ask if there were men in the class, if there were private women's only classes, [or] if there were male instructors on premise," she said.
Modesty is central to many women of faith like Kalam — and Muslims and Orthodox Jews, in particular — and a number of them have struggled to balance religious ideals with physical fitness.
Many women say modesty is a way to prevent unwanted attention from men. Some critics say it is a way for men to oppress women.
Linda Sarsour, head of the Arab American Association of New York based in Bay Ridge, said it was challenging to find places to exercise out of men's view.
She and other Muslim women avoid jogging in public, because within her community it is seen as "very immodest," she said.
Maha Akhtar, a 22-year-old graduate of Queens College, started visiting the all-women gym chain Lucille Roberts in Queens last month.
"At times, there are males in the gym — personal trainers, substitute teachers — and that gets very frustrating while working out," she said, "but I don't let it get in my way. I just throw on my hijab when they're here."
In addition to a no-guys policy, many women say the right music is crucial to a good workout, free of profanity or sexual references.
"So you won't be hearing any Rihanna in there, but you may hear some beats," said Aber Kawas, a youth coordinator for the Muslim American Society, which is re-opening a gym with separate hours for men and women.
Among Orthodox Jewish women, a network of Jewish Community Centers and other facilities offered a variety of options, including all-women's swimming pools.
Regina Tessone (right), an Orthodox Jew, started a line of modest swimwear called Aqua Modesta to help women feel more comfortable in mixed-sex settings when those options aren't available.
"It should always be that he should only see her figure and get pleasure from her body and see her that way," Tessone said. "But outside of the bedroom she should look beautiful but not sexual."
Rachel Schwartz, a New Jersey resident, said she participated in a triathlon in New York two years ago while wearing a "swim dress" that covers most of her body.
"It completely clings to you," she said. "You have the range of motion that you need. And then when you come out it's just a dress, so you're completely covered the entire time."
Imam al-Hajj Talib Abdur-Rashid, of the Mosque of Islamic Brotherhood, in Harlem, said physical activity among women is important, but it doesn't have to compromise their modesty.
"Not everyone throughout the world believes that being physically fit requires a person to be half-naked," he said, arguing that a "Euro-American" clothing ideal prevailed in the worlds of sports and fitness.
He added, "Health and fitness are values of the Islamic faith. We have a traditional saying, that's attributed to the prophet Muhammad, Peace Be Upon Him, and it's a well-known saying, which is 'Give your body its rights.'"
Several days each week, a group of traditionally dressed Bangladeshi women gather in the basement of a Bronx house and go through the motions of a Bollywood exercise video.
Mone Khan, 40, said her husband didn't want her to exercise in view of men because, as Muslims, they believed she should always keep her body covered.
"Always we cover our body and head and our sexual part," Khan said.
Bangladeshi immigrants are the least active of any ethnic group in New York, with just 35 percent having exercised in the previous 30 days (versus 77 percent of whites and 64 percent of Hispanics), according to a study conducted by scholars at Montefiore and Albert
Einstein hospitals and the North Bronx Health Networ The result is a high level of diabetes, hypertension and other illnesses in the community.
Anjali Jaiman and Moumita Zaman, who both oversee the workout – which is sponsored by the nonprofits Westchester Square Partnership – attribute the statistics to fried foods and rice, shared myths like exercising damages a woman's uterus and modesty.
Jaiman, said that for many of the women, being middle class "means not having to be physically active.
"You don't have to do physical labour," Jaiman said. "That's a symbol of middle-class-ness."
http://www.wnyc.org/articles/wnyc-news/2012/jun/18/micropolis-women-faith-seek-good-halal-or-kosher-workout/
----------
Kohistan girls alive: KP Information Minister
June 18, 2012
PESHAWAR: Khyber Pakhtunkhwa Information Minister Mian Iftikhar Hussain on Sunday said the girls at the centre of the Kohistan video scandal, claimed to have been killed in the name of honour, were alive and the provincial government had found no evidence of their murder.
Addressing a press conference, Iftikhar requested the Supreme Court to dispose of the suo motu notice it had taken over the issue and take action against those who had made allegations regarding the girls' murder.
He said the parents and sister of one of the girls had recorded statements in front of a fact-finding commission.
The minister said the commission had also recorded statements of eight other locals and found no evidence that the girls had been murdered, adding that the video scandal was an attempt to disgrace the jirga system and Pakhtun traditions.
Iftikhar said tribal elders, parents of the girls and residents of the area had assured the provincial government that protection of the girls would be ensured.
He further said that neither the local jirga nor any religious scholar in Kohistan had issued a decree to kill the girls.
http://www.dailytimes.com.pk/default.asp?page=2012\06\18\story_18-6-2012_pg7_27
----------
Saudi heir's death fails to curb women at wheel
Ruth Pollard
June 18, 2012
AMMAN: As Saudi Arabia mourned the death of another heir to the throne, a small group of women in the capital Riyadh were preparing to do what the late Crown Prince Nayef bin Abdul Aziz Al Saud vowed never to allow - drive.
The 78-year-old is the second crown prince to die in eight months - his predecessor and brother Sultan bin Abdulaziz Al Saud, died in October - and all eyes are on the increasingly frail 88-year-old King Abdullah as he prepares to choose Prince Nayef's successor.
The appointment in November of Prince Nayef, a hardline conservative, raised fears that if he did become leader he would abolish King Abdullah's cautious attempts at reform, such as promising that women would be allowed to stand and vote in the 2015 council.
He was a vociferous supporter of Saudi Arabia's decision to send troops to neighbouring Bahrain last year to support the island's Sunni Muslim monarchy's violent response to the peaceful protests staged by its Shiite majority.
Prince Nayef also led the crackdown against the Islamists who seized control of the Grand Mosque in Mecca in 1979 and also oversaw the crushing of Saudi-based al-Qaeda terrorist cells in the mid-2000s.
Full report at:
http://www.smh.com.au/world/saudi-heirs-death-fails-to-curb-women-at-wheel-20120617-20i7q.html#ixzz1y8Mx2YFz
----------
Women in both Iowa and Afghanistan play a major role in agriculture
BY ANNA EGELAND | JUNE 13, 2012 6:30 AM
Though one may think first of the many differences between Iowa and Afghanistan, one local expert said women's roles in agriculture is one of the several similarities between the two.
Denise O'Brien, an organic farmer from Atlantic, Iowa, returned in April from a yearlong stay in Afghanistan, where she served as an agricultural adviser for the U.S. Department of Agriculture Office of Foreign Service Operations/Overseas. She spoke to a small group of friends and colleagues on Tuesday night at the Newman Catholic Student Center, 104 E. Jefferson St., about her experiences.
O'Brien said one of the similarities she noticed was the local-food infrastructure, which Iowa has been shifting toward and is already present in Afghanistan.
She said her main duty as an agricultural advisor was to work with Afghanistan's Directorate of Agriculture, Infrastructure and Livestock on making agriculture more transparent.
"One of the big things was to work on anti-corruption … everybody wants to skim off something for themselves," she said, citing the sale of weak seed and livestock as corrupt practices.
Despite the problems with agriculture in Afghanistan, she said, Iowa farmers could learn from farming practices in Afghanistan. Upon her return to Iowa, she noticed the extensive soil erosion on Iowa farms and thinks agriculture in Afghanistan could provide clues for how to handle the problem.
O'Brien, who cofounded the Women, Food and Agriculture Network in 1997, said the organization is working on a project called Women Caring for the Land, which includes listening sessions across Iowa. Women own half of the rentable farm land in Iowa, she said.
"Women have a very strong conservation ethic … women feel very strongly about the land and want to preserve the land," she said.
Full report at:
http://www.dailyiowan.com/2012/06/13/Metro/28600.html
----------
HRH wife of His Majesty the King of Bahrain to Patronise Women's Forum for Human Rights
17/06/2012
Manama-June-17(BNA) A key forum promoting women's human rights will open tomorrow (June18) at the Sofitel Bahrain Zallaq Thalassa Sea & Spa. The two-day symposium will held under the auspices of Her Royal Highness Princess Sabeeka bint Ibrahim Al-Khalifa, wife of His Majesty the King and President of the Supreme Council for Women.
The council is holding the event in cooperation with the Arab Women Organisation (AWO).
The second edition of the promotional forum will be put under the slogan: "Woman's human rights: Shining Marks in the Arab Judicial Rulings".
The symposium will highlight landmark judicial verdicts which promoted legal protection for women's rights in the Arab countries.
The forum will also serve as a platform to shed light on fair judicial practices promoting women's rights and enhance officials' awareness and bridge the gap between laws and their enforcement on the ground.
Experts and specialists from Jordan, the UAE, Bahrain, Tunisia, Algeria, Sudan, Iraq, Palestine, Lebanon, Egypt, Morocco, Mauritania and Yemen will outline their respective countries' experiences.
http://www.bna.bh/portal/en/news/513474
----------
Women challenge ban on Palestinian freedom of movement in direct action; seven arrested
By Noa Shaindlinger
June 15, 2012
Palestinian, Israeli and international women activists dressed in traditional Palestinian garb attempted to walk down Shuhada street, Hebron's main commercial thoroughfare. After only a few minutes, they were stopped by soldiers, and seven people were arrested in total.
A group of Israeli and international female activists joined Palestinian women on Wednesday in a direct action in Hebron to protest the ongoing ban on Palestinian freedom of movement on Shuhada street. The street, which was once the lively commercial centre of Hebron, was closed off to Palestinian vehicular traffic after the 1994 massacre of 29 Muslims in the Ibrahimi Mosque by Baruch Goldstein. Since 2001, Palestinian pedestrians were barred from the street, turning it into a Jewish-only zone.
We arrived to Hebron just before 2pm, to be led by Issa Amro, a coordinator from Youth Against Settlements, to a previously undisclosed location, which would be our gathering point. We ended up at an apartment facing Shuhada Street, whose residents are forced to use a side entrance from an alley off the old city's market. The lady of the house, an elderly woman who turned out to be a refugee from Jaffa, greeted us warmly, and led everyone to her parlor.
Full report at:
http://www.uruknet.info/?p=m88875&hd=&size=1&l=e
----------
Army task force: Female soldiers need better health care
By GREGG ZOROYA
June 16, 2012
An Army task force led by female officers says the military is falling short in providing equal health care for women on the battlefield even as public pressure grows to allow them a broader role in combat.
Basic improvements are needed to help women avoid higher rates of urinary tract or vaginal infections, stress-related menstrual difficulties and the chafing, bruising and bleeding caused by ill-fitting body armour designed for men, the task force's report says.
"The health issues and uniform issues are areas that if we are going to be expanding the role of women (in combat), or even maintaining the current role, we need to do a better job at, so that women are equally served," says Army Col. Anne Naclerio, a paediatrician who leads the task force.
None of the health problems outlined in the report would bar women from serving in combat but instead create unnecessary physical discomfort, Naclerio says. The Army treated about 450 women for urinary tract infections in Afghanistan last year, according service data.
While the Pentagon continues to bar women from serving in infantry positions, Defence Secretary Leon Panetta in February modestly expanded the number of jobs women can fill, allowing many to effectively serve side-by-side with the infantry in combat.
During a decade of war, 275,000 women have deployed. More than 13,000 are in Afghanistan this year. Since 9/11, 800 have been wounded and 130 killed. Two have received the Silver Star for heroism.
Full report at:
http://www.stripes.com/army-task-force-female-soldiers-need-better-health-care-1.180504
----------
The Women Of The Middle East, Not Getting Their Due
By Sahar El-Nadi
17 June 2012
The women of the Middle East are offering a huge contribution to the ongoing fight to regain freedom and human rights. Yet the mainstream media usually focuses only on negatives and violations.
In this series I will share facts, figures, and real life stories of historic women and of contemporary women, those who are like you and me. Hopefully this will help us draw inspiration to change our world, one step at a time, each in their respective environment.
What We Are Telling Our Kids
What do women and bees have in common? When I was a little girl, I was told that Prophet Muhammad said:
"Live in this world like a bee: it eats only good, produces only good, and when it touches something, it neither breaks it nor ruins it".
That short quote inspired me for life. It triggered my awareness about the environment, love for photography, and passion for public service. I was fascinated learning about bees, and the more I learnt, the more I really wanted to be useful like a hardworking bee.
This is the foundation of a little girl's psychology, we should think of the impact of the stories we tell our children for inspiration. Princess stories for example can teach little girls negative values, such as depending on luck and physical beauty to snare a wealthy suitor to "rescue" them from their "fate".
Full report at:
http://www.onislam.net/english/family/your-society/gender-and-society/457599-arab-a-muslim-women-like-a-bee.html
----------
Iran hosts first International Women's Health Conference
Jun 15, 2012
The city of Shiraz in Iran hosts the First Iranian International Conference on Women's Health aiming to address several issues regarding the health and well-being of women Press TV reports.
The event hosts 38 doctors and experts from different countries including Egypt, Kuwait, Canada, the US and the Netherlands.
Some of the issues discussed at the conference are aging, non-communicable diseases, communicable diseases, psychological aspects, reproductive health, menopause and caner.
"It is an honour to be here. Women's health in aging is very important. Women on average become older than men, everywhere in the world but women suffer from a longer period of disease before they die," Marieke A.E. van der Waal, the director of Leyden Academy told Press TV.
Full report at:
http://www.presstv.com/detail/2012/06/15/246339/iran-hosts-intl-womens-health-confab/
----------
URL: https://www.newageislam.com/islam,-women-and-feminism/new-age-islam-news-bureau/in-the-land-of-taliban,-a-mother-bravely-campaigns-for-president/d/7651