New Age Islam News Bureau
22 Jan 2020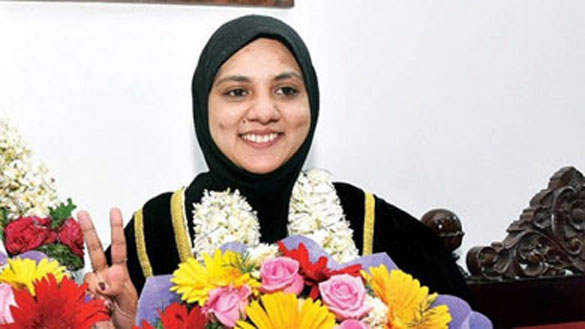 Tasneem is the first Muslim woman to be elected as Mayor of Mysuru, India.
------
• Pakistani Woman Zarah Sultana, Becomes 'Youngest Ever Muslim' Lawmaker In UK Parliament
• Muslim Association Of Britain Elects First Female President
• All-Female Team Finishes Dakar Rally With New View of Saudi Arabia
• Security Beefed Up Outside SC as Women Stage Sit-In Protest against CAA, NRC
• Anti-CAA, NRC Protests In Lucknow: Daughters Of Renowned Urdu Poet Munawwar Rana Among 160 Women Booked By Police
• Amritsar: Pakistan Hindu Girl Mehak Sent to Shelter on Court's Order
• 'Women's Political Representation Decreasing In Pakistan'
• PML-N to table new amendments to Child Marriages Restraint Act in Punjab Assembly
• Inspirational Afghan Girl Brings 'The Monster's Shadow' In Hopes of Evolving into Patriarchal Society in Afghanistan
• Clubs out in Force for Arab Women Sports Tournament's Basketball and Volleyball
• UN Chief Economist Says Saudi Reforms Boost Female Employment
Compiled By New Age Islam News Bureau
URL: https://www.newageislam.com/islam-women-feminism/in-tasneem-mysuru-gets-its/d/120859
--------
In Tasneem, Mysuru Gets Its First Ever Muslim Woman Mayor
January 22, 2020
New Delhi: For the first time in its 158-year history, the Mysuru Municipal Corporation has a Muslim woman mayor – Tasneem. According to the Indian Express, Tasneem is also the youngest ever mayor of the city. She is 31.
Tasneem has lived all her life in Mysuru's Meena Bazaar area, and has been the corporator for the area since 2013. She replaced her uncle, three-time corporator Alhaj Naseeruddin Babu, as the Congress candidate from the ward after it was earmarked for women.
In 2018, she contested again on a Janata Dal (Secular) ticket and won. According to Indian Express, she was part of a Congress faction that chose to back the JD(S) before the assembly elections. She was reportedly a very popular corporator and a successful grassroots mobiliser, and thus made her way to the mayor's position.
Tasneem told the Indian Express that she is making efforts to ensure that Mysuru retains its "cleanest city" tag. "Even though we ended up third on the list of cleanest cities in the 2019 rankings, we are now working towards securing the coveted top spot on the list. With the dedicated service of our pourakarmikas, officers across all levels and with the help of our residents, we are confident of winning the 'Cleanest City' tag this time. This is my priority as of now."
Tasneem father, Munnavar Pasha, is a tailor and mother, Tahseen Banu, a homemaker. Tasneem herself now has two children. Her husband runs an embroidery business in Meena Bazaar.
https://thewire.in/women/mysuru-muslim-woman-mayor
--------
Pakistani Woman Zarah Sultana, Becomes 'Youngest Ever Muslim' Lawmaker In UK Parliament
January 21, 2020
December's general election results in the U.K. set a new record for female Muslim lawmakers, in what international media outlets have heralded as the most diverse parliament ever in the country's history in terms of gender and ethnicity.
The British Parliament now welcomes more female Muslim MPs than male Muslim representatives for the first time in its history.
A record-breaking 220 women (34 percent) --regardless of race, religion or ethnicity--, out of 650 in total, were elected in December, 12 more than the previous number of 208 in the 2017 general election.
In the previous parliament, a total of 16 MPs of Muslim faith won seats in the election— of which eight were women.
After the last general election, the number of Muslim parliamentarians has reached a new record of 21. Of those, 11 are women: six of Pakistani or Kashmiri origin, four from Bangladesh, and one Kurdish.
The six female MPs of Pakistani background who made it to Westminster are Zarah Sultana, Shabana Mahmood, Yasmeen Qureshi, Nusrat Ghani, Naz Shah and Rosena Allin-Khan.
The 27-year-old Kashmiri origin MP, Zarah Sultana, set a new record of becoming the youngest Pakistani and Muslim ever to be elected as an MP.
https://www.yenisafak.com/en/news/pakistaniwoman-becomes-youngest-ever-muslim-lawmaker-in-uk-parliament-3510139
--------
Muslim Association Of Britain Elects First Female President
January 22, 2020
The Shura Council of the Muslim Association of Britain has elected Raghad Altikriti as its new President.
Altikriti previously served as the Vice President and Head of Media, having been involved with the organisation since its inception.
The MAB said her "historic election and incredible dedication to the organisation has long served as inspiration for many and has continued to pave the way for many to get involved."
Upon her appointment, Altikriti said: "It is an honour to be elected as the first female President of the Muslim Association of Britain, to represent and serve our members from all across the country.
"I look forward to working with our branches and departments to strengthen our ties to civil society and continue pushing for the betterment of society. As our country continues to face increased division and distrust, I hope that with this new leadership we can bring and promote continued unity and mutual understanding."
She added: "While we're proud of this moment, there's so much more work that needs to be done. We hope this will pave the way to support more female participation and bridge the gender disparity across the different levels, acknowledging that the years ahead will be defining in its challenges for British Muslims.
"I will continue to ensure that we successfully celebrate and elevate the contributions of British Muslims across the country to civil society and beyond."
The Muslim Association of Britain was founded in 1997 with the aim of encouraging Muslims to participate proactively in the British society, to make the most of the avenues available and to function positively to become fruitful citizens of the UK.
It says it cooperates with others to address complex issues affecting society: rising crime and prison populations, failure in education, spread of racism, rise in anti-Islam hatred – Islamophobia, drug addiction, violence and the growing disconnect of youth from society.
https://5pillarsuk.com/2020/01/21/muslim-association-of-britain-elects-first-female-president/
--------
All-Female Team Finishes Dakar Rally With New View of Saudi Arabia
21 January 2020
The only all-female team to compete in this year's Dakar Rally faced daunting obstacles during the race through Saudi Arabia's towering sand dunes, but the challenges came with transformative, cultural moments, said Annett Fischer of Germany.
She and co-pilot Camelia Liparoti of Italy found the Saudi landscape "difficult to drive" compared to last year's venue in South America because of the huge sand dunes.
Saudi Arabia was "something different" to what she had expected, Fischer said in an interview with Al Arabiya English. And that the most surprising moment was a cultural one.
When Fischer tried on an abaya, she was surprised by how the traditional garment for women made her feel.
"I wasn't sure if I should wear it. As a German girl you aren't used to that type of dress - you don't cover yourself. But when I put on the abaya, suddenly I felt different. It was a crazy feeling for me because I felt kind of protected, I felt safer," she said.
The team experienced two breakdowns in the desert. Local nomadic tribesmen helped the women the first time and the next time a Saudi Arabian policeman came to the rescue. He handed Fischer the keys to the police car and invited her to pull their race car into a large tent to repair it.
"He handed me the key to his police car and said 'you go, you drive,'" she said in an interview.
The moment would have been unthinkable two years ago, before Saudi Arabia granted women the right to drive - one of many reforms under Saudi Vision 2030, a plan spearheaded by Saudi Arabian Crown Prince Mohammed bin Salman to modernize and guide the Kingdom towards a new phase of development.
Reforms include opening the previously closed country to tourists in September and hosting international entertainment events like the Dakar Rally.
https://english.alarabiya.net/en/features/2020/01/21/All-female-team-finishes-Dakar-Rally-with-new-view-of-Saudi-Arabia.html
--------
Security Beefed Up Outside SC as Women Stage Sit-In Protest against CAA, NRC
January 22, 2020
Ahead of the hearing on the contentious Citizenship (Amendment) Act (CAA), a group of women gathered outside the Supreme Court late Tuesday to protest against the Act and the National Register of Citizens (NRC).
However, police dispersed the protesters soon after they squatted at the front gate of the Supreme Court, a police official said.
A man was detained but was released later.
Rashid, who was the only one detained by police, said: "We came here along with some students and elderly women to stage a peaceful protest. When police asked us to move, we did so. However, only I was taken into custody. Police then took me to Tilak Marg station. We are protesting to save the constitution.
Security has been beefed up outside the Supreme Court.
Around 20-25 women protesters held placards and sloganeered against the CAA as they staged a silent sit-in protest outside the Supreme Court at around 11 pm on Tuesday.
The protest comes a day before the Supreme Court is scheduled to hear 143 petitions seeking to examine the constitutional validity of the CAA.
A bench, comprising Chief Justice of India SA Bobde and Justices S Abdul Nazeer and Sanjiv Khanna, is likely to hear 143 petitions, including those filed by the Indian Union Muslim League (IUML) and Congress leader Jairam Ramesh.
The CAA seeks to grant citizenship to non-Muslim migrants belonging to Hindu, Sikh, Buddhist, Christian, Jain and Parsi communities who came to the country from Pakistan, Bangladesh and Afghanistan on or before December 31, 2014.
https://www.indiatoday.in/india/story/security-beefed-up-outside-sc-as-women-stage-sit-in-protest-against-caa-nrc-1638937-2020-01-22
--------
Anti-CAA, NRC Protests In Lucknow: Daughters Of Renowned Urdu Poet Munawwar Rana Among 160 Women Booked By Police
Jan 21, 2020
Lucknow: The daughters of renowned Urdu poet Munawwar Rana are among the 160 women booked by the police for allegedly defying prohibitory orders and taking part in the protests against CAA and NRC, officials said on Tuesday.
The protests at the historical Clock Tower in the old Lucknow area against Citizenship (Amendment) Act and National Register of Citizens (NRC) started on Friday and have continued with hundreds of women braving the chilly conditions to take part in it.
The district administration, which imposed prohibitory orders, has booked 160 women, including two daughters of Rana, for defying the orders on Monday night. "Prohibitory orders are in force. Yet women have been staging protests. This amounts to defying the orders and three cases have been lodged at the Thakurganj police station in this connection," Additional Deputy Commissioner of Police (West Zone), Vikas Chand Tripathi said.
Fauzia and Sumaiya, daughters of Rana, have been named in one of the FIRs, he said.
Besides the Clock Tower, where protests have been going on for the past five days on the lines of Delhi's Shaheen Bagh, another protest by women was staged in Ujariaon area of Gomti Nagar on Monday evening against the CAA and the NRC.
Over a dozen women staged sit-in near a 'dargah', holding placards showing anti-CAA, NRC slogans. When asked to vacate the area, they resorted to sloganeering against the citizenship law, police said. A police team which rushed to the spot urged the women to go home citing prohibitory orders but they did not relent, police said.
https://www.firstpost.com/india/anti-caa-nrc-protests-in-lucknow-daughters-of-renowned-urdu-poet-munawwar-rana-among-160-women-booked-by-police-7935581.html
--------
Amritsar: Pakistan Hindu Girl Mehak Sent to Shelter on Court's Order
January 22, 2020
AMRITSAR: Pakistani Hindu girl Mehak Kumari (15) — a resident of Jacobabad who was abducted, converted to Islam and forcibly married to a Muslim man — has been sent to a shelter for women by a local court.
On the other hand, her parents have urged the Pakistan government not to accept her confession of willfully embracing Islam and marrying a Muslim man, who has already divorced two wives and is the father of four children.
Talking to TOI over the phone from Karachi on Tuesday, Ravi Dawani, general secretary of All Pakistan Hindu Panchayat (APHP), said Mehak was produced before Jacobabad's additional district and sessions judge on Tuesday. "The court asked her how she could live with a man who was a daily-wager, earned just Rs 300 a day and had four children, but the girl said she wanted to go with her husband, Ali Raza Machi, following which the court directed that she be sent to Dar-ul-Aman in Larkana."
He said the court had also directed competent authorities to get Mehak's ossification test done to confirm her age.
According to reports, Mehak was abducted by Machi on January 15. She was then forced to embrace Islam to become Aleeza and marry Machi at Dargah Amrote Sharif. Dwani said, "We had information from credible sources that the girl was willing to come back till 3.30am, but she changed her statement in court. We are unable to understand it".
Mehak's father Vijay Kumar said his daughter's admission of willfully embracing Islam and marrying a Muslim man shouldn't be accepted. "Pakistani law doesn't give voting right to minor, they can't get driving license, then how could it accept a minor's statement of willfully embracing Islam and marrying a Muslim man without consent of her family?" he said.
In August 2019, Nankana Sahib-based Sikh girl Jagjit Kaur, who became Ayesha Bibi after embracing Islam, had married a local Muslim boy, Mohammad Hassan. She was also sent to Dar-ul-Aman, Lahore, on courts order.
Ravi said Machi was out on bail. "Since both civil and police administration are helping us, we are hopeful Mehak will be restored to her family soon," the APHP general secretary said.
https://timesofindia.indiatimes.com/city/amritsar/pak-hindu-girl-mehak-sent-to-shelter-on-courts-order/articleshow/73502538.cms
--------
'Women's Political Representation Decreasing In Pakistan'
January 22, 2020
LAHORE:Women's political representation is decreasing not only in the national and provincial assemblies but also in local government institutions.
These views were expressed by speakers at a conference "Punjab Local Government Laws and Women Political Participation", organised by an NGO. A large number of women and representatives of civil society joined the event. Bushra Khaliq of the NGO said the highest ratio of women representation in the National Assembly of Pakistan was 22pc in 2008-13. In the present assemblies it is around 19pc. There is no woman representation in provincial cabinets of KP and Balochistan.
There are two women in the 27-member central executive committee of the PML-N, one member in 21-member CEC of the PTI, five women in 35-member CEC of the PPP, one woman in 19-member PML-Q CEC, two women in MQM's 35-member committee and two women in 12-member CEC of ANP.
Zahid Islam, an expert on local government, said the ratio of women representation at different tiers had been further reduced in the new Punjab Local Government Act 2019.
Tanveer Jehan said it was high time women reclaimed their space in inclusive democracy. Imtiaz Arif, Director Local Govt. and Community Development, said different suggestions were under consideration to bridge the vertical gap between two LG laws and interconnect them. Zafarullah Khan, an expert on constitution, said it was unfortunate that the LG system was changed every five years by the ruling party without taking people into confidence.
Mubineen Uddin Qazi, a Supreme Court lawyer, said the purpose of the new LG laws was to consolidate the administrative domination of the bureaucracy in local government affairs. Wilson Lee of Endowment Fund for Democracy said the local government system helps new political leaders to grow, marginalised peoples to join the local level structures of governance and ensures the provision of much need municipal services to communities. The importance of the LG system further increases when democracies come under threats. LG systems help stable and deepen democracy in societies, he added.
https://www.thenews.com.pk/print/602316-women-s-political-representation-decreasing-in-pakistan
--------
PML-N to table new amendments to Child Marriages Restraint Act in Punjab Assembly
Samiullah Randhawa
JANUARY 22, 2020
The Pakistan Muslim League Nawaz (PMLN) is likely to table a proposed amendment bill in the existing Child Marriage Restraint Act 2015 in Punjab Assembly today (Wednesday) which will place a ban on marriage of children under 18 years and makes its a violation punishable with rigorous imprisonment of up to two years with a fine of Rs 50,000.
Previously, Punjab Marriage Restraint Act 2015, enhanced the imprisonment from six months to two years with a fine of Rs 50,000. PML-N MPA Hina Pervaiz Butt will table this amendment bill with nine proposed changes in the existing Punjab Marriage Restraint Act 2015.
As per proposed, the marriageable age has been harmonized for both male and female genders and in existing law, marriage age for a male is 18 while age for female is 16. In the proposed amendments, both male and female marriageable age will be 18 year while the threshold of punishment has been increased from simple imprisonment to rigorous imprisonment not less than 2 year and fine not less than Rs 50, 000. In the proposed amendment, it will be the responsibility of Nikah registrar to check as well as attach attested copies of CNIC of bride and groom to ensure the age is not less than 18 years. A new section 10 is also included in amendment bill which will give right to annulment to safeguard rights of children and to give them the right to seek their marriage in contravention of this act annulled. Another new section on the right to information has been added in the proposed amendment bill to ensure that children have access to all information regarding rights, laws, remedies and process they need in order to ensure their rights under the law.
Talking to Daily Times, Hina Pervaiz Butt said that Pakistan has committed to eliminate child, early and forced marriage by 2030 in line with target 5.3 of the Sustainable Development Goals (SDGs) and has ratified the Convention on the Rights of Child, 1990 which sets the minimum age of marriage at eighteen. "Pakistan has also ratified other international and regional treaties, for instance, as representative of the South Asia Association for Regional Cooperation (SAARC) Pakistan asserted the Kathmandu Call to Action to end child marriage in Asia," she said adding that Pakistan ranks sixth in the world in terms of the highest absolute numbers of child marriage where 21 percent of girls are married by the age of 18.
Throwing light on her proposed amendment bill, she said the harmonizing the law and alignment with international obligations of Pakistan as well as those within the constitution of Pakistan. She further said these amendments are also imperative for the health of girls as complications in pregnancy and childbirth are the leading cause of death in girls aged 15-19 globally. This is pertinent to mention here that the said proposed amendments in Child Marriages Restraint bill are result of efforts of Elain Alam who is development practitioner and human rights activists and legal professional Nida Usman Chaudhary.
https://dailytimes.com.pk/543734/pml-n-to-table-new-amendments-to-child-marriages-restraint-act-in-punjab-assembly/
--------
Inspirational Afghan Girl Brings 'The Monster's Shadow' In Hopes of Evolving into Patriarchal Society in Afghanistan
21 Jan 2020
In a country wracked by decades of war and a dearth of resources, this is the story of Nasima Bari, an author, and journalist who has used the platform of Media to throw light on women's experiences and advocate for their empowerment. Her works show how women in Afghanistan are struggling to live with dignity. It also highlights how, in the face of little governmental support and dwindling international aid, women are stepping in to help one another.
Nasima Bari is the author of feminist works such as 'The Monster's Shadow' and 'The Clay Oil Lamp', her literary works, writings, presentations and civil campaigns touch on issues faced by ordinary Afghan women; with themes including early and forced marriages, as well as that of violence. As in all war-torn societies, women suffer disproportionately. Nasima's country is still ranked as the worst place in the world to be a woman. A place where Mrs. Bari has initiated a publication Amail Newspaper for arising and publicizing the voices of women and girls who are discriminated in many ways, for the 'crime' of being born as a girl. She works where women and girls are banned from going to school or studying, banned from working, banned from leaving the house without a male chaperone, banned from showing their skin in public, banned from accessing healthcare delivered by men (with women forbidden from working, healthcare is virtually inaccessible), and banned from being involved in politics or speaking publicly. Nasima's works show that there are many other ways in which basic human rights are denied to them. Women are essentially invisible in public life, imprisoned in their homes. In southern Afghanistan where Mrs. Bari was born, the residents are ordered to cover their ground and first-floor windows so women inside could not be seen from the street. If a woman left the house, it is in a full-body veil (burqa), accompanied by a male relative: she has no independence. If she disobeyed these discriminatory laws, punishments are harsh. A woman could be flogged for showing an inch or two of skin under her full-body burqa, beaten for attempting to study, stoned to death if she is found guilty of adultery – where rape and violence against women and girls is rife; where Afghan women are brutalized by the law and in nearly every aspect of their daily lives.
In spite of all the difficulties, threats, sanctions and discriminations. Nasima stood to change the fabric of this existing Afghan society and has initiated a publication and women's rights campaigns apart from house chores. She has been engaged in social and civil activities in Helmand province in a remote area in Afghanistan where every second a bullet takes the lives of her people.
Literary works – way to change cum
The Monster's Shadow
The Monster's Shadow is one of the most important, finest and the best of her literary works. This book illustrates the problems, threats, and narratives of women in the traditional society of Afghanistan. It is a collection of short stories and the other one narrates the status and problems women face in their life.
The Monster's Shadow finds it in a "groaned world" where darkness and light play with a generation in Afghanistan. In this engrossing work, the heart survives its, "twinned urge to leave and pining to return of her identity in male-dominated society"—The Monster's Shadow addresses topics from jailed dreams of love and healing to racism and politics to torture. Sixteen stirring stories explore the pain of a generation through politics, borders, obsolete customs of society, gender-based violence and deprivation of women from resources and lack of access to their primary demands. The Monster's Shadow, names all of the stories that have occurred in the real world of Afghan women.
Painful tales that explore every line of a world of suffering and frustration for Afghan women; the black heart, monster's shadow, the fairy house, jailed hopes, black hands, behind the veil, the theft of light, the green is the color of love and respect to women are the titles of stories which explore the unseen and untold aspects of a generation's life in ashes. The stories of … The Monster's Shadow asks tough questions and envisions answers that encompass not just a hypothetical future but also the present's trouble extrapolated to a nadir. If the people at the center of these stories go dark, it's in the hope that better decisions will arise. After all, she hopes, "unreal people and events and traditions change the world all the time." Totally, Women's empowerment is tucked inside a message of Nasima's literary works.
The traitor
The traitor novel was written (Ghaddaar) in Urdu by the famous Indian Urdu and Hindi legend writer Krishan Chandra and Nasima translated it as " The Traitor" in Pashto language, it is a historical novel that is very popular in Urdu literature and an anecdotal story of the distribution of semi-arid India.
The traitor begins with a delicately woven romance between an unmarried Muslim girl, and her married Hindu lover. But the world outside is being torn asunder and Krishan Chander shows how love, brotherhood and humanity swiftly turn into redundant emotions, as permanent lines are drawn between two nations.
Traitor …. a word that acquires a new meaning and a sharper edge in the times we live in, Krishan Chander's classic novel seems especially relevant as we mark the 70th anniversary of the annus horribilis – that was the year 1947. In this novel the author sees this division and religious extremism from a human angle, and rightly blames both sides, blaming his blasphemy and blatant political trade for the oppressive politics and despotism of his hard-working politicians.
Tragic because it tells us that we as a people have not changed or evolved as much as we should have in the course of seventy years of independence, that the communal ill-will that marred our centuries-old tradition of pluralism has not entirely left our psyches as it ideally ought to have with our coming of age as a nation and as a people, that the lava of communal hatred still erupts now and again like pus from a festering wound, and that any deviation from a majoritarian discourse is still seen as a sign of betrayal, and the hyper-nationalism of the mob continues to sway popular opinion.
In a purely literary sense, Ghaddaar is significant because it tells us, yet again, that a truly good work of literature is one that rises above its time and circumstance and speaks to us across time and circumstance and makes common cause with its readers when it speaks of universal concerns, such as cruelty or humanism, barbarism or meanness of spirit or the human heart's infinite capacity to love.
Amail Newspaper
The paper covers local and rural issues in southern Afghanistan, Helmand and Kandahar, Afghan cities with strong patriarchal attitudes to women's rights. When Nasima started, the paper was printed fortnightly, and hand-delivered by the reporters who were out in the villages gathering stories. Now, this is the first publishing in southern Afghanistan with a large number of readers.
Amail is the only newspaper published by a woman for women that has raised hopes for afghan women to express their problems in this way and to attract the attention of the government and the people. For the afghan girl staffers, working at the newspaper has transformed their lives. "It is my dream job," says rural Afghan girl. Nasima says, "The villagers were not supportive at first, but now they say, " "You're the first woman from our village to do this kind of work." They cut out my articles and frame them and put them up on the walls. Young girls in the village come to me and say, "Sister, we want to be like you." It makes me very proud."
Today, Nasima is known as a female champion and Afghanistan's Inspirational Women model for thousands of Afghan women and girls, particularly in southern Afghanistan. She has been recognized by the Ministry of Information and Culture for her literary works and is the recipient of the Global Youth Leadership Awards (2019), as well as the Asia Inspiration Award (2018).
https://www.khaama.com/inspirational-afghan-woman-brings-the-monsters-shadow-in-hopes-of-evolving-into-patriarchal-society-in-afghanistan-8987905765/
--------
Clubs out in Force for Arab Women Sports Tournament's Basketball and Volleyball
January 21, 2020
Sharjah: The basketball and volleyball competitions of the fifth edition of the Arab Women Sports Tournament (AWST) 2020, organised by Sharjah Women's Sports (SWS) from February 2—12, will see 18 clubs from nine countries compete.
Starting on February 3, the basketball competitions will feature teams representing the UAE's Sharjah Women's Sports Club, Al Fuheis Club (Jordan), Al Fatat Sport Club (Kuwait), Groupement Sportif des Petroliers (Algeria), Riffa Sports Club (Bahrain), Al-Sahel Sports Club (Syria), Sporting Club (Egypt), Elite Athletic Club (Kingdom of Saudi Arabia), and Al Amal Sportif and Al Watan Al Qabali from Tunisia.
The volleyball, also starting on February 3, will see the participation of the Sharjah Women's Sports Club and Al Wasl Sports Club from the UAE, De La Salle from Jordan, Groupement Sportif des Petroliers, Al Ahli Club from Bahrain, Taldara Club from Syria, Sporting Club, Saudi Club and Club Sportif Sfaxien from Tunisia.
The competitions in both basketball and volleyball will be held on the grounds of SWS, University of Sharjah, American University of Sharjah, Sharjah Youth (Wasit), Sajaya Young Ladies of Sharjah and Sharjah Sports Club (Samnan).
Nada Askar Al Naqbi, Deputy Head of AWST's Supreme Organising Committee, Head of its Executive Committee and Director General of SWS, said: "Arab sportswomen are gearing up to showcase their professionalism and skills in team sports at this prestigious tournament. The fifth edition of AWST will witness fierce competition among teams and will naturally boost the female sporting landscape of the Arab world."
"AWST 2020 has attracted the largest number of regional participants since its inception, broadening the geographic base of the tournament. For Emirati sportswomen, AWST is also a platform to develop a spirit of cooperation and nurture positive relationships with their Arab counterparts. AWST fosters teamwork and serves as a bridge connecting female sports clubs from across the Arab nations. This tournament will be a stepping stone to further the ambitions of our teams and players as they ready themselves for participation in other international tournaments."
AWST 2020 will see the participation of 16 Arab countries competing across nine sporting disciplines: shooting, basketball, volleyball, table tennis, athletics, show jumping, fencing, archery and karate.
https://gulfnews.com/sport/uae-sport/clubs-out-in-force-for-arab-women-sports-tournaments-basketball-and-volleyball-1.69152010
--------
UN Chief Economist Says Saudi Reforms Boost Female Employment
21 January, 2020
The United Nations Chief Economist and Assistant Secretary-General for Economic Development, Eliot Harris, called on world leaders to return to international multilateral cooperation and fulfill their obligations, especially in the areas of international trade and combating climate change.
In an interview with Asharq Al-Awsat, on the eve of the start of the 50th session of the World Economic Forum in Davos today, Harris warned of the decline in global growth, in light of the continued regressive policies and the rise of protest movements across the world, in the absence of an equitable distribution of returns, and the failure of governments to improve living standards.
On the other hand, Harris praised the economic reforms taking place in Saudi Arabia within the framework of "Vision 2030", and highlighted their importance for the Kingdom and for West Asia, with the Kingdom being the largest economy in the region. Harris highlighted the "leap" achieved by the levels of Saudi women participating in the labor market, supported by economic reforms.
Read below the text of the interview:
1. Both the WESP and the WEF's economic outlooks warn of inward-looking policies and less international cooperation, how could these tendencies affect the world economy in the current year?
In recent years, several countries appear to be retreating from multilateral cooperation, especially in the areas of international trade and climate change. On the trade side, this has resulted in rising tariffs and heightened uncertainty – leading to a sharp slowdown in global trade activity and weaker investment. On the environmental front, the global response to the ongoing climate crisis has been slow and inadequate. Climate-related disasters are likely to continue rising in both frequency and intensity if countries fail to follow through with their global commitments, including those to the Paris Agreement. A continued move towards more inward-looking policies would not only dampen global growth this year, but also threaten to hinder progress towards the SDGs.
2. The US and China signed the first part of a trade agreement, signaling a potential end of the current trade war. Are you positive about the outcome of this agreement? And are you expecting more trade wars, say between the US and Europe?
Over the past year, trade tensions have flared up between various countries, not only the US and China, but also the US and Europe, as well as Japan and the Republic of Korea. Our baseline scenario assumes no further escalation of existing trade tensions. But downside risks to this outlook remain substantial. The phase one trade agreement between the US and China is positive news and has alleviated some uncertainty for businesses and investors. However, many of the underlying issues still need to be resolved, for example those related to technology transfer. Moreover, what is concerning is that these negotiations have taken place outside the rules-based multilateral trading system, which has been facing increasing pressure. A further erosion of the multilateral trading system would hurt global growth prospects by raising costs, lowering efficiency, and creating uncertainty.
3. Another source of great instability in the last year was the uncertainty around Brexit. Now that the UK is leaving on the 31st of January, what do you expect Brexit's impact will be on the country, Europe and the world?
Significant aspects of the exit of the United Kingdom from the European Union remain unresolved. While the UN's baseline forecast assumes that an orderly withdrawal will be concluded during the transition period, a disorderly exit would open the field to a host of negative consequences across the real economy and financial markets. With the modalities of the exit unclear and limited information regarding the nature and structure of the legal and economic relations of the United Kingdom with the European Union and the rest of the world after the transition period, corporate investment decisions have already become subject to tremendous political uncertainty. Businesses in the United Kingdom simply do not know what market they will be operating in. There is potential for disruption to supply chains. Membership in the European Union allows the free passage of production inputs and half-finished products across borders, in many cases numerous times before becoming a finished product. The lack of clarity over how these transactions will function in the future will continue to complicate investment decisions. A disorderly exit constitutes a significant downside risk to the United Kingdom first and foremost, and to Europe as a whole.
4. Saudi Arabia is undergoing significant economic reforms in accordance with its 2030 vision, how do you evaluate the impact of these reforms on the country and the region?
We think the ongoing economic reforms in Saudi Arabia are significant for the Kingdom and Western Asia, considering the Kingdom's influence as the largest economy in the region.
We have seen several positive signs of the reform outcomes. Among others, the reforms brought more job opportunities to the Saudis. Despite weak economic growth – just 0.3 per cent growth is estimated for 2019 – the unemployment rate among the Saudi nationals edged down. In the 3rd quarter of 2019, it stood at 12.0 per cent, down from 12.8 per cent a year earlier. It is worth noticing that this decline in the unemployment rate occurred against a backdrop of rising labor participation, as reforms have supported a jump in female participation rates. Hence, it seems that the pattern of economic growth in Saudi Arabia is in transition towards a more inclusive one, which marks progress towards the SDGs.
5. How can countries strike a balance between tackling the climate crisis (clean energies, recycling, better waste management, etc), and steady economic growth?
Tackling the climate crisis and supporting steady economic growth do not necessarily need to pose a tradeoffs. In many countries, the transition towards cleaner energy will bring not only environmental and health benefits, but economic opportunities as well. For example, countries that rely heavily on imported fossil fuels stand to gain from developing domestic renewable energy sources – both from an improvement in energy security and an improvement in balance of payments. And 4 out of 5 people around the world live in countries that import fossil fuels. Other countries will see increased demand for the metal and mineral resources that are used in low-carbon technologies, such as copper, cobalt and lithium. On the other hand, countries that have been relying on fossil fuel exports to finance government spending or essential imports face revenue losses, and risks of stranded assets and job losses. Without appropriate policy strategies, the costs and benefits will be very unevenly spread across countries and individuals. Measures to compensate those who are negatively impacted are essential – both to protect the vulnerable and to safeguard the political viability of difficult but urgently needed policy actions. This makes clear the need for cooperative and coordinated global policies to make progress on energy transition.
6. In 2019, we have seen civil unrest all around the world fueled by economic discontent. Do you expect to see more of that in the short and medium terms? If so, why? And what can countries do individually and collectively to improve economic equality?
Civil unrest and social discontent were a major feature of the world economy in 2019. The growing discontent is related to many different causes, including social and economic inequalities and discriminations, political demands, corruption, gender, and environmental and climate change issues. Massive protests erupted quite visibly, and in some cases violently, in several countries around the world, including for example Lebanon, Hong Kong, Chile, France, Egypt, Bolivia, among others. While across some countries there are common causes behind the discontent, like social and economic inequalities, in others there have been specific triggers.
It is difficult to predict whether civil unrest will rise or not. What is important in to recognize that this social discontent reflects fundamental problems that societies need to address. In fact, social and civil unrest may continue to rise if the benefits of growth remain concentrated in narrow segments of the population, and if the economic system continues to have major difficulties in generating decent jobs for all and raising living standards for everyone.
As a result, countries need to make concrete and decisive efforts, with clear policy changes, in order to encourage inclusive economic growth that is environmentally sustainable and socially equitable. So far, many governments have relied mostly on accommodative monetary policies to encourage growth, but given the uncertainties of the policy environment, a more balanced policy mix is needed to address economic, social and environmental issues in the global economy. For example, with interest rates at historic lows, Governments that have ample fiscal space should make use of the current favorable financing conditions to address pressing public investment needs. Structural shifts in the design of fiscal policy should be carefully integrated with labor market initiatives, conducive business and financial regulation, the introduction and extension of effective social protection systems and prudently targeted investment incentives. Crucially, national policies need to be complemented by more effective international cooperation in order to achieve shared goals, particularly in the areas of climate change, international trade, and finance.
https://aawsat.com/english/home/article/2093191/un-chief-economist-says-saudi-reforms-boost-female-employment
--------
URL: https://www.newageislam.com/islam-women-feminism/in-tasneem-mysuru-gets-its/d/120859
New Age Islam, Islam Online, Islamic Website, African Muslim News, Arab World News, South Asia News, Indian Muslim News, World Muslim News, Women in Islam, Islamic Feminism, Arab Women, Women In Arab, Islamophobia in America, Muslim Women in West, Islam Women and Feminism