New Age Islam News Bureau
25 Sept 2017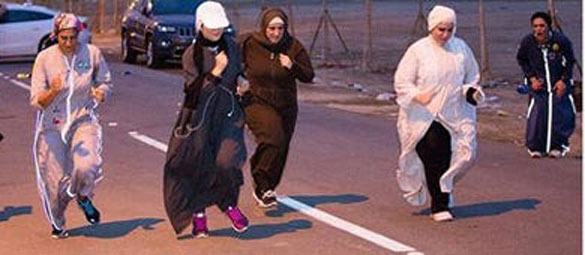 A group of women of different ages lined up behind Rasha Al-Harbi to begin a weekly running session in the open air along a sea walkway in Jeddah.
------
• Despite Supreme Court's Ban, Rajasthan Woman Gets Triple Talaq Over Phone
• Iran: Women Denied Freedom Even In Cars
• Muslim Women in Southeast Asia A Unique Challenge for Marketers
• Evidence of Rape in Myanmar Army 'Cleansing' Campaign
• Triple Talaq Verdict in India Led To Confusion: Scholars
• Kerala Love Jihad: Women's Panel to Move SC to File Fact-Finding Report
• Saudi Ministry to Discuss Gender Equality, Women's Participation in Civil Services
• Bliss Run: Saudi Women Seek Healthy Environment through Running, Walking In Jeddah
• Saudi national celebrations see women entering sports stadium for 1st time
• Social Media Campaign to Help Afghan Women Break Free From the Chains of Radicalism
Compiled by New Age Islam News Bureau
URL: https://www.newageislam.com/islam-women-feminism/in-pakistan-girl-forced-pay/d/112654
--------
In Pakistan Girl Forced To 'Pay' For Brother's Love Marriage
September 25, 2017
BAHAWALNAGAR-An influential landlord abducted a girl and made her subject to gang-rape while later declared her as "vani" through a panchayat to avenge her brother for contracting love marrige with the landlord's daughter.
The Takhat Mahal Police appeared to have colluded with the accused in the entire episode and did not take any action to avert the incident and bring the culprits to the book, despite complaints by the affected family.
According to the affected girl Tasleem, daughter of Allah Rakha, the incident occurred in Mauza Noor Muhammad Bhangran, tehsil and district, started with her abduction on January 31, 2017.
Tasleem informed that her brother Fayyaz got love marriage with Parveen Bibi, daughter of Hakim Ali, influential landlord of Mauza Noor Muhammad Bhangran, against the consent of elders of both the families.
The marriage took place on January 15, 2017, upon which Parveen's family hurled threats to Fayyaz's family of revenge. To settle a score with Fayyaz and his family "for the disgrace caused to the family," Hakim Ali, Arif and some others members of the girl's family raided house of Tasleem Bibi and abducted her at gunpoint on January 31, 2017. The victim informed that the culprits took her to an undisclosed location where she was gang-raped during six days captivity.
In meanwhile one Shabir reported the abduction to police through a call on emergency service 15, but the police did nothing to recover the girl or go after the influential culprits. The victim family also approached the Takht Mahal Police, in person, for justice, but the police turned a deaf ear to the complaint.
Seven days later, the abductors with the connivance of influential persons of the area, convened a panchayat and declared the abducted girl as "vani." Influential landlord Muhammad Ali also forced Allah Rakha, Tasleem's father to accept the panchayat decision, lest he would have to pay a penalty of Rs5 million. They also got sign of the affected father on a written reconciliation agreement forcibly. On the other hand, the abductors who had subjected Tasleem to gang rape, forcibly married off to Khuda Yar, nephew of Hakim Ali, in a bid "to sweep the entire episode under the carpet." The victim family, however, managed to get an FIR registered through a court order, six months after the incident. Despite lodging the FIR, the Takhat Mahal Police "sided with the influential accused" and neither included appropriate sections i.e Vani and gang rape in the case, nor arrested any of the accused allegedly after receiving bribe.
The accused approached the court of Additional District and Sessions judge for bails, but the court rejected their application. Later, the accused approached the High Court Bahawalpur bench for bail, but the apex court rejected their petition and upheld the sessions court verdict. The learned court also directed the police to add vani section (310A) to the case.
When contacted newly-posted DPO Ataur Rehman claimed that justice would be done in the case and anybody found involved in the case would be bring to the book. He also ordered the police to add vani section to the FIR and arrested the panchayat head.
Meanwhile, District Police PRO Asif Saeed informed that that after rejection of bail pleas of 10 accused including Alam Ali, son of Haji Ghulam Ali; Zahoor Ahmad, son of Haji Ghulam Qadir; Hakim Ali, son of Haji Ghulam Qadir; Qasim Ali, son of Haji Ghulam Qadir; Muhammad Iqbal, son of Dhulay Khan; Muhammad Khan, son of Dhulay Khan; Dhulay Khan, son of Manjay Khan etc are on remand in police custody. He said that special team have been formed to arrest head and other members of the Panchayat, who are at large so far.
http://nation.com.pk/national/25-Sep-2017/girl-forced-to-pay-for-brother-s-love-marriage
--------
Despite Supreme Court's Ban, Rajasthan Woman Gets Triple Talaq Over Phone
September 25, 2017
Even after the Supreme Court's ban on triple divorce, a case of divorce has been reported from Rajasthan's Jodhpur where a man divorced his wife by uttering 'talaq' thrice on the phone.
The victim said that on September 18, her husband divorced her over the phone and after two days he married someone else.
The woman, Afsana was married to Munna since eight years in Jodhpur, but soon after her marriage, she was harassed for dowry by her in-laws.
Advertisement opens in new window
In 2015, her husband even tried to burn her by throwing kerosene at her for failing to get dowry after which she returned to her parents' home.
The couple has two children.
Afsana said that she had lodged a complaint against her husband and her in-laws.
In August, the apex court had banned the practice of instant divorce among Muslims.
The All India Muslim Women Personal Law Board and All India Shia Personal Law Board had described the verdict as a victory of Islam and Muslim women in the country.
https://www.outlookindia.com/website/story/despite-supreme-courts-ban-rajasthan-woman-gets-triple-talaq-over-phone/302174
--------
Iran: Women denied freedom even in cars
24 September 2017
One of the officials of Kohgilouyeh and Boyer Ahmad Province, in southwestern Iran, complained about women who drop their veils inside their cars.
Alizadeh, a member of the Staff in charge of Promoting Virtue and Preventing Vice, said, "We do have improperly veiled women in the streets of (the capital city of) Yasouj but in automobiles driving in thoroughfares inside the city and outside, we see women without any veils, their excuse being that their cars are their private space. But cars are not considered private space."
He further reiterated, "All those who are organized in anti-vice groups are backed by the Judiciary." (The state-run ISNA news agency – September 20, 2017)
http://www.women.ncr-iran.org/iran-women-news/4322-iran-women-denied-freedom-even-in-cars
--------
Muslim women in Southeast Asia a unique challenge for marketers
September 25, 2017
PETALING JAYA: Muslim women in Southeast Asia are becoming increasingly cosmopolitan but also more religiously observant, creating both opportunities and challenges for market players in the region, a new study shows.
According to marketing portal Mumbrella Asia, the study, titled "The New Muslimah: Southeast Asia Focus", found that 94% of those polled said Islam is "very important" and prioritised halal merchandise when buying food, personal care products and clothing.
Respondents were highly connected, with all of them owning a smartphone and 80% spending a minimum of four hours online each day on social media platforms such as WhatsApp, Facebook and Instagram.
The study, which took into account the views of 500 Muslim women in Indonesia and 500 in Malaysia, said those in Indonesia were more likely to shop online than those in Malaysia.
Some 25% of Malaysian Muslim women said they purchased a product online on a weekly basis compared to 31% in Indonesia.
This number rose to 58% once a month in Malaysia and 75% in Indonesia.
According to the report, clothing and beauty products were the most frequently purchased items for those who did online shopping, with Japanese brands being the most sought after.
In Indonesia, 52% of women aged 18-39 said a career was "very important", compared to 33% of women over 40.
In Malaysia, meanwhile, nearly 60% of younger women said a career was "very important", and 50% of older women agreed.
The survey was carried out by the Asia unit of J Walter Thompson's Innovation Group, which researches trends and provides insight for marketers.
The division is led by Chen May Yee, a former journalist for The Wall Street Journal and Singapore's Straits Times.
http://www.freemalaysiatoday.com/category/nation/2017/09/25/muslim-women-in-southeast-asia-a-unique-challenge-for-marketers/
--------
Evidence of rape in Myanmar army 'cleansing' campaign
24 September 2017
Doctors treating some of the 429,000 Rohingya Muslims who have fled to Bangladesh from Myanmar in recent weeks have seen dozens of women with injuries consistent with violent sexual attacks, UN clinicians and other health workers said.
The medics' accounts, backed in some cases by medical notes reviewed by Reuters, lend weight to repeated allegations, ranging from molestation to gang rape, leveled by women from the stateless minority group against Myanmar's armed forces.
Myanmar officials have mostly dismissed such allegations as militant propaganda designed to defame its military, which they say is engaged in legitimate counterinsurgency operations and under orders to protect civilians.
Zaw Htay, spokesman for Myanmar's de facto leader Aung San Suu Kyi, said the authorities would investigate any allegations brought to them. "Those rape victim women should come to us," he said. "We will give full security to them. We will investigate and we will take action."
Suu Kyi herself has not commented on the numerous allegations of sexual assault committed by the military against Rohingya women made public since late last year.
Violence erupted in Myanmar's northwestern Rakhine state following attacks on security forces by Rohingya militants last October. Further attacks on Aug. 25 provoked a renewed military offensive the United Nations has called "ethnic cleansing".
Reuters spoke with eight health and protection workers in Bangladesh's Cox's Bazar district who between them said they had treated more than 25 individual rape cases since late August.
The medics say they do not attempt to establish definitively what happened to their patients, but have seen an unmistakeable pattern in the stories and physical symptoms of dozens of women, who invariably say Myanmar soldiers were the perpetrators.
It is rare for UN doctors and aid agencies to speak about rape allegedly committed by a state's armed forces, given the sensitivity of the matter.
"Inhuman attack"
Doctors at a clinic run by the UN's International Organization for Migration (IOM) at the Leda makeshift refugee say they treated hundreds of women with injuries they said were from violent sexual assaults during the army operation in October and November.
There have been fewer rapes reported among the influx of refugees since August, said Dr. Niranta Kumar, the clinic's health coordinator, but those they have seen have injuries suggesting "more aggressive" attacks on women.
Several health workers suggested that, whereas in October many women had initially remained in their villages believing the army sweeps were only targeting Rohingya men, this time most had fled at the first sign of military activity.
Doctors at the Leda clinic showed a Reuters reporter three case files, without divulging the identity of the patients. One said a 20-year-old woman was treated on Sept. 10, seven days after she said she was raped by a soldier in Myanmar.
Handwritten notes say she said soldiers had "pulled her hair" and a "gun used to beat her" before raping her.
Examinations often find injuries suggesting forced penetration, beating and even what looked like intentional cutting of the genitals, doctors said.
"We found skin marks, it showed a very forceful attack, an inhuman attack," said IOM medical officer Dr Tasnuba Nourin.
She had seen incidents of vaginal tearing, bite marks and signs that seemed to show a firearm was used to penetrate women, she said.
Among the new influx of Rohingya she had treated at least five women who appeared to have been recently raped, she said, adding that in each case the physical injuries observed were consistent with the patient's account of what had happened.
"Fraction of the cases"
At Bangladesh government clinics supported by U.N. agencies in the Ukhia area, doctors reported treating 19 women who had been raped, said Dr. Misbah Uddin Ahmed, head of the main health complex there, citing reports from female clinicians.
"The evidence included bite marks, tearing of the vagina, these sorts of things," he said.
In one day alone, Sept. 14, six women showed up at one of the clinics, all saying they were sexually assaulted. "They all said Myanmar army had done this."
An IOM doctor who asked not to be identified, working at one of those clinics near the Kutapalong refugee camp, said a woman who crossed from Myanmar in late August said she was raped by at least seven soldiers.
"She was extremely weak and traumatized and said she struggled to make it to the clinic," the doctor said. "She had a laceration on the vagina."
The doctor treated 15 of the 19 cases of women who appeared to have been raped, and another eight women who had been physically assaulted. Some were given emergency contraceptives, and all were given treatment to reduce the risk of contracting HIV and jabs against hepatitis. Symptoms included bite marks over the arms and back, tearing and laceration on the vagina and vaginal bleeding, the doctor said.
Internal reports compiled by aid agencies in Cox's Bazar recorded that 49 "SGBV survivors" were identified in just four days between Aug. 28-31. SGBV, or sexual and gender-based violence is used to refer to only cases of rape, according to U.N. doctors. Data for reported rape cases was not available for other dates.
A situation report from aid agencies says more than 350 people had been referred for "life-saving care" relating to gender-based violence - a broad term that includes rape, attempted rape and molestation, as well as emotional abuse and denial of resources based on gender - since Aug. 25. It did not refer to the perpetrators.
Kate White, emergency medical coordinator for Médecins Sans Frontières (MSF) in Cox's Bazar said the charity had treated at least 23 cases of sexual and gender-based violence including gang-rape and sexual assault since Aug. 25.
"This is a fraction of the cases that are likely to be out there," she said.
"Rape as a weapon"
Reuters first reported allegations of mass rape of Rohingya women within days of militant attacks in northern Rakhine in October.
The same reports were also heard by UN investigators who visited Bangladesh in January.
A report of the UN Secretary General in April said the sexual assaults were "apparently employed systematically to humiliate and terrorize their community".
Before her rise to power last year Suu Kyi had spoken of rape being used as a tool of division in the country's myriad ethnic conflicts.
"It is used as a weapon by armed forces to intimidate the ethnic nationalities and to divide our country, this is how I see it," she said in 2011 in a video message to a conference on sexual violence in conflict.
Her spokesman Zaw Htay said there was "nothing to say" when asked if her view had changed since then. "Everything should be according to the rule of law," he said. "The military leaders also have said they will take action."
https://english.alarabiya.net/en/News/world/2017/09/24/Evidence-of-rape-in-Myanmar-army-cleansing-campaign.html
--------
Triple Talaq Verdict In India Led To Confusion: Scholars
Omar bin Taher
Sep 25, 2017
CHARMINAR: Muslim women scholars and intellectuals held a meeting at Jamiat-Ul-Mominath at Moghalpura on Saturday to debate the Supreme Court's verdict on triple talaq. The women scholars felt that the apex court order had triggered confusion among Muslims across the country.
Terming the triple talaq practice as unconstitutional, the Supreme Court had struck it down. The apex court had also asked the Centre to bring a legislation within six months to govern marriage and divorce in the Muslim community .
After the meeting, one of the parti cipants, Mufti Mohammed Hassanuddin, said that women research scholars shared their perspective on the issue. "The SC passed the judgment on triple talaq owing to pressure from a few women who had moved the court for their personal gains. Instant triple talaq is already prohibited in Islam," said Hassanuddin.
While some scholars alleged that the triple talaq issue was raised for political gains, others said there were several important issues that needed immediate attention in the Muslim community . They demanded that the Centre should seek opinion of Muslim religious leaders before bringing a new law in this regard.
http://timesofindia.indiatimes.com/city/hyderabad/triple-talaq-verdict-led-to-confusion-scholars/articleshow/60821736.cms
--------
Kerala love jihad: Women's panel to move SC to file fact-finding report
Sep 24, 2017
The Kerala Women's Commission said on Sunday it would seek the Supreme Court's nod to file a fact-finding report on allegations of rights violations by the parents of a Hindu woman in Kochi who married a Muslim man after converting to Islam.
The decision to move the apex court was taken in view of complaints from various quarters that the rights of the 24- year-old woman were allegedly being violated, commission chairperson MC Josephine told reporters in Kochi.
The woman was sent back to her parents' house after the Kerala High Court recently annulled her marriage with the Muslim man, terming it as an instance of "love jihad".
The Supreme Court on August 16 ordered the National Investigation Agency (NIA) to look into the conversion and marriage of the woman as the agency claimed it was not an isolated case but there was a "pattern" emerging behind these incidents in Kerala.
Josephine said the commission had received representations from various organisations, seeking its intervention following allegations of violation of the woman's rights.
Since the matter was under the Supreme Court's consideration, the commission required its permission to meet the woman and her parents and file a fact-finding report before it, she added.
Josephine said the commission had received a legal opinion from an expert on Saturday and based on it, it had decided to approach the top court.
Slamming a social media campaign being run by various groups in connection with the matter, she alleged that it was not being done to protect the rights of the woman.
"The commission is not interested in going after such a campaign. Such campaigns are not good. Such matters should be dealt strictly within the purview of law. All should cooperate to protect the democratic rights of the woman," Josephine said.
Directing the NIA to carry out an investigation into the incident under the supervision of a retired judge, the Supreme Court had said it wanted the probe to be fair.
The NIA, being an independent agency based outside Kerala, could carry out such an impartial investigation, it had added.
The apex court had directed the NIA to submit its final investigation report before it.
Challenging the high court order, Shafin Jahan, who had married the woman in December 2016, had moved the Supreme Court.
It had been alleged that the woman was recruited by the Islamic State's mission in Syria and Jahan was only a stooge.
Ashokan KM, the woman's father, had alleged that there was a "well-oiled, systematic mechanism" for conversion and Islamic radicalisation in Kerala.
http://www.hindustantimes.com/india-news/kerala-love-jihad-women-s-panel-to-move-sc-to-file-fact-finding-report/story-trcpkeYWF6PSrUKnsOTW4K.html
--------
Saudi Ministry to discuss gender equality, women's participation in civil services
25 September 2017
RIYADH: A workshop on achieving gender equality in the civil service will be organized on Monday by the Ministry of Civil Service in cooperation with the UN team located in the Kingdom.
Deputy Minister of Civil Service Abdullah bin Ali Al-Malfi will inaugurate the workshop that will be held in the main hall of the UN building in the Diplomatic Quarter in Riyadh.
The workshop will discuss a number of themes such as the current status of women's participation in civil service and international experiences in gender equality in public service.
It will also discuss the obstacles and challenges facing gender equality in civil service in Saudi Arabia, and data and information required to activate the project.
The workshop aims to make use of the proposals from the current civil service system, the elements of the project, its requirements and challenges, and the supporting legislative and regulatory frameworks.
Policies and practices of gender equality, legislative and regulatory frameworks for the project, and women and leadership positions in civil service will also be discussed during the workshop.
Gender equality in the civil service is one of the projects the ministry will launch within its projects in order to achieve the goals of the National Transformation Program (NTP) 2020.
The project has a great significance in view of the importance of integrating roles between women and men to build a cohesive and dynamic society capable of keeping abreast of developments surrounding it and providing the foundations for a decent life.
http://www.arabnews.com/node/1166941/saudi-arabia
--------
Bliss Run: Saudi women seek healthy environment through running, walking in Jeddah
25 September 2017
JEDDAH: A group of women of different ages lined up behind Rasha Al-Harbi to begin a weekly running session in the open air along a sea walkway in Jeddah.
The event initially drew the attention of passers-by; however, this has become a normal sight after participants managed to create a women's community fond of running sports.
The group, founded by Al-Harbi and named "Bliss Run," is a non-profit team interested in promoting women's health through different sports programs to help women change their daily habits and curb idleness and inactivity. The program also aims to create a healthy, physical and psychological environment through the spread of a fast-walking or running culture in the open air.
When asked why she favors running over walking, Al-Harbi said that running is much better than walking especially if it is practiced in the open air. Initially, participants were appalled, but their stand changed after they began to feel the benefits of running and its positive impact, she told Al Arabiya.
Al-Harbi, who has been running for 14 years, said many of the participants were keen to join the weekly session. Throughout the week, many of them are busy with work, family and house, but the running sessions come as an opportunity to help them get rid of daily stress and anxiety, and to generate mind clarity and relaxation that brings about a better physical and psychological health, she said.
For her part, team leader Abeer Al-Biouk said the team practices many sports under the supervision of experienced sports trainers who were instrumental in encouraging the women to continue to regularly exercise.
Their activities are not limited to sports as the team has become a women's community that helps one another. The running community is used to spread awareness and, hence, combines entertainment and awareness.
She said the team aims to reach the largest number of women in the community with a view to creating a suitable healthy, physical and psychological environment through practicing outdoor walking or running for women of any age.
The team also intends to educate women on quick walking in public areas with a strict commitment to wearing decent clothes consistent with applicable laws and regulations, she said.
http://www.arabnews.com/node/1166921/saudi-arabia
--------
Saudi national celebrations see women entering sports stadium for 1st time
September 25, 2017
Saudi Arabia is celebrating the 87th anniversary of its foundation this weekend with a big programme of concerts and performances, including a pageant operetta on Saturday evening which allowed women to enter the King Fahd International Stadium in Riyadh for the first time.
The festivities are part of a government move to boost national pride and improve quality of life for Saudis.
Also on offer is a concert in the Red Sea city of Jeddah featuring 11 Arab musicians, plus fireworks, air acrobatics, and traditional folk dance shows.
"It is the first time I have come to the stadium and I feel like more of a Saudi citizen. Now I can go everywhere in my country," said 25-year-old Sultana, green and white flags painted on both cheeks as she entered the complex with her girlfriends.
"God willing, tomorrow women will be permitted bigger and better things like driving and travel."
Several thousand families entered the stadium - where top football matches are held - through a separate gate from single men. They cheered, flashed peace signs and waved green Saudi flags.
A toddler wore a shirt that said in English "I (heart) Saudi Arabia" while a little girl donned a green dress with the faces of King Salman and his son, Crown Prince Mohammed, printed on it. A young man recited a poem praising the 82-year-old monarch.
The events are the latest entertainment sponsored by the government as part of the Vision 2030 reform programme launched two years ago to diversify the economy away from oil, create whole new sectors to employ young citizens and open up Saudis' cloistered lifestyles.
However in a country that adheres to the austere Wahhabi brand of Sunni Islam, which bans gender mixing, concerts, and cinemas, the plan's seemingly anodyne goals to empower women, promote sports and invest in entertainment have been criticised.
Saudi rulers are also starting to reform areas once the exclusive domain of the clergy, such as education and the law, and have promoted elements of national identity that have no religious component or pre-date Islam.
They have increased National Day celebrations that were previously attacked by clerics as undermining religious feeling, and are promoting heritage sites, like Nabatean rock temples, once seen as embarrassing in the land of Islam.
King Salman marked the holiday on Twitter, writing: "The kingdom will remain a bulwark for those who love benevolence, their religion and their country."
Why not join the men?
The operetta on Saturday told the story of the founding of the modern Saudi state by Ibn Saud, King Salman's father, following a series of territorial conquests and eight years before the discovery of oil opened the way to making the new kingdom the world's top oil exporter.
The performance, which praised the kingdom's religious and martial past while looking ahead to more development, featured horses, camels and hundreds of men dancing with swords and drums. An unveiled woman and two dozen girls joined them onstage.
Pyrotechnics, dancing fountains and lasers elicited cheers from the crowd which snapped photos on their smartphones.
The final segment featured pictures of Crown Prince Mohammed - visiting troops, meeting world leaders, watching a football match - whose face has become nearly as ubiquitous as his father's since he became heir to the throne in June.
There is widespread speculation, denied by officials, that King Salman intends to abdicate to his son, who already dominates economic, diplomatic and domestic policy.
Saudi flags and green billboards, often bearing the faces of both men, have gone up across Riyadh this week, and at night skyscrapers are flooded in green light - the national colour.
Companies from telecoms operators to furniture stores have launched patriotic-themed marketing campaigns offering discounts for the holiday weekend.
Um Abdulrahm al-Shihri, who travelled 1,100 km (685 miles) from the northwestern city of Tabuk, to enter the stadium, said she hoped in the future women would be able to attend football matches and other public festivities which are traditionally the preserve of men.
"You cannot imagine how happy we are today ... We feel that there is openness towards us," she said, wearing the black niqab covering all but her eyes.
"Women are at all levels now - women are now (representatives) in the Shura council, women are now doctors, women are now in big positions. So why shouldn't we join the men in things that matter to our nation?"
The General Entertainment Authority, the government agency organising the National Day festivities, expects some 1.5 million Saudis to attend events in 17 cities over four days.
Vision 2030 reforms are intended to capture up to a quarter of the $20 billion currently spent overseas by Saudis, who are accustomed to travelling abroad to see shows and visit amusement parks in nearby tourist hub Dubai or further afield. This weekend's events, though, are free to the public.
Issa Daghiri, attending the operetta in Riyadh with his wife and children, said he was encouraged by the acceptance of families at the stadium, which holds about 40,000 spectators.
"We had hoped for this for a while and now the opportunity has come," he said. "Each year that passes, the kingdom develops."
http://www.business-standard.com/article/international/saudi-national-celebrations-see-women-entering-sports-stadium-for-1st-time-117092500149_1.html
--------
Social Media Campaign to Help Afghan Women Break Free From the Chains of Radicalism
HARUN YAHYA
SEPTEMBER 23, 2017
In July, a group of young and brave Afghan women launched a massive campaign on social media titled "Where is my Name" to protest the laws and customs that prevented them from being called by their names in the country.
The campaign brings the traditionalist radical mentality, which is prevalent in the Islamic World and regards women as second-class citizens, to light once again.
This discriminatory practice in question makes it necessary for women, whose names are excluded from all aspects of social life, to be called only by the names of their close male relatives. Men address their wives in public with indirect and disdainful expressions, such as "Mother of the Children", "Housefolk" or "My Weakling".
Some Afghan men, however, go so far as to use this tradition to indulge in the humiliation of women. These people try to cover their primitive and hung-up personalities, which are the typical characteristics of the bigots, with their ugly language, addressing their wives with degrading nicknames such as "My Goat" or "My Chicken".
It is forbidden for women to use their birth names in official documents, wedding invitations, even on tombstones. It is considered inappropriate, even insulting, to address women with their own names outside of the family environment. Afghan women are forsaken because of this and find themselves at the disposal of the men in their families in all areas of their lives, such as education and marriage.
In spite of this negative situation, there are women in Afghanistan who challenge the bigoted traditions that aim to destroy the identity of women and turn them into little more than slaves of men. Tahmina Arian, 26, a political science student participating in the campaign, said, "I really want to see things change. I am tired of seeing that in the 21st Century we still live as in the Middle Ages. It's hard and painful. If I do not engage, if my sister does not, who will act? We have to start somewhere, and do our best."
Tahmina Arian, 26, a political science student participating in the campaign, said, "I really want to see things change. I am tired of seeing that in the 21st Century we still live as in the Middle Ages. It's hard and painful. If I do not engage, if my sister does not, who will act? We have to start somewhere, and do our best."
The campaign, supported on Facebook and Twitter by thousands of people from Afghanistan as well as from all over the world including journalists, writers and artists enforce the value and the most fundamental right of women to have their own identities and names.
#WhereisMyName campaign aims to help women regain their most natural, most important and fundamental rights, the right to carry their own identity and to be called by their own name before anything else, in Afghanistan and in similar regions where the traditionalist orthodox Islamic mentality reigns.
A most vital fact revealed thanks to this campaign is that, contrary to popular belief, this degrading and discriminatory approach toward women has nothing to do with Islam and the Qur'an. In point of fact, this practice is based on the tradition of a very old and deeply-rooted Afghan tribe. It is an important symbol of the fact that women are regarded as second-class citizens and worthless in tribal culture. However, this deviance, like all other repressive and restrictive customs, was immediately adopted in the name of Islam – surely the religion of Islam is beyond that – by radical groups that embrace a bigoted religious belief which entirely contradicts with the Qur'an. With the Taliban regime taking control, this ancient custom was reinstated and this primary right that Afghan women enjoyed previously were taken away from them. In other words, Afghanistan retrogressed to the tribal era practices.
In fact, in the pre-Taliban period, women used to live a very modern, free and comfortable life in Afghanistan, which declared its independence in 1919 by freeing itself from the yoke of Britain. They enjoyed the utmost freedom in their daily lives, in the way they dressed, in their behavior and conduct.
Mohammad Humayoun Qayoumi, who was born in Kabul, the capital of Afghanistan and became a professor of engineering at San Jose University in the United States, describes in his photobook "Once Upon a Time in Afghanistan" as follows "A half-century ago, Afghan women pursued careers in medicine; men and women mingled casually at movie theaters and university campuses in Kabul…"
In 1996, the Taliban regime came to power by taking advantage of the crippled central government, and a period of unimaginable oppression, violence, and persecution began for women. It quickly became forbidden for women to be groomed, to laugh, to have fun, to go to school, to work, to express their ideas freely, to leave their houses without the permission of their husbands or the company of a male relative. The women of Afghanistan were essentially imprisoned in their own homes. Women who did not obey these ruthless and outlandish laws were beaten, whipped, or stoned to death in public squares.
Although women have re-acquired some of their rights such as going to school, going to work and voting in the wake of the collapse of the Taliban regime in 2001, the overwhelming majority of these repressive traditions and laws foisted upon them by the Taliban are, unfortunately, being continued by the new administration.
Afghan Member of Parliament Shahgul Rezaie, known for her work on women's rights, said, "there are some radical elements in the parliament who are against these steps for women," drawing attention to this obstacle.
This kind of cruelty and ungratefulness displayed towards women, the great grace and blessing of God, are among the greatest reasons why the Muslim world struggles so much with problems and cannot develop and become stronger. It is also worth noting that those countries in the world that are experiencing unrest generally have governments that oppress women. The only possible way for women to regain their rights and dignity is through Muslim societies renouncing this deviant traditionalist orthodox religious conception and turning to the Qur'an as the sole valid and true source of Islam. Since God has revealed in the Quran that there is no differentiation between men and women in terms of piety and that men and women have equal responsibilities when it comes to doing good works. Moreover, the Qur'an also regards women as superior to men in terms of solicitude and worth, taking great care of them.
We see in the example of the Queen of Sheba that women can rule over states. As we see in the example of Mary, the mother of the Prophet Jesus in the Qur'an, she is praised with her superior morality in her fortitude and determination at times of difficulty. In the time of our Prophet, women were involved alongside men in all areas of life. The wife of our Prophet (pbuh), Khadija, was a well-known and respected businesswoman in the region. These all show that in Islam, women could play active roles in social life, work in various occupations and take an active part in all spheres of life.
Therefore, women can break free of the chains of bondage encircling them only and solely by virtue of the Qur'an, which earns them the appreciation, dignity, and respect they truly deserve. And this can only be possible through pursuing a comprehensive educational and enlightenment policy in light of the Qur'an all across the Islamic world.
We believe that emphasizing this vital issue on the #WhereisMyName campaign, which will hopefully serve as a good means for regaining the usurped rights of women, will contribute enormously to the objective and purpose of the campaign.
https://egyptianstreets.com/2017/09/23/social-media-campaign-to-help-afghan-women-break-free-from-the-chains-of-radicalism/
--------
URL: https://www.newageislam.com/islam-women-feminism/in-pakistan-girl-forced-pay/d/112654
New Age Islam, Islam Online, Islamic Website, African Muslim News, Arab World News, South Asia News, Indian Muslim News, World Muslim News, Women in Islam, Islamic Feminism, Arab Women, Women In Arab, Islamophobia in America, Muslim Women in West, Islam Women and Feminism