New Age Islam News Bureau
24 Sept 2013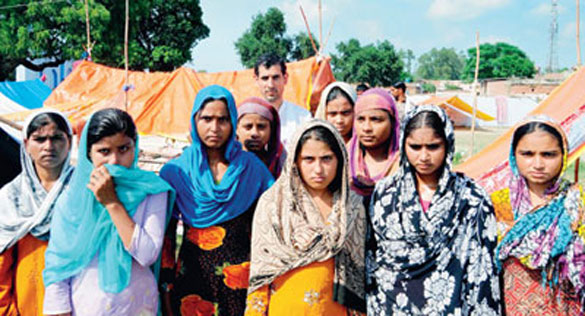 Some of the girls at the Shahpur relief camp on Monday. Picture by Prem Singh
--------
• British 'White Widow' Rumours Swirl In Kenya Attack
• Women Spectators Not a Condition to Host Asia Cup Football in Saudi Arabia
• Girls Await Wedding Glow in Muzaffarnagar Riot Camp Darkness
• Indian Union Muslim League behind Marriage Age Issue: CPM
• Teachers at Derby's Muslim School 'Ordered To Wear Hijabs'
• Pakistan's Malala Challenges World Leaders to Educate Syrian Refugees
• Tunisia: Teaching Techniques That Enhance Women's Status Discussed
• Saudi Group Campaigns against Ban on Women Driving
• India's Bunker Roy and Pakistan's Malala Yousufzai to Receive Top US Award
• CAIR, LAS-ELC Announce Settlement in Abercrombie & Fitch Hijab Lawsuits
Compiled by New Age Islam News Bureau
URL: https://newageislam.com/islam-women-feminism/in-kabul,-trading-women-cattle/d/13664
------------
In Kabul, Trading Women like Cattle
September 24, 2013
Pimps and customers call her Diljan. "I serve the rich and the executive class," said the round-faced blonde with green eyes. "If the guys have money, they can have me for a night." Depending on the nature of the service, her rates range from 20,000 to 90,000 Indian rupees (230 to 1,030 euros) for a night. Though women of other nationalities, including Russians and Ukrainians, still dominate the flourishing sex trade in India, Diljan said Afghans like her have pushed many of them out of business.
After the war in 2001, she and her family fled from Kandahar to Kabul. Her nightmare began when a man raped her, she said, while returning home from the market. He threatened to kill her if she told anyone about it. She would be raped again that month by another man, who made the same threat.
In 2011, a woman approached her with a waitress's job in a posh Delhi hotel. She jumped at the chance. The woman got her a passport and visa, and put her on a plane. In Delhi, she was told that the job had fallen through. She ended up being an escort. "There were six other Afghan women already at work," recalled Diljan.
Afghanistan has become a source, transit point and destination for victims of sex-trafficking. Nobody knows exactly how many Afghan women have been sold into sexual slavery. Like the drug trade, trafficking takes place in a shadowy world. Some girls like Diljan are cheated by pimps and sold to traffickers. Others are abducted, raped and psychologically pummelled into submission. The rampant trafficking has put Afghanistan on the United States "Tier 2 watch list" of countries that are failing to fight human trafficking.
Conditions ripe
Human trafficking in Afghanistan grew as the many decades of war caused displacement of millions. Chronic poverty and growing crime increased the vulnerability of women. Geography is another crucial factor; Afghanistan has six direct neighbours including Iran, Pakistan and Tajikistan. Many of these borders are nearly impossible to guard, thanks to inaccessible terrain and tribal fiefdoms.
Palwasha Saboori, director of the Afghan Women Training and Development Organization, said hundreds of women are trafficked every year. Still, it remains a hidden crime, one that the government is not combating, said Saboori. In the last two years alone, her organization has rescued 319 women and girls. "Almost all of them were sexually abused," said Saboori.
Last year, an survey by the Afghanistan Independent Human Rights Commission (AIHRC) on trafficking confirmed that majority of trafficked women had lost their parents in the war and had no family support and protection. Others became caught in the vicious cycle because of extreme poverty and early, forced marriages.
"Afghanistan is one of the poorest countries in the world. There are hardly any jobs for the young. Then there is a growing uncertainty about the future," said Sima Samar, a chairperson for the AIHRC. "All these conditions make Afghanistan ideal for human trafficking."
At present, 727 victims of rape and trafficking are being rehabilitated at eight shelters run by the Afghan government and often managed by local and international NGOs. Victims who cannot find a place in the shelters often end up in prison.
Zakia Baryalti, who is director of the Afghan ministry of women's affairs, said: "We have an army of victims in Afghanistan. But we do not have enough shelters to rehabilitate them."
Unspeakable abuse
Marzah, a young girl from Logar province, is staying at a shelter in Kabul. After months of therapy, she was able to speak about her ordeal. She said she was raped when she was nine, and then sold into sexual slavery. All she wants now is oblivion. "I do not want to return to my village. My family will kill me. I have brought such shame to them," said Marzah.
In another Kabul shelter, Perveen Jan told the story of how she had survived bombs, only to be trapped in a brothel. The US bombing of 2001 had destroyed countless villages like hers. Amidst the raging war she fled to the nearest town, Jalalabad, where the situation was a little better. Then, her mother called her and told her about a prospective groom. But instead of getting married, she realized a few weeks later that she had been sold to a pimp for 20,000 Afghani (265 euros). She would be traded to 10 men over the next three years.
In 2011, a pimp drove her across the Turkhan border checkpoint into Pakistan. Here, she had to dance semi-naked, entertain rich men, and have sex with customers who paid her owner a few thousand Pakistani rupees. Last year, when her Pakistani owner was away, she escaped and fled to Jalalabad. Now, she is traumatized and unable to speak.
"She has been destroyed," said Zaibesh, 21, her friend at the shelter and a victim herself. "When I met her and heard her story, I forgot all my pain and misery." Zaibesh's parents were killed by her brother-in-law for trying to protect her from sexual abuse. The killer has threatened to kill her too for running away.
As she spoke about how she was repeatedly raped and abused, she suddenly paused and cried out loud, "People have done such bad things to me. I just hate myself for what I have gone through." In her brimming green eyes you can read the tragedy of a land drained by war.
Gap between law and reality
The Afghan constitution, written after the fall of the Taliban in 2001, enshrines equal rights for men and women. And a new landmark law, passed in 2009, has for the first time criminalized forced marriages. Yet women remain victims. In contrast to the overwhelming presence of foreign troops on Afghanistan's streets, there is the overwhelming absence of women in public.
Every day, from different parts of the country, complaints pour in to the office of the AIHRC. "Trafficking of women is going largely unreported due to tribal and societal acceptance of the practice," said AIHRC chairperson Samar. Traffickers exploit vulnerabilities and lack of opportunities. They make promises of marriage, employment, education, or a better life.
Not merely a women's issue
"This is not merely a women's issue," said Shukria Barakzai, a parliamentarian and leading Afghan politician. "It is an economic problem, a societal problem, a migration problem - and most of all, a question of the future of this country."
As music blared from the loudspeakers in the dimly-lit cafe in South Delhi, Diljan's cell phone rang. Her response was brief: "Yes, yes, I'm coming." She hurriedly finished her cigarette and got up to meet the car waiting downstairs. Her response to the question of if she wanted to leave her profession, wrapped in loud laughter: "It is my business. It was the will of God."
Names of victims have been changed to protect their identity.
http://www.rawa.org/temp/runews/2013/09/22/in-kabul-trading-women-like-cattle.html#ixzz2fo9lZock
------------
British 'White Widow' Rumours Swirl In Kenya Attack
AFP | Sep 24, 2013
NAIROBI: As Kenyan Special Forces closed in on holdout Islamist fighters battling in a Nairobi mall on Tuesday, speculation grew that a British woman nicknamed "the white widow" was among the attackers.
One name stands out: Samantha Lewthwaite, daughter of a British soldier and widow of suicide bomber Germaine Lindsay, who blew himself up on a London Underground train on July 7, 2005, killing 26 people.
Media reports, which have dubbed the 29-year-old the "white widow", have linked her to plotting or masterminding attacks across the Horn of Africa region, though with often little clear evidence for her role.
Officials have given contradictory statements. Kenyan foreign minister Amina Mohamed has said a British woman was in the attack, telling the US public broadcaster PBS that "she has, I think, done this many times before."
But interior minister Joseph Ole Lenku had earlier denied that any of the insurgents were women, although noting that some male attackers "had dressed like women."
London refused to be drawn on Tuesday on Amina Mohamed's comments that a British woman was among the militants behind the mall attack.
A spokesman for the foreign office said the ministry was "aware" of Mohamed's comment.
"We continue to liaise very closely with the Kenyan authorities and to support their investigation into this attack," he said.
In 2011 Kenyan police released wanted notices for Lewthwaite saying she was travelling under a false South African passport with the name Natalie Faye Webb accompanied by her three children, a girl and two boys.
The children would be now roughly aged between seven and 12. Nairobi's Daily Nation newspaper quoted security sources saying that extremists on the Kenyan coast call her "Dada Muzungu" - white sister in Swahili - and that she had slipped a Kenyan dragnet in Mombasa in January 2012, when forces raided villas she was believed to have been hiding out in.
"Police have received hundreds of calls from people offering clues and have interviewed dozens who might have met her" in connection with the mall attack, Nairoi's The Standard newspaper said Tuesday, although noting "very few individuals have ever testified to meeting Samantha face-to-face."
Lewthwaite has also been linked to alleged British Islamist militant Jermaine Grant, currently on trial in Kenya's port city Mombasa for possession of explosives.
Grant, who is accused of ties to Somalia's al-Qaida-linked Shabaab insurgents, was arrested again in December 2011 in the Kenyan port city of Mombasa with various chemicals, batteries and switches, which prosecutors say he planned to use to make explosives.
Rumours abound that Lewthwaite is behind the Twitter handle @MYC_Press - Kenya's radical Muslim Youth Centre - which regularly comments on Kenyan extremism, as well as entering into a war of words with rival Islamists.
American Islamist Omar Hammami -- who fought in Somalia but was killed by former Shehab comrades earlier this month - in April scoffed via Twitter that she was just "a girl in Kenya".
MYC_Press in turn replied: "Sam Lewthwaite thinks ur (you are) a irritating obnoxious contemptible little Muj (mujahedeen) PRAT."
MYC_Press - which has been notably silent since the attack began on Saturday -- also told AFP in April that Lewthwaite had "returned to Luton", a town outside London and close to where she grew up.
http://timesofindia.indiatimes.com/world/rest-of-world/British-white-widow-rumours-swirl-in-Kenya-attack/articleshow/22994343.cms
--------
Women Spectators Not a Condition to Host Asia Cup Football In Saudi Arabia
September 24, 2013
Participation of women spectators is not an essential condition for Saudi Arabia to host Asia Cup soccer tournament in 2019, a spokesman of the Saudi Football Federation said on Sunday.
"The Asian Football Federation does not put such a condition," Adnan Al-Muaibed told the local press, adding that the Kingdom had opened its stadiums to supporters of different foreign teams in the past. "We'll not prevent anybody and we'll not interfere in this matter," the spokesman said, stressing that it should not disqualify the Kingdom to host the event.
Higher authorities have endorsed Saudi plans to bid for hosting the event. This is the first time the Kingdom is making such an effort to hold the largest football event in Asia. Bahrain, China, Iran, Kuwait, Oman, Thailand, and the UAE are also bidding for Asia Cup.
http://www.arabnews.com/news/465668
------------
Girls Await Wedding Glow in Muzaffarnagar Riot Camp Darkness
September 24, 2013
Shahpur Relief Camp (Muzaffarnagar), Sept. 23: The makeshift tarpaulin "tents" and the brooding walls of the local Madrasa will gleam with hope and warmth for a day.
Aasma, 20, and Amna, 18, are waiting eagerly for Wednesday to arrive and set them off on the way to a new life, away from the horror of the recent violence in Muzaffarnagar.
On that day, the two sisters and 25 other young Muslim women will get married at the relief camp that have been their home for the past fortnight.
A month before the clashes began, the parents of Aasma and Amna had fixed their weddings in October. But on September 7, a mob raided the family's village, Kakra.
Since then, they have been at the relief camp in Shahpur, a Muslim-dominated village about 200km from Delhi, along with 3,000 others left refugees in their own land.
"Our homes were looted and torched by the mob, which carried swords, sickles, revolvers and petrol bombs," Aasma sobbed. They walked the 3km to Shahpur barefoot.
"We have lost everything and are still terrorised. Now we hope our marriage will herald a new beginning in our lives," Aasma said, huddled with the other would-be brides outside the camp.
"Who wants to get married in a relief camp, but what can we do?" said Mohsina, 21, a resident of Kutba, one of the worst-hit villages.
Her father Samiuddin, a farm labourer, said the family was relying on community members for all the wedding arrangements.
"We have nothing left to give her, not even a set of clothes. I had bought some furniture and small jewellery for her but everything was looted," he said before burying his head in his hands.
Tabreiz, the father of Aasma and Amna, too, broke down.
"My biggest fear after the rioting was that my daughters might have to remain single for life since we have lost everything, including our house. But thanks to the people who are running the camps, we can see our daughters rebuild their lives," he said.
"We are unfortunate parents who have to say goodbye to them from a relief camp and not our home," Tabreiz added.
Shahnawaz Qureshi, member of the Shahpur panchayat, said all the 27 brides had had their weddings fixed by their families before the riots broke out.
"We don't want these girls to suffer any more. It (getting them married off) is also a matter of their safety and security."
Aid from several Muslim organisations in Delhi and Uttar Pradesh has helped community members raise Rs 7.5 lakh for wedding expenses.
"We are spending Rs 25,000 on buying a bed, a sewing machine, utensils and a pair of silver earrings for each of the 27 girls. We have asked the groom's families not to bring more than eight members each," said Haji Sayeed, who is in charge of the camp in Shahpur.
The weddings will be solemnised by the local maulvi at the nearby Idgah and the feast will take place inside the madarsa.
Most of the grooms are from local villages that were untouched by the rioting because they are predominantly Muslim. A few are from other parts of the state.
"Most of the young men are farm labourers; a few are welders and work in small factories," Qureshi said.
But not all the young girls in the cramped tents are looking at the future with equal hope. Shaheen, 12, a resident of Majra, is wracked by anxiety that she may have to discontinue her studies.
"They set my house on fire before my eyes. My parents, two younger brothers and I ran for our lives. I don't know whether I shall ever be able to go to school again," she said.
Sony, 10, wasn't bothered about school. She had just one question: "When will we all go back home?"
Most of the 40,000 people displaced in the district are holed up in 30 schools, madarsas and mosques that have been turned into relief camps, where the government is providing rice and vegetables.
District officials said the situation was under control but many of the refugees were refusing to return home fearing fresh bloodshed.
http://www.telegraphindia.com/1130924/jsp/nation/story_17384806.jsp#.UkFyodK-pRI
------------
Indian Union Muslim League behind Marriage Age Issue: CPM
September 24, 2013
THIRUVANANTHAPURAM The Communist Party of India-Marxist (CPM) on Monday alleged that Indian Union Muslim League (IUML) is behind the move of some Muslim religious outfits in Kerala to take legal recourse to get marriageable age of girls in the community lowered from 18.
Dubbing it as a dangerous and retrograde move, CPM state secretary Pinarayi Vijayan said it was the sectarian strategy of the IUML to create communal polarisation before the elections to the lower house of Parliament, Lok Sabha.
An umbrella forum of as many as nine Muslim religious outfits held a meeting in Kozhikode last week and decided to move the Supreme Court seeking lowering of the marriageable age of girls from the community from the present 18 years.
They maintained that the minimum marriageable age for women fixed at 18 years by the Child Marriage Act and the Supreme Court's endorsement of it amounted to infringement on Muslim Personal law.
Reacting to the development, Pinarayi said it was significant that the joint council formed by the nine organisations had elected a senior IUML leader as its convener. This clearly showed that IUML, the second largest partner in the state ruling alliance, United Democratic Front, was behind the campaign and its aim was to polarise Muslim votes before Lok Sabha elections, Pinarayi said.
"This is not just a dangerous move harmful to the Muslim community but would help the Rashtriya Swayamsevak Sangh (RSS) and allied forces," he said.
Though some Congress leaders had resented the development in their personal comments, neither Chief Minister Oommen Chandy nor state Congress president Ramesh Chennithala had come out with the official position of the party on the issue, he said.
It was obvious from this that they were afraid of speaking against IUML as that party's votes are crucial in the Parliament elections, the CPM leader added.
Communist Party of India state secretary Pannian Ravindran also said the demand was unfair.
"At a time when the girls should be studying and planning their future, marrying them off would not augur well," said Ravindran.
http://www.omantribune.com/index.php?page=news&id=152090&heading=India
------------
Teachers at Derby's Muslim School 'Ordered To Wear Hijabs'
By Zena Hawley
September 24, 2013
WOMEN teachers at Al-Madinah School in Derby claim they are being told to cover their heads and shoulders with a Hijab – an Islamic scarf – whether or not they are Muslim.
This is one of several complaints made by staff to their unions at Al-Madinah School, which is currently under investigation by the Education Funding Agency for alleged irregularities over its grants.
A member of the teaching staff told the Derby Telegraph that women were being told to sign new contracts that say they must wear hijabs and that girls are told to sit at the back of classes.
Two non-Asian women, who refused to comment, were spotted taking off their hijabs as soon as they were out of sight of the school during the lunch hour.
Nick Raine, regional NUT officer, said he was "very worried" about the school and the education of the 200 children there.
He said: "It's one thing to have a dress code which we can challenge and quite another to build it into a contract."
It is understood that the new contracts for staff also include rules about not taking non-halal food into the school and not being allowed to wear jewellery.
Mr Raine added: "There are worries over practices concerning the discrimination between male and female pupils in the school, with the girls being told to sit at the back of the class regardless of whether they can see the board properly."
The school, which occupies space at Norman House, Friar Gate, where primary-age children are taught, and Midland House, Nelson Street, for secondary children, was set up in September 2012.
The then head teacher, Andrew Cutts-Mckay, who has left after less than a year in post, said at the time that the school was being set up so that "the timetable will be flexible with time for Islamic teaching but pupils will be able to opt out of this and there will be a chance to learn about other faiths".
He said the school would "honour all faiths" and that he envisaged a school where 50% of pupils are Islamic and the other half were not.
Sue Arguile, branch secretary of Derby National Union of Teachers, said: "This school was first launched as based on Muslim principles and not as a Muslim school.
"If the school is not sticking to the original reasons behind why it was set up, then it does call into question whether public money is being used properly and for its intended purpose."
Mr Raine said: "The school is publicly accountable so there needs to be greater transparency."
Initially, the free school was scheduled to admit 120 reception and year-one children, together with 180 pupils into years seven and eight. Eventually, the all-groups school will have up to 1,100 pupils.
Al-Madinah is a new type of free school, which the Government is allowing groups of parents, or interested parties, to set up.
These operate in much the same way as private schools, outside local authority control but qualifying for Government funding.
Councillor Martin Rawson, city council cabinet member for children and young people, who is opposed to free schools, said he was aware of the investigation by the EFR.
He said: "I hope that the outcome of that will be available in the near future. We are awaiting the findings before commenting further."
The school has yet to receive an inspection by the Office for Standards in Education, which could reasonably be expected to happen this academic year as it is a new school but it could be brought forward in view of representations from the teaching unions and city council.
An Ofsted spokeswoman said: "As schools are only notified the afternoon before inspections begin, we would not be able to let anyone know when the school is being inspected."
A Department for Education spokesman would not comment on what stage the investigation had reached and said: "We are investigating the allegations and will respond in due course."
Despite repeated requests for a comment or interview being made to the school and its trustees by e-mail, phone and letter, by the Derby Telegraph there has been no response.
But the school has put out a statement to parents on its website which reads:
Rumours and the news
Dear Parents
It has come to our attention that there are a number of rumours circulating about the school that are worrying some parents. The situation is not helped by the local television news and local newspapers running stories that are at best premature, or in some cases, simply fly in the face of the established facts.
The school is not going to shut down and close and it is not going to start charging parents to send their children here. Aside from possible temporary closures for severe snow or other Health and Safety reasons, it would take seven years to shut the school. Similarly, it is against the law for state funded schools like Al-Madinah to charge parents for education.
Some parents have found difficulties with certain items of uniform, especially stretching sweatshirts. We have already switched suppliers (and in the future we will give parents a choice of suppliers) but please do let us know if there is still a problem. Last year the school made a small loss on uniform. We hope to avoid that this year but it is our intention never to make money on school uniform.
We do have fully qualified teachers in our Primary School, despite what has been suggested, but in addition we also have Higher Level Support Assistants in every year group, many with their own nationally recognised qualification as well. Some staff have moved on, as they would do in any school, for a variety of reasons, and any administrative or contractual issues will be worked through. Al-Medina has prioritised learning and teaching, that is the education of your child, in a safe and encouraging environment, as it settles into its new buildings and introduces new systems to reflect its planned growth in numbers. Your children come first, and as for the teething pains of our growth spurt, please give it time.
As a parent, if you do have any concerns please contact us directly and ask about whatever it is that is worrying you. I am pleased to say that we met with a group of parents last week and they helped us understand a little more about what we need to communicate to you. We are in the process of making our website more parent friendly, but in the meantime, we will still be posting information on the website. If it is easier for you to contact Mrs Higgins at the Primary School, or Mr Hussain at the Secondary School, please do so. Just let us know the name of your child (or children) when you ring, and what year group or groups they are in, and we will be able to tell you what you want to know. We are here for you.
Al-Madinah is a pioneering school, the first of its type in the whole country, and not everyone wants it to succeed. Unfortunately politics have been allowed to interfere with education. Our only concern in the success of your children. Like all pioneers, we are on a journey, and as a new school open for just one year (and only a few days in our new, wonderful, secondary building) we simply ask for time to get going and grow into an excellent school.
Assuring you that we have the best interests of your child at heart.
Yours faithfully
G S Wilson
Interim Principal
http://www.thisisderbyshire.co.uk/Teachers-Derby-s-Muslim-school-ordered-wear/story-19822232-detail/story.html#ixzz2fnkS1Mym
------------
Pakistan's Malala challenges world leaders to educate Syrian refugees
Tuesday, 24 September 2013
Reuters, New York
Pakistani education crusader Malala Yousafzai and other youth activists challenged world leaders on Monday to come up with $175 million to educate 400,000 Syrian children who fled to neighboring Lebanon to escape a civil war in their homeland.
As leaders gather in New York for the U.N. General Assembly, Yousafzai, 16, who was shot in the head by the Taliban last year for demanding education for girls, and U.N. education envoy Gordon Brown received $1 million from campaign group Avaaz to kick off the push for money to send Syrian refugees to school.
U.N. children's agency UNICEF said 257,000 Syrian children were seeking education in Lebanon in 2013 and that was set to rise to 400,000 next year, swamping the Lebanese public school system that already educates 300,000 children.
"I can feel what's happening in Syria because it's what happened to us in Pakistan," Yousafzai said of being displaced by violence as she spoke with Syrian student Farah Haddad, 20, in New York. Yousafzai is now at school in Britain because she cannot safely return to Pakistan.
Haddad, who finished high school in Syria and moved to the United States in 2011 to attend college, has taken up the fight for education for Syrian refugee children.
"When the war is ended, there will be no way for us to bring back the dead, or mend the hearts of mothers in Syria, but we can surely equip Syrian children to wrestle with a Syria when the bombs stop exploding," said Haddad.
Former British Prime Minister Brown announced on Monday a plan by the Overseas Development Institute to educate those 400,000 Syrian children by employing Syrian refugees who were teachers, opening Lebanese schools 24 hours a day to teach children in double or triple shifts and providing school meals.
"A 100 years ago the Red Cross secured the right that health care should be provided even in conflict. We want in this generation to secure the right of every child to education even when there's a conflict," Brown told reporters.
Lost generation
"Instead of 400,000 Syrian children doing nothing ... perhaps becoming unemployable, a lost generation, a wasted generation, childhood destroyed, we can actually show that in the next few months these 400,000 children can actually get the opportunities they so richly deserve," Brown said.
Brown said $175 million was needed to implement the education plan in Lebanon. Avaaz raised its $1 million donation in the past week from more than 32,000 people in 143 countries, and Western Union also announced it will match consumer donations to its newly created education fund up to $100,000.
"The U.N. Security Council ... has failed the people of Syria. We can't fix that problem today but I can think we can still determine whether the children of this war become a lost generation or a generation of leaders that can rebuild and renew the hope of the country," said Avaaz co-founder Ricken Patel.
The U.N. Security Council has been deadlocked over how to try and end the two-and-a-half year Syrian conflict. Russia and China have refused to consider sanctions on President Bashar al-Assad's government and have vetoed three resolutions condemning Assad's crackdown on opposition groups.
A World Bank report said Syria's conflict will cost Lebanon $7.5 billion in cumulative economic losses by the end of 2014. The report was prepared for a U.N. meeting this week to provide humanitarian aid and development assistance and strengthen Lebanon's armed forces.
http://english.alarabiya.net/en/perspective/features/2013/09/24/Pakistan-s-Malala-challenges-world-leaders-to-educate-Syrian-refugees.html
------------
Tunisia: Teaching Techniques That Enhance Women's Status Discussed
September 24, 2013
Tunis — The integration of appropriate techniques to teach young girls in education policies is the theme discussed, on Monday in Tunis, at the initiative of the Islamic Educational, Scientific and Cultural Organisation (ISESCO).
According to participants, the meeting aims to exchange experiences and good practices in matters of integrating teaching techniques that enhance women's status.
http://allafrica.com/stories/201309240452.html
------------
Saudi Group Campaigns against Ban on Women Driving
Sep 23, 2013
(Reuters) - A group of Saudi activists has begun another campaign for the lifting of a ban on women driving, urging women to get behind the wheel on October 26 in defiance, according to its website.
The "October 26 Driving" campaign says it has gathered 8,700 signatures for a petition it published on September 21.
"If the state refuses to lift this (driving) ban on women, we call on it to offer citizens its justifications for the ban," reads the petition posted on the website. "The state is not a father or a mother and the citizens are not children."
While no laws explicitly ban Saudi women from driving, citizens must use locally issued licences. These are not issued to women, making it in effect illegal for them to drive.
At least two similar campaigns in the past two years have failed to bring change, with the authorities detaining several women and making them sign pledges not to drive again.
Nevertheless, King Abdullah has pushed some modest reforms to advance women's rights during the same period.
In January, he appointed 30 women to the Shoura Council, which advises the government on new legislation. He had said in late 2011 that women would be able to vote or run for office in the next municipal elections, Saudi Arabia's only public polls.
The "October 26 Driving" campaign urges people to put its logo on their cars on that day. It also urges women to learn to drive and asks family members to support women's right to drive.
In a video posted on the campaign's website, a woman who wore no headcovering asked Saudi women to drive on October 26.
"I hope that a huge number of girls participate this time so that we can end this crisis," she said. "Neither Sharia nor law prohibit us from doing this (driving)".
Saudi Arabia is a conservative monarchy backed by religious scholars. It upholds an austere form of Sunni Islam and gives wide powers to clerics who dominate the judicial system and run their own police squad to enforce religious morals.
In 2011, after pro-democracy protests swept the Arab world, dozens of Saudi women responded to a "Women 2 Drive" campaign, posting pictures and videos of themselves driving on Twitter, Facebook and YouTube.
Some were briefly detained and two faced charges, including that of "challenging the monarch". One was freed after signing a pledge not to drive again. The other was sentenced to 10 lashes, although it was not clear if the sentence was carried out. A Saudi princess tweeted that it had been revoked.
On Thursday, Sheikh Abdulatif Al al-Sheikh, the head of the morality police, told Reuters there was no text in the documents making up sharia law which bars women from driving.
But he said he did not set Saudi policy and denied a report in local media that he had recently instructed the morality police not to pursue or stop women drivers.
http://in.reuters.com/article/2013/09/23/saudi-women-driving-idINDEE98M0CK20130923
------------
India's Bunker Roy and Pakistan's Malala Yousufzai to receive top US award
Sep 24 2013
New York: India environmentalist Bunker Roy and Pakistan's teenage education activist Malala Yousufzai were declared winners of this year's prestigious 'Clinton Global Citizens Awards'.
Roy is the founder of the Barefoot College, which has been providing solutions to problems in rural communities for more than 40 years.
As a result of Barefoot's work, one million litres of rainwater have been harvested to provide clean drinking water to over 239,000 school children in more than 1,300 communities worldwide.
The Barefoot Approach is a proven community-based model, providing basic infrastructure for power and water in remote, rural areas, as part of an integrated solution to alleviating global poverty.
Roy has been named one of the 50 environmentalists who could save the planet by the Guardian and one of the 100 most influential people in the world by TIME magazine.
The model of community-owned, managed and financially sustained household solar light systems is today replicated in more than 54 countries, empowering more than 600 Women Barefoot Solar Engineers and providing clean energy access to 450,000 people in nearly 1,650 communities throughout India, Africa, Latin America, the Pacific, and Asia.
Sixteen-year-old Yousafzai, who, after being shot by the Taliban less than a year ago for her outspoken support for girls' education, has co-founded the Malala Fund to continue advocating for universal access to education.
The awards will be presented in a special ceremony tomorrow during the Clinton Global Initiative Annual Meeting in New York City, where more than 1,000 top business, government, and civil society leaders will convene to address some of the world's most pressing challenges.
The Clinton Global Citizen Awards were launched in 2007 to honour outstanding individuals for their visionary leadership, demonstrated impact, and sustainable and scalable work in solving global issues.
http://www.indianexpress.com/news/india-s-bunker-roy-and-pakistan-s-malala-yousufzai-to-receive-top-us-award/1173464/
--------
CAIR, LAS-ELC Announce Settlement in Abercrombie & Fitch Hijab Lawsuits
September 24, 2013
Earlier this morning, the San Francisco Bay Area office of the Council on American-Islamic Relations (CAIR-SFBA), the Legal Aid Society-Employment Law Center (LAS-ELC) and the U.S. Equal Employment Opportunity Commission (EEOC) announced the settlement of a three and a half year lawsuit against teen clothing retailer Abercrombie & Fitch.
The settlement follows a recent ruling by U.S. District Court Judge Yvonne Gonzalez Rogers that the company had violated Federal and state civil rights laws by refusing to allow Hani Khan, of Foster City, to wear her religious headscarf at work, and rejecting its undue hardship and "free speech" defenses. Abercrombie has agreed to make numerous substantive policy and practice changes - including a modification to the "Look Policy" specifically acknowledging A&F's legal obligations to allow exceptions -- to settle the lawsuit which was otherwise scheduled to go to trial at the end of the month.
"It has been a long three years, but the resolution we obtained made every step worth it," said Hani Khan, who spoke at this morning's press conference. "I am hopeful that my struggle and this victory will ensure that what happened to me at Abercrombie never happens to any other employees there. All Americans have the right to religious accommodation in the workplace, and we must challenge discrimination when it happens."
"We knew from Women spectators not a condition to host Asia Cup the moment Ms. Khan came to us that her rights had been violated, and that her case would be an important one to pursue," said Zahra Billoo, Executive Director at CAIR-SFBA and one of Khan's attorneys. "We applaud her courage in asserting her rights and remaining steadfast through several years of litigation. Nobody should ever have to choose between their job and their religion, and this victory is one step further in that direction."
"Unfortunately, discrimination of this kind continues at an alarming rate throughout the country, and few workers have the courage to stand up for their rights," said Marsha Chien, Skadden Fellow at LAS-ELC and one of Khan's attorneys. "It is our hope that the brave actions of those like Ms. Khan will help ensure that no employee is made to believe she or he doesn't fit a company's idea of an 'all-American lifestyle.'"
The company settled the case along with another lawsuit brought by the EEOC on behalf of an Abercrombie & Fitch applicant, Halla Banafa, who was not hired because of her headscarf. In Banafa's case, U.S. District Court Judge Edward Davila dismissed several of Abercrombie's defenses in April of this year.
The EEOC, Abercrombie, and Khan agreed to consolidate the settlement of the two California lawsuits into one Stipulated Judgment and Decree. Under the decree, Abercrombie will: create an appeals process for denials of religious accommodation requests; revise the "Look Policy" to expressly acknowledge that A&F is legally mandated to allow exceptions in certain circumstances; inform applicants during interviews that accommodations to the "Look Policy" may be available; provide employees with information about how to make religious accommodation requests; incorporate information regarding requests for headscarf accommodations into all manager training sessions; institute, at a minimum, quarterly reviews of all religious accommodation requests and decisions; post notices of the settlement and notifications of employees' right to request 'Look Policy' accommodations; and provide biannual reports to the EEOC and Khan for three years regarding implementation of these policy changes.
About CAIR-SFBA: The San Francisco Bay Area office of the Council on American-Islamic Relations is the nation's oldest chapter of CAIR, America's largest Muslim civil liberties and advocacy organization. Its mission is to enhance the understanding of Islam, encourage dialogue, protect civil liberties, empower American Muslims, and build coalitions that promote justice and mutual understanding. Celebrating its 19th anniversary in 2013, each year CAIR provides legal advice, assistance, and representation to thousands of American Muslims alleging religious discrimination and harassment.
About LAS-ELC: The Legal Aid Society of San Francisco-Employment Law Center, founded in 1916, is a non-profit public interest law firm committed to protecting the rights and economic self-sufficiency of low-income and disadvantaged workers and their families. LAS-ELC has for decades litigated on issues of racial equality; gender equity, immigration and national origin discrimination, and disability rights. Aside from its impact litigation, the LAS-ELC conducts public education and legislative advocacy, provides technical assistance to other advocacy groups, and undertakes direct legal representation in specific cases.
http://www.cair.com/press-center/press-releases/12162-cair-laselc-announce-settlement-in-abercrombie-fitch-hijab-lawsuits.html
------------
URL: https://newageislam.com/islam-women-feminism/in-kabul,-trading-women-cattle/d/13664